When in Rome some people throw a coin in the Trevi fountain in hope that they will return one day. When in Tokyo I have a slightly superstitious ritual I perform. A visit to Asakusa. In the back of my mind I have convinced myself that if I do, then my return to Tokyo is a guarantee.
This ritual was born from my first visit to Japan. I had eaten my first meal in Tokyo, awesome tempura in Ginza, with my father and a long time Japanese friend of his. Once our leisurely lunch came to an end it was time to discover the Tokyo Metro and head to Asakusa.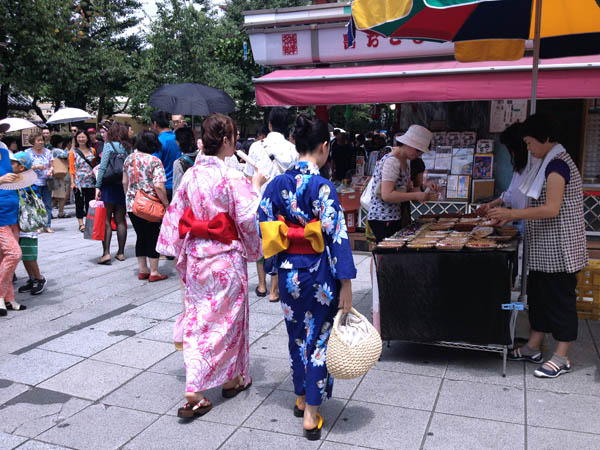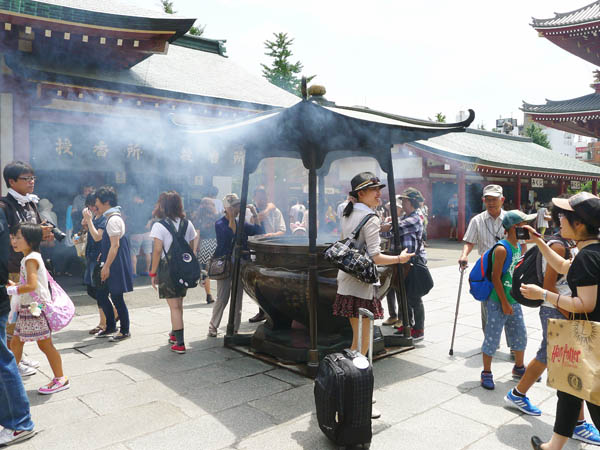 It was a Sunday and Asakusa was a complete contrast to my first taste of Tokyo, a somewhat sleepy Ginza. There were people everywhere tourists and locals. I was wide eyed and won over by what I saw. The crush of people, the array of tiny shops and a stunning Buddhist temple.
On each visit to Asakusa, my main destination is that same temple, Senso-ji. Even though I am not a Buddhist, I do thank the powers that be, and let them know that I am very grateful to have retuned once again to Japan. I then head over to my favourite senbei-ten (rice cracker store), buy a supply to take home. Then I'm off to enjoy the rest of my stay in Tokyo.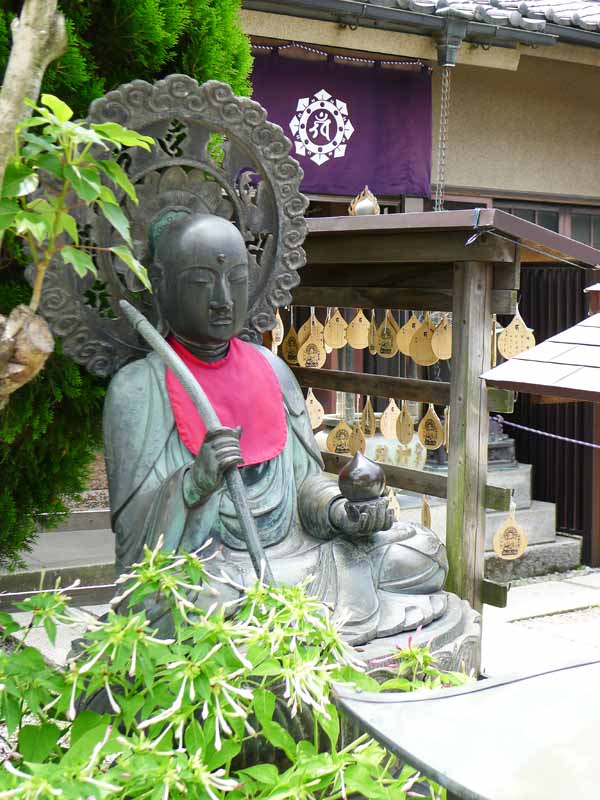 Asakusa is very easy to get to, located on the Ginza Tokyo Metro Line (station G19) or the Asakusa Toei Line (station A18). You can download an English copy of the Tokyo railway network. Alternatively can catch a suijo basu (waterbus) from Hamarikyu-teien or Hinode Pier and experience Tokyo by cruising the Sumida gawa.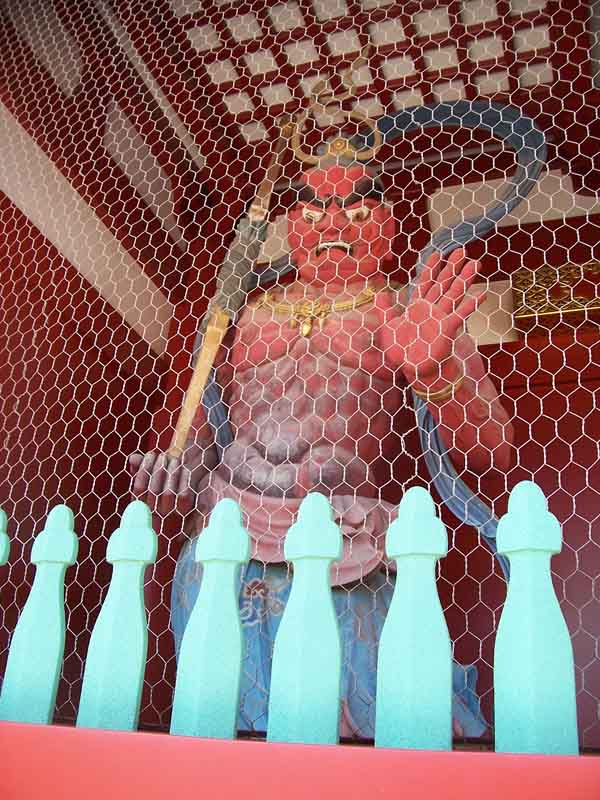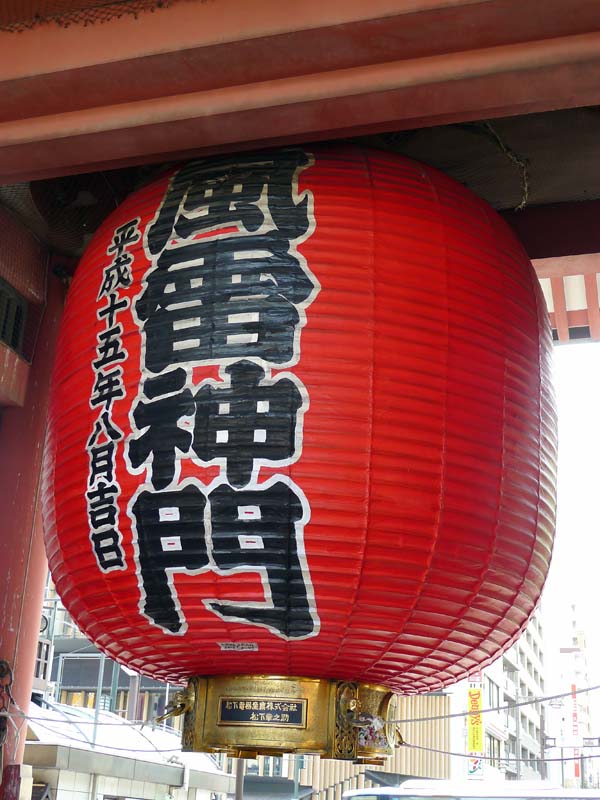 Kaminarimon (Thunder Gates)
A short stroll from the metro (away from the river) you will find Kaminarimon or the Thunder Gates. The original gates were built in the Kamakura period (1192-1333). Unfortunately they were destroyed in 1865 by fire and rebuilt in 1960. The gates are very impressive, and there will be a mass of people taking photos or having their photos taken. On either side of the gate there are two very fierce Gods. Fujin (God of Wind) and Raijin (God of Thunder) are the protectors of these main gates to Senso-ji.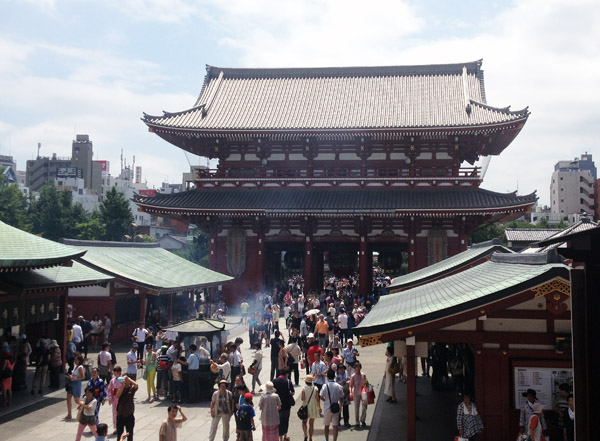 Hozomon (Senso-ji 2nd gate)
Originally called the Niomon when the gate when erected in the year 942. It has since been destroyed by fire many times. The gate you see today was rebuilt after World War II when air raids flattened the existing one. This is the inner gate for Senso-ji.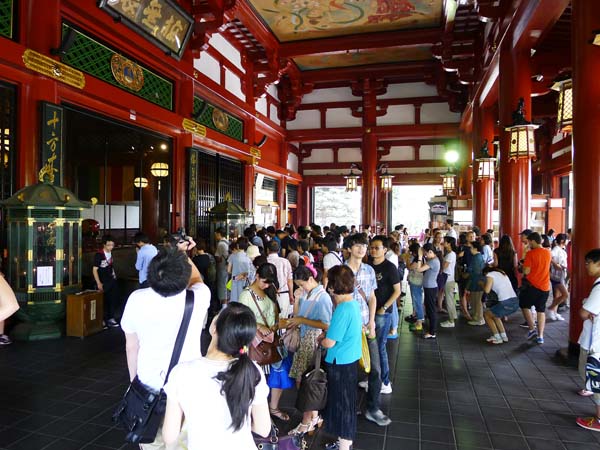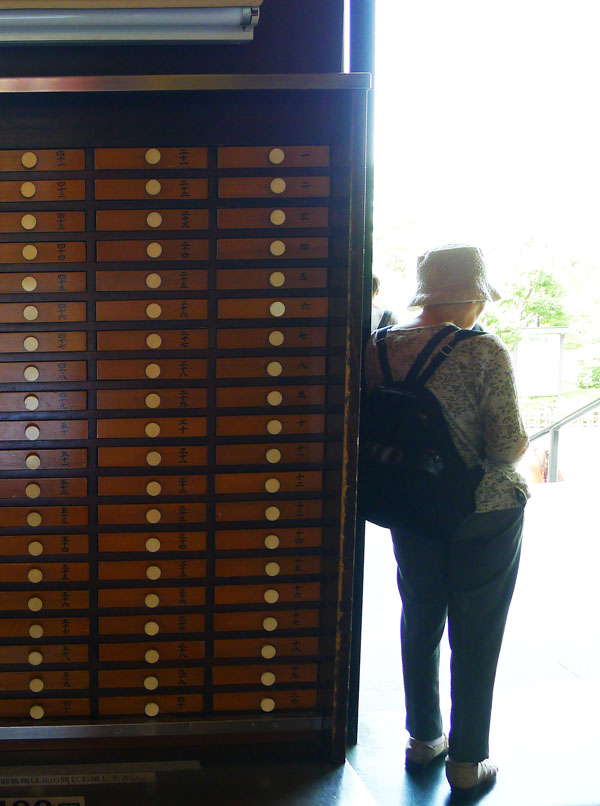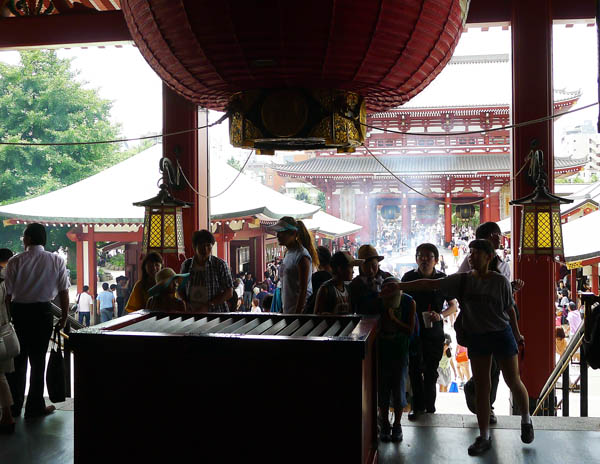 Senso-ji
Senso-ji, also known as Asakusa kannon Temple, is Tokyo's oldest temple. The legend says that in the year 628 a statue of Buddhist deity Bodhisattva Kannon was fished from the Sumida River by two fisherman brothers. In 645 the temple was established to house the statue. The Buddhist priest Shokai Shonin decided that the statue should be hidden from human view and to this day the statue is not on show for the public to see. Does the statue actually exist? I will leave that to you to decide.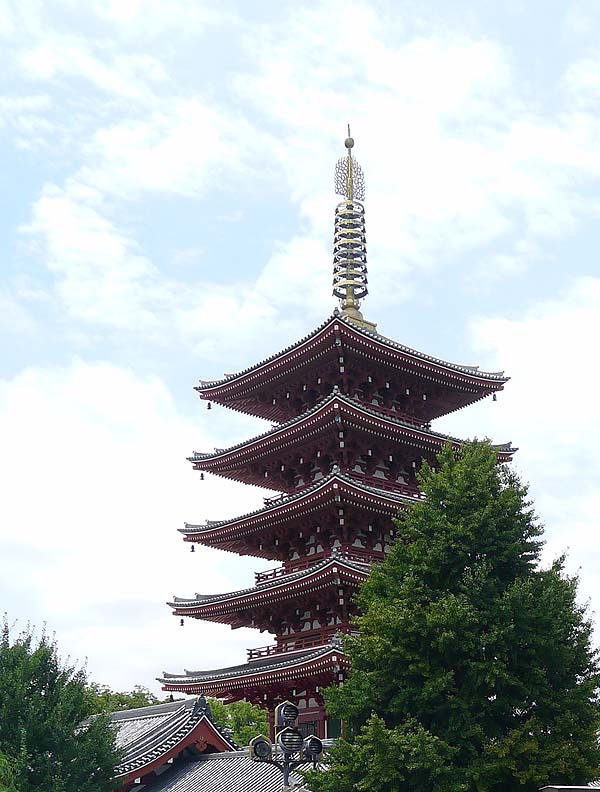 Five Storied Pagoda
Built in 942, declared a national treasure in 1911, burned to the ground in World War II air raids in 1945 and eventually rebuilt again in 1973. I believe that this is the second tallest pagoda in Japan.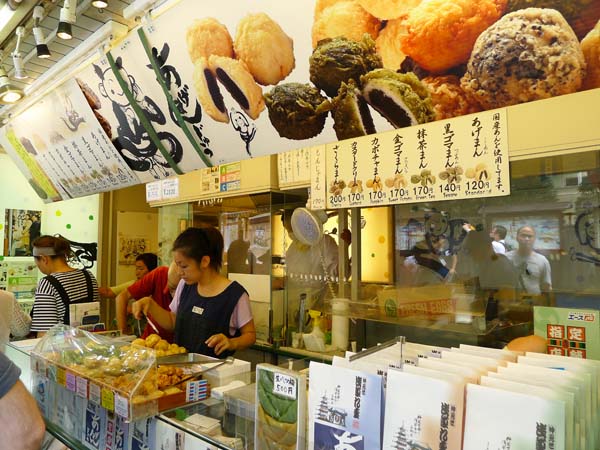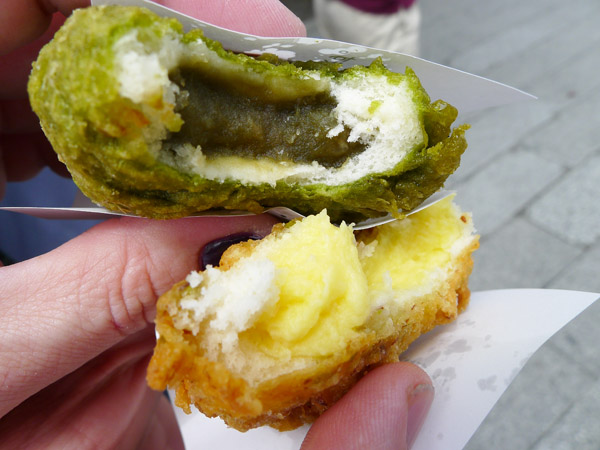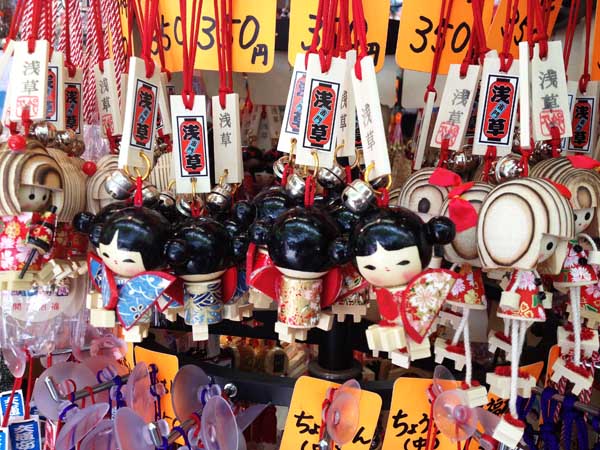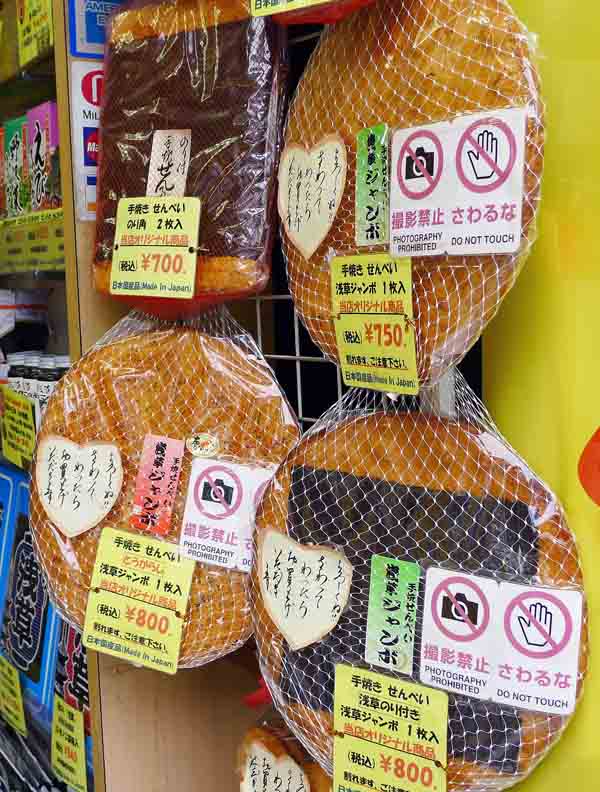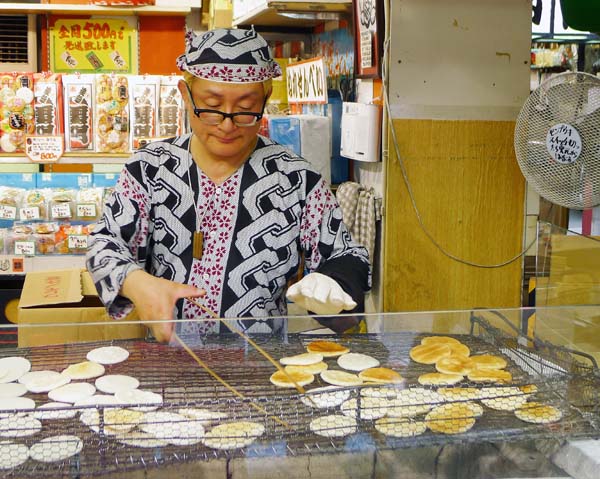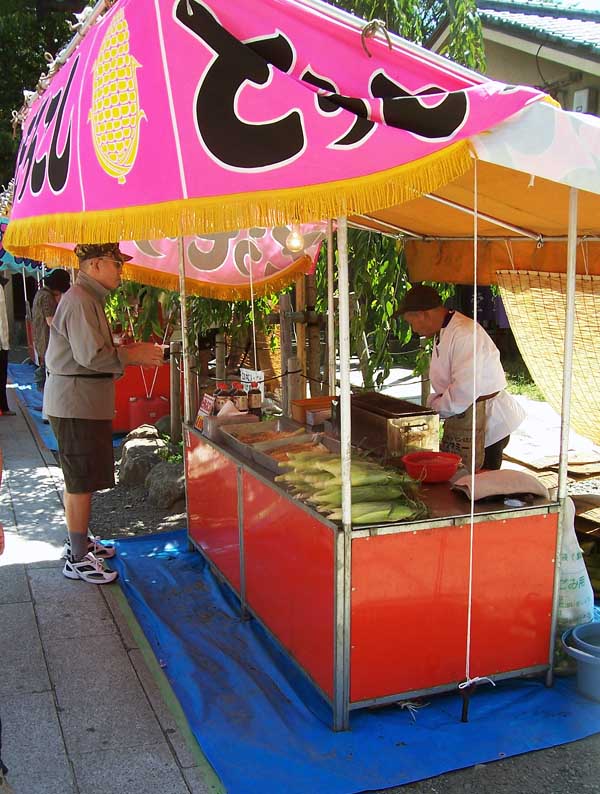 Nakamise dori
Is the shopping precinct of the temple. The street runs from Kaminarimon to Hozomon and is jam packed with people. Here you will be tempted with an array of tourist souvenirs, sweets, ice-cream and endless rice crackers (senbei). You can even buy wigs to wear with kimono.
On the weekend the area is extended with some pop up food stalls. My favourite one is the grilled corn stand. Large ears of corn are grilled while being basted with butter and soy sauce. It smells amazing and tastes even better.
Most shops open between 9am - 7pm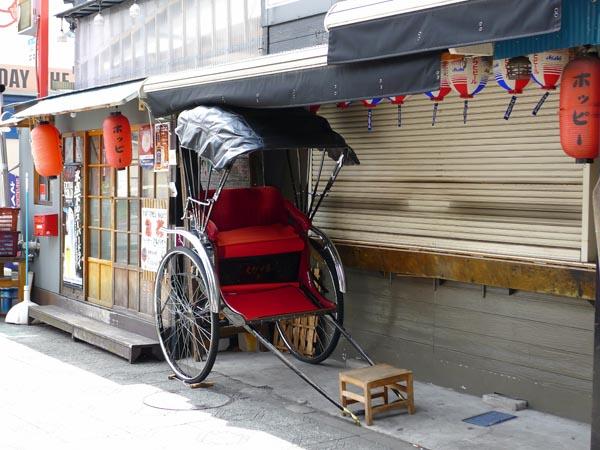 Rickshaw rides
You will find a the rickshaw guys offering rides from outside Asakusa station up to Kaminarimon. It is all pretty straight forward if you want to go for a ride. You will be shown a menu and rides start from around 3000 yen (2 people/10 minutes) to longer rides of an hour 15,000 yen (2 people). If you are a single rider, the price does come down a little.
Shin-Nakamise dori
More shopping, this covered shopping arcade is the 'new Nakamise'. It runs perpendicular to Nakamise dori. Here you will find various shops and restaurants, and offers escape from the crowd at Senso-ji.
Most shops open between 10am -8pm
Kappabashi dori
This is a must for those that love to cook. Kappabashi dori is almost a kilometre in length and is the wholesale kitchenware district. A 10 minute walk from Senso-ji (away from the river), and is located between Asakusa dori and Kototoi dori.
It is quite easy to go crazy here. I know, I have done this now numerous times. You will find all sorts of treasures fake food, crockery, pots & pans, cooking utensils, shop signs, lanterns, tables & chairs. You name it, if you need it to run a restaurant you will find it here, except food. There are some great knife stores too and the owners are very friendly and helpful.
Most shops open 9am - 5pm
Sumida Park
This riverside park runs along both sides of the Sumida gawa. If you happen to be in Tokyo during cherry blossom season, this is one of the best spots to see cherry blossoms. If you happen to be here on the last Saturday of July it is the spot to see the Sumida gawa fireworks.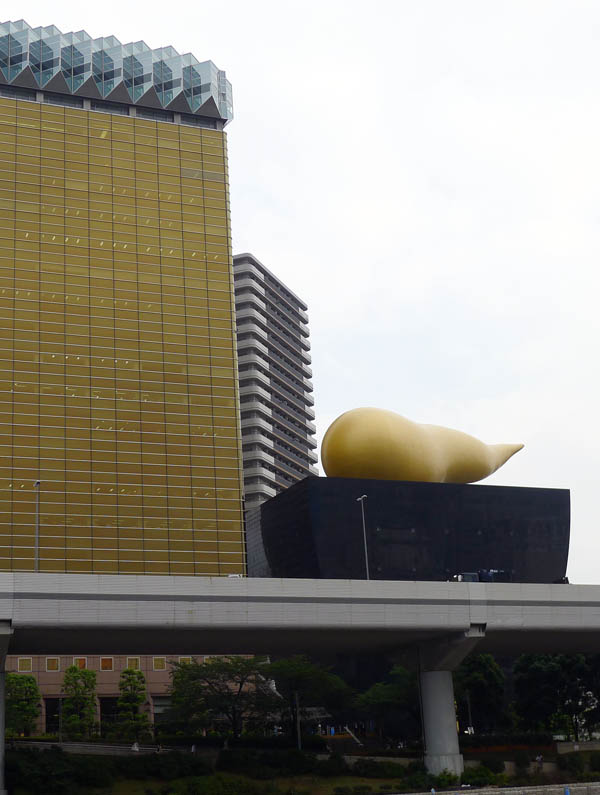 Asahi Beer Tower
I fondly call it the golden turd, and when you see it you will know why. You can't miss it when you alight from the waterbus or exit the metro at Asakusa.