Melt in your mouth slow cooked Smoked BBQ Pork Belly with Apple Fennel Slaw and super quick and Easy BBQ Flat Bread. The hardest part of making this recipe is the slaw, and that isn't hard at all!
Beer Can Burgers Recipe
Baked Pork Loin with Citrus & Almond Recipe
BBQ Rainbow Trout wrapped in Prosciutto Recipe
Fried Chicken Sandwiches + Spicy Apple Wedges Recipe
If you think you are experiencing a mild case of déjà vu, let me reassure you that you aren't. Yes, you may have seen this recipe before. Not on Belly Rumbles, but on an appliance selling website last year when I was part of a cooking competition. Sadly I didn't win but it was all great fun.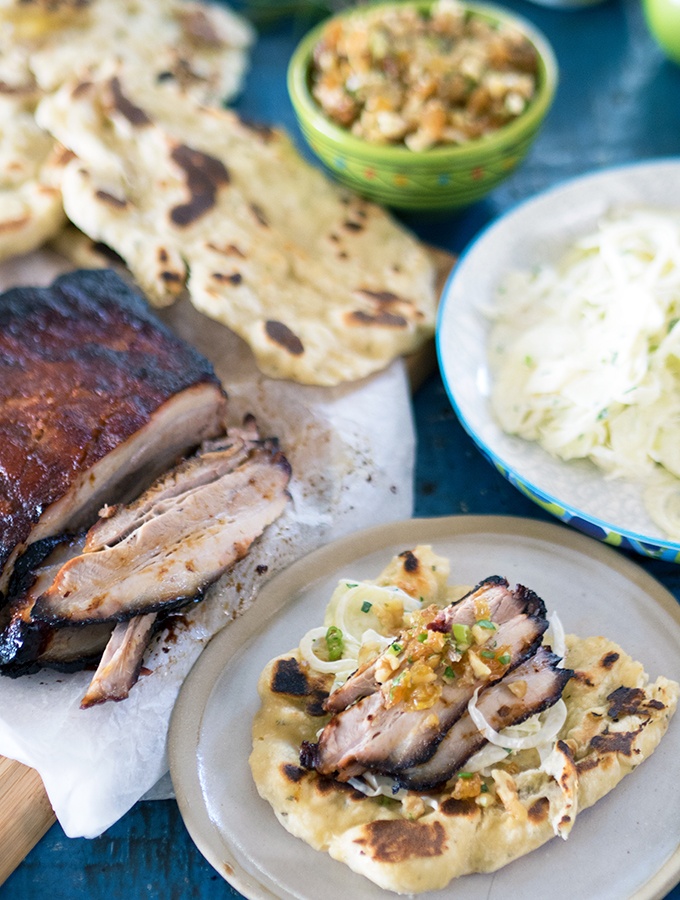 Now that it is all well and truly over and done with I want to share a few of my favourite recipes from the experience with you on Belly Rumbles.
I thought the best place to start is with my favourite recipe I developed for the competition. Smoked BBQ Pork Belly served with apple fennel slaw on easy flat bread and topped with a walnut and raisin crumble.
It may sound like a long recipe, but all the elements are easy to make. The smoked bbq pork belly looks after itself on the bbq. The flat breads are also made on the bbq and rather quickly too. The apple and fennel slaw and the walnut crumble can be made ahead of time. All in all it is a rather fuss free and scrumptious meal.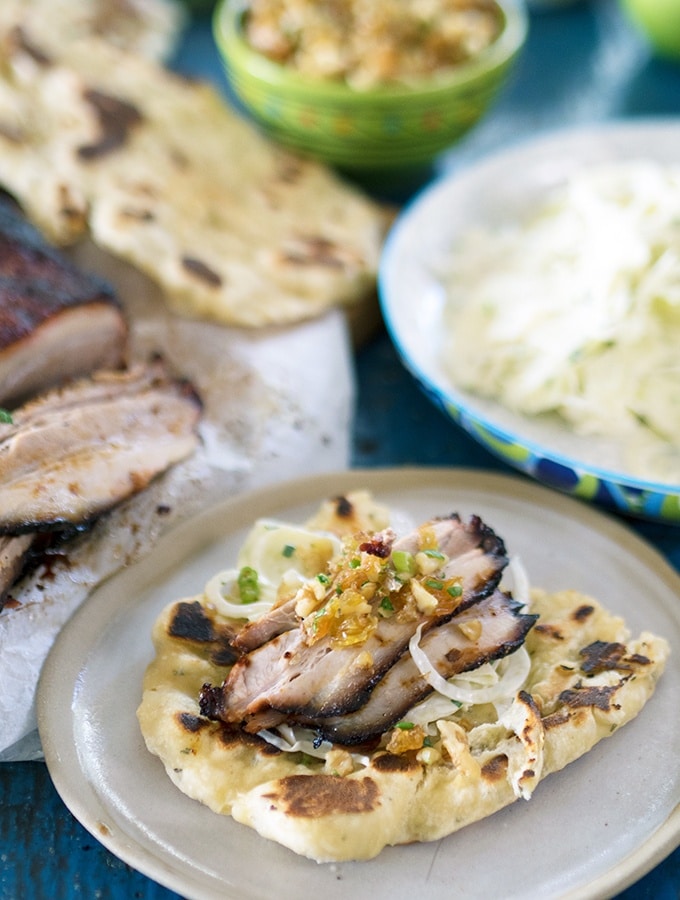 You need to start the smoked BBQ pork belly the day before. This is just a case of placing it in a very simple, but delightfully tasty, marinade. Leaving it to draw in all the lovely flavours.
With the use of a mandoline the apple and fennel are thinly sliced in no time. And there are only three ingredients to the walnut and raisin crumble.
The flat breads are also made with only three ingredients, flour, yoghurt and rosemary. You can cook these on the hot plate of the BBQ while the pork belly is resting.
If you don't feel like making bread, why not purchase some flatbread from the store? Warm them up in the oven when you are ready to serve the smoked BBQ pork belly.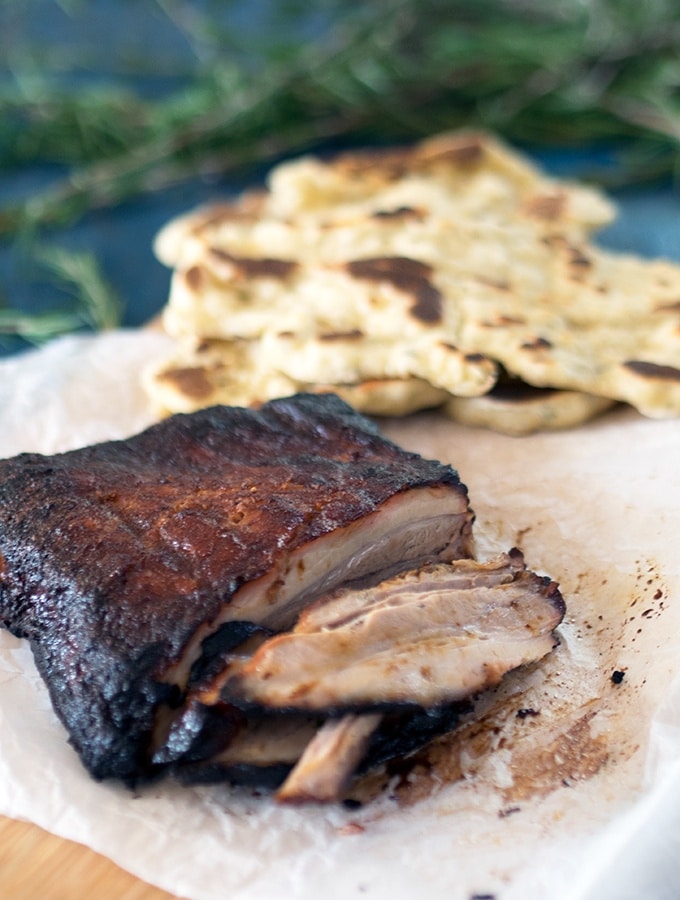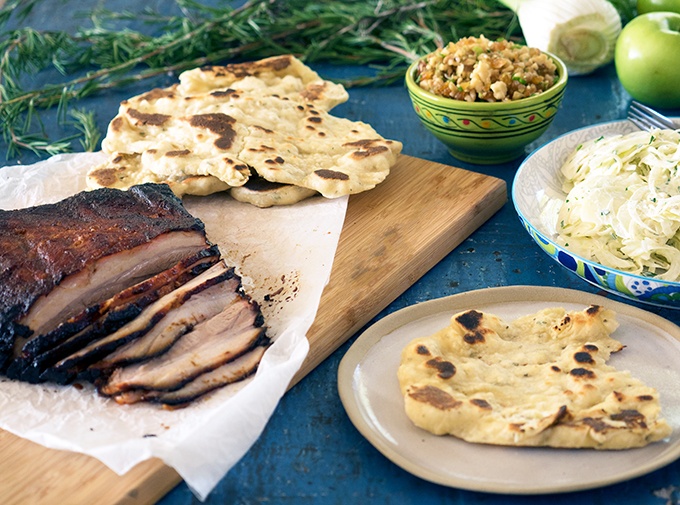 The smoke comes from the woody branches of rosemary. This may sound crazy but I freeze the woody branches of my rosemary plant when I prune it. These then get used for smoking on the BBQ.
If you don't grow your own rosemary have a chat with your green grocer. You may find that he has some heading to the bin as generally these thicker woody pieces are of no use to him.
There is one last very important thing you need to know. The smoked BBQ pork belly smells amazing when it is cooking! Your neighbours are going to go insane with food envy.
Sara xxx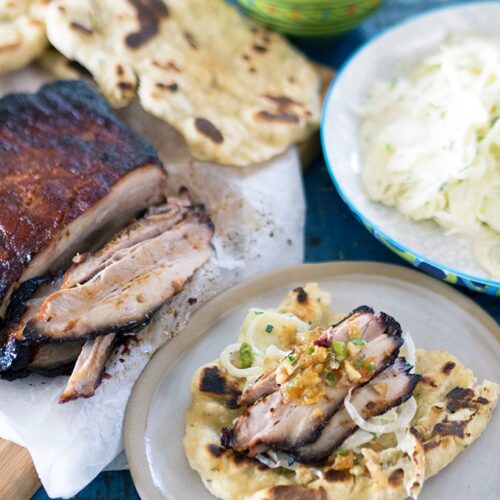 Smoked BBQ Pork Belly, Apple Fennel Slaw & Easy Flat Breads
Melt in your mouth slow cooked Smoked BBQ Pork Belly with Apple Fennel Slaw and super quick and Easy BBQ Flat Bread. The hardest part of making this recipe is the slaw, and that isn't hard at all!

Print
Pin
Rate
Ingredients
BBQ Smoked Pork Belly
1.5

kg

pork belly (skin and bones removed, get your butcher to do this)

1

brown onion, chopped

2

garlic cloves, crushed

1/4

cup

brown sugar

3/4

cup

fresh orange juice

1

cup

smoky BBQ sauce

1/4

cup

soy sauce

1/2

teaspooon

black pepper, freshly ground

rosemary, thick woody stalks
Apple Fennel Slaw
2

granny smith apples, finely sliced

2

fennel bulbs (small), finely sliced

1

cup

Japanese mayonnaise

2

tablespoons

lemon juice, freshly squeezed

1

tablespoon

parsley (flat leaf), finely chopped
Easy BBQ Flatbreads
1 + 3/4

cups

self raising flour

500

grams

Greek yoghurt (full fat)

1

tablespoon

rosemary, finely chopped

extra self raising flour for dusting
Walnut & Raisin Crumble
1

cup

walnuts, toasted and finely chopped

1/2

cup

golden raisins, finely chopped

1

green onion (shallot/spring onion), finely chopped
Instructions
BBQ Smoked Pork Belly
Lightly score pork belly on both sides.

Place onion, garlic, brown sugar, orange juice, BBQ sauce, soy sauce and black pepper in a blender. Blend to create a marinade.


Place pork belly in a glass or ceramic bowl and cover with marinade. Make sure the belly is well coated and marinade is massaged into the score marks. Cover with foil and leave to marinate in the fridge over night


When ready to cook, remove pork from marinade and reserve marinade for basting.


Heat BBQ to high and sear both sides of the pork belly.


Remove pork belly from heat and prepare the BBQ for indirect slow cooking and smoking. Place a large aluminium foil baking tray with holes punched in it and a baking rack in the middle of the BBQ. Fill smoker boxes with rosemary and place on BBQ.


Make sure central burners are turned off and BBQ is set to lowest heat.

Place pork belly on trivet, close lid and leave to cook.




Every 45 minutes turn pork belly over and baste. Replace rosemary if needed when basting. Cook for 2.5 hours.


Rest pork belly for 15 minutes before serving.


Serve with Apple Fennel Slaw, Easy BBQ Flat Breads and Walnut Raisin Crumble.
Apple Fennel Slaw
In a large mixing bowl add mayonnaise, lemon juice and parsley and mix well. Add apple and fennel, toss through slaw dressing. Cover and place in fridge until needed.
Easy BBQ Flatbreads
Place 1 ¾ cups of flour and yoghurt in a large mixing bowl. Mix until moist dough is formed. If the dough is too wet to handle add a little extra flour.

Dust surface of clean kitchen bench with self raising flour. Place dough on kitchen counter and knead until dough is smooth.


Divide dough into six portions and roll into balls. Cover with plastic wrap and leave to rest for 20 minutes.


Press or roll out dough on a floured surface until it is 1cm thick. Place each piece of flattened dough on a piece of baking paper to prevent them sticking together.


Brush hot BBQ flat plate with a little oil and place flattened dough on to cook.


Turn bread in 2-3 minutes when bread has puffed and underside is golden.

Continue cooking until other side is also golden
Walnut & Raisin Crumble
Place all ingredients in a bowl and mix well.
Notes
BBQ Smoked Pork Belly Start recipe the day before.  You will need a BBQ where the central burners can be turned off for indirect cooking. Preparation time: 10 minutes
Cooking time: 2.5 hours
Serving size: 4 Apple Fennel Slaw Use a mandolin to create even thin slices of apple and fennel Preparation time: 15 minutes
Serving size: 4 Easy BBQ Flatbreads Preparation time: 5 minutes
Resting time: 20 minutes
Cooking time: 10 minutes
Serving size: 6 pieces
DID YOU MAKE THIS RECIPE?
I love knowing when readers make my recipes, tag me on Insgragram @bellyrumbles
Become a subscriber and don't miss a single delicious recipe, restaurant review or travel adventure.