Winter hasn't quite hit us Sydney siders yet, still a couple of more weeks to go. At the moment if the sun is out, days are still very pleasant, and I haven't been put off braving the outdoors for a good barbeque yet.
Of course if you live in Northern Australia, it never gets cold. In fact the wet season is over and it's perfect barbeque time. Plus my American friends are just clawing their way out of a pretty cold and miserable winter.
Really, it's the perfect time for everyone to barbeque!
No, I'm not touting some new barbeque range, my love of barbequing is pure and untainted. I'm one happy girl sitting outside, glass of wine in hand, engaging in good conversation, whilst the smells of what's to come wafts through my nostrils. Dishes cooked on the barbeque always seem to have their flavours heightened. It really is one of the most relaxing ways to enjoy a meal with your nearest and dearest.
Usually when I throw a prawn on the barbie, they have been marinating in something inspired by South East Asian flavours. Usually a good dose of chili, ginger and sometimes garlic makes an appearance. This time I wanted to prepare my prawns as Australian as I could.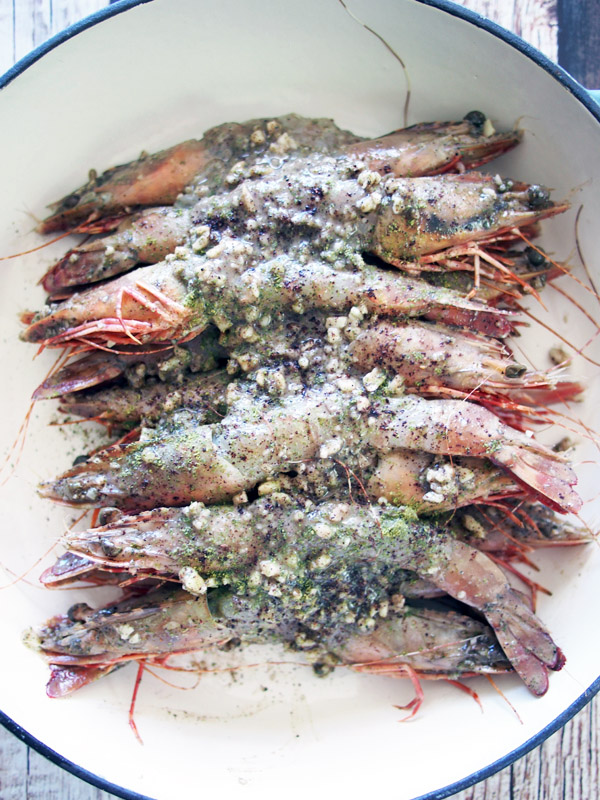 I picked up some large fat Australian prawns from the Sydney Fish Markets. The beautiful quality really inspired me to make them a truly Aussie barbequed prawn.
After a rummaged through my spice shelf I dragged out all the native herbs and spices I had. It was a deep thought moment looking at all those packets, probably too many packets. To add to herbs and spices, I used Australian honey, macadamia nut oil and rum. The macadamia nuts add a lovely texture to the outside of the prawns.
I can hear some of you saying that rum isn't Australian at all, more at home in the Caribbean. You're right, Aussies didn't invent rum and it wasn't found as a natural source gurgling from underground springs.
But we are probably the only country in the world to have had a military coup over the stuff. Governor William Bligh upset the NSW Corps (nicknamed the Rum Corps) back in 1808, by not allowing the trade of goods for anything else but currency (notes and coins). At the time there wasn't a lot of cash floating around, and for members of the corps and others to survive, bartering goods was a common necessity. The NSW Corps used rum a great deal as a form of currency. Understandably they got a little upset and overthrew Bligh and the government on January 26th 1808. Known in history as The Rum Rebellion.
Printable Recipe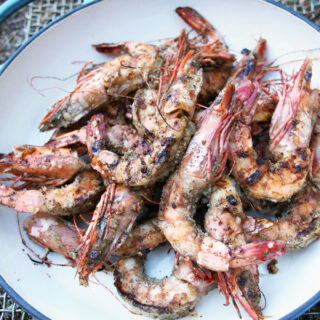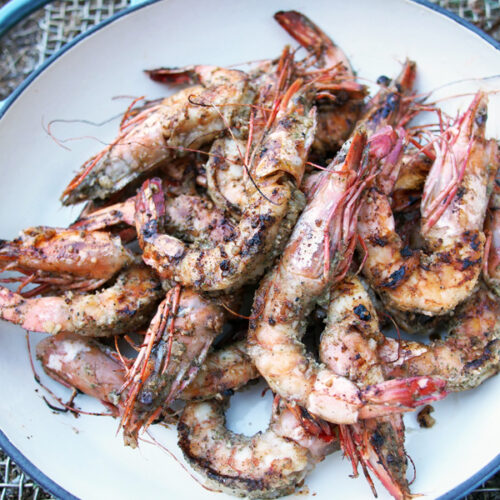 Australian BBQ Prawns
Ingredients
12

large prawns

shrimp

3

teaspoons

ground lemon myrtle

1

teaspoon

ground pepperberries

1

tablespoon

honey

30

grams

macadamia nuts

crushed

1

tablespoon

rum

1

tablespoon

macadamia nut oil

Ground saltbush
Instructions
Peel and devein prawns, leaving the head and tail still intact.

In a medium glass bowl mix lemon myrtle, pepperberries, honey, macadamia nuts, rum and oil.

Place prawns in to the bowl and coat well with the mixture. If you feel the mixture is a little too thick, add either a splash extra of rum or water.

Place bowl in the fridge and marinade for at least an hour.

Cook on the BBQ over a medium heat until prawns are cooked through.

Place in a serving dish, sprinkle with saltbush and serve immediately.
Measurement Notes
All measurements are Australian metric standard. All measures are level, and cups are lightly packed unless specified. 1 teaspoon = 5ml / 1 tablespoon = 20mls / 1 cup = 250ml /4 teaspoons = 1 tablespoon.
NUTRITIONAL INFORMATION
The recipe's nutritional information is an approximation based on an online calculator. It is meant solely for reference purposes. If you're looking for precise details, be sure to double-check with your own research.
Calories:
128
kcal
Carbohydrates:
5
g
Protein:
4
g
Fat:
9
g
Saturated Fat:
1
g
Cholesterol:
45
mg
Sodium:
140
mg
Potassium:
42
mg
Sugar:
4
g
Vitamin C:
0.7
mg
Calcium:
32
mg
Iron:
0.7
mg
Did You Make This Recipe?
I do a happy dance when people share how they went. Tag me on Instagram or Twitter @bellyrumbles & #bellyrumbles
It is getting easier and easier to use ingredients which are uniquely Australian. Native herbs and spices are now readily available to purchase through various suppliers on the Internet, just ask Mr Google. Quite a few delicatessens and even some supermarkets are now stocking some.
What's your favourite way to cook prawns on the barbie?
Sara xxx