My quick herb roasted salmon recipe is perfect for a family mid-week dinner or even weekend entertaining. A quick and tasty salmon recipe that produces succulent salmon fillets every time.
BBQ Rainbow Trout Wrapped in Prosciutto Recipe
Thai Style Deep Fried Whole Fish Recipe
Ginger Beer Battered Fish & Chips Recipe
Hearty Clam Chowder Recipe
I'm no different to anyone else reading Belly Rumbles. I hate cooking dinner during the week. Sure there are days when I finish a hard day at work and jump into the kitchen like Donna Hay or Martha Stewart and easily whip up a mind blowing mid-week meal.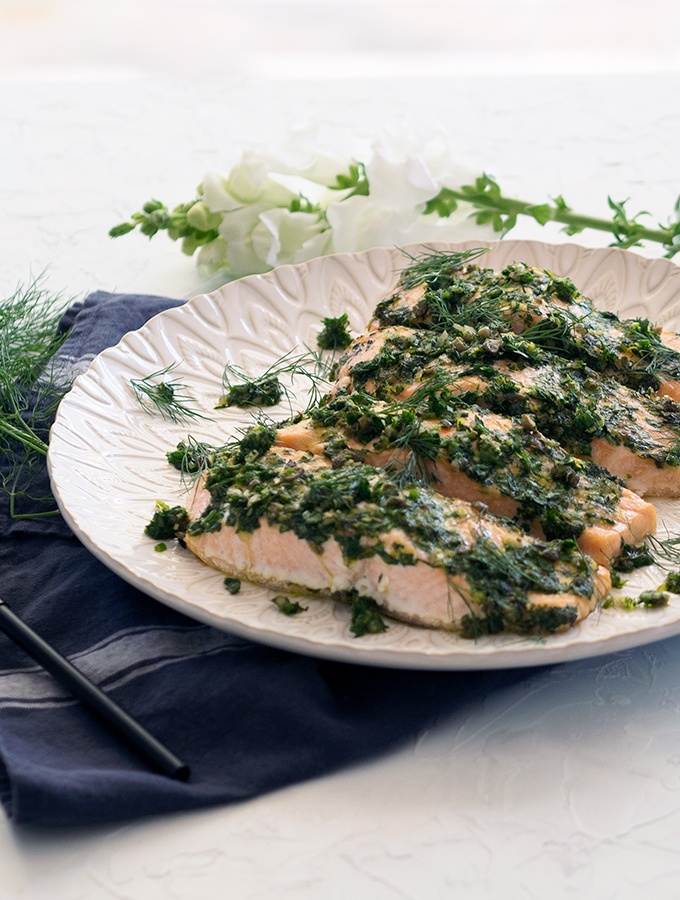 Oh Donna or Martha please pop into my kitchen and cook for me. Remember that ad where Gordon Ramsey lived in somebody's pantry and is at their beck and call? We could say that is a fantasy of mine.
Let me share a secret with you, none of the above easily whip up anything that you see in a magazine. There are hours of cooking and photographing to seduce you into making their quick and easy mid-week meals.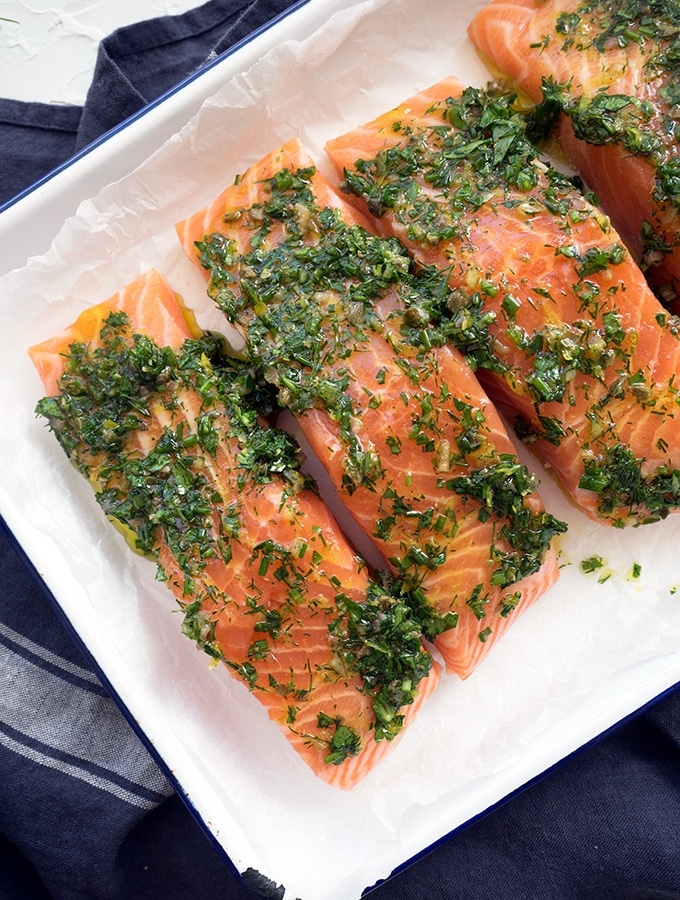 Therefore when your dishes don't turn out exactly like the photograph don't get upset. You didn't spend time choosing the dishes, flatware and flowers, then spend an hour styling and photographing it. Which is then all finished off with the wave the Photoshop magic wand to make it shine.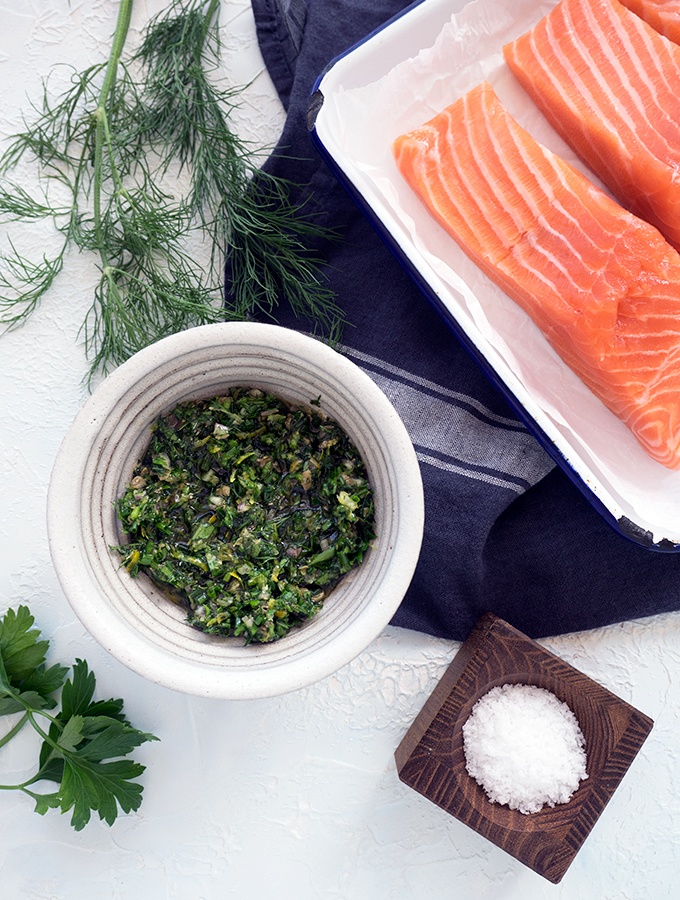 Normally I spend a bit of time on the photography you see on Belly Rumbles. In the case of this quick herb roasted salmon dish, the images were rushed. Harley has decided she wants to get into the food styling and photography business.
I do have to give her credit where credit is due. Harley is a typically nosey husky that is very food orientated, a great listener that only follows through on commands when she agrees with your "suggestions". It's a husky thing.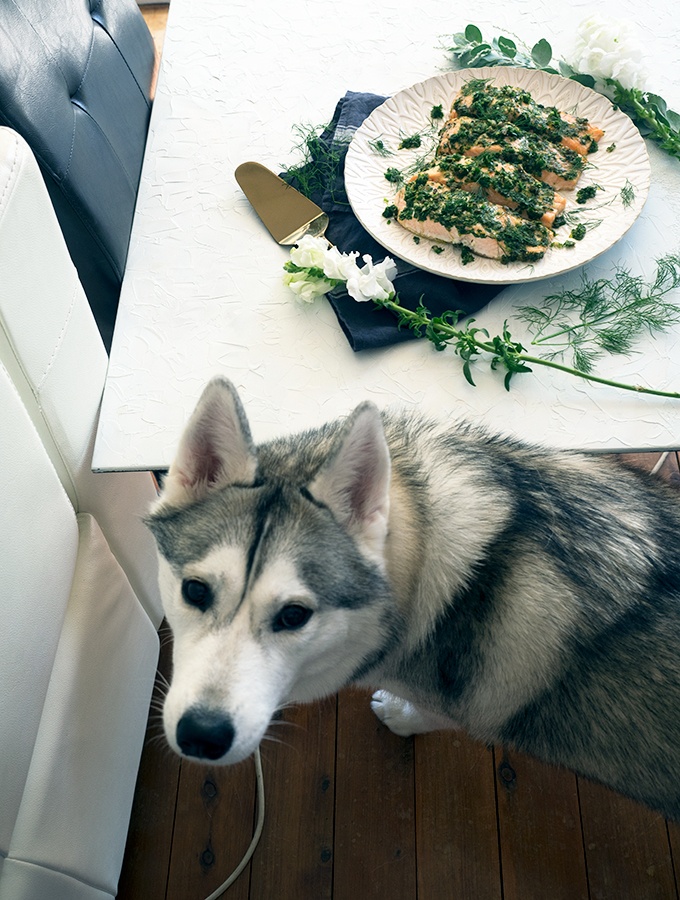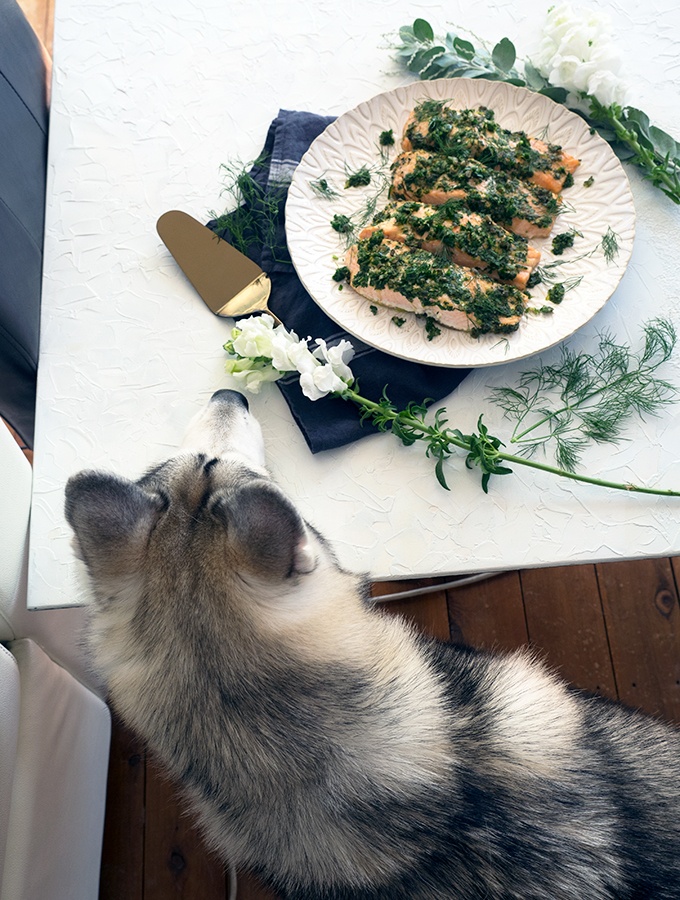 She was told she could look but not touch the dish being photographed, and that's exactly what she did. Salmon is one of her favourite foods.
With not much styling (I threw some flowers around from a vase) this is a great looking dish. It's all about those wonderful herbs and sexy salmon fillets.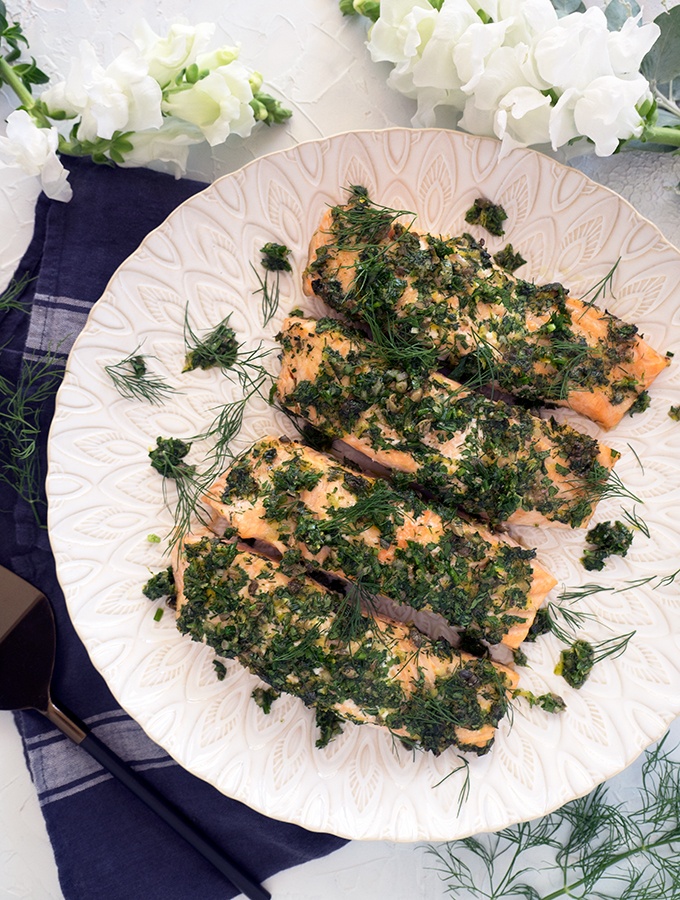 Having made this quick herb roasted salmon recipe numerous times. It's one of my go-to, no-fail recipes. Very simple to prepare and then you just whack it in the oven to cook while making an accompanying salad.
Loving this quick herb roasted salmon recipe so much I thought it was about time that I shared it with you.
The salmon is baked on a high heat for only 15 minutes in the oven. This ensures juicy succulent salmon. Don't be tempted to leave it any longer. Do let it rest if you have the time. I tend to plate everything else up first and let the salmon sit and rest as I do.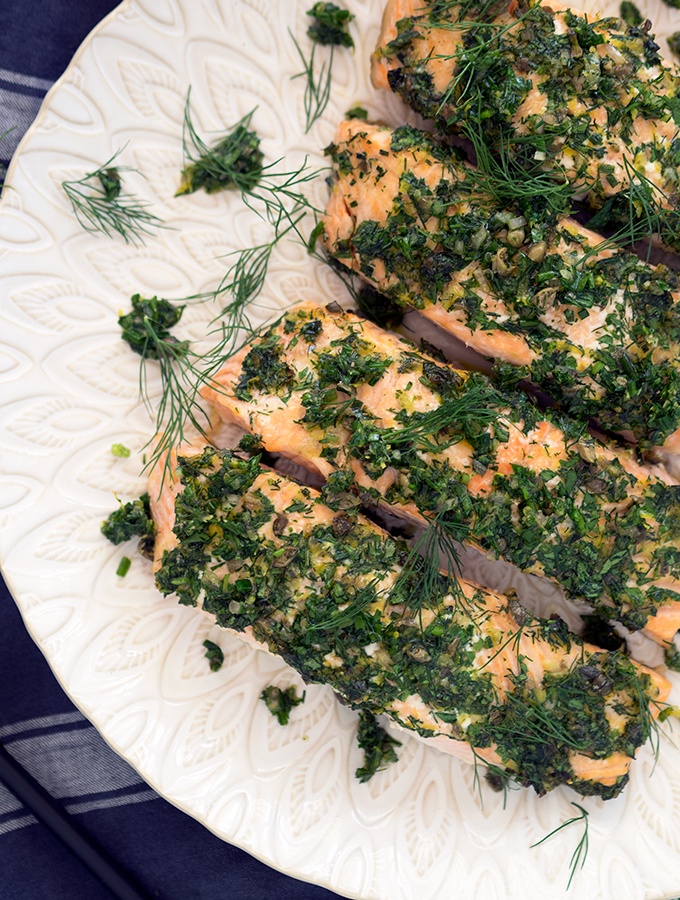 I did do something different when making my quick herb roasted salmon this time. I made it, photographed it and then placed the salmon in the fridge for dinner that evening.
What I discovered is if you cover the salmon with aluminium foil and re-heat it until it just comes back to temperature, it's still incredibly succulent. I also discovered it's pretty tasty cold from the fridge too.
You may wonder why I reserve half the herb and oil mixture to add once the quick herb roasted salmon is cooked? It gives you another added depth of flavour. By dressing the salmon with some of the reserved herbs you are adding a punch of zing and freshness back into the dish. While still enjoying the flavours they have imparted on the salmon during the cooking process. You could say it is a double herb whammy.
Sara xxx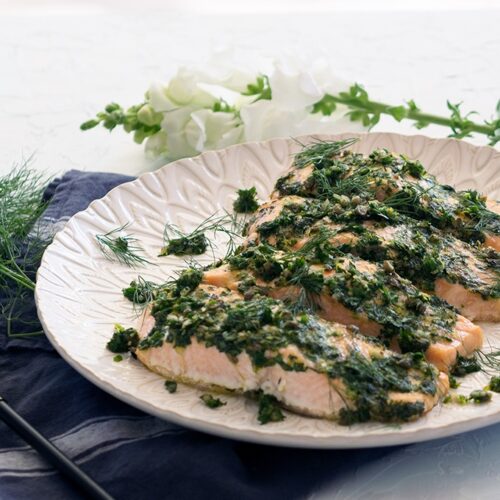 Quick Herb Roasted Salmon
My quick herb roasted salmon recipe is perfect for a family mid-week dinner or even weekend entertaining. A quick and tasty salmon recipe that produces succulent salmon fillets every time.
Print
Pin
Rate
Ingredients
4

salmon fillets (skinless)

2

tablespoons

fresh chives, finely chopped

2

tablespoons

fresh parsley, finely chopped

2

tablespoons

fresh dill, finely chopped

2

tablespoons

capers, finely chopped

zest of one lemon

5

tablespoons

olive oil

sea salt flakes to season
Instructions
Preheat oven 220 deg C (425 deg F). Line a shallow baking tray with baking paper.

Check salmon fillets and remove any bones that may have been missed by your fishmonger and place on baking tray.

In a medium size bowl mix all other ingredients until combined.

Rub half of the herb and oil mixture on the top and sides of the salmon fillets. Reserve the other half of the herb and oil mixture to dress the salmon when serving. Sprinkle with a touch of sea salt.

Place salmon in the oven and bake for 15 minutes until salmon is still slightly rosy in the centre.

Remove salmon from the oven and leave to rest (covered loosely with some aluminium foil) for 5 minutes.

Carefully remove salmon fillets from the baking tray and place on a serving plate. Drizzle the remaining herb and oil mixture over the fillets to serve.

Serve with a fresh garden salad or pan-fried potatoes.
DID YOU MAKE THIS RECIPE?
I love knowing when readers make my recipes, tag me on Insgragram @bellyrumbles
Become a subscriber and don't miss a single delicious recipe, restaurant review or travel adventure.
Subscribe to our mailing list