Maggie's Dog Café is a dog friendly café at Moonee Beach near Coffs Harbour NSW. Great dog friendly menu and your fur baby is able to sit inside with you.
If there was ever a magical café for you and your doggo Maggie' Dog Café is it. It's a dog friendly wonderland.
We had spent the evening at The Dog House in Port Macquarie and decided to head up the highway for breakfast on our way to the Gold Coast. As this was Harley's first big road trip, I had researched the best places to stop on our way.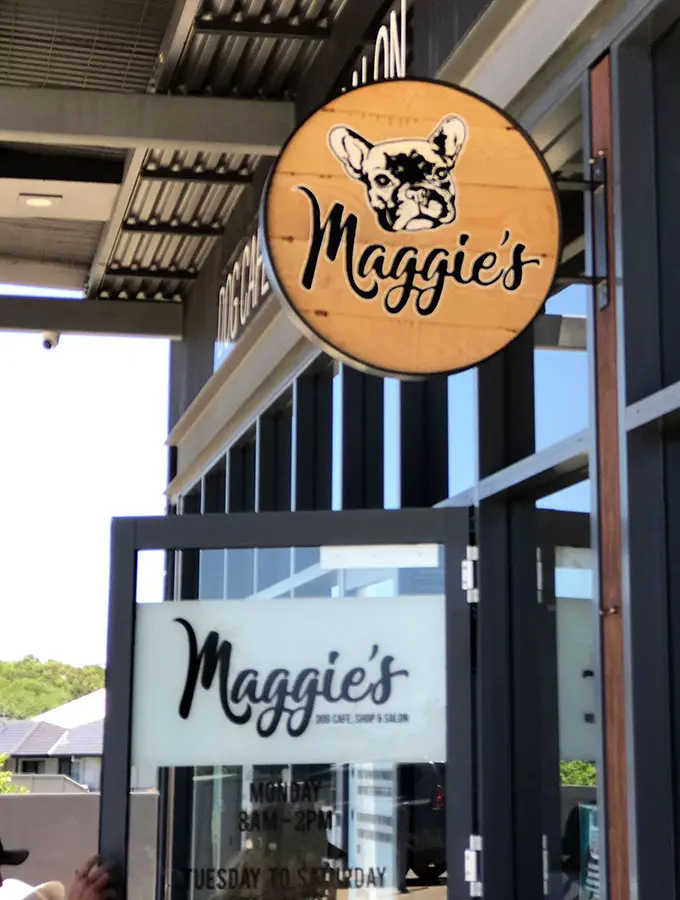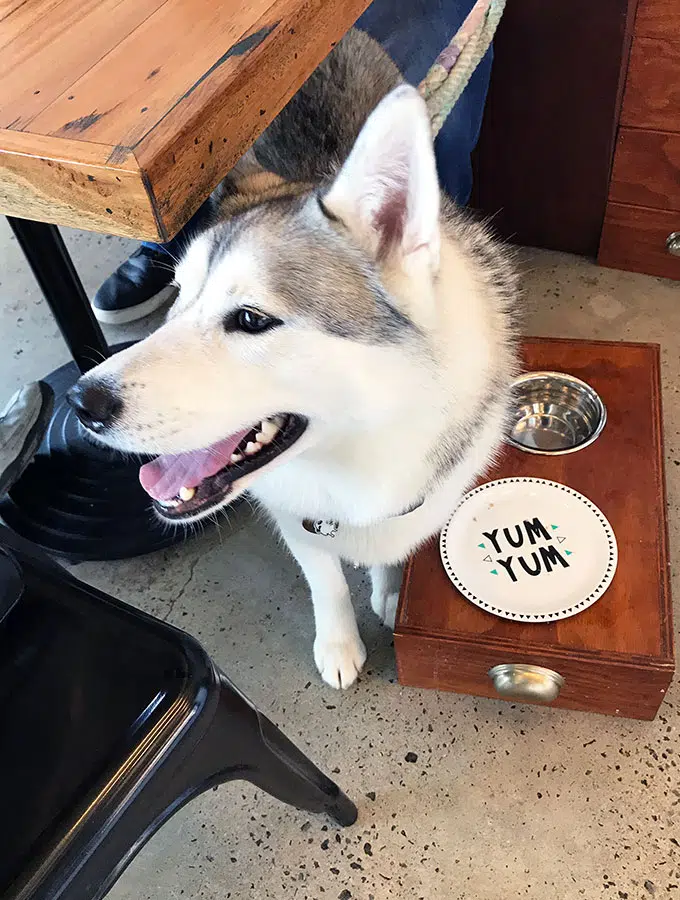 Of course, I was thrilled when I stumbled across a dog friendly café that allows you to bring your dog inside to dine. A nice change to eating in designated outside areas for both us and Harley.
But Maggies Dog Café is more than just a café that allows you and your fur baby to brunch indoors. There is a dog play area, dog grooming and shop. They also offer doggy day care.
As soon as we walked in Harley had the biggest smile on her face.
Maggie's Dog Cafe Play Area
What was great about Maggie's is that when you are road tripping with your dog, a safe off leash area to break your trip is a must. It's even better when there is a ball pit, ropes, toys and other dogs to play with. Yes, doggos love a good ball pit as much as human kiddos.
It isn't a massive area, but big enough to let your fur kid run around and be social. Harley is a very social girl and met some nice new friends.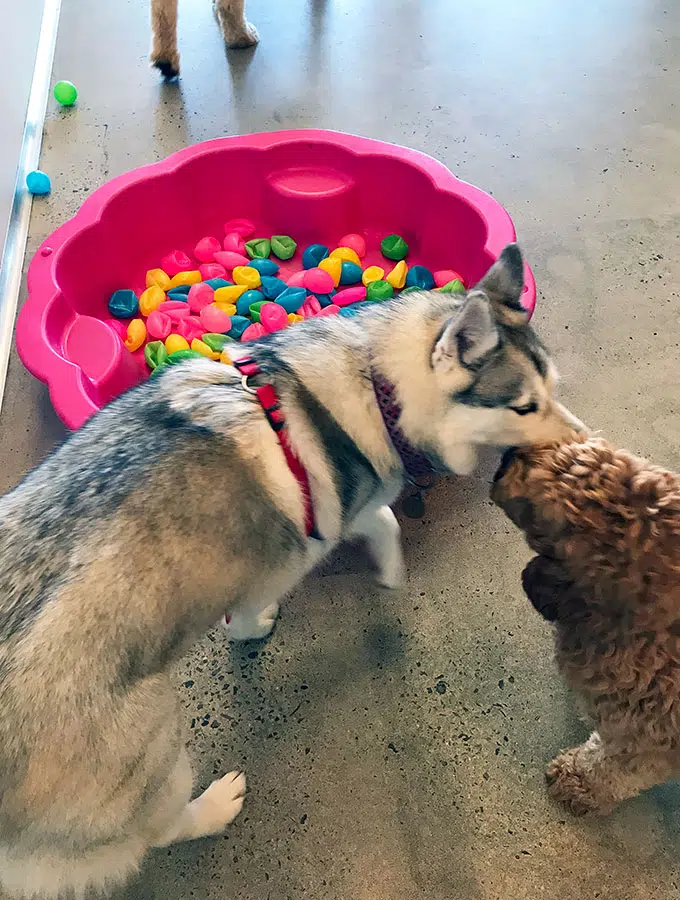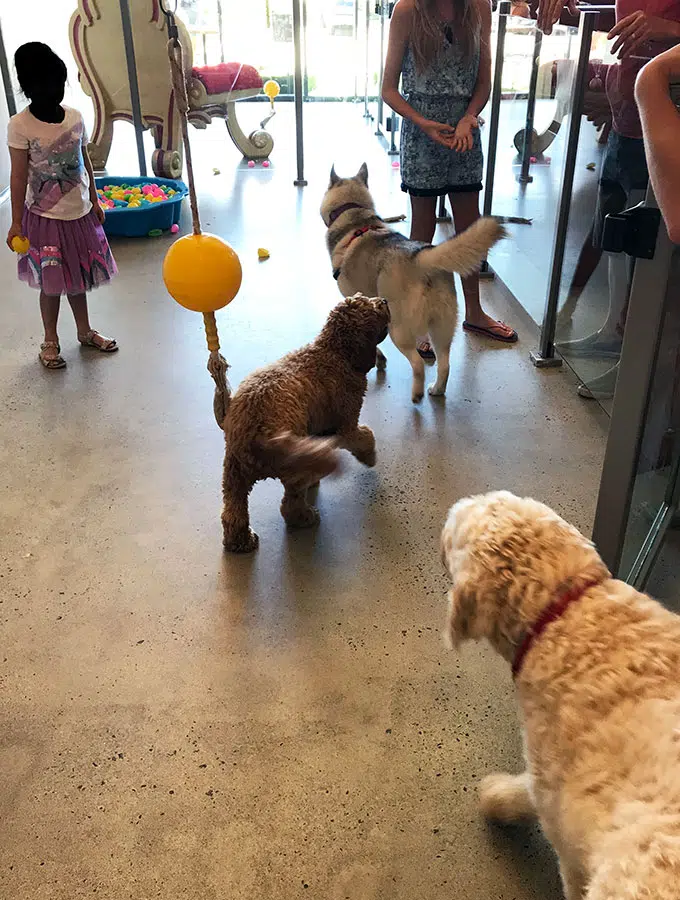 The Shop
Maggie's Dog Cafe has a pretty cool shop inside the cafe. It is packed with accessories that any stylish pooch would be happy to wear out and about, pet care products, treats, toys and food.
I saw dog treats that I hadn't seen anywhere else before. Harley was lucky to pick up a packet of dried coconut prawns, dog eggnog and a few other treats.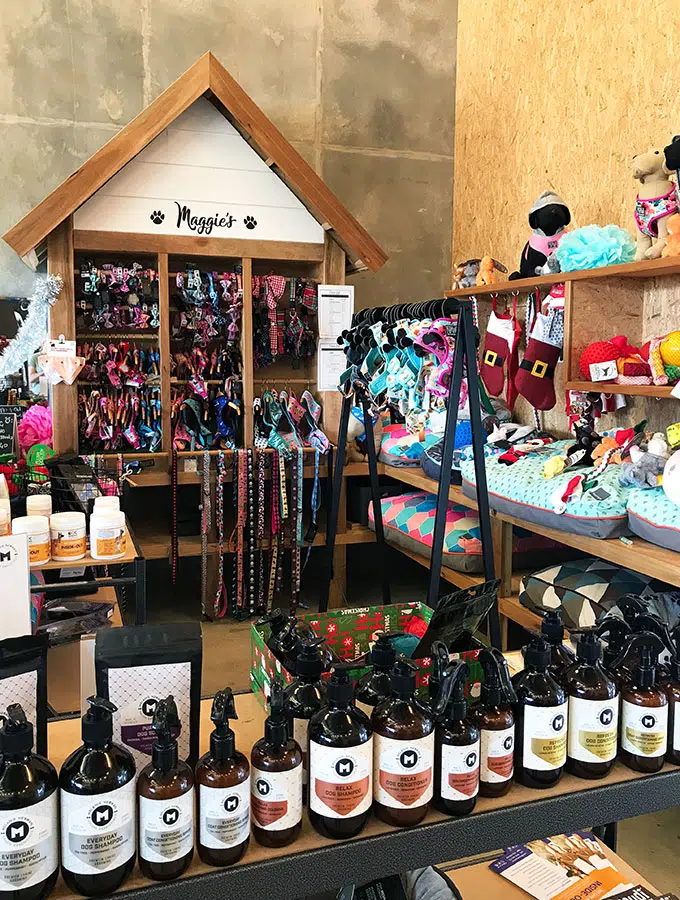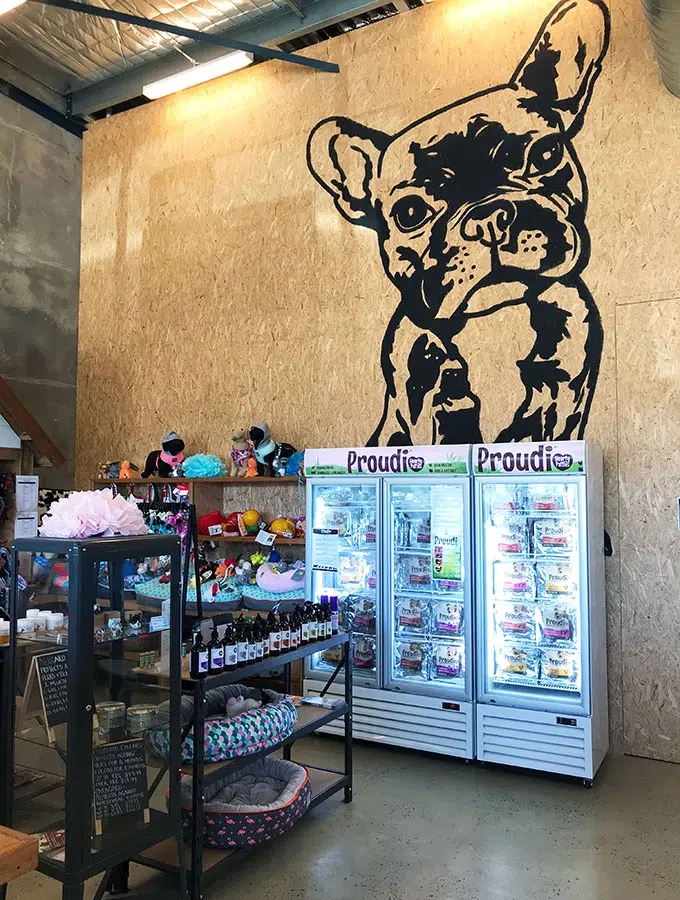 Maggie's Dog Cafe Menu
They offer a nice selection of general cafe fare. All their cakes and desserts on display are locally sourced. They also try to have a good selection of gluten free, raw and vegan options available. Coffee is from Stoka Coffee Roasters in Coffs Harbour, and the tea from Red Sparrow Tea Company, also a local business in Coffs.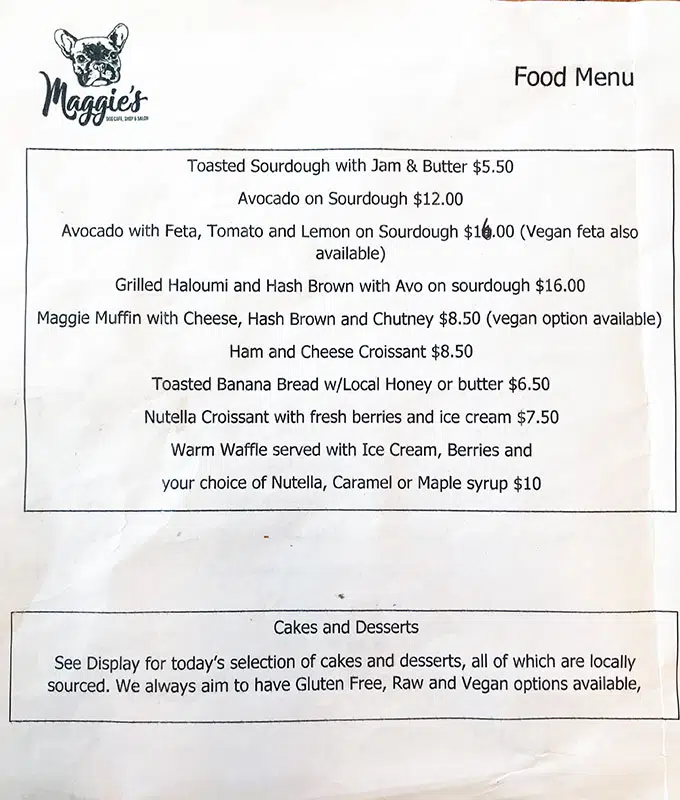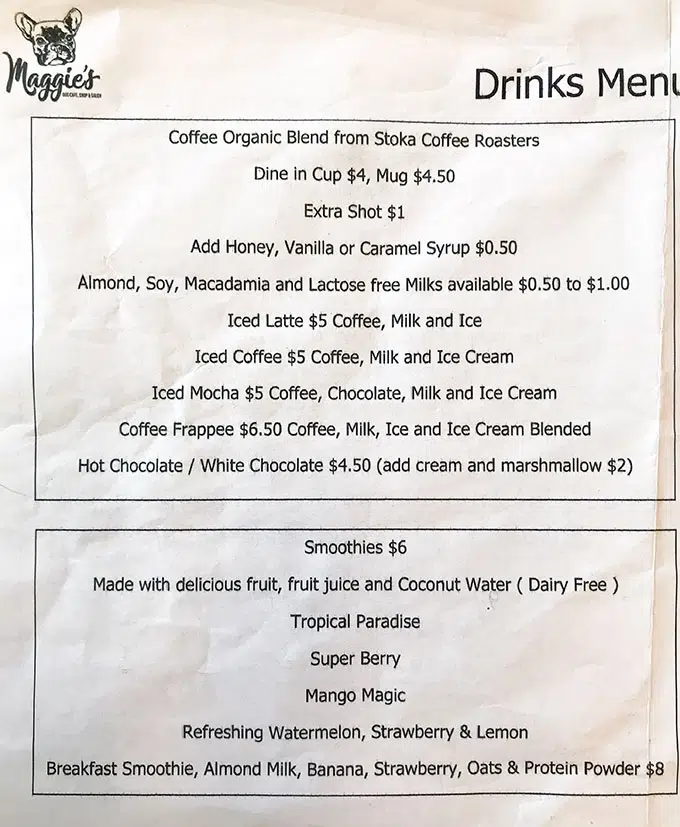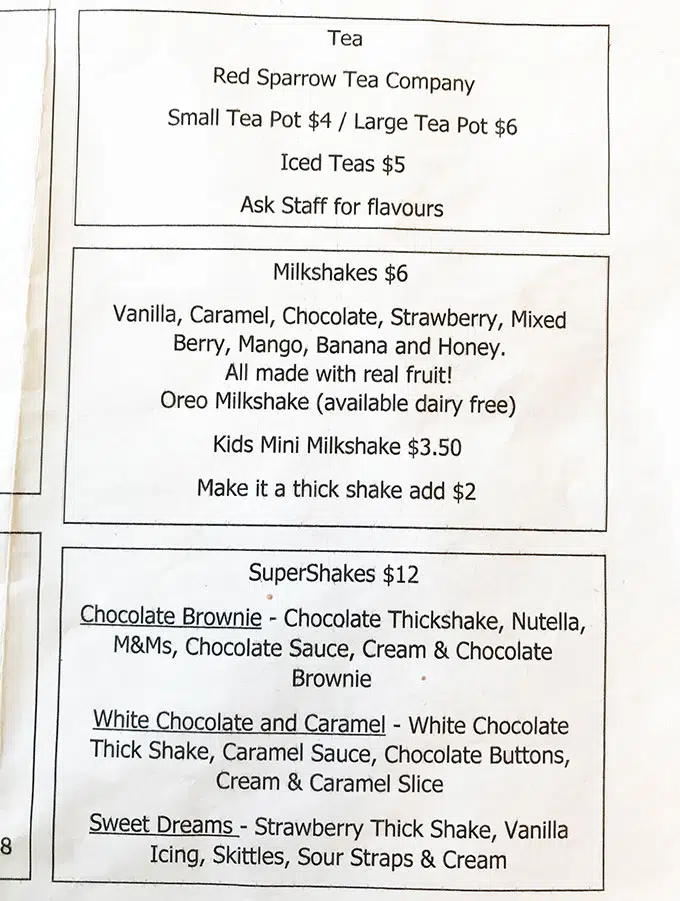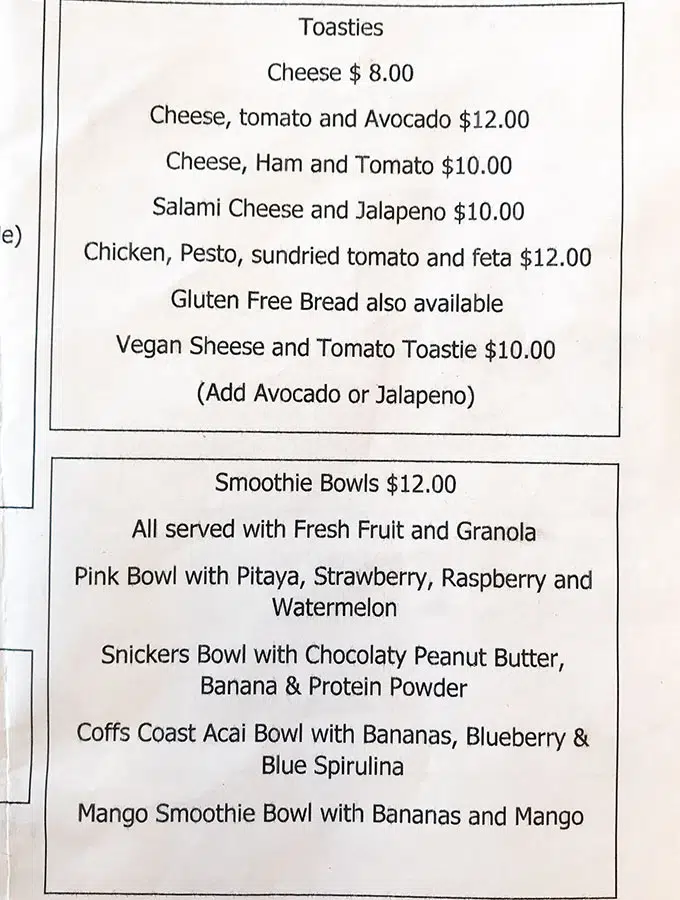 Cafe Food for Doggos
Being a dog Cafe Maggie's does not disappoint with variety for your pooch. Harley had a probiotic puppicino and a muffin. The cabinet is filled with homemade biscuits, muffins and other delights for your dog to enjoy. We also purchased some biscuits to take on the road with us.
Harley had her own little "table" to eat from. More than she gets at home! It is a specially designed wooden box that elevates their individual water bowl and plate off the floor. You can't say that it isn't all quite civilized.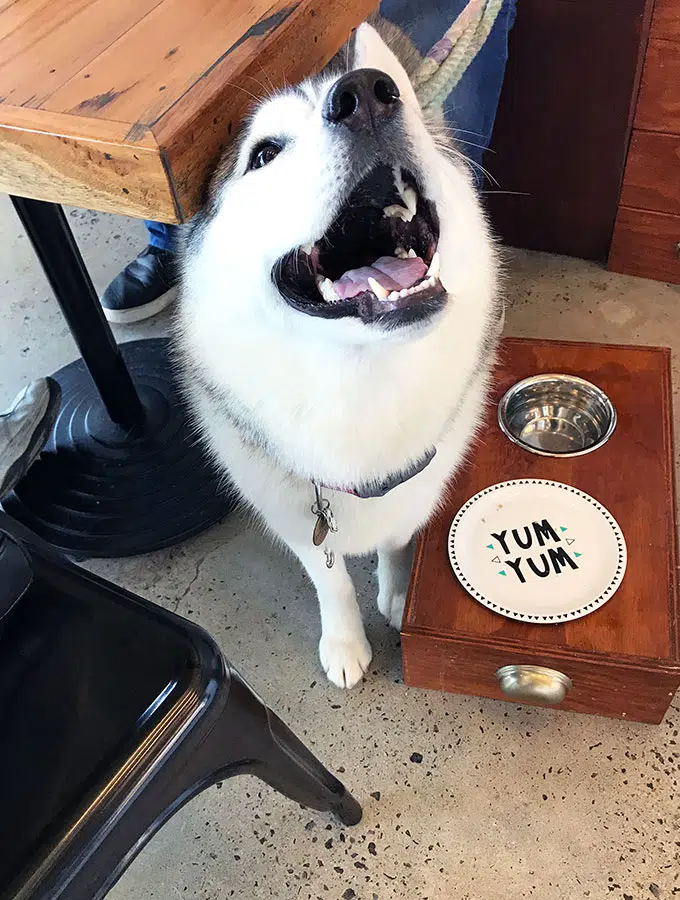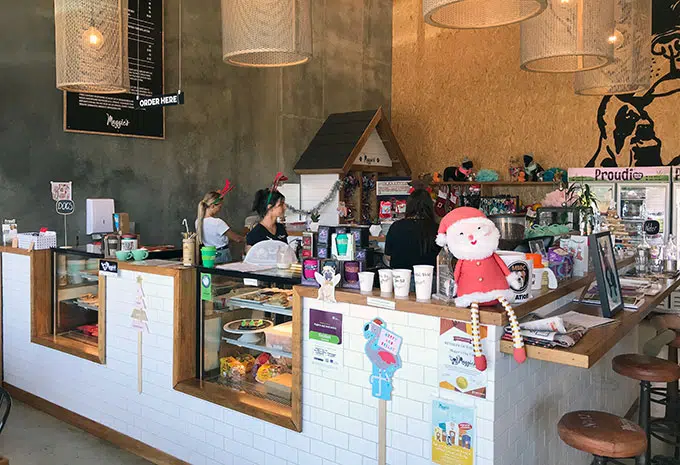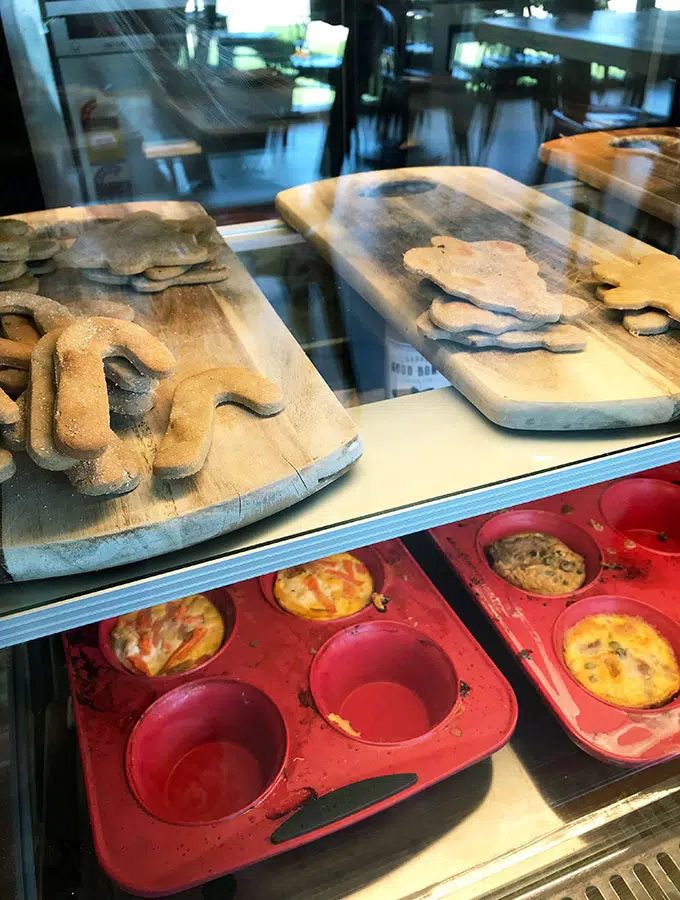 But what about the human food?
As you saw from the menu above humans are not forgotten. I opt for my usual, an espresso. A flat white and milkshakes are also ordered. The milkshakes are strawberry and banana with honey, all made with real fruit. They are totally delicious. The coffee hits the spot as well.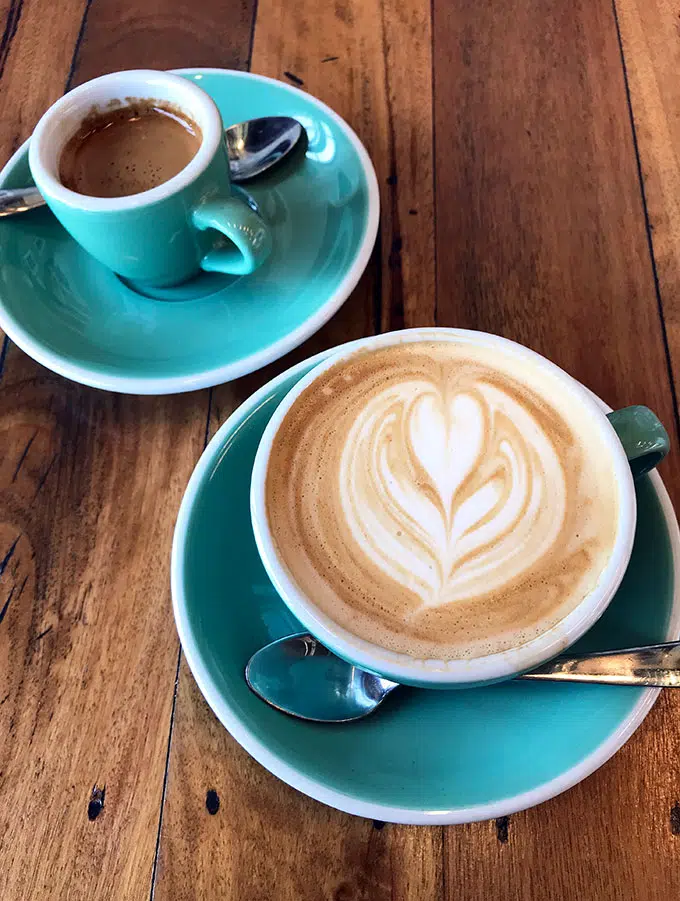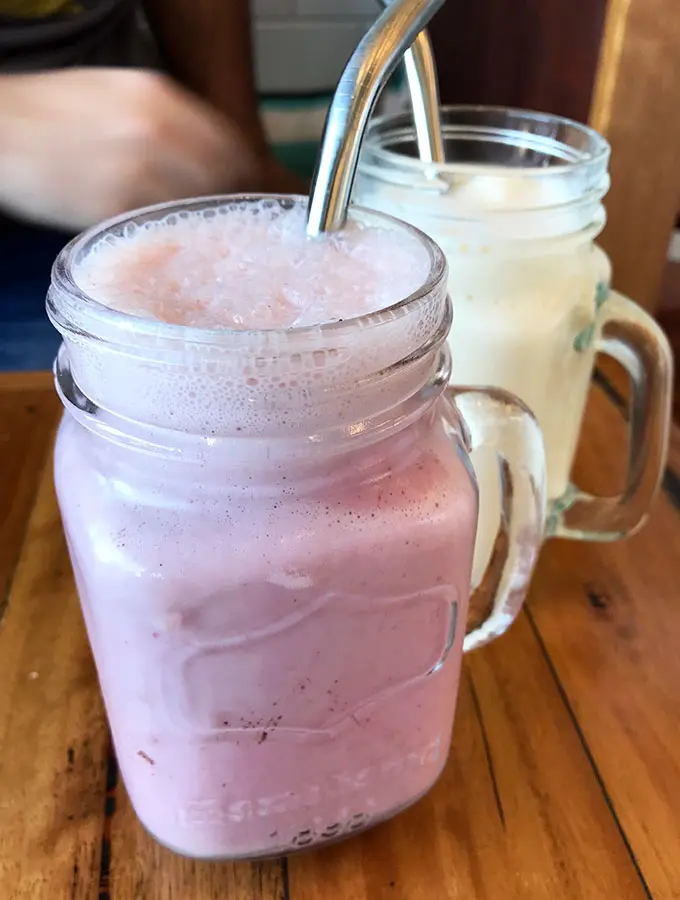 With different levels of hunger, different levels of "toast" were ordered. Simple toast with butter and jam was as expected. I went for avocado, tomato, and feta on sourdough. Josh decided on something a little more satisfying with the avocado, haloumi and hashbrown option. Of course, Harley had to taste test too with a bit of a haloumi fix of her own.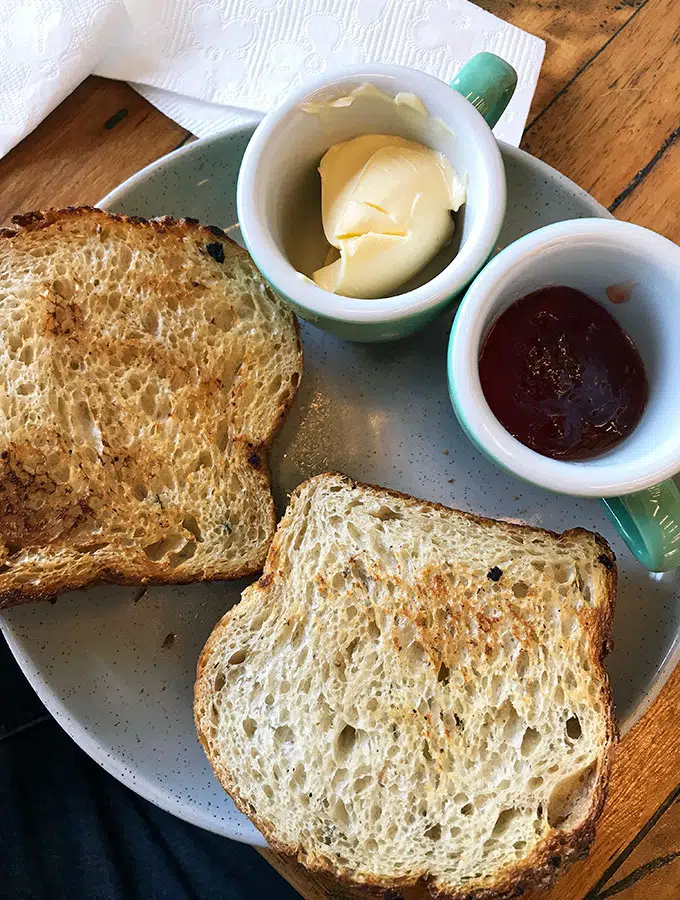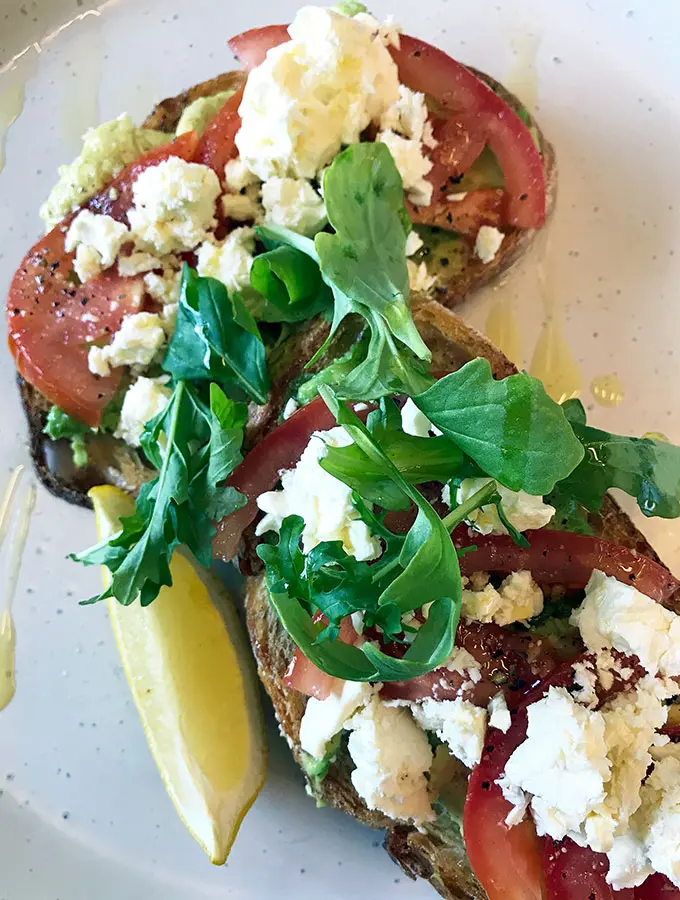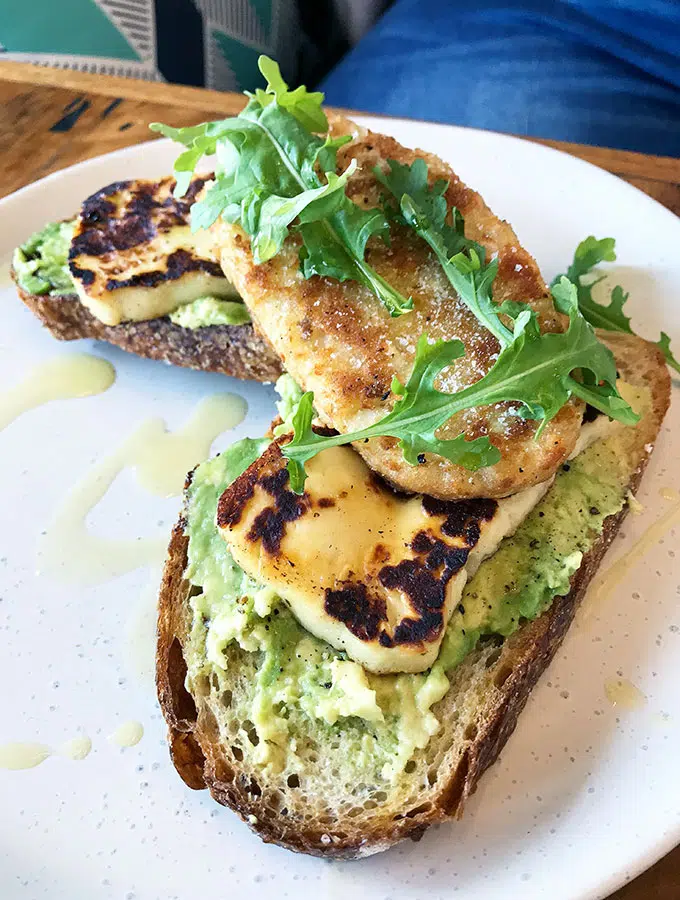 Visiting Maggie's
It goes without saying that only well socialised and friendly doggos need apply. There are a few rules and regulations which are clearly outlined on the door as you enter. All quite common sense to be honest. If your dog isn't a social butterfly like Harley, then Maggie's Dog Cafe may not be for you.
Saying that, you should always be respectful of other owners and their fur babies. Even though Harley is generally a happy little bumblebee, sometimes she also has enough of people and other dogs. If you aren't in the off leash area and your dog wants to get up close and personal with another doggo you don't know, always check it out first with the fur parents. Some dogs are nervous or anxious for various reasons which aren't their fault. It's the responsible thing to check first.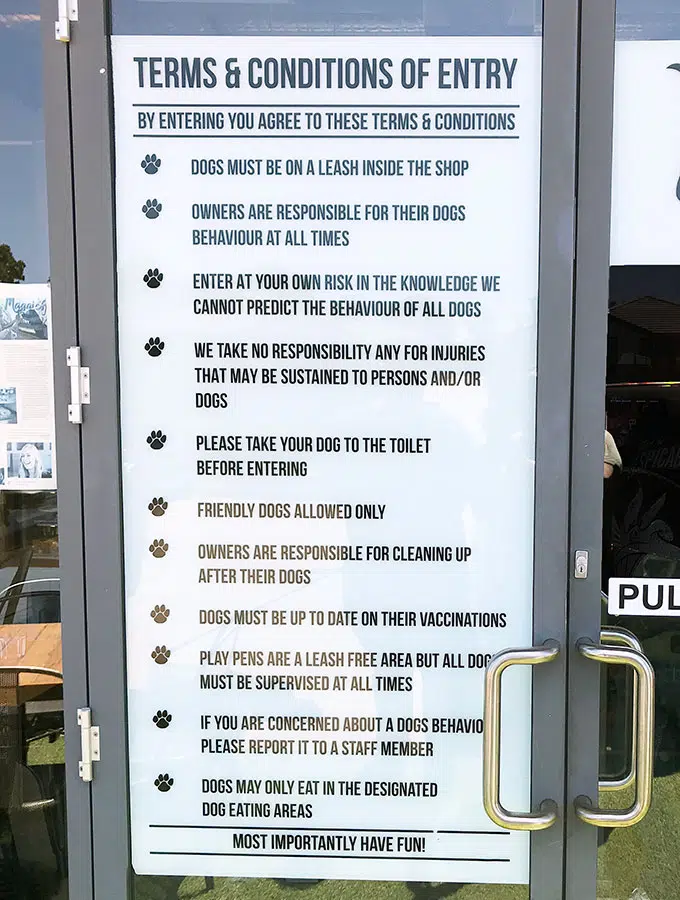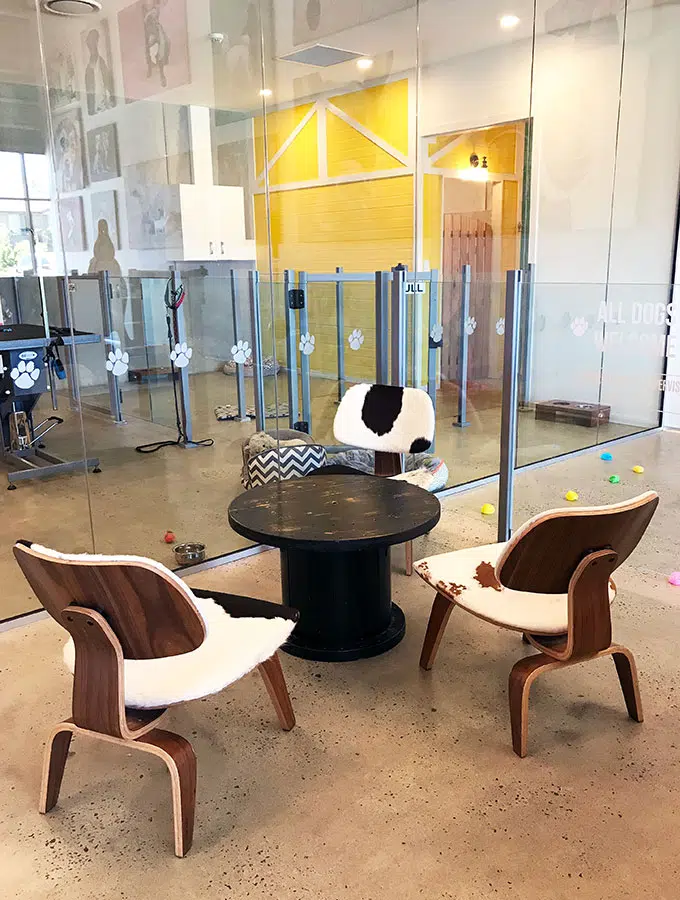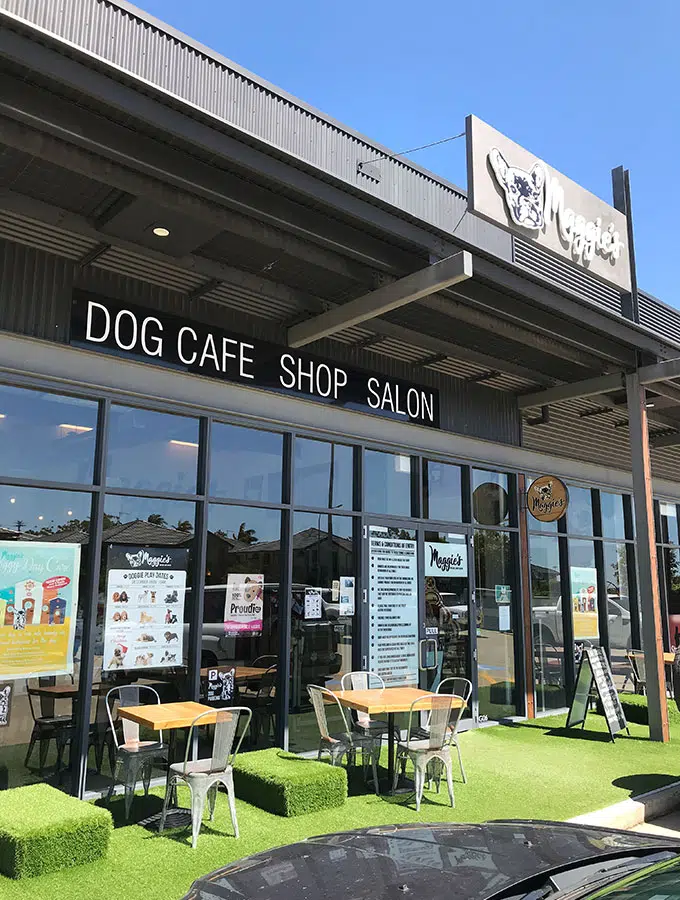 Harley had a blast and great breakfast, and so did we. Such a shame that we don't have something like Maggie's in Sydney. It's a small dog version of a kid's play centre, and it is great!
Sara xxx
Maggie's Dog Cafe
Moonee Market Place, Moonee Beach NSW Australia
www.maggiesdogcafe.com
More Dog Friendly Fun
The Dog House - dog friendly accommodation Port Macquarie
The Vic - one of our favourite Sydney dog friendly pubs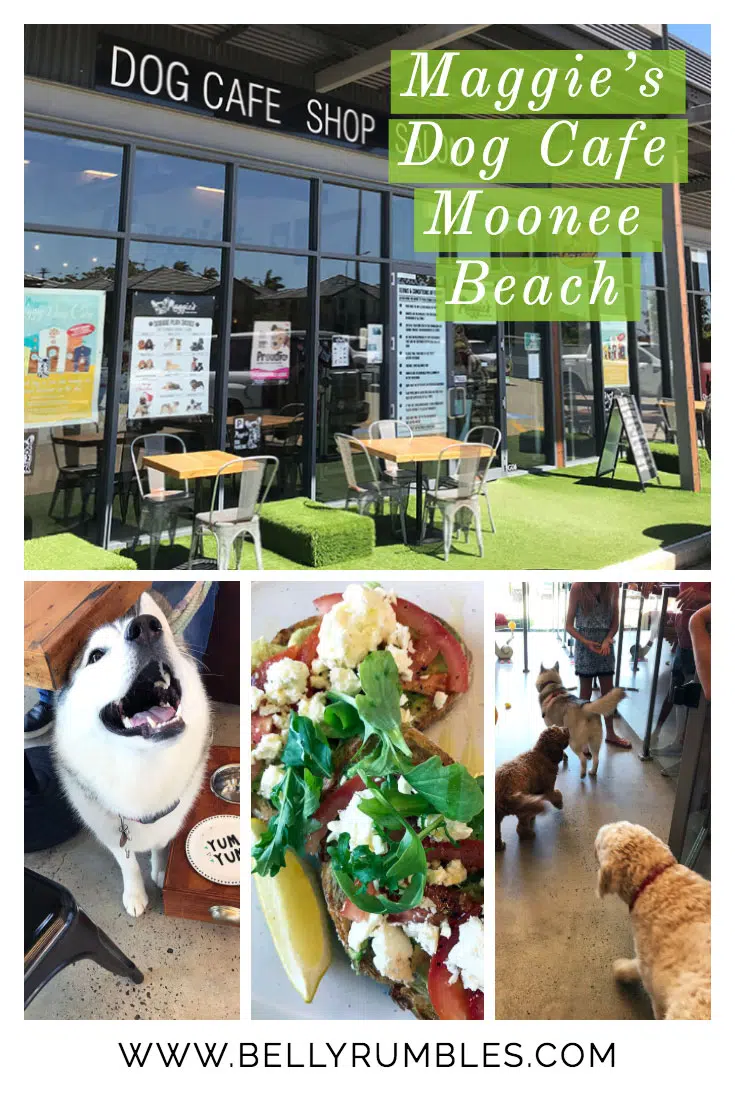 PIN ME TO SAVE ME