Well hello there. I hope that you had a wonderful Christmas and New Year break. As this is my first post for the year, sending you a massive New Year hug, and wishing you all the best for 2015.
As you know I had a few weeks away from Belly Rumbles. Thank you for being patient with me while I took some R&R. I really needed it. What did I do? To be honest, squat.
What better way to start the Belly Rumbles year than with a mushroom pie that my stomach is completely in love with. This pie was inspired by the Greek spinach filo pie, spanakopita. You won't find a shred of spinach in my pie, mushrooms have taken its place. Therefore I am calling this pie manitaropita. Manitari being the Greek word for mushrooms, I believe.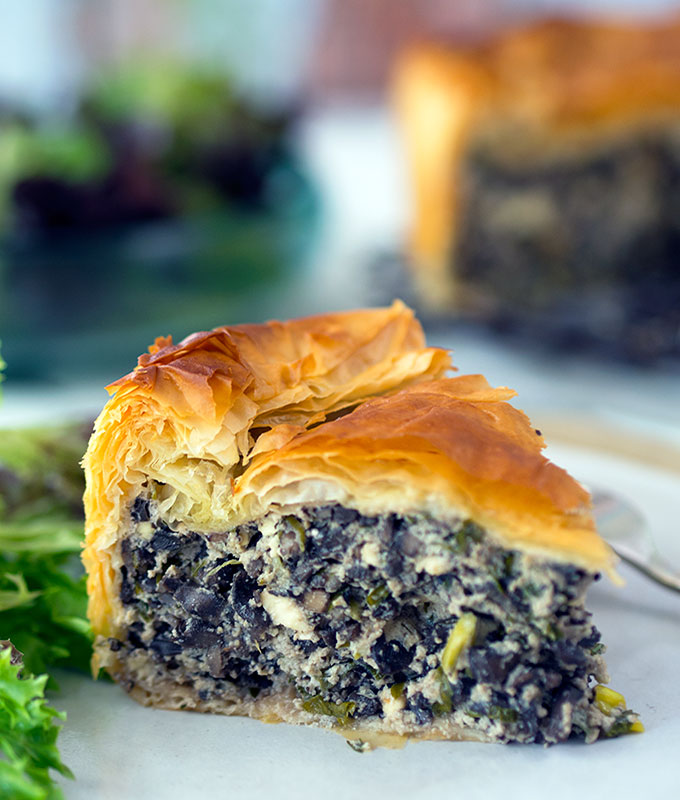 Though the spinach has been replaced with mushrooms you will still find ingredients common in spanakopita, feta, ricotta and spring onion. I have also thrown in a nice dose of parsley and oregano.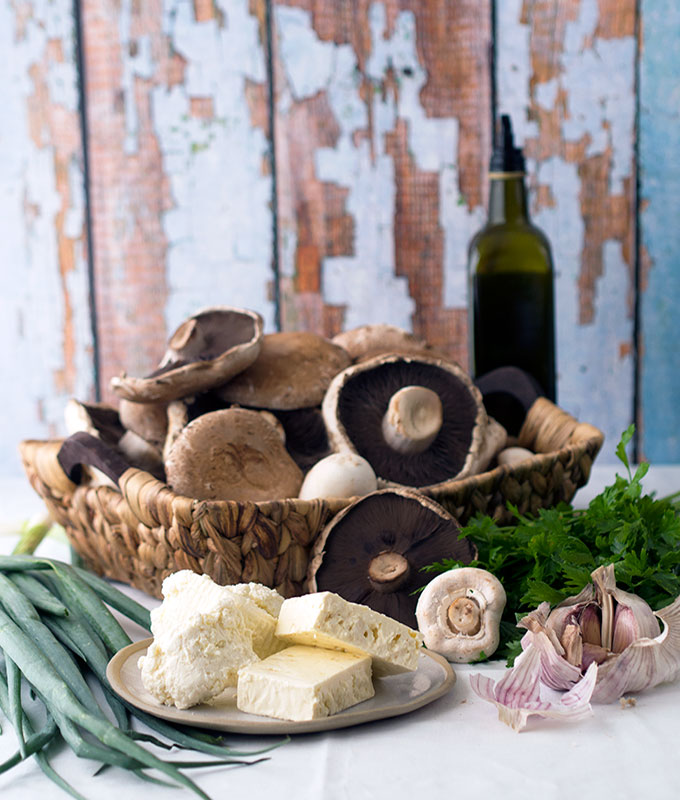 Just like a good spanakopita, my manitaropita is delicious warm, but even better cold, making this mushroom pie perfect for summer. It's brilliant to make ahead for a 'bring a plate' get together with friends or a picnic. In fact it was a recent 'bring a plate' lunch with good friends that inspired this recipe. One friend made a delicious spanakopita for the lunch.Filo pastry can be a little tricky to work with. A bit like working with a small child, it needs constant attention, but don't let that deter you. Once you get your 'covering the filo' mojo on, you will become a well oiled filo pie making machine.
The pastry can dry out very quickly and become brittle if not kept covered. Place your filo pastry between two sheets of baking paper and then cover with a damp tea towel. Keep the unused filo covered during the layering and buttering your filo sheets.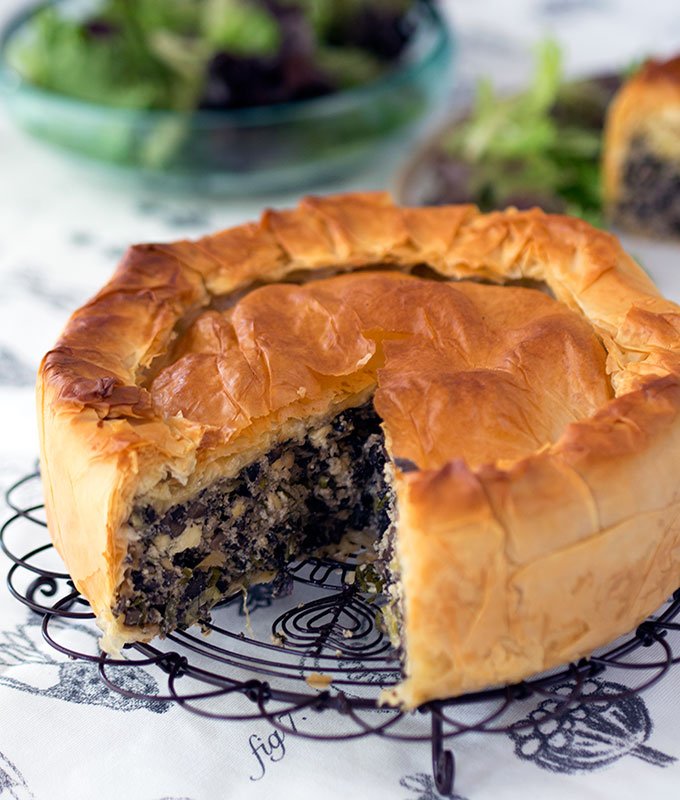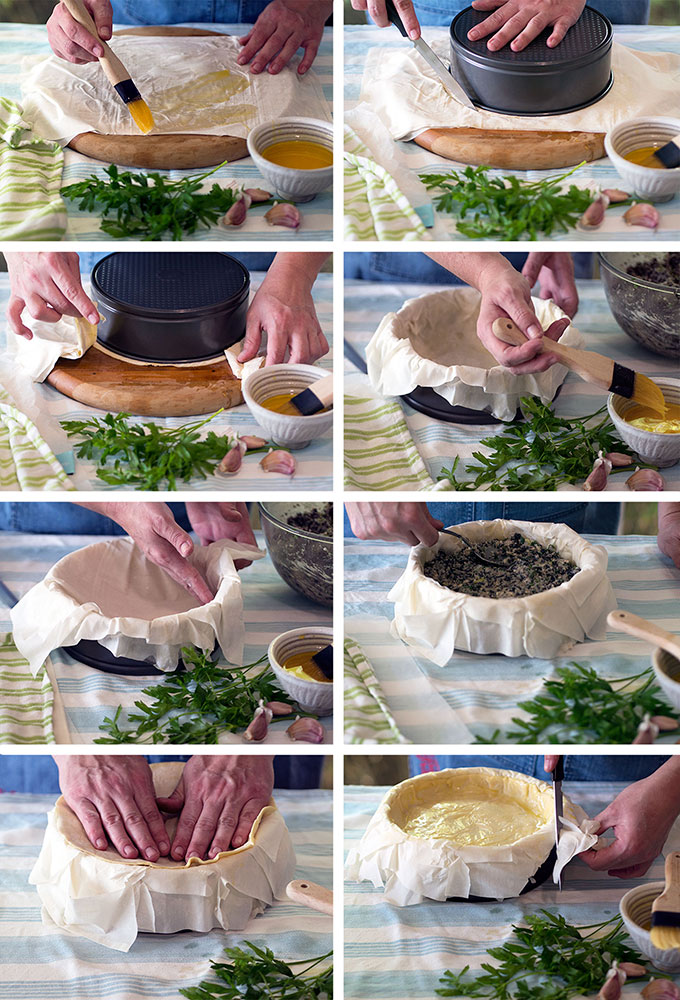 Besides keeping your filo covered, so it doesn't dry out, the other element you need to take care with in this recipe are the mushrooms. Yes the key ingredient needs a little love and attention too. But don't worry I'm not asking you to do anything too difficult.
You may look at the ingredient list and fall over that a kilogram of mushrooms are needed for this recipe.
The mushrooms will reduce to a third of their original size by the time you have finished. You will need to cook your mushrooms until they have released all their moisture, then continue cooking until no more moisture is being released and you end up with zilch liquid left in your pan.

By cooking them this way you intensify their flavour and are assured of not ending up with a soggy pie. It is also a great way to prepare your mushrooms if you are using them in a quiche or any other pastry dish.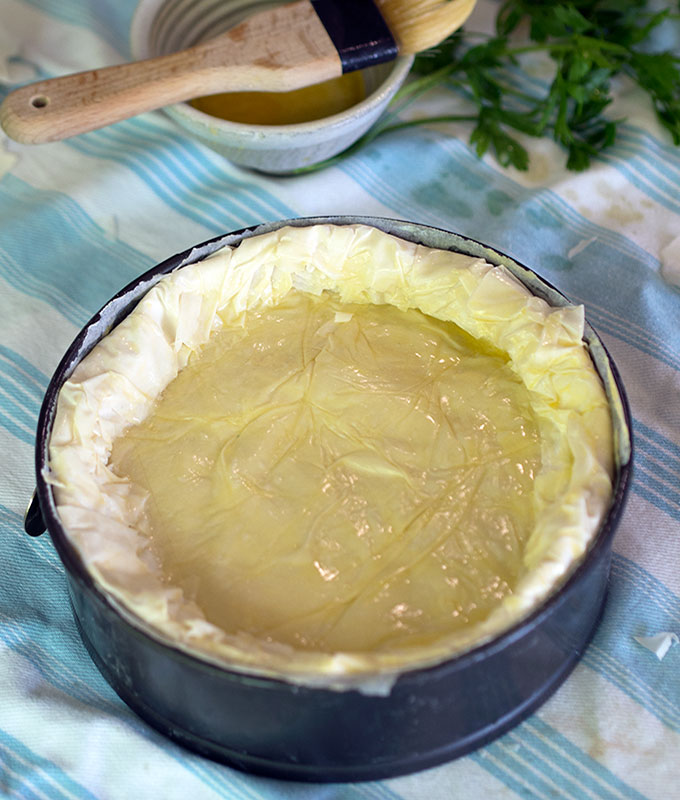 When out of the oven you will end up with a pie that has beautiful crisp butter filo layers. The filling isn't as dense as you would expect, but in fact quite light, as I said before, absolutely perfect for summer.
Now that I have shared this glorious mushroom pie recipe with you, I would love to share some pretty fantastic news.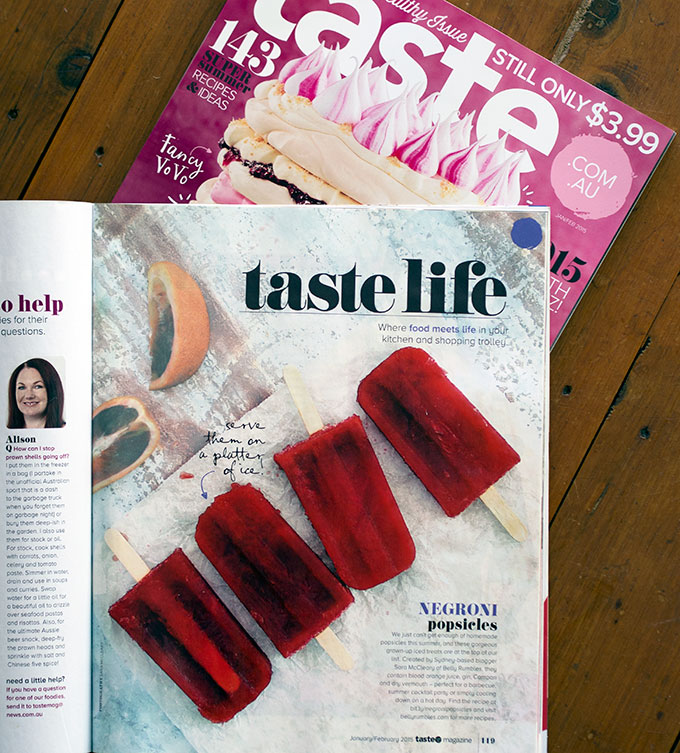 Have you picked up this month's edition of Taste Magazine? If you have, then quickly turn to page 119. There you will find a complete whole page spread on my negroni popsicles that I made for Belly Rumbles last year.
I knew that I was being featured, but I really did just expect a tiny little corner of a page. You can imagine the smile on my face when I flipped through to my feature. Thank you Taste Team, such a wonderful start to 2015.
I hope you have had a brilliant start to 2015. Get up to anything exciting over the Christmas/New Year break? Or did you end up doing absolutely nothing like me and just take some well needed rest and relaxation?
Sara xxx
Belly Rumbles would like to acknowledge its partnership with the Australian Mushroom Growers' Association for this post. This recipe was created, developed, and photographed by Sara McCleary using Australian Mushrooms.
Printable Recipe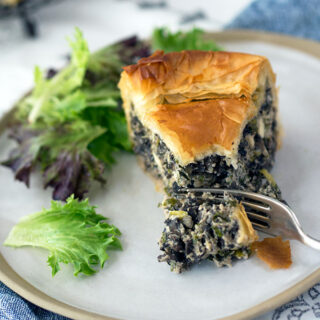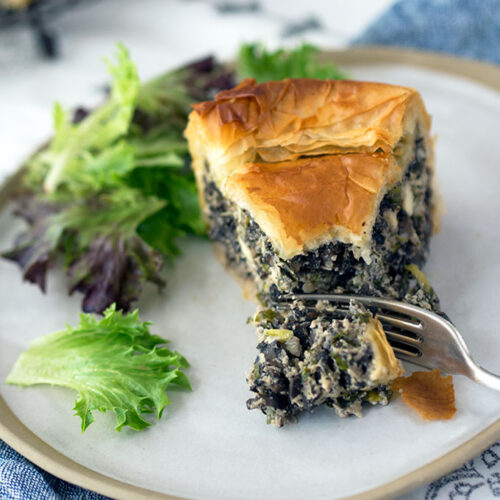 Mushroom Filo Pie (Manitaropita)
Mushroom filled crisp and light filo pie. Perfect for summer entertaining and picnics.
Ingredients
500

grams

portabella mushrooms

small diced

500

grams

field mushrooms

small diced

2

tablespoons

olive oil

2

large cloves garlic

finely chopped

180

grams

feta cheese

300

grams

ricotta cheese

45

grams

parmesan cheese

2

eggs

45

grams

spring onions

shallots, finely sliced

30

grams

parsley

finely chopped

10

grams

oregano

finely chopped

salt & pepper

150

grams

butter

melted

375

grams

filo pastry

approximately 22 sheets
Instructions
Pre-heat oven 180 deg C (360 deg F).

In a large heavy base frying pan heat oil and add mushrooms. Cook mushrooms, stirring continuously, until they start to soften and release liquid. Add garlic and continue to stir mushrooms until all liquid has been released and evaporated and you have a dry pan. This will take around 20 minutes over a medium/low heat.

Remove mushrooms from the stovetop and leave to the side to cool completely.

While mushrooms are cooling add feta, ricotta, parmesan, eggs spring onions, parsley and oregano to a large bowl, mix. Once mushrooms have cooled add them to your cheese mixture and mix until completely combined. Season with some ground salt and pepper.

Brush a 22cm round spring form tin with melted butter. Line with baking paper, a circle in on the base and strips around the side. Brush over the baking paper with more melted butter once tin is lined.

On a chopping board place one sheet of filo pastry. Brush the filo pastry with melted butter. As this will eventually form the lid of your pie there is no need to brush the entire filo sheet. Just paint a filled circle on your filo, which is slightly larger than your spring form tin.

Place another layer of filo on top of your butter brushed sheet, and brush with butter as you did before. Continue doing this until you have used half the packet of filo pastry.

Once you completed the above step place your spring form tin on top of your layers of filo. Cut a circle about 1cm wider than your tin out of the filo. Keep the circle covered for later use, discard the leftover cut filo.

Now start to layer your spring form tin with filo pastry. Making sure to brush each layer well when you place it in your tin. As your filo sheets will most probably be a rectangle shape, you will need to lay them alternately in your tin (one length wise and then the other widthwise) to ensure maximum coverage. Do not brush the last layer of filo pastry with butter.

Place your mushroom mixture into your filo lined tin. Press down into the edges and level the top with the back of a spoon.

Place the filo lid you have set aside on top of your pie and press it down until it is flat.

With a knife or kitchen scissors cut the filo pastry that is over hanging your tin. Making sure to leave enough that you can fold it over the top to seal the lid of your pie. Don't be precious (as you can see I haven't) about getting it all even. Once you fold it over nobody will be able to tell. Plus having it a little rustic looking adds to the charm of this pie.

Place in oven and bake for 45 minutes. The top will puff up slightly and your pie should be a lovely golden brown.

Serve hot or cold with salad.
Measurement Notes
All measurements are Australian metric standard. All measures are level, and cups are lightly packed unless specified. 1 teaspoon = 5ml / 1 tablespoon = 20mls / 1 cup = 250ml /4 teaspoons = 1 tablespoon.
NUTRITIONAL INFORMATION
The recipe's nutritional information is an approximation based on an online calculator. It is meant solely for reference purposes. If you're looking for precise details, be sure to double-check with your own research.
Calories:
503
kcal
Carbohydrates:
33
g
Protein:
17
g
Fat:
34
g
Saturated Fat:
18
g
Cholesterol:
124
mg
Sodium:
760
mg
Potassium:
591
mg
Fiber:
3
g
Sugar:
4
g
Vitamin A:
1225
IU
Vitamin C:
7.6
mg
Calcium:
305
mg
Iron:
3.3
mg
Did You Make This Recipe?
I do a happy dance when people share how they went. Tag me on Instagram or Twitter @bellyrumbles & #bellyrumbles