Do you know the history behind New York's iconic Russ & Daughters? An inspiring story, even more so if you are a woman. It's believed that Russ & Daughters was the first business is history that used the word 'Daughters' instead of 'Sons'.
It was the history behind Russ & Daughters, as well as the produce available that made me fall in love, just a little bit, with the establishment. On my last visit I quite happily sat on one of the benches out front of the main store, in icy cold conditions, and munched away on a bagel with smoked salmon and a schmeer. It was the best bagel I have ever eaten.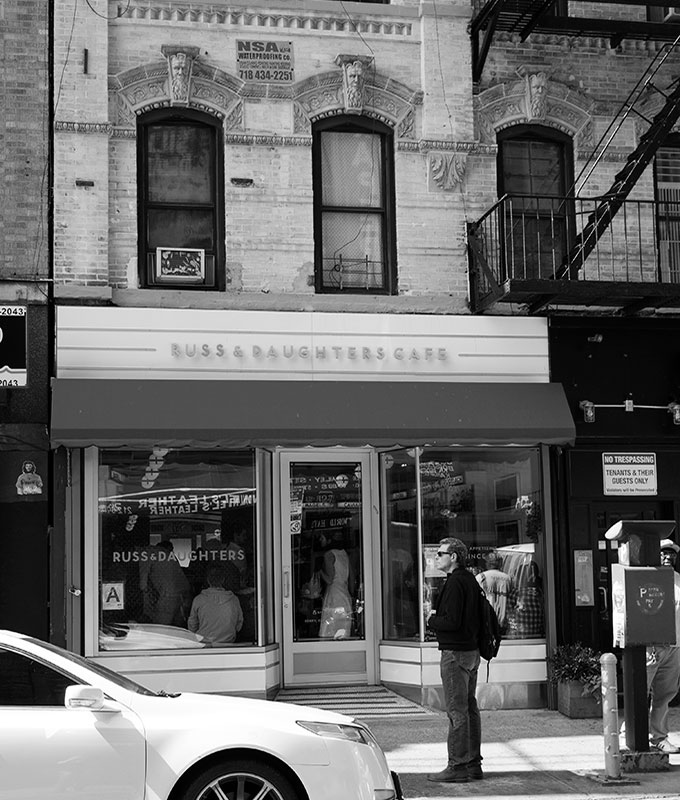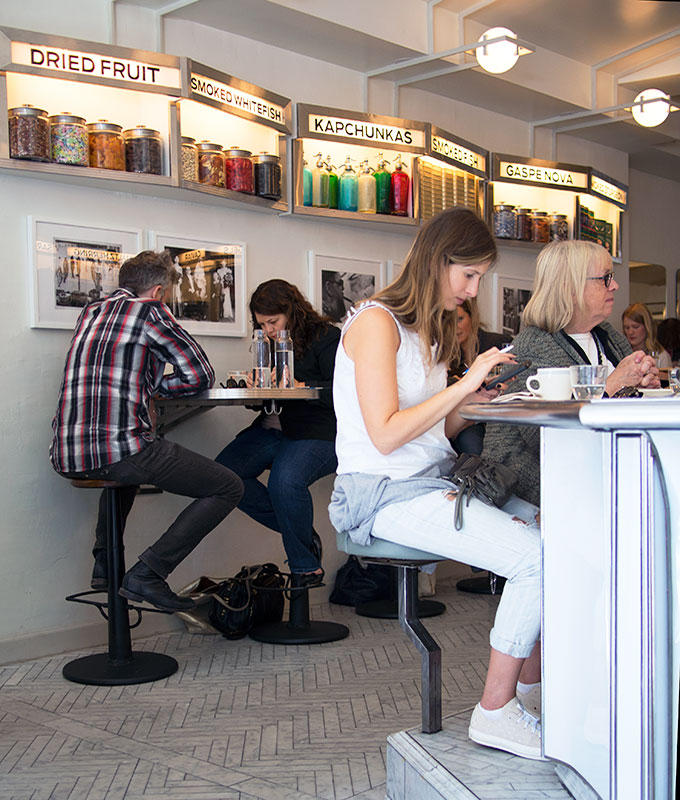 This time in New York I wanted to visit their new café. Just around the corner and up the street from the flagship store. I did walk past Russ & Daughters Appetizers on the way. I was a little amused to see the hoard of people standing and squishing onto the few benches out front eating their bagels. It would make it very hard for anyone to believe my quiet winter bagel experience.
They don't take bookings at Russ & Daughters Café. Due to this we headed there before lunch, hoping to miss the breakfast crowd and beat the lunch ones. This of course meant we joined the large brunch crowd. We put our name on the list and waited. If you do have a USA mobile number, they will happily ring you when your table is ready. For those that don't, you need to hang around in the limited waiting area (5 people) or wait outside on the street for them to come and get you.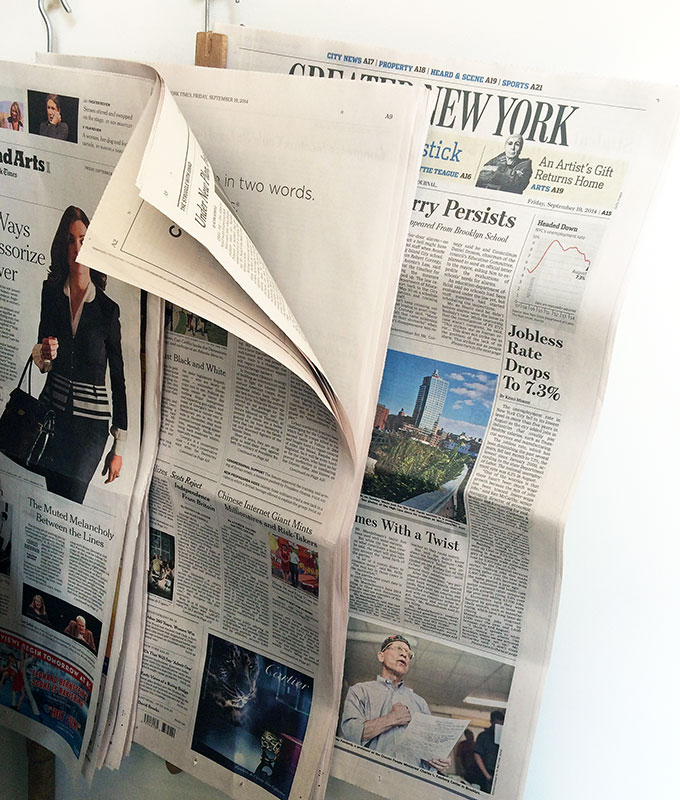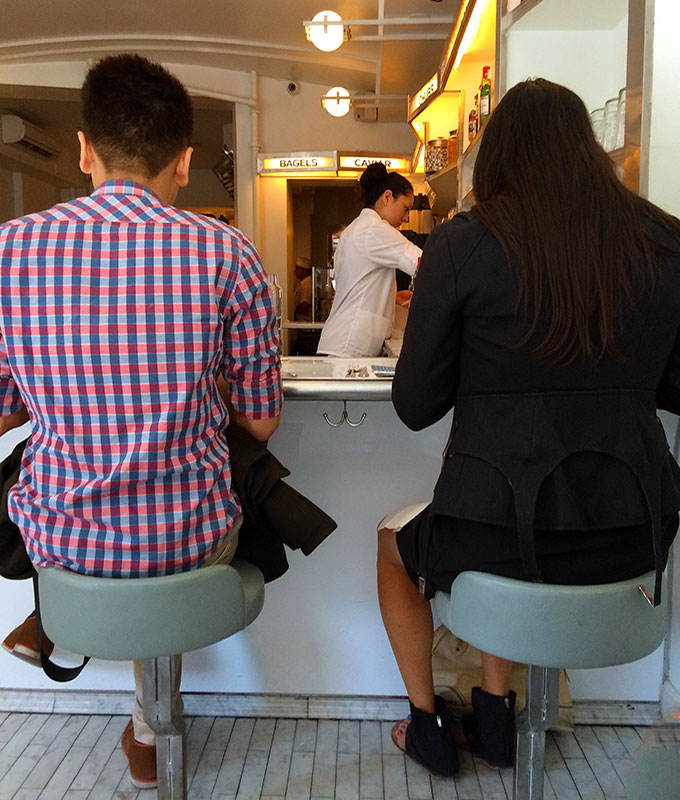 The wait was around 30 minutes for two spots at the bar, it would have been longer to secure a table to dine at. We were quite happy to sit at the bar and watch the staff in action. Lunch with a show is always fun.
Inside you will see that the café's décor is similar to the shop. White tiles, signage and the way staff are dressed. Of course the menu is designed to showcase all the gorgeous produce you can purchase and take home from the shop.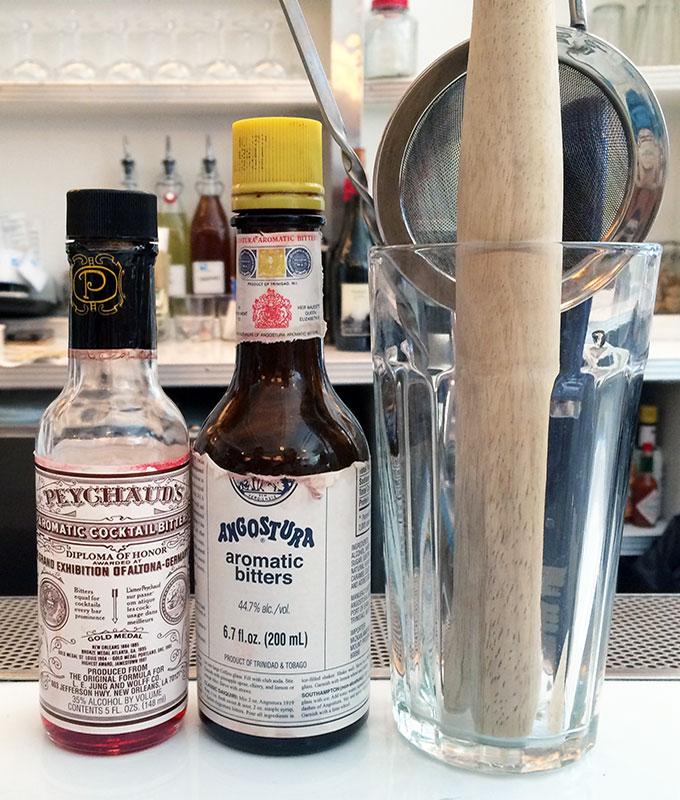 Originally I was going to have a coffee, then enticed by a brunch cocktail, but it was the egg creams ($8) and shrubs ($7) that really grabbed my attention. The egg creams contain neither egg nor cream, but are made with seltzer, milk and flavouring. You have a choice of malt, buxar (carob buxar molasses) or chocolate.
I end up ordering a shrub as it was something I hadn't heard of before. On the menu they say that shrubs are the beverage equivalent to the process of pickling. Invented as a way to preserve fruit with vinegar. Apparently shrubs have been used to flavour drinks across America since the 18th century. You have a choice of beet, pineapple or cherry.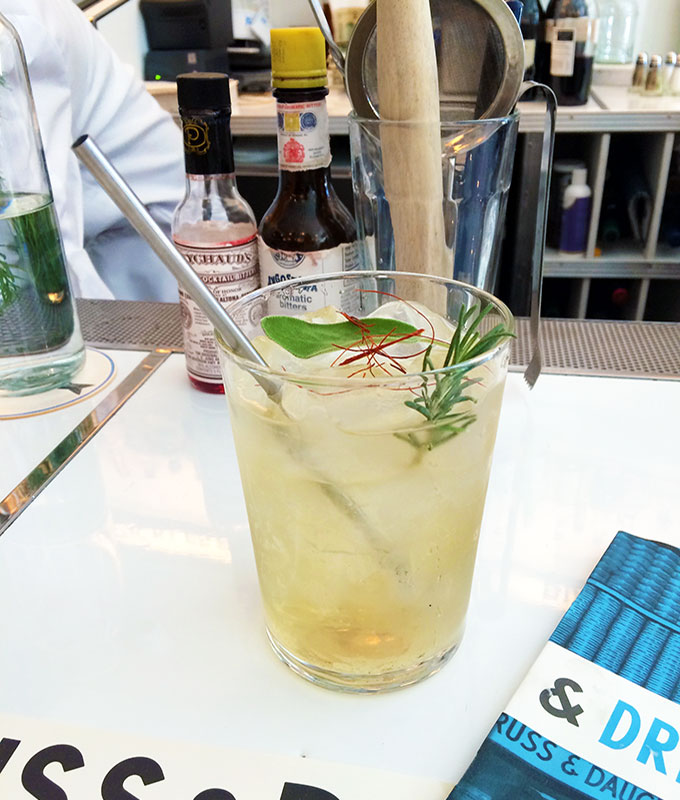 The pineapple shrub is made with sherry vinegar, sage, rosemary and Aleppo pepper. Let's just say it's interesting. I'm still not quite sure if I enjoyed it or not. You can taste the vinegar, on the savoury side, but there is slight fruit sweetness, completely like nothing else I have tried before.
My eyes light up when I see there is a small caviar section on the menu. I day dream about what it would be like to order the Osetra, Gueldenstaedtii ($255/50 grams), which is the most expensive caviar on the menu. Then think to myself that if mum was with me (Mac isn't a caviar fan) we may have splurged on the Hackleback ($115/50grams), the cheapest option on the menu.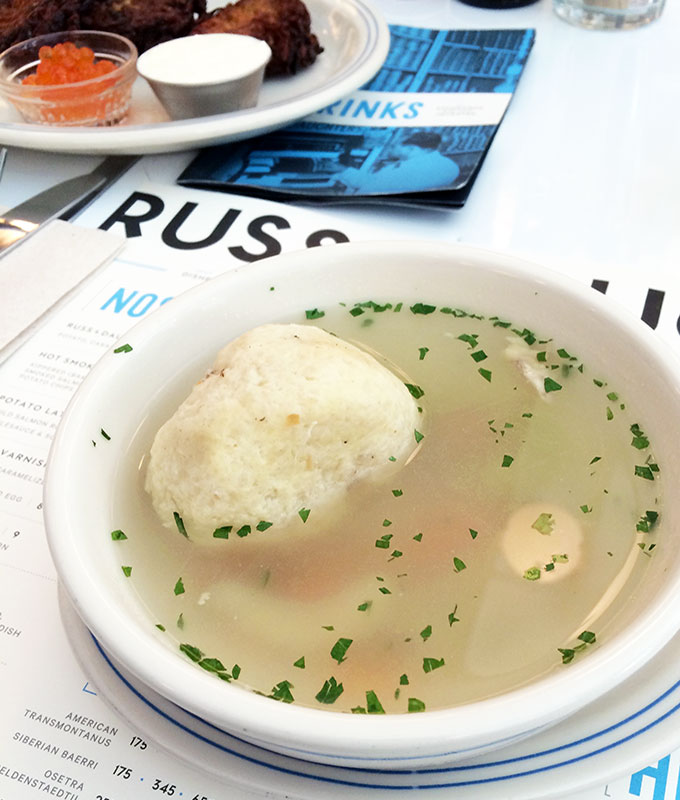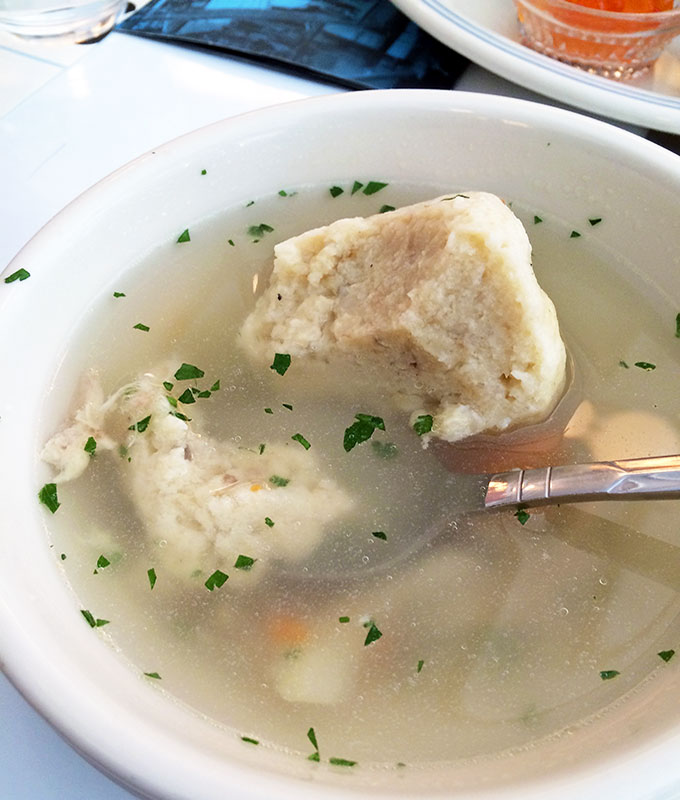 Instead we order the chicken matzo ball soup with vegetables ($8) to start. The broth is quite light in chicken flavour and I was expecting a stronger and more salty flavour like my Jewish girlfriend's version. The matzo ball is humongous, taking up a good portion of the bowl, and has a subtle chicken flavour to it. It's a comforting soup and I could see people just popping in for it when they wanted a hug from the inside.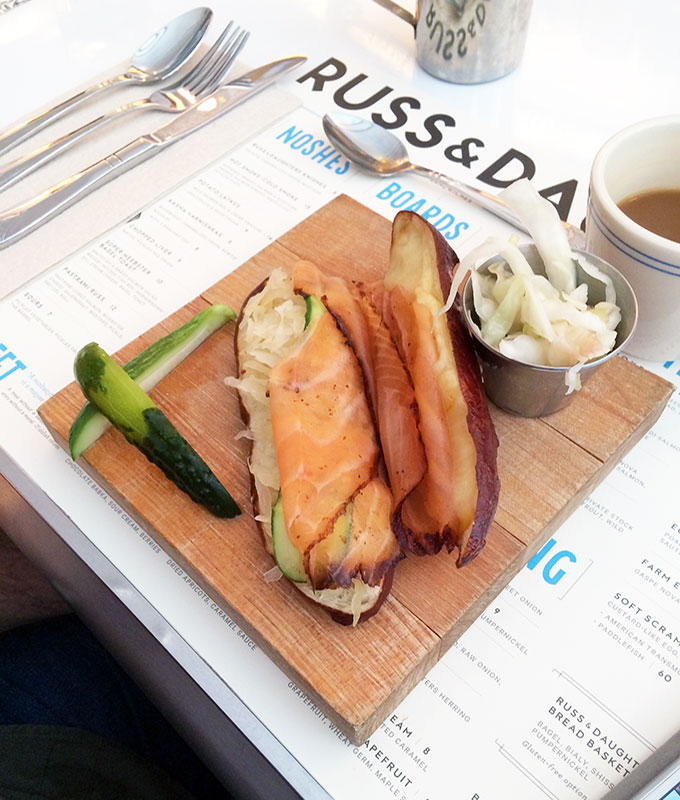 After sharing the soup we move on to our next course. Mac orders a Pastrami Russ ($12), which is pastrami cured salmon, muenster cheese, sauerkraut, mustard and pickle on a pretzel roll. Great flavours and well balanced on ingredient ratio, I'm a little envious I didn't order it.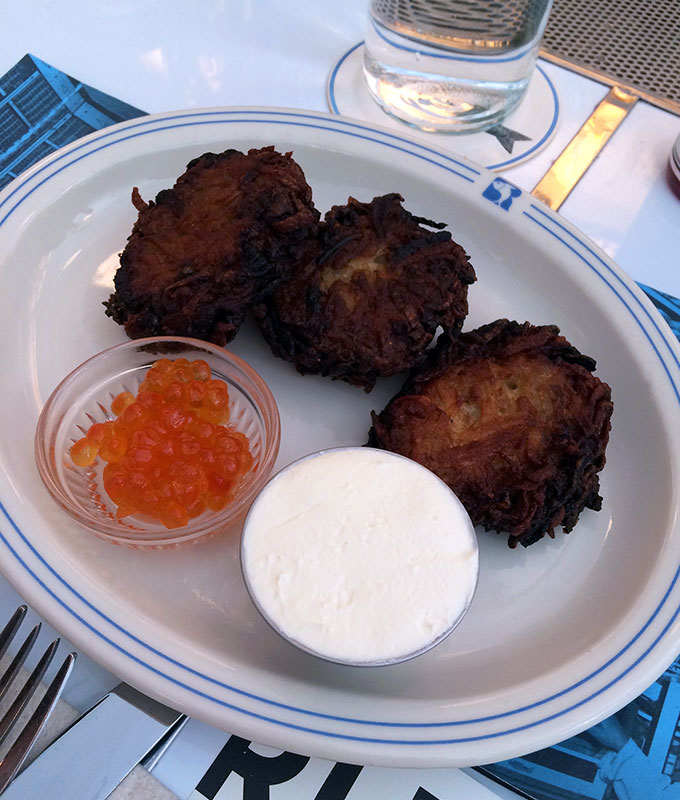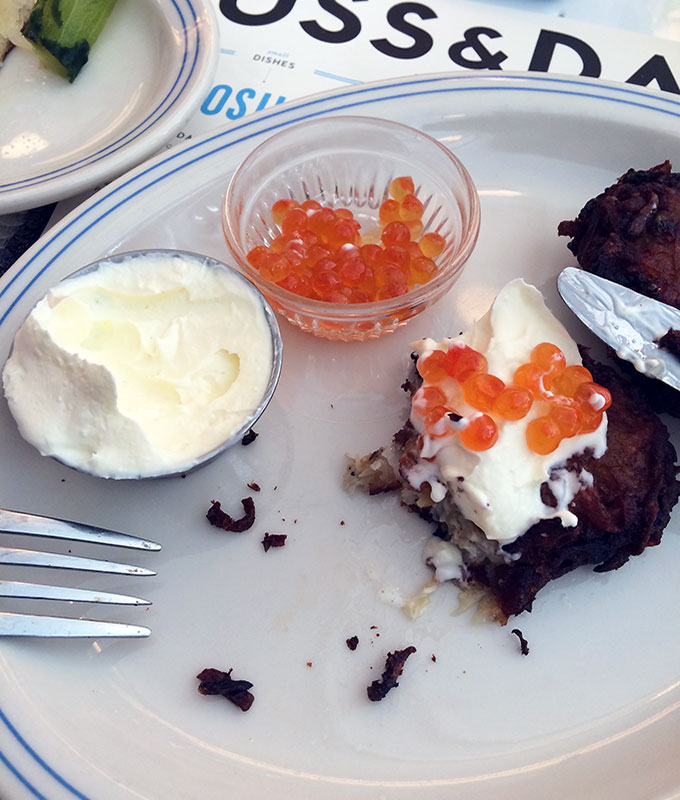 I ordered the potato latkes ($14), served with salmon roe and crème fraiche. I'm pretty sure I subconsciously order this after drooling over the thought of caviar, making the salmon roe is my consolation prize. The latkes are fried to an inch of their life, just shy of being burnt. But I still enjoy them with the salty burst from the salmon roe with each bite.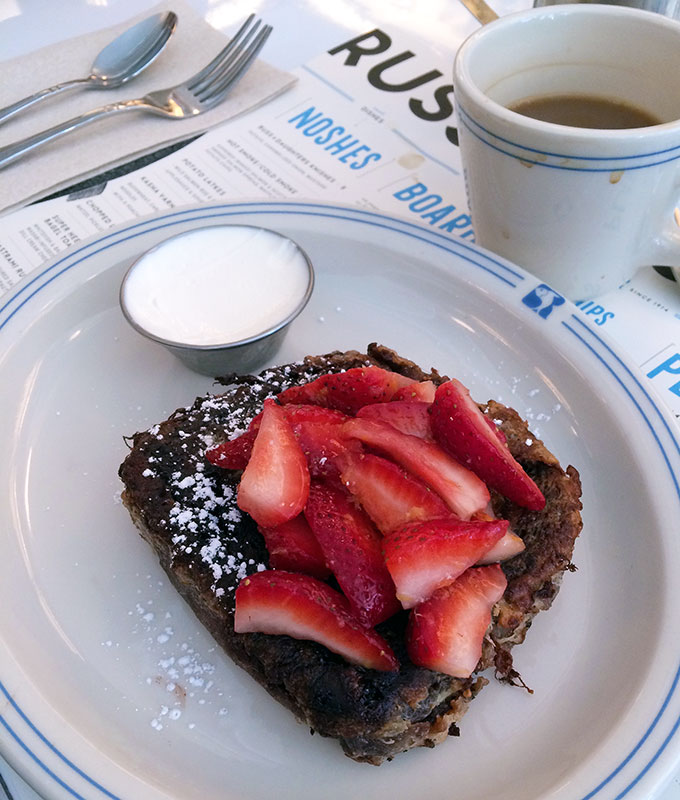 The dessert menu also wins us over and we order a dish each. Again I'm envious of Mac's pick, chocolate babka French toast ($10) served with sour cream and strawberries. It is quite simply delicious. Soft gooey chocolate French toast covered is fresh summer strawberries. I will admit I had more than one bite.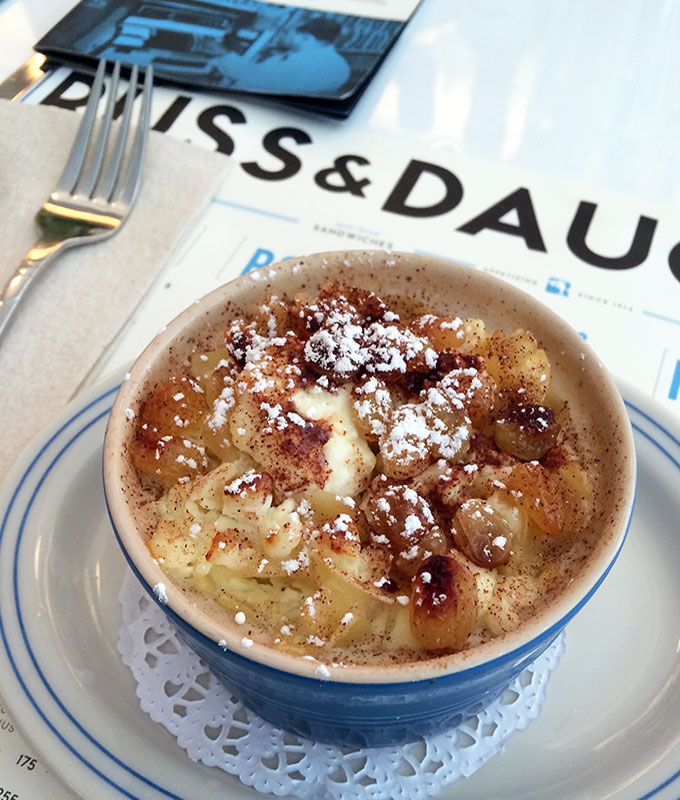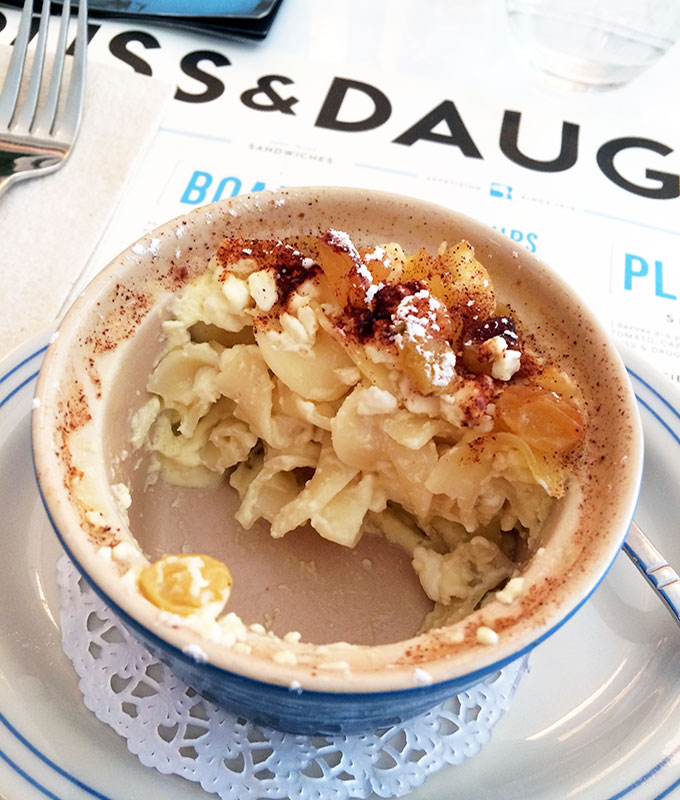 I couldn't help but order the noodle kugel ($7). The flavours in the dish reminded me of something my grandmother would have made, egg noodles with farmers' cheese and raisins. It is a heavy dessert, but my Latvian taste buds adore the tart farmers' cheese contrast against the sweet raisins. The dessert defeats me and I can't finish it, eating half of the babka French toast also may have helped with my defeat.
You can still pick up a take away bagel at Russ & Daughters Appetizers, but I do highly recommend adding Russ & Daughters Café to your eats list when visiting Manhattan.
Sara xxx
Don't miss one delicious recipe, restaurant review or travel adventure. Sign up to our weekly newsletter below to keep updated. There is also bonus content just for subscribers.
Russ & Daughters Café
127 Orchard Street, Lower East Side, New York, USA
Russ & Daughters Appetizers
179 E. Houston Street, Lower East Side, New York, USA