These steamed stuffed zucchini flowers are prepared Chinese dumpling style. Instead of using dumpling wrappers, we used the zucchini flowers to make these "dumplings".
What's not to love about zucchini flowers? One of my favourite vegetables in baby form with a bight beautiful yellow flower on the end. I have even known hardened zucchini haters to scoff down one or two without batting an eyelid.
As much as I love them, they can be a pain in the ass to cook. Well they are only my pain in the ass as my favourite way of eating them is stuffed with cheese and fried. They are amazing but amazingly unhealthy for you.
There are healthier ways of eating them, like sliced and tossed through pasta or popped into a salad. But frying them just brings them to an all new level.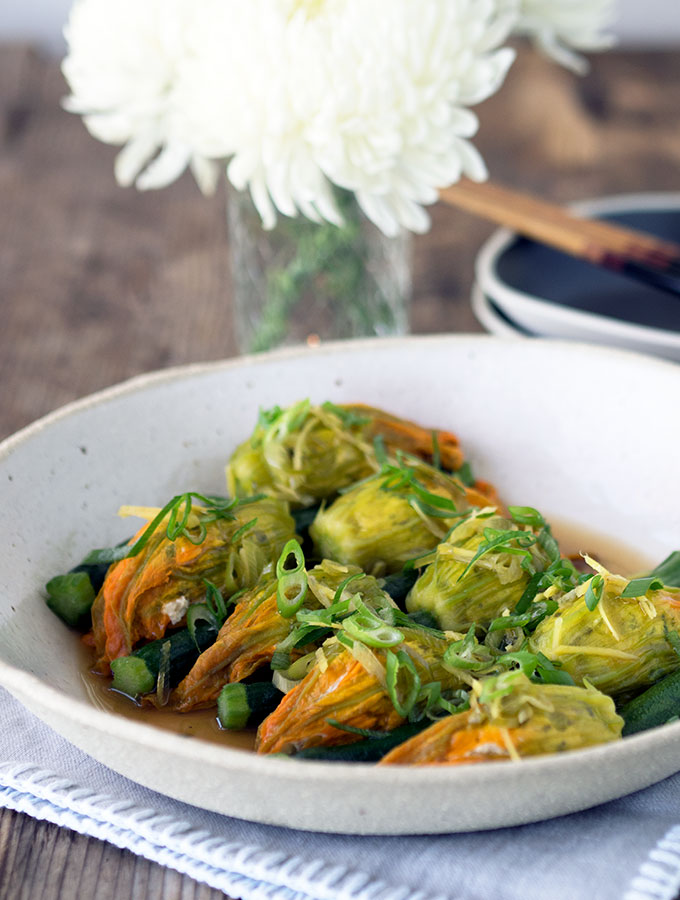 Contrary to what you probably believe from reading the above, no I don't always fry them. There isn't one singled fried zucchini flower recipe on Belly Rumbles.
Instead you will find a couple of healthier baked zucchini flower recipes. Mainly as I am trying to look after your health even if mine is slowly being frizzled away in the fryer.
There are my popular Baked Stuffed Zucchini Flowers filled with cheese, wrapped in prosciutto. As well as Zucchini Flower Fritters, where only the flower is used and stuff with sweet potato, cheese and pine nuts. But not one recipe for steamed zucchini flowers.
Fun Fact - female flowers have a baby zucchini on the end and male flowers have just a stem
I couldn't help picking up some zucchini flowers the other day. The flowers were large and still so fresh looking, they were calling me. Into my basket they went, and moi having some Jekyll and Hyde feelings about some cheesy frying action.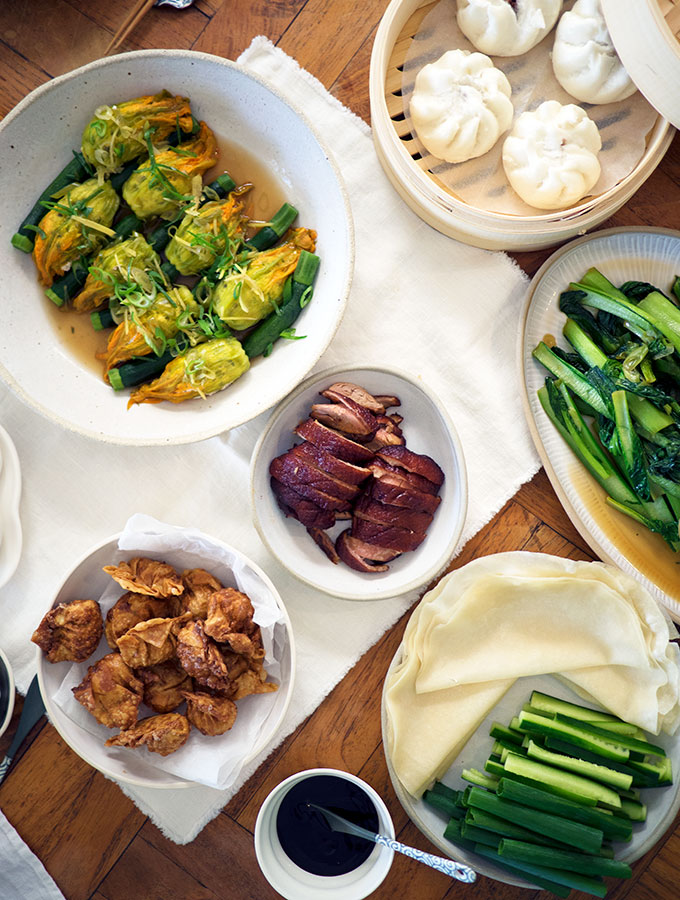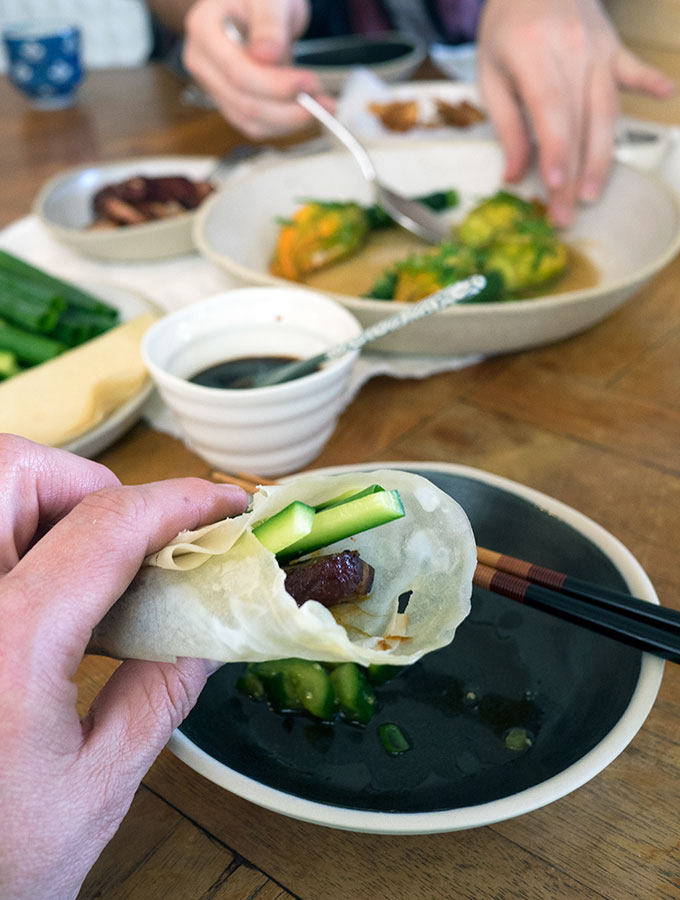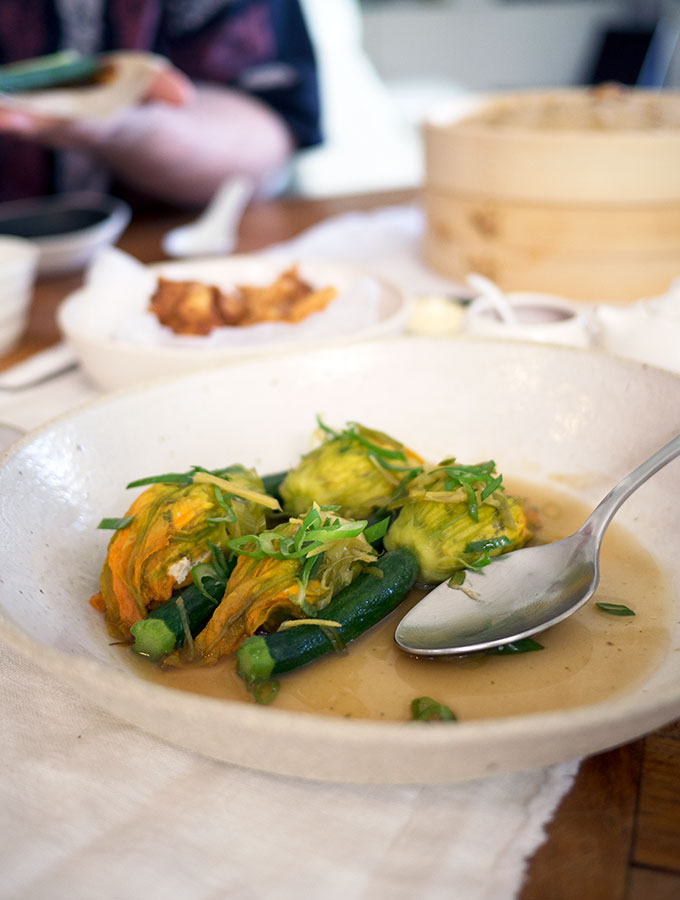 Then I had this incredible light bulb moment. Why not stuff them with a Chinese style dumpling mixture and steam them? Healthy steamed zucchini flowers, a totally tasty idea.
No idea why this thought hadn't entered my mind before, zucchini flowers are the perfect dumpling wrapper. So that's what I did. Stuffed them with a delicately flavoured chicken mixture and voila steamed the little suckers.
A light soy sauce based sauce was made up to pour over them. They were then finished off with a very light handed drizzle of sesame oil.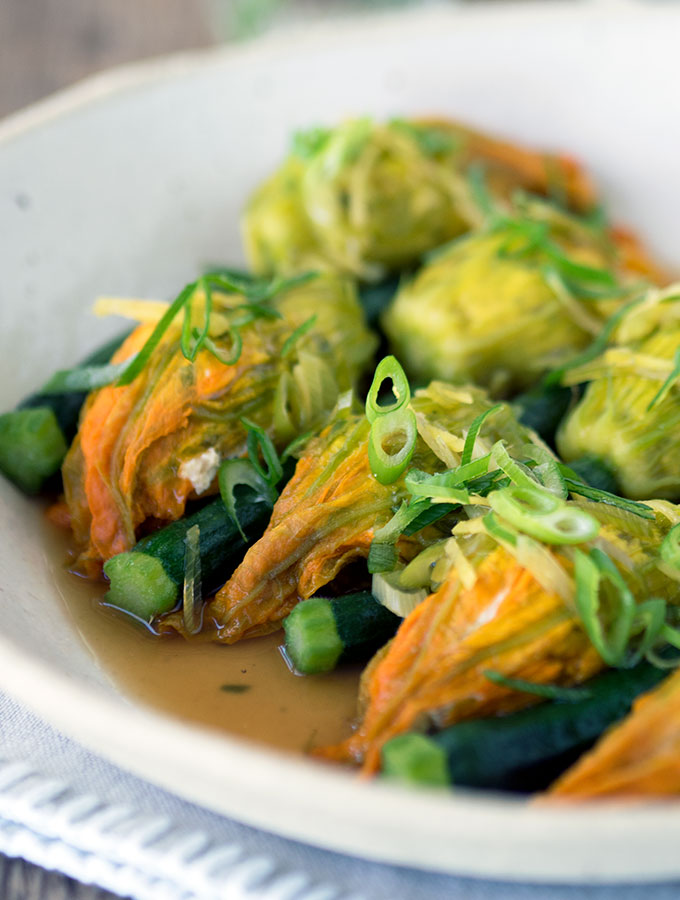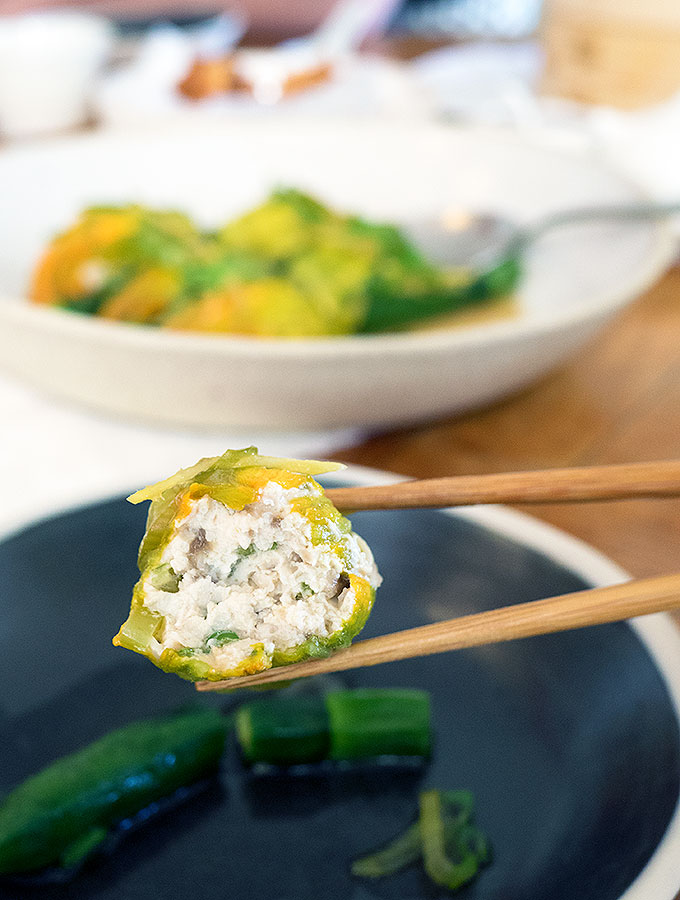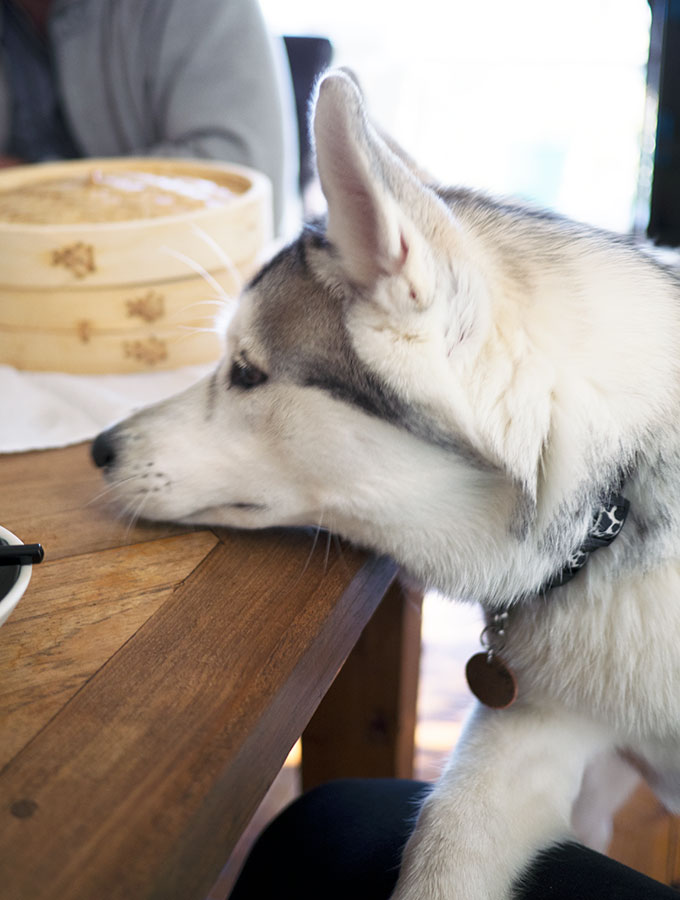 An at home yum cha lunch was created. Along with the steamed stuffed zucchini flowers we feasted on Peking Duck Pancakes, Chinese Garlic Soy Sauce Cucumbers, Prawn Toast, BBQ Pork Buns, Spring Rolls and Easy Fried Prawn Dumplings. As you can see I still had a fried food fix, whoops.
Normally we head out for yum cha, but I am yet to find somewhere in Sydney that is puppy friendly. Being a Sunday we decided to yum cha with Harley, who was more than happy that we did. Like myself she is a bit of a yum cha addict.
Plus she didn't mind the steamed stuffed zucchini flowers either.
Sara xxx
Printable Recipe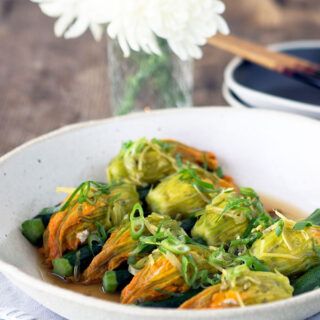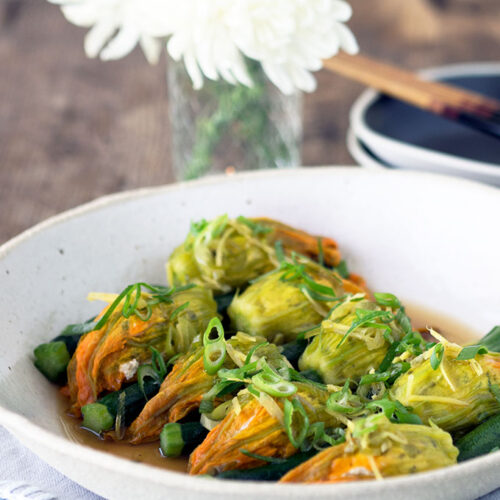 Steamed Stuffed Zucchini Flowers
Steamed stuffed zucchini flowers are prepared Chinese dumpling style. The flowers act as dumpling wrappers for an easy gluten free yum cha dish.
Ingredients
8

zucchini flowers

200

grams

chicken mince (ground chicken)

2

shitake mushrooms

finely chopped

1

stick

celery

finely chopped

1

teaspoon

soy sauce

1

teaspoon

oyster sauce

1

teaspoon

Chinese cooking wine (shaoxing)
Sauce
1

spring onion (green onion, scallion)

finely sliced

60

ml

(¼ cup) chicken stock

4

teaspoons

(1 tablespoon) oyster sauce

4

teaspoons

(1 tablespoon) Chinese cooking wine (shaoxing)

4

teaspoons

(1 tablespoon) ginger

grated

sesame oil
Instructions
Wipe down the zucchini flowers with a damp cloth gently to clean.

Carefully pry open the flowers and remove the stamen.

In a small bowl mix chicken mince, shitake mushroom, celery, soy sauce, oyster sauce and wine. Mix ingredients well until completely combined.

Carefully stuff each zucchini flower with chicken mixture. Mould the ends of the flowers around the chicken to seal in the filling.

Place wok on the stove and place some water in it. Place a bamboo steaming basket in the wok to check the height of your water. The water should not be touching the bottom of the basket, there should be a decent gap left to allow the water to rapidly boil without touching the basket.

If you don't have a suitable size wok to fit your bamboo basket, you can use a pot. Choose a pot that allows your basket to sit snuggly on top.

Place zucchini flowers in a single layer on a plate that will fit into your steamer baskets. Make sure there is a gap between the basket and plate to let the steam come through to cook the flowers. Place lid on basket

Bring water in the wok to a rapid simmer and place steamer basket in wok. Place basket in the wok and steam for 10 minutes or until cooked through.

If you only have one basket you will need to repeat this with the remaining zucchini flowers. If you have two baskets they can be stacked on top of each other for cooking.

While your zucchini flowers are steaming. Place all sauce ingredients (not the sesame oil) into a small sauce pan. Over a medium high heat simmer for 1 minute.

Once zucchini flowers have cooked, place on a serving plate and pour over prepared sauce. Drizzle with a small amount of sesame seed oil and serve.
Measurement Notes
All measurements are Australian metric standard. All measures are level, and cups are lightly packed unless specified. 1 teaspoon = 5ml / 1 tablespoon = 20mls / 1 cup = 250ml /4 teaspoons = 1 tablespoon.
NUTRITIONAL INFORMATION
The recipe's nutritional information is an approximation based on an online calculator. It is meant solely for reference purposes. If you're looking for precise details, be sure to double-check with your own research.
Calories:
168
kcal
Carbohydrates:
14
g
Protein:
20
g
Fat:
5
g
Saturated Fat:
1
g
Cholesterol:
43
mg
Sodium:
319
mg
Potassium:
2102
mg
Fiber:
4
g
Vitamin A:
1995
IU
Vitamin C:
134.6
mg
Calcium:
89
mg
Iron:
3.5
mg
Did You Make This Recipe?
I do a happy dance when people share how they went. Tag me on Instagram or Twitter @bellyrumbles & #bellyrumbles