Vanilla Milk Ices are the lighter, easier alternative to making ice cream popsicles. Only three ingredients, no churning required and they are egg free.
Milk ices have a firm place in my heart, especially when the warmer weather hits. I love ice cream, I love popsicles, I love ice cream popsicles, but milk ices have their own thing going on.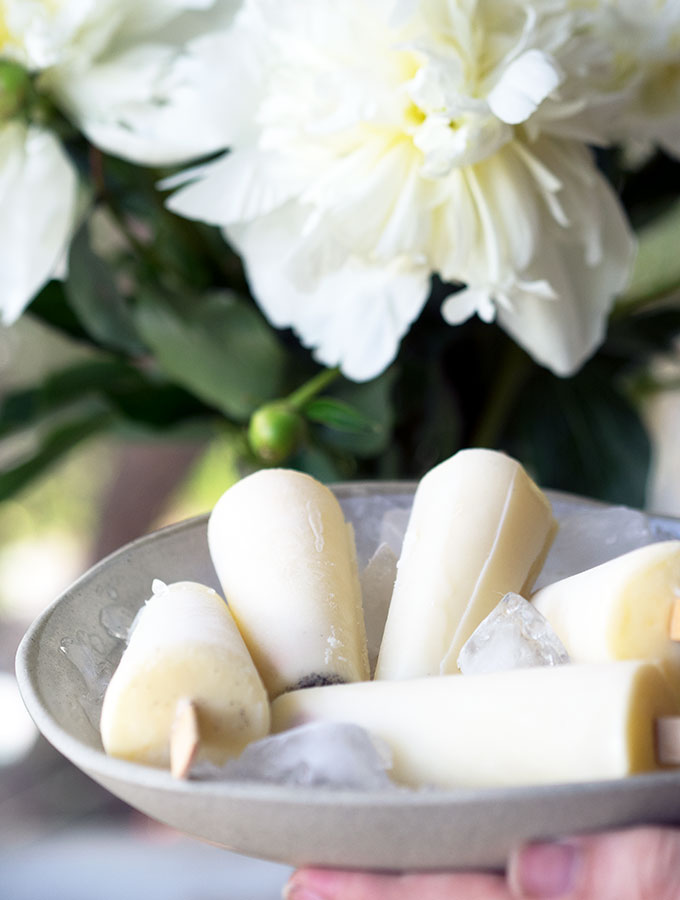 As their description indicates, they are a milk ice, or milk popsicle. Not quite an ice cream, which is custard based, in other words, cream/milk and eggs. Milk ices are just that, made from full cream milk and have an icy texture to them once frozen. You need to use full cream milk for this recipe.
I will be honest, they aren't for everyone, but I really do like them. Some people can find a milky ice block a little off putting. In the sweltering heat and humidity of an Australian summer they are my go to. I find them far more refreshing than a rich ice cream, and they give a hint of creamy satisfaction that can't be found in an ice block/popsicle.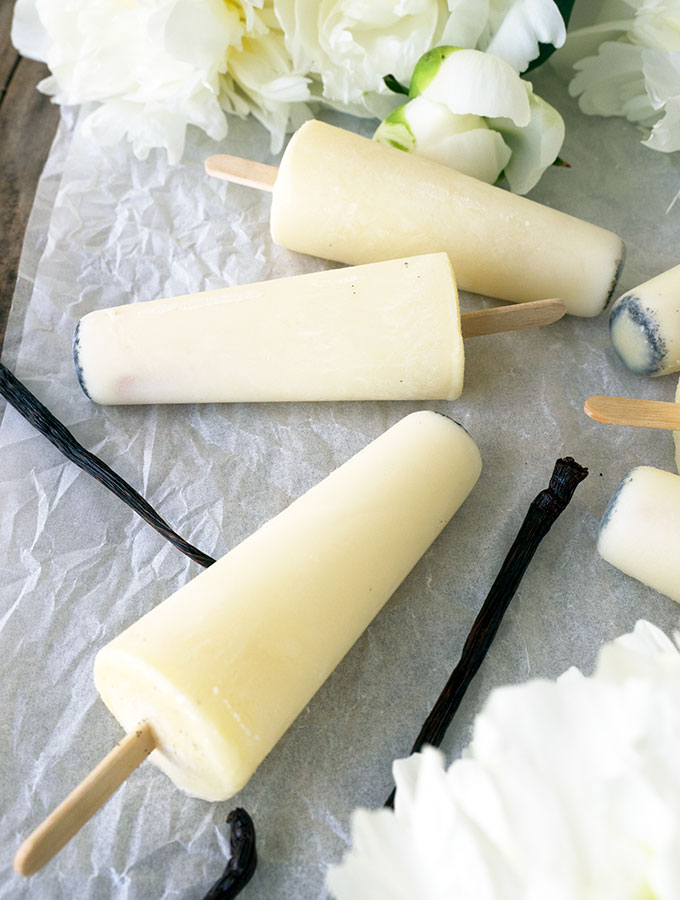 Put your creative hat on with flavours, though I do like to keep it simple. That's why I am quite partial to these vanilla milk ices.
Vanilla milk ices taste as described. Frozen vanilla milk, with a hint of sweetness. I don't add a great deal of sugar, but you may feel you need to inject another couple of teaspoons.
The sugar added in the quantity I have given simply elevates the vanilla. They have a subtle sweetness.
A simple recipe with only three ingredients. Plus no fancy pants equipment. But, and this is a big but. Probably not as big as my butt, but it is something to take into consideration.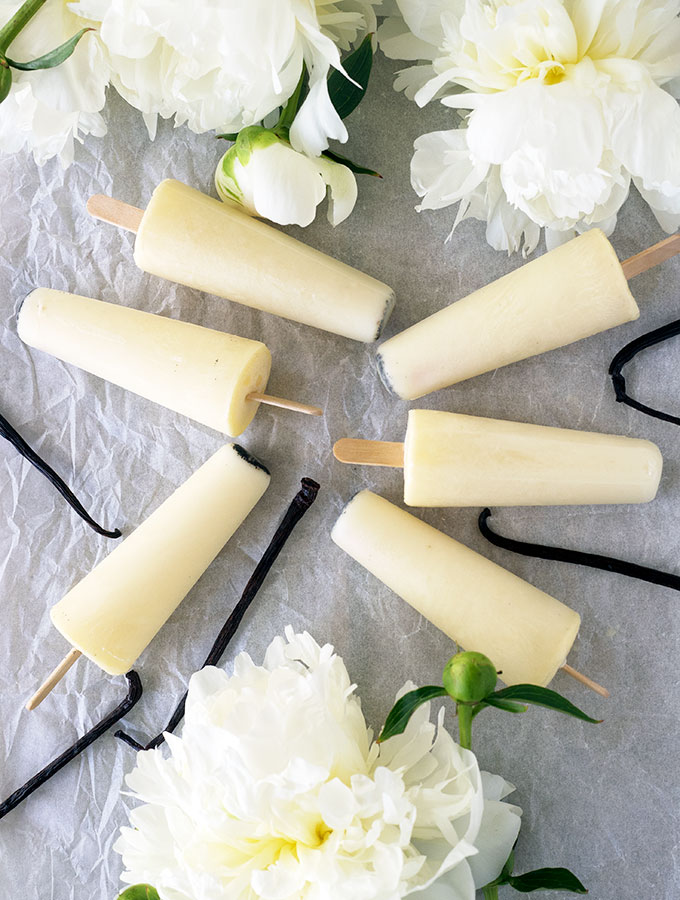 Vanilla milk ices are best started a day ahead. I find it's best when you place the vanilla milk ices mixture in the fridge for 24 hours for the vanilla flavour to truly develop.
Simmer your ingredients, pop in a container, into the fridge and forget about it for 24 hours. Too easy! You are now free to take your butt out of the kitchen to do other more enjoyable things.
My other favourite for milk ices is coffee! I am leaving it to you to play around, start with the vanilla milk ices and then go crazy and experiment this summer.
Sara xxx
Printable Recipe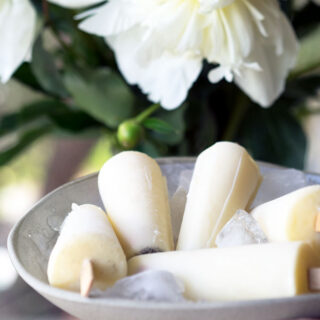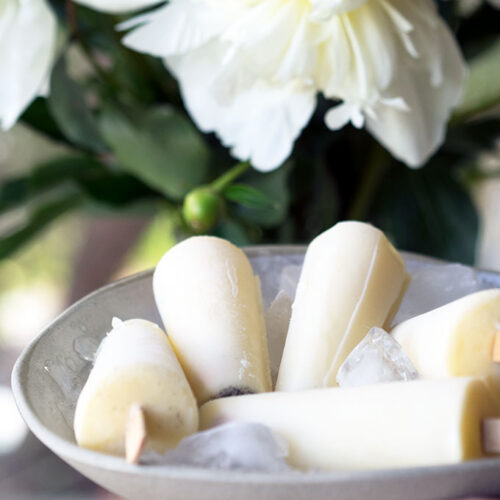 Vanilla Milk Ices
Vanilla Milk Ices are the lighter, easier alternative to making ice cream popsicles. Only three ingredients, no churning required and they are egg free.
Ingredients
450

ml

full cream milk

6

teaspoons

(1 ½ tablespoons) caster sugar,

(super fine sugar)

1

vanilla pod,

(split and seeds scraped)
Instructions
Place milk, sugar and vanilla pod with scraped seeds in a saucepan.

Bring milk mixture to a simmer and then remove from heat.

Place milk mixture in a container in the fridge and leave, covered, for 24 hours.

Pour mixture through a sieve and then pour into popsicle moulds.

Place in freezer and leave to freeze for at least 3 hours.

Once frozen, remove from moulds and place in a zip lock bag to store in the freezer until devoured.
Measurement Notes
All measurements are Australian metric standard. All measures are level, and cups are lightly packed unless specified. 1 teaspoon = 5ml / 1 tablespoon = 20mls / 1 cup = 250ml /4 teaspoons = 1 tablespoon.
Recipe Notes
You will need popsicle moulds that take a total of 500ml. I ended up with six popsicles using the moulds I had.
Don't have moulds? You can use paper or plastic cups, they are a great alternative.
NUTRITIONAL INFORMATION
The recipe's nutritional information is an approximation based on an online calculator. It is meant solely for reference purposes. If you're looking for precise details, be sure to double-check with your own research.
Did You Make This Recipe?
I do a happy dance when people share how they went. Tag me on Instagram or Twitter @bellyrumbles & #bellyrumbles