Potato skin chips are exactly what they sound like, crunchy fried chips (crisps) made from potato peel. Turn potential waste into something sensational.
I had finished peeling enough potatoes to feed a platoon. Quite punishing. I now understand why the army deals out potato peeling as a punishment. Before you start emailing me, I realise they probably don't, and my perspective is completely from movies.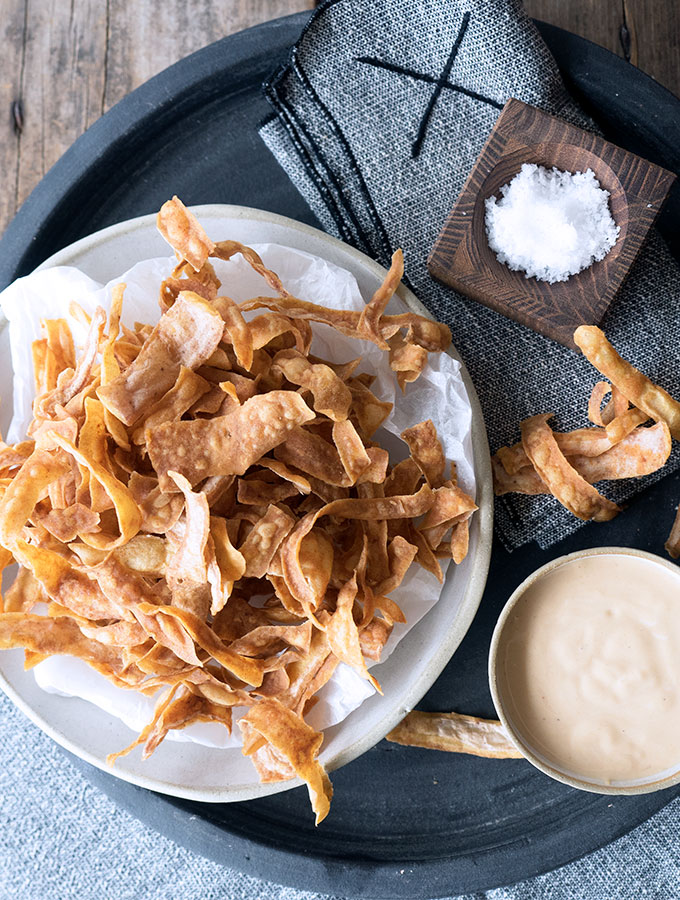 My dad was in the army and I should have fact checked potato peeling with him when I check to see if we platoons in Australia. I was sure that a platoon was an American thing, but it turns out we do.
There was a large mound of potato peel destined for the bin, and I wanted to do something with it. Not the first time I have looked at a pile of scrap and thought, how can I turn this into all kinds of wonderful. My bacon fat potatoes are proof of that.
Potato skin chips were just as epic as those potatoes. The potato peels were the result of my Ginger Beer Battered Fish and Chips recipe (coming soon). With oil at the ready, why not fry them up and see what happens?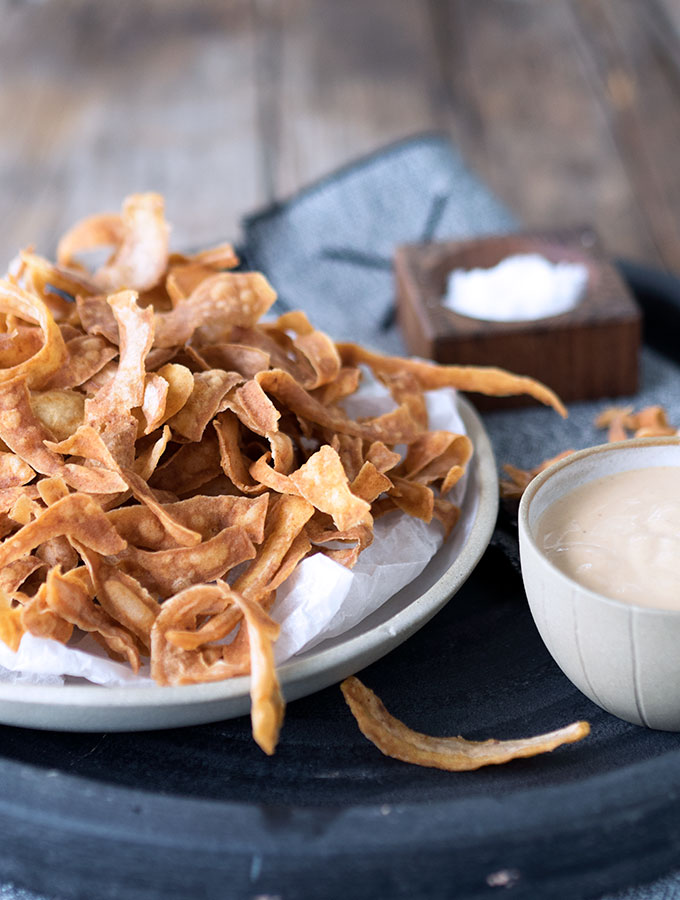 Of course I had to pimp the scraps for the potato skin chips. I soaked the potato peelings in water for 30 minutes, to help rid them of any starch.
The peels were tossed in a flour and sweet paprika mixture. Which adds crispness when frying and elevates the taste. It's subtle, nobody will be able to pin point it down, but it does.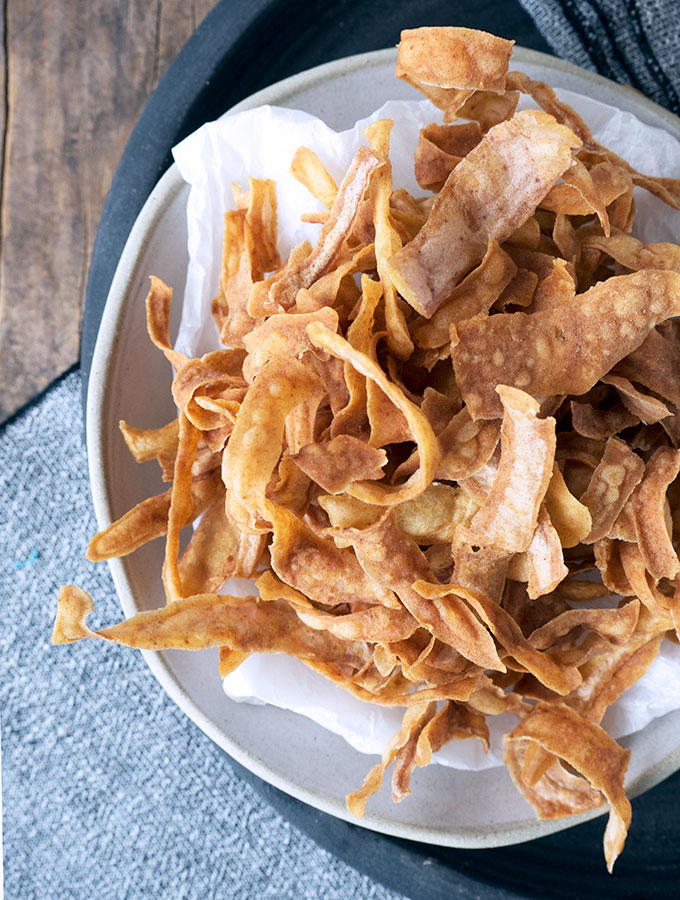 Once fried the potato skin chips are super crisp. They have a crunch factor of 100%. Anybody would be quite happy eating the potato skin chips straight up with a good sprinkling of salt. But they totally rock with my creamy BBQ dipping sauce.
I still think Dad is wondering why I would even contemplate frying up discarded potato skins. As he said during our phone conversation, you do know that in the army we would have thrown them out?
Sara xxx
Printable Recipe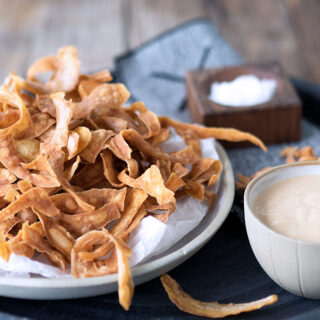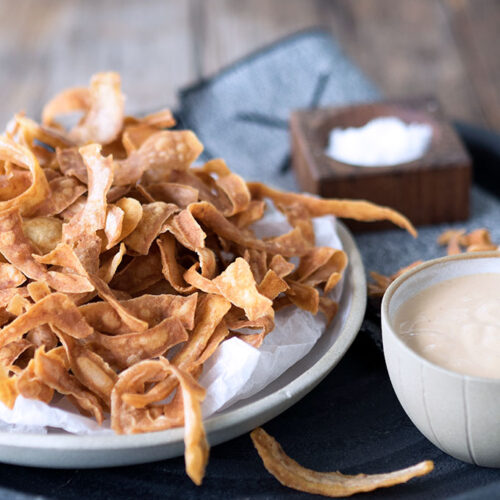 Potato Skin Chips
Potato skin chips are exactly what they sound like, crunchy fried chips (crisps) made from potato peel. Turn potential waste into something sensational.
Ingredients
potato peel - left overs from another dish

150

grams

(1 cup) plain flour

4

teaspoon

(1 tablespoon) sweet paprika

vegetable oil for frying
Creamy BBQ Sauce
⅓

cup

(? cup) Japanese mayonnaise

¼

cup

(¼ cup) BBQ sauce

2

teaspoon

Worcestershire sauce
Instructions
As you peel your potatoes place peels in a bowl with cold water.

When ready to use, drain potato peels in a colander.

While potato peels are draining place flour and paprika in a plastic bag. Large enough to add the potato peels, shake them around, and dust them with the flour and paprika.

Heat oil in fryer or a wok until hot. Shake excess flour from peels and fry until golden.

Remove from oil and place on paper towel to drain.

Serve with creamy bbq sauce
Creamy BBQ Sauce
In a medium size bowl mix mayonnaise, bbq sauce and Worcestershire sauce until thoroughly combined. Serve with potato skin chips.
Nutrition
Calories:
782
kcal
Carbohydrates:
136
g
Protein:
14
g
Fat:
19
g
Saturated Fat:
2
g
Cholesterol:
11
mg
Sodium:
1381
mg
Potassium:
527
mg
Fiber:
6
g
Sugar:
28
g
Vitamin A:
3660
IU
Vitamin C:
1.1
mg
Calcium:
58
mg
Iron:
8.2
mg
Did You Make This Recipe?
I do a happy dance when people share how they went. Tag me on Instagram or Twitter @bellyrumbles & #bellyrumbles
Become a subscriber and don't miss a single delicious recipe, restaurant review or travel adventure.