Bacon fat or lard?  Well, why not?
After a lazy brunch at Ms.G's Josh and I did a little food shopping in Potts Point.  We stumbled upon GRUB, Grass Roots Urban Butchery.  Great little local butcher, which seems to pride itself on organic and top quality produce.  I couldn't resist picking up some pork products, slices of paper thin prosciutto, a gorgeous piece of rolled pork belly and some beautiful looking Australian bacon.
Originally the bacon was going to be transformed into a simple bacon and egg breakfast.  Instead I decided to whip up a quiche one night for dinner.  One thing I have found when buying really good boutique style Aussie farmed and produced bacon, the fat content is higher on the rashers.  As I sliced the bacon fat away from the meat, I ended up with a nice mound fat. 
I stood there for a few minutes observing the to be binned fat pile and thought to myself "surely this can be used'?  I appal waste of any kind.  How could I use this fat?  That is when the idea struck me.  Could this fat be render down to produce bacon lard?
I and others collect and use rendered fat from ducks when I cooking, so why not bacon?
Rendering bacon fat is a relatively easy process.  Dice your bacon up in to medium/small pieces.  Add the fat to a suitable sized pot and place over a very low heat    The idea is to 'melt' the fat, you do not want to fry it up.  The process is slow.  Time depends on how much you are rendering, just be patient.  Over time you will see liquid come away from the fat.  Keep going until nothing else can be extracted.  The pieces of fat will turn translucent, go slightly golden and rubbery.  Strain the liquid and place in clean container.  Store in fridge until ready to use.  The fat will solidify and turn white once cooled.
I salvaged just on 125gms of bacon fat and on rendering reaped 1/3c of rendered lard.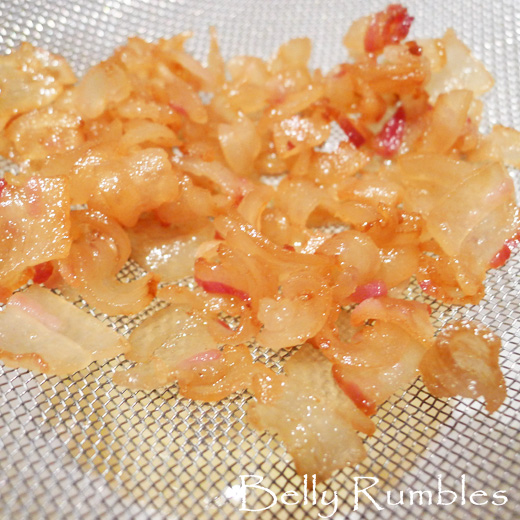 Straining your fat, the left over translucent grizzle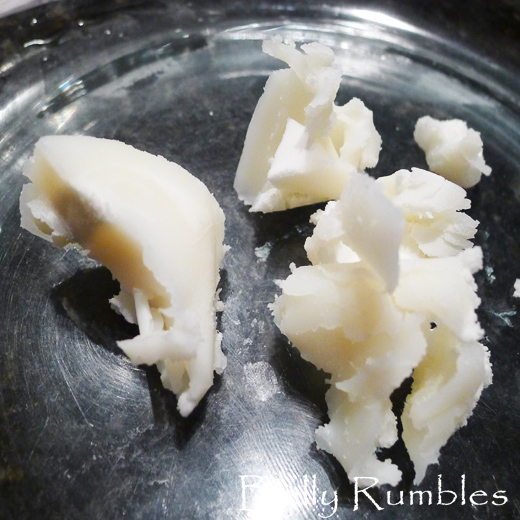 Solidified bacon lard ready to be melted for the potatoes
What better way to try the bacon lard out than making basic baked potatoes.  Have you ever indulged in duck fat potatoes?  Then why not bacon fat potatoes?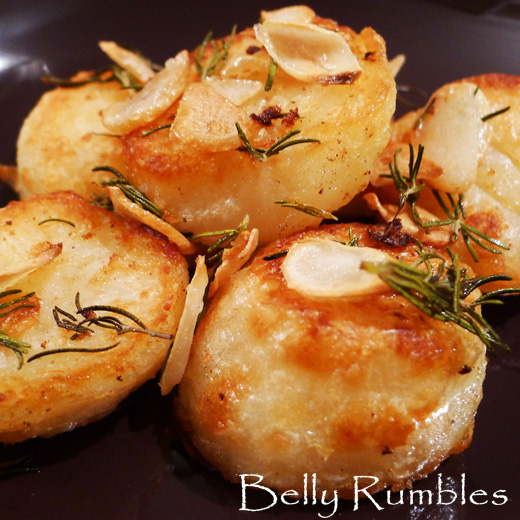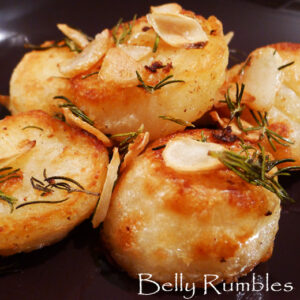 Bacon Fat Potatoes
Ingredients
4

medium potatoes of choice

I used pontiac

2

cloves

garlic

generous sprig of rosemary

8

teaspoons)

(2 tablespoons) bacon lard
Instructions
Peel potatoes and cut into halves. Place in a medium large sized pot of cold salt water. Add a good dash of salt and bring potatoes to the boil. Cook until just tender. Be careful not to overcook your potatoes, you want them just cooked or they will fall apart when baking.

While potatoes are cooking finely slice up your garlic and take the rosemary leaves off your sprig.

Place baking dish in oven, 210 degrees C. Place bacon lard in dish and leave to melt and becomes hot.

Drain potatoes. I then give them a bit of a shake in the colander in order to rough up the potato surface slightly. This aids in getting a lovely crunch when baking.

Place potatoes, garlic and rosemary in baking dish. Toss carefully, be sure not to splatter and burn yourself. Cook for approximately 20 minutes. The potatoes are done when crunchy and golden.
Nutrition
Calories:
195
kcal
Carbohydrates:
28
g
Protein:
5
g
Fat:
7
g
Saturated Fat:
2
g
Cholesterol:
6
mg
Sodium:
33
mg
Potassium:
913
mg
Fiber:
6
g
Vitamin A:
145
IU
Vitamin C:
25.8
mg
Calcium:
82
mg
Iron:
7.2
mg
Did You Make This Recipe?
I do a happy dance when people share how they went. Tag me on Instagram or Twitter @bellyrumbles & #bellyrumbles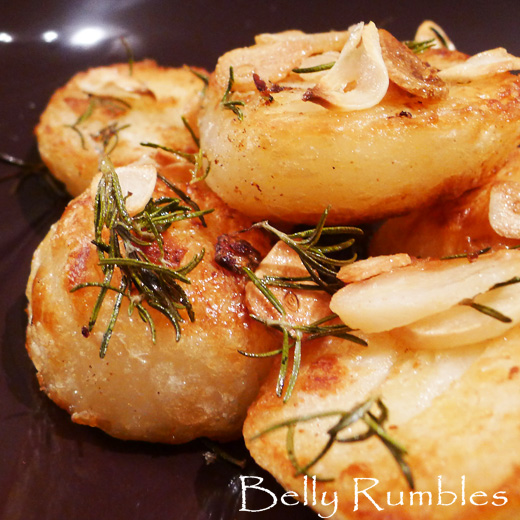 I was really impressed on how crunchy these potatoes were on the outside and fluffy soft on the inside.  The boys agreed that they were the best baked potatoes that we have had in a long time.
The taste?  No the potatoes do not taste like bacon, just like duck fat potatoes do not taste like duck.

We have since made these potatoes again and the result was just as impressive.
I class my experiment a success.  Used waste in a positive way and ended up with rocking potatoes!
Do tell dear Belly Rumbles reader, do you have any clever waste saving tips?
Sara xxx