A while back I shared my baked polenta chip & smoked sage salt recipe. That recipe became a firm favourite at my place, so much so I needed to change it up a little for variety. Enter the new family favourite, baked sweet potato polenta bites.
As mentioned then, I will never fry polenta chips, or in this case bites, again. Baking the bites is far healthier for you, plus there is less mess involved. And who doesn't like a little less mess in the kitchen?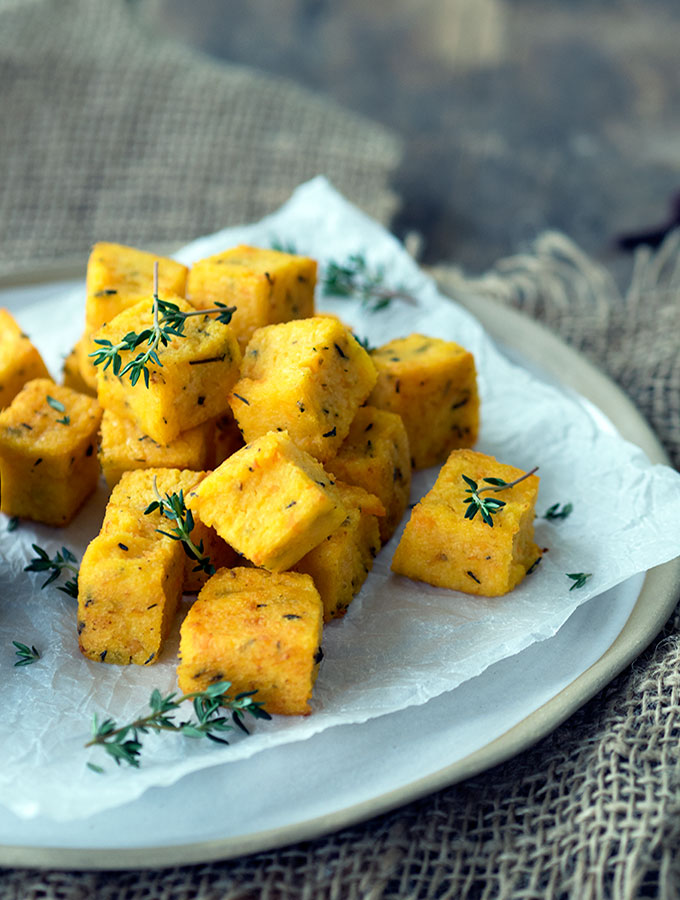 These sweet potato polenta bites are easy and stress free to make. Perfect to make ahead to the baking stage if you are entertaining.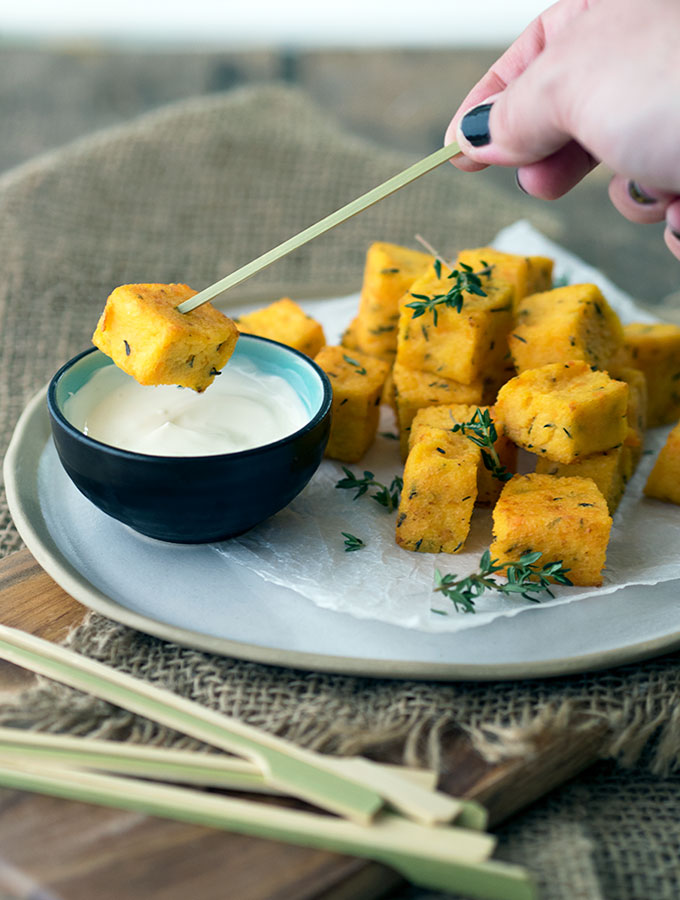 There is just one downfall with this recipe. Being bite sized, I found I just kept popping them in my mouth and eating, and eating, and eating! Next thing I knew the bowl was empty leaving me wondering, "Did I really just eat all of those??".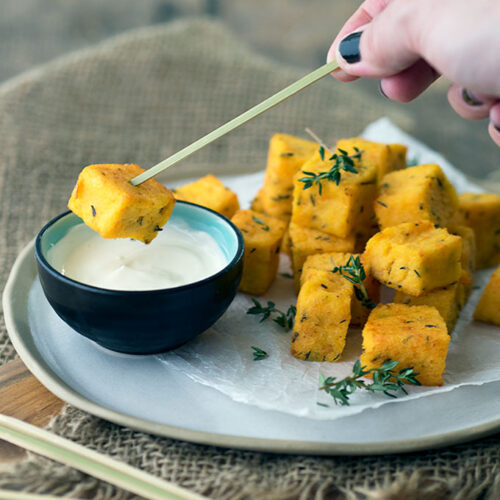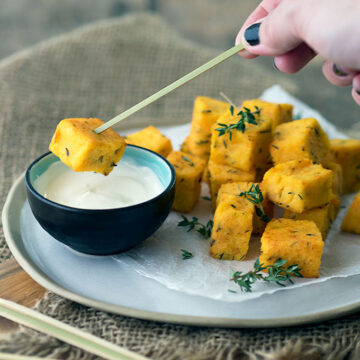 Baked Sweet Potato Polenta Bites
Baked sweet potato and polenta bites. Flavoured with gruyere and thyme. Easy to make, healthier for you than fried, and are gluten free. They taste sensational as well.
Ingredients
1

L

water

200

grams

sweet potato

160

grams

polenta

130

grams

gruyere cheese

grated

50

grams

butter

5

grams

thyme leaves

salt and pepper to season
Instructions
Cook sweet potato either via boiling in water or microwaving until tender and then mash.

Line a rectangular brownie tin with plastic wrap.

In a large saucepan bring stock to the boil. Add polenta and reduce to a simmer. Continuously stir until the polenta is cooked through and all the stock has been absorbed. It is important that the polenta has absorbed all the liquid and the mixture is stiff and thick.

Remove pan from heat and stir through sweet potato, gruyere, butter and thyme. Add salt and pepper to taste.

Leave to cool slightly and then place mixture in tin and smooth out evenly. Place plastic wrap over the top of the polenta mix. Smooth well with hands and place in the fridge for a few hours until chilled and set. I find it works best when left in the fridge overnight.

When the polenta is set and you are ready to cook, preheat oven at 180 deg C (360 deg F).

Remove wrap from the top of the polenta, and carefully turn out in one piece on to a chopping board. Remove the rest of the wrap. Cut polenta into 2cm square bites.

Place in the oven and bake for around 25 minutes until golden and crunchy.
Did You Make This Recipe?
I do a happy dance when people share how they went. Tag me on Instagram or Twitter @bellyrumbles & #bellyrumbles
Sara xxx
Don't miss one delicious recipe, restaurant review or travel adventure. Sign up to our weekly newsletter below to keep updated. There is also bonus content just for subscribers.