Sang Choy Bow? Or is it pronounced San Choi Bau? Maybe San Choy Bow? Could it be Sheng Cai Bao? Or even San Choi Bao? Quite honestly I give up!
As you can see I have decided on Mushroom Sang Choy Bow to describe my mushroom mix wrapped up in crunchy iceberg lettuce leaves. I have attempted to hunt down the correct spelling and pronunciation of "sang choy bow" many times, and I have given up. Even when asking friends with Chinese lineage I get various answers. I am guessing the variety in the spelling and pronunciation stems from what region the dish is being made in.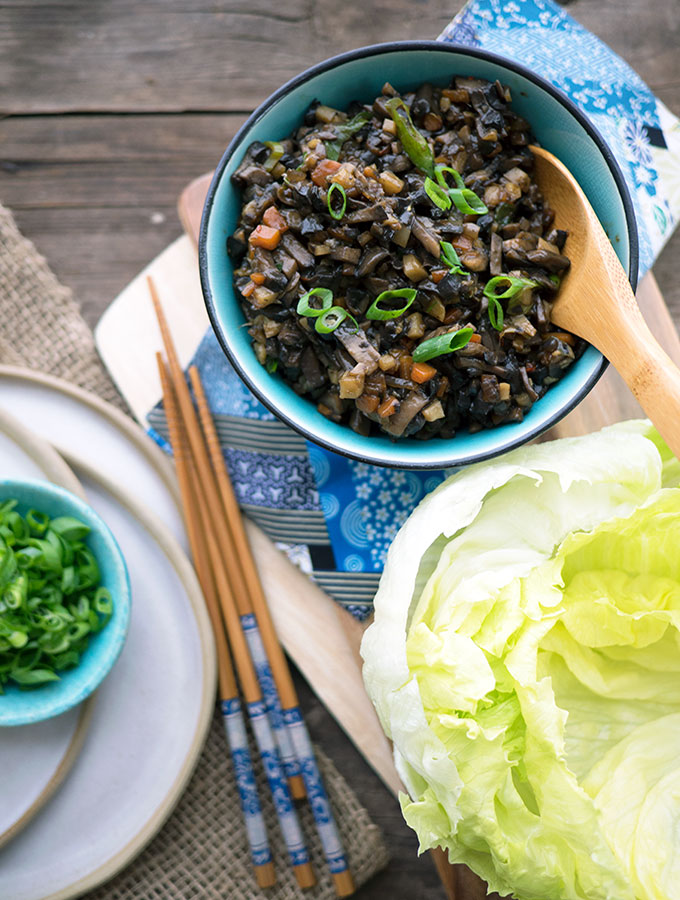 I am thrilled to be working again with the Australian Mushroom Growers' Association in regard to this particular recipe. And as much as I wanted to give you a mushroom tempura recipe, I have gone all healthy.
Why am I on this sudden health kick? Sorry I know you are now drooling for the tempura recipe, but there is a good reason. You could be the one in every three Australians that suffer from vitamin D deficiency.
Healthy or not, the main thing that needs to be noted is that this recipe for mushroom sang choy bow is a brilliant vegetarian version to the standard chicken, pork or duck recipes commonly found. Packed full of flavour and very healthy for you too.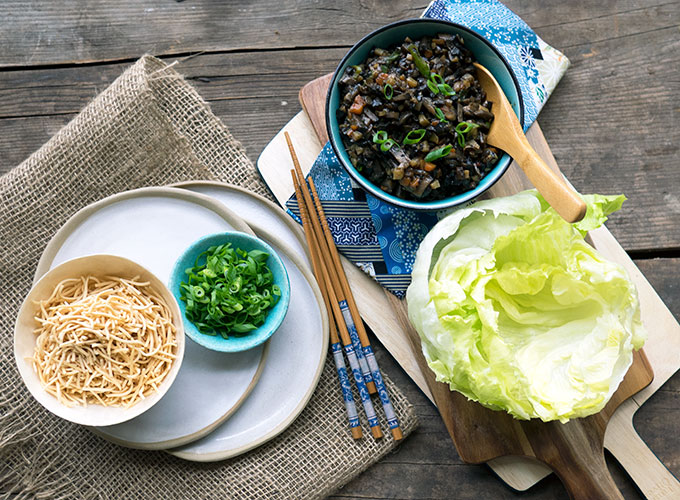 Plus, this recipe is healthier for you than you may think. Obviously is it is packed full of vegetables and is low in fat, but it also the perfect dish for these winter months when we aren't spending as much time outdoors in the sun. In fact Australians are spending less time in the sun than they use to.
Did you know that mushrooms are a fantastic source of Vitamin D? And with Australians covering up and avoiding exposure to the sun due to our high risk of sun cancer, one in three Australians are vitamin D deficient.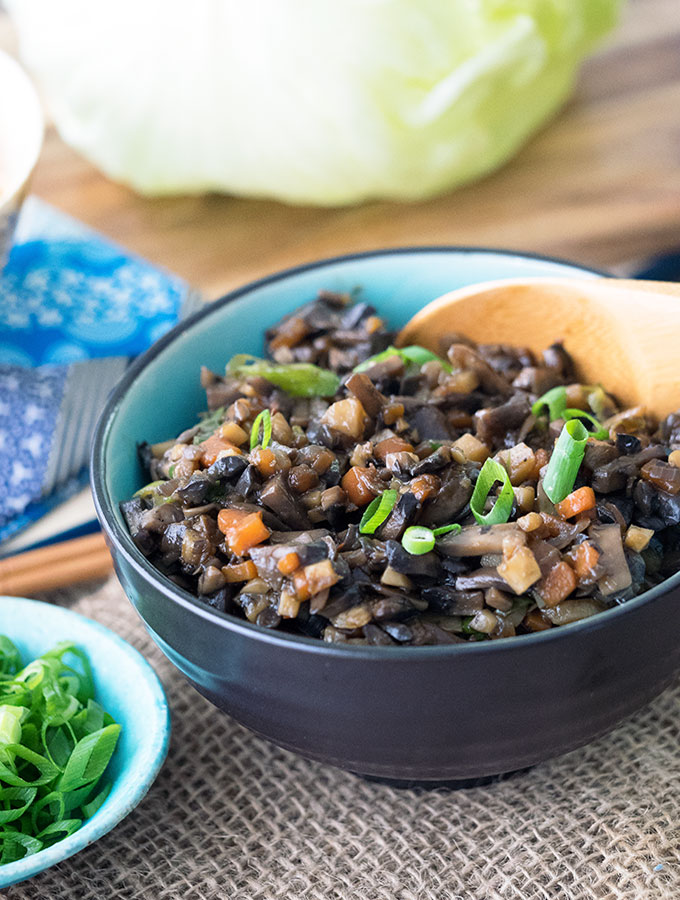 I discovered something fascinating a few years ago when I attended a lunch by the Australian Mushroom Growers' Association. If you expose three button mushrooms to direct sunlight they will absorb vitamin D. Once you have eaten the said exposed mushies, you will have received your daily requirement of vitamin D. Just three vitamin D activated mushrooms a day to keep you vitamin D intake in check, quite amazing. If you keep an eye out at your local grocer you can now find vitamin D mushrooms.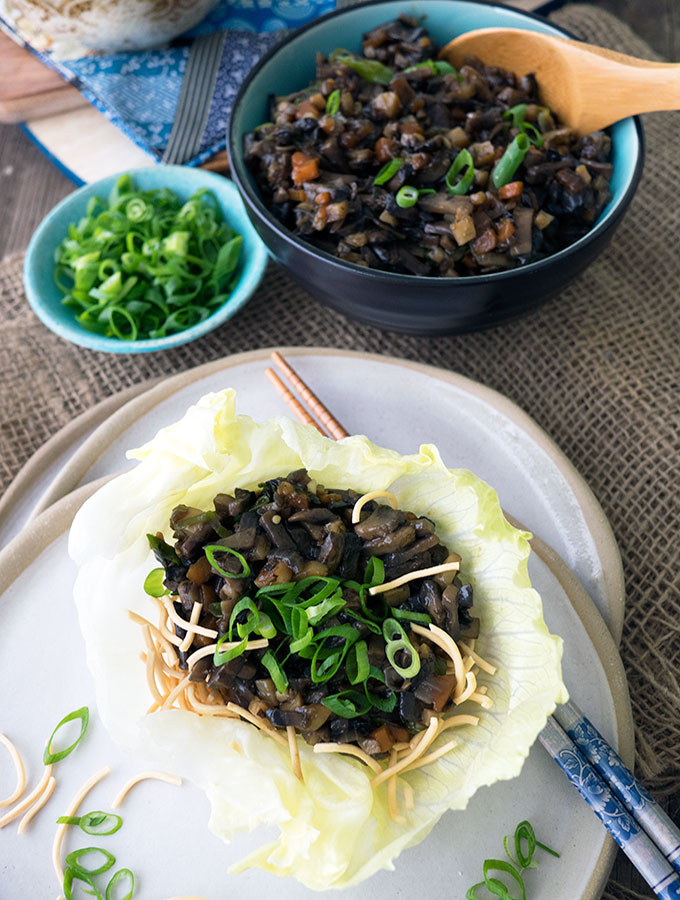 I do try and add vegetarian meals into our weekly meal plan. Which isn't an easy thing to do living with meat loving Mac and Josh. I do find that mushrooms are readily accepted as a meat alternative. I think it has a lot to do with their texture and the deep full flavour they develop when cooked. That is what I love about this mushroom sang choy bow recipe. The full flavour and almost 'meaty' texture the diced mushrooms take on. You could say it is like mushroom mince.
If you are really watching what you eat, omit the fried noodles. If added they are the evil part of this recipe. But they really are a great addition, that extra crunch factor.
Sara xxx
Belly Rumbles would like to acknowledge its partnership with the Australian Mushroom Growers' Association for this post. This recipe was created, developed and photographed by Sara McCleary.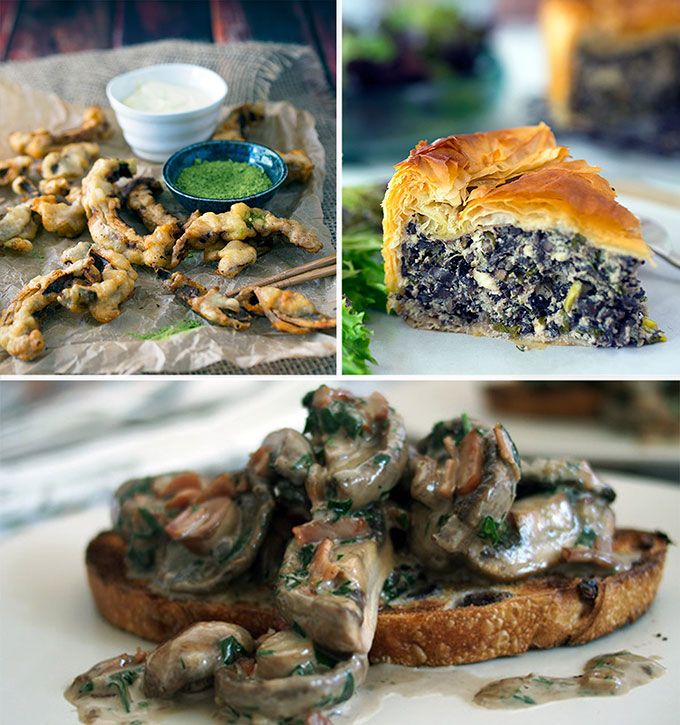 You may also enjoy these other mushroom recipes. Clockwise from top left corner; Beer Battered Mushrooms with Green Tea Salt & Yuzu Wasabi Mayonnaise, Mushroom Filo Pie, Easy Creamy Mushrooms on Toast.
Printable Recipe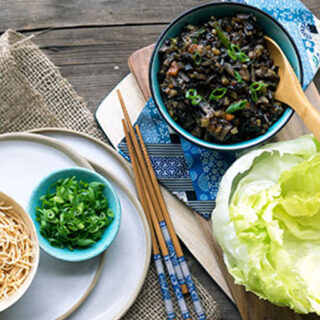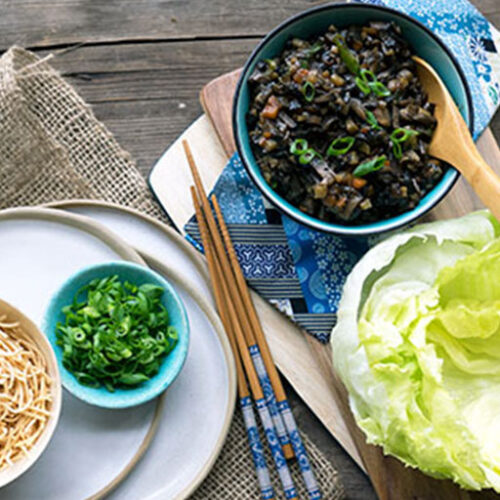 Mushroom Sang Choy Bow
The Chinese classic sang choy bow has a make over for vegetarians, mushroom sang choy bow!
Ingredients
1

tablespoon

olive oil

1

medium red onion

medium diced

550

grams

mushrooms

medium diced

1

medium carrot

finely diced

2

garlic cloves

finely chopped

1

tablepsoon grated ginger

1

small red chilli

finely chopped (de-seed if you don't like too much heat)

227

grams

water chestnuts

finely diced

3

spring onions

thinly sliced

2

tablespoons

Chinese cooking wine/shao xing

1.5

tablepsoons dark soy sauce

2

teaspoons

sesame oil

1

teaspoon

cornflour

1

tablespoon

water

fried noodles

optional
Instructions
In a large non stick pan fry onions until they start to soften. Add mushroom and cook stirring until they start to release liquid.

Add carrot and continue to cook until mushrooms have released all their liquid and the liquid starts to evaporate.

Add garlic, ginger and chilli. Stir through thoroughly. Then add water chestnuts, continue to stir.

In a small bowl add Chinese cooking wine, soy sauce and sesame oil. In another small bowl add cornflour and water, mix well until cornflour is fully dissolved without lumps. Add cornflour mixture to the wine and soy mix, stir well.

Add the wine and soy sauce mix to the mushrooms and mix well. Mixture will thicken slightly and become glossy. Stir through one of the sliced spring onions.

Serve immediately with lettuce cups, fried noodles (optional) and spring onion.
NUTRITIONAL INFORMATION
The recipe's nutritional information is an approximation based on an online calculator. It is meant solely for reference purposes. If you're looking for precise details, be sure to double-check with your own research.
Did You Make This Recipe?
I do a happy dance when people share how they went. Tag me on Instagram or Twitter @bellyrumbles & #bellyrumbles