These are the best Qantas business class seats Sydney to Tokyo. I share a little secret that you can scoop a first class seat at business class prices for some flights on this leg.
There is a little secret amongst frequent flyers that know the Sydney to Tokyo Haneda (and return) leg well. You are able to choose a first class seat at business class prices on select Boeing 747-400s that fly this route.
Important note
As of July 2020 all the 747s in the Qantas fleet will have been retired. This means if you haven't had the chance to fly on one the grand dames of the sky yet in the upper deck, you won't be able to with Qantas. Nor will the seats discussed below be available.
I have kept this post live to keep the days of flying on the 747 alive for all of us aviation geeks.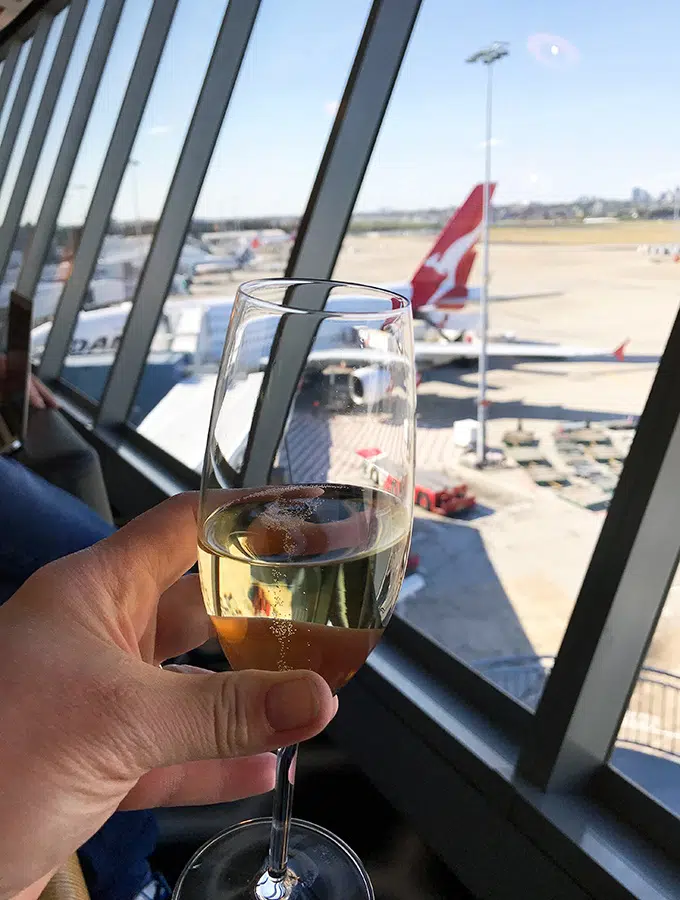 These are the best Qantas business class seats on the Sydney to Tokyo route at present.
There is a hitch, they aren't the latest first class fit out by Qantas. In fact, the seats have seen better days, but they are still superior to the business class seats in the rest of the cabin. Unlike the business class pod seats, they offer a true fully flat bed making them perfect for this overnight flight.
Flight: QF25
Loyalty Scheme: Qantas & Oneworld frequent-flyer programs
Flight Duration: 9 hours 25 minutes
Aircraft: Boeing 747-400
Cabin: Business (J)
Seat: 3F
Qantas Sydney Check-in
There is a dedicated QANTAS check-in for their business class passengers. If you are a QANTAS Platinum, Platinum One Frequent Flyer or hold Oneworld Emerald status you will be able to check in via the first class counters.
The line for the business class check in is quite long. Not as long as general check in on the other side, but still quite a few people. Due to my status, I am checking in via first class and there is only one other person in front of me. Check in is courteous and speedy.
I'm given an express pass to expedite my way through immigration and security quickly. Which at this peak time of the evening is worth its weight in gold.
QF First Class Lounge Sydney
Qantas has a bright and airy lounge for business class passengers. It can get quite busy during peak times as Qantas Club Members, QANTAS Frequent Flyer Gold Status and Oneworld Sapphire members also have access.
Instead, I head to the Qantas First Class Lounge dedicated to first class passengers, but is accessible no matter what class you are flying if you are Platinum, Platinum One or Oneworld Emerald.
Yes, it is a lot fancier than the Qantas Business Lounge and a lot quieter.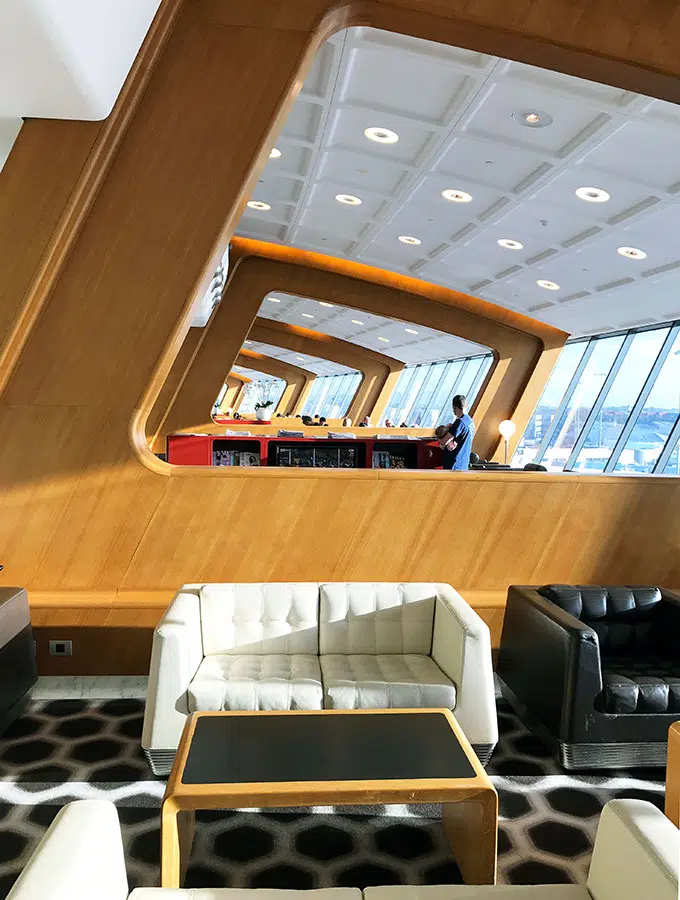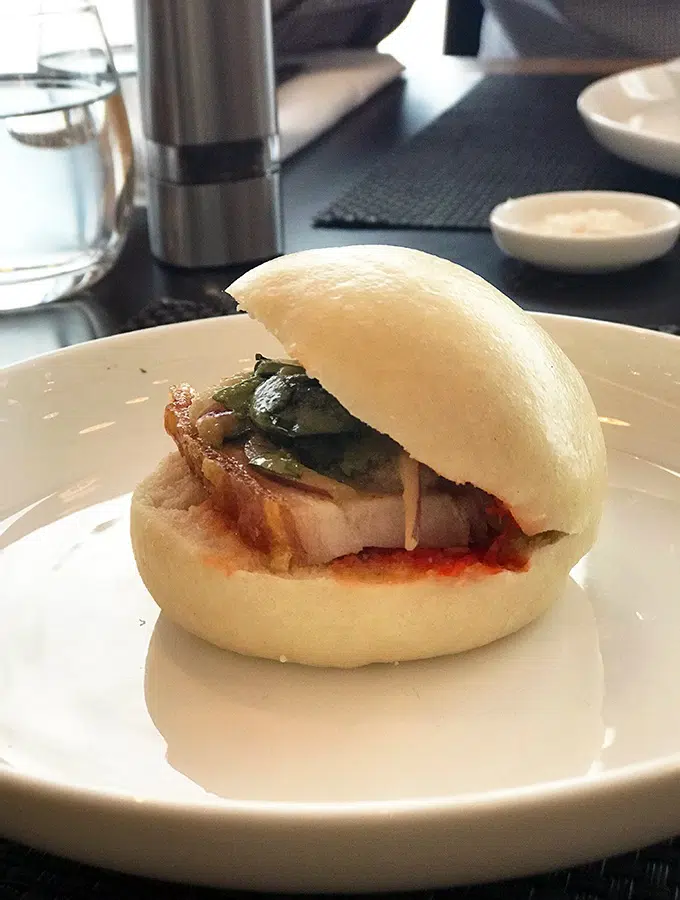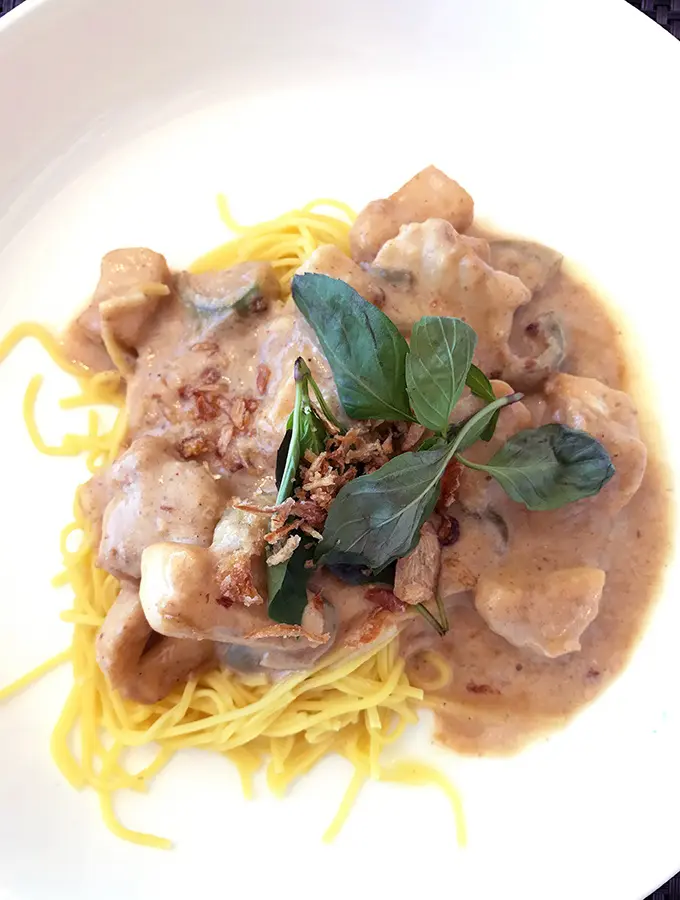 I am here early entirely to enjoy the lounge. It's an evening flight to Haneda and dinner will be served on the plane, but I still take advantage of the restaurant quality dining in the Qantas First Class Lounge.
Boarding QF25
Boarding is relatively quick via the dedicated boarding line. Once on board, you are directed one of two ways. Business class seats are at the front of the plane (no brainer there) or up a flight of stairs to the bubble. Even in the age of the double decker A380 the "bubble" of the old 747s still excites me.
In this instance, I'm not heading up to the bubble but directed up to the nose section of the plane.
I walk through the main business class cabin. Which is a very undesirable 2-3-2 configuration. Being stuck in a middle business class seat does not thrill me at all, thank goodness Qantas is slowly but surely doing away with that nightmare.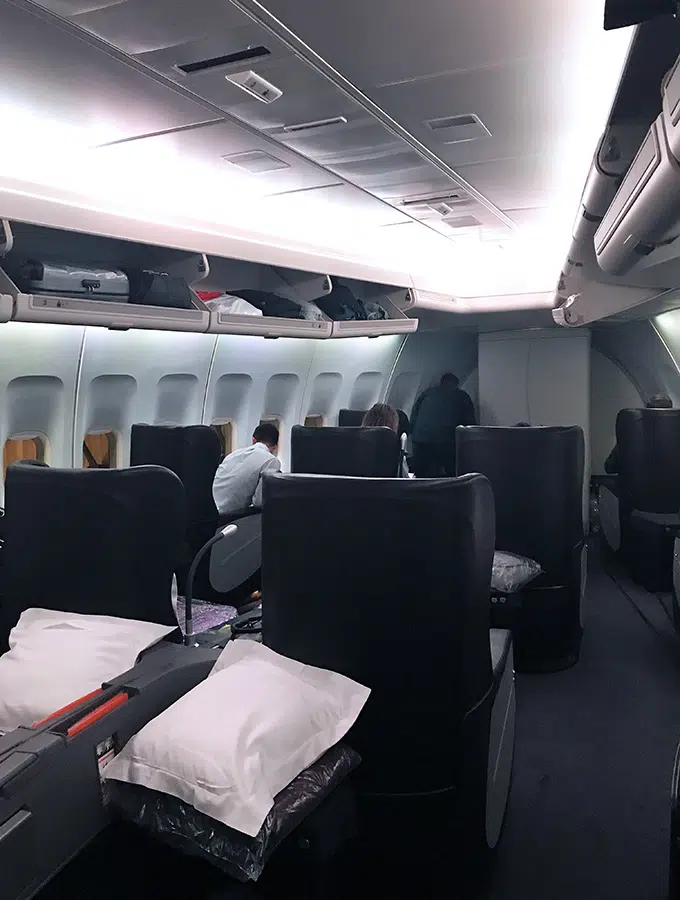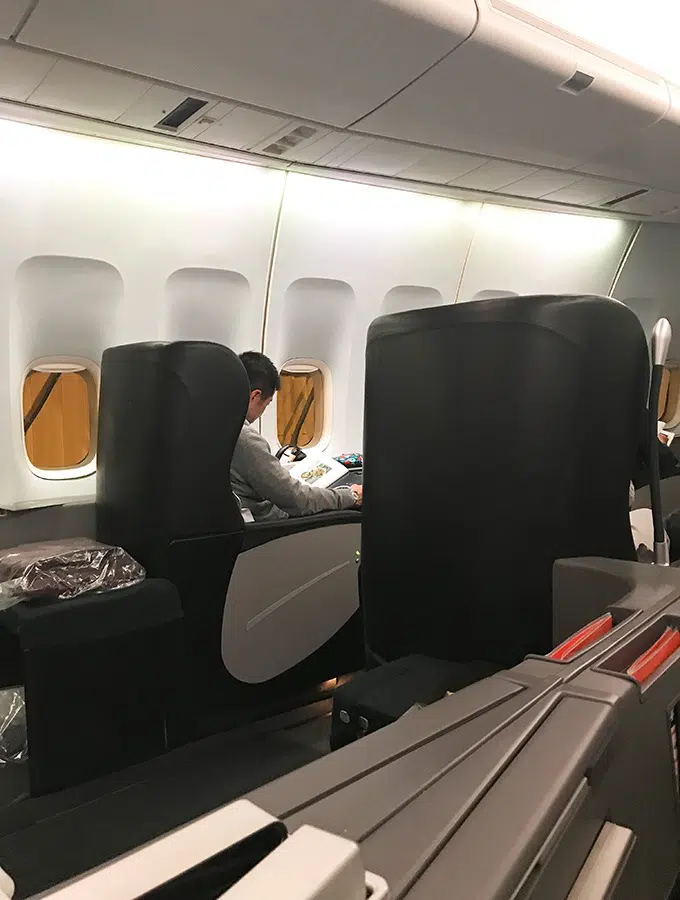 Into the very front section of business class I head. In a few of the Qantas 747-400 aircraft, the very front of business class is the old first class set up. As far as I am concerned these are the best Qantas business class seats Sydney to Tokyo.
Not all of the 747s, only one or two, and I know at least one is routed generally on the Sydney to Tokyo route. Qantas will retire their last six 747s by the end of 2020. If you want to experience the best Qantas business class seats Sydney to Tokyo, a touch of first class, you need to get in quick.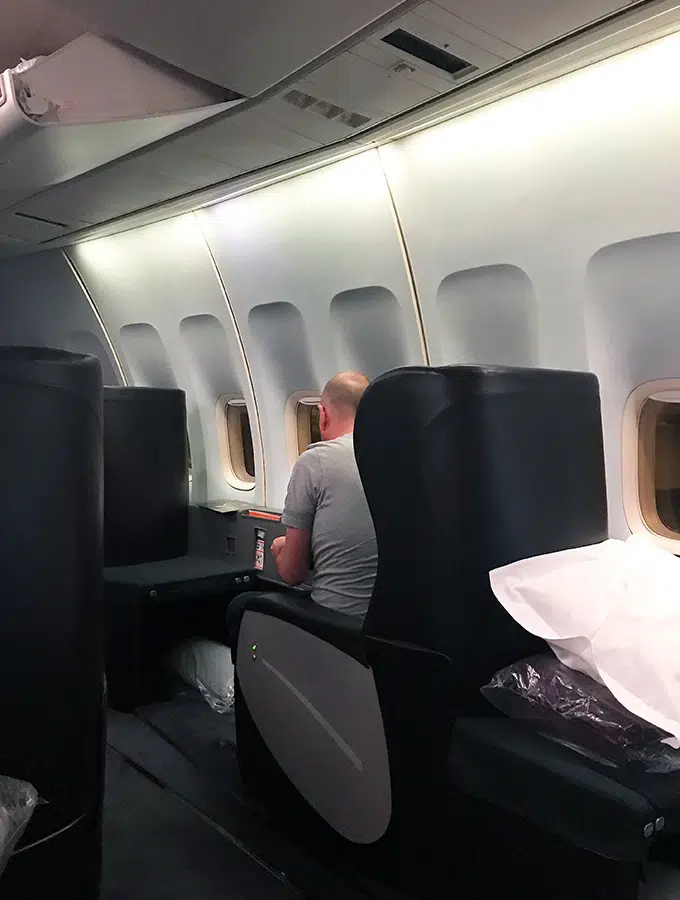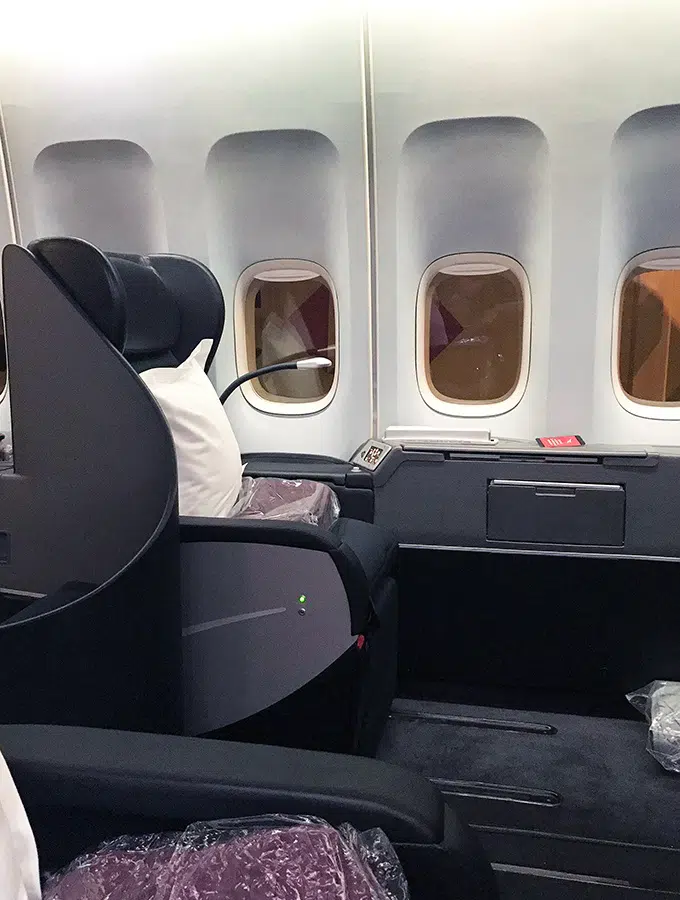 When choosing your seat online you can tell if the aircraft still has the old first class configuration onboard. The seats in the nose of the plane will look different to the other business class seats, and they will be red, as per the screenshot from Qantas below.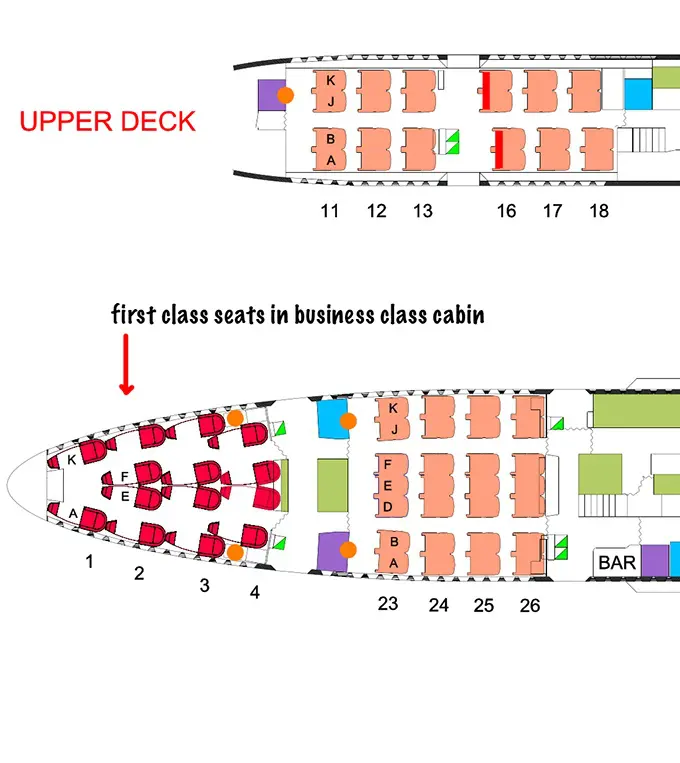 Once seated champagne, juice or water are offered. I go for the champagne, why not! Plus pyjamas are handed out.
QF A747-400 Old First Class Business Seat
The seats are in a 1-2-1 configuration. The only storage bins are above the window seats. If you are in the seats that run the centre of the cabin you will need to use these. I am also advised, when I reach my centre seat, that I am able to leave my small roll on with me if I wish. I can place it under the small seat (will be the end of my flatbed) in front of me.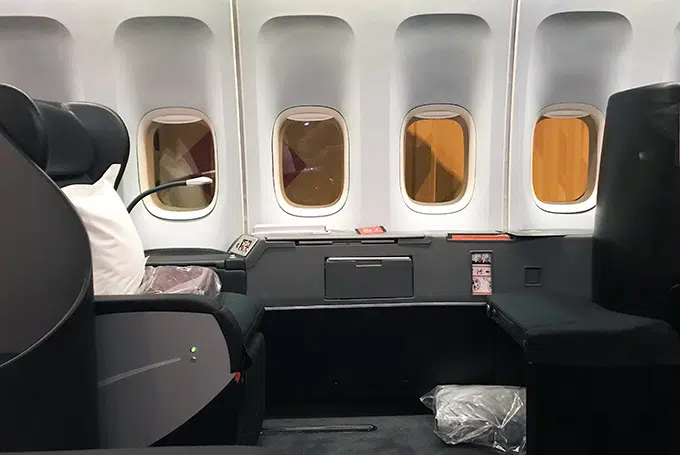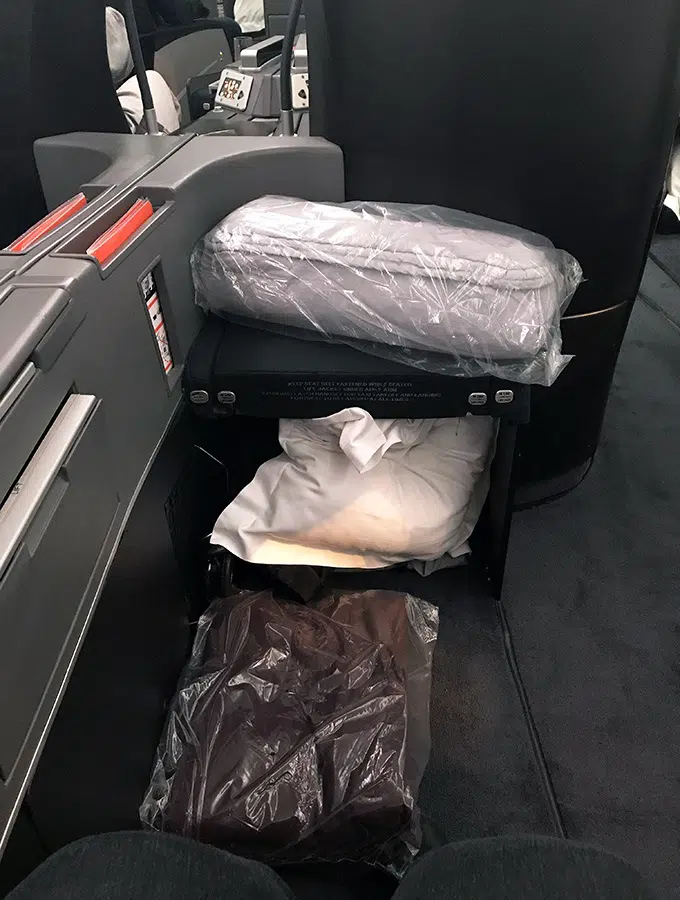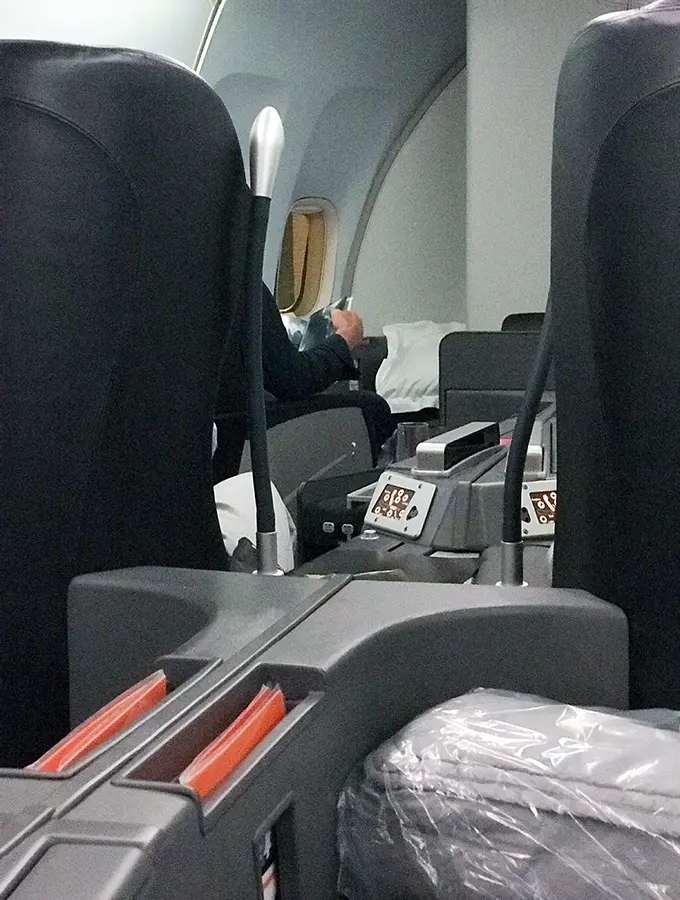 The first thing you will notice about the old first class seats is the amount of room you have. There is leg room for miles. The second thing you will notice is the lack of privacy. This is where the old business class pod seats have the advantage, you do get a little more privacy.
You get to know the person sitting next to you well. It is unavoidable, they are right there and you are sharing the same common space between th seats, which isn't that generous.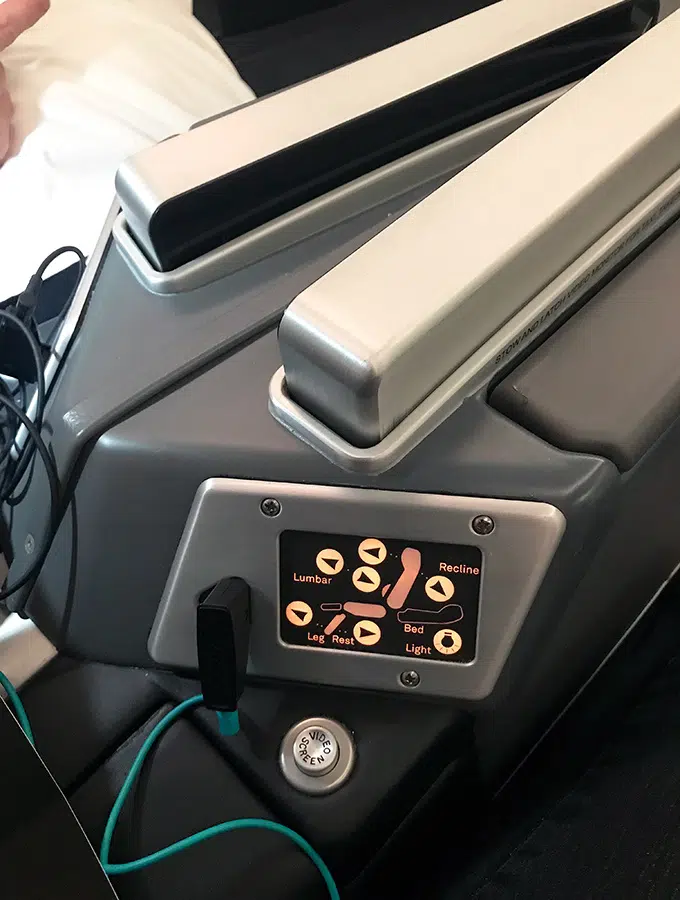 The best aspect of the seat is it is a fully flat bed. The business class pods aren't. Qantas advertise them as a flatbed, and yes they are to a degree. That is the problem the degree of angle on them, you don't lay flat. The old first class seats are a true flatbed.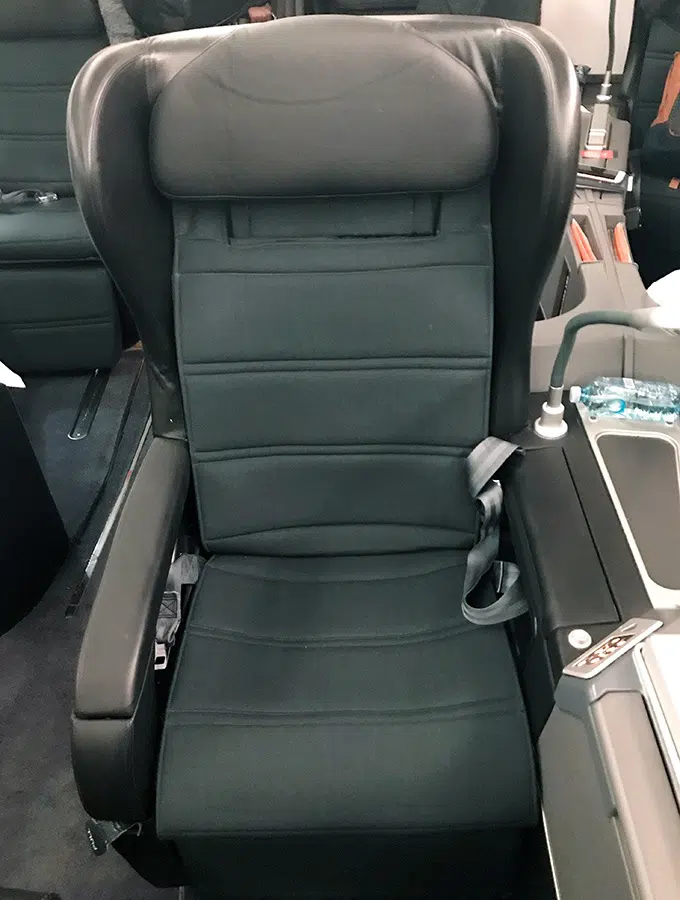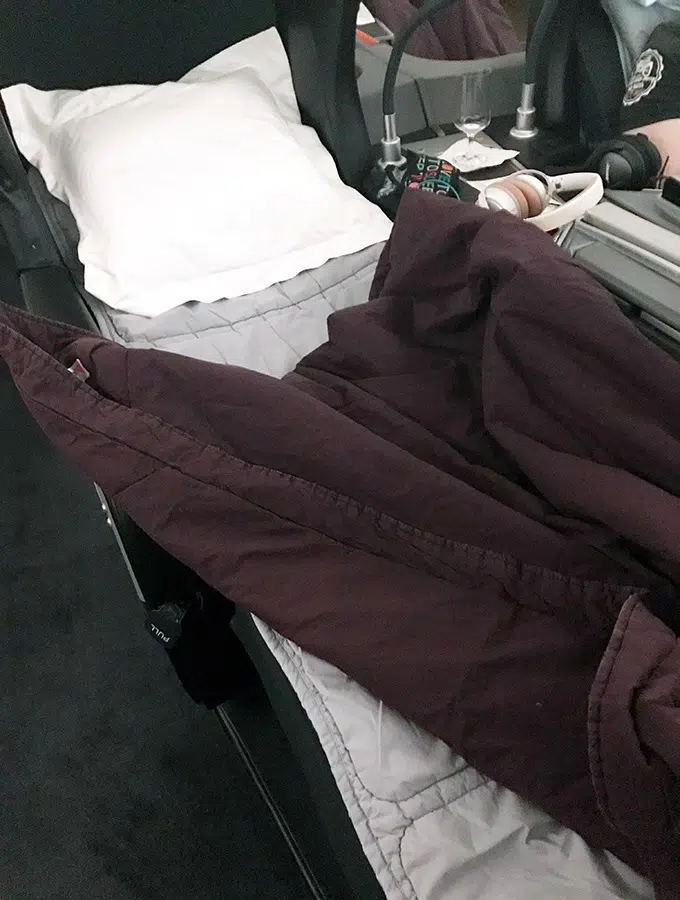 My seat is made up after take off for sleep. It is a night flight and sleep is on the agenda. There is a seat cover placed over my seat. They are very much like a thick mattress protector. This offers a little more comfort via some extra padding to sleep.

Entertainment Unit
Sadly these are nothing to write home about. They are tiny, old and seriously in need of replacement.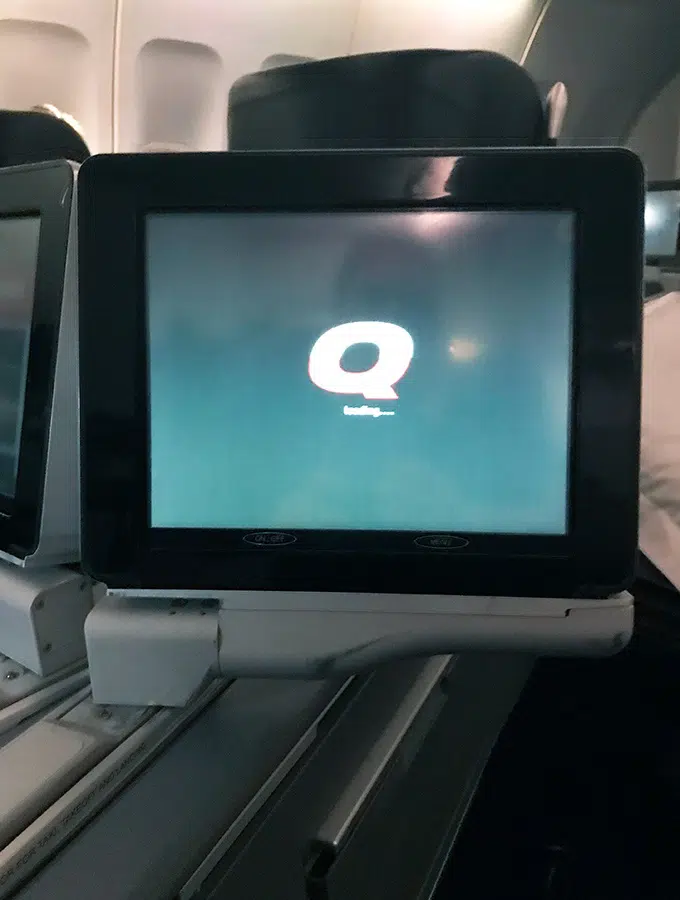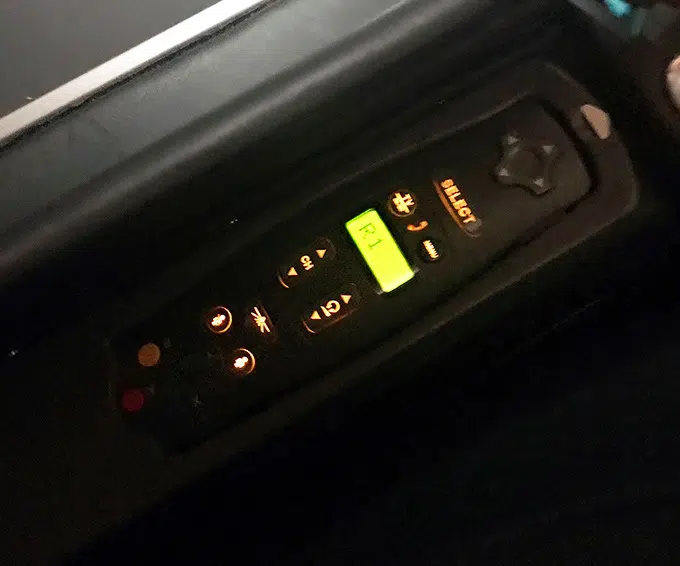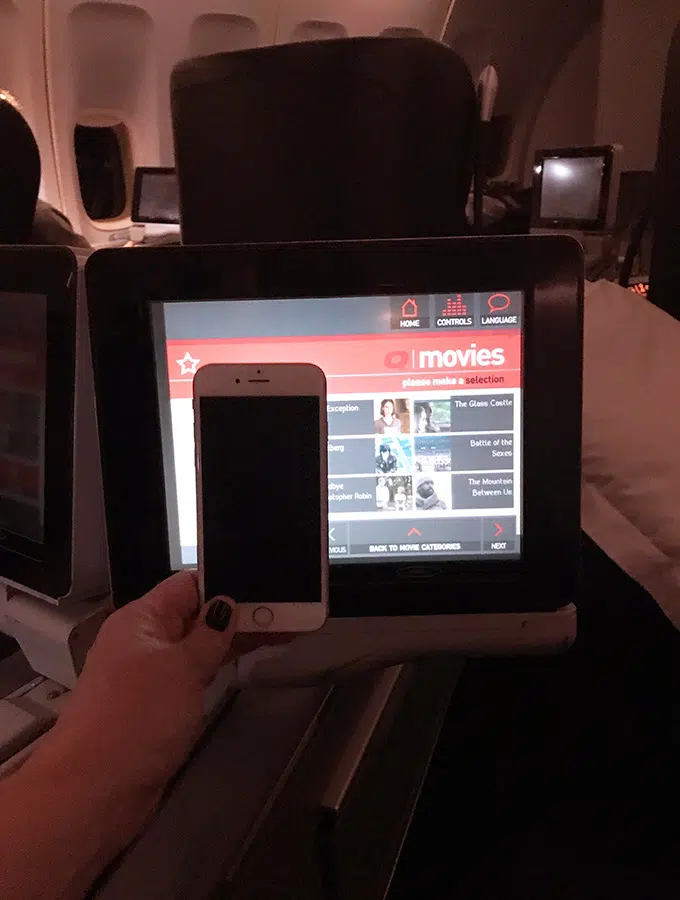 You can see how tiny the screens are with the photo below. That is an iPhone in front of the screen. There is a decent selection of movies, it is the same inflight entertainment offered across the fleet, just on antiquated screens.

Blanket and Amenity Kits
Blankets and pillows provided are the normal business class offering. The blankets are a decent thickness and I find them rather comfy to snuggle into. Once changed into my PJs, it is quite easy to nod off to sleep.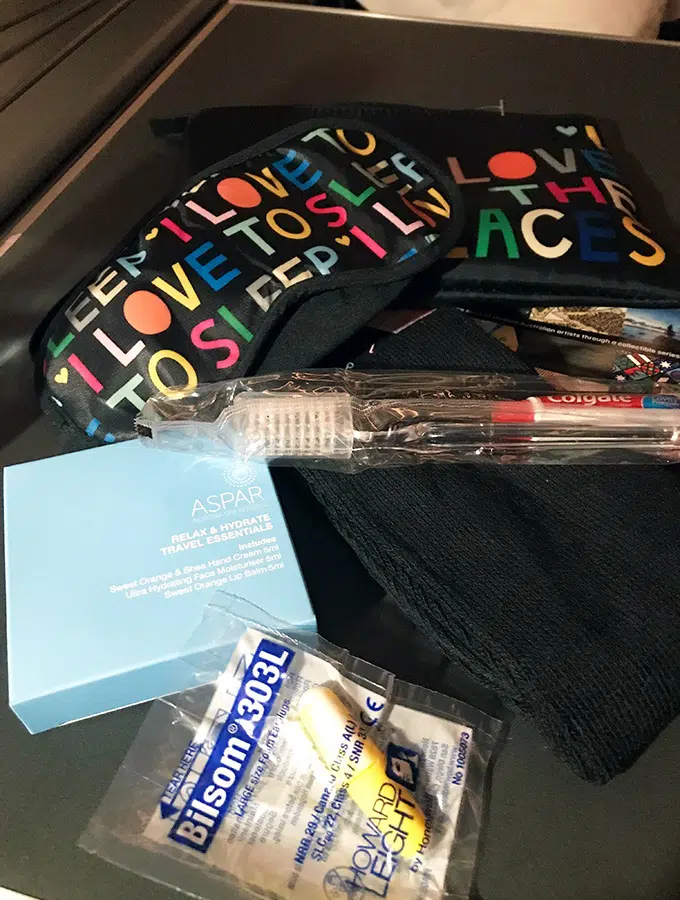 The amenities kits hold the two most important items I require when flying, ear plugs and eye mask. There are also Aspar toiletries, toothbrush and toothpaste.
Inflight Food
Dinner order is taken once we take off and seat belts signs are off. A main and dessert are on offer for dinner.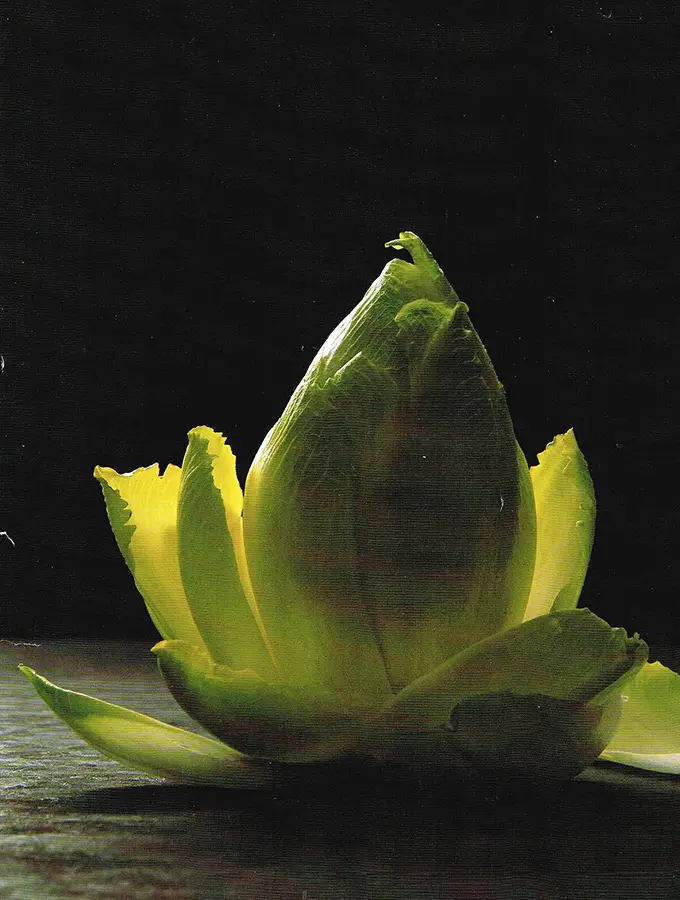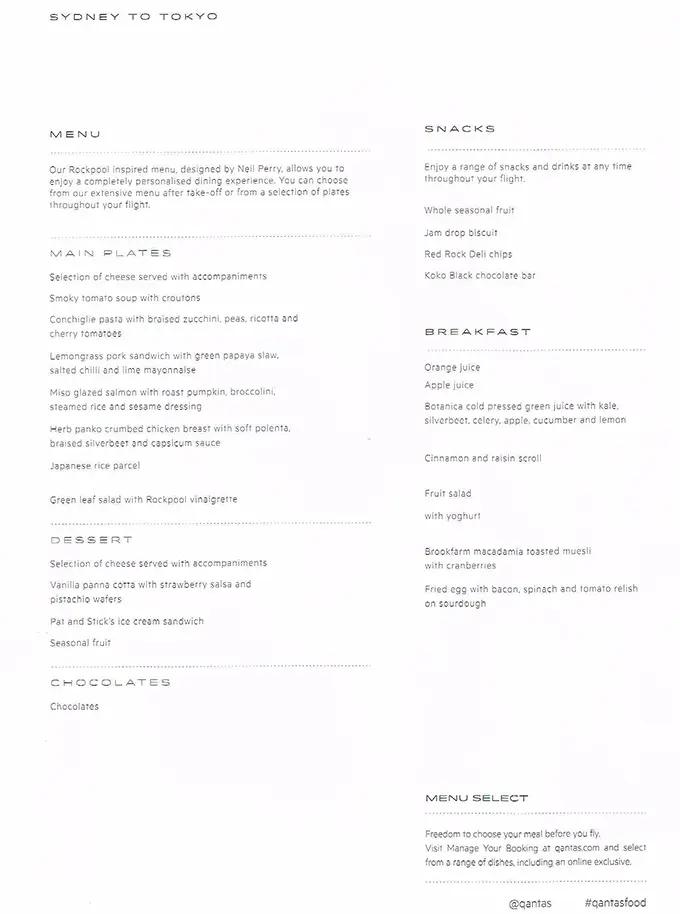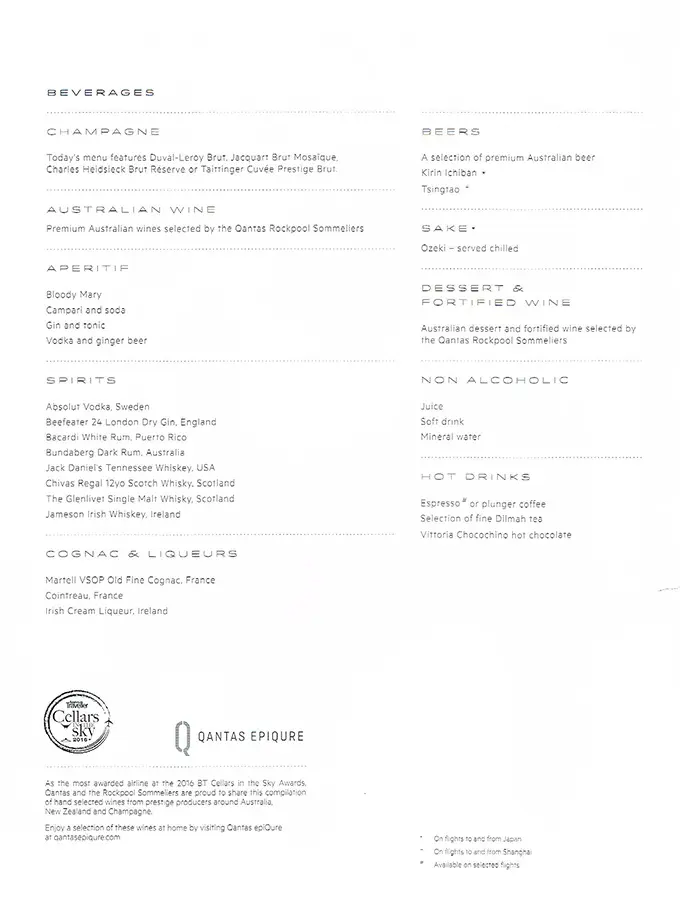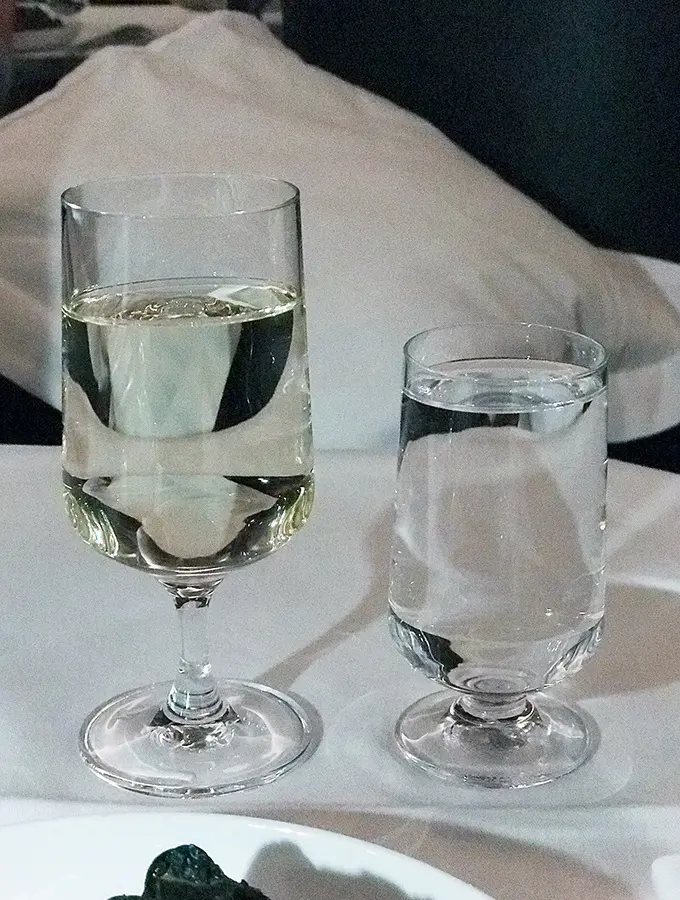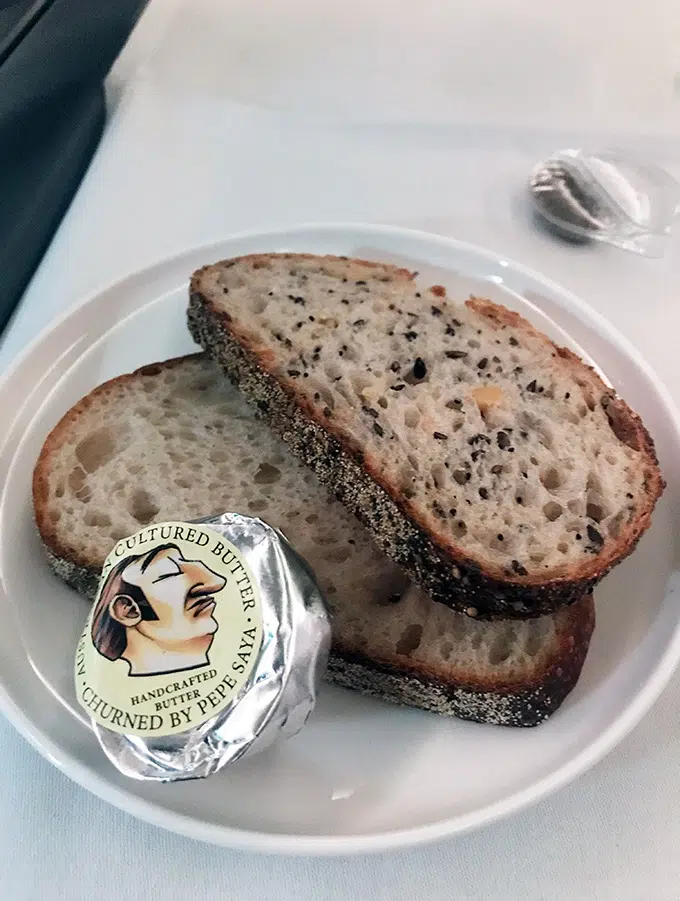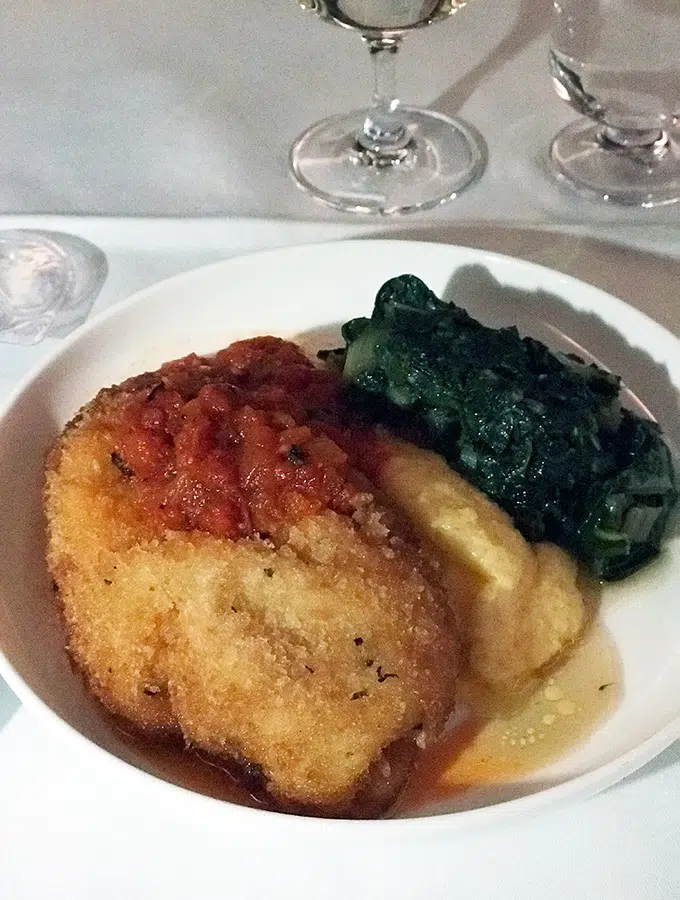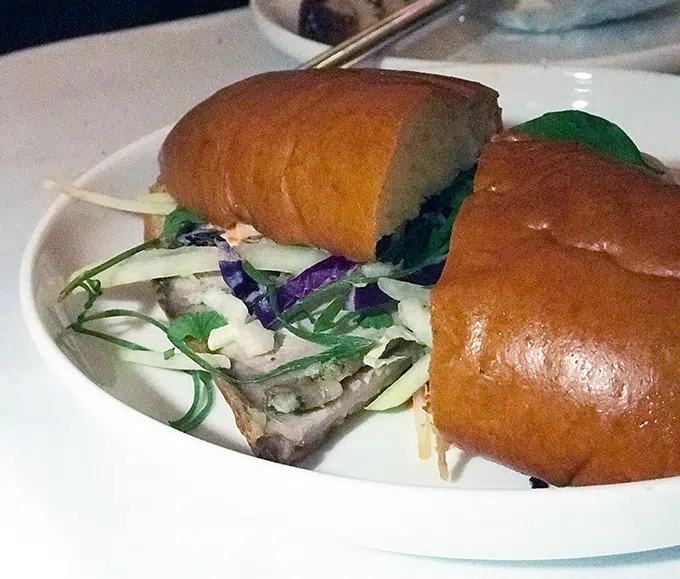 It's always great to see Pepe Saya butter on Qantas business class flights. The butter is manufactured five minutes from the airport by artisan butter maker, Pierre Issa. It is the best butter offering, the bread is always great too, on any airline.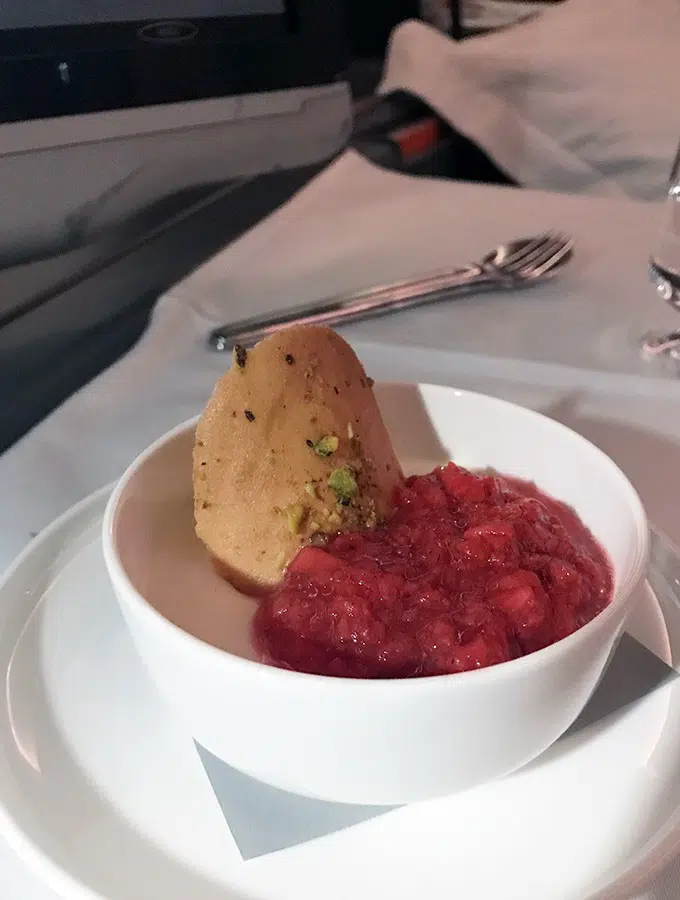 I opt for the herb and panko crumbed chicken with soft polenta, braised silverbeet and capsicum sauce. The crumb is crunchy and chicken tender and juicy. My seat buddy next to me orders the lemongrass pork sandwich with green papaya slaw, salted chili and lime mayo.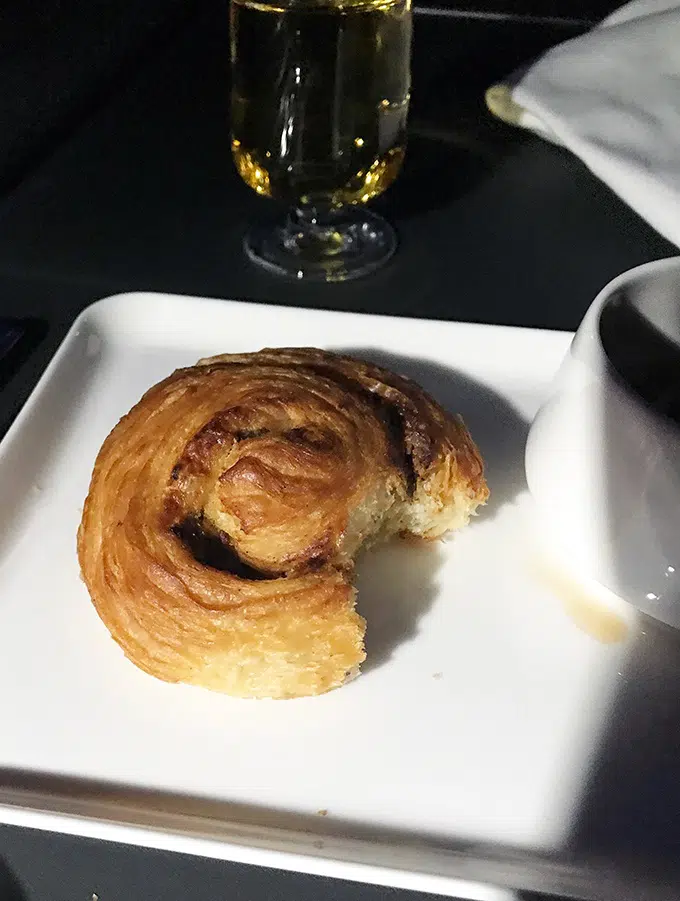 I didn't really feel like dessert but was persuaded by the lovely crew member looking after me. She sold me on how good it was, and she was right. The vanilla pannacotta with strawberry salsa and pistachio wafer was delicious.
After a few hours of broken sleep. I slept as well as I do on flights, and did get a couple of unbroken hours in. We are landing at Haneda at dawn and being served breakfast before touch down. It's early and I don't feel like much at all.
A hot breakfast is offered but all I can stomach is a tea and a danish.
Are they the best seats?
How do the old first class seats in the business class section of Qantas' Boeing 747s stack up? They are the choice seat on the aircraft, and at present, the best Qantas business class seats Sydney to Tokyo. My second pick is the business class pod seats up in the bubble.
The entertainment system is antiquated, but that goes for the whole plane. For an overnight flight, which the Sydney to Haneda is, they are a fully flat bed for sleeping. Though they do lack a little privacy.
I say if you get the chance to select one of the seats on this leg, do so.
Sara xxx