Not everyone likes fruit cake at Christmas and my brandy butter cake is the perfect alternative. Not only does it have the booze connection happening, it's really pretty due to being generously topped with edible flowers.
Edible flowers are one of my favourite "tools" to use in desserts. They instantly make something look pretty or vibrant depending on the flowers you use. There is no fuss and effort involved. You could even choose your flower colours to match your Christmas table setting.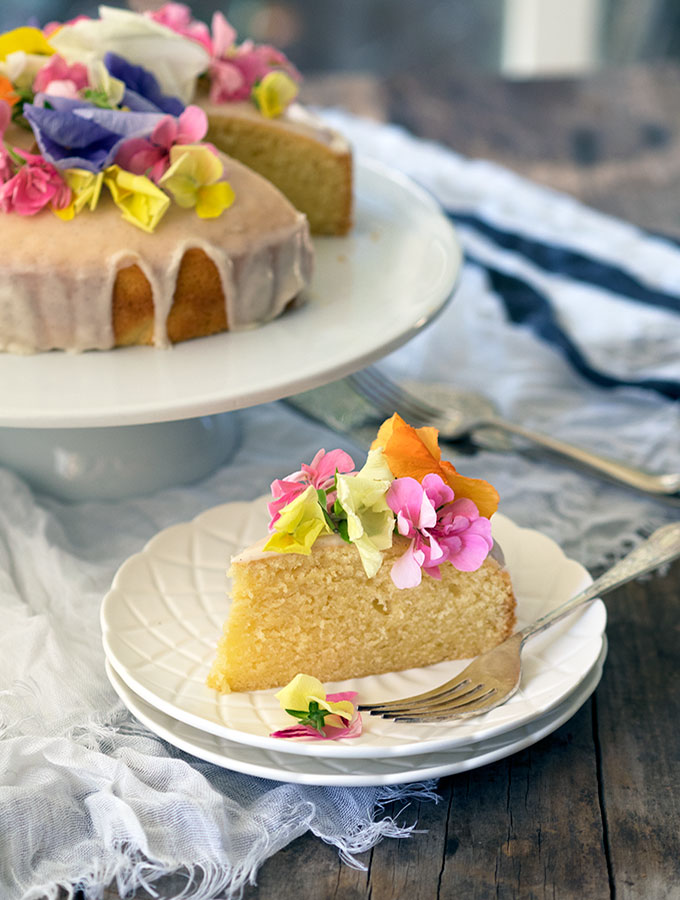 That is what this cake is all about, no fuss. It's easy to make, easy to ice, and easy to decorate. That translates as, easy to entertain. Which are two of my favourite words during the craziness that is Christmas, easy and entertain. Of course it is very easy to eat as well.
Taste wise it is a rich cake, packed with butter and brandy. The almond meal adds another little bit of richness and density to the cake. The icing is fragrant with vanilla bean and extra brandy.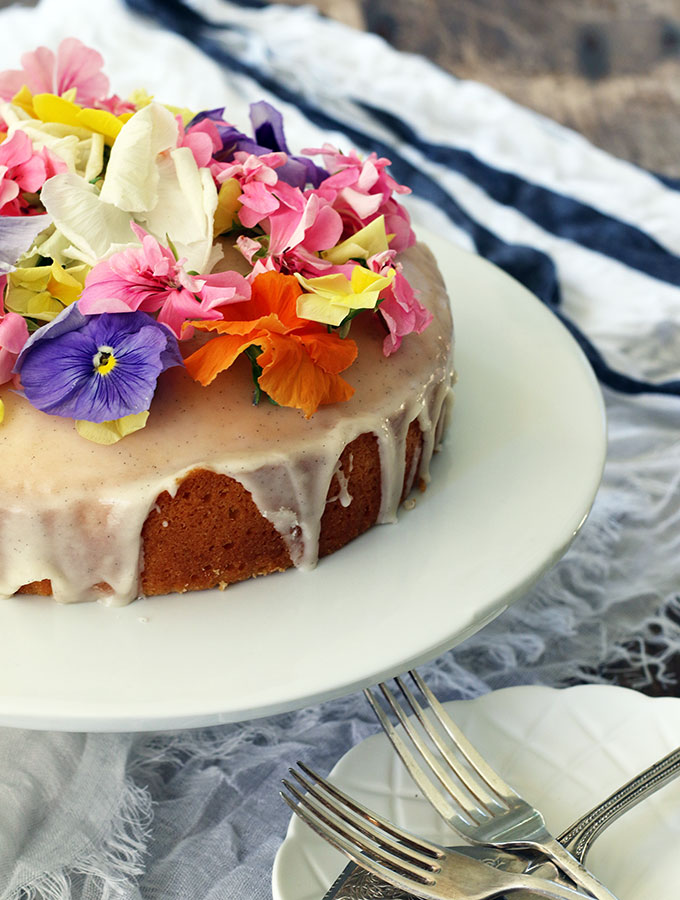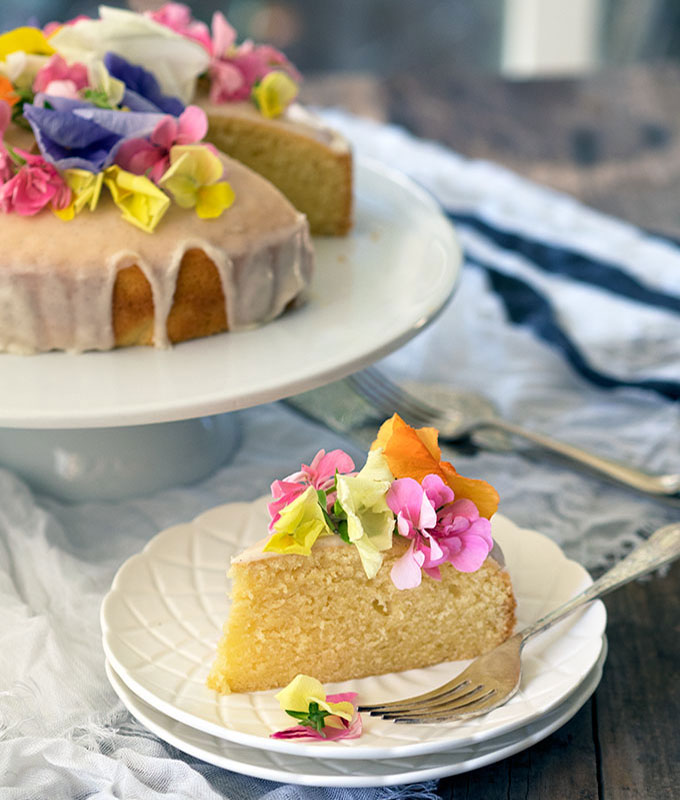 Brandy Butter Cake
Brandy Butter Cake is a rich butter cake spiked with brandy. Decorated with vanilla bean brandy icing and edible flowers.
Print
Ingredients
250

grams

butter

200

grams

caster sugar

3

large eggs

225

grams

self raising flour

75

grams

almond meal

80

ml

brandy

250

grams

icing sugar

sifted

1

teaspoon

vanilla bean paste

5

ml

1 tablespoon brandy, extra

A couple of tablespoons of warm water

Edible flowers to decorate
Instructions
Preheat oven 170°C ( °F). Grease and line a 20cm (8 inch) round cake tin.

In a large bowl cream butter and sugar until pale in colour. Beat in eggs one at a time, incorporating completely before adding the next egg.

Gently mix in the flour and almond meal, then mix in the brandy.

Scrape cake batter in to your prepared tin and bake in the oven for 50 minutes, or until golden and cooked through. Test with a skewer, if it comes out clean it is cooked.

Leave the cake to cool in the tin for 15 minutes, then remove from tin and continue to cool on a cake rack.

Once the cake is cold it is ready for icing.

In a medium bowl place icing sugar, vanilla bean paste, brandy and a couple of tablespoons of warm water. Mix and continue to add a tablespoon of water, one at a time, until your icing is a thick consistency. You don't want it to be too runny.

Ice the cake and let the icing dribble off the sides.

Once the icing has set a little and stopped dribbling down the sides of the cake, top with edible flowers of your choice.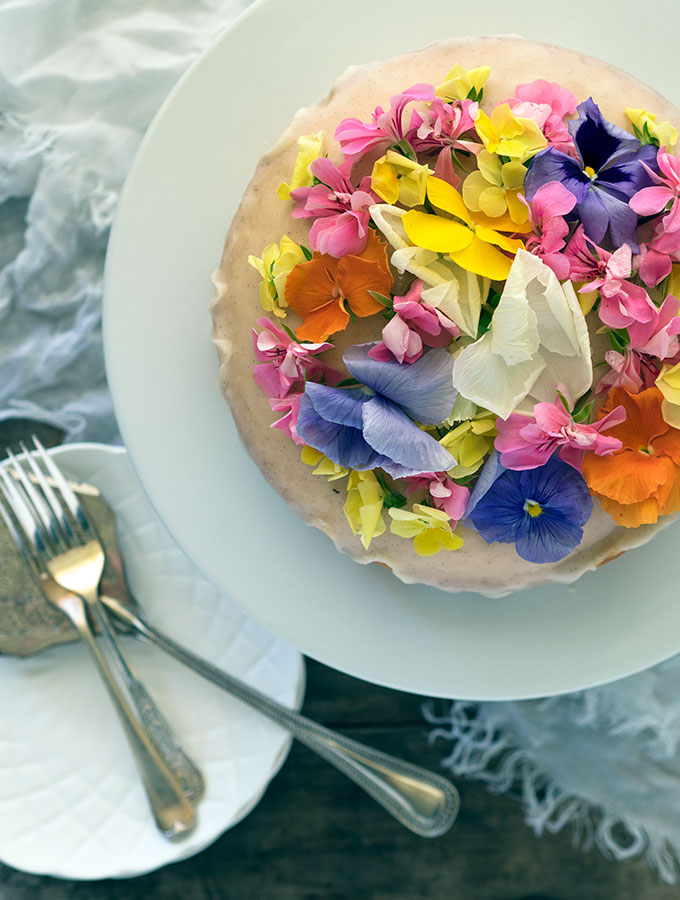 If you don't already have a reliable source for edible flowers, don't panic if you can't find them. I think topping this cake with whole fresh cherries would be the perfect alternative to decorate this cake. Just arrange them on top side by side, you could even leave their stems on sticking upwards. Cherry and brandy do go so well together, don't they.
Sara xxx
Become a subscriber and don't miss a single delicious recipe, restaurant review or travel adventure. Plus you will also receive extra content and benefits.