Happy New Year! Did you have a wonderful break over the festive season? All ready and recharged to face 2016 head on with lots of gusto and a karaage chicken wings recipe? I hope you are, I know I am.
You may have noticed that I took a break from Belly Rumbles over Christmas and the New Year. The site has been a virtual ghost town over the past couple of weeks. I truly needed it after a pretty hectic 2015. The break gave me time to take stock and have a good hard think about this little blog and the direction I want it to go.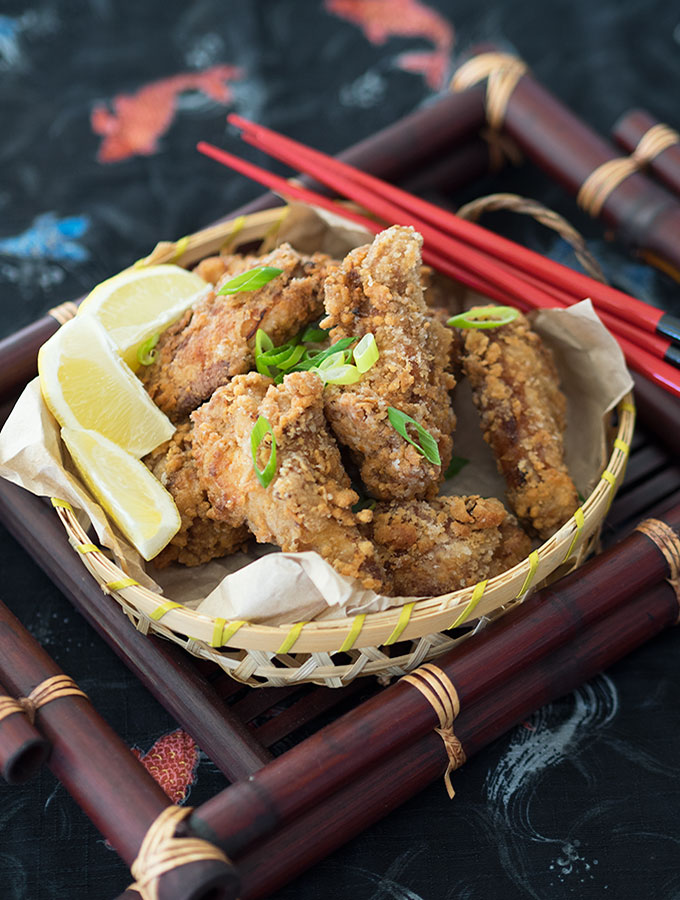 The time out has resulted in a couple of additions to the Belly Rumbles team. One isn't really an addition, he's always around, Josh is back officially as part of team Belly Rumbles. Not just a plus one, taste tester, prop holder, bag carrier or hand model. His new role will become apparent over the next few weeks.
We also have a great Tori Karaage that you will love!
The other addition to the team is Eva. I'm going to leave you guessing in regard to Eva, but she will make an appearance over the next couple of weeks as well, and all will be revealed.
All I want to say at the moment is that I am very excited about the direction we are heading. The changes are all about bringing you more enjoyable content. Content that will live up to Belly Rumbles' tag line 'a culinary adventure'.
I probably should have rung in the New Year with a healthy chicken salad recipe. Instead I am sharing my not so healthy karaage chicken wing recipe.
A little secret sharing first. This wasn't meant to be a chicken wing recipe, it was meant to be an Aussie sausage roll recipe to celebrate Australia Day, which is fast approaching.
A very important fact about pineapple was discovered over the weekend. It is a brilliant tenderiser for meat. So much so, that it turned the filling of my macadamia and pineapple sausage rolls into a non textural funky paste. A slightly grainy paste with no texture whatsoever except the occasional chunk of macadamia nut here and there. Quite a bizarre result, very funky to eat, and one I wasn't going to palm off on you.
On top of that I decided I wanted to have a go a making the sausage rolls look like echidnas, because that is what slightly eccentric people do in the kitchen. You may have seen the dismal result on instagram over the weekend. So yes, they looked crap and tasted just as bad, therefore it's back to the drawing board.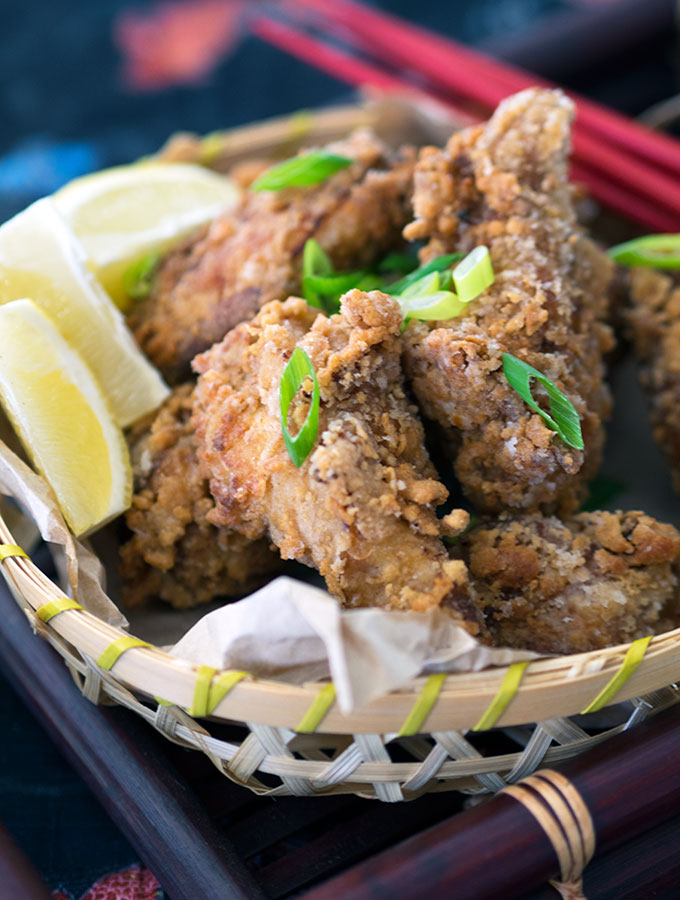 Luckily I had this recipe up my sleeve to share. If you are a fan of karaage chicken, those little fried Japanese chicken nuggets of tasty goodness, and then you will love these.
Exactly the same deep fried tastiness, but in wing form. As chicken wings are a finger food, they couldn't' be anything else could they? You will be finger licking your way to food utopia with this recipe.
They are best served immediately simply with wedges of lemon. This is my preferred way to eat them as the lemon adds a wonderful balance to the fried wings. You could also serve with a small bowl of Japanese mayonnaise and a bottle of Shichimi Togarashi to sprinkle for some added heat.
As Belly Rumbles is going through some changes over the next couple of months, I would love your input. If there is something that you think we should be doing then please tell us. If we are getting it wrong then tell me that too. What would you like to see more or less of?
I am always open to recipe suggestions, travel ideas etc that you would like to see us cover here on Belly Rumbles. Please feel free to send me an email ([email protected]) or leave a comment below. I love hearing from you, your input is important to me.
Sara xxx
Printable Recipe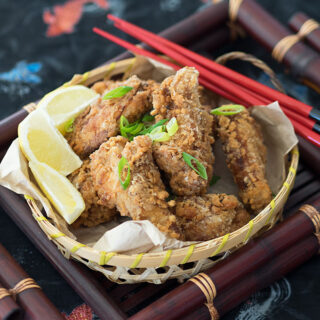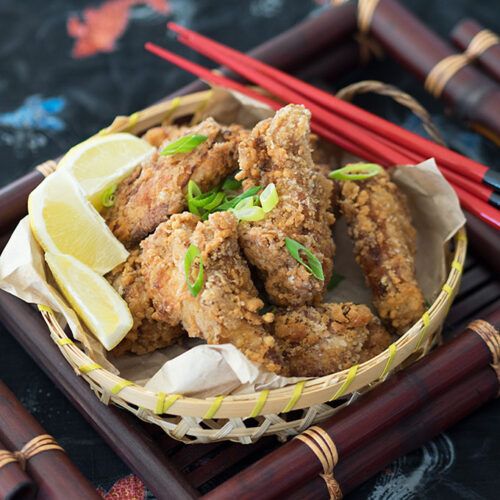 Karaage Chicken Wings
Ingredients
1

kg

chicken wings

60

ml

soy sauce

60

ml

mirin

1

tablespoon

sake

2

teaspoons

freshly grated ginger and the juice

2

garlic cloves

crushed

katakuriko or potato starch to coat

you can substitute cornflour

oil for deep frying

lemon wedges to serve
Instructions
Remove wing tips from wings (the pointy end section). Then cut the remaining wing in half at the joint. You will end up with a piece resembling a small chicken drumstick and the flatter mid wing section.

In a large bowl place soy sauce, mirin, sake, ginger & juice and garlic, mix well. Place chicken wings in the bowl and toss well.

Cover bowl with plastic wrap and place in the fridge, leave to marinate for a couple of hours.

In a wok, pour in oil until around 7cm deep. Heat wok over a medium heat to 170°C (340 deg°F) and pre heat your oven to 120°C (250 deg°F). Line a baking tray with baking paper and set aside.

In a large bowl place katakuriko or potato starch. Working with 3 or 4 pieces at a time toss wings in the starch mix until they are coated well. Shake off any excess flour and place in the wok to fry.

Fry for around 8 minutes and then turn the chicken over and fry on the reverse side until cooked.

Remove the wings from the oil, shake off any excess and drain on some kitchen towel. Then place the chicken on the baking tray and place in the oven to keep warm.

Repeat with the remaining chicken wing pieces.

Serve wings with wedges of lemon.
Measurement Notes
All measurements are Australian metric standard. All measures are level, and cups are lightly packed unless specified. 1 teaspoon = 5ml / 1 tablespoon = 20mls / 1 cup = 250ml /4 teaspoons = 1 tablespoon.
NUTRITIONAL INFORMATION
The recipe's nutritional information is an approximation based on an online calculator. It is meant solely for reference purposes. If you're looking for precise details, be sure to double-check with your own research.
Did You Make This Recipe?
I do a happy dance when people share how they went. Tag me on Instagram or Twitter @bellyrumbles & #bellyrumbles