This delicious chicken in lemon sauce recipe is a mid-week wonder. Super quick and easy using boneless chicken breast. Pan-fried in butter, then the addition of garlic, white wine, and lemon. Finished off with some fresh finely chopped parsley.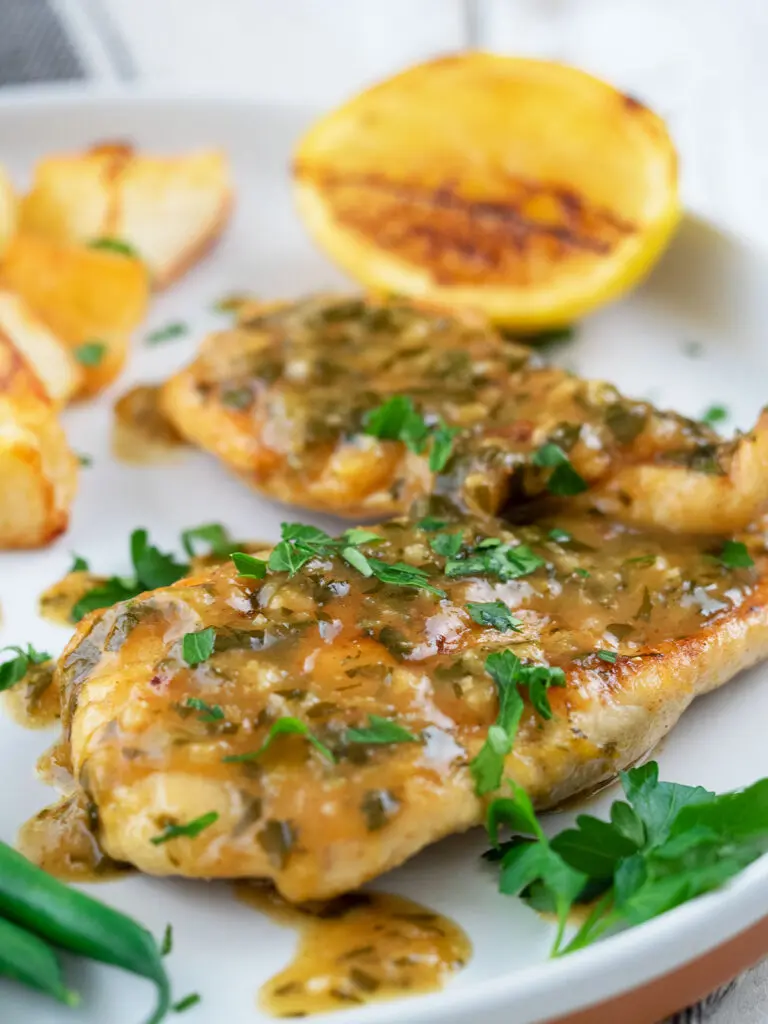 If you are after a quick and easy chicken breast recipe, this one's for you. It's actually one of my mum's recipes. One of her tried and true recipes she would whip up after a hard long day at work.
This is one of my favourite lemon sauces for chicken. It also works very well with fish, pork, or veal. All you need to do is swap out the protein and follow the recipe as is.
I'm dedicating mum's chicken in lemon sauce recipe to all my time-poor readers out there. Whip it up and enjoy after a long hard day. Oh, and pro tip, it's best prepared and eaten with a glass of your favourite white wine in hand.
Sara xxx
Ingredients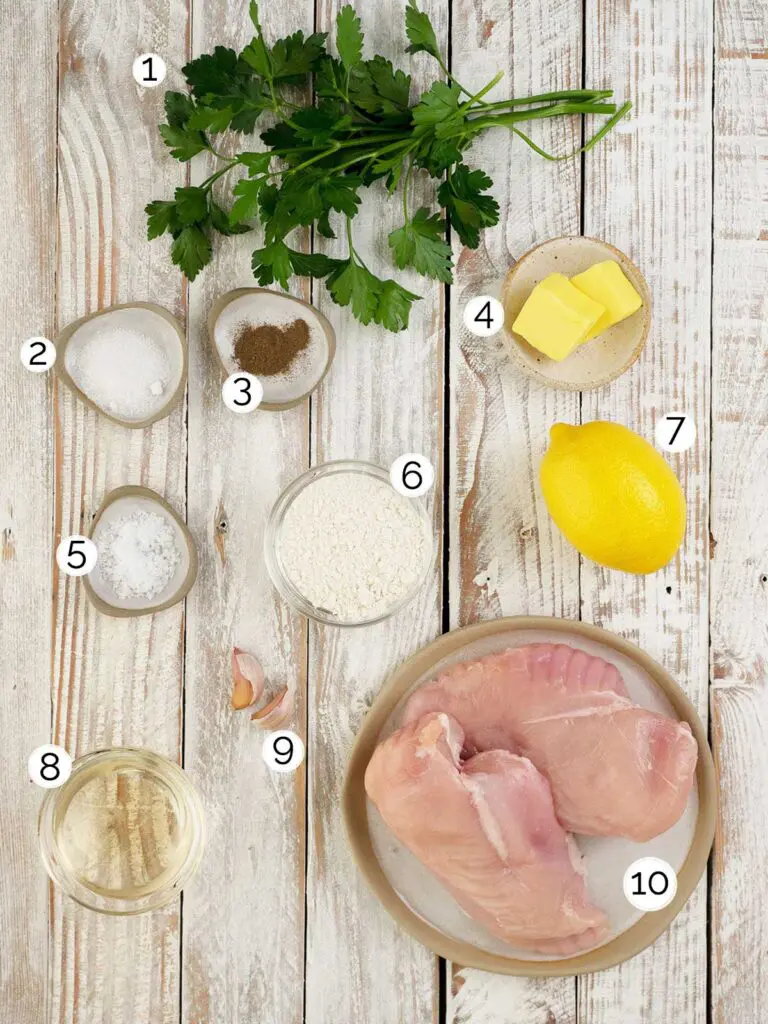 Parsley: Use fresh parsley at the last moment to add a splash of freshness to the chicken in lemon sauce. You could swap this out for fresh or dried thyme, or oregano. I'm personally not a fan of the taste of dried parsley, and wouldn't use it.
Sugar: Just a touch to balance out the lemon juice. This can be swapped out for a low-calorie sweetener, or even honey. If using honey be slightly more generous and use 1 teaspoon.
Pepper: Ground black pepper is used to season the flour coating.
Butter: It is used to pan fry the chicken fillets. You can swap this for margarine if you wish. You could also use olive or your favourite oil. Please keep in mind that the butter and chicken cooking juices add to the flavour of the final lemon sauce.
Salt: Used with the pepper to season the flour coating.
Flour: The chicken is tossed in a small amount of plain white flour before pan-frying. The flour aids in browning and giving the chicken a slightly crunchy coating. It also aids in thickening the sauce
Lemon: Both the juice and zest of the lemon are used in this recipe.
White Wine: Use a dry white wine in this recipe. If you need to omit alcohol from this recipe, replace an equal amount with water or chicken stock.
Garlic: If you are a garlic lover feel free to use more than the two cloves I have suggested. Not such a fan? Then add one clove or leave it out.
Chicken: Slice and pound chicken fillets with a meat mallet for quick cooking. As mentioned above this recipe also works very well with other proteins like fish, pork, or veal.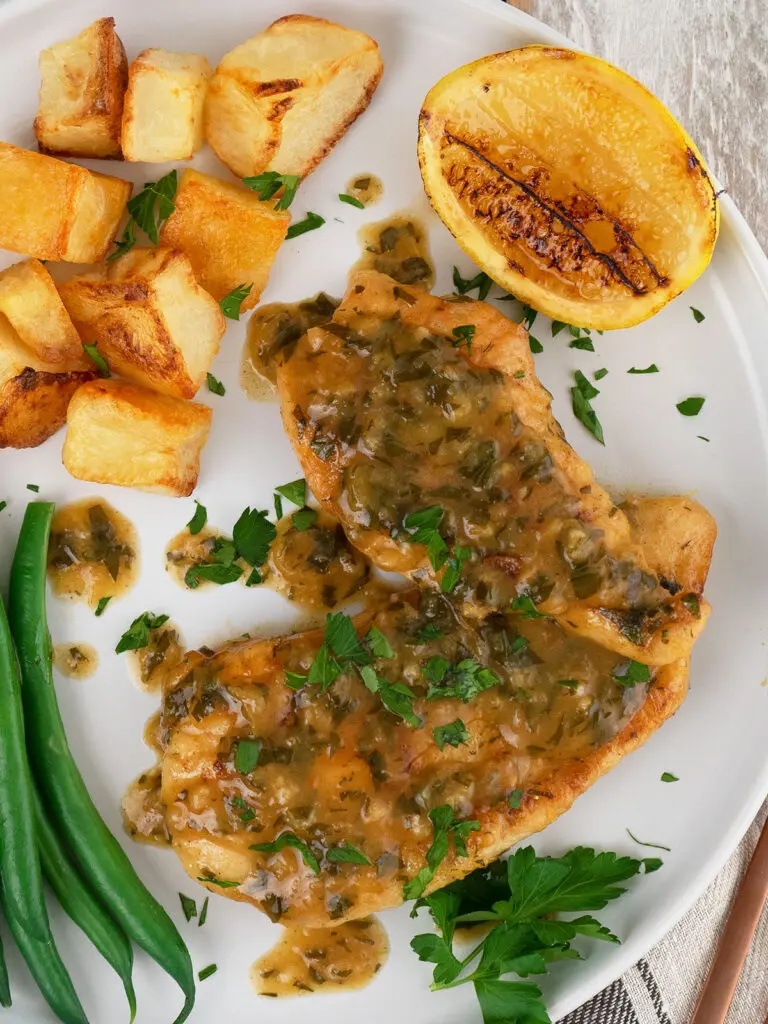 What to Serve with Chicken in Lemon Sauce
The recipe is quick therefore you will want to serve it with sides that are also quick and easy to prepare. Steamed green beans and pan-fried potatoes go down well in my household. Below are some other suggestions you may like.
Crisp Green Garden Salad
Parmentier Potatoes if you have a little more time up your sleeve
Cooked spiral or other short shaped pasta
Steamed vegetables
Pan-fried potatoes: Peel and cut potatoes into quarters. Cook until just tender in a pot of salted water. Drain well and then finish cooking in a non-stick pan with some butter and oil until golden and crunchy.
Recipe Instructions
Scroll to the bottom of the page for a printable version of this recipe.
Get the most from this recipe
As this is such a great basic recipe, it's one to keep handy. But there is no reason why you or the family need get tired of it. With a few easy ninja moves you can completely change up the original recipe into something else just as delicious.
Lemon Butter Sauce: To add a little more buttery goodness to your sauce, finish it off with a tablespoon of butter. Whisk a tablespoon of butter through the sauce before adding the parsley.
Honey Lemon Sauce: Replace the sugar with 2 tablespoons of honey. This will result in a true chicken in honey lemon sauce.
Chilli Lemon Sauce: When adding the lemon zest and garlic to the pan, also add a finely diced fresh red chilli, or half a teaspoon of dried chilli flakes.
Honey Lemon Sesame Seed Sauce: Follow honey lemon sauce directions, but also leave out the parsley and toss through a tablespoon of roasted sesame seeds.
Lemon Caper Sauce: To give this recipe a little more zing add 2 teaspoons of chopped capers.
Orange Sauce: To change this from chicken in lemon sauce to chicken in orange sauce simply replace the lemon juice and zest with orange juice and zest.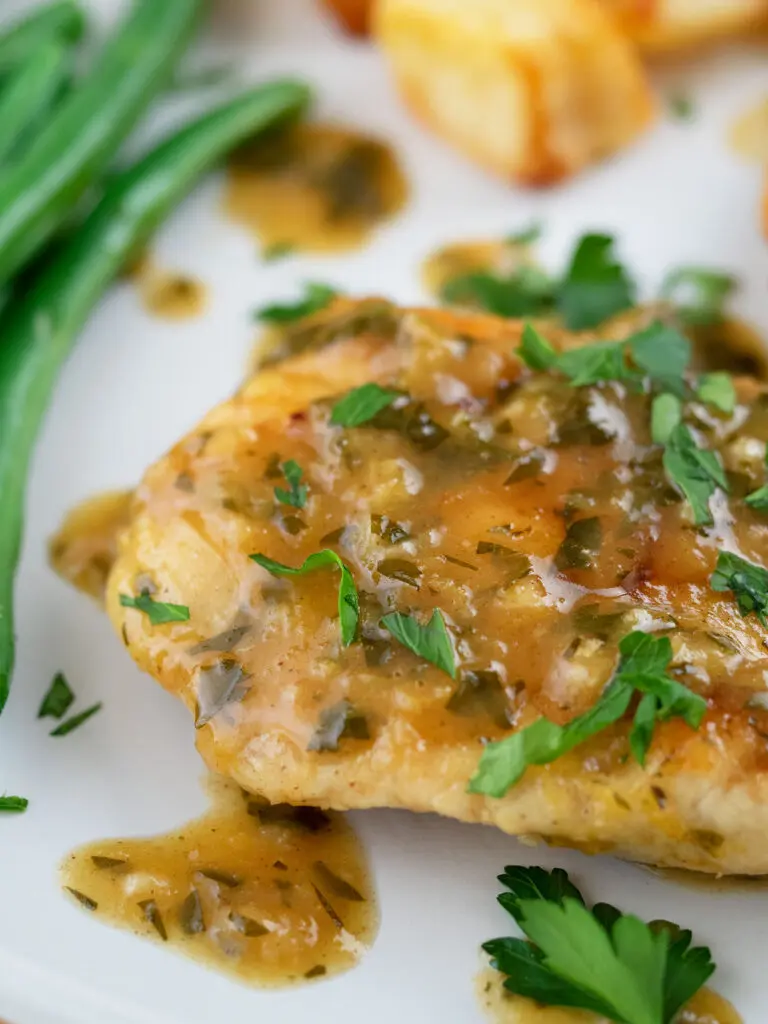 Printable Recipe