An easy corned beef recipe that is the perfect alternative to a Sunday roast dinner. Leaving you with plenty of leftover beef for easy lunches during the week or a corned beef hash.
A recipe close to my heart and a dish I grew up with. Mum would often pick up a piece of corned silverside from our local butcher in the cooler months to cook up on the weekend.
This recipe is based on mum's but I have added my own little tweaks and twists over the years. The result is my fool proof, delicious and super easy corned beef recipe.
But before we get to what makes my recipe so great, let's have a chat about corned beef for those that don't have a clue. Plus we will get to my secret ingredient a little later. Gin enthusiasts will love my recipe.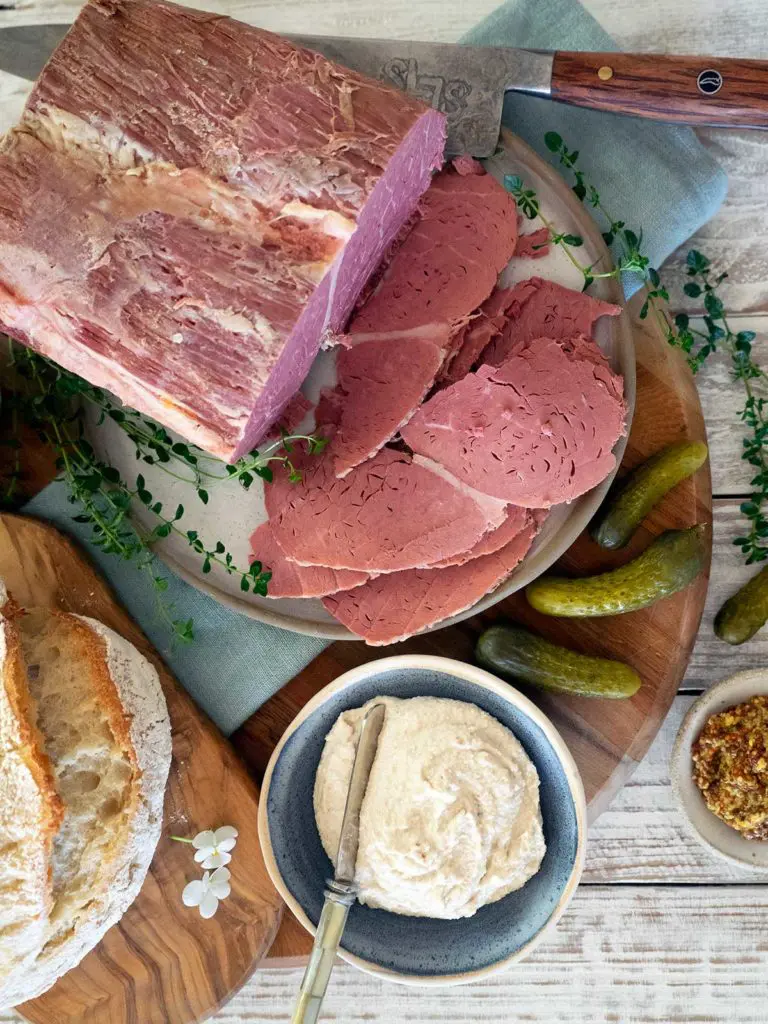 What is Corned Beef?
Corned beef varies a little depending on where you live. In the USA you guys would use a piece of beef brisket or on the odd occasion silverside. In Australia and New Zealand, we use a piece of beef silverside.
The difference between brisket and silverside is what part of the cow it comes from, and the fat content. Brisket comes from the chest and is gelatinous and a little fatty. Whereas silverside comes from the inside of the rear quarter leg and is quite lean.
Being Australian I use silverside.
Silverside or brisket is brined or "corned". It is then cooked via a slow simmer over a few hours. The end result is corned beef.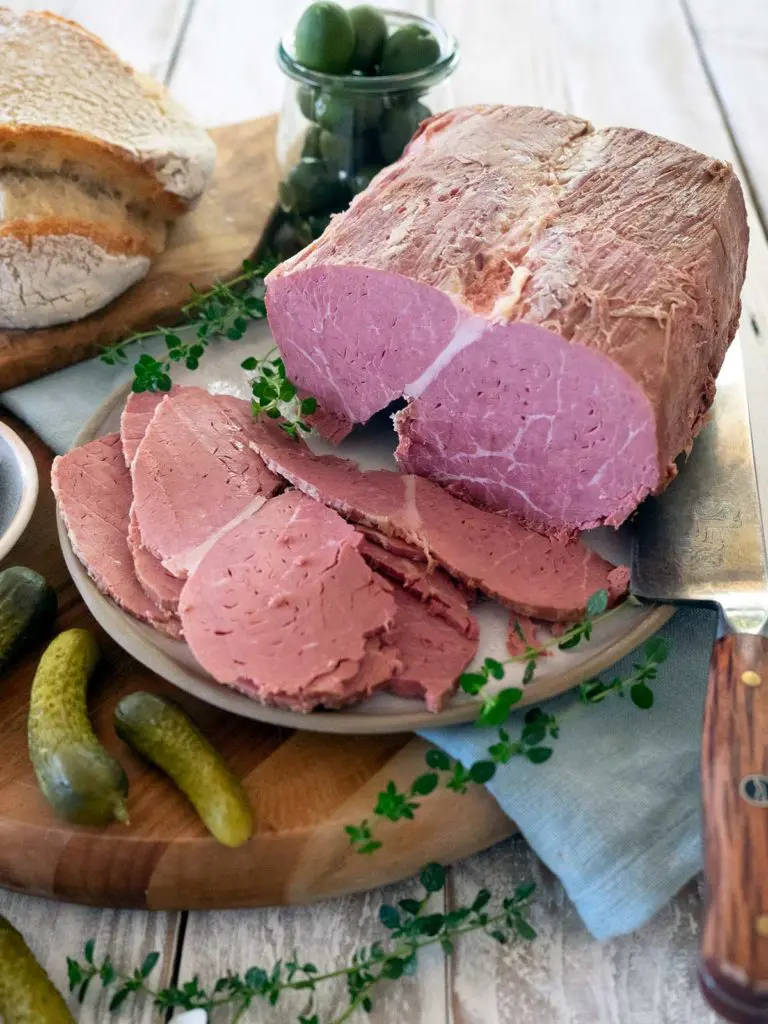 Low and Slow is the Go
Cooking corned beef needs to be a low and slow affair. Fergus Henderson once wrote "One of the most useful things my mother taught me in the kitchen was not to boil meat, but to give it the gentlest of simmers"
This is something my mum also taught me, and is an important piece of information I'm passing to you.
For the same reason that we let meat come to room temperature before cooking, is why we don't dump corned beef into a pot of water at a roaring boil. The meat tenses up.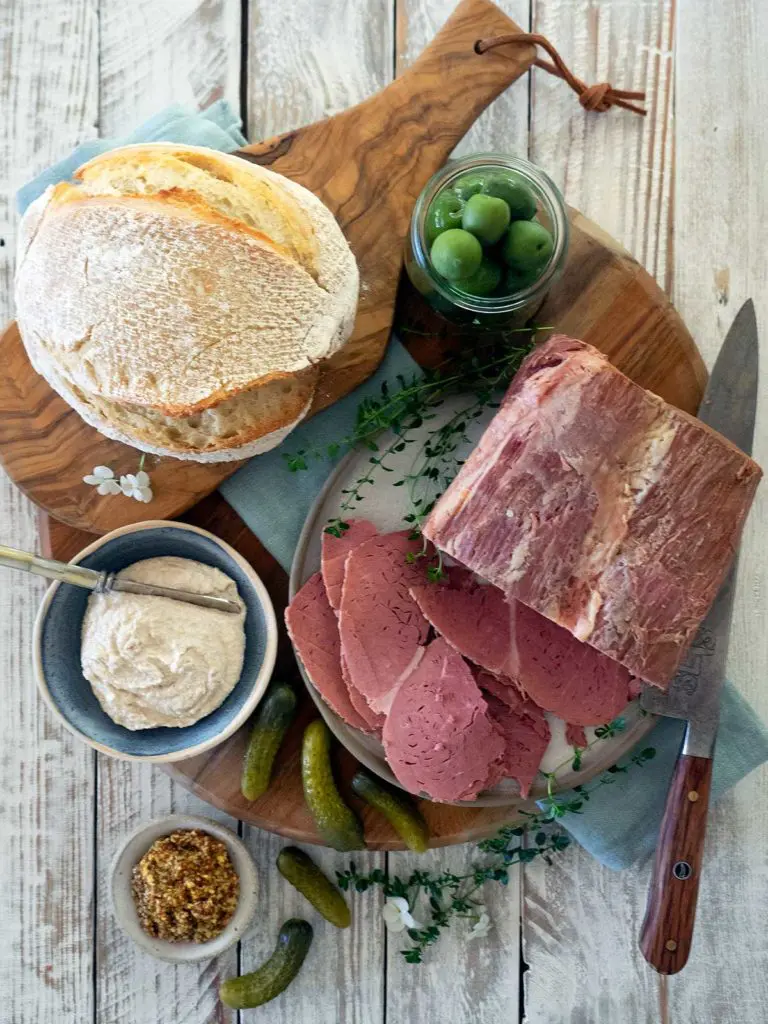 Cooking Corned Beef
Cooking corned beef is one of the simplest things you will ever do in the kitchen. If you like to use minimal effort to reap large rewards, this is the recipe for you.
Firstly you will need to prepare your corned silverside or brisket. I don't brine/pickle my meat, I purchase it already "corned" from my local butcher.
Remove the silverside from its plastic packaging and give it a rinse. Then remove any sinew present (tip of knife is pointing to sinew in the middle picture below).
It is up to you if you wish to remove the layer of fat. I generally do as I don't believe it adds flavour by keeping it there during cooking. This is contrary to everything I know about fat and flavour.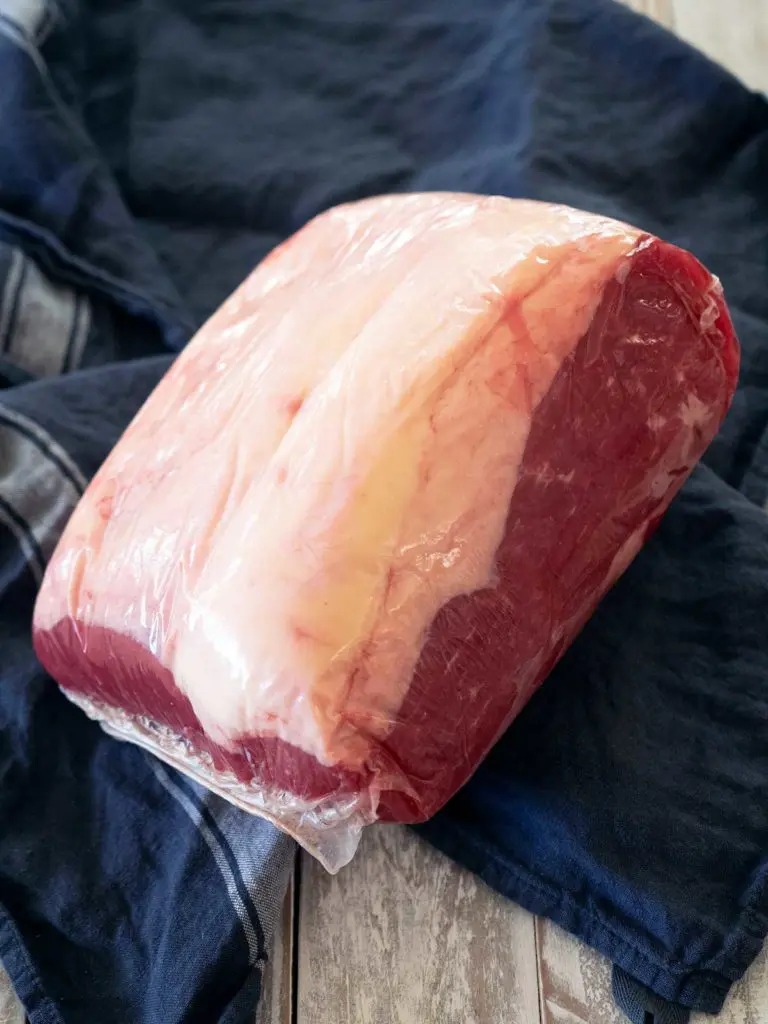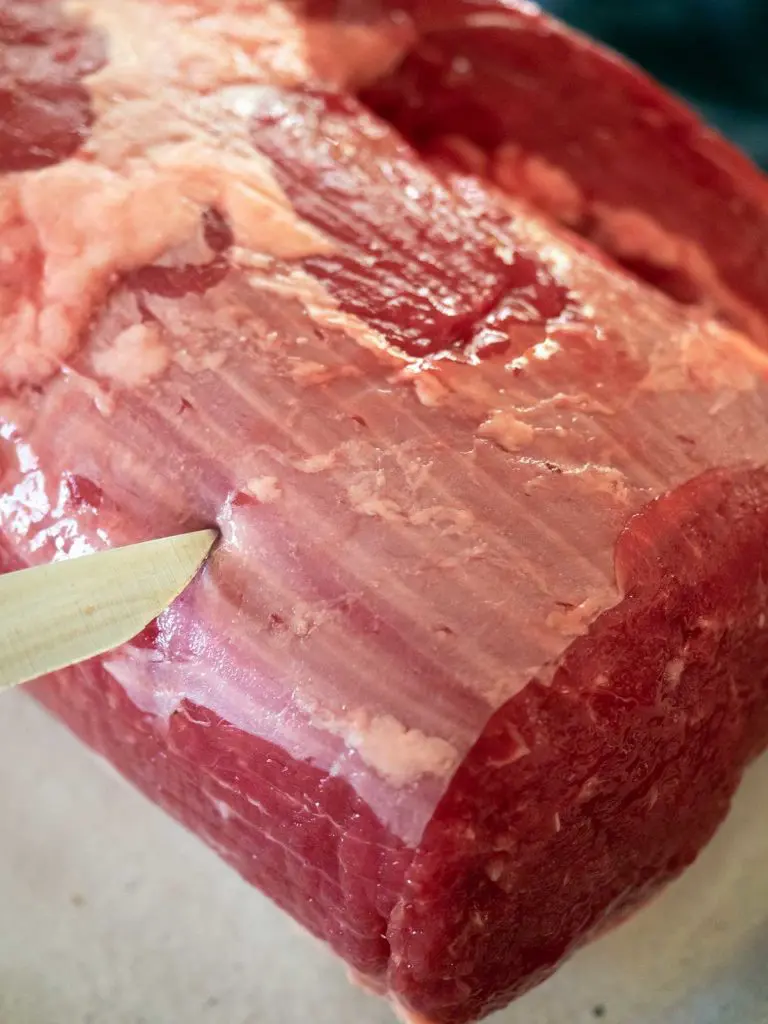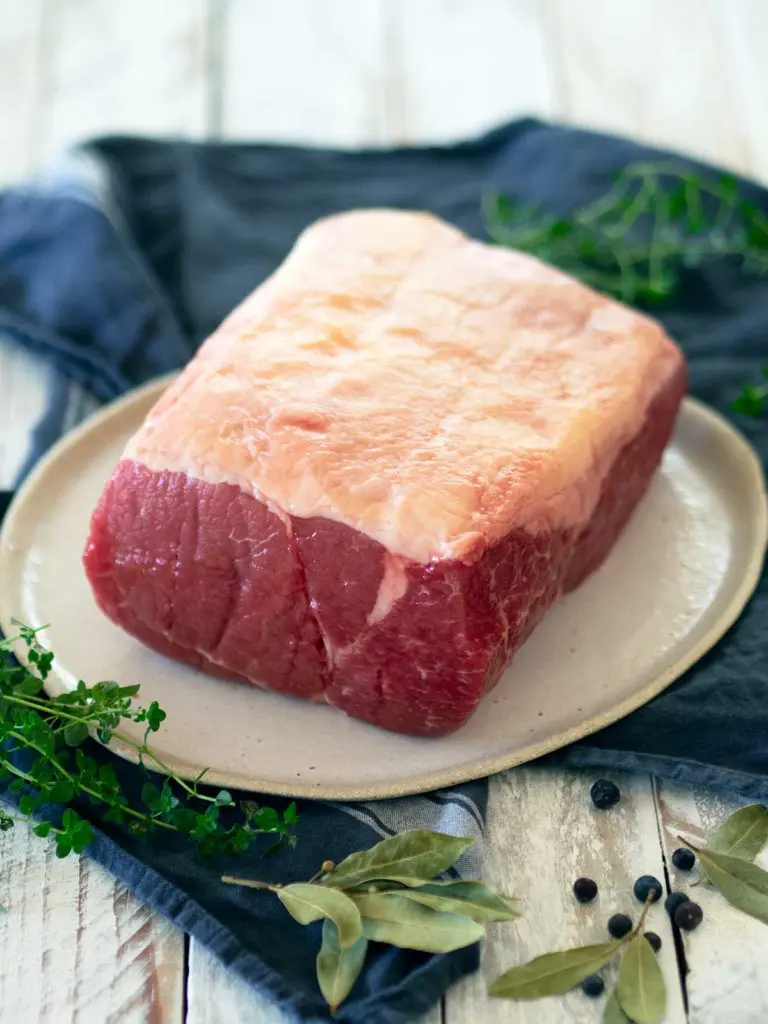 Where my recipe differs from most around, and why gin lovers will love it, I use juniper berries not traditional cloves in my recipe. Bay leaves and fresh sprigs of thyme are a must, along with a whole head of garlic.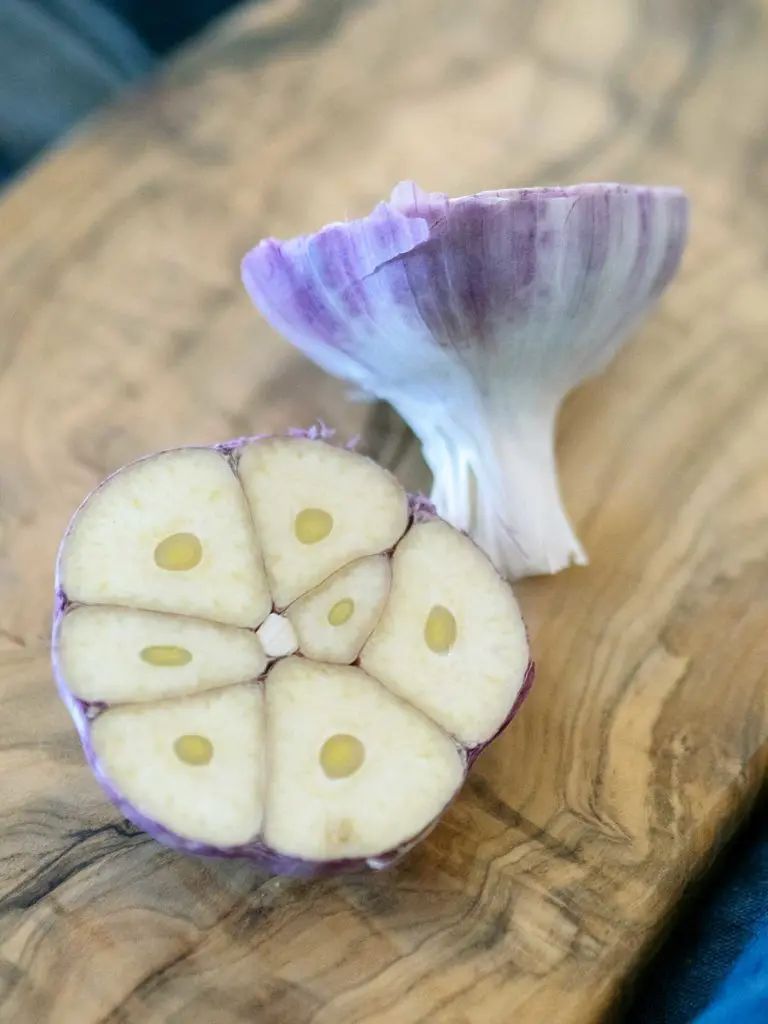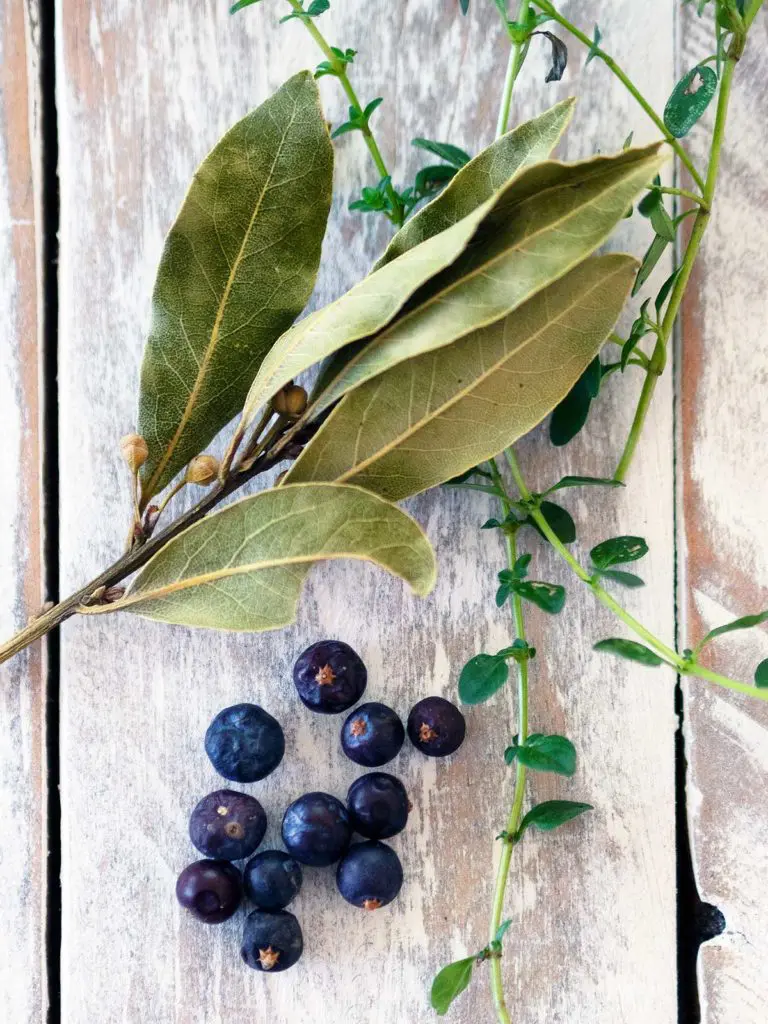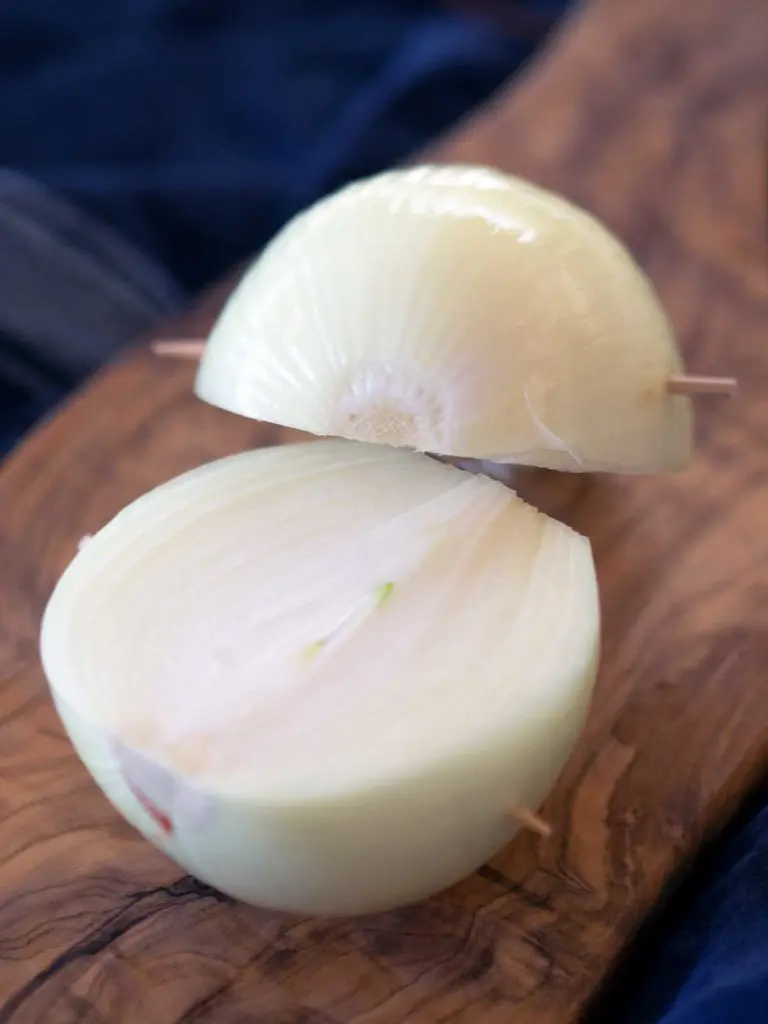 Pro Tip: Shove a toothpick through your onion halves to stop the layers falling apart when cooking.
The bee is placed in a large pot, along with your aromatics. You fill the pot with cold water until it just covers the beet. With the lid on bring the pot to the boil. Then reduce to a low simmer and cook for a few hours.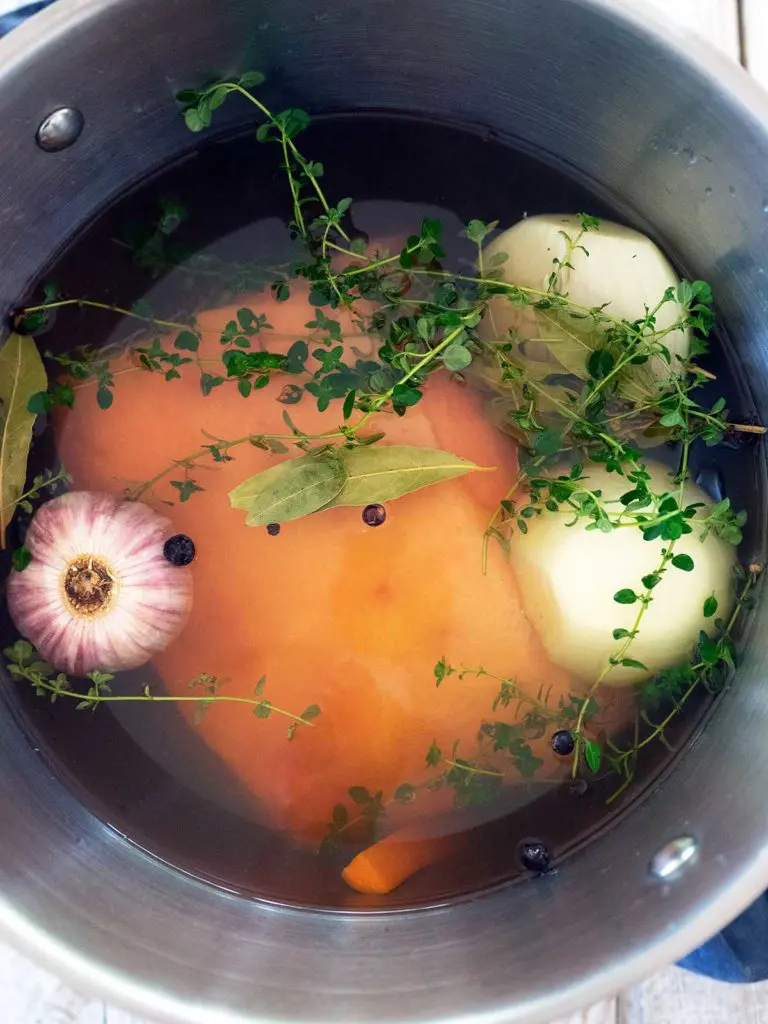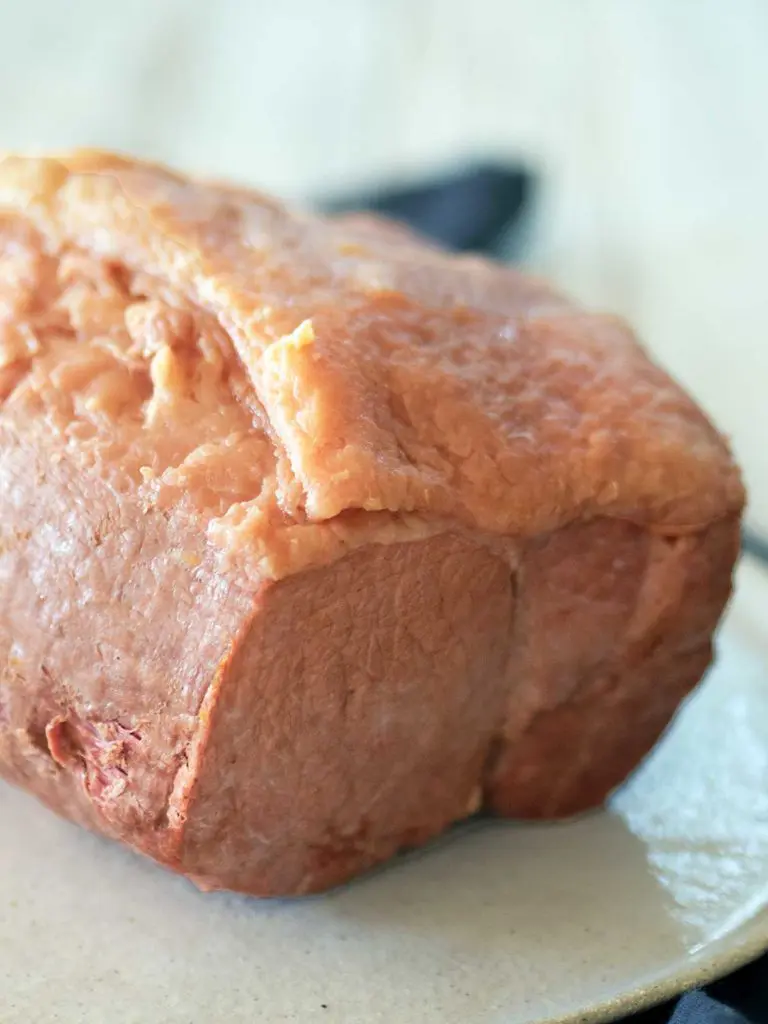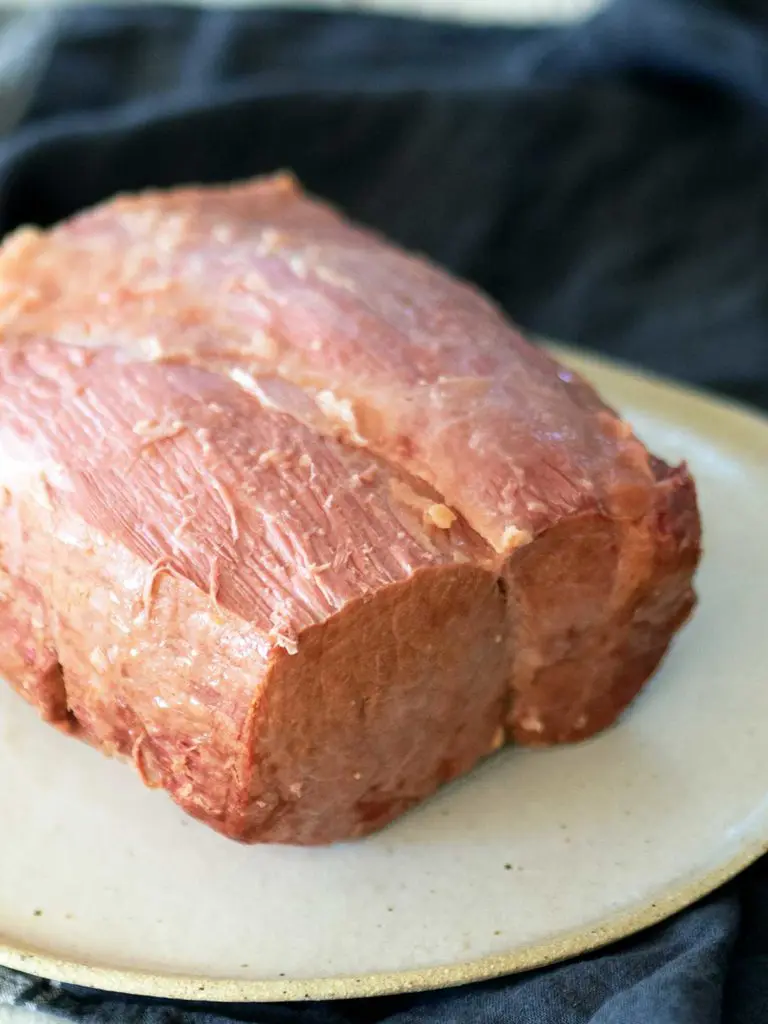 From the middle image above you can see what the beef looks like when it comes out of the pot if the fat is left on. Not very appetising at all. It is far easier to remove the fat before cooking than after.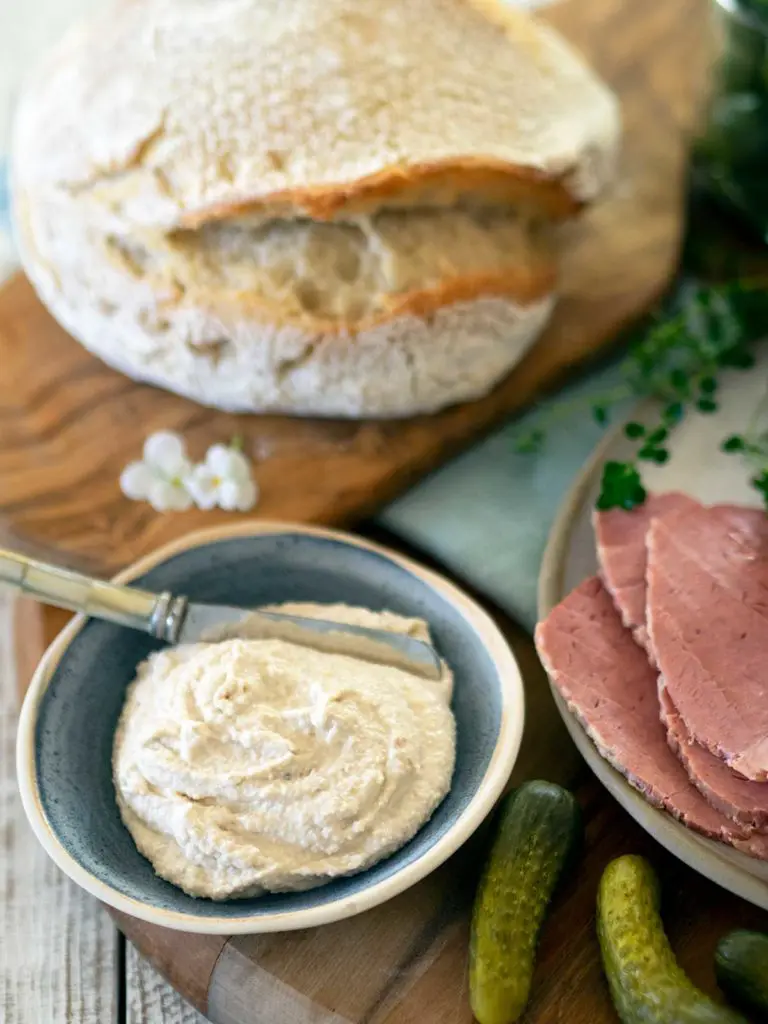 What to serve with Corned Beef?
There are lots of ways to enjoy corned beef. My most favourite way is simply on a crusty bread roll with mustard or horseradish cream. But there many delicious dishes to enjoy along with it.
Boiled butter potatoes and white sauce
Crunchy baked, hasselback potatoes, or baked veg
As part of a platter with pickles, mustards, and sourdough
Walnut sauce (recipe in recipe card)
All sorts of salads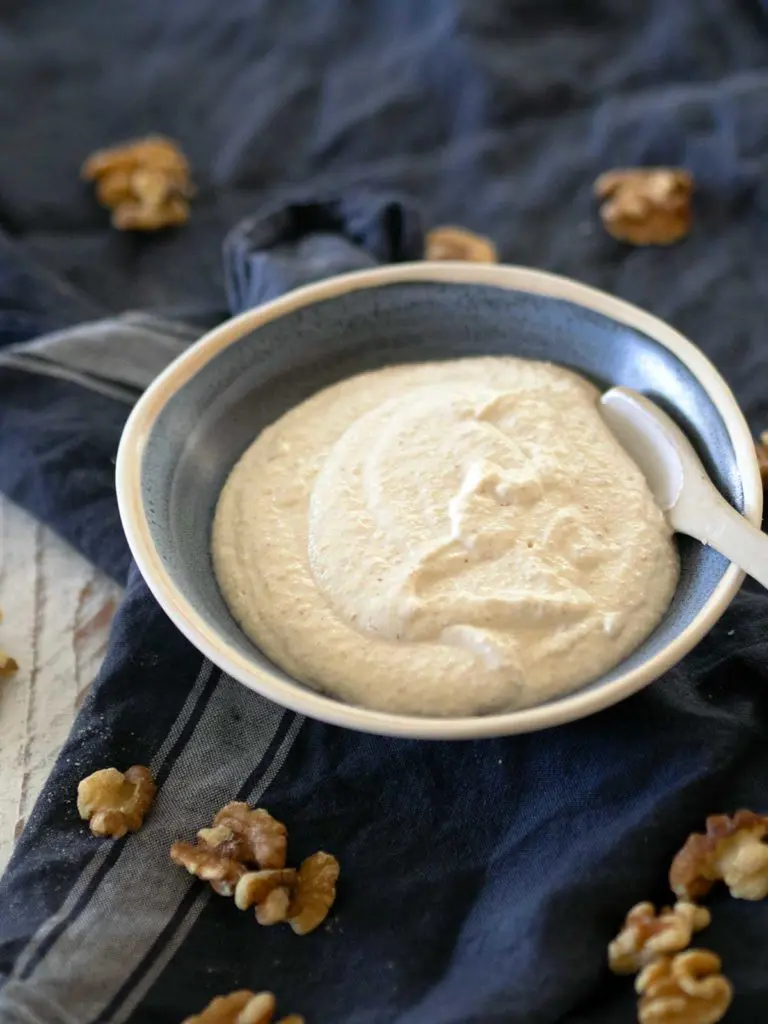 Yummo Walnut Sauce
A bonus recipe for you on the recipe card below, rich, creamy, thick garlicky walnut sauce. Served cold, it goes perfectly with corned beef, along with many other things.
What to do with Leftovers?
Besides making lots of corned beef sandwiches or even Rueben sandwiches, there are many ways to use up leftover corned beef.
Corned Beef Fritters: 1c SR flour, 1 egg, ¾c milk, 1c grated cheese, 1c corned beef. Mix well, make into patties and fry in a few tablespoons of oil in a non stick fry pan.
Corned Beef Hash: Fry 1 onion finely diced, 2-3 potatoes medium diced in 2 tablespoon of oil in a large non stick pan. Add 2-3c chopped corned beef, salt & pepper to taste. Finish with fresh parsley and serve with a runny fried egg on top per person.
Breakfast Muffin: Toasted English muffin with corned beef, fried egg, cheese slice and relish or chutney.
Corned Beef & Corn Quesadillas: Layer half a tortilla with beef, canned corn kernels, pickled jalapeno slices, and cheese. Fold in half and cook in sandwich press until cheese melts and tortilla is brown. Serve with sour cream.
My final two pieces of advice are;
1. Make sure you cut across the grain so you don't end up with long shredded pieces of corned beef.
2. Cook a bigger piece of corned beef than you think you need as the leftovers are the best bit. If your family is like mine they will inhale them.
Sara xxx
Printable Recipe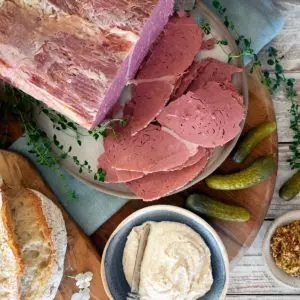 Corned Beef (Silverside)
An easy corned beef recipe that is the perfect alternative to a Sunday roast dinner. Leaving you with plenty of leftover beef for easy lunches during the week or a corned beef hash.
Special Equipment
large heavy based pot with lid
Ingredients
Corned Beef
1

piece

corned silverside/brisket

4-6

dried bayleaves

½

bunch fresh thyme

6-8

dried juniper berries

10

black peppercorns

1

brown onion

peeled and cut in half

1

carrot

washed and cut into quarters

1

head garlic

rinsed and cut into half across the middle

2

Tablespoons

dark brown sugar

2

Tablespoons

malt vinegar
Walnut Sauce
1

garlic clove

thinly sliced

40

ml

olive oil

light tasting

30

grams

(½ cup) panko crumbs

125

ml

(½ cup) milk

110

grams

(1 cup) walnuts

50

grams

(1 packed cup) parmesan cheese

finely grated
Instructions
Corned Beef
Trim corned silverside/brisket or any excess fat or visible sinew.

Place corned silverside/brisket into a large pot that has a lid with all of the ingredients. Cover with cold water.

Bring the pot to a boil and then reduce to a gentle simmer. Put the lid on pot the and simmer for 2 ½ hours.

Skim any brown scum/foam from the pot as it forms.

Leave corned beef to cool in the cooking liquid.
Walnut Sauce
Warm sliced garlic and olive oil in a small saucepan over low heat for a minute or two. It is important not to fry the garlic, you want it to soften slightly. Place to the side to cool.

In a small bowl soak panko crumbs in milk.

Place walnuts in a saucepan of cold water. Bring to the boil over high heat and then drain immediately in a colander. Rinse walnuts with cold tap water and place back in the saucepan again. Cover with cold water and bring to the boil again. Repeat this process twice.

In a small food processor or blender, blend walnuts, soaked panko crumbs, parmesan, and a pinch of salt until smooth.

Add garlic, oil, and a tablespoon or two of water. Blend until you have a thick sauce. Adjust water as needed.

Season to taste and serve with corned beef.

Store excess sauce in a container in the fridge for up to a week
Measurement Notes
All measurements are Australian metric standard. All measures are level, and cups are lightly packed unless specified. 1 teaspoon = 5ml / 1 tablespoon = 20mls / 1 cup = 250ml /4 teaspoons = 1 tablespoon.
Recipe Notes
Juniper Berries: You could try using 1 tablespoon of gin in their place. Alternatively use 6-8 cloves.
Fresh Thyme: Freeze the ½ bunch of thyme you don't use if needed. Simply place in a small plastic bag, as it is, whole on the branches. When you want to fresh thyme, just crush it gently in frozen state with your hand. Hold onto the branches in the bag and shake. The leaves will fall off easily and you tip them into your dish.
Carrot: I don't bother peeling the carrot, simple wash it and cut in into quarters. Cut it down the middle to form two long halves and then cut across the middle of each long piece to form two shorter ones.
Onion

:

Trim roots from the base of the onion. Cut the onion in half from top through the base where the roots were. Then peel the skin from the onion (it is easier to peel when it is cut in half). By keeping the base where the roots were attached it will keep the onion halves from falling apart.
NUTRITIONAL INFORMATION
The recipe's nutritional information is an approximation based on an online calculator. It is meant solely for reference purposes. If you're looking for precise details, be sure to double-check with your own research.
Calories:
163
kcal
Carbohydrates:
4
g
Protein:
11
g
Fat:
11
g
Saturated Fat:
4
g
Cholesterol:
41
mg
Sodium:
917
mg
Potassium:
252
mg
Fiber:
1
g
Sugar:
3
g
Vitamin A:
849
IU
Vitamin C:
21
mg
Calcium:
11
mg
Iron:
1
mg
Did You Make This Recipe?
I do a happy dance when people share how they went. Tag me on Instagram or Twitter @bellyrumbles & #bellyrumbles
More Slow Cooking Recipes
Poulet en Demi Deuil - chicken in mourning
Milk Braised Pork - tender, juicy with a great sauce
Duck and Pork Ragu - a hearty winter warmer
One Pot Chicken and Dumplings - comforting and delicious