A few of you may have read the title of this post and simple said 'why Sara, why oh why?' I know my mother will have.  Why deep-fried chicken necks of all things?  Surely there are nicer parts of the bird to fry to crunchy goodness?  Well yes, there are as I discovered, but you have to experiment and play, or you will never know what brilliance may happen.
Using chicken necks in this manner falls in to my no waste, head to tail ethics of eating an animal.  My thought was that this would give the often discarded chicken neck, another role in life.  Besides being used in the making of stock, or some people (I believe), give them to their cats to chow down on.  They are also an incredibly reasonable part of the chicken to purchase, a dollar or two a kilo.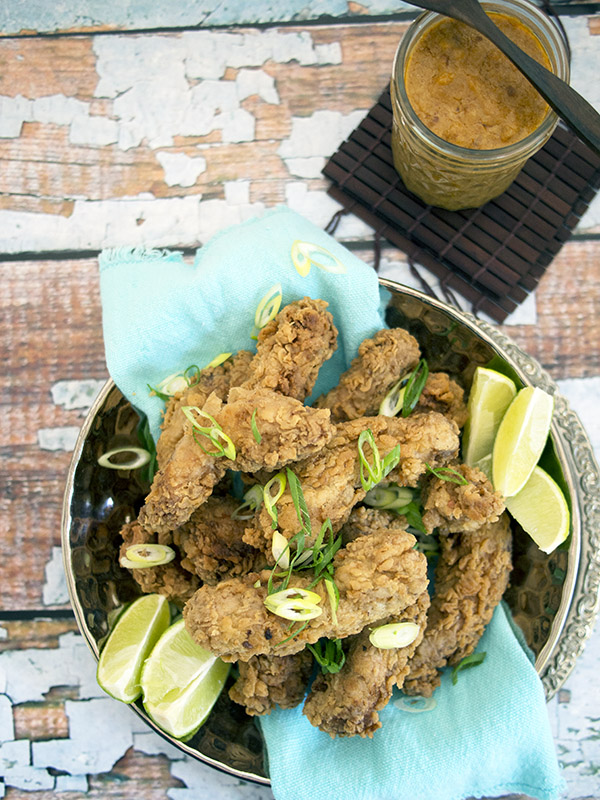 My first thought was to use a buttermilk based marinade for the necks.  I quickly discarded this, as it wasn't that long ago I shared my hot and spicy chicken wing recipe with you.  I still wanted some heat, and of course inject as much flavour as possible.  My mind instantly went to ingredients found in South East Asian cooking, lemongrass, chill, kaffir lime, ginger, and these became the inspiration for my marinade.
Were my deep fried chicken necks a success?  Probably not.  A key indicator of a successful dish at Belly Rumbles HQ, is when I have to threaten stabbing either Mac and Josh's hand with a fork, in order to claim a stake in what they are scoffing quickly.  No threats of domestic violence by fork needed.  There were leftovers as well.
Yes there were positives to this recipe, they were deep fried and crunchy.  Deep fried is good, it's like bacon, makes everything better.  As previously mentioned it's also a very economical recipe to make.  Plus, what a conversation starter as you hand around the bowl, "chicken neck anybody"?
Unfortunately there were negatives as well.  There really isn't much meat on a chicken neck.  I'm quite fine at gnawing my way around the bones, but it also means that there isn't much meat to absorb all those beautiful flavours in the marinade.  Most of the flavour you acquire is from the deep fried coating.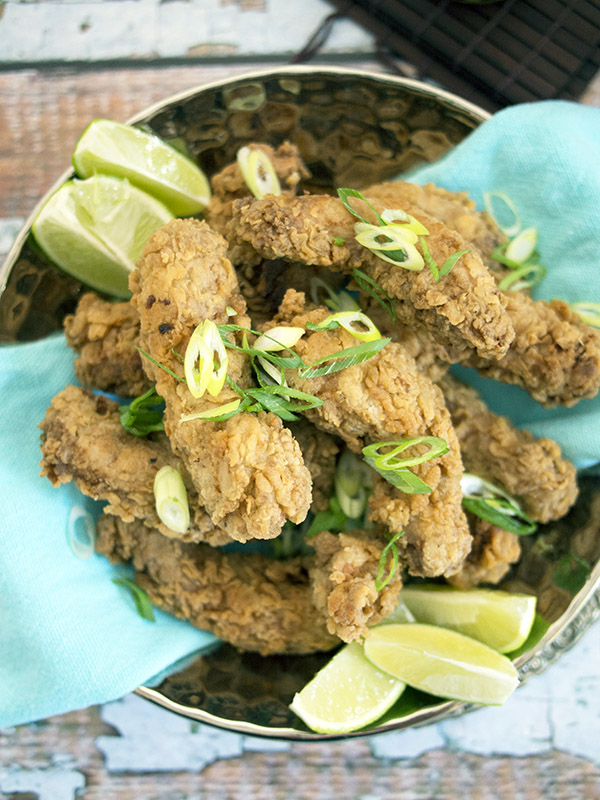 Maybe turkey necks would have been more suitable for this recipe, more meat on the neck?  Not sure how readily available they are in Australia, but could be worth having a scout about for them.   They weren't a complete disaster, and consumption with alcohol does heighten their appeal.
I suggest serving with cold beers (trust me the beers will make them better), sweet chili sauce, my peanut satay sauce or quick and easy cashew satay sauce.
I am sure I'm not the only one that plays around with the less desired parts of an animal.  What is the most unusual part of an animal you have cooked or eaten?
Sara xxx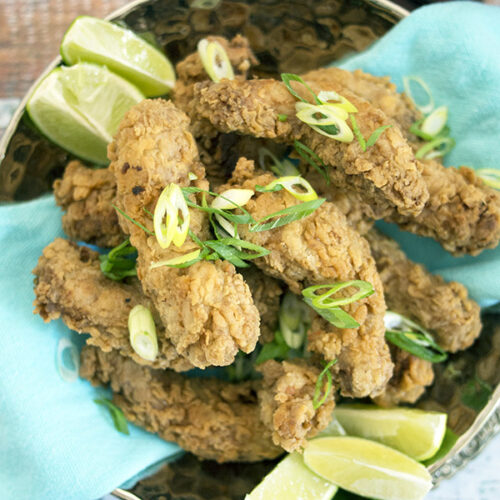 You need to start this recipe the day before. Definitely a conversation starter, but also economical to make and using a lesser loved part of a chicken.
Ingredients
1

kg

chicken necks

2

small hot red chilies

-

finely chopped

1 ½

tablespoons

lemon grass

-

finely chopped

1

tablespoon

kaffir lime leaves

-

finely chopped

2

cloves

garlic

-

finely chopped

2

tablespoons

ginger

-

finely chopped

1 ½

tablespoons

light soy sauce

-

light soy sauce

½

tablespoon

fish sauce

1

tablespoon

palm sugar

-

grated (can substitute light brown sugar)

400

ml

coconut milk

2

cups

plain flour

salt and pepper
Instructions
In a glass bowl place, chilies, lemon grass, kaffir lime leaves, garlic, soy sauce, fish sauce, palm sugar and coconut milk. Milk all ingredients well until combined. Place chicken necks in the mixture, cover with plastic wrap and place in the fridge to marinade for 24 hours (at least over night).

In a wok, pour in oil until around 7cm deep. Heat wok over a medium heat to 170 deg C (340 deg F) and pre heat your oven your oven to 120 deg C (250 deg F). Line baking tray with baking paper and set aside.

In a large blow place flour and season with salt and pepper.

Working with a few necks at a time, remove from marinade and then coat in flour mixture. Shake off extra flour before placing in wok to deep fry. Fry for around 4 minutes each side and golden.

Remove chicken from oil with tongs. Shake off excess oil, drain on some paper towel and then place on baking tray in the oven to keep warm.

Repeat with the remaining chicken necks. Serve with sweet chili or satay sauce.
Nutrition
Calories:
308
kcal
|
Carbohydrates:
39
g
|
Protein:
6
g
|
Fat:
14
g
|
Saturated Fat:
12
g
|
Sodium:
133
mg
|
Potassium:
249
mg
|
Fiber:
1
g
|
Sugar:
2
g
|
Vitamin A:
145
IU
|
Vitamin C:
22.5
mg
|
Calcium:
22
mg
|
Iron:
4.3
mg
DID YOU MAKE THIS RECIPE?
I do a happy dance when people let me know, tag me on Insgragram @bellyrumbles #bellyrumbles