Salathip Thai Restaurant is a deliciously relaxing oasis in the grounds of the Shangri-La Bangkok. Plus they make the most interesting cocktail, the Tom Yum!
Food is a key factor for any restaurant, that's why we go to them, to eat. But when you combine delicious food in an incredible setting, you know you are in for a delightful meal.
Before trying any of Chef Sutthaporn's dishes, Salathip had captivated me. The restaurant is set in the lush garden of the Shangri-La next to the Chao Phraya River. What makes it even more delightful is that the restaurant isn't just one building but a cluster of Thai style teak pavilions.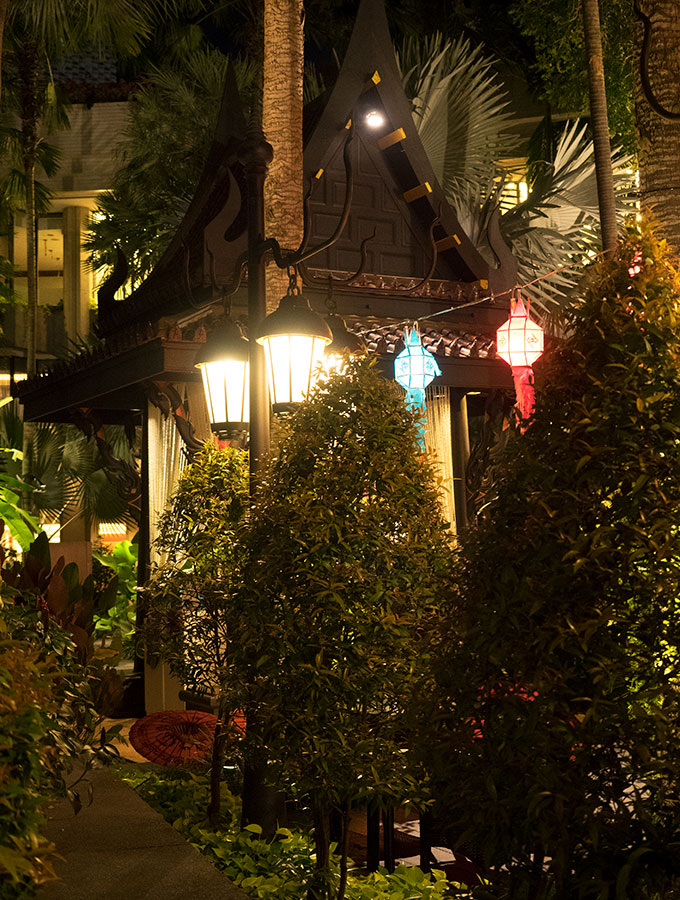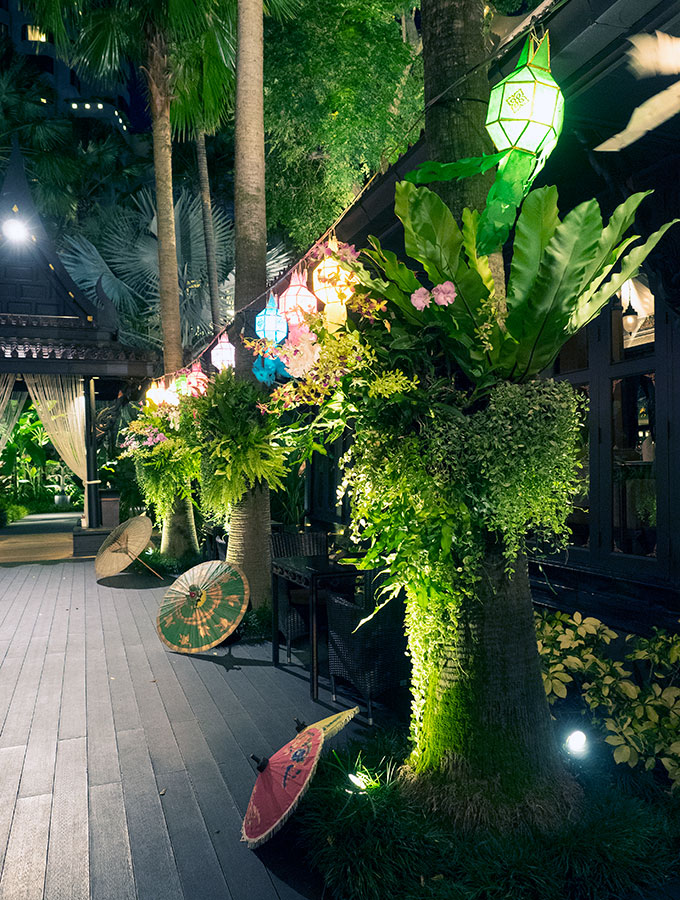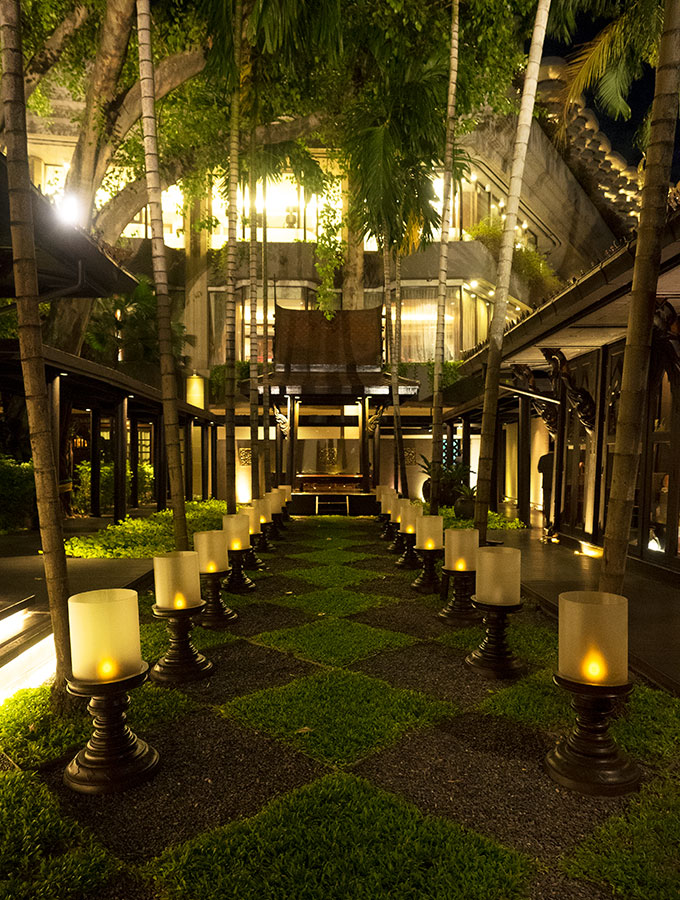 The combination of the pavilions, alfresco tables along the river and the garden gives Salathip a Thai village look and feel. Add to this umbrellas, a mass of orchids, fairy lights and Thai dancers, and you have a night to remember.
If it is a fine evening, then make sure to book a table outside. It's quite magical watching the hustle and bustle on Chao Phraya as you leisurely dine. The weather was very touch and go when we visited and the decision was made to dine in one of the pavilions.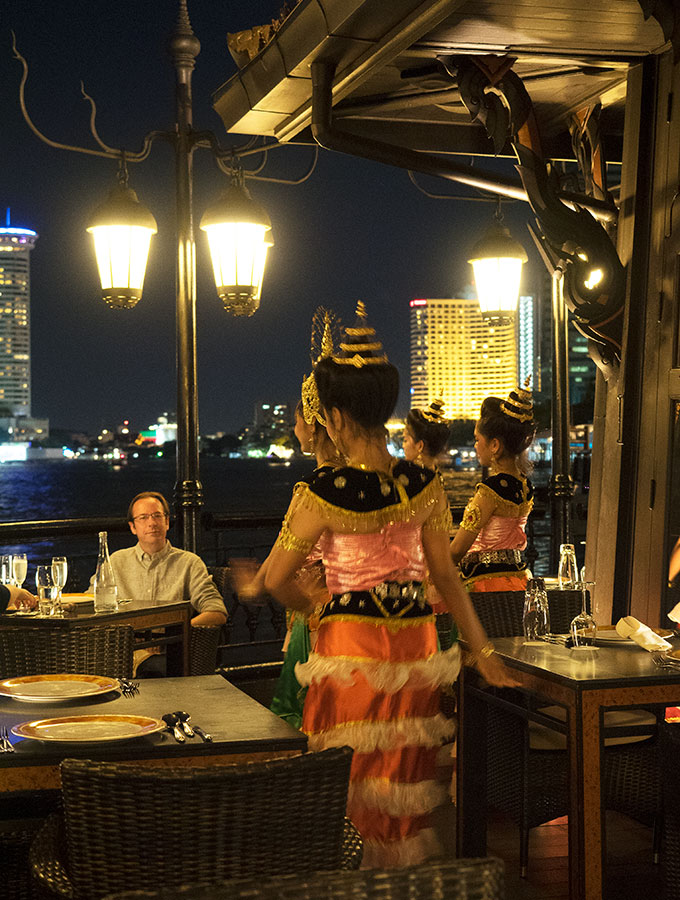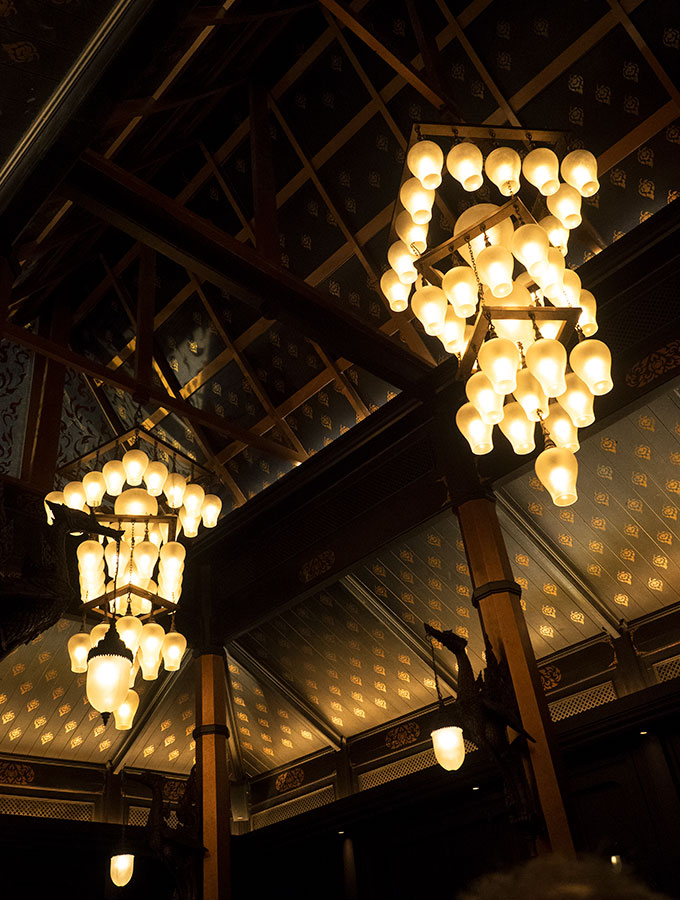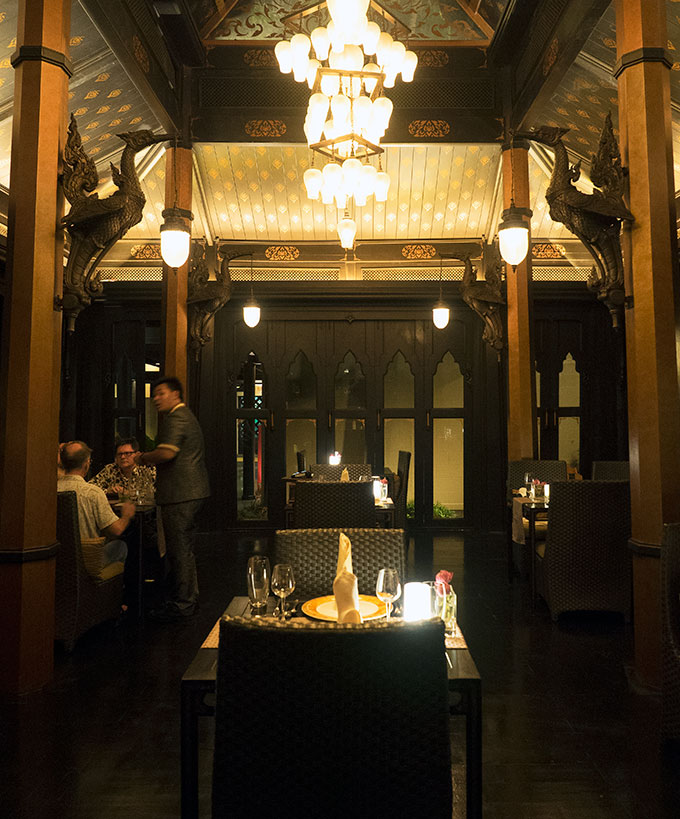 Thai Chef de Cuisine of Salathip is Sutthaporn Chulavachana. Chef Sutthaporn brings her roots and loves to Salathip's menu. With over 30 years of experience in the kitchens of leading hotel chains she is enjoying being back in Thailand sharing the cuisine she loves.
If you are familiar with Thai food, then you know it is fragrant, with elements of heat, sour and sweet. We were the "problem children" table for the evening. Throwing chef Sutthaporn a curly situation. Mac can't eat food that is hot or acidic. Dum de dum…………
May I add this isn't because he doesn't like it, he loves it. It is due to a postoperative medical condition.
After Chef Sutthaporn weighed up the dietary issue in hand. Which is no mean feat as most Thai dishes are laden with sour or hot elements. With a plan of action on dishes put in place, we then all had a laugh about the situation.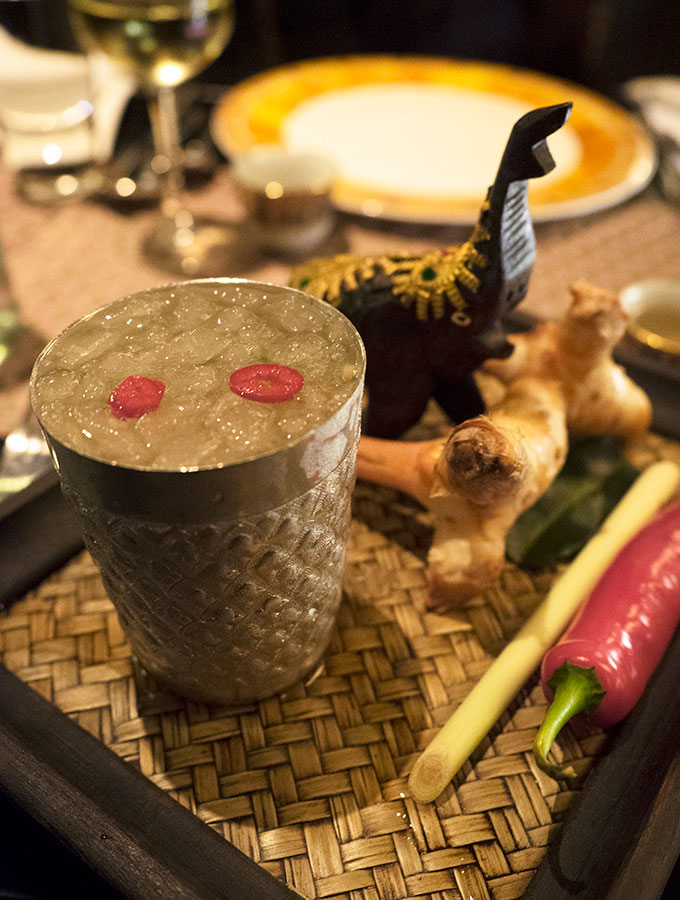 Dietary restrictions aren't my issue and I decide to start the night with a kick, Salathip's Signature Cocktail, the Tom Yum. Smirnoff vodka infused with Tom Yum spices, coconut liqueur and fresh lime juice. Yes, the cocktail did have hints of Tom Yum soup, in the form of heat and savoury. On top of this was a good dose of tang from the fresh lime and a little sweetness. A very refreshing cocktail.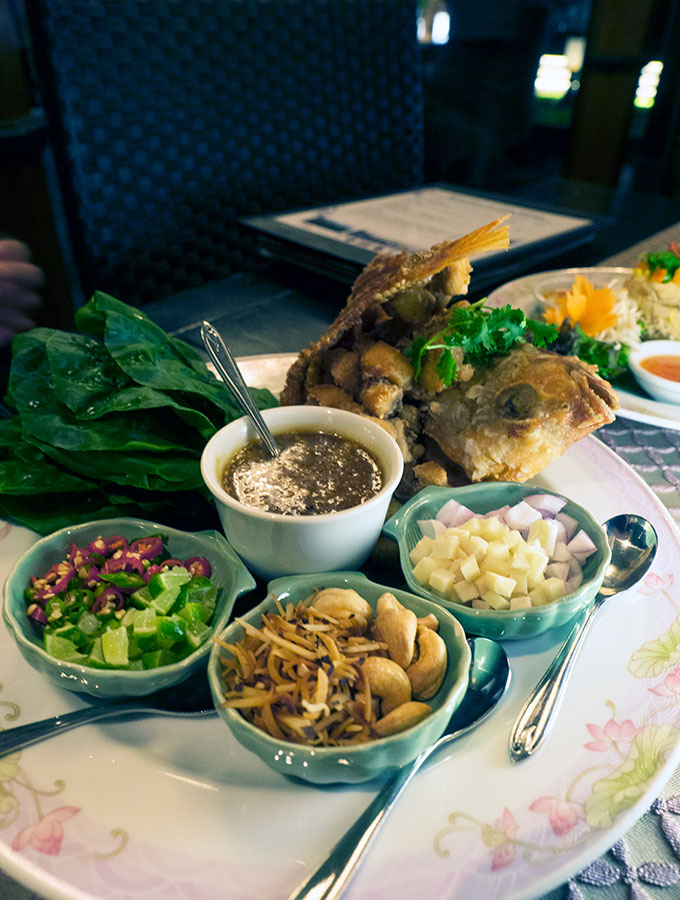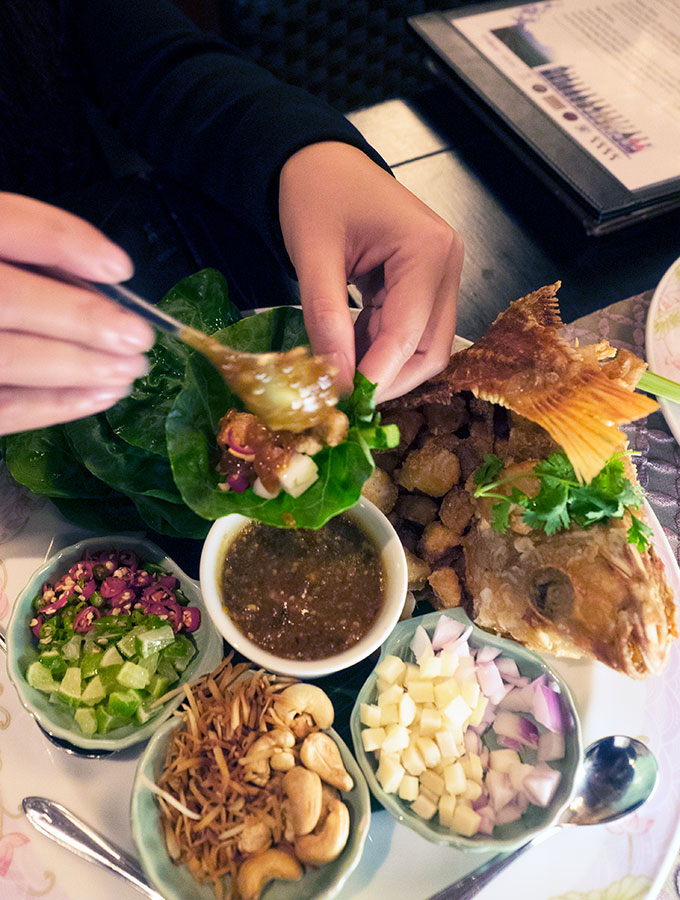 We start with what is one of my most memorable dishes of the night, Mieang Ka-Nar Pla Tub Tim. A whole deep fried Red Tilapia with its flesh removed and cut into cubes. The fish pieces and the fish carcass are deep fried. The crunchy pieces of fish are placed back on the body for presentation.
The fish is served with kale leaves and a selection of Thai condiments, finely diced lime, chili, toasted coconut, cashew nuts, shallot, hard tofu and sauce. The idea is that you take a little of everything and wrap it up in a kale leaf. Then it's all in your mouth in one go for a flavour explosion.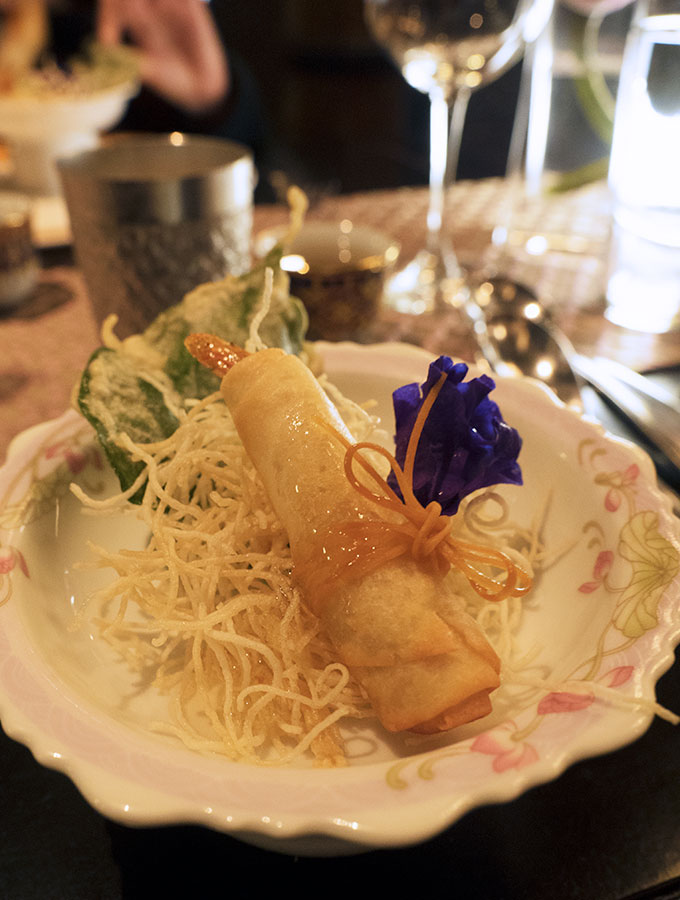 Continuing with our starters is Thoong Tong. Deep fried Minced chicken and Shrimp/Prawn wrapped in a Chinese pancake.. Presented sitting on a bed of fried rice noodles with a lightly battered and fried kale leaf and a pretty purple flower.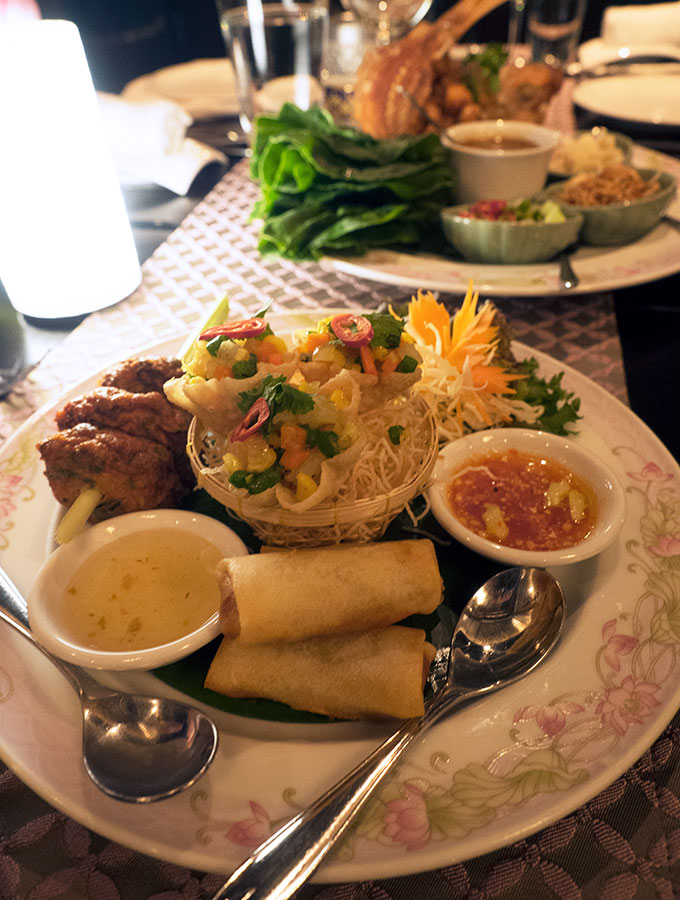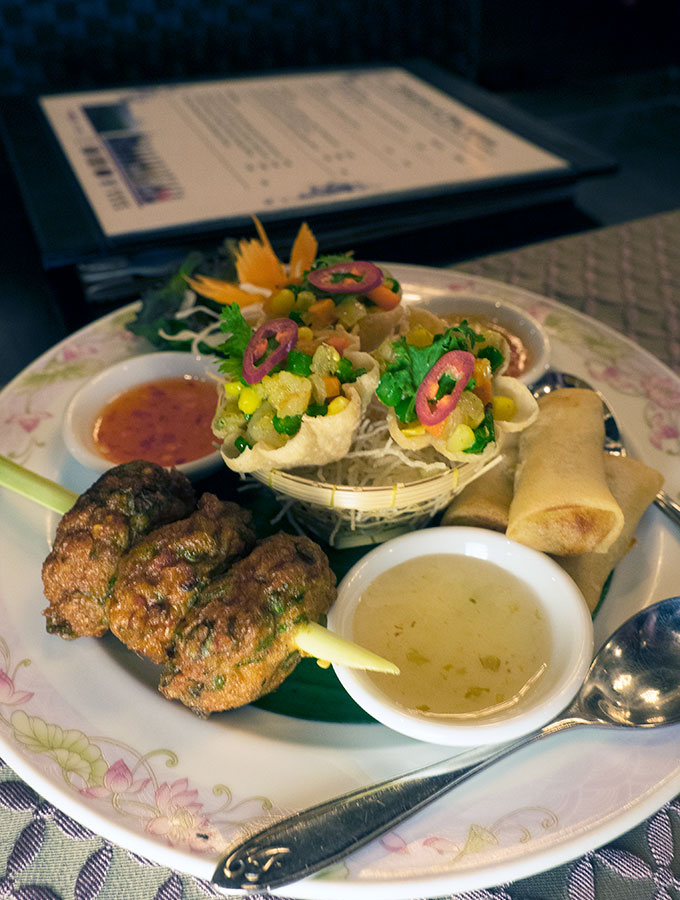 The last of our starters arrive and we are not disappointed, Khong Waang Ruam Mitr. A selection of some of my favourite Thai appetisers, Crispy Tartlets filled with Minced Shrimp, Fish Cakes and deep fried Spring Rolls. I happily swapped Mac a spring roll for his tartlet, they were sensational!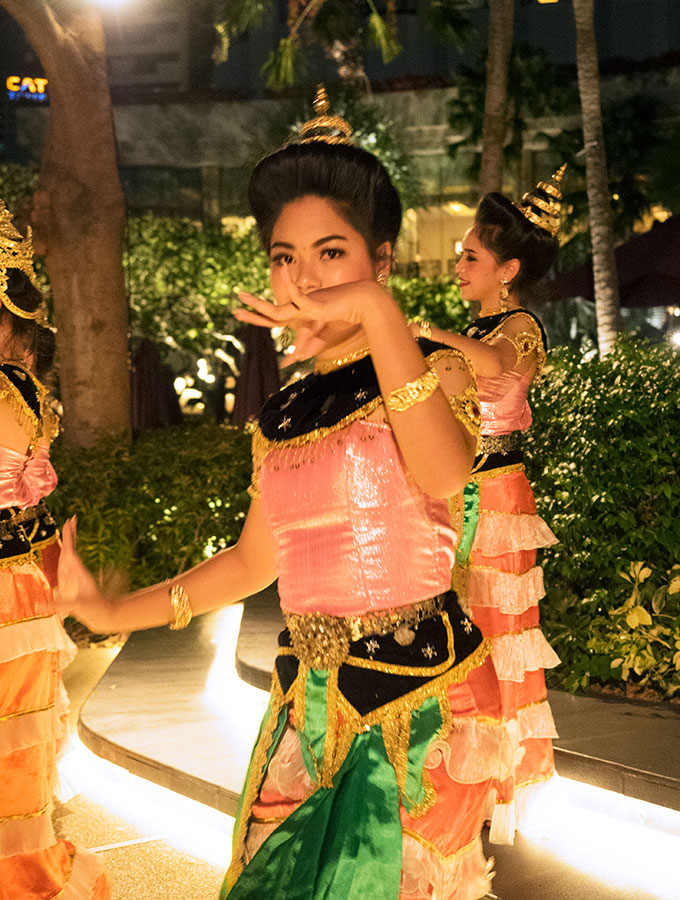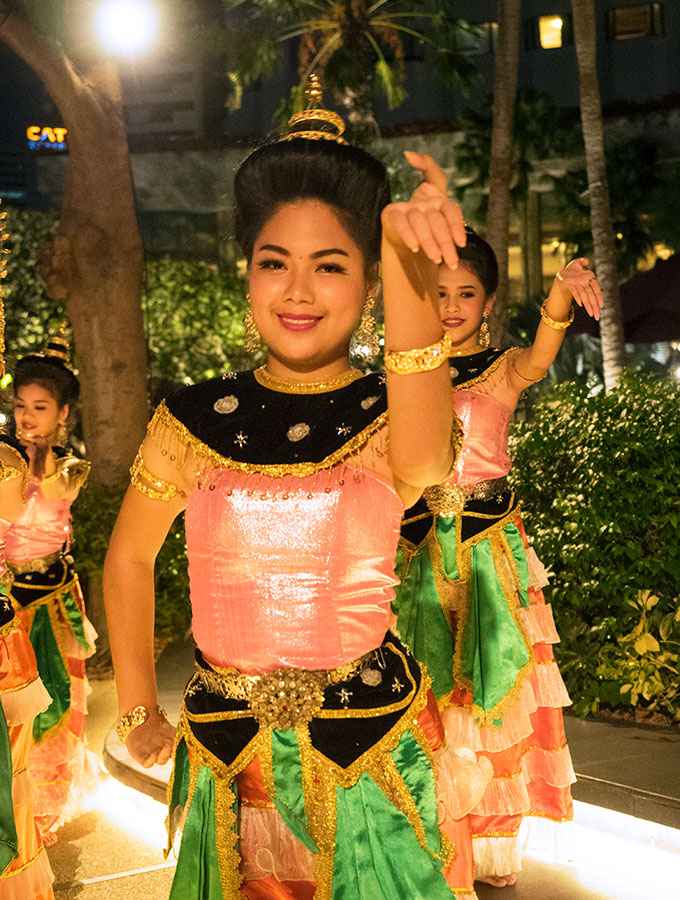 Every evening Salathip presents live traditional and contemporary Thai classical dance performances. Different Thai dance troupes perform each evening, but there will be a nightly performance at 7.45pm and 9.15pm. Luckily the performance just happened to fall right between our entree and main course.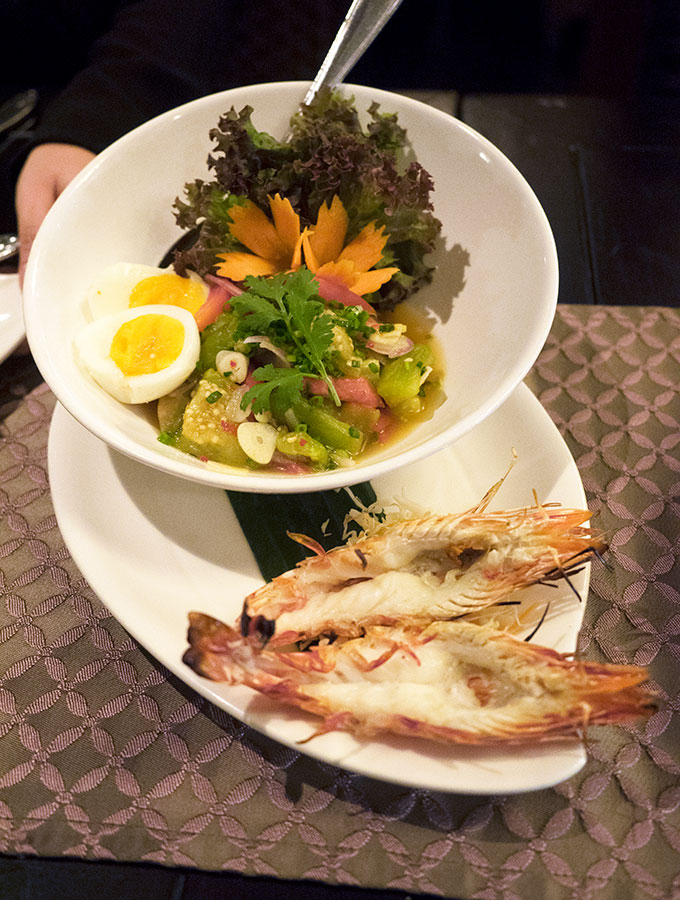 After a dance break, it was on to our mains. There was something with the Thai flavour notes that I love, sour and heat, Yam Ma-Kue Yaw Goong Pao Gub Kai Tom. Grilled Tiger Prawns with Eggplant and Hard Boiled Egg Salad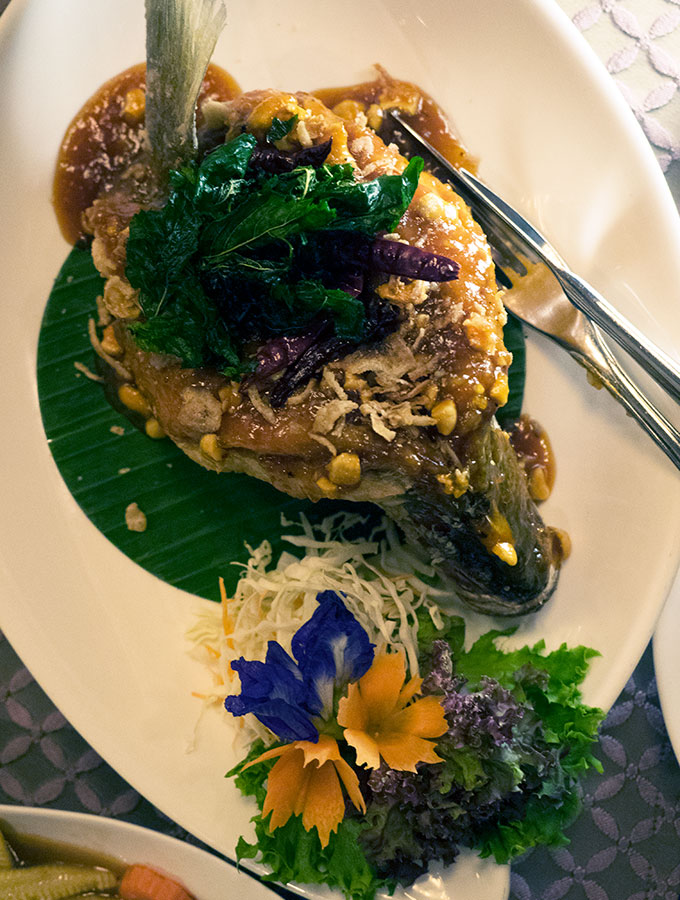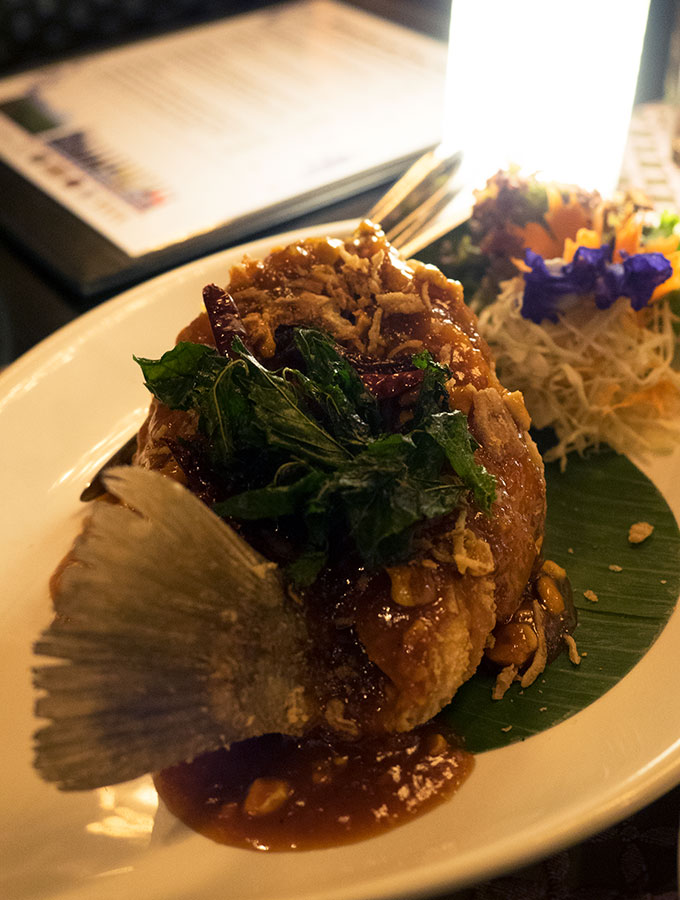 Chef Sutthaporn specifically arranged Pla Gao with Sauce Ma- Kham for Mac. Deep fried Garupa with Tamarind Sauce, another of my favourite dishes of the evening. Perfect for those that love Thai food but can't handle the heat. The dish is packed with flavour without being overly sour or hot.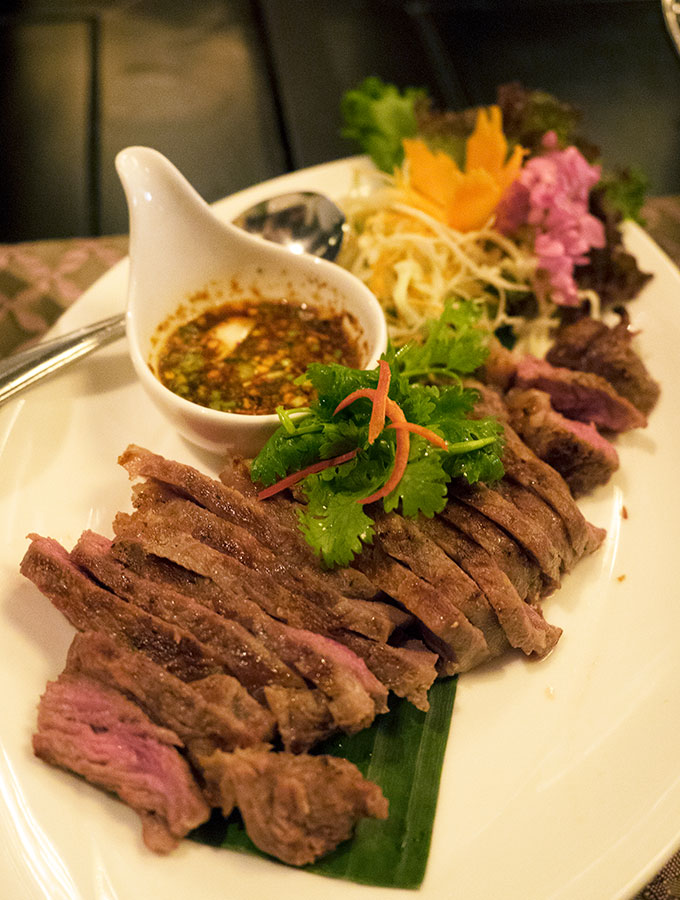 A dish with a little more kick (via the sauce on the side) Nuea Yang Thai Derm. Australian striploin grilled Thai style and served with Chilli Sauce. The beef was tender and perfectly cooked, with a wonderful BBQ grilled note.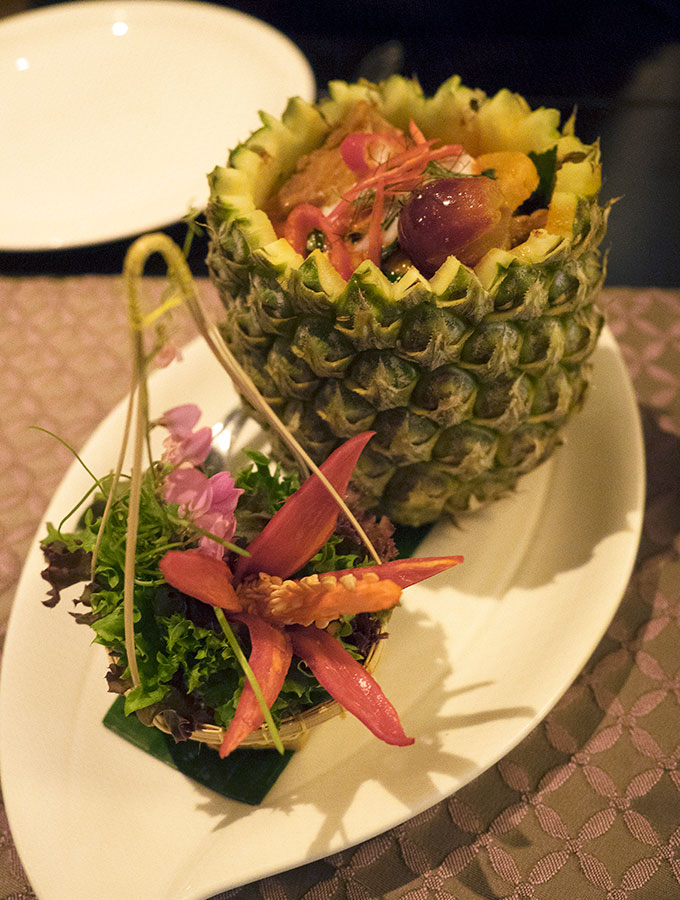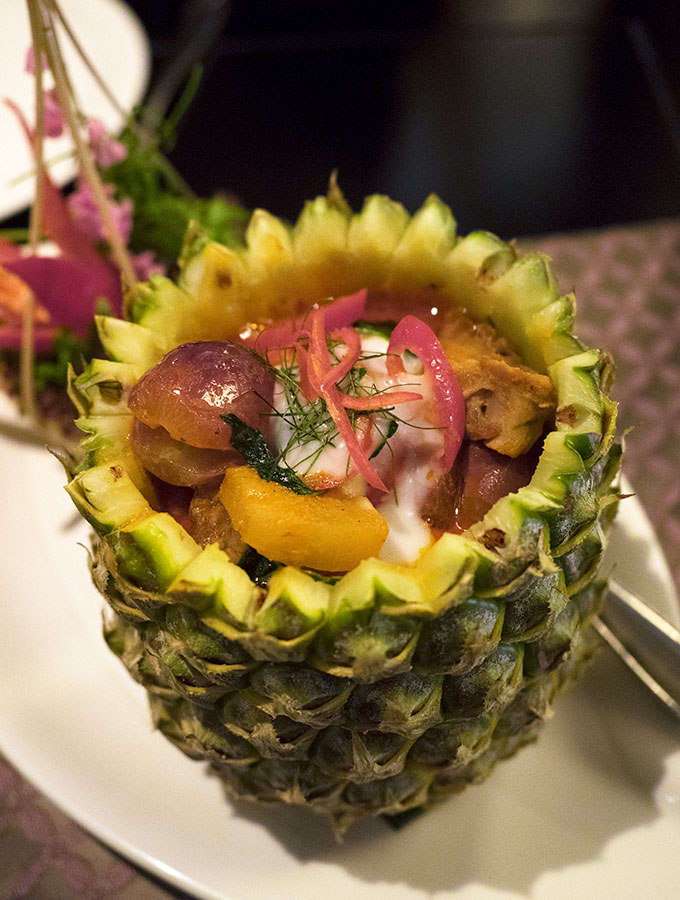 I loved the presentation of Gaeng Phed Ped Yang Kub Ar-Noon. A flavourful Roasted Duck Red Curry with Grapes, Pineapple and Basil. I assured poor Mac that it was delightful.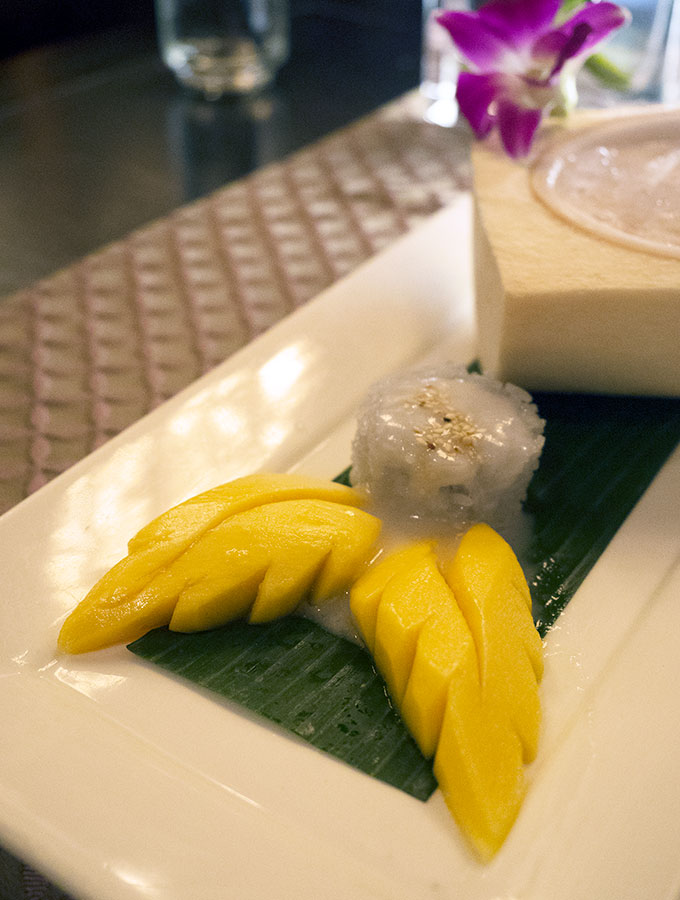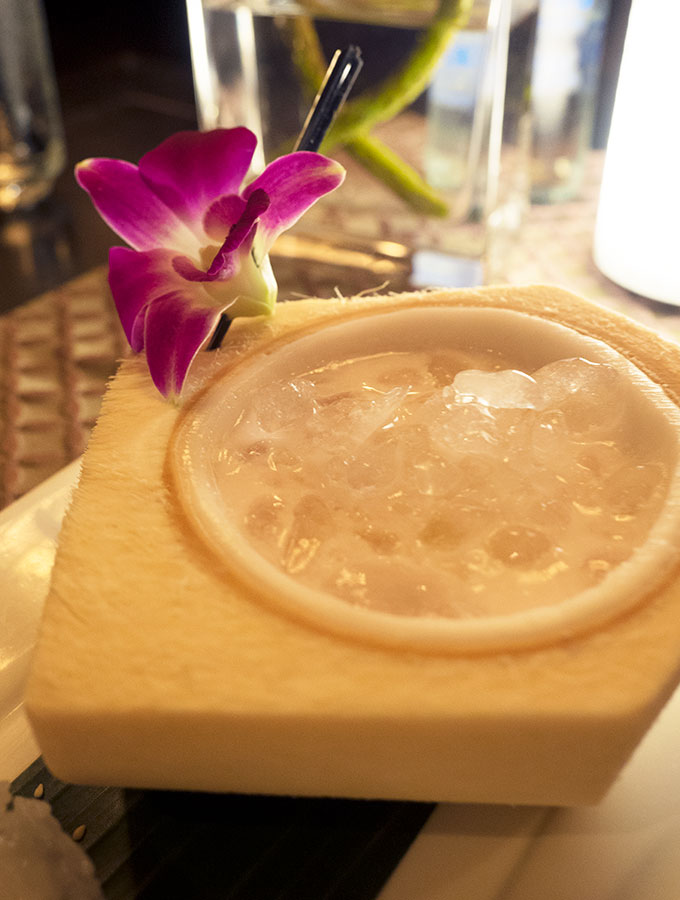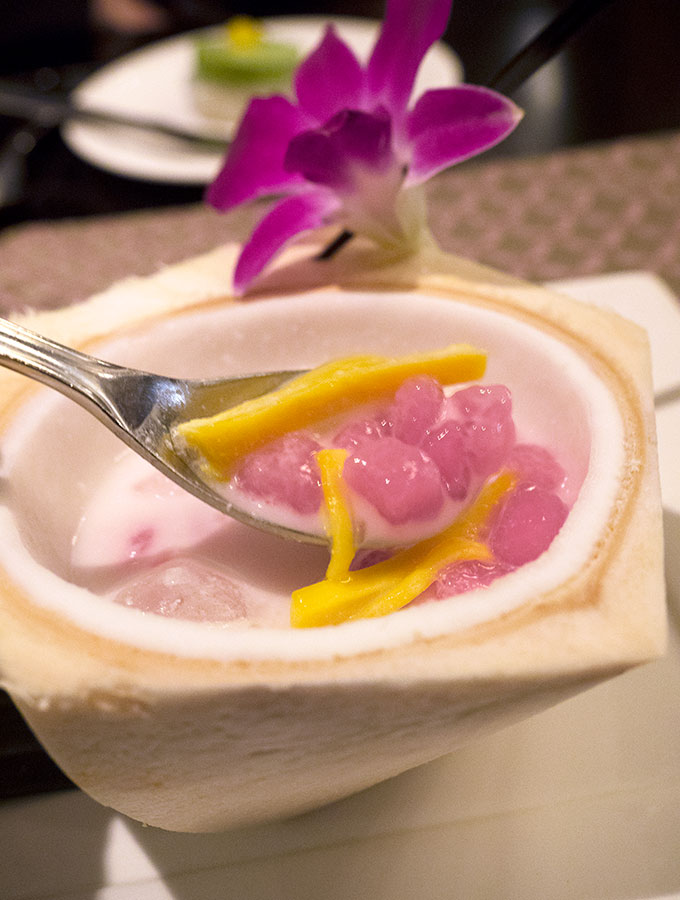 I am generally not a big dessert person, but when it comes to Thai desserts it is a different story. Tub Tim Siam is so refreshing, Water Chestnut Rubies covered in nubs of ice and Coconut Milk. Sitting alongside this was my favourite Thai dessert, Sticky Rice and Mango. I always find the slightly salty coconut infused sticky rice a wonderful combination with ripe mangoes.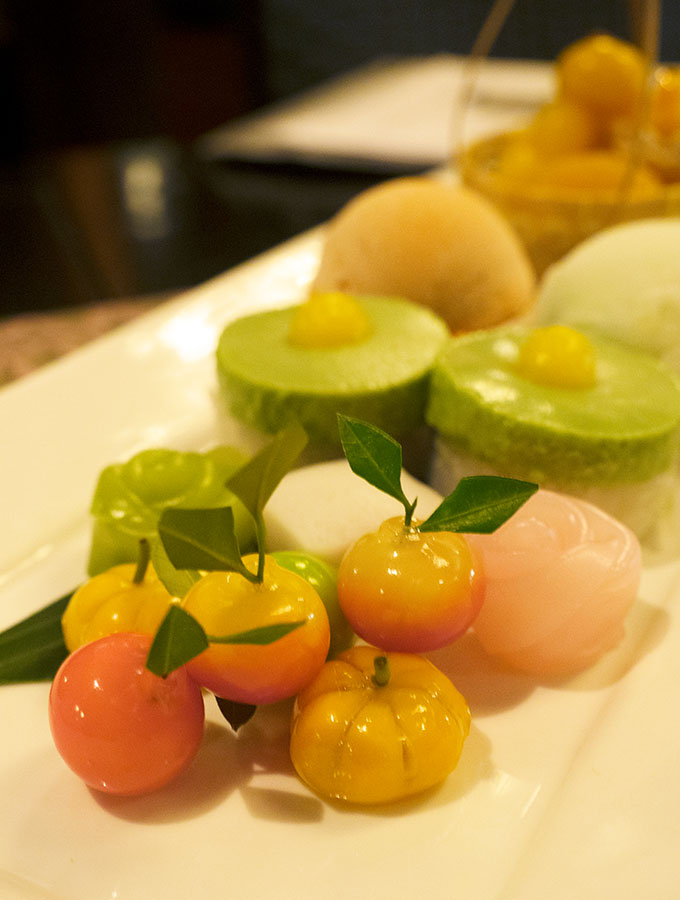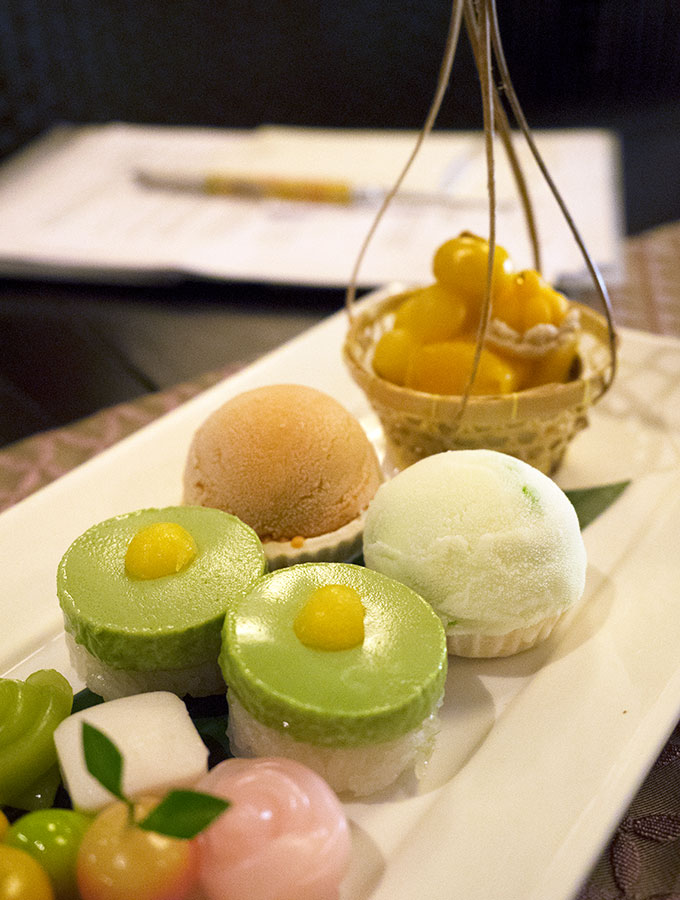 Also ordered was the beautifully presented Salathip Sweet Sampler. There were an assortment of beautifuly crafted traditional sweets, Pandan Custard on Sticky Rice and two ice creams, Thai Tea and Tropical Fruit.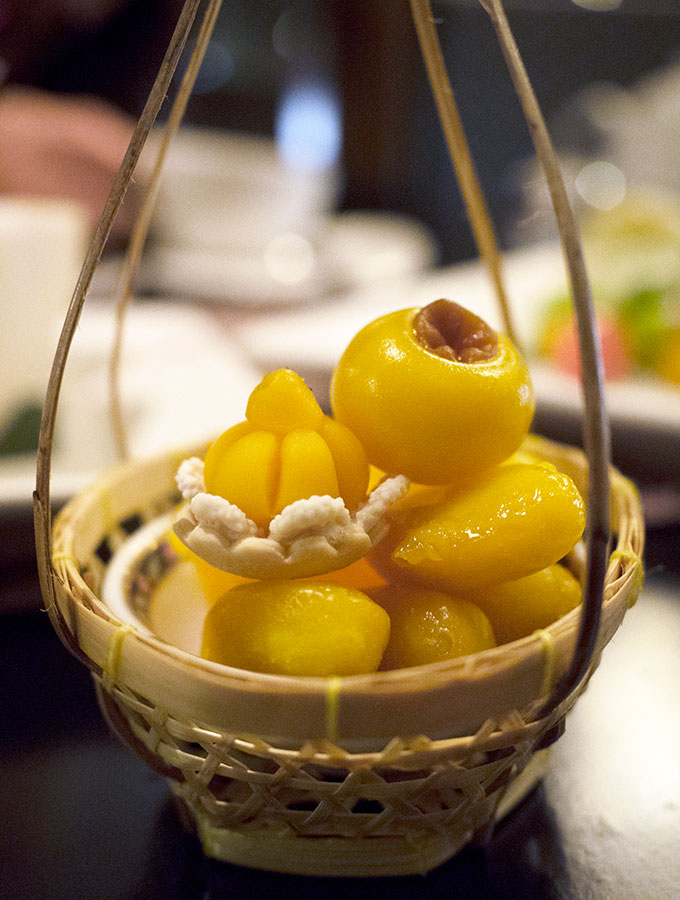 I was fascinated by the Ja Mongkut. Tiny handcrafted yellow sweets that look like a crown. Hand sculpted from a paste made of egg yolk, sugar and coconut milk. This sits on frosted melon seeds and thin pastry to make the crown.
We had a most enjoyable night. Great food, wonderful entertainment and all set in a relaxing Thai Village setting by the river. The best part is we only had to waddle past the pool and to the elevator to get back to our room to collapse into a food coma.
Sara xxx
Must try dish: Deep fried red Tilapia with Kale Leaves & Thai Condiments
Who should dine here: Perfect for special occasions or even a romantic night out.
Who shouldn't dine here: It really is a venue for everyone.
What else you should know: Thai Dancing is every evening, 7.45pm & 9.15pm
Price: Set menus start at THB 1,388, or from the menu THB 180-800
BYO: No
Bookings: Yes and advised
Opening hours: Monday - Sunday 6.00pm - 10.30pm
Contact details: Shangri-La Hotel, 89 Soi Wat Suan Plu Khwaeng Bang Rak, Khet Bang Rak, Krung Thep Maha Nakhon 10500, Thailand Tel +(66) 2 236 7777