Figs, figs, figs, as far as the eye can see there's figs. It's like Sydney has turned in to fig heaven right now. Instead of spending up to $6 a fig (not that I ever do), I can pick up half a dozen for the same price or less. With figs presently falling from the sky right now, or more accurately trees, it was time to make my fig upside down cake.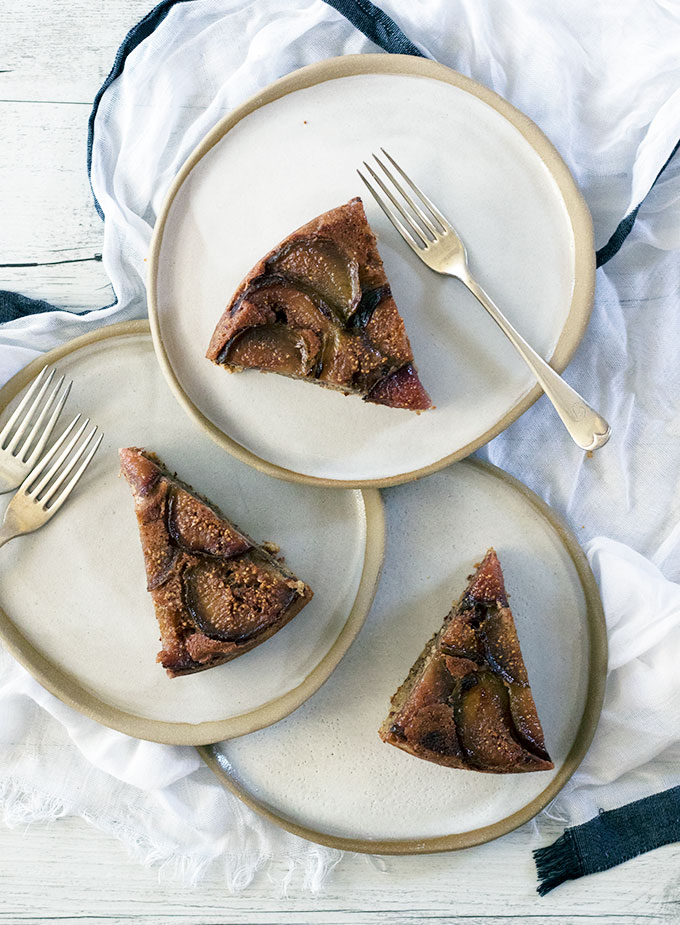 For those of you that gluten is your kryptonite, this cake is gluten free. I also need to stress how super easy my fig upside down cake is to. It is as simple as slicing some figs and layering them on the bottom of a tin. Then pouring over the simple one bowl cake batter. Into the oven it goes, and bingo, an hour later you are delivered with a rich and moist buttery almond cake topped with beautiful seasonal figs.
Well actually, as this is a fig upside down cake, it is technically topped with beautiful seasonal figs once you turn the cake out.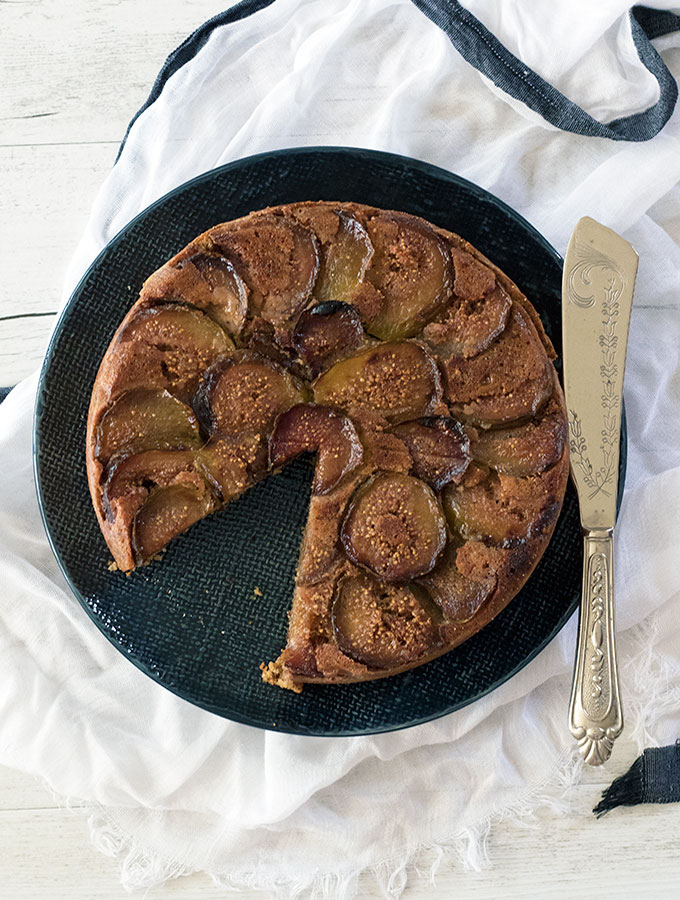 I use a loose base 21cm (8 inch) cake tin for this recipe.  I find it makes it easier to safely remove the cake from the tin and get it on the cake cooling rack.  You could use a standard cake tin if you wish.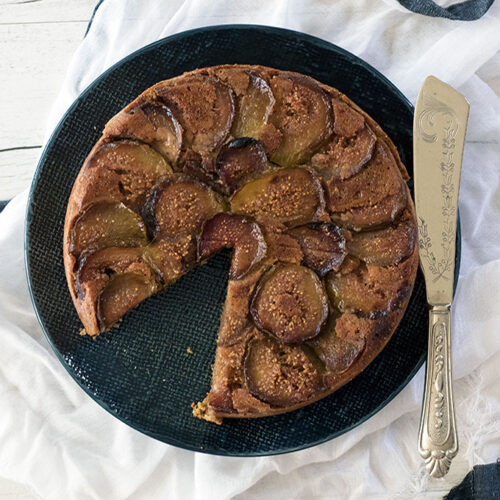 Fig Upside Down Cake (Gluten Free)
Print
Pin
Rate
Total Time:
1
hour
10
minutes
Ingredients
6

figs

175

grams

butter

unsalted

4

eggs

3

teaspoons

vanilla bean paste

300

grams

almond meal

200

grams

caster sugar

½

teaspoon

salt
Instructions
Pre-heat oven 180°C (350°F).

Grease a 21cm (8 inch) round cake tin, which has a removable base and line the base and sides with baking paper.

Melt butter in a small pot or via the microwave. Set to the side to cool while you continue with the recipe.

Slice figs lengthwise, depending on their size this could be four or five slices. Each slice should be around 8mm (1/3 inch) thick. Layer the sliced figs on the bottom of your lined baking tin.

Crack four eggs into a large bowl, and add vanilla bean paste, whisk until combined. Continue whisking and pour in the melted butter, continue until well combined.

Add almond meal, sugar and salt to your egg mixture. Mix well until completely combined.

Gently pour cake batter into your cake tin on top of the layered figs.

Place tin on a lined baking tray and then place in the oven and cook for 60 minutes until golden and cooked through. (The baking tray will prevent any fig juices that may run out of the tin messing up your oven.)

Once cooked remove from oven and allow the cake to cool in the tin.

To remove cake from the tin, place a cake rack on top of the cake tin. From underneath gently push the base of the cake tin up until it reaches the cake rack and then carefully flip the tin and cake over.

Remove tin and baking paper from the cake. It is now ready to serve.

If the cake is still slightly warm it is lovely served with vanilla ice cream. Alternatively you could serve it with a little cream. I personally like it just like it is.

Store cake in the fridge.
DID YOU MAKE THIS RECIPE?
I love knowing when readers make my recipes, tag me on Insgragram @bellyrumbles
Taking the fig upside down cake one step further
Does the top of your cake look a little pale and gloopy from the fig juices? This is one of my pet peeves from upside down cakes, they can look a little unappetising once turned out. Though they do taste great.
My tip is to sprinkle a few tablespoons caster sugar, either white or raw, or even a little maple sugar over the top of the cake. Then place it under the grill for a couple of minutes for the sugar to melt and give your cake a lovely toffee finish. Make sure to watch the cake the whole time. Just don't over do it with the sugar, a light sprinkling. It is just to finish the cake off and give it a crisp browner looking result. I have done this with the cake you see in the photos that accompany this recipe.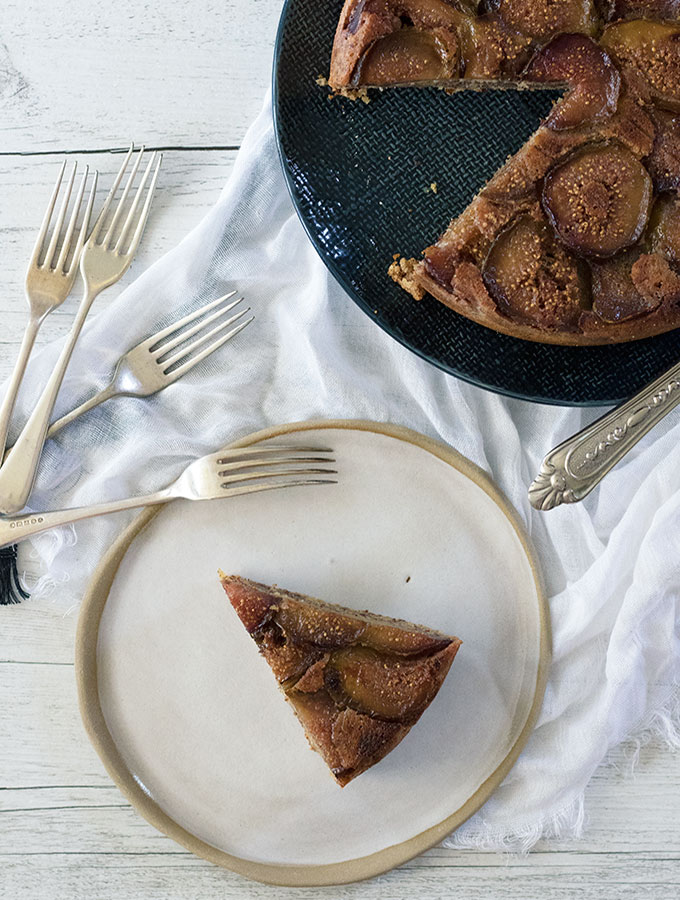 Don't have access to figs right now, or they are still extremely expensive in your neck to the woods? Feel free to substitute another fruit of your liking. I personally think that peaches or apples would be a wonderful substitute. With the apples I probably would toss them in a little brown sugar before layering. Just to give them a lovely caramel finish when turned out.
If you do end up making my fig upside down cake do share it on social media (Instagram/Twitter/Facebook) and tag me in so I can see your awesome results. I would love to share what you have done with other readers!
What is your favourite upside down cake flavour?
Sara xxx
Become a subscriber and don't miss a single delicious recipe, restaurant review or travel adventure.