What do you get when you cross a Japanese izakaya with 90s grunge and plonk it in Sydney? Kid Kyoto of course.
Only open a couple of months, Kid Kyoto is the latest addition to the Sam Prince Hospitality Group. They are the guys behind popular Indu and Mejico. Hidden away in Sydney's CBD in Bridge Lane, opposite end to Mr Wong. Just look for the "KK Unplugged" sign and you know you are in the right spot.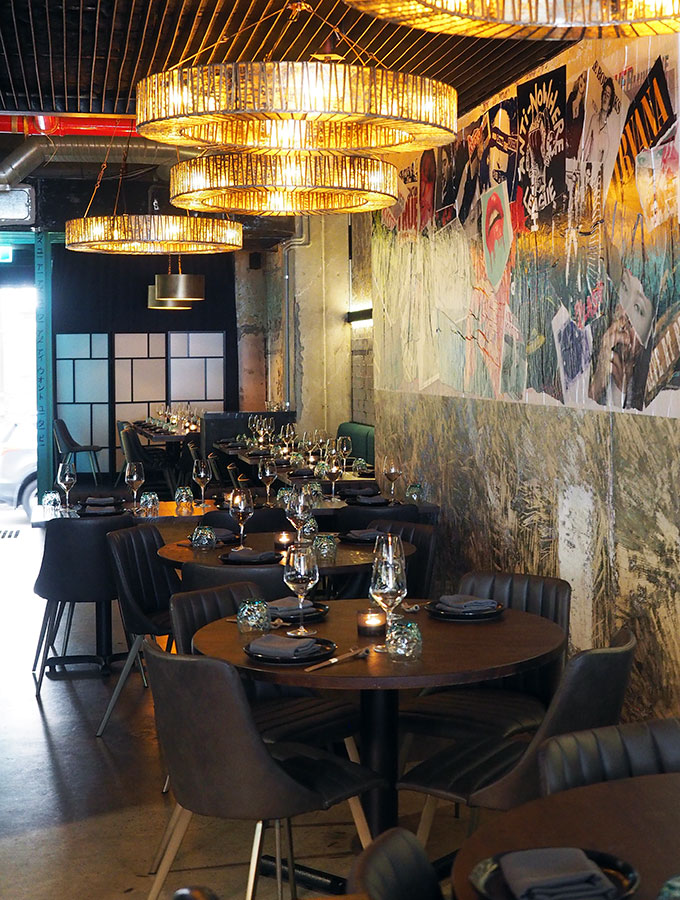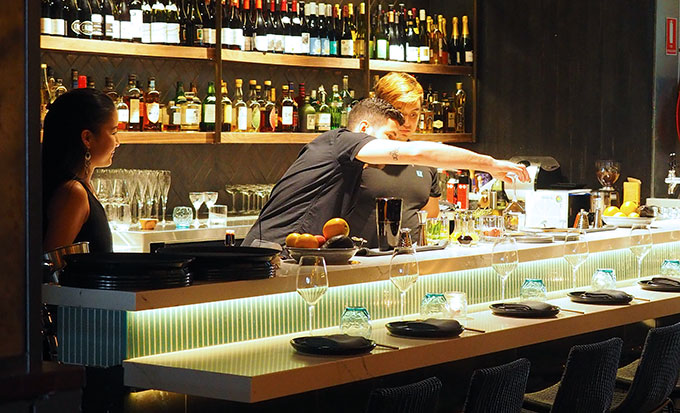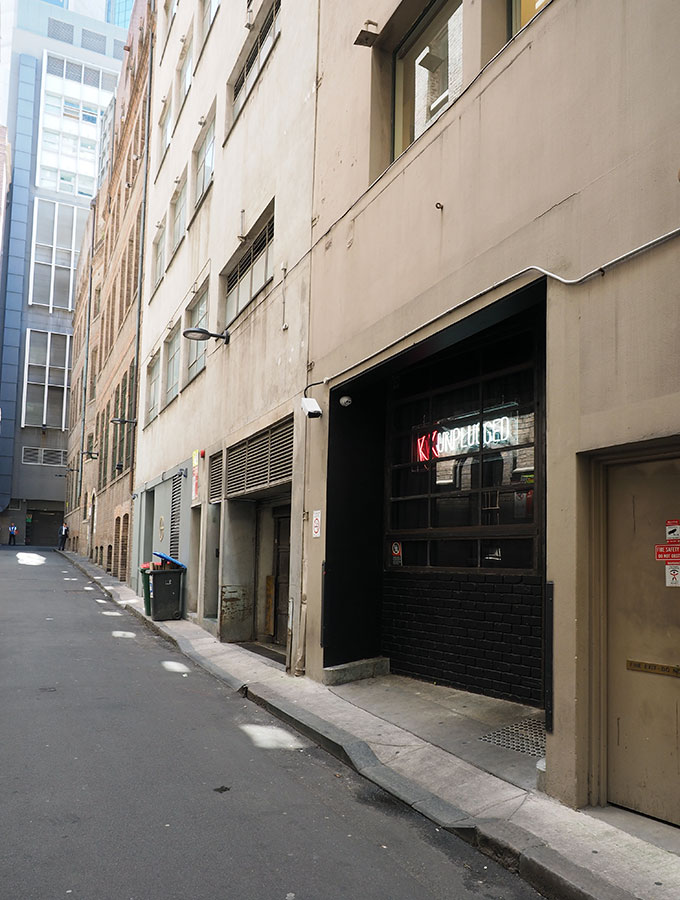 Kid Kyoto came to be after a visit Sam paid to Japan. The gritty 90s grunge music, popular in Kyoto, and the whole vibe lent itself to amazing food in dark cosy izakayas. I totally get it. There is no secret that I am moved by my visits to Japan and I'm also that age group that lived, ate and breathed grunge.
It was a sure bet that I was going to like Kid Kyoto.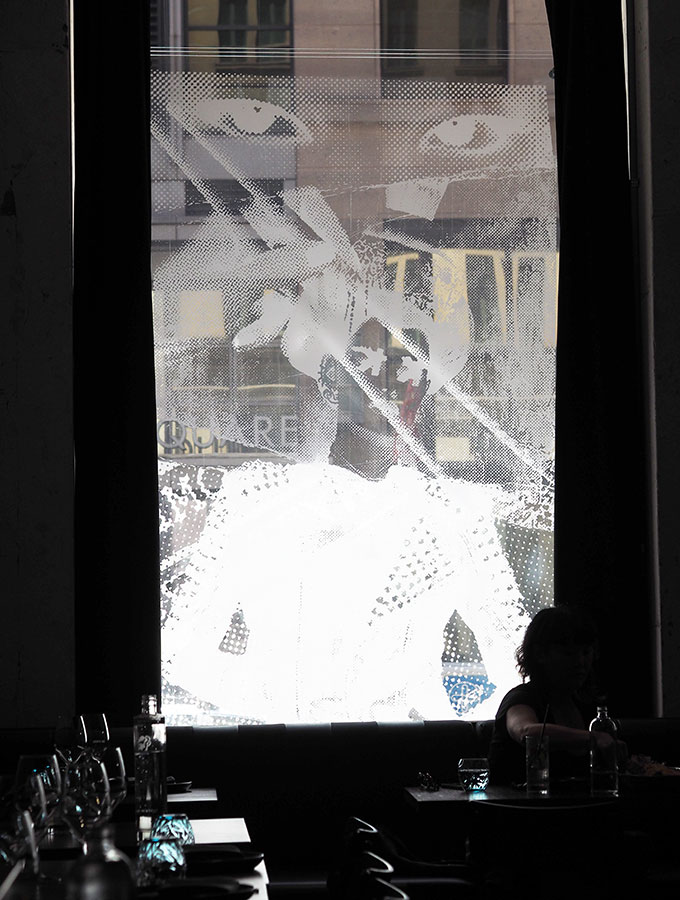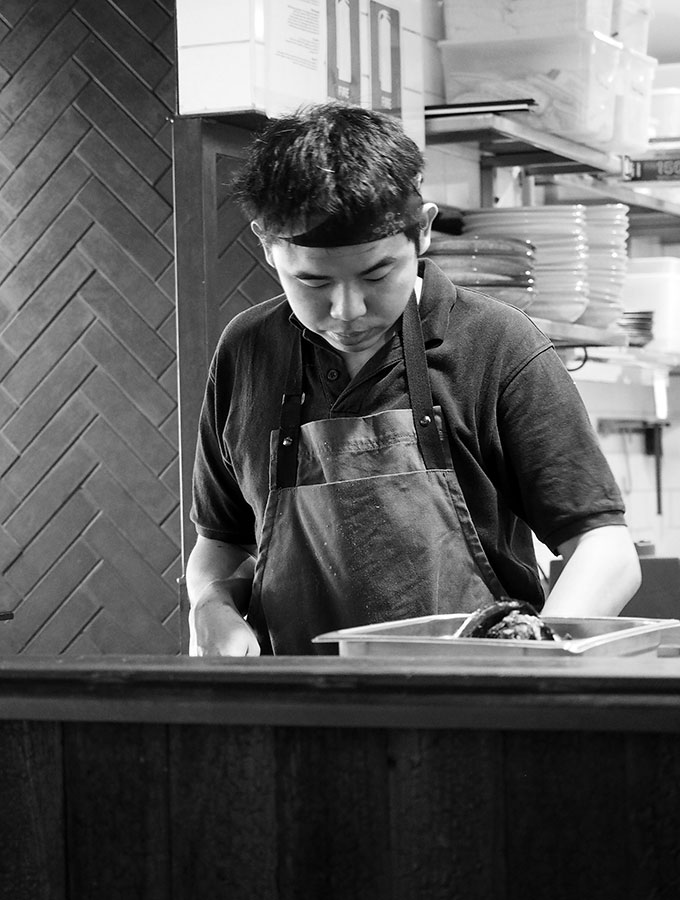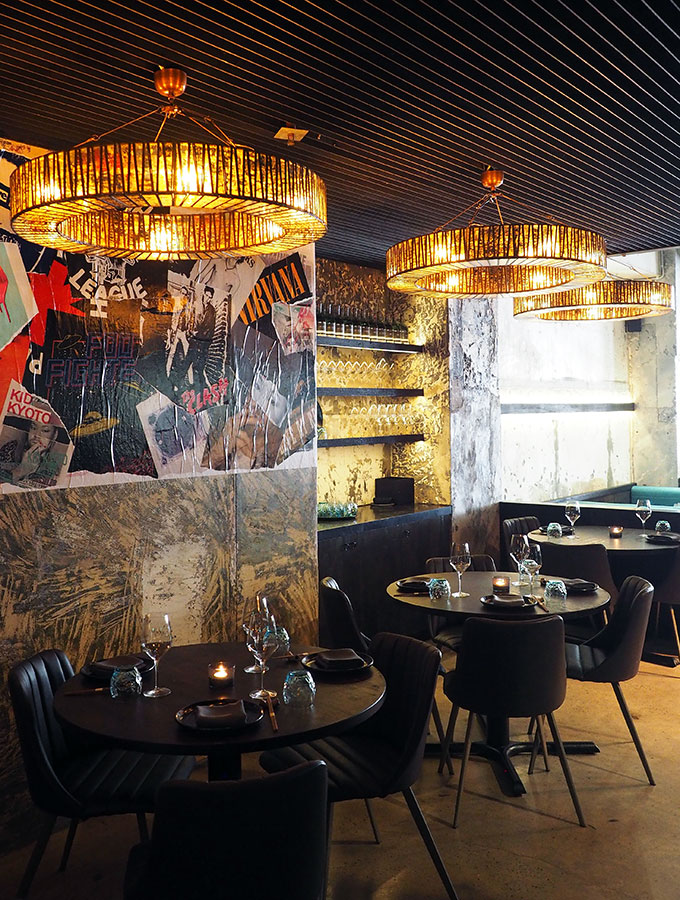 The restaurant has a glam grunge feel to it. It's lunch, but it's still dark and moody as we walk in. We heak past the bar and open kitchen to the back of the restaurant and our table. It's back here that you encounter a lighter and brighter feel. Even with light flooding through the large windows that face on to Bridge Street, the raw distressed concrete walls, polished concrete floors and black wood panelling keep that darker vibe going. I like it.
Nirvana fades into the Red Hot Chili Peppers as we sit and peruse the menu. Music is a big part of your Kid Kyoto experience with a specially curated playlist. Even the menu is divided into "Intro", "Raw & Unplugged", "Main Stage", "B-Sides" and "Encore".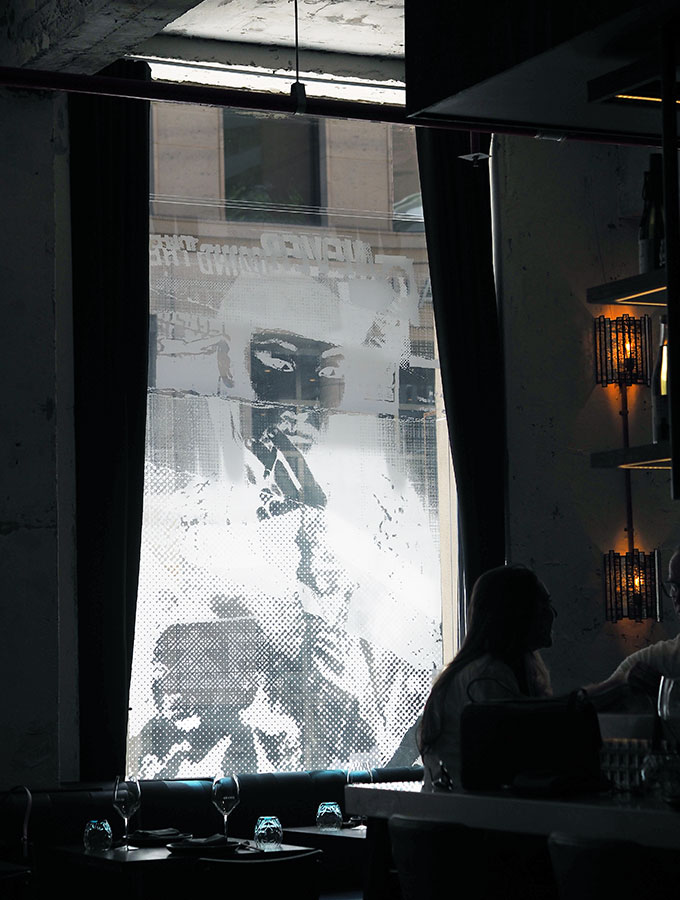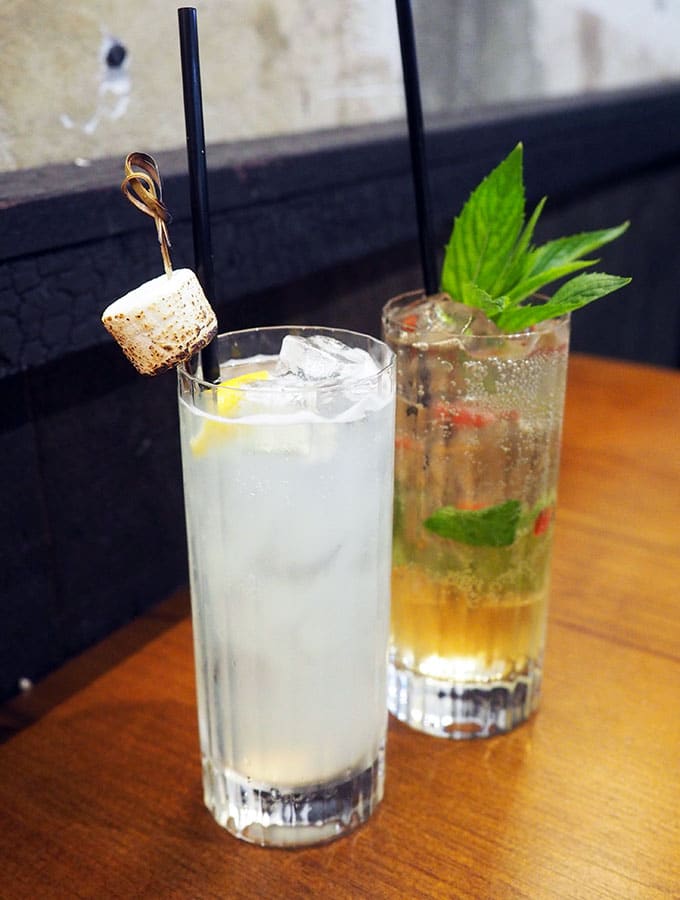 With so many interesting options on the menu, we decide on the omakase option. Kid Kyoto offer either an eight course ($65) or ten course ($80) omakase for a minimum of two people. The omakase menu is a range of chef's choice dishes.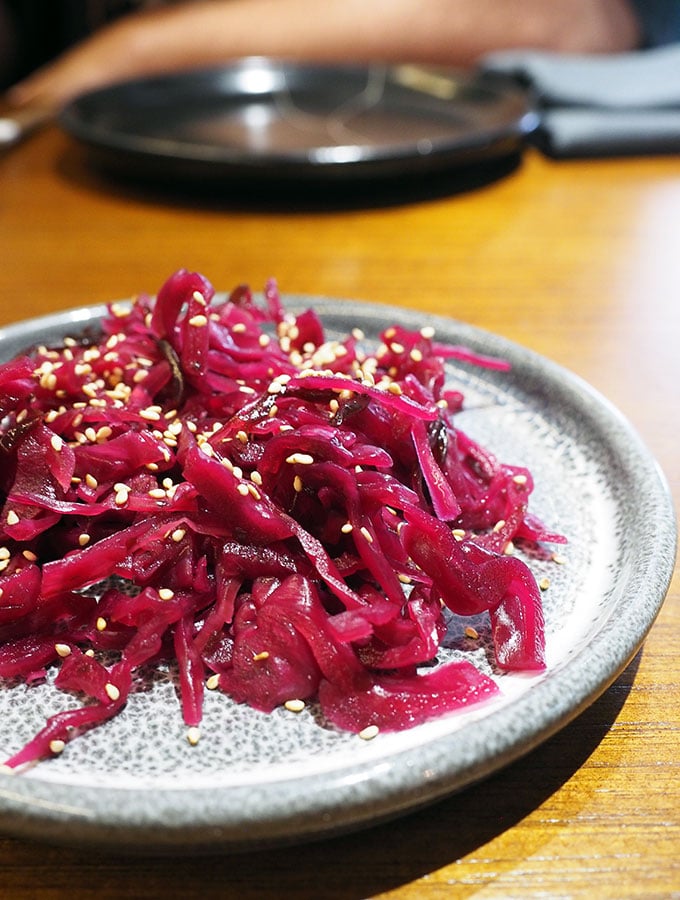 Cabbage & konbu pickle $6
The cabbage and konbu are a refreshingly sweet and sour pickle to start those digestive juices flowing. They have a great crunch and do I need to comment on what a pretty fuschia they are?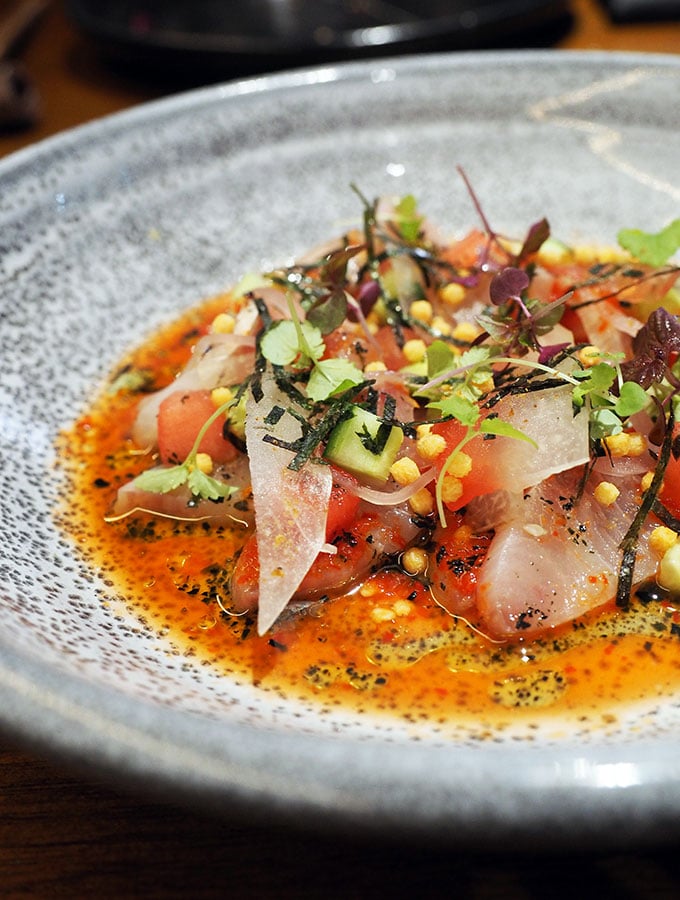 Kingfish ceviche, pickled watermelon, lemon aspen & roast wakame kosho $22
Weezer make an appearance as the Kingfish does. The ceviche is nicely balanced with a surprise kick of heat that sneaks up and lingers calmly on the lips. The crunch of sweet pickled daikon and crunchy karare rice pellets adds texture to the buttery kingfish.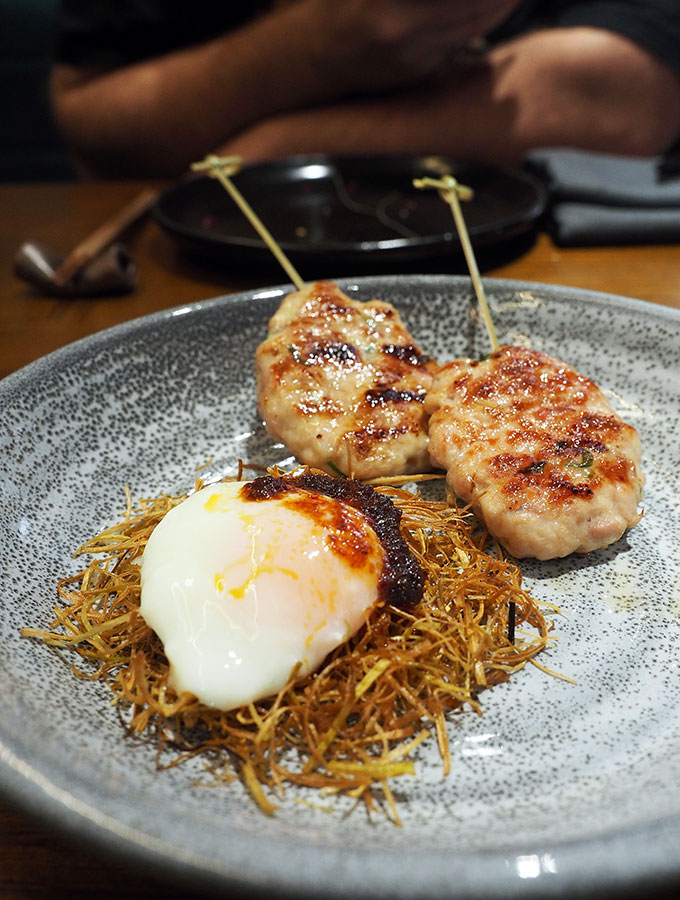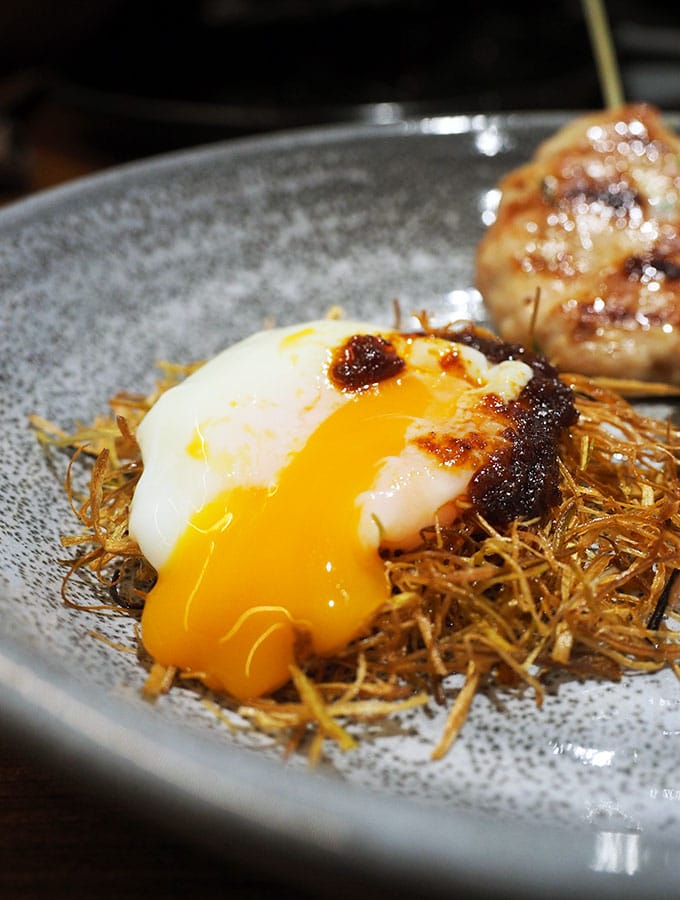 Preserved lemon chicken tsukune, onsen egg 'birds nest' & chilli rayu $16
A playful approach to one of my favourite izakaya dishes, tsukune. Instead of dipping your skewer of grilled chicken mince into a raw egg yolk, it's onsen egg all the way at Kid Kyoto. We let the gooey egg yolk spill into the fried leek nest and chilli ragu. It all gets mixed together and then enjoyed with the preserved lemon chicken tsukune.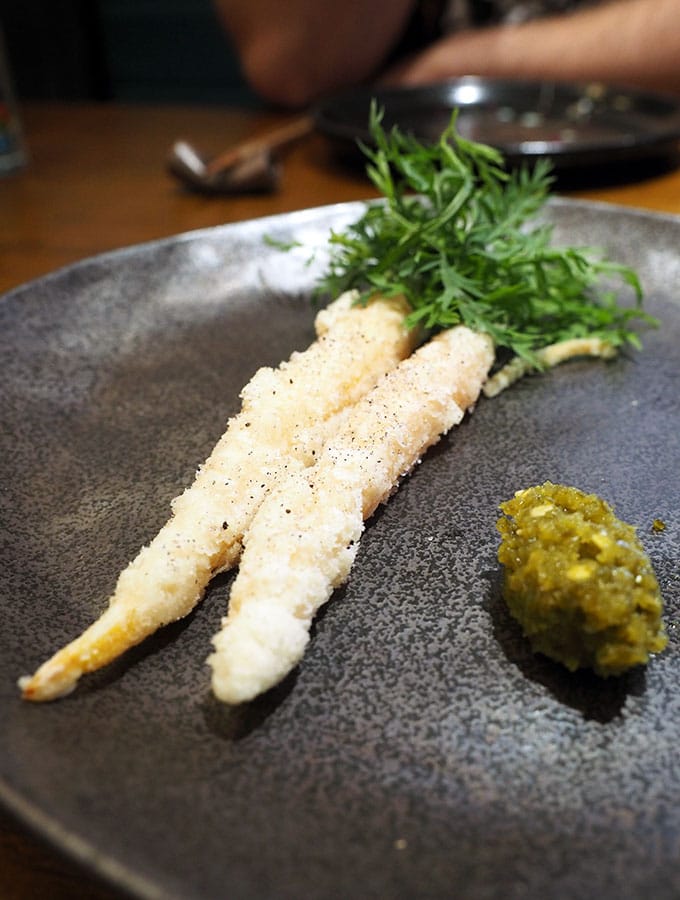 Carrot-aage, native pepperberry & orange kosho $14
Another playfully named dish, Carrot-aage. Dutch carrots are deep fried and served with a punchy native pepperberry sprinkled on top and orange kosho with green chilli. Another tick in my book seeing the use of Australian native ingredients on the menu.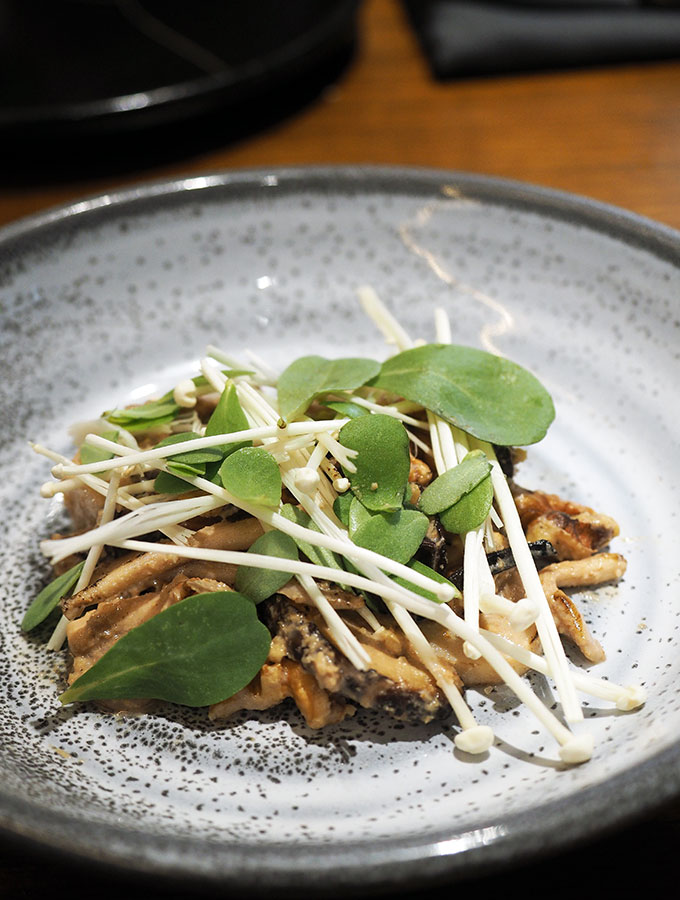 Wok smoked mushrooms, walnut miso & barilla $24
There wasn't one dish I didn't like on Kid Kyoto's omakase menu. But it is easy for me to pick my ultimate favourite, the wok smoked mushrooms. This is the dish that I will keep coming back for. I will start a picket line out the front the moment Chef Seb Gee removes it from his delightful menu.
It's a pretty uninspiring looking dish (sorry chef), nothing makes it look like it will be a knock out. Sure wok smoked mushrooms sound interesting, and they are. Pair those mushrooms with walnut miso and something magical happens via an umami explosion. This is then topped with fresh enoki and another Australian native ingredient, barilla bower spinach.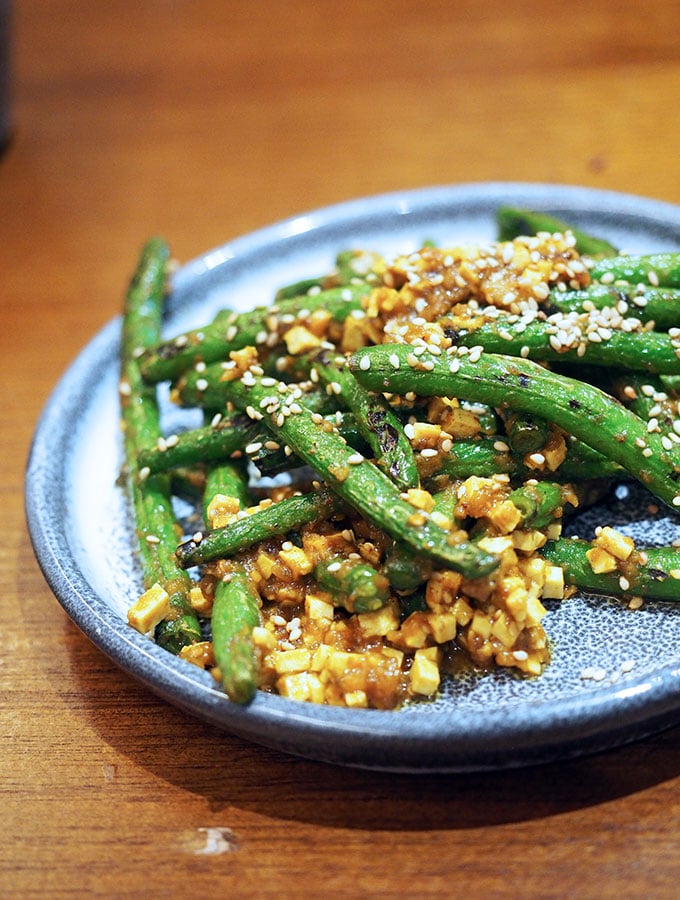 Hot green bean 'shira-ae' Japanese curry, sesame & tofu crumb $12
As Bjork's "It's Oh So Quiet" is playing who knew green beans could start another big riot in my mouth. The cooked beans retain a wonderful crunch, but it is the accompanying tofu that has me contemplating lick the plate.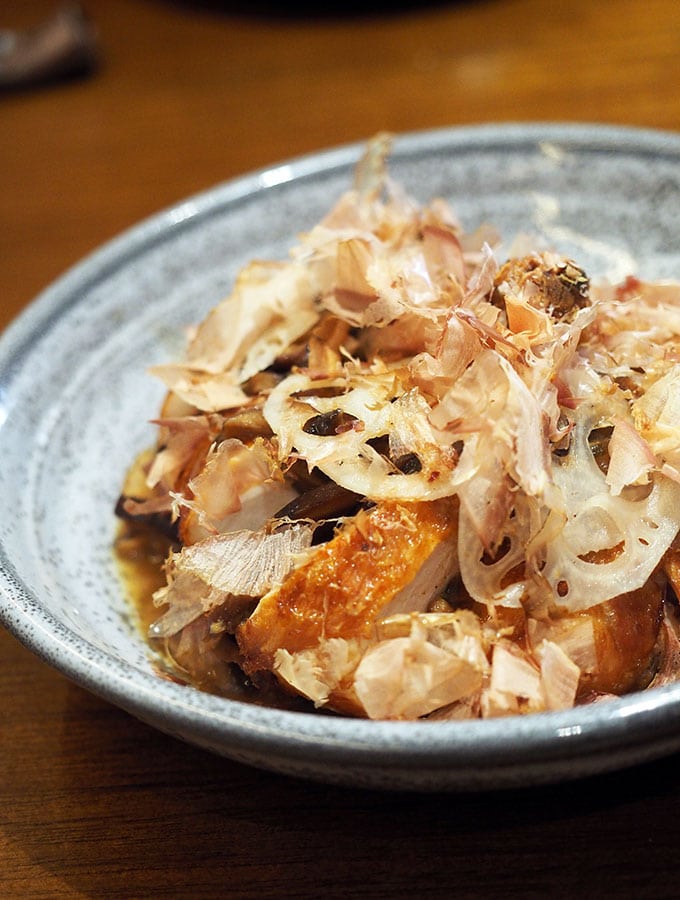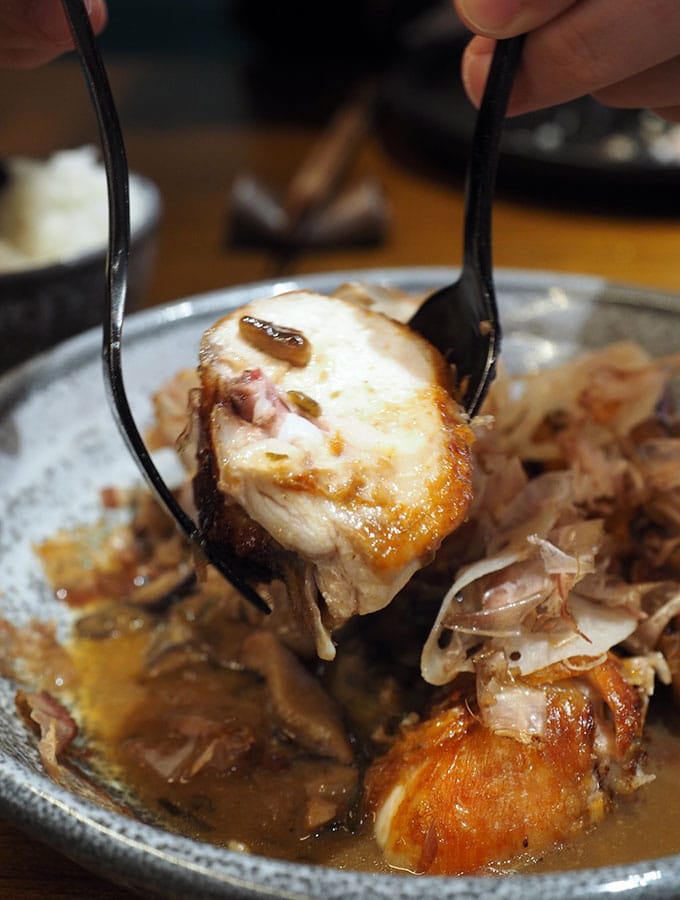 Saké Chicken, shiitake, kombu & katsuobushi $30
The main event that turns up with our B-Side beans is a tender and juicy sake chicken. Again another dish that packs a lot of taste. The surprise element is the pickled lotus root hiding under the dancing katsuobushi.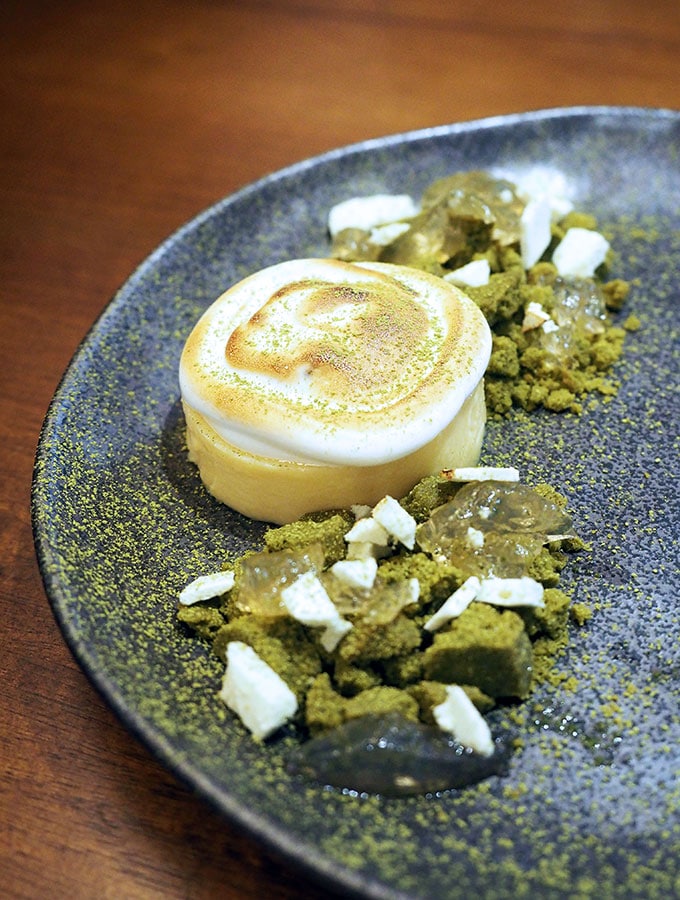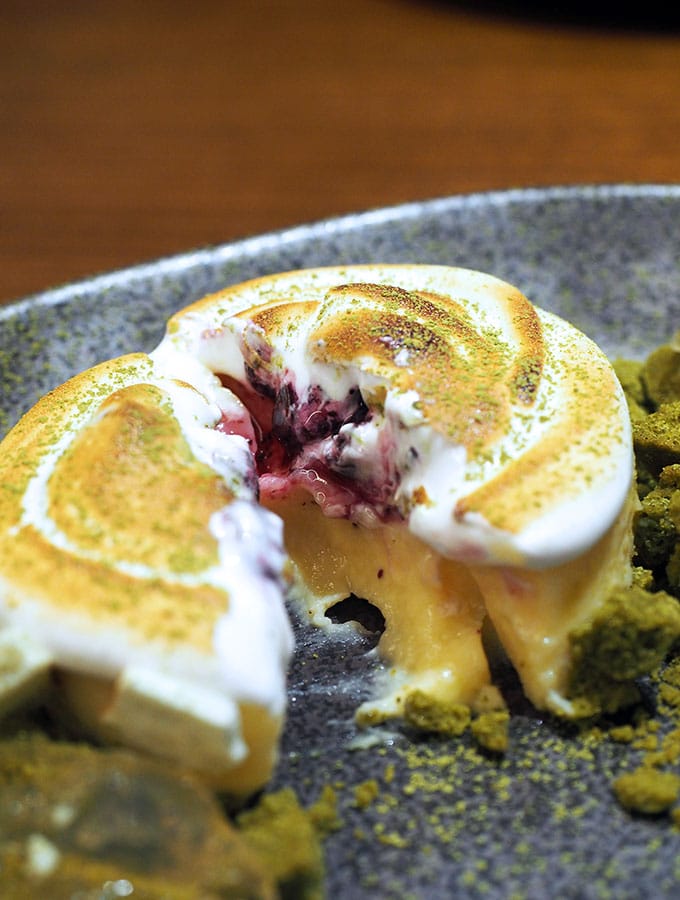 Toasted yuzu meringue tart, green tea & blueberry $16
Our encore of the omakase menu was the yuzu tart. A crustless yuzu tart filled with blueberries and surrounded by matcha crumb, umeshu (plum sake) jelly and crisp meringue. All I can say is that it must have been good. We were extremely full but somehow managed to polish it all off.
Obviously the lunch feel at Kid Kyoto is going to be different to evenings. From what I know Kid Kyoto can be one packed little princess in the evenings, so make sure to book. I have also heard that it can get quite noisy. At lunch you can expect a very chilled space with great food and even more chilled tunes.
Sara xxx