Mr Wong is the latest gem in Justin Hemmes' Merivale crown. The old Tank nightclub has undertaken an amazing transformation into a Cantonese restaurant with a 1930's shanghai teahouse look and feel. On entering you are instantly transported from the downtown business district of Sydney, to another place in another time.
With three chefs wielding their knives, Mr Wong's kitchens are packing a lot of talent. Executive Chef Dan Hong (Ms. G's & El Loco), Head Chef Jowett Yu (Ms. G's) and Dim Sum Chef, Eric Koh, from London's Michelin Star Hakkasan. There isn't one kitchen, instead placed around the two floors of Mr Wong you will find a dim sum kitchen, main kitchen and roast meats counter upstairs, and downstairs the bar, giving the area a Chinese speakeasy vibe.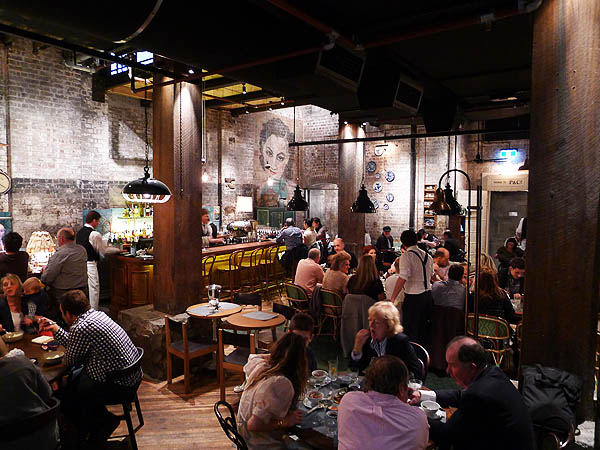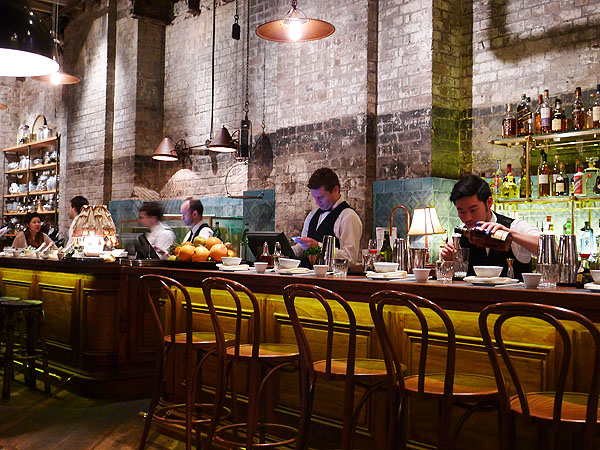 From the moment you arrive, as with all the Merivale establishments I have visited, you are greeted warmly and with a smile. The service is impeccable right through our meal, a nice mix of friendly and helpful without being intrusive.
We start our meal with a selection of dim sum. I had heard good things about the Xian long bao (pan fried pork buns $9), unfortunately they were not available at the time of ordering. Small set back, but all the other items which I wanted to try were readily available.
I stupidly start to put chilli sauce on my prawn toast, terrible habit I have. Josh quickly stops me and reminds me that I will kill the subtle taste of the foie gras. He's right, the smear of chilli sauce on one corner of my prawn toast kills any hope of enjoying the foie gras. The remainder of the toast, sans chilli, has a lovely play of flavours, rich subtle foie gras, sweet prawns and the textural crunch of the thick deep fried bread.
A slight disappointment, as I can't really taste the lobster, and no, I didn't smother it with chilli sauce! What I do love about these rolls is the ultra thin noodles that wrap around the filling which are crispy and shatter into a thousand pieces on taking a bite.
The dumpling is translucent and jade in colour. A perfectly pleated mouthful of sweet juicy seafood.
There are two options for the Peking duck pancakes, you can order a whole duck ($88 with 16 pancakes) or, as we did, order the half duck ($45 with 8 pancakes). It's a nice Peking duck, nothing special, certainly not the best I have had in Sydney, but it is definitely the most expensive. I wouldn't bother with it again at Mr Wong, instead I would probably order the Chinese roasted duck ($34 half/$60 whole) or try one of the other roast meats on offer.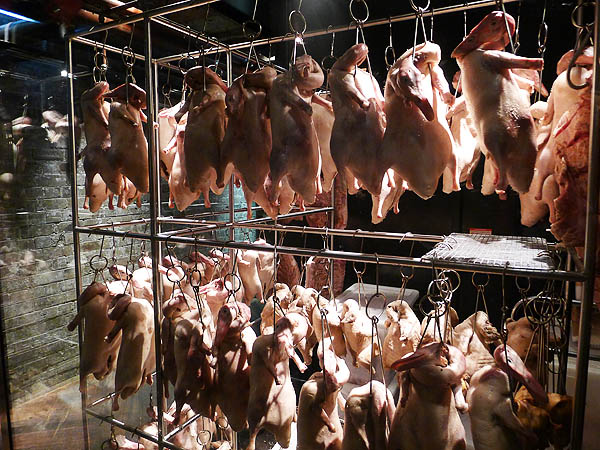 Do make sure you pay a visit to the bathrooms. Not something I generally make a point of suggesting to my readers, they are nice, but it is the journey to them that is of interest. Just as you turn the corner to head to the loos you can see rows of hung ducks. Don't panic about the ducks' proximity to the bathrooms, they are concealed safely behind glass.
Was everything deep fried salt and pepper calamari should be. Thin crisp batter surrounding tender calamari tossed through a generous amount of sliced chilli and green onion.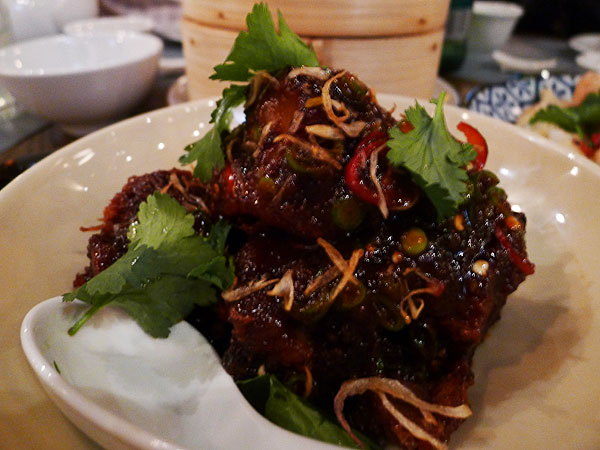 Sweet & sour crispy pork hock $28
This dish proved to be a favourite amongst the males in our group. Large chunks of pork hock which have been deep fried, then coated in a dark sticky sweet and sour sauce. I do love a good crispy pork hock, but found this one a little too sweet for my palate. Jimmy Liks at Potts Point is still one of the best I have had in Sydney (crispy pork hock with tamarind & blood plum sauce).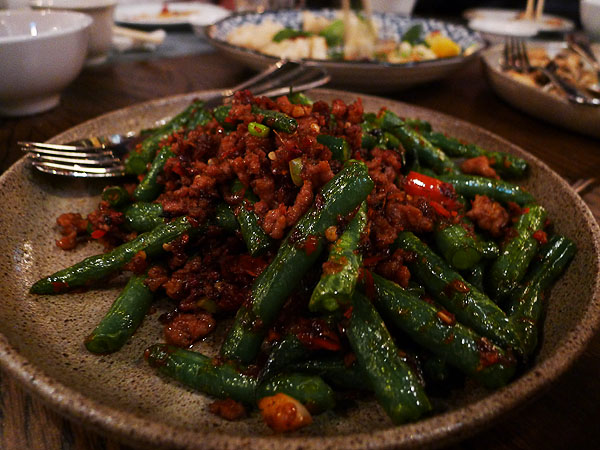 Twice cooked green beans, pork mince & XO sauce $16
Glossy twice cooked green beans with fine pork mince. The beans still retained their crunch, which offers a great contrast to the flavoursome mince.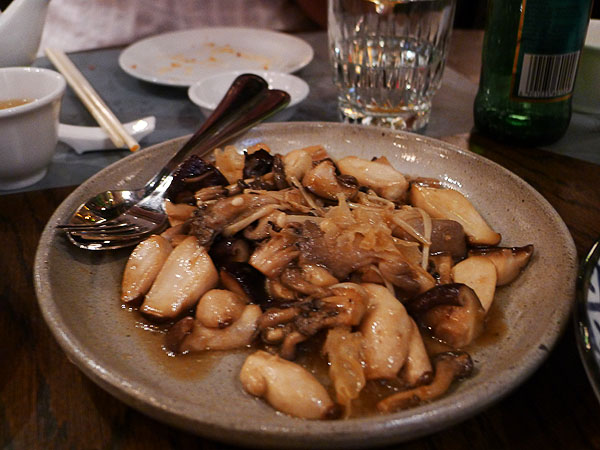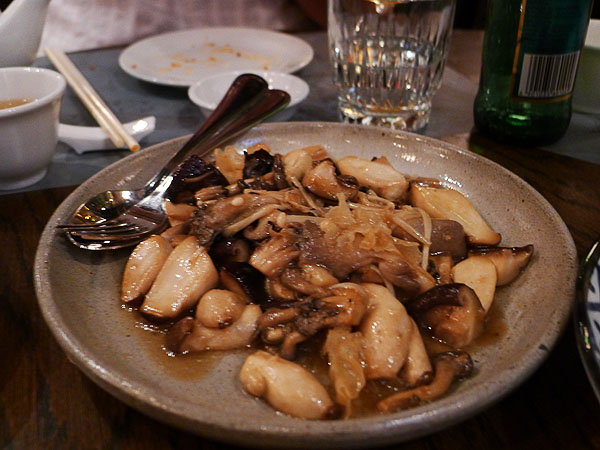 Wok fried cultivated mushrooms $26
Surprisingly the mushrooms are my favourite dish of the meal. A stir fry of over six varieties of mushrooms with garlic and mushroom soy sauce. I highly recommend ordering this if you visit Mr Wong.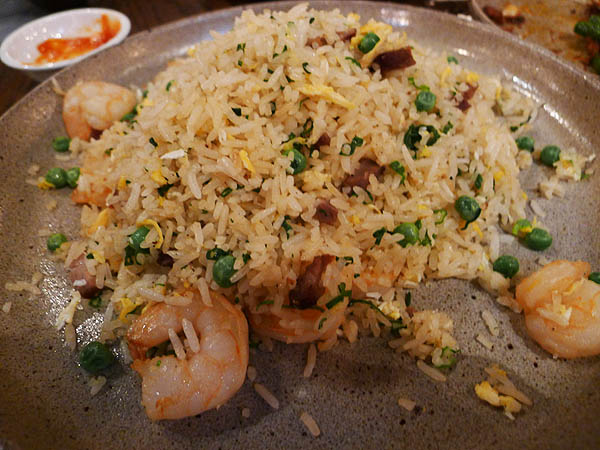 Mr Wong's special fried rice $24
Fried rice, 'Mr Wong's special fried rice', to be precise. As it was 'special' we just had to order it. The fried rice comes in two sizes, small ($18) and large ($24). Long grain rice with pork, prawn, egg and peas. The prawns were a decent size, but beside that, nothing special, next time I'll try a noodle dish instead.
There is a small range of desserts on the menu, all priced at $14. That is except for the fresh fruit plate which is $18. I find it a shame that they don't do what a lot of Chinese restaurants do, and that is, provide guests with some complimentary fresh fruit to end the meal. We forgo the fruit. Instead the deep fried ice cream grabs the attention, just as it did when I was a kid, not much has changed. Tempted as I was, I decide to order something a little more adventurous, the green apple ice dish.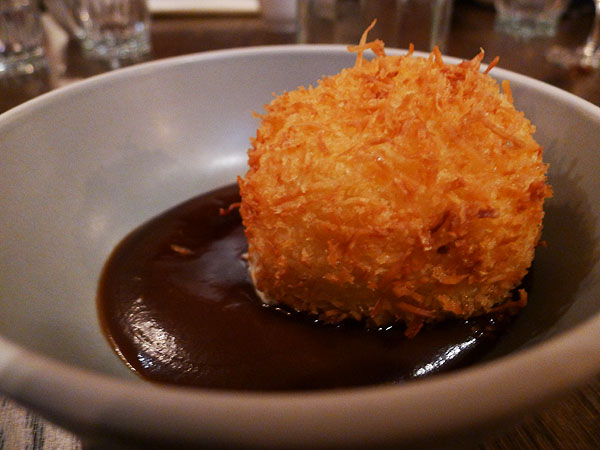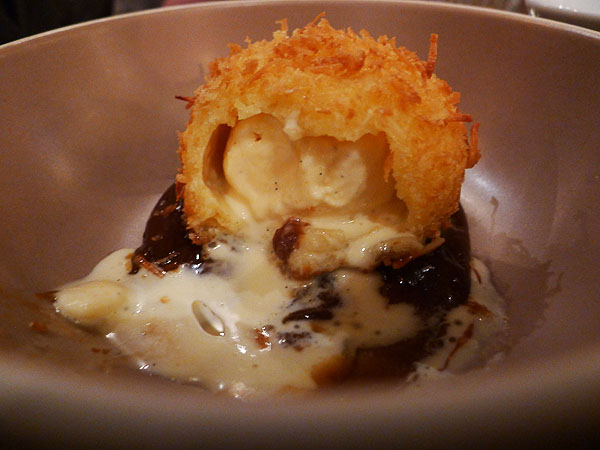 Mr Wong's deep fried ice cream (vanilla) $14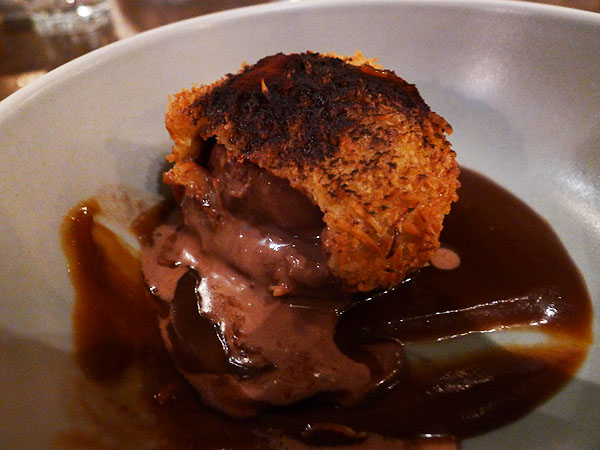 Mr Wong's deep fried ice cream (chocolate) $14
The coating isn't too thick and has the added delight of coconut. Both the vanilla and chocolate are served with thick butterscotch sauce. I pinch a spoonful or two of Josh's and it is the best deep fried ice cream I have had in a long while.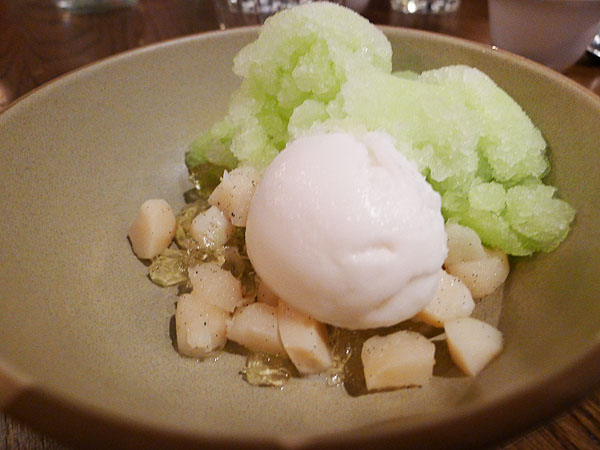 Green apple ice, osmanthus jelly, water chestnuts & coconut sorbet $14
Is an interesting dish. I worked out very quickly I didn't enjoy the water chestnuts with this dish. The green apple ice is tangy, cool and refreshing, love it. The coconut sorbet isn't sweet at all and almost has a slight savoury feel to it, in one way it ties in nicely with the water chestnuts.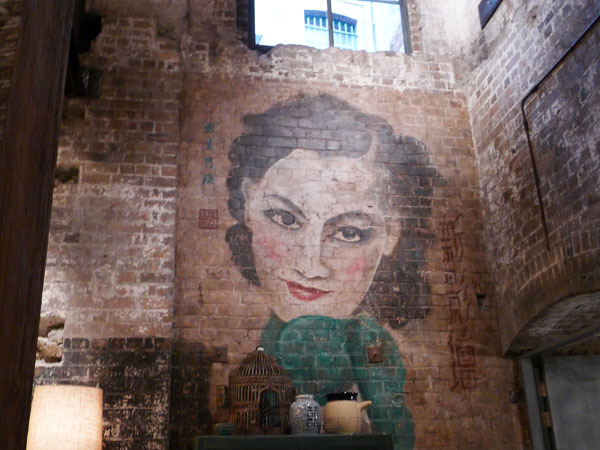 I will be back to Mr Wong, there are a few more dishes I that I want to try. Maybe next time we will order something from the live seafood tank, mud crab, rock lobster or even the live abalone. There is also more I would love to discover on the raw, cold cut and appetizer menu.
Mr Wong is open for lunch and dinner Tuesday - Sunday. Bookings can be made for lunch and dinner if your party is for six or more, otherwise rock up and line up.
Do tell dear Belly Rumbles reader, are you a Peking duck fan? Where's the best Peking duck you have ever eaten?
Sara xxx