When I visited New York, I managed to fit in a visit to Momofuku's Ssam Bar, but a visit to the Milk Bar was not on the cards. Unfortunately there is only so much you can do in a limited time. Having read so much about their crack pie, I decided to do the next best thing. Recreate it myself.
As the recipe makes two pies, making them for a tribal get together to celebrate my father-in-law's birthday seemed a good idea. We also had suckling pig on a spit, but more about that another time.
At first you may find this recipe a little daunting, as you have to make the biscuits for the pie base. My suggestion, make them a day or two before and store in an air tight container. Then you will find the final steps of making the pie very easy and quite quick.
What did I think of the pie? Did it live up to its addictive 'crack' namesake? Considering I have never had crack, and from what I know, no, the pie would not have the same addictive qualities. I don't feel the need to eat it three times a day, nor rob a liquor store to get my hands on some. Saying that, it is seriously good! A slice of this sweet, buttery, gooey pie, is not enough. It's been a few months now since I baked the Crack Pie, and cravings bake one again are starting to become stronger and stronger. All I can say, once you have made it, you will want to make it again.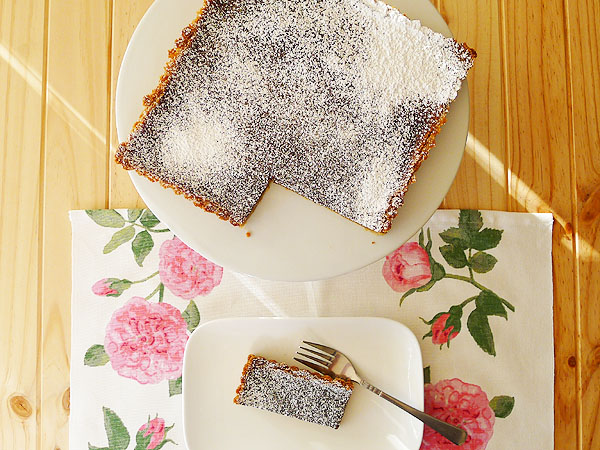 Momofuku Milk Bar's Crack Pie
Makes 2 pies, 6-8 servings each
Cooking time: 1 ½ hours + cooling & chilling times
Note: Adapted from Momofuku. You will need 2 (25cm/10 inch) pie tins, with a loose base.
Printable Recipe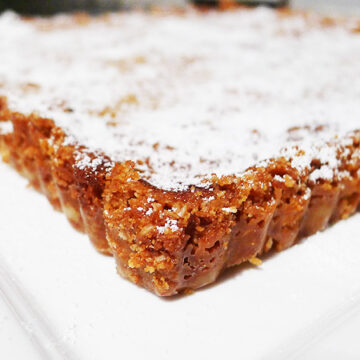 Momofuku Milk Bar's Crack Pie
Ingredients
Crumbled cookie for crust

¼

cup

butter

1 ½

tablespoon

brown sugar

⅛

teaspoon

salt

1 ½

cups

caster sugar

¾

cup

light brown sugar

level & loose

¼

teaspoon

salt

⅓

cup

+ 1 teaspoon milk powder

1

cup

butter

melted

¾

cup

+2 tablspoons heavy cream

1

teaspoon

vanilla extract

8

egg yolks

2

prepared crusts

Powdered sugar

garnish
Instructions
Combine the crumbled cookie, butter, brown sugar and salt in a food processor and pulse until evenly combined and blended (a little of the mixture clumped between your fingers should hold together). Divide the crust between the two pie tins. Press the crust into each shell to form a thin, even layer along the bottom and sides of the tins. Set the prepared crusts aside while you prepare the filling.

Heat the oven to 180 degrees C.

In a large bowl, whisk together the sugar, brown sugar, salt and milk powder. Whisk in the melted butter, then whisk in the heavy cream and vanilla.

Gently whisk in the egg yolks, being careful not to add too much air.

Divide the filling evenly between the 2 prepared pie shells.

Bake the pies, one at a time, for 15 minutes, then reduce the heat to 160 degrees C and bake until the filling is slightly wobbly and golden brown, about 10 minutes. Remove the pies and cool on a rack.

Refrigerate the cooled pies until well chilled. The pies are meant to be served cold, and the filling will be gooey. Dust with powdered sugar before serving.
Measurement Notes
All measurements are Australian metric standard. All measures are level, and cups are lightly packed unless specified. 1 teaspoon = 5ml / 1 tablespoon = 20mls / 1 cup = 250ml /4 teaspoons = 1 tablespoon.
NUTRITIONAL INFORMATION
The recipe's nutritional information is an approximation based on an online calculator. It is meant solely for reference purposes. If you're looking for precise details, be sure to double-check with your own research.
Calories:
649
kcal
Carbohydrates:
63
g
Protein:
5
g
Fat:
43
g
Saturated Fat:
25
g
Cholesterol:
307
mg
Sodium:
405
mg
Potassium:
141
mg
Sugar:
61
g
Vitamin A:
1525
IU
Vitamin C:
0.6
mg
Calcium:
114
mg
Iron:
0.7
mg
Did You Make This Recipe?
I do a happy dance when people share how they went. Tag me on Instagram or Twitter @bellyrumbles & #bellyrumbles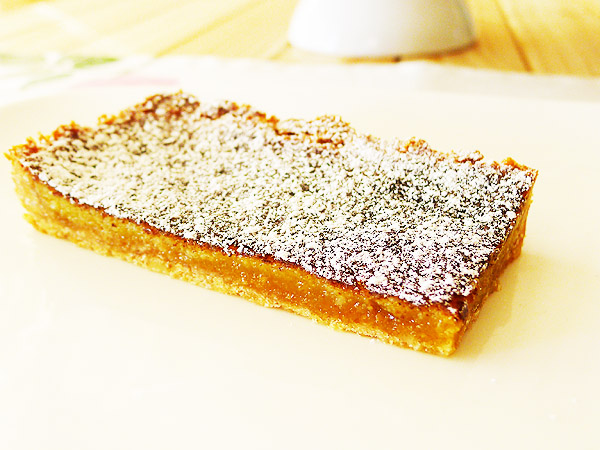 Do tell dear Belly Rumbles' reader, do you try to recreate 'famous' recipes from establishments you aren't able to visit?
Sara xxx