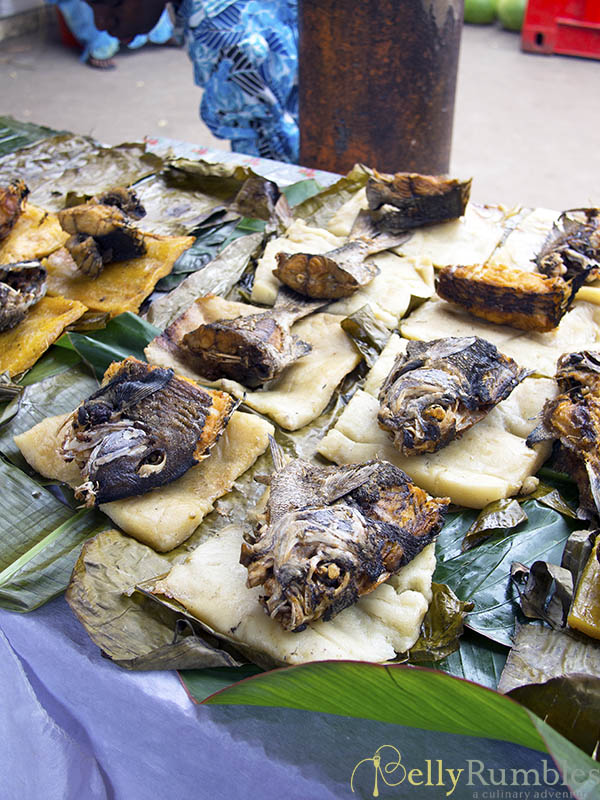 A short stroll along the waterfront from the Grand Hotel and Casino you will find the Port Vila fruit and vegetable markets. The markets are open six days a week, 24 hours a day, Monday to Saturday.
The markets stalls are run by local woman from villages around the island. For a two week period they will leave their families and set up shop in the market. Living at the markets, sleeping at their stalls. All the villages share the market space, and take turns in selling their produce. The income is a, if not the, major source for their families.
The market is housed in a large open walled building, which lets the breezes flow through. Produce is piled high on tables and along the middle of the aisles. Take care not to trip over yams, coconuts and the likes, as I saw one fruit gazing tourist do.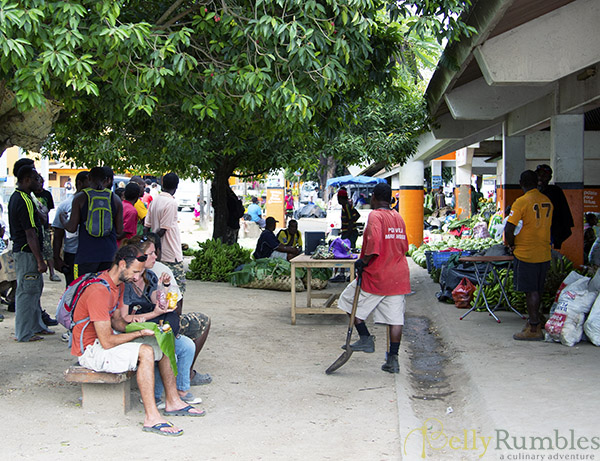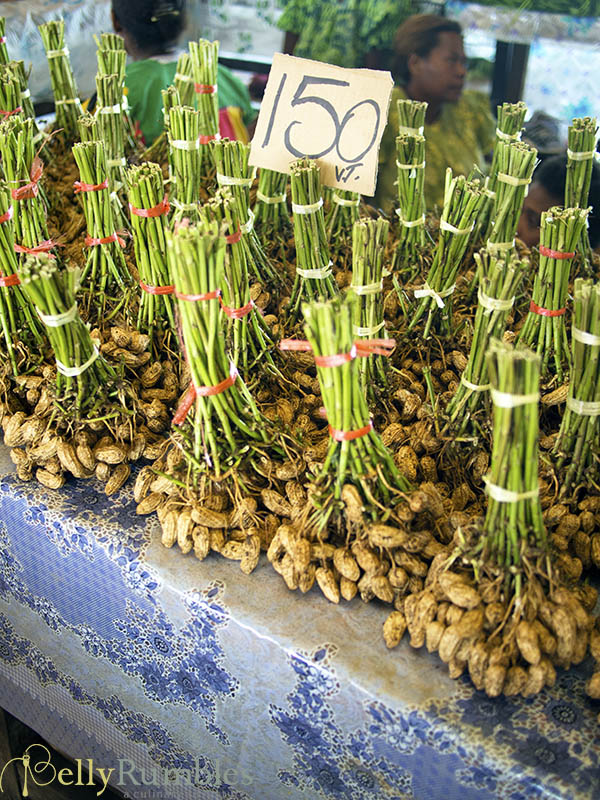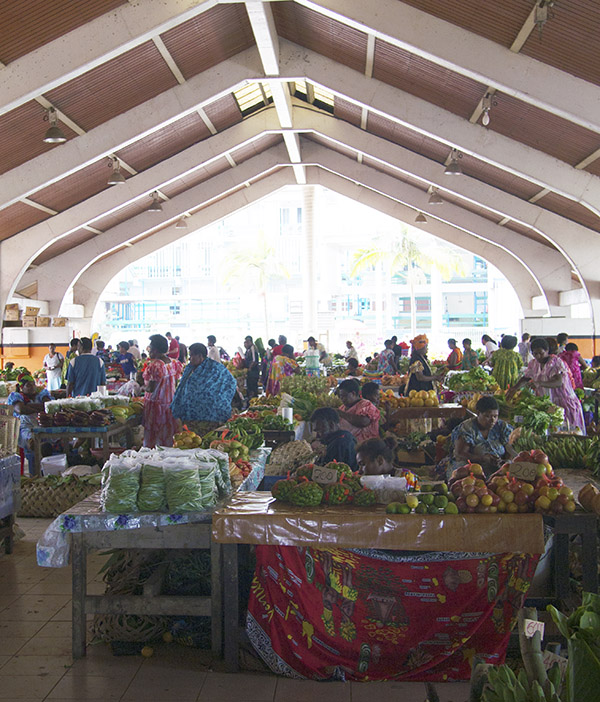 All the produce is fresh and seasonal. Depending on what time of year you visit you will find items from small green hot chilies through to staples such as yam, taro and paw paw.
When I visited there was quite a vast selection on offer and in addition to the above stumbled upon peanuts, beans, oranges, grapefruit, daikon, lettuce, herbs, eggplant, bananas and much more.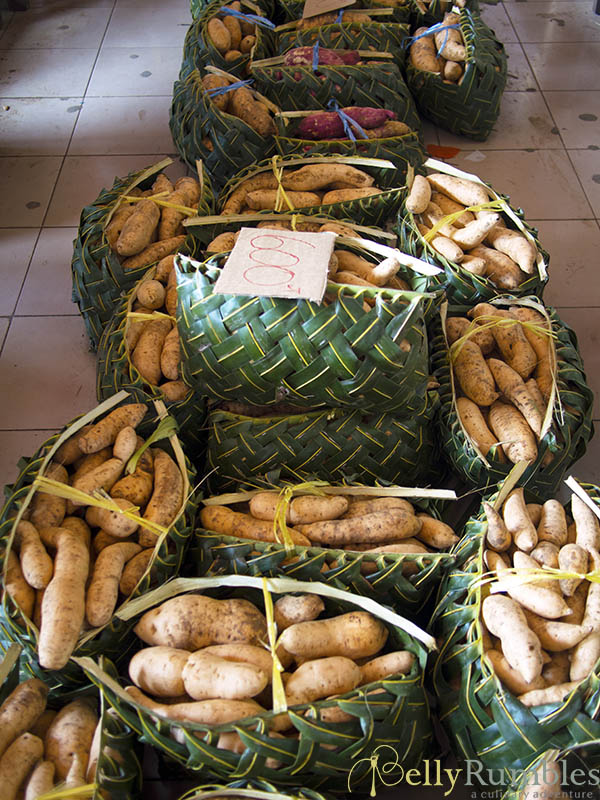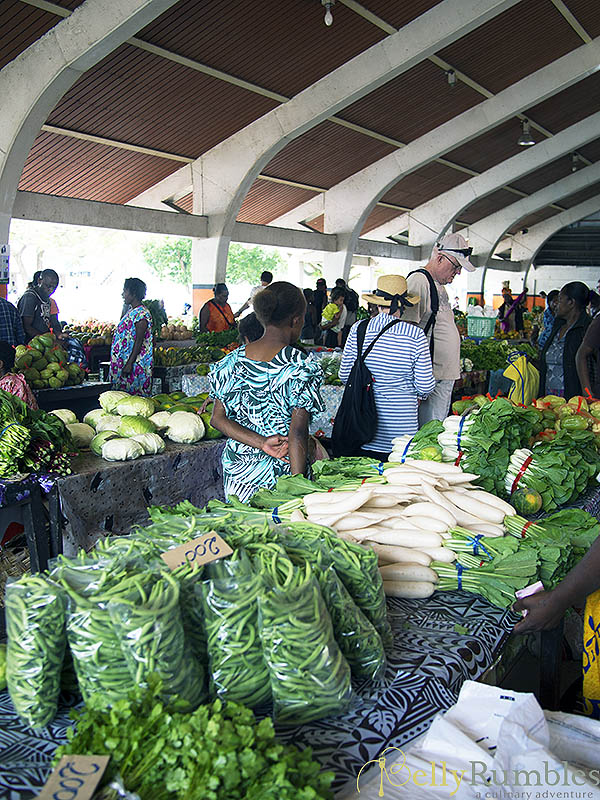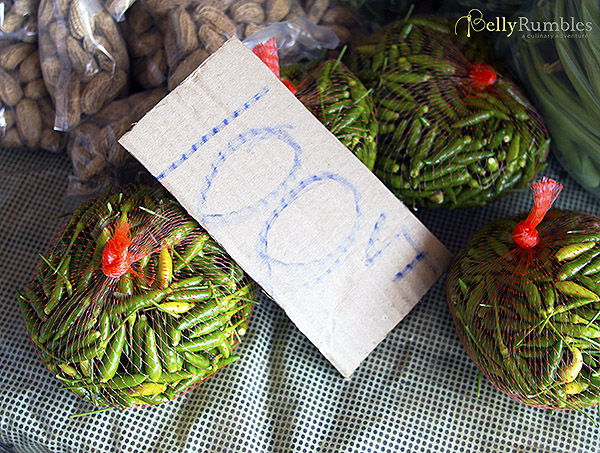 Do keep an eye out for the raspberries when you are there. They're seasonal and have a limited season. I visited in July and I believe the season runs for a couple of months. Unlike the raspberries you come across in Australia, these are smaller and sweeter, with a hint of the tropics. I would say they even have a hint of lime. If you see them, buy them. I did and munched my way merrily through a big bag for 400 Vat (roughly A$4).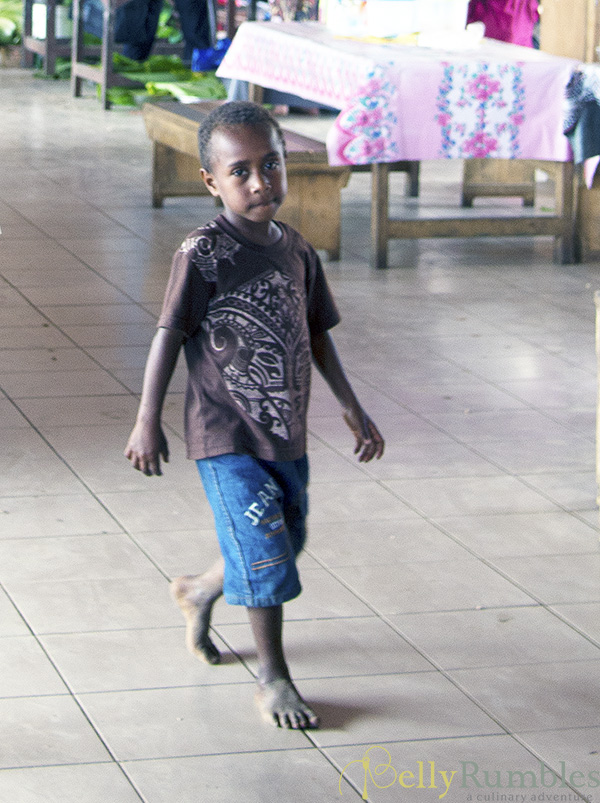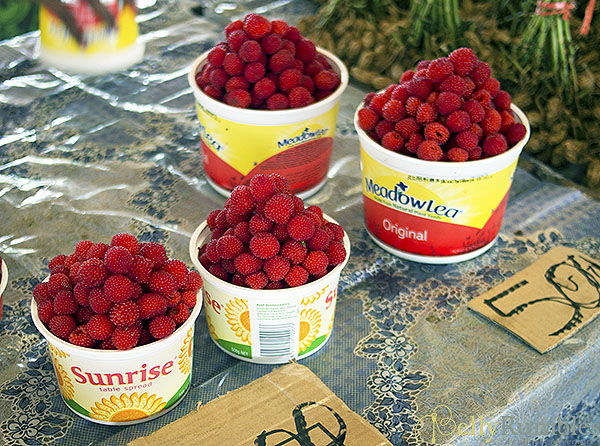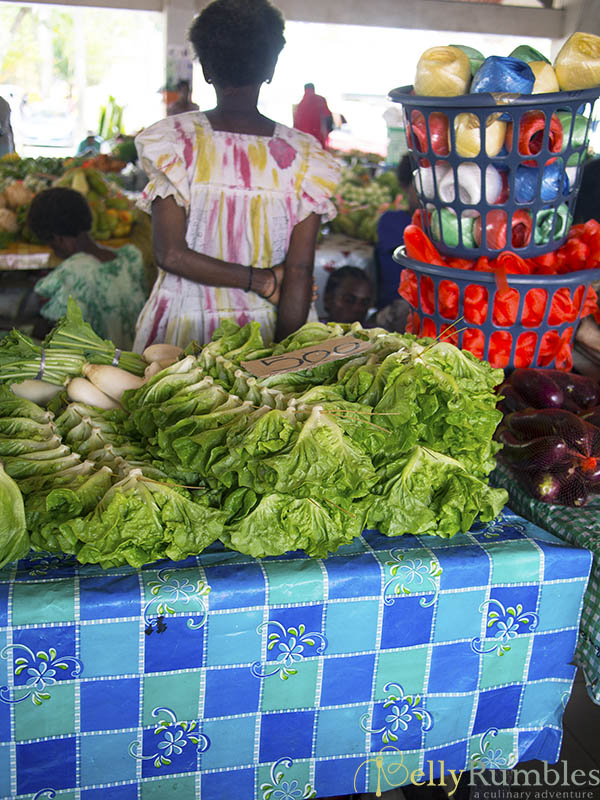 Don't haggle or barter, it's just not done. Prices are clearly displayed on the produce and that is what you pay. The women are lovely and helpful, and also don't push you to buy. Take your time, wander around and have a chat to the locals.
Once you have finished wandering around the fresh fruit and vegetables, and an appetite has been worked up, head to the food stalls. For a very reasonable price you will find all sorts of delicious dishes.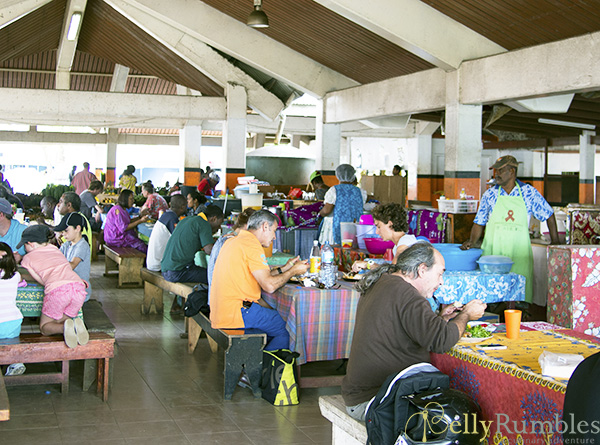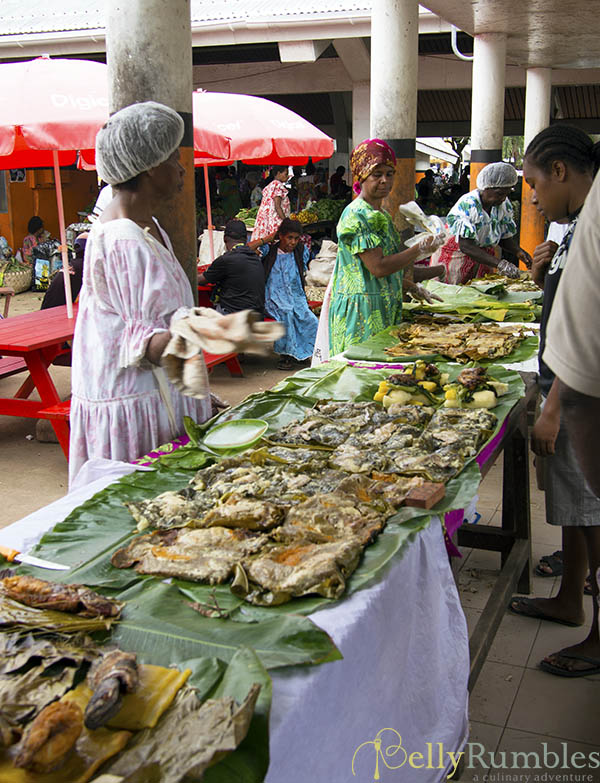 Lap lap has a big presence in the markets, as a staple, it is basically the national dish of Vanuatu. Taro paste is spread out on a large green banana leaf and then topped with various toppings. I saw a lot of fish heads on my visit, but you will also find cabbage, chicken wings, really anything.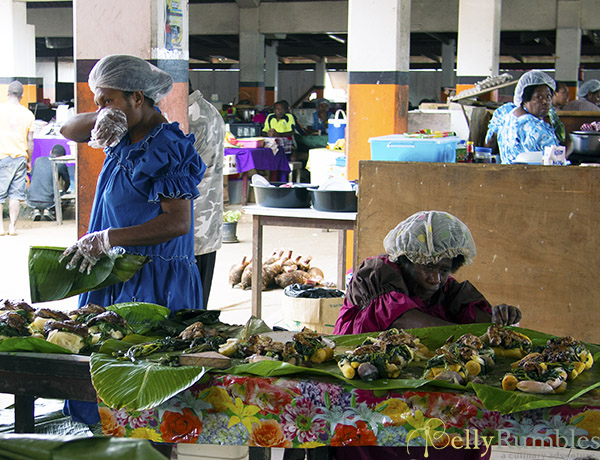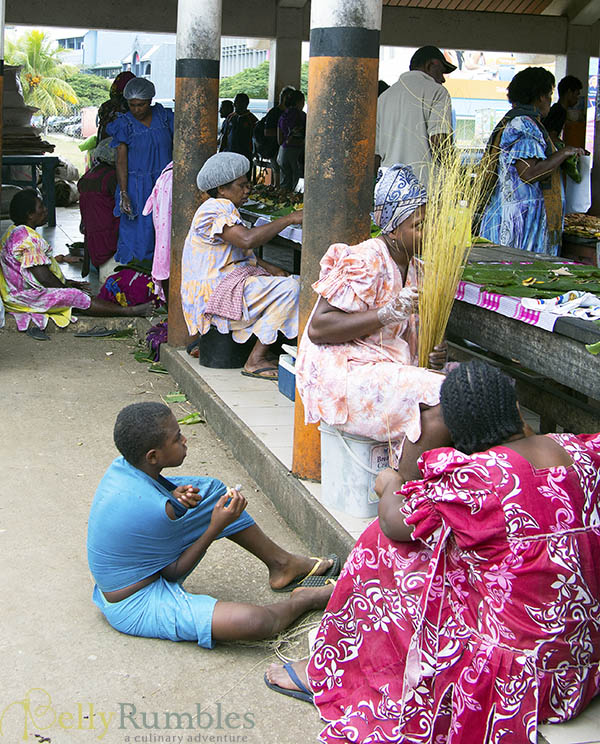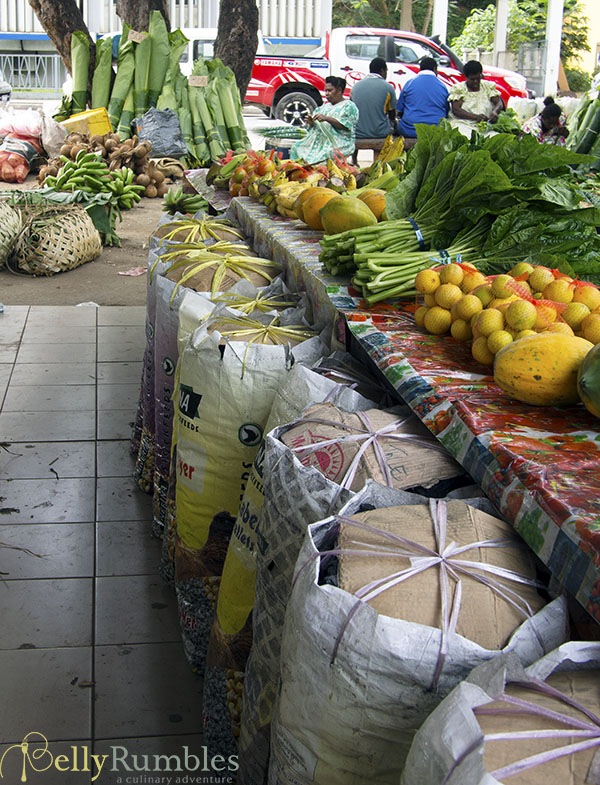 Beside the ladies selling lap lap you will also see a collection of food stalls all selling different dishes. Average prices seemed to be 350 Vat. Grab a plate of food (usually meat or fish with gravy and rice), plonk yourself at one of the communal tables and enjoy the comings and goings of the markets.
The Port Vila fruit and vegetable markets are a must visit when in town, just remember they are closed on Sundays.
Sara xxx