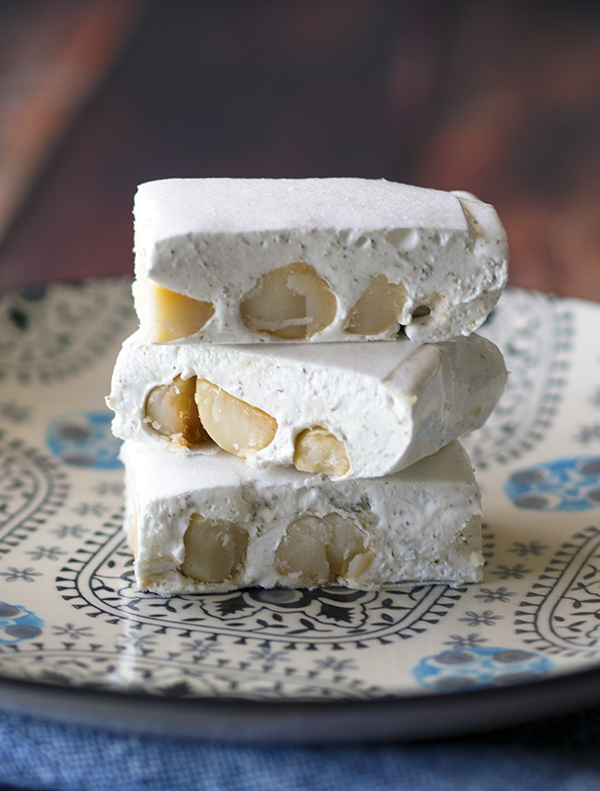 This would have to be the ultimate nougat recipe. Easy, foolproof and full of Australian native flavours. And yes, this recipe marks the end of The Sweet Swap for 2014. It's reveal day after all, well not in the USA where I am at the moment, but it sureis in Aus.
I want to thank everyone that participated this year. You are all amazing lovely people, with a sense of blogger community pride. I loved watching your journeys through social media. Thanks to everyone that shared via #thesweetswap hash tag. If you didn't, make sure you share you reveal post using it.
A massive hug and smooch on the cheek goes out to my co-host Amanda. You guys had no idea what went on behind the scenes. Both of us have had an unusually busy year and were juggling The Sweet Swap ball between us. Sadly sometimes dropping the ball in getting back to people that emailed us, and our social media sharing was a little lacking. We both thank you for your patience.
I have had a lot on my plate and my window to make my sweets for the swap was a two day one. I have been travelling quite a bit lately for both work and Belly Rumbles. In fact it is the day before the reveal and I am typing this up on a flight to Dallas (A very bumpy one Swah!). Was I stressed at all? Err slightly.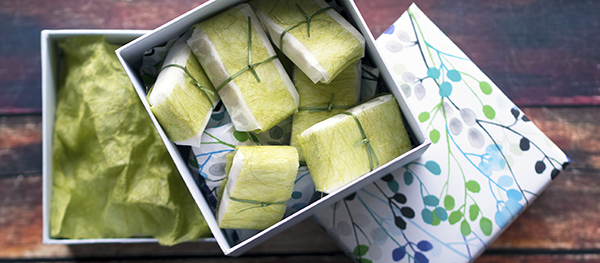 If you were following The Sweet Swap hash tag or you follow my instagram and twitter accounts, you may have seen a picture, which resembled something akin to the blob. My first attempt at this nougat was a complete and utter failure.
In fact it was my second failure in trying to get something edible out to my matches. The first fail was a coconut milk caramel. Tasted great, but just wasn't setting.
The nougat fail was my own fault. It seems I can't read recipes properly when in a fluster. Hot off the heels of the caramel fail I decided to try nougat for the first time.
Guess what guys, you can't substitute corn syrup for glucose. It wasn't an intentional substitute, I had been using corn syrup in the caramel recipe. When I read the nougat recipe, I saw glucose, read glucose but the brain went CORN SYRUP!
Your nougat won't set. It will be the ultimate soft nougat which wont travel at all. I had cut it into squares successfully, but over a couple of hours it just melded together in a gloopy lump. It really had a life force of its own. Tasted great, but not suitable to send out to my matches.
After the light bulb moment of recognition on how I had stuffed up the recipe, I whipped up another batch really easily.
I am now a homemade nougat convert. I may even start my own homemade nougat lovers club. No, actually I won't, I have enough on my plate.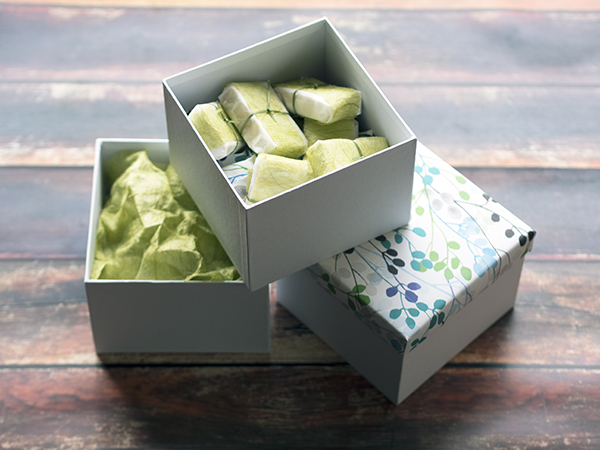 Lemon Myrtle & Macadamia Nougat
The easiest nougat you will ever make.
Print
Ingredients
4

sheets of edible rice paper

around 15.5 x 23.5cm each

200

grams

macadamia nuts

560

grams

white sugar

500

grams

glucose syrup

½

cup

water

2

egg whites

1

tablespoon

ground lemon myrtle
Instructions
Place macadamia nuts on a baking tray lined with baking paper. Roast in a pre-heated 180 deg C oven for around 10 minutes, or until brown. Be careful not to burn them or they will be bitter. Chop sparingly and set aside to cool.

Line an 18 x 23cm slice tin with baking paper. Cut two rice paper sheets to fit the bottom of the tin. Cut the other two rice paper sheets the same size and set aside. They will be placed on top of your nougat.

Place sugar, glucose and water in a medium saucepan. Place saucepan over a medium low head and stir, using a wooden spoon, until sugar has dissolved. This will take around 10 minutes.

Fill your kitchen sink with 10cm of gold water. You will need this when you eventually take your nougat off the boil.

Once the sugar has dissolved place your candy thermometer on the side of your saucepan. Increase the heat to high and bring your sugar mixture to the boil. Boil without stirring until your syrup reaches 120 deg C.

When you mixture reaches 120 deg C. Using an electric stand mixer with a whisk attachment whisk your eggs whites until firm peaks form. Add your lemon myrtle at the end of whisking, so it is just incorporated into the egg whites.

When your sugar syrup reaches 145 deg C remove from the heat and place your saucepan in the sink with the cold water. Leave for a few seconds until the bubbles subside. This stops the temperature of the sugar syrup increasing.

Once the bubbles have subsided start up your stand mixer again to a medium speed. Slowly and carefully pour the hot syrup into the egg white mixture. Try to avoid pouring it down the side of the bowl.

Once you have pour all your syrup into the bowl, turn the speed up on your mixer and continue to mix for around another 3 minutes, until the mixture is thick and glossy.

Stir through macadamia nuts and then pour out your mixture into your slice tin. Spread the mixture evenly and then put your reserved rice paper on top. Give it a little smooth over.

Leave to complete cool on your kitchen counter or a dry cool space. This will take around 6 hours.

When cool use a lightly greased sharp knife (I use coconut oil spray) to cut into desired sized pieces.

Place nougat in an airtight container with a piece of baking paper separating the layers. Alternatively wrap each piece individually in baking paper.

Nougat will keep 1 -2 weeks in a cool dry place or up to 3 weeks in the fridge.
Nutrition Facts
Lemon Myrtle & Macadamia Nougat
Amount Per Serving
Calories 219
Calories from Fat 54
% Daily Value*
Total Fat 6g 9%
Sodium 36mg 2%
Potassium 37mg 1%
Total Carbohydrates 42g 14%
Protein 1g 2%
* Percent Daily Values are based on a 2000 calorie diet.
Glucose Tip: Soften glucose in the microwave (remove lid before microwaving). Use a wet spoon to remove glucose from the jar. Glucose is used to help prevent crystalisation and helps giving the nougat the correct texture.
Who did I get my sweet treats from?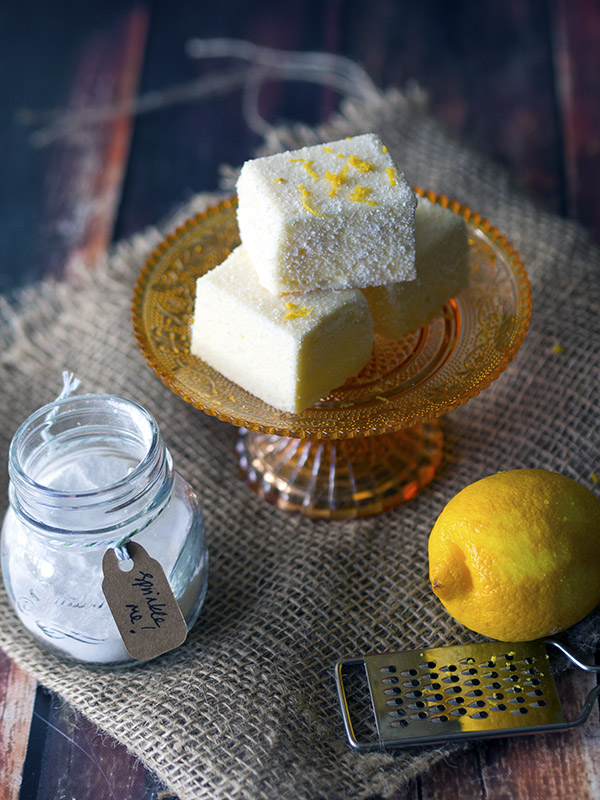 I received fantastic passionfruit marshmallows from Sally of Simmer and Boyle. They came with a lemon, the cutest mini grater and sherbet. Head over to Sally's blog for the recipe, they were amazing.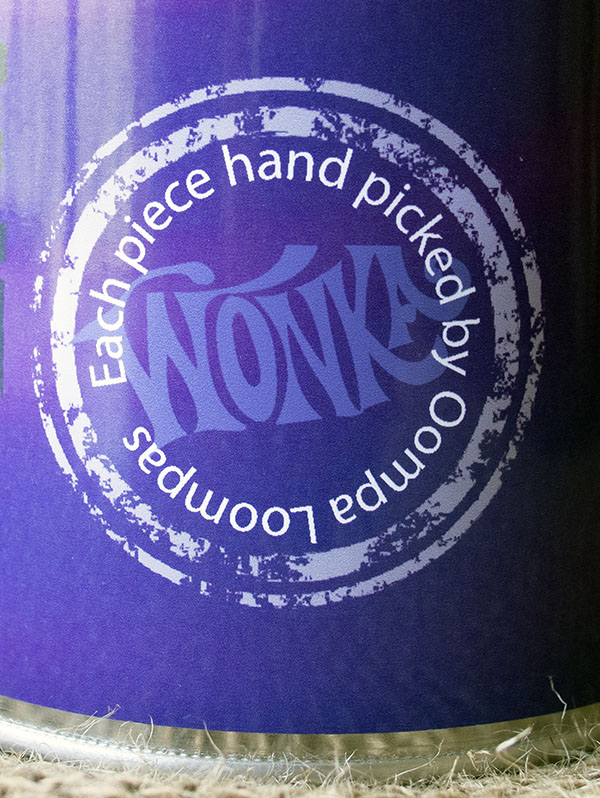 Who doesn't love a little Willy Wonka in their lives? Bryton of Food in Literature may have cheated, my tin of delicious fudge stated that it was made by Oompa-Loompas, I'm sure that's against the rules Bry. Now, I wasn't going to do Bryn a disservice by putting picture up of the fudge. You see, it was sitting down at the post office while I was away and melted into one delicious ball of fudgy goodness. Head over to Bryton's blog to see how good they look and the recipe.
My third match, I didn't receive it sadly. I am a little bummed about that, but I am sure Josh will enjoy it while I am away if it turns up this week.
I can't wait to read about what everyone else made for The Sweet Swap. If you participated be sure to add your post to the link up. If you didn't head over to The Sweet Swap for a sugar overload and a swag of delicious recipes from Aussie bloggers.
Didn't participate this year, but would like to next time? Make sure you sign up to The Sweet Swap newsletter. We only use your email address to let you know about the event and for no other reason whatsoever.
Would you like to join The Sweet Swap team? Amanda and I would love some help in organizing this amazing event. Please drop us an email at, we are keen to hear from past participants that would like to see this event continue and grow.
Sara xxx