Review of Qantas business class Sydney to Singapore. Flight QF005 on the Airbus A330-200.
Considering I fly Qantas frequently I am a little shocked that this is the first flight review I have written about them. You have surely seen the new Qantas business class suites advertised, don't they look amazing!
Qantas is slowly refurbishing their fleet with the new business class suites, and unfortunately, this flight wasn't one of them.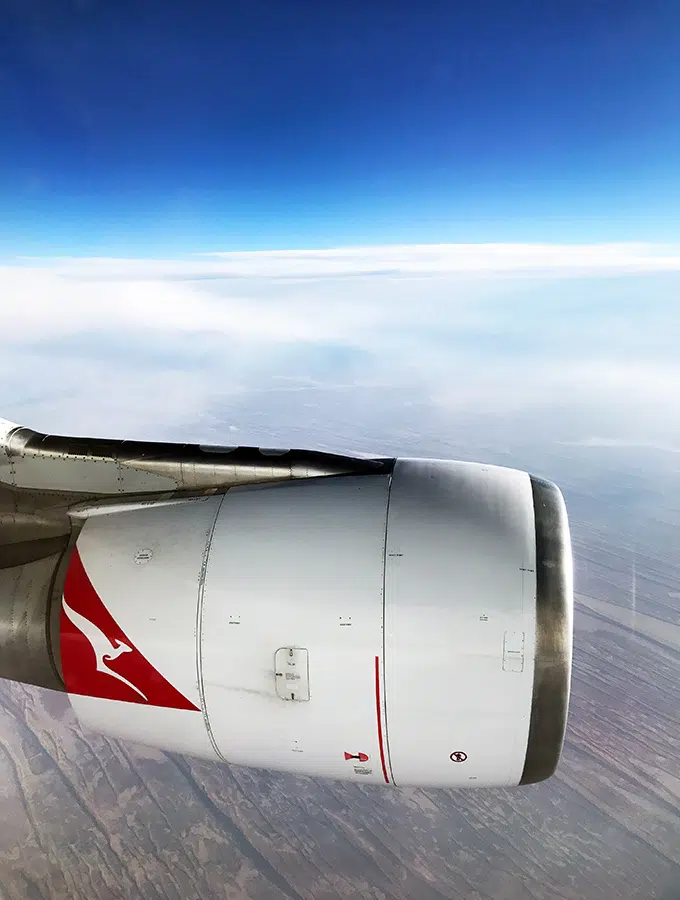 Flight: QF005
Loyalty Scheme: Qantas & Oneworld frequent-flyer programs
Flight Duration: 8 hours 10 minutes
Aircraft: Airbus A330-200
Cabin: Business (J)
Seat: 6A
Qantas Business Class Sydney to Singapore Check-In
QANTAS has a dedicated check-in for their business class passengers. If you are a QANTAS Platinum, Platinum One Frequent Flyer or hold Oneworld Emerald status you will be able to check in via the first class counters.
We are here early and check in is courteous and speedy. We are given express passes to help get us through immigration and security quickly.
As I have found the past few times the express passes didn't really make much difference, as there weren't any lines. But these passes are a Godsend when it is busy!
Qantas Business Class & First Class Lounge Sydney
There is a lounge for you to enjoy before your flight if you are in business class. You will also have access to the lounge if you are a Qantas Club Member, hold QANTAS Frequent Flyer Gold Status or Oneworld Sapphire.
Instead, we head to the Qantas First Class Lounge that is accessible no matter what class you are flying if you are Platinum, Platinum One or Oneworld Emerald.
Yes, it is a lot fancier than the Qantas Business Lounge and a lot quieter.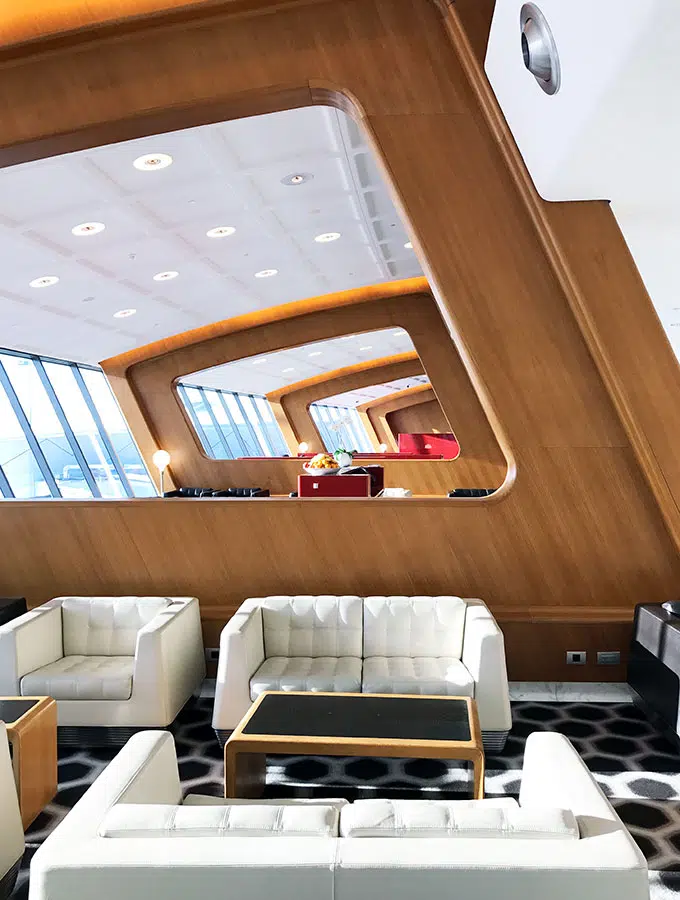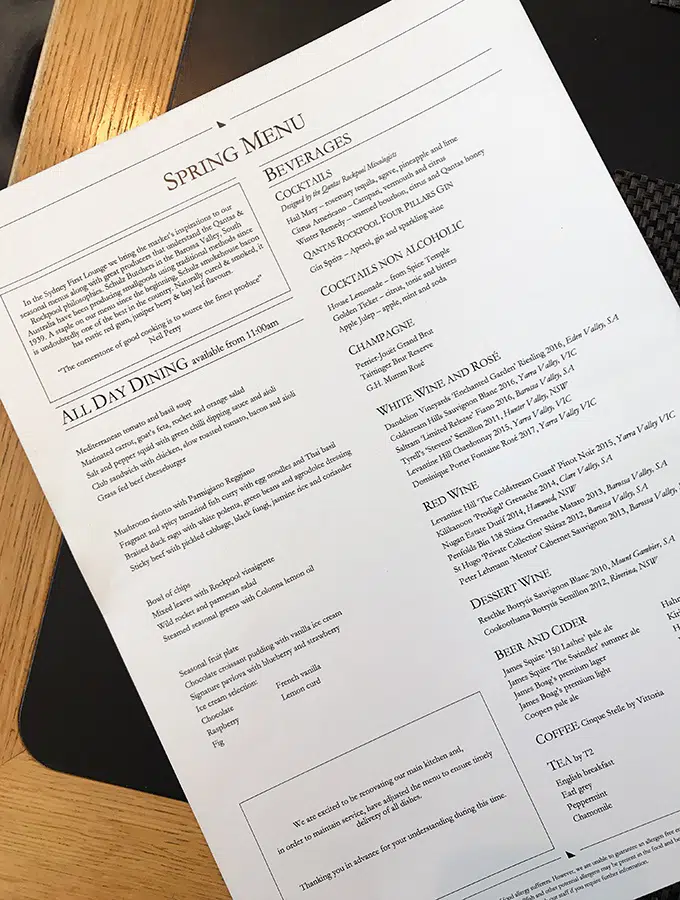 Unlike the Business Lounge, the First Lounge has a dining area with table service. Neil Perry is the celebrity chef behind Qantas dining, and I find the seasonal menu always well put together. The food is always better than what is served on the plane, even if travelling business (I'm yet to travel first and probably never will). So, of course, we order a pre-flight dinner.
Boarding Qantas Business Class Sydney to Singapore QF005
When boarding we are greeted warmly and guided to our seats. Once seated and settled we are offered a pre-flight drink. After having a few glasses of Champagne in the lounge I decide on another glass of bubbles. There is also a choice of water or juice. Every flight should start with a glass of sparkles!
Qantas A300-200 Business Class Seat
There are 36 seats in business class, in a 2-2-2 layout across two cabins. The business class section is split into two with the galley in between. This creates two smaller cabins with 18 seats each.
Not all seats have aisle access and if you have a window seat you will need to jump over the person next to you. On day flights or travelling as a couple, this isn't an issue. But at night with seats laid flat, there is a bit of straddling going on.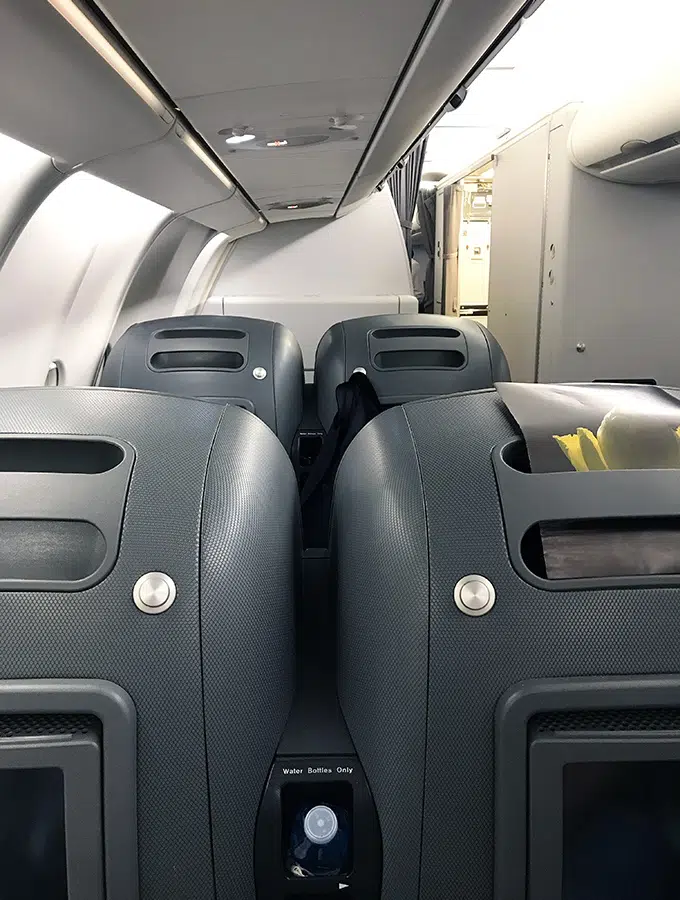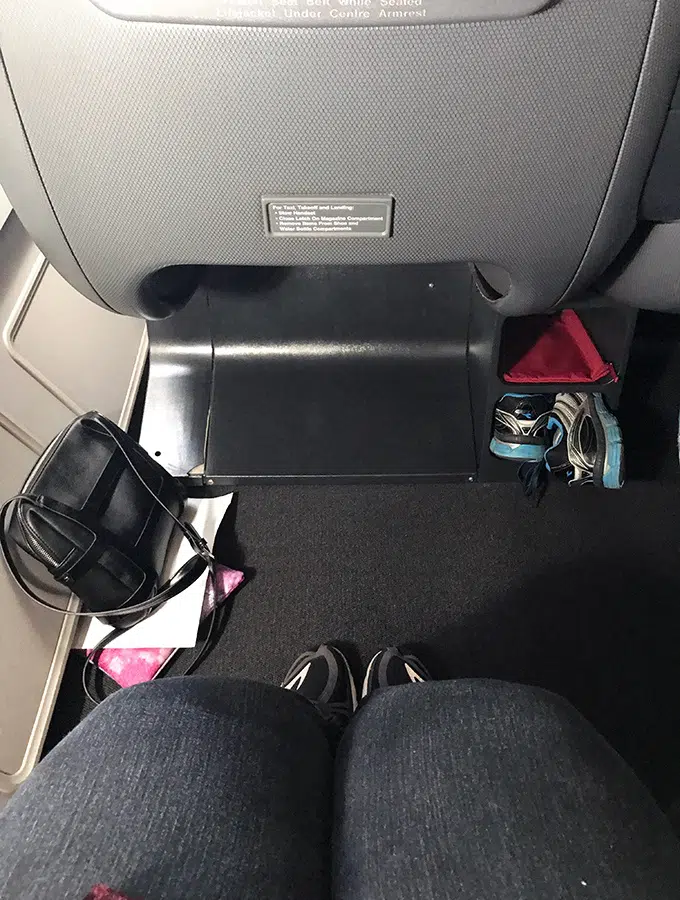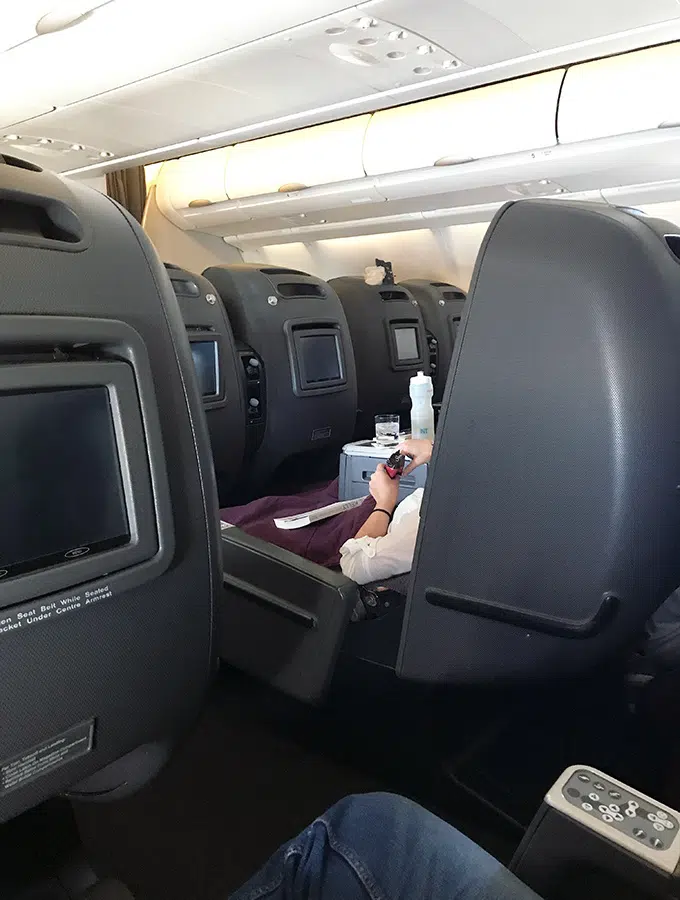 Sadly they are the older than Methuselah pod seats. Thankfully Qantas are slowly ripping these babies out and replacing them with their business class suites.
They are looking old and feeling old. Padding in the seats is on the worn side after years of use.
They are a "flat" bed seat, but they aren't flat horizontally. If you do recline all the way to sleep you will be on an angle. They are the worst business class seats (besides the domestic ones that fly to Bali and some NZ flights that don't fully recline) for overseas travel in the fleet.
But yes, when push comes to shove I will take one of these over economy any day.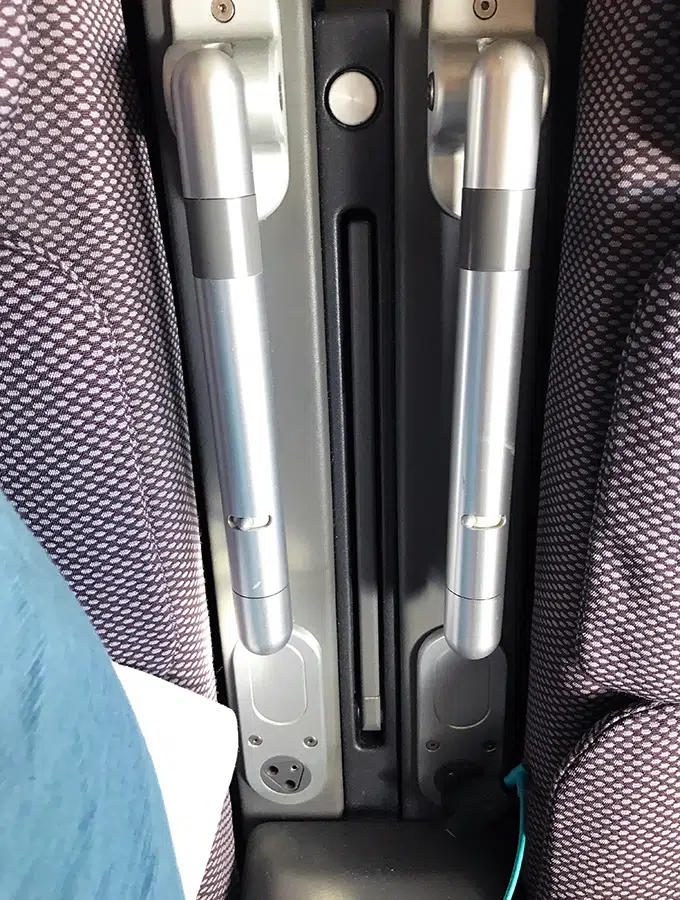 reading lights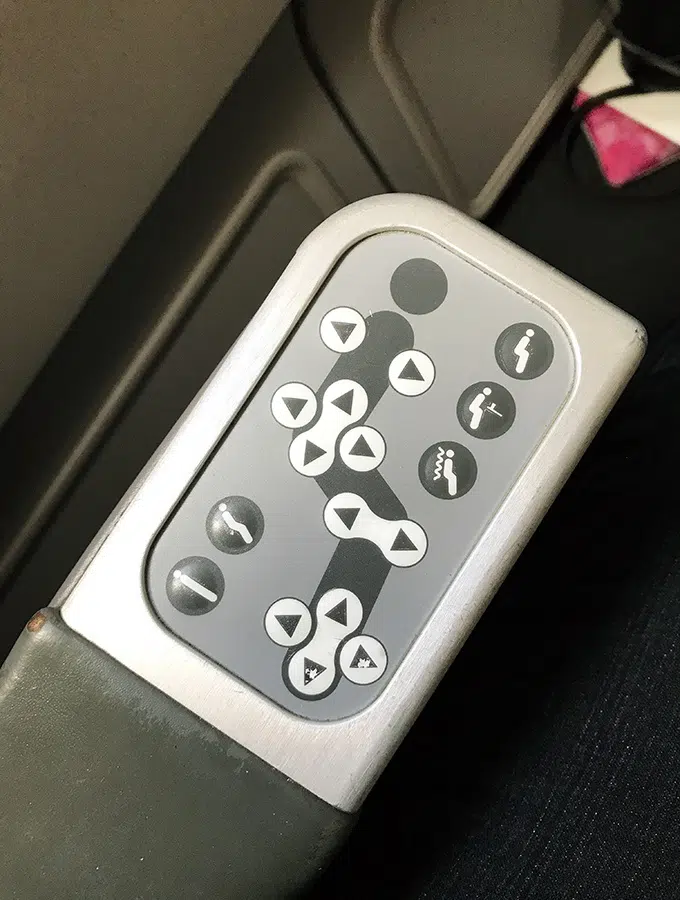 Seat controller, note the massage option 😉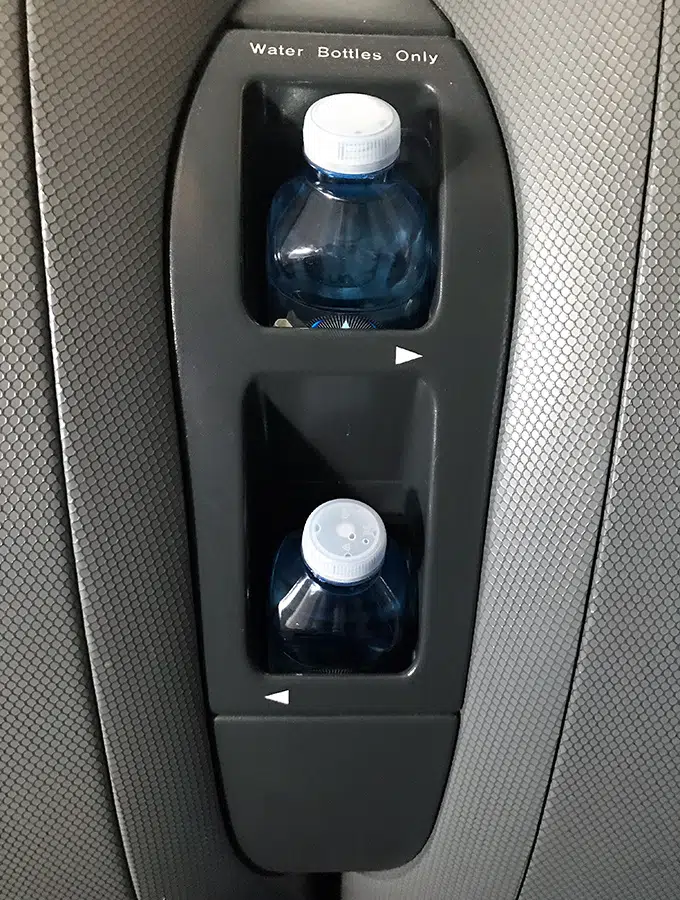 water bottle storage (above) and inflight magazine (below)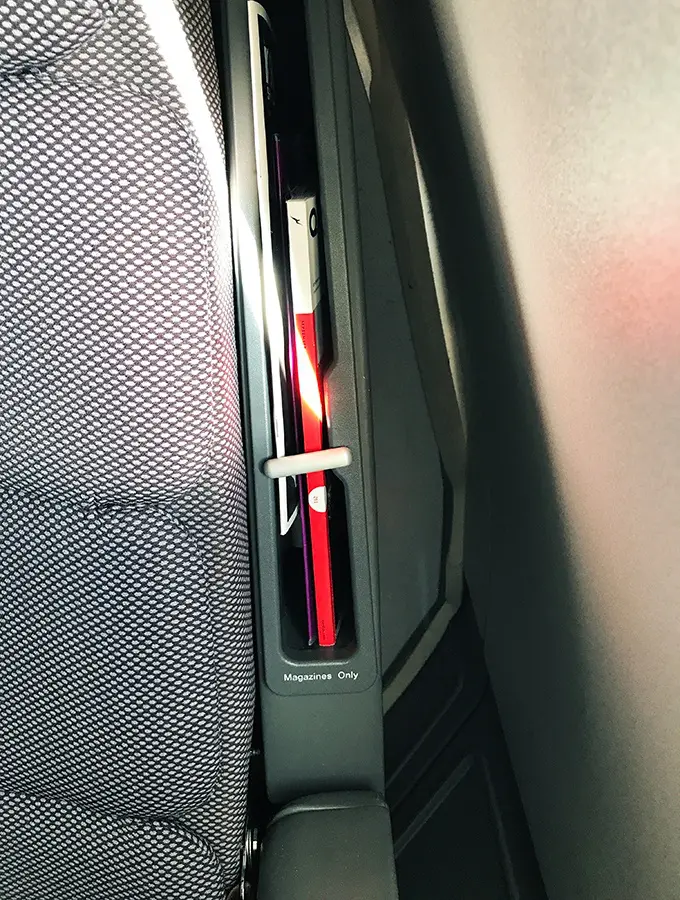 The seats are also a little lacking in storage. There is plenty of storage in the overhead bins, but not many "hidey holes" to store things like iPads, phones, books, reading glasses etc.
Qantas A300-200 Business Class Entertainment Unit
The entertainment screens are small and very dated as well. The same entertainment is offered across the fleet with an okay selection of movies and TV shows, as well as music. Noise cancelling headphones are also supplied.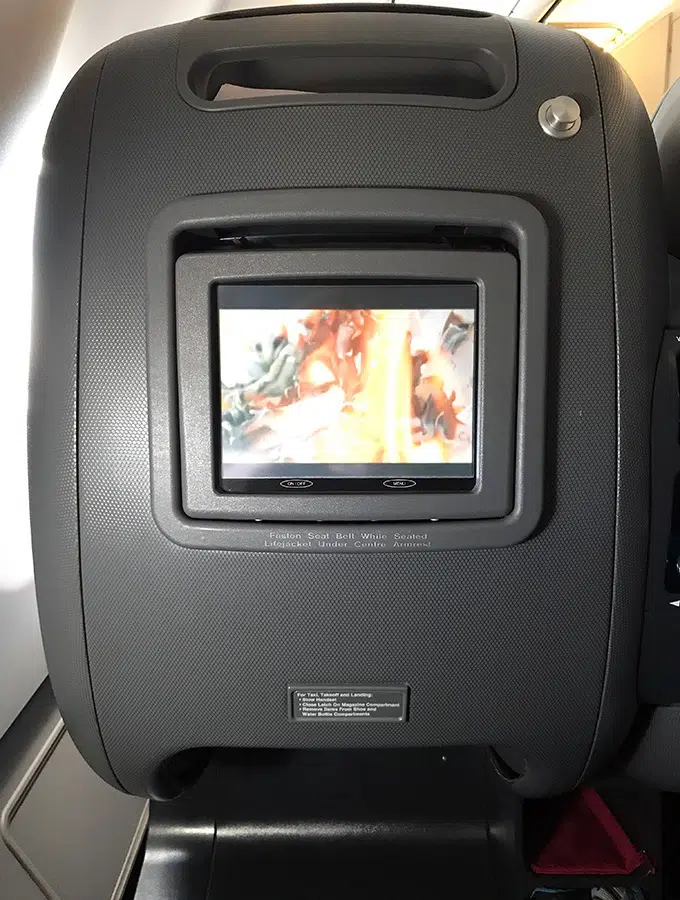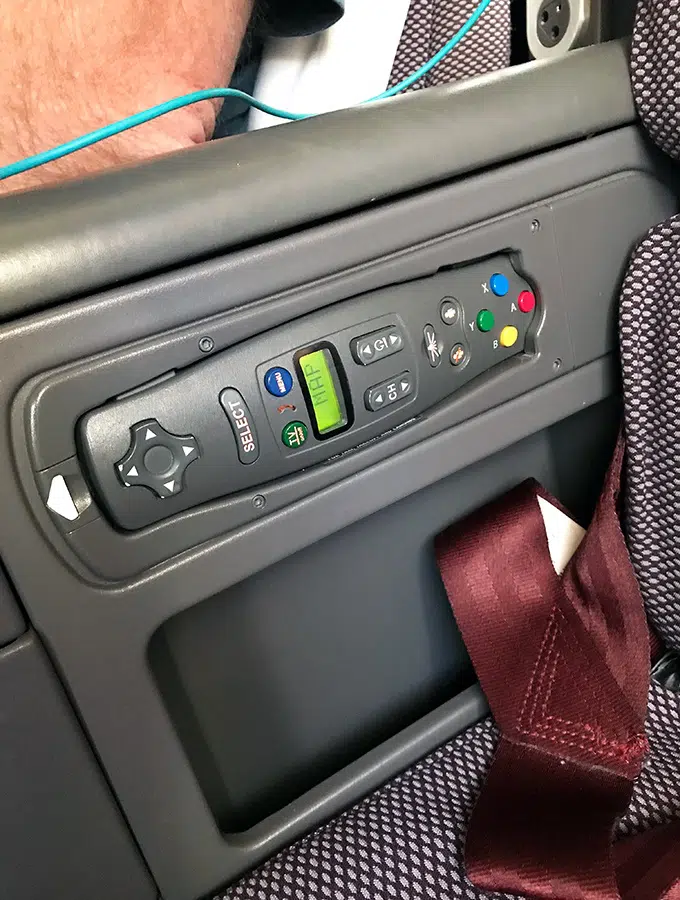 Controller for Entertainment Unit. There is a touchscreen but it is unreliable.
Qantas Business Class Sydney to Singapore Blankets and Amenity Kits
As our flight left Sydney at 4.45pm and arrived in Singapore just before 10pm we didn't sleep nor wished to. Blankets weren't offered, but if you asked they would bring you one. Amenities kits were handed out before take off.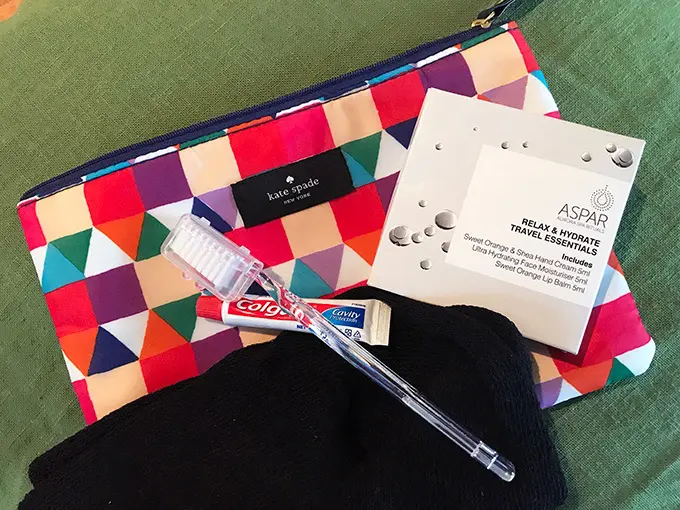 They were Kate Spade amenity bags, male and female versions. They included toothbrush and toothpaste, eye sleep mask (not pictured), socks, Aspar toiletries (hand cream, face moisturizer and lip balm) and earplugs (not pictured).
Qantas Business Class Sydney to Singapore Meals
There were two meals offered on the flight, dinner and a snack before landing. We start with pre-dinner drinks. I rarely drink tomato juice or bloody mary cocktails, but I do on occassion order one when flying. Tomato juice takes on a totally different flavour at altitude.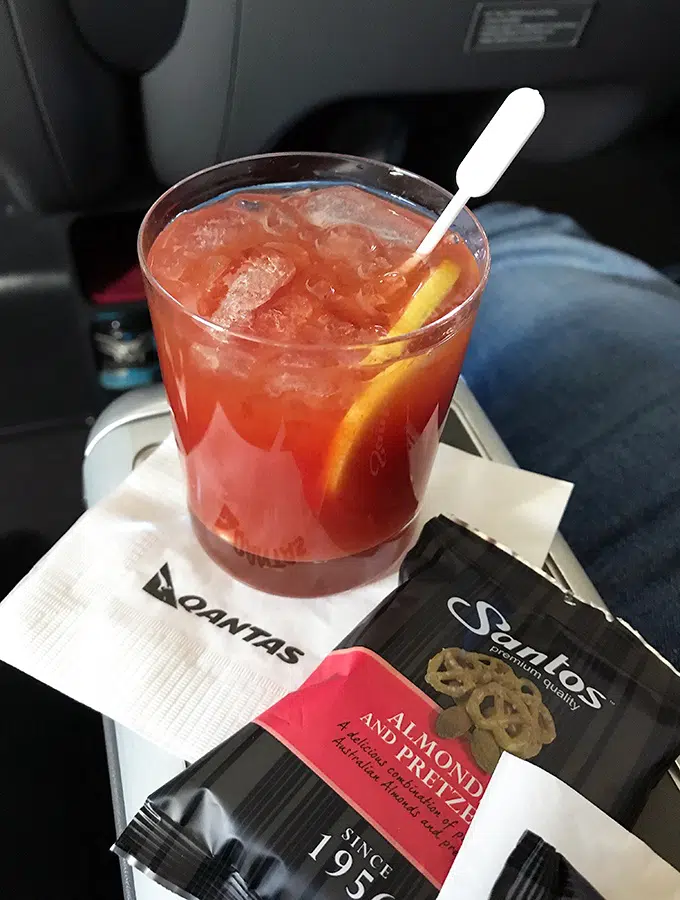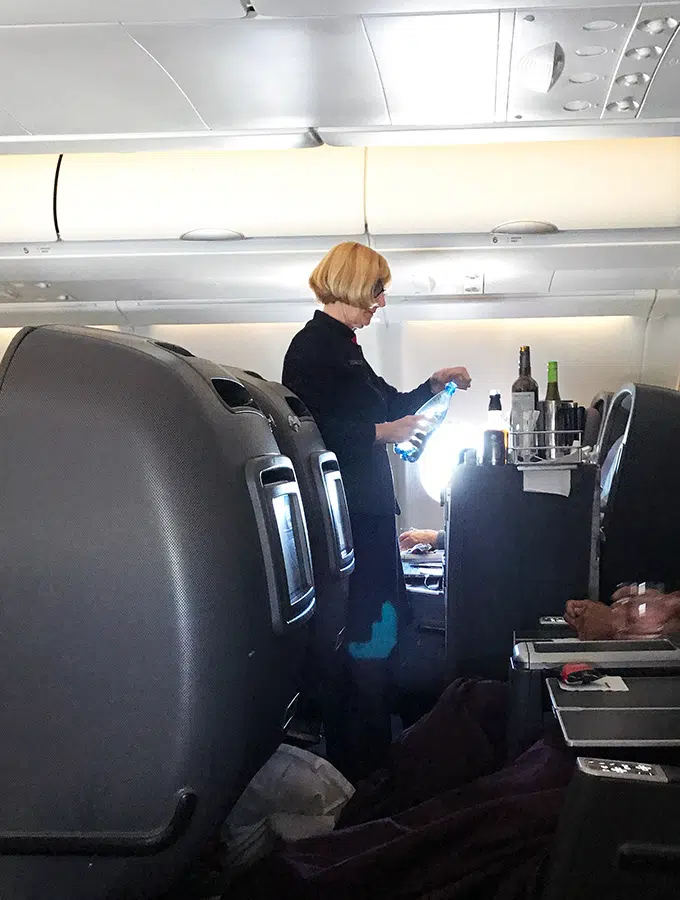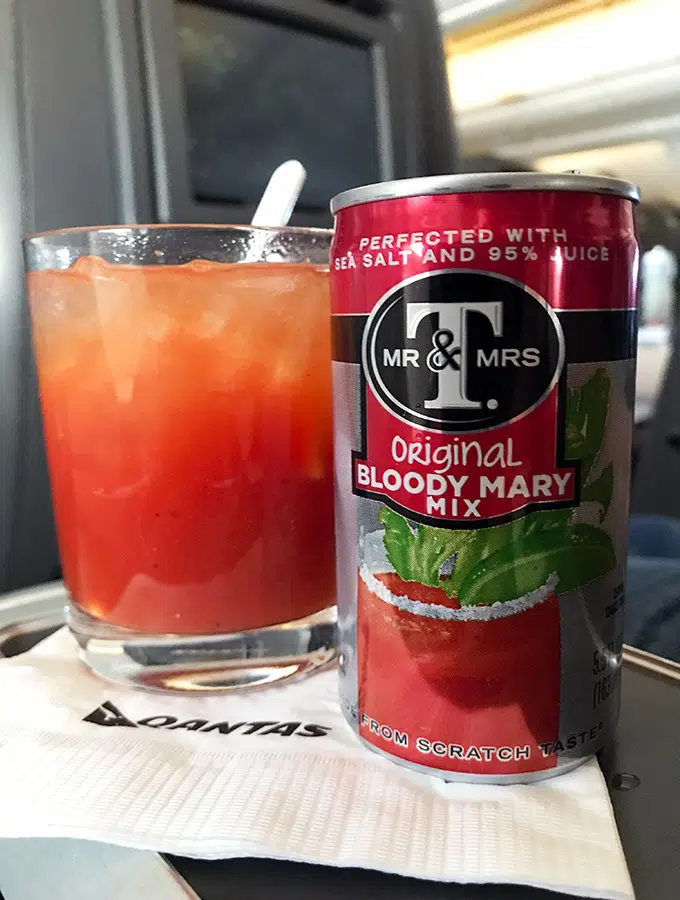 When flying Qantas you have the option of pre-ordering your meal. Sometimes I do and sometimes I don't. There is always an online only menu item and if this looks any good I will order that.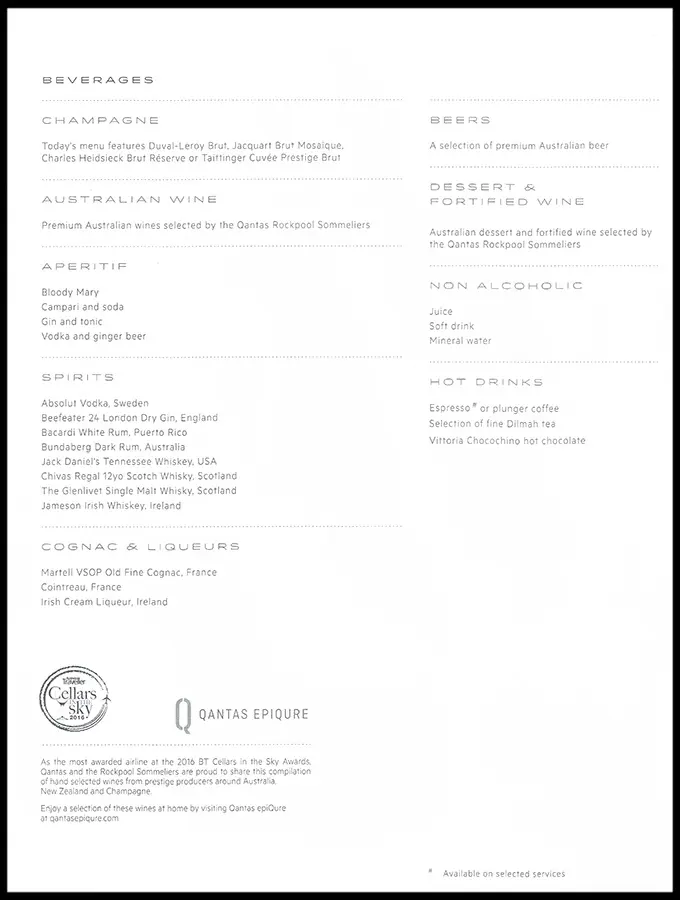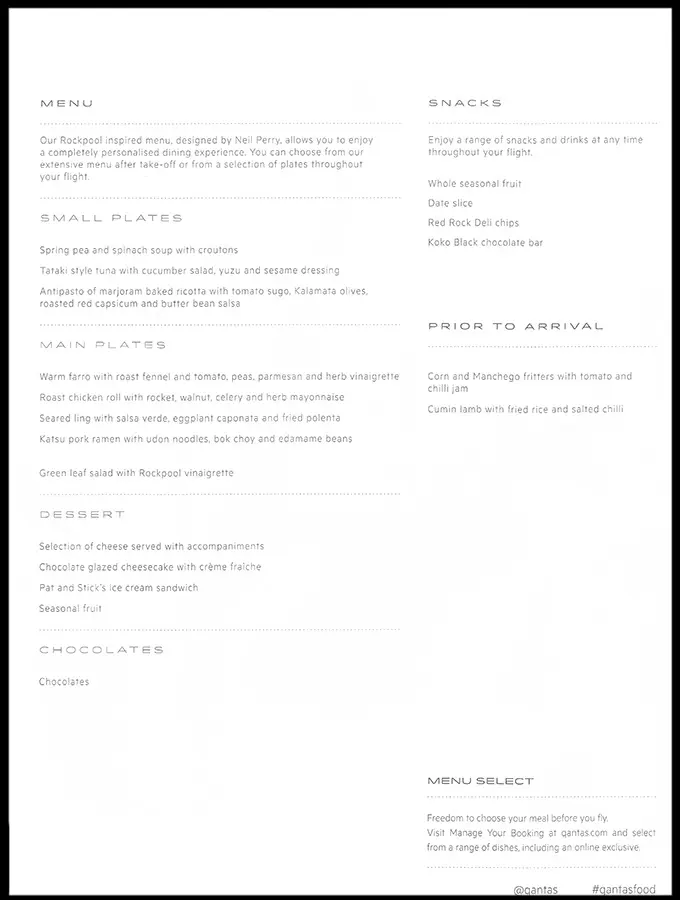 In this case, I did order ahead, but not the online only options as the Tataki Style Tuna sounded quite good. Alongside this bread and salad are served. I love that Qantas serve Pepe Saya butter in business class on all international flights.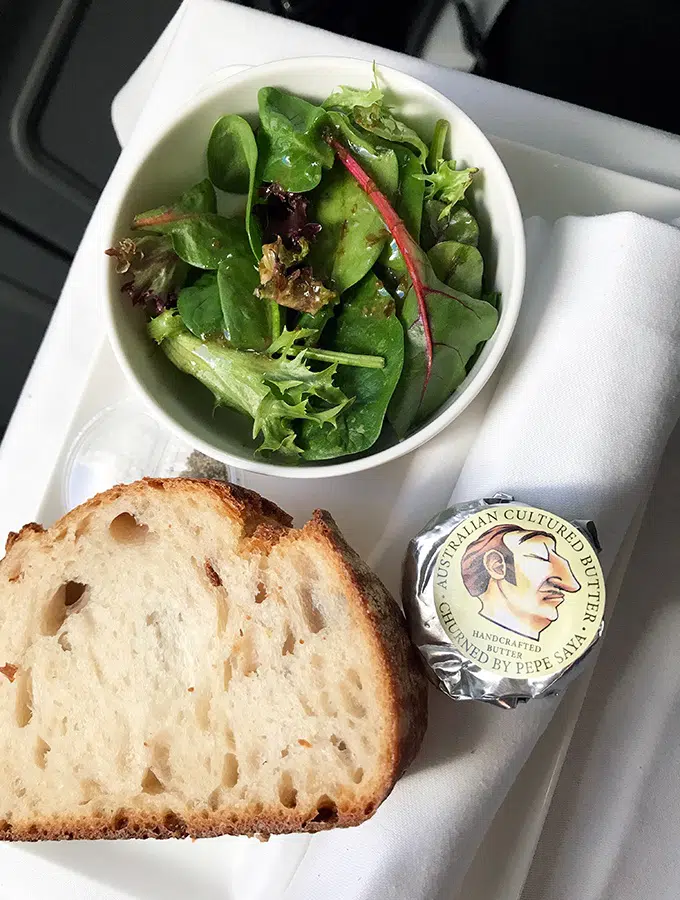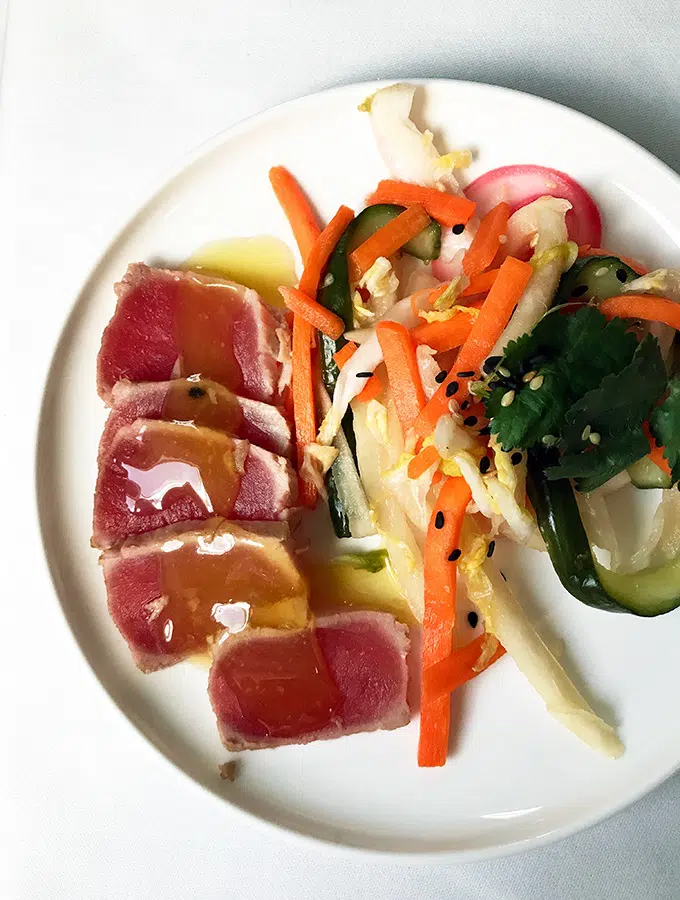 tataki style tuna with cucumber salad, yuzu & sesame dressing
For my main, I had the udon noodles with tonkatsu. I was really happy with both the dishes. What I have discovered with Qantas is that their in-flight catering can be very hit and miss. On this occasion, it was a hit.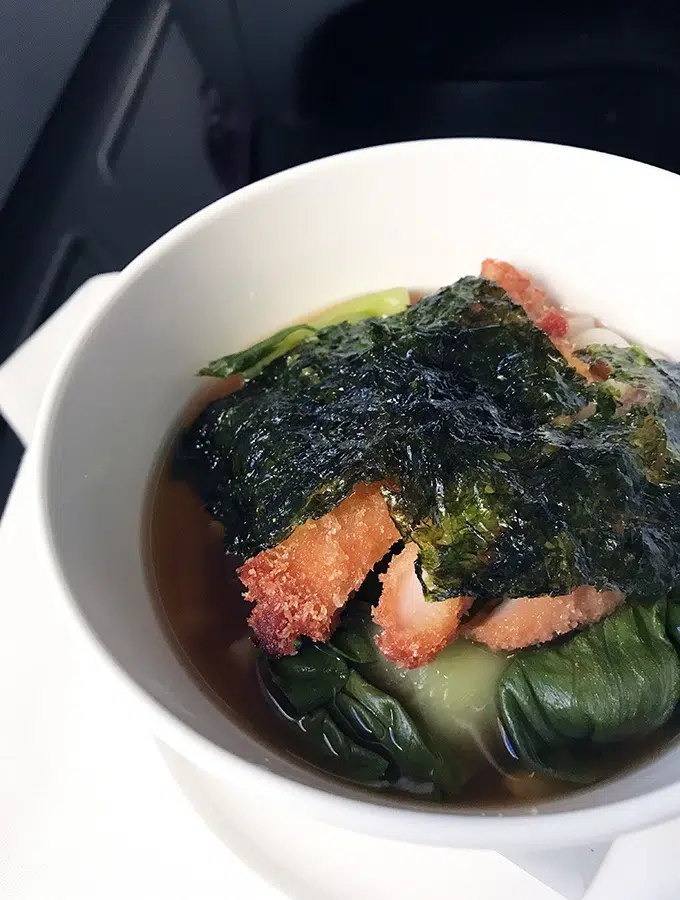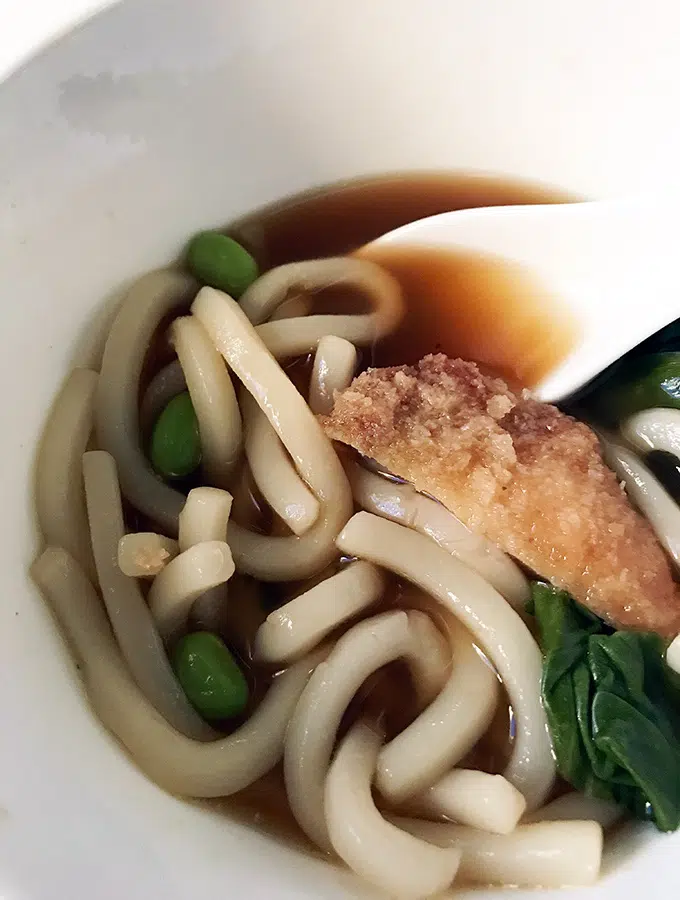 katsu pork ramen with udon noodles, bok choy & edamame beans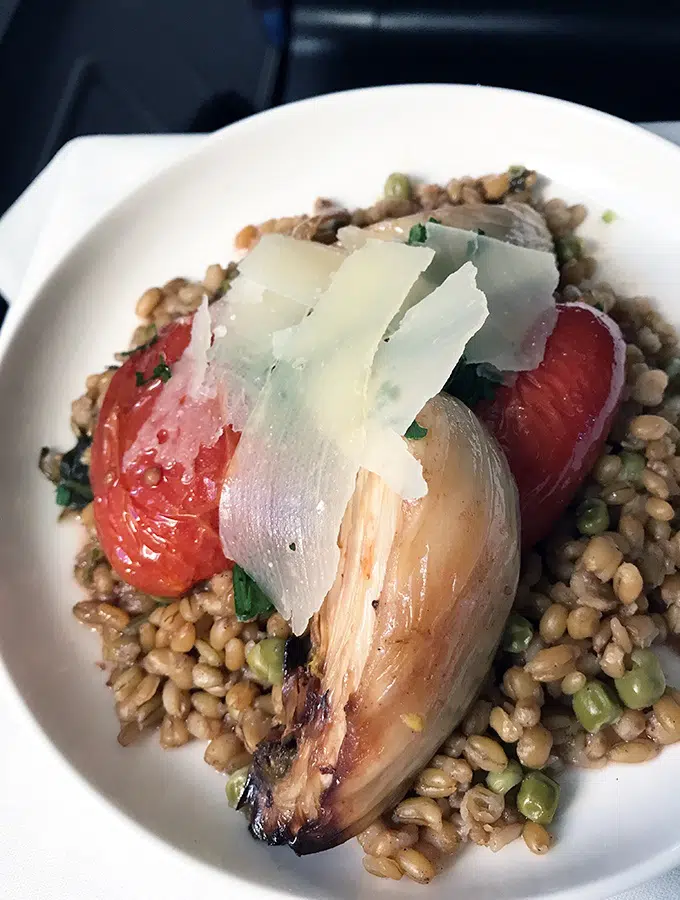 warm farro with roast fennel & tomato, peas, parmesan & herb vinaigrette
Mac ordered the farro for his main. The nice thing about travelling with somebody you know is that I'm not asking strangers if it is okay to photograph the meal...... Yes...... I have done that in the past. He polished it all off with no complaints. It was actually a rather substantial dish.
For dessert I indulge with the chocolate glazed cheesecake with creme friache cream. The other options are a cheese plate or ice cream. I may have indulged in the cheese plate too (oops).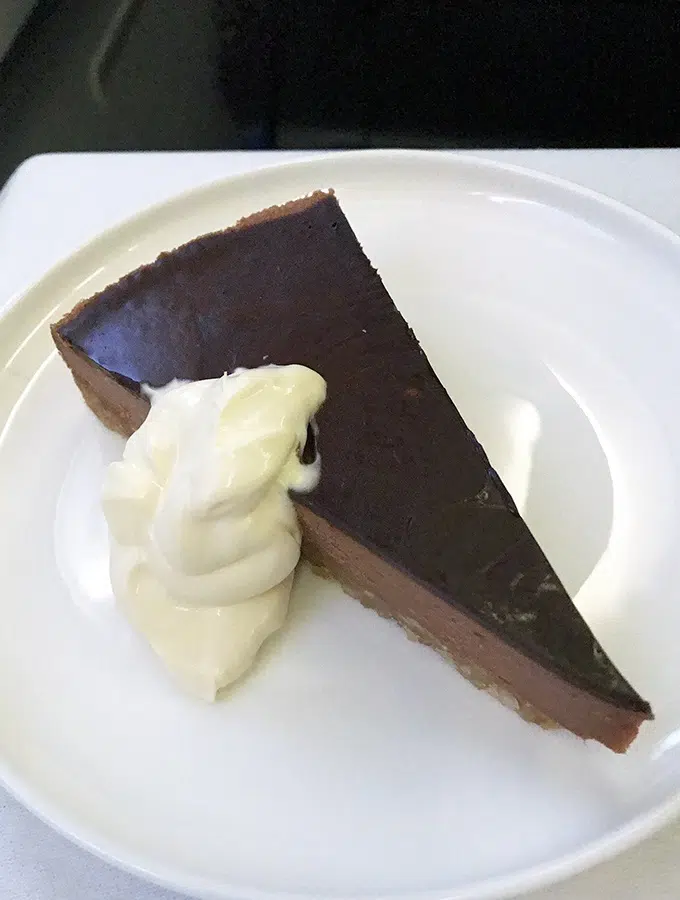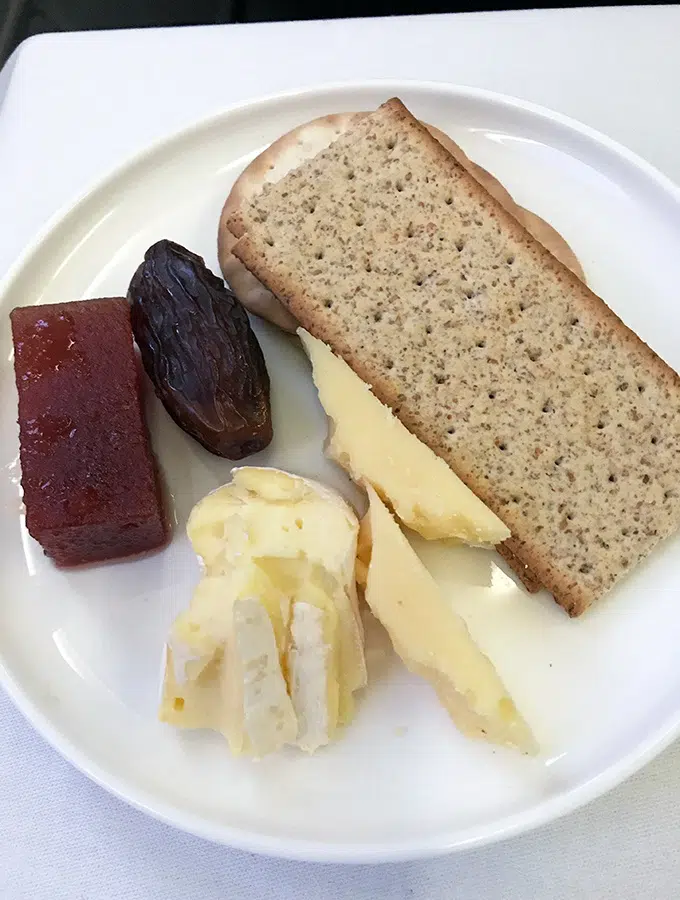 One of the great things about the timing of QF005 is that you can watch the sunset over the magical Australian outback.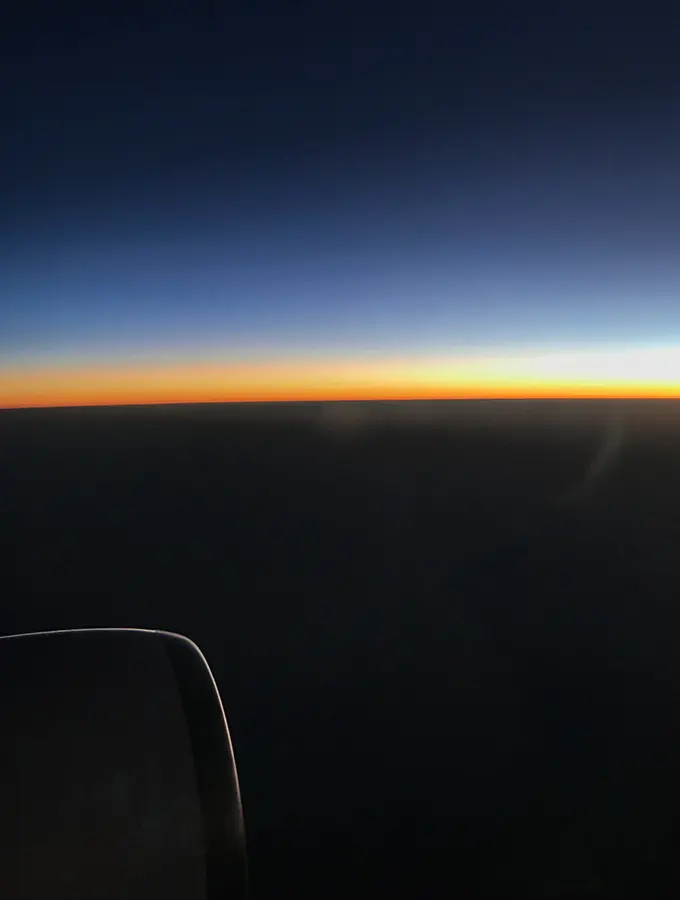 The flight was just over eight hours and Qantas offer a snack before landing. The snack was arancini served with a tomato sauce and chopsticks. A gentle reminder of where we were about to land.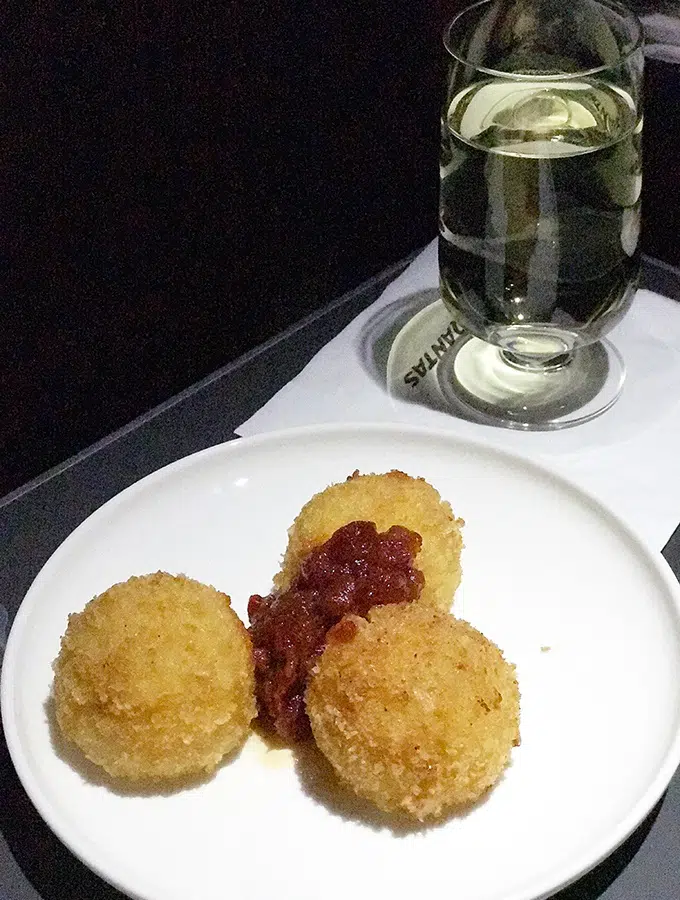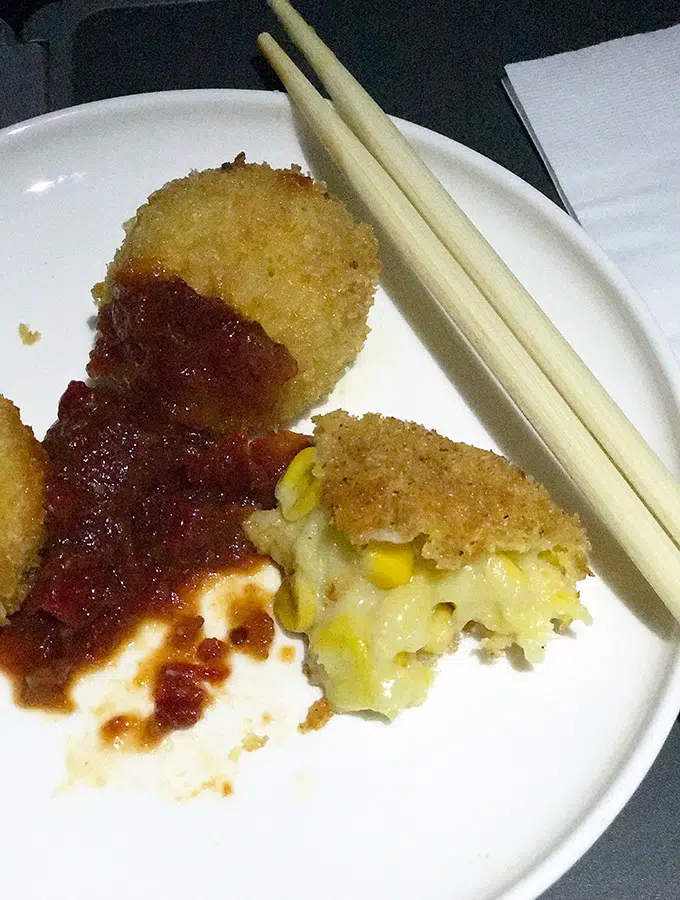 Flying Qantas Business Class Sydney to Singapore from 25 March 2018
It's important to note that from March this year (2018) Qantas will resume using Singapore as their hub once again on flights to Heathrow. At the moment it is Dubai.
Therefore they will now offer three gateways to Europe, Perth, Dubai and Singapore. This also means when the changeover in March happens, QF1 will resume flying via Singapore with an A380 back on this route.
An additional flight from Sydney to Singapore will be flying, QF81, this will be an A330. Hopefully, it will be a refurbished one for you!
Sara xxx
Become a subscriber and don't miss a single delicious recipe, restaurant review or travel adventure.