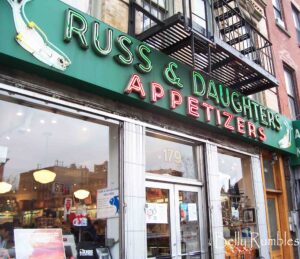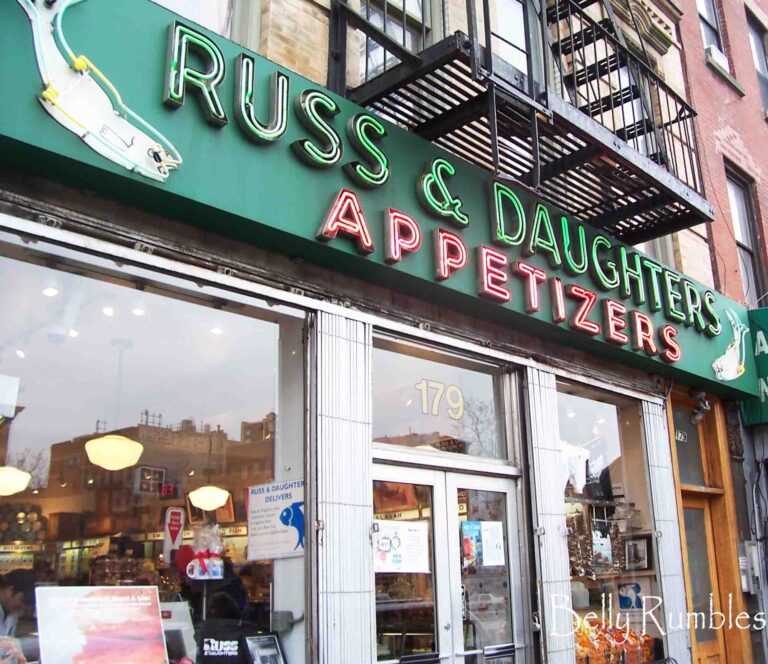 Yes, still New York posts heading your way with a couple more to come.
Russ & Daughters was on my definite hit list when I was planning my trip to New York. I had seen Russ & Daughters on various food shows previously but it was a pod cast that I had subscribed to, "The Bowery Boys", that really made me want to go visit.
If you are heading to NYC I strongly suggest their pod cast. The Bowery Boys are about the history of NYC which is presented in an entertaining way. The history to NYC is amazing and I really had a great feel of how the city was built after listening to them, and will admit my favourite ones were their Halloween specials, spooky New York, very cool.
There are two main things I love about Russ & Daughters beside the food, the rags to success story and the fact that "Daughters" appears in the business name.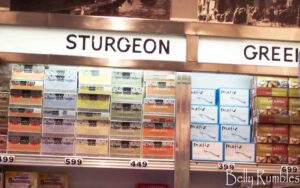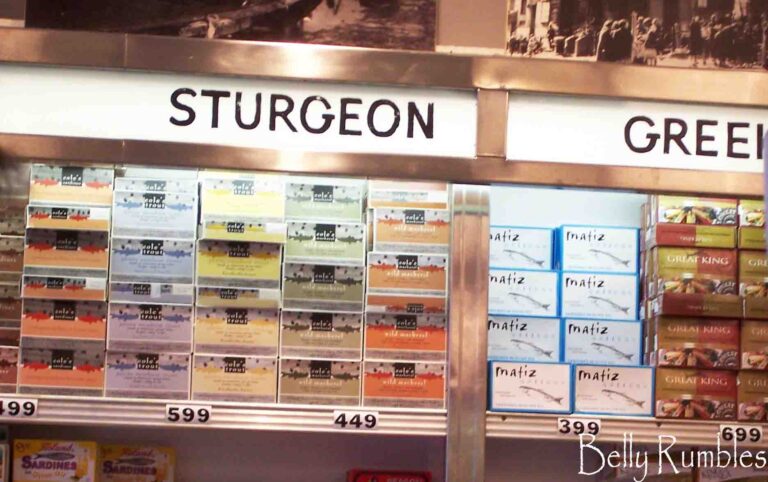 Joel Russ emigrated to the USA from Europe, like so many Eastern European Jews, in 1907 and settled in the Lower East Side of Manhattan. This area was the centre of immigrant Jewish culture in NYC. He started his business selling polish mushrooms which he would cart around on top of his shoulders and sell. Eventually enough money was saved to buy a pushcart, then a horse and wagon.
He married Bella and they had three daughters, no sons. In 1904 Joel can finally afford to open his first store and then starts to sell salted/cured herring/salmon along with other produce. He does well and moves to larger premises in 1920, Russ & Daughters current location, but the store is called J Russ National Appetizing Store.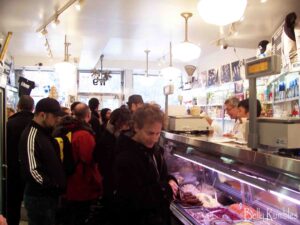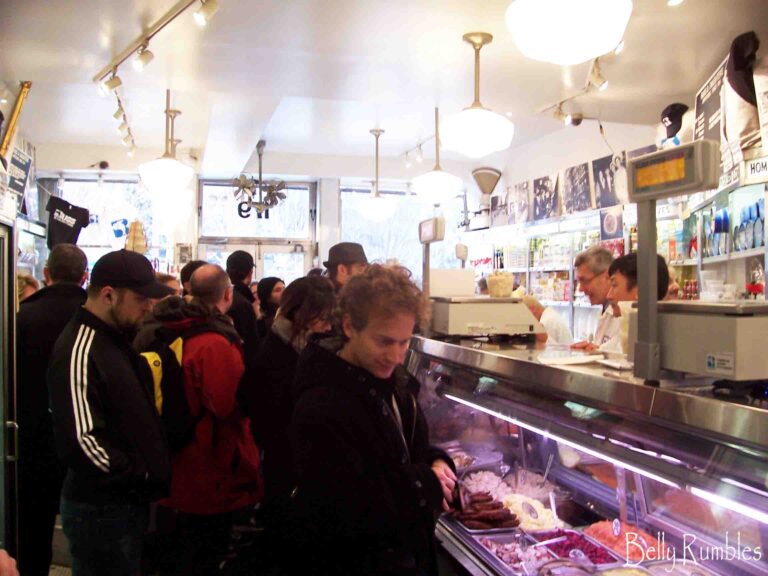 His three daughters learn the business and work with their father. Apparently men would come to see Joel's beautiful daughters just as much as the great produce, and they all meet and married their husbands through the business.
Now this is the part that I love about the history of Russ & Daughters. In 1933 the business name is changed to Russ & Daughters Appetizers. It is the first time, it is believed, in history that the word "daughters" is used in a business name. As a woman I really appreciate what Joel did. Nobody acknowledged their daughters in business back then, but Joel Russ having three and no sons, did. Back in the day it was preferable to have "sons" in the business name, even if that resorted to referring to your son in law.
Russ & Daughters is still a family business run by the Russ family. The fourth generation is now working there. The Smithsonian Institute declared Russ & Daughters a part of New York's cultural heritage in 2000.
Enough with the history lesson for today, but I do appreciate a good success story.
I visited on a Sunday and the place was packed. Packed with people and packed with produce. Quite honestly I was blown away with variety.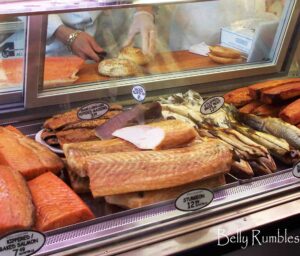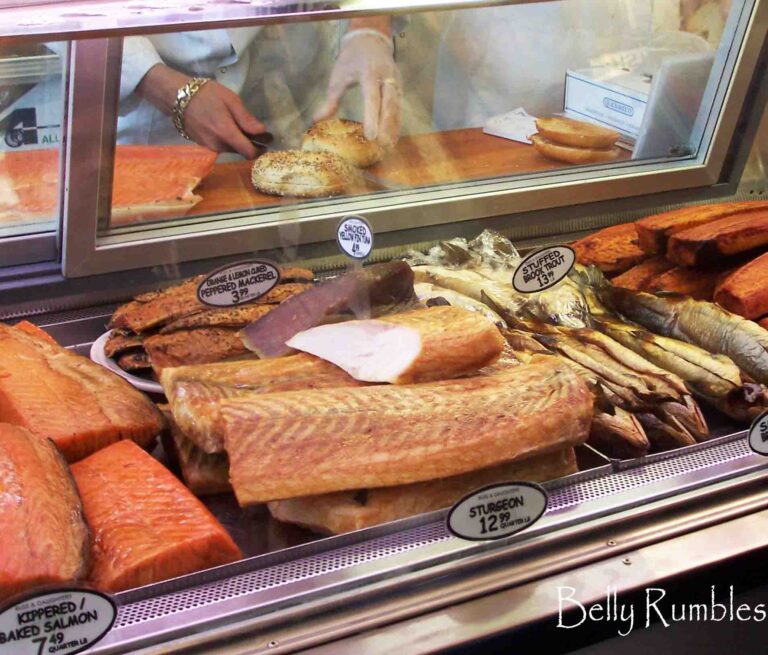 They have a range that I have not seen elsewhere, caviar, smoked/cured salmon, specialty smoked fish, herring, bagels, salads as well as dried fruit and sweets. Plus they stock other deli items to accompany your fish purchase.
I was gobsmacked by the range of cream cheese alone, plain, scallion (spring onion), vegetable, green olive, horseradish, caviar, lox, plus a tofu range of cream cheese that includes plain, scallion and lox.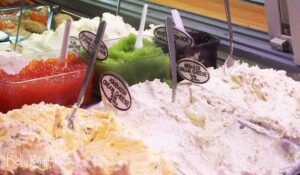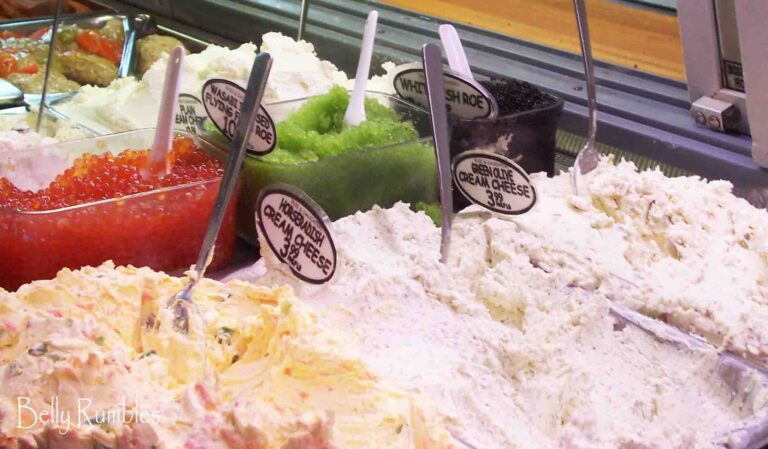 Caviar, they have the real deal, plus trout roe, salmon roe as well as green wasabi roe. Blinis and crème fraiche are also available to accompany your caviar purchase, and why not pick up a mother of pearl spoon to serve with while you are there.
So many different types of smoked salmon, Irish Organic, Gaspe Nova, Danish, Scottish, Norwegian, belly lox, gravlax, pastrami cured, kippered salmon, Western Nova and pickled lox.
Their specialty smoked fish includes sturgeon, trout, chubs, sable, whitefish, mackerel and tuna.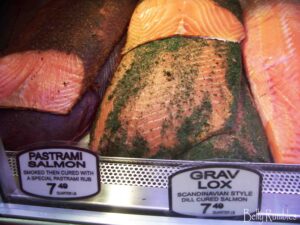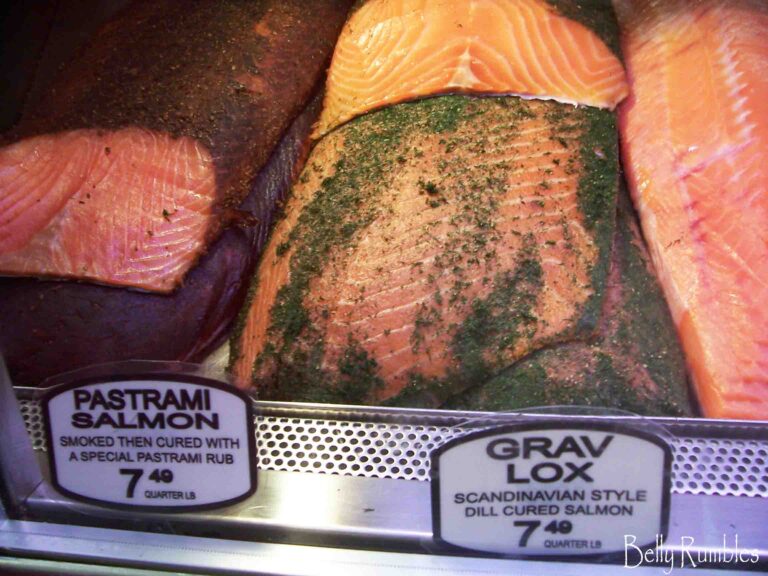 The shop itself is not that big, it is actually quite long and narrow, but it is packed with an amazing range of smoked, cured and pickled product.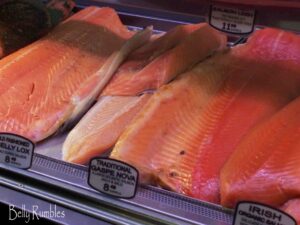 Of course I could not visit Russ and Daughters and not buy a bagel. As tempting as it was to try some of the produce I hadn't seen before, I decided to keep it basic. Smoked salmon, horseradish & dill cream cheese and red onion. The bagels are made to order and the salmon is thinly sliced off the main fillet for you as the bagel is made.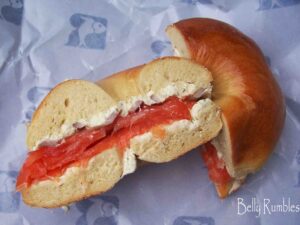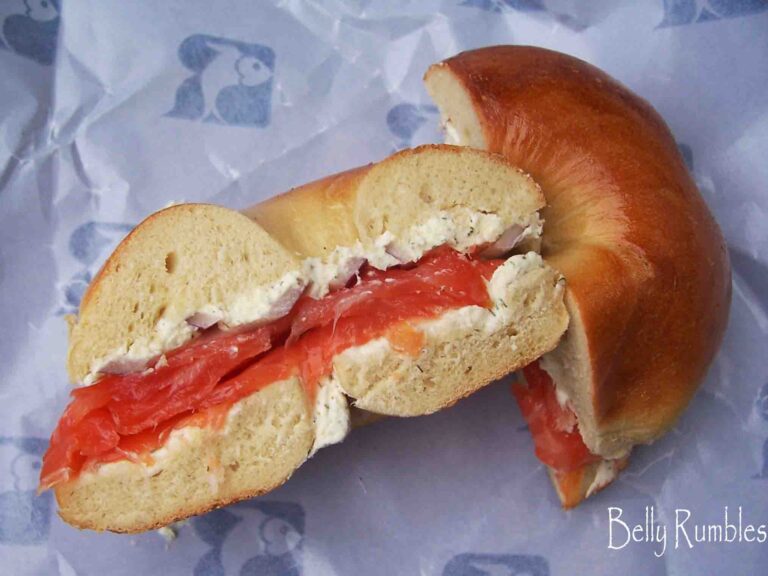 I can honestly say that this was the best smoked salmon bagel I have ever had in my life. The bagel itself was wonderful. The salmon, incredible, so soft, flavoursome and just melted in your mouth. The dill cream cheese and onion, delicious. Also add to the equation that I am sitting on a bench in front of the store on East Houston Street while I munch away. Magical, pure pure magic. Special memories are made of this.
Sara xxx