"The February 2011 Daring Cooks' challenge was hosted by Lisa of Blueberry Girl. She challenged Daring Cooks to make Hiyashi Soba and Tempura. She has various sources for her challenge including japanesefood.about.com, pinkbites.com, and itsybitsyfoodies.com."
You may have noticed that Belly Rumbles has been a little quiet on the content side of things of late. I have had a pretty mixed emotional start to the year, some was expected some was not. I have lost two people in my orbit to cancer within days of each other and another (a pivotal part of my family) which I may discuss in later posts, is now undergoing unexpected aggressive treatment for the disease.
On top of this my darling dog Sally has also been undergoing treatment for cancer, with the removal of three tumours and a skin graft that was undertaken yesterday. It has been very hard as the operations have been tricky but successful and she has been living at the surgery for the past two weeks. We had her home this weekend, but she went back yesterday for the skin graft and another 5 day (at least) stay at the clinic.
Then I also have the fact that one of my major support units (my parents) moved to Queensland this week to live.

So yes, I have had a hell of a lot on my mind, but I think I am back now.
A big thank you to Lisa for this fantastic challenge. It was the perfect challenge for my life right at this moment. I must admit this was an easy one for me as I cook a lot of Japanese food at home. I was familiar with the ingredients and techniques.
Take one look in my pantry, fridge and freezer and it is stocked with all sorts of Japanese staples. My cookbook shelves are laden with Japanese cookbooks, some of which I have obtained on my trips to Tokyo. I can't visit Tokyo without going to a book store to pick up cookbooks which are in Japanese/English and a trip to the 100 Yen shop.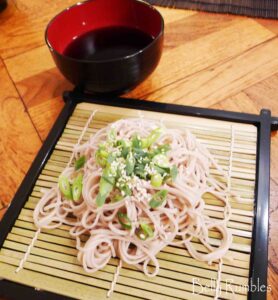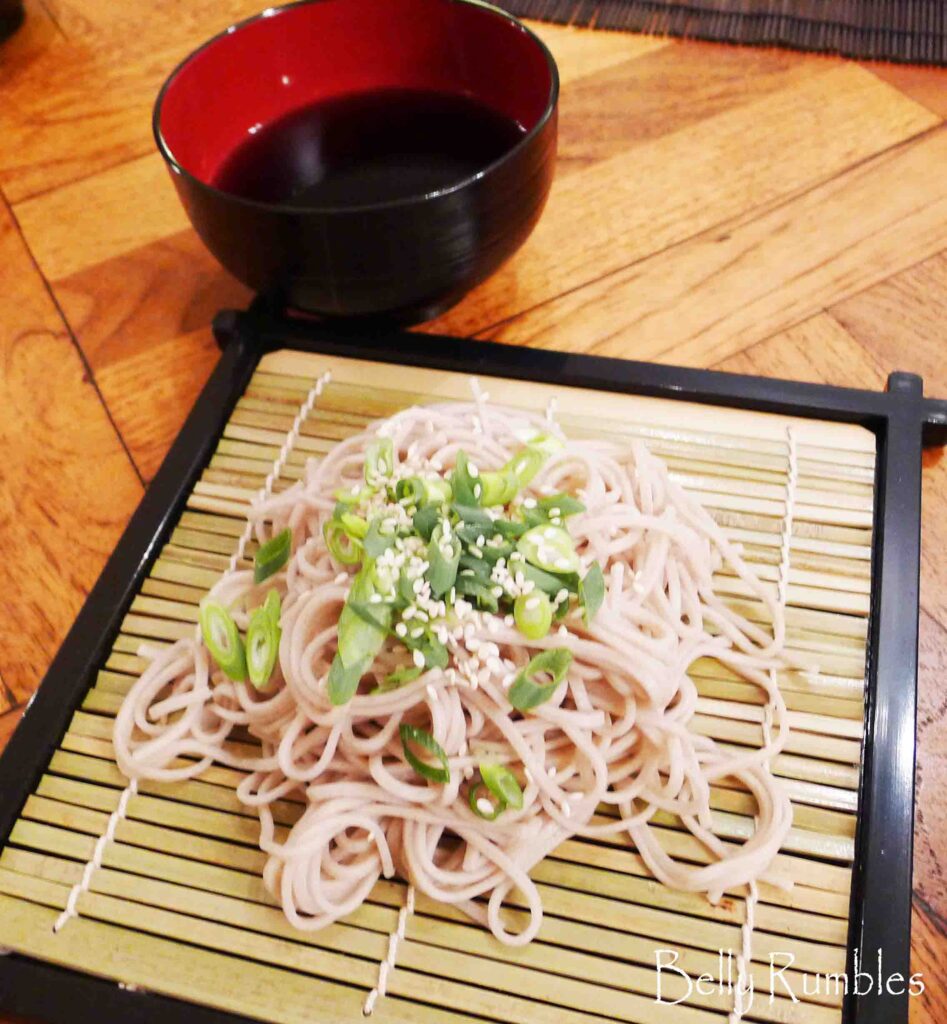 I think that a lot of people get a bit daunted by Japanese cooking. You shouldn't, most dishes are quite easy to prepare with the emphasis being on fresh, good quality, seasonal produce.
If you are not familiar with Japanese cooking and have been wanting to give it a go, these recipes are perfect to ease yourself in.
I love cold soba noodles, they are one of those simple pleasures in life. Saying that, if the noodles are over cooked it ruins the dish. If the sauce is not right, it ruins the dish. That is one of the joys of Japanese cooking, simple, but you have to get it spot on.
Printable Recipe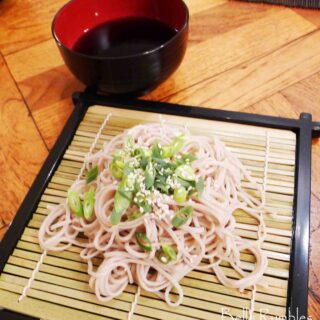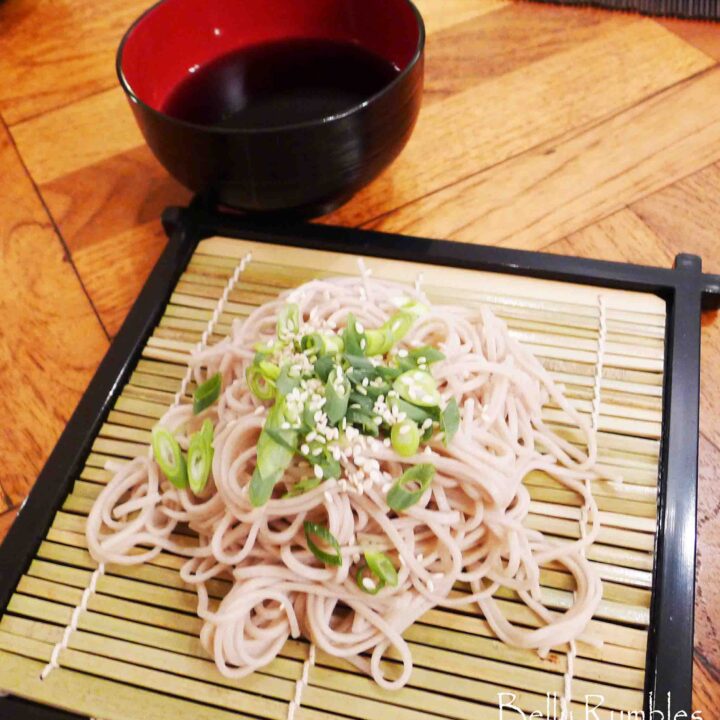 Hiyashi Soba
Delicious cold soba noodles, serve with mentsuyu dipping sauce.
Ingredients
340

grams

Soba Noodles

2

L

water

Green onion sliced

Sesame seeds

Mentsuyu Dipping Sauce

500

ml

(2 cups) Dashi

80

ml

(? cup) Mirin

80

ml

(? cup) Soy sauce
Instructions
I suggest you read the directions on the soba noodle packet as to what they recommend for cooking time.. Take this into consideration when following the cooking directions below.

Heat 2L of water to a boil in a large pot over high heat.

Add the noodles a small bundle at a time, stirring gently to separate. When the water returns to a full boil, add 1 cup of cold water. Repeat this twice. When the water returns to a full boil, check the noodles for doneness. You want to cook them until they are firm-tender. Do not overcook them. I suggest you try the noodles after each addition of cold water to see if they are done.

Drain the noodles in a colander and rinse well under cold running water until the noodles are cool. This not only stops the cooking process, but also removes the starch from the noodles. This is an essential part of soba noodle making. Once the noodles are cool, drain them and cover them with a damp kitchen towel and set them aside allowing them to cool completely.

Top with sliced green onion and sesame seeds. Serve with mentsuyu dipping sauce.

Mentsuyu Dipping Sauce

Place mirin, soy and dashi in a saucepan.

Gently simmer for 5 minutes.

Set aside and cool, then refrigerate until ready to use.
Measurement Notes
All measurements are Australian metric standard. All measures are level, and cups are lightly packed unless specified. 1 teaspoon = 5ml / 1 tablespoon = 20mls / 1 cup = 250ml /4 teaspoons = 1 tablespoon.
NUTRITIONAL INFORMATION
The recipe's nutritional information is an approximation based on an online calculator. It is meant solely for reference purposes. If you're looking for precise details, be sure to double-check with your own research.
Calories:
691
kcal
Carbohydrates:
146
g
Protein:
33
g
Fat:
2
g
Sodium:
4633
mg
Potassium:
720
mg
Sugar:
10
g
Calcium:
170
mg
Iron:
6
mg
Did You Make This Recipe?
I do a happy dance when people share how they went. Tag me on Instagram or Twitter @bellyrumbles & #bellyrumbles
For my Hiyashi Soba I kept it simple with Mentsuya, a traditional style dipping sauce and topped only with sliced green onion and sesame seeds.
I went a little overboard on the tempura, I always seem to do that. Originally I was wanting to do tempura oysters, but didn't. My own fault as I was lazy and ended going up to Sylvania which sadly is not the best fish monger in the area, the one at Cronulla is so much better and worth the 20 minute drive. The oysters on offer at Sylvania were scungie little Sydney Rocks or some very sad looking excuse for Pacific's, both at a premium price. Settled on just prawns.
My tempura vegetables consisted of baby button mushrooms, asparagus, orange sweet potato, red onion and yellow capsicum.
For the recipes follow the following links;
Sara xxx