I hadn't heard of the Great Food Blogger Cookie Swap (GFBCS) until it was bought to my attention via a tweet from Julie of Gourmet Getaways. I must admit, I didn't immediately jump at getting involved. Mainly due to the time of the year, right when you are running around like a goose for Christmas. Curiosity got the better of me, and I signed up.
This was the second year for GFBCS. A USA based event, which includes a few countries, like Australia. There is a US$4.00 charge to participate and that money is donated to charity. The charitable cause is Cookies for Kids' Cancer. Money well spent as far as I am concerned.
So how does it work? You sign up on the GFBCS website. Once you confirm your participation you are instructed to make a US$4.00 taxable donation (if in the USA) directly to Cookies for Kids' Cancer. 100% of your donation goes to the cause.
Once the deadline for signing up has passed you will receive the names and addresses of three other participants who you will send your cookies too. It is all hush hush, they have no idea you are their cookie provider, and you have no idea who you will be receiving cookies from.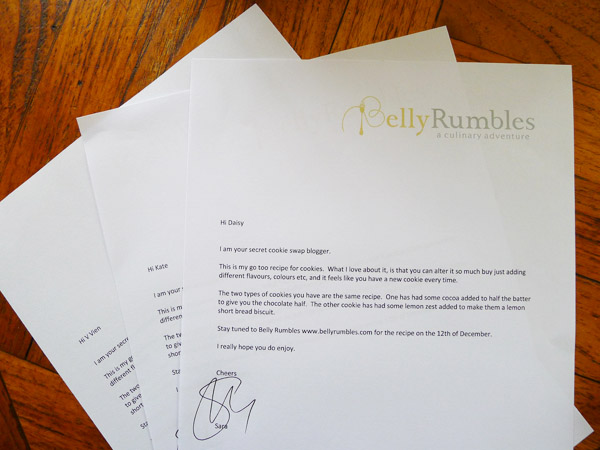 All that is left is to bake your cookies and then post them to your secret recipients by the deadline. In return you will receive (hopefully) three cookie parcels. The last thing to do is blog about it by the set date, which just happens to be today.
I sadly only received two cookie parcels. I am sure the third is playing hide and seek in the Australia Post's Christmas mail.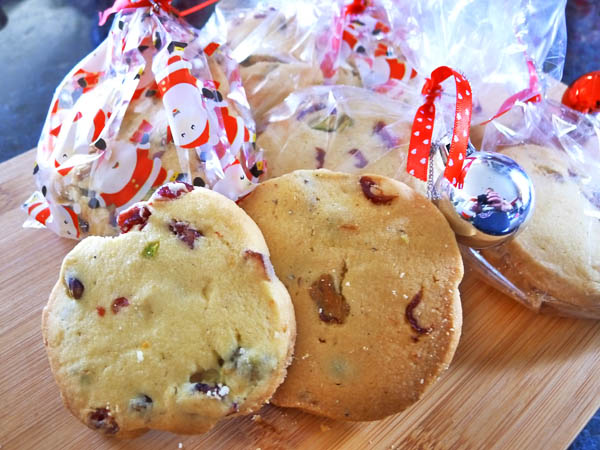 cranberry, pistachio, cardamon shortbread from gourmet getaways
I was thrilled when Julie from Gourmet Getaways was the first to present me with cookies. I felt it was rather befitting as she was the one that got me involved. No risk of them getting lost in the post, they were handed over at the Sydney Food Bloggers Christmas Party! Julie went all out on wrapping with a great Christmas feel, baubles included.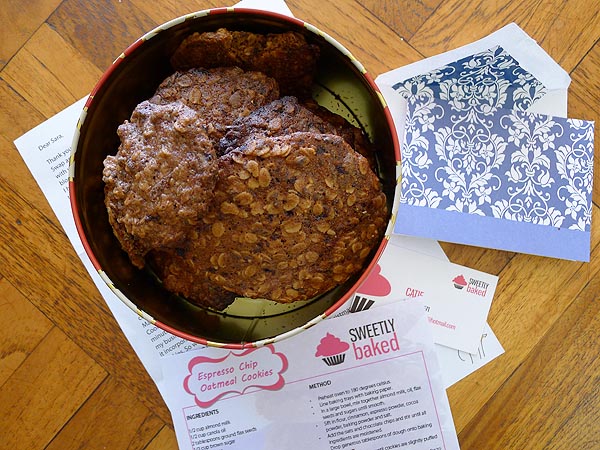 espresso chip oatmeal cookies from sweetly baked
My second parcel of cookies was from Catie of Sweetly Baked. Wrapped so well for travel in a tin, a gorgeous note and Christmas card accompanied them. Plus the recipe, such a giving gift.
My third cookie swap person? I have no idea. If you are reading this, which you probably are, email or tweet me and let me know. With any luck they will turn up before the new year.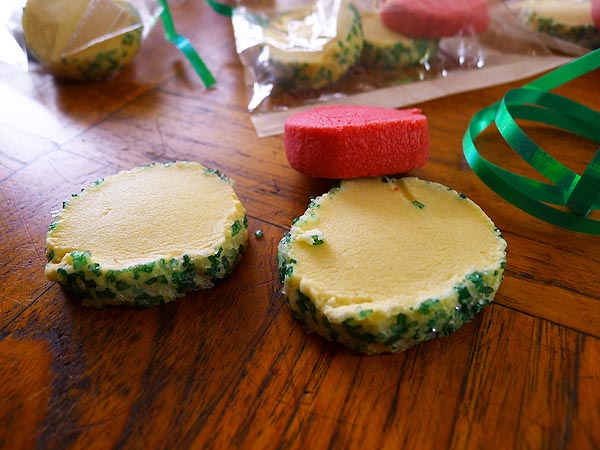 cookies made for the sydney food bloggers christmas picnic
For my cookie swap victims, whoops, I mean recipients , I went for a tried and tested recipe. They are actually the same base that I used for cookies I made for the Sydney Food Bloggers Christmas Picnic.
I do need to tell you, this recipe isn't mine, it is actually taken from a fellow Sydney Blogger and friend. The below recipe is from Angie from Angie lives to eat (and cook). Please do head over to her blog as there are quite a few gem recipes on there.
Below is based on Angie's original recipe. What I love about this recipe is it is really adaptable. Throw in whatever you want flavour wise to mix it up. Or keep it as it is and simply roll the dough in sugar before putting it in the fridge.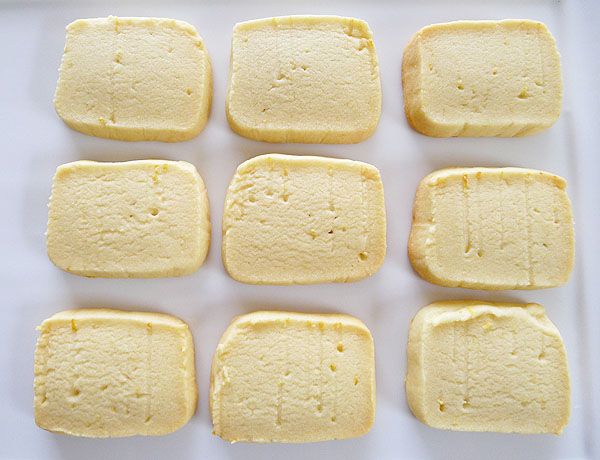 lemon burst cookies
I treat the cookie mix a bit like play dough and mould it as I wish. For the lemon burst biscuits, I added the zest of two lemons and then the shaped dough into a long rectangle.
chocolate vanilla biscuits
For the chocolate vanilla biscuits, half the mixture had two tablespoons of cocoa powder mixed through. The chocolate dough was then layered on top of the plain, sugar crystals placed on top and then wrapped in plastic wrap, shape smoothed out, then put in the fridge.
Printable Recipe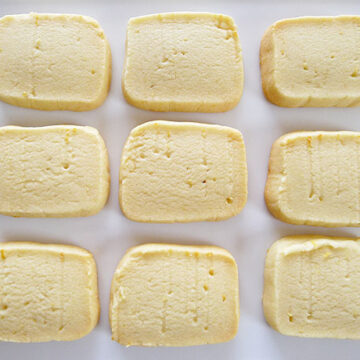 Slice and Bake Cookies
A foolproof slice and bake cookie recipe. Makes a lot of cookies and the dough can be frozen.
Ingredients
250

grams

butter

softened

200

grams

(1 ¼ cups) icing sugar

1

teaspoon

vanilla extract

300

grams

(2 cups) plain flour

75

grams

(¼ cup) rice flour

50

grams

(⅓ cup) cornflour

2

tablespoons

milk
Instructions
Beat together the butter, sifted icing sugar and extract until light and fluffy.

Sift the flours into the butter mixture and add 2 tablespoons of milk. Beat until well combined.

Place half the mixture onto a piece of plastic wrap and shape into a log. Roll up in the wrap until it is a smooth cylinder. Repeat with the other half of the mixture.

Refrigerate until firm (about 1 hour).

Preheat oven to about 160 degrees Celsius and line a baking tray with greaseproof paper.

Cut logs into 1 cm slices and place about 3cm apart on the trays. Bake for 20 minutes and then cool on wire rack.
Measurement Notes
All measurements are Australian metric standard. All measures are level, and cups are lightly packed unless specified. 1 teaspoon = 5ml / 1 tablespoon = 20mls / 1 cup = 250ml /4 teaspoons = 1 tablespoon.
Recipe Notes
GENERAL COOK'S NOTES
All oven temperatures are fan-forced, increase the temperature by 20°C (70°F) for convection ovens.
All measurements are Australian tablespoons and cups. All measures are level, and cups are lightly packed unless specified.
1 teaspoon equals 5ml
1 tablespoon equals 20 ml (Nth America, NZ & UK use 15ml tablespoons)
1 cup equals 250ml (Nth America use 237ml)
4 teaspoons equal 1 tablespoon
I use the below unless specified in my recipes.
Herbs are fresh | Vegetables are of a medium size | Eggs are roughly 60 grams in weight (large).
NUTRITIONAL INFORMATION BELOW IS A GUIDE ONLY
NUTRITIONAL INFORMATION
The recipe's nutritional information is an approximation based on an online calculator. It is meant solely for reference purposes. If you're looking for precise details, be sure to double-check with your own research.
Serving:
1
grams
Calories:
94
kcal
Carbohydrates:
11
g
Fat:
5
g
Saturated Fat:
3
g
Cholesterol:
13
mg
Sodium:
45
mg
Sugar:
3
g
Did You Make This Recipe?
I do a happy dance when people share how they went. Tag me on Instagram or Twitter @bellyrumbles & #bellyrumbles

Angies' Suggested Variations
Orange and Poppy Seed: In place of the vanilla extract, beat in 1 tablespoon of finely grated orange rind with the butter. Add 2 tablespoons of poppy seeds to the flours.
Lemon and Craisen: In place of vanilla extract, beat in 1 tablespoon of finely grated lemon rind with the butter. Add ¾ cup (120g) coarsely chopped craisen (dried cranberries) with the flours.
Pecan and Cinnamon: Add 1 tablespoon of cinnamon to the flours. Stir in 1 cup (120g) of chopped pecans. Sprinkle with cinnamon sugar before baking.
M&M's: Stir in 70g of mini M&M's with the flours.
So what did I think? Was great fun, but really at the wrong time of the year, way too close to Christmas. Would love to see an event like this based in Australia with proceeds going to an Australian charity. Having it held in July when it isn't scorching hot and biscuits aren't being transported by post in 40 degree heat. All in all it was a fun experience.
Do tell dear Belly Rumbles' reader, would you participate in an Australian based charity event like this?
Sara xxx