Well hello Sydney winter and good bye sunny Vanuatu.  Did you picture me sipping cocktails whilst lounging around the resort pool or swimming in pristine blue waters?
You did?  Oh you poor thing, seriously stop right now.  Firstly any swimsuit thoughts you may have had of me, drop them pronto, they could be quite damaging to your mental health.  Secondly I didn't swim or even attempt to wear a swimsuit once during our stay.  The weather was generally overcast and not warm enough for me to consider getting into the water.  Even though there wasn't any swimming I had an awesome time away.
Before I headed off on that short but sweet Vanuatu vacation, the lovely people at Sydney Markets sent me a big box of seasonal fruit and vegetables to do with what I wished.  A no strings attached box of beautiful Australian grown produce.  The guys at Sydney Markets were happy for me to just to spread the word of eating Aussie seasonal produce through social media.  But when faced with such gorgeous seasonal produce I couldn't help but be inspired to create some delicious recipes to share.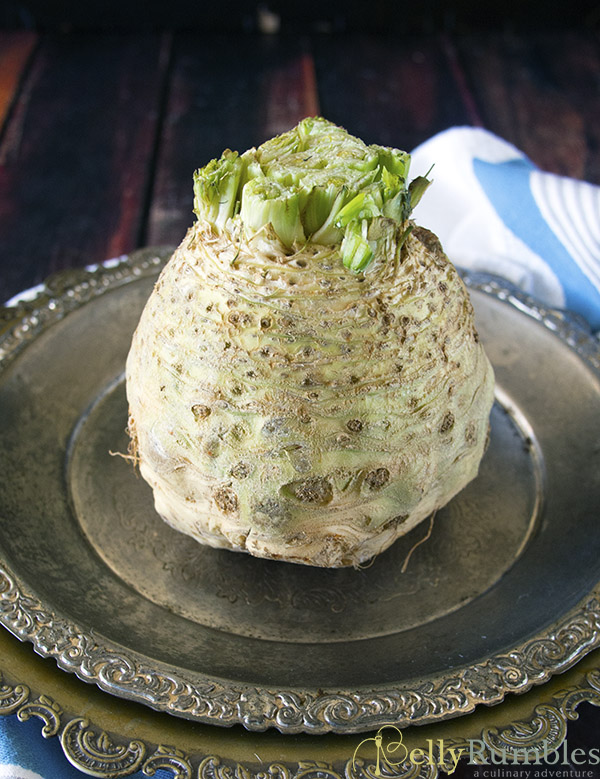 Have you ever played around with celeriac?  It is a variety of celery grown solely for the use of its bulbous root.  It has a slight celery taste, some say with parsley overtones. Not an attractive vegetable at all, probably looks as good in a swimsuit as I do, definitely as lumpy.
I've eaten celeriac countless times in restaurants, but up until now never cooked with it myself.  Always seen at my local green grocer when in season, but never really sure on what to do with it.   I sort of do a quick version of the hokey pokey.  Hand hovers towards the celeriac, hand hovers away, towards, away, towards, away.  I am sure you get the picture.  This hokey pokey ends with the celeriac never making it to my shopping basket.
Now that this bulbous root had made its way through my front door, and into my kitchen, I had no option but to create something.  This spicy celeriac and apple soup was inspired by Mulligatawny.  A soup I've wanted to make and share with you guys for a while now.  Okay, I still haven't made Mulligatawny, but at least this soup brings us a couple of steps closer in that direction.
If you have never heard of Mulligatawny before it is an Anglo-Indian invention.  Created when the British were stationed in India during the late 18th Century.  Mulligatawny comes from the Tamil words milagu (pepper) thanni (water).  Stay tuned as I am hoping to whip some up for you before winter is over.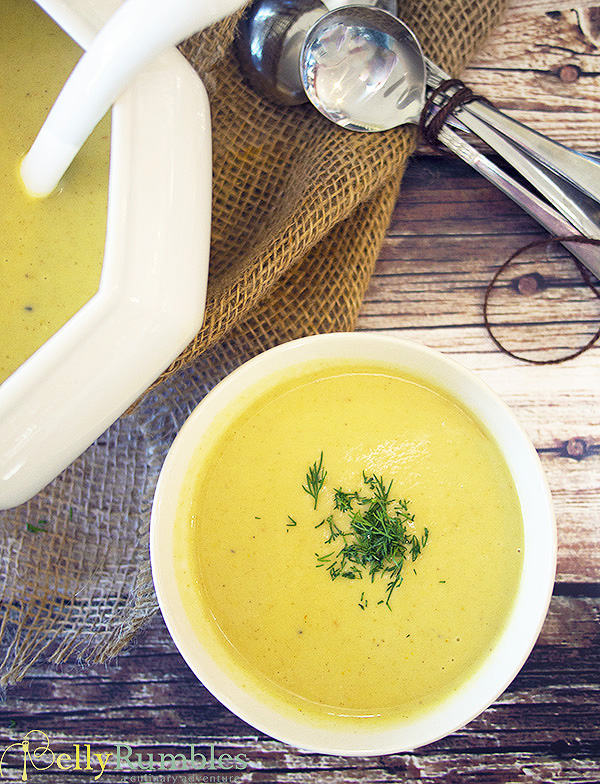 As I said this soup was inspired by Mulligatawny and isn't true to the original.  There isn't any masoor dhal (red lentils) in this soup, I reduced the amount of potato I generally use, omitted the carrot, reduced the coconut milk with a couple of other tweaks thrown in for good measure.  Taste wise it's a winner and something a little different to warm your insides during the colder months.  The fragrance of this soup is tantalizing and I love the slight chilli kick.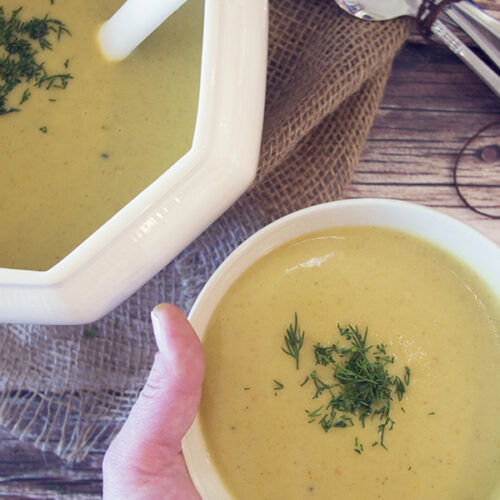 Inspired by Anglo Indian Mulligatawny Soup. The fragrance of this soup is tantalising with a slight chilli kick.
Ingredients
2

tablespoons

olive oil

-

if you have ghee please feel free to use it

1

large brown onion

-

chopped

3

cloves

garlic

-

chopped

1

tablespoon

freshly grated ginger

1

large red chilli

-

chopped

2

teaspoons

ground coriander

1 ½

teaspoons

ground cumin

1

teaspoon

ground turmeric

4

cardamom pods

-

bruised

½

teaspoon

ground fenugreek

¼

teaspoon

ground cloves

¼

teaspoon

ground cinnamon

400

grams

celeriac

-

diced

200

grams

potato

-

diced

150

grams

Granny Smith apple

-

diced (any tart apple variety will do)

1

liter

chicken stock

-

you can substitute vegetable if you wish

270

ml

coconut milk
Instructions
Heat oil in a large heavy based pot (with lid). Add onion, garlic, ginger, chillies and spices. Cook over a medium heat until onion is soft and golden and the mixture is fragrant.

Add celeriac, potato, apple and stock to the pot. Bring to a simmer and cook covered for around 15 minutes or until the celeriac, potato and apple are tender.

Remove from heat and blend with a stick blender until mixture is smooth. Add the coconut milk and return to the head for a few minutes to warm through.

Garnish with some chopped coriander or chives and serve with crunchy papadums and nann bread.
Nutrition
Calories:
406
kcal
|
Carbohydrates:
38
g
|
Protein:
11
g
|
Fat:
25
g
|
Saturated Fat:
14
g
|
Cholesterol:
7
mg
|
Sodium:
475
mg
|
Potassium:
1078
mg
|
Fiber:
5
g
|
Sugar:
11
g
|
Vitamin A:
125
IU
|
Vitamin C:
36.2
mg
|
Calcium:
96
mg
|
Iron:
5.9
mg
DID YOU MAKE THIS RECIPE?
I do a happy dance when people let me know, tag me on Insgragram @bellyrumbles #bellyrumbles
As celeriac is available through to December, a chilled version of this soup could also be made in the warmer months.  Follow the recipe and then place in the fridge to chill.  You could serve them as shots as I have done with my chilled cucumber soup shots with spicy crab.  Top the shots with some cooked crab or prawns and chopped fresh coriander.
Sara xxx