Ahi offers a truly New Zealand dining experience, and one not to be missed when visiting Auckland. A restaurant where excellent food and service go hand in hand as your tastebuds tour Aotearoa.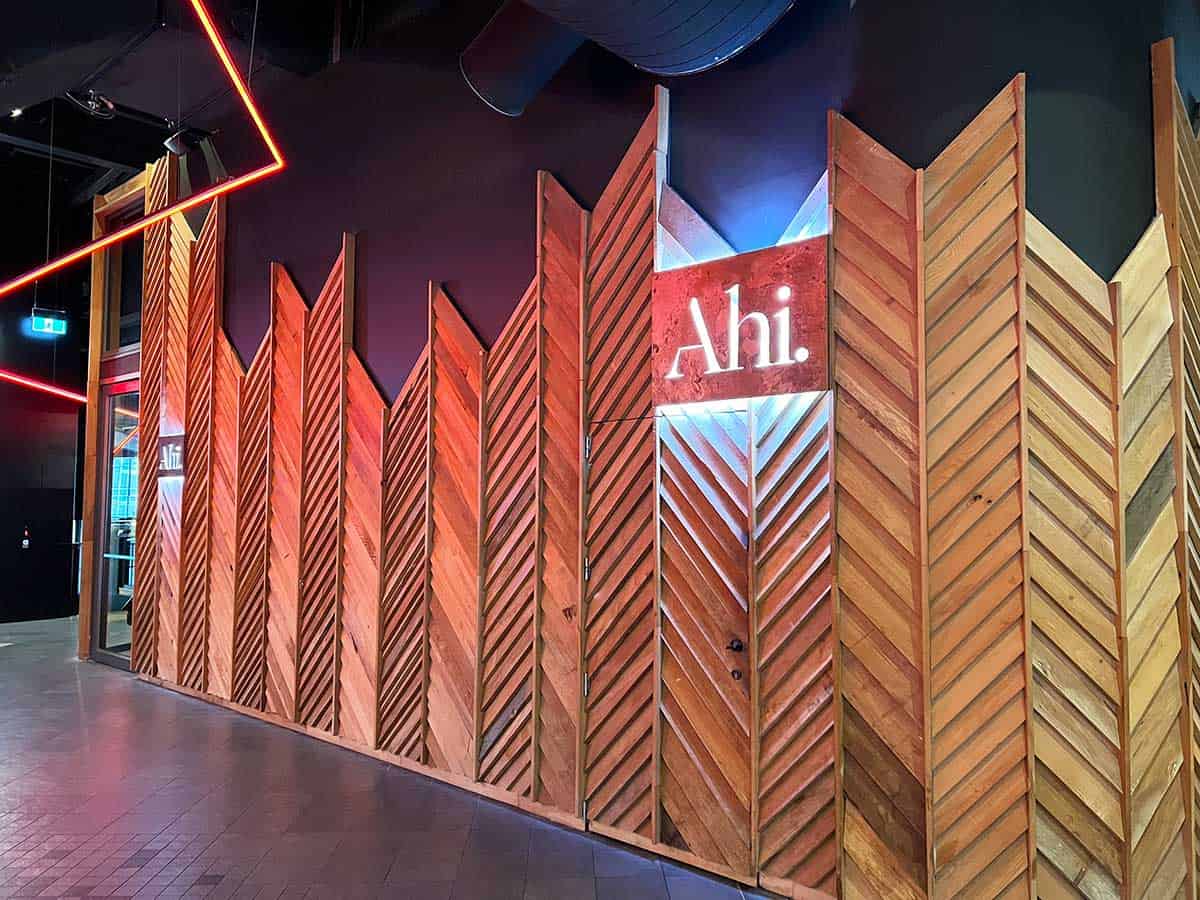 Ahi is located in Auckland's relatively new (and still being constructed) waterfront precinct, Commerical Bay. The precinct is home to a mix of shopping and dining options. Make your way through the bustling food court and this is where you will find Ahi.
It's no secret that New Zealand produces some of the finest ingredients in the world. Local Kiwi suppliers and ingredients are embraced by the team behind Ahi, Head Chef Ben Bayly, General Manager Chris Martin, and Beverage Director Lucile Fortuna.
Their passion for local extends to Ahi's own organic kitchen garden located in Patumahoe, south of Auckland. The garden reinforces the restaurant's seasonal approach to the menu.
The te reo Maori word Ahi means Fire. An obvious reference to the wood fire in the kitchen, but also the firey passion the team has, and hopefully the fire in your belly for their delicious cuisine.
Sara xxx
(Our visit to Ahi was independently paid for and anonymous)
What's in this post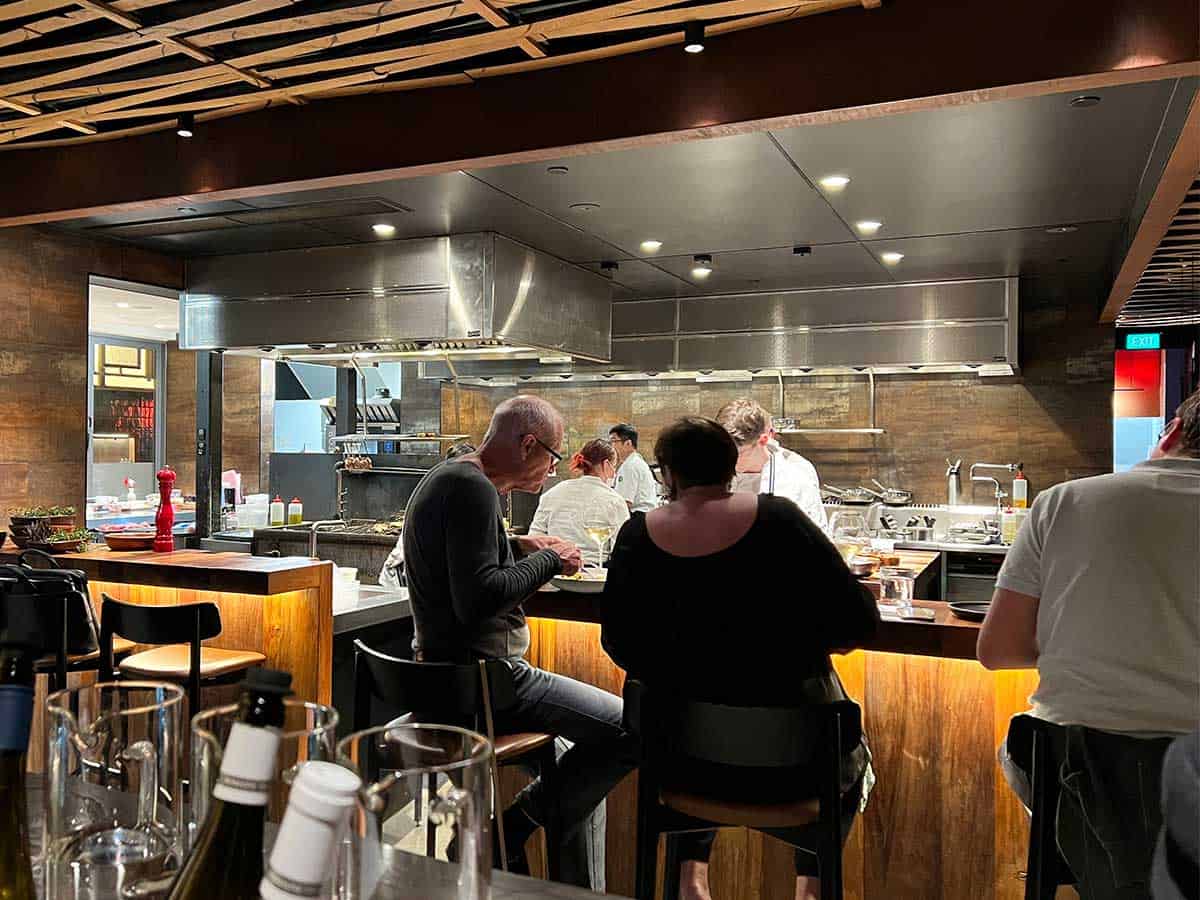 The Look and Feel
Ahi is a calming space with floor-to-ceiling glass windows that overlook the Ferry Terminal Building and Waitemata Harbour. Once inside the restaurant, the food court may as well be a million miles away.
The wood and natural earthy tones, with pops of soft aqua, add to the serenity of this light-filled restaurant. The basket-weave style ceiling adds a note of intimacy and warmth. What food court?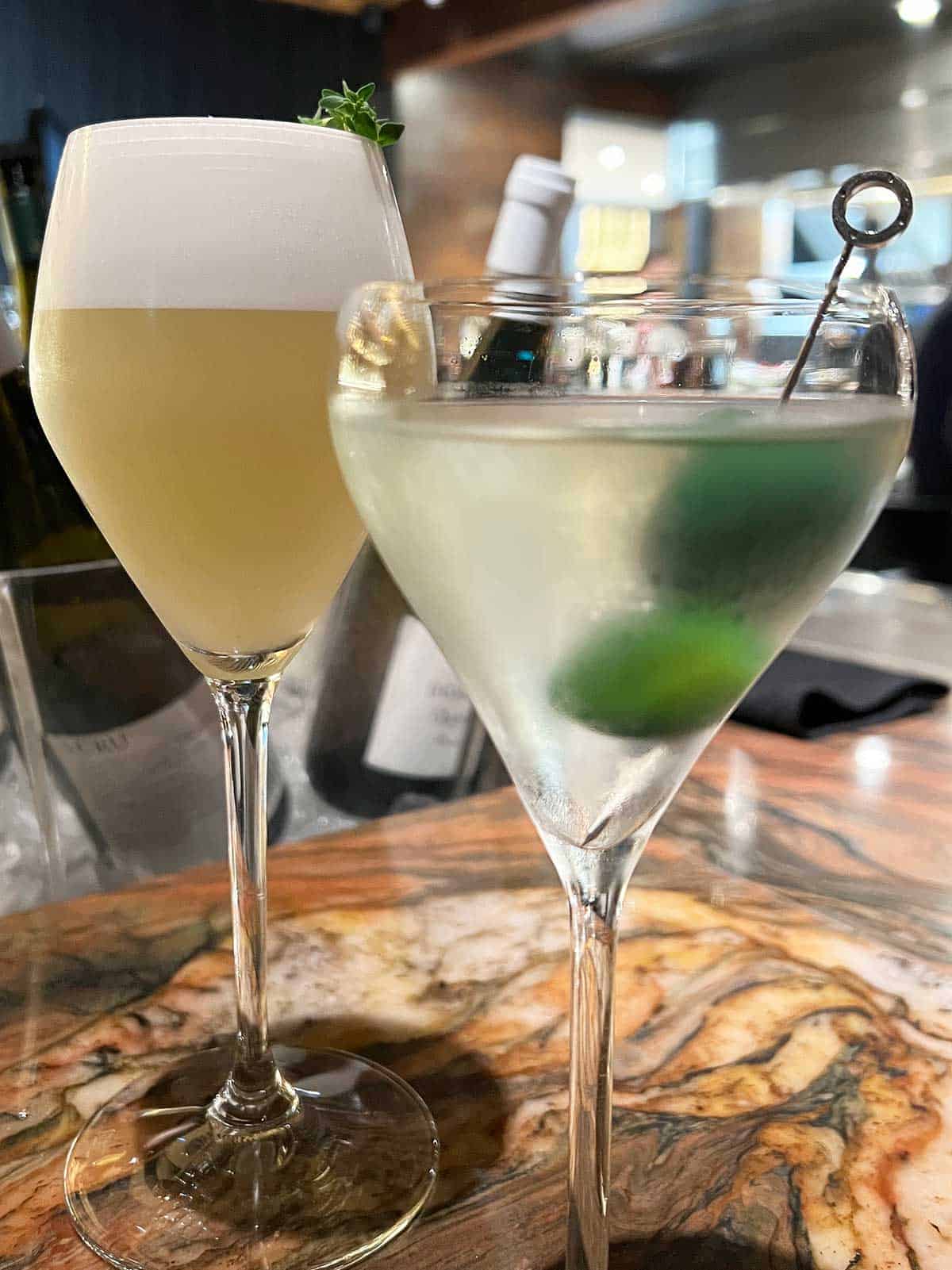 The Service
We are warmly greeted on arrival for our reservation. Our table isn't quite ready and we are guided to the bar to have a seat while waiting.
The table not being ready doesn't fuss us in the slightest, it gives us time for a pre-dinner drink and to watch the magic behind the bar.
Over the course of our visit, we find the staff warm and friendly without intruding on our meal. They know the menu inside and out when asked questions. A big bonus is they handle my husband's dietary requirements like seasoned troopers.
Mac for medical reasons can't eat some very common ingredients, like lemon, chili, and a few others. This always makes front-of-house staff and the kitchen's life rather interesting.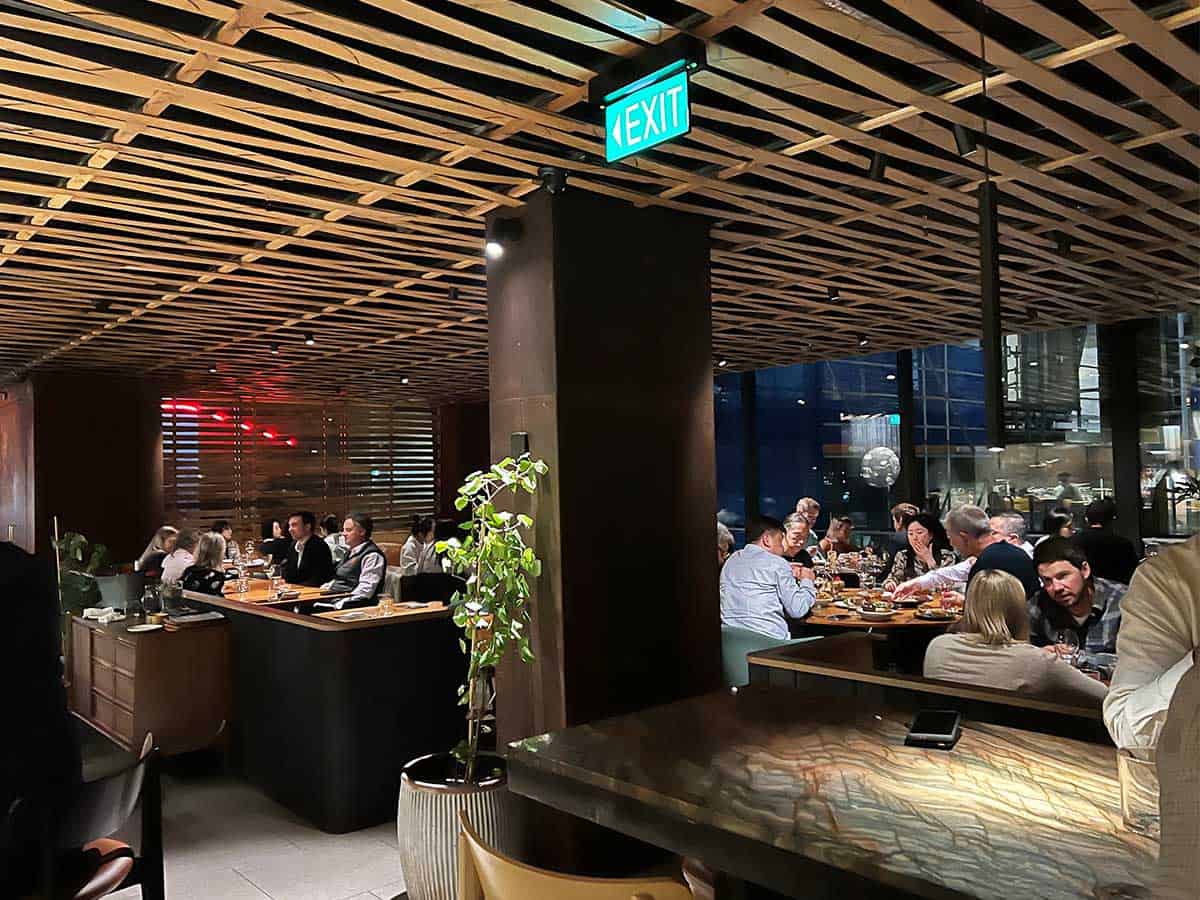 Ahi Menu
The menu reads like a love letter to Aotearoa. You have a choice of a la' carte or the "Trust us" menu of four snacks and four courses. We opt to trust them with matched wines.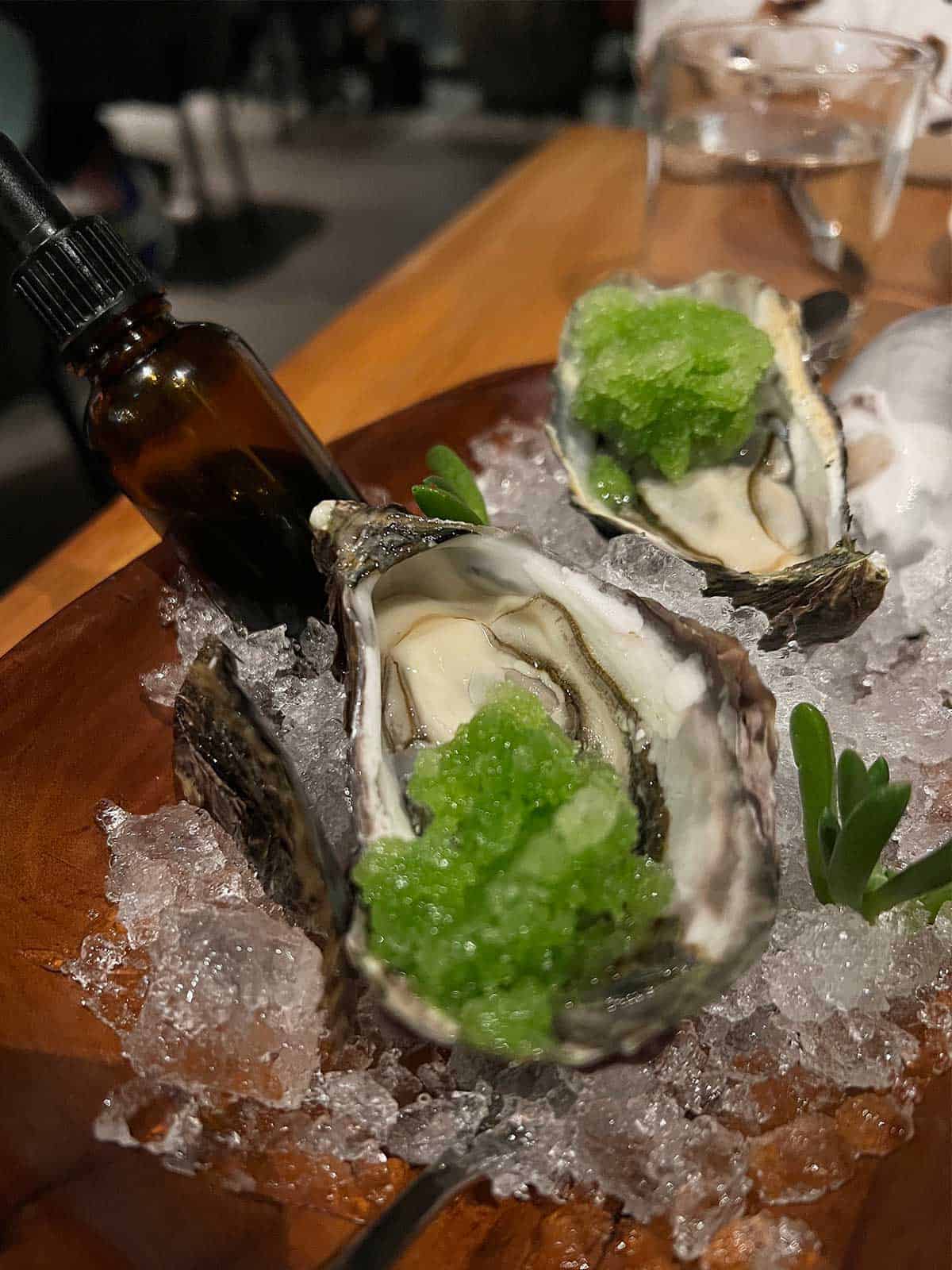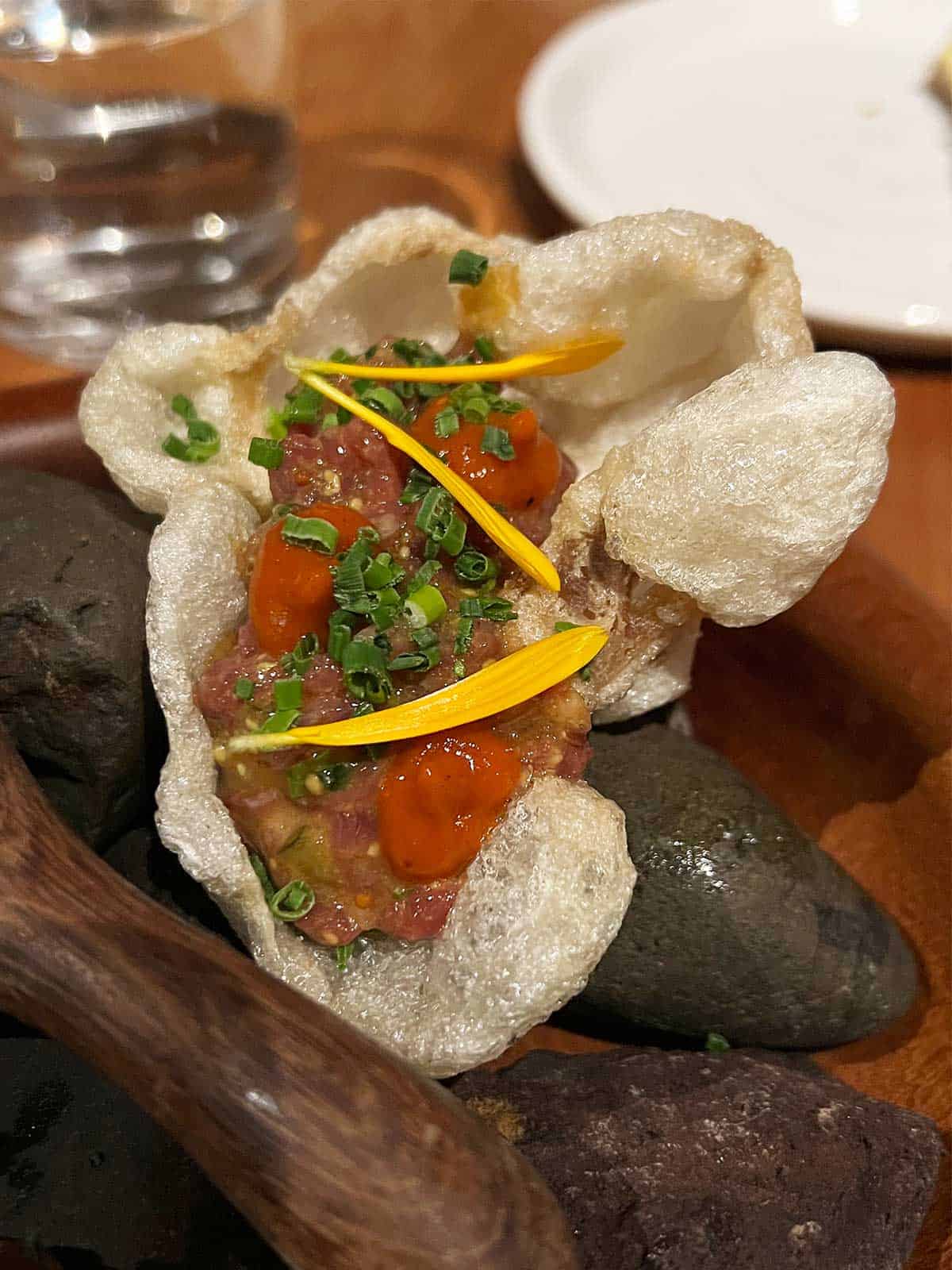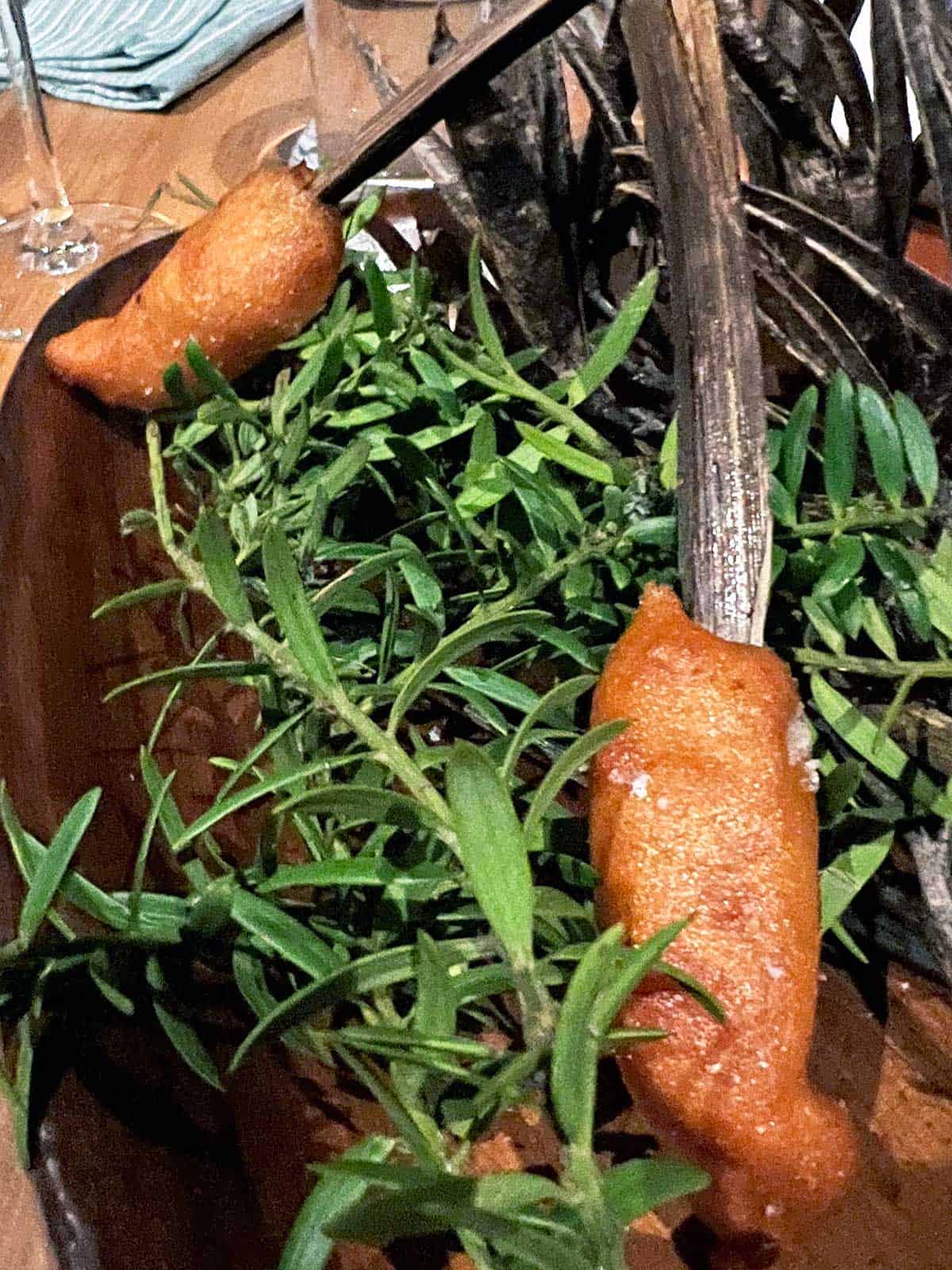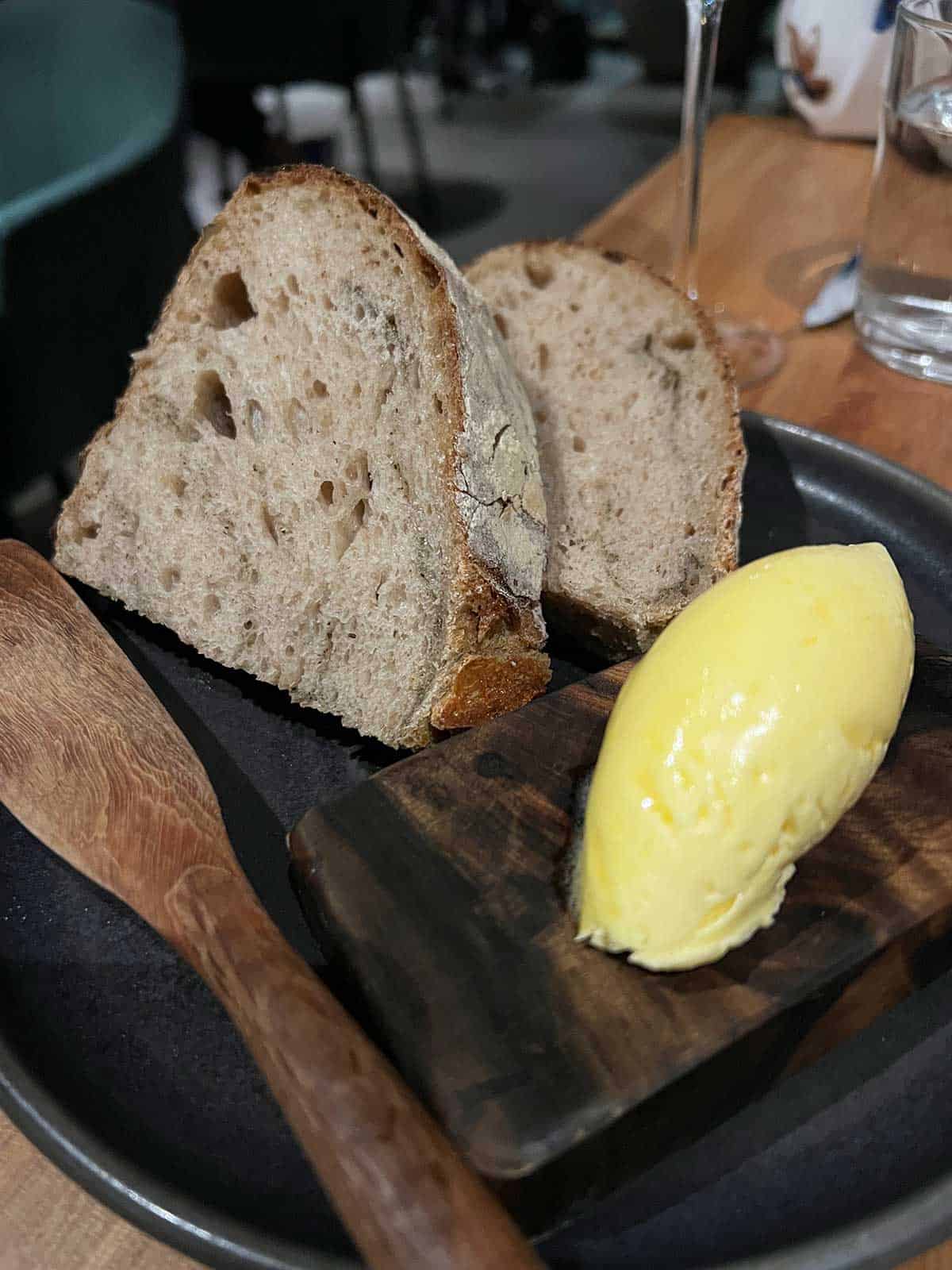 We start with snacks and the first to arrive at the table is the kawakawa sourdough with cultured Bellefield butter. It is the first time that I have had New Zealand kawakawa in sourdough. Kawa is the te reo Maori word for bitter, and the peppery bitter taste of the kawakawa plant is deliciously subtle in the bread.
The Te Matuku Oysters are from Waiheke Island in the Hauraki Gulf, a short ferry trip from Auckland. They are creamy and a perfect medium-sized mouthful. Served with cucumber and fresh sorrel ice with a bottle of fennel oil on the side.
Something you probably don't expect on a New Zealand centric menu is wallaby. But yes folks, there are wallabies in New Zealand, an introduced pest. The wallaby tartare hails from Hunter Hills and is served with fermented hot sauce in a puffed piece of wagyu tendon.
Ahi's scampi corn dog has become one of Auckland's iconic dishes. I'm glad it is part of the "trust us" menu, otherwise, I would have had to order it separately. It's a fun snack served on a stick along with burger sauce. Delicate in flavour and my only complaint is that I could have eaten another one.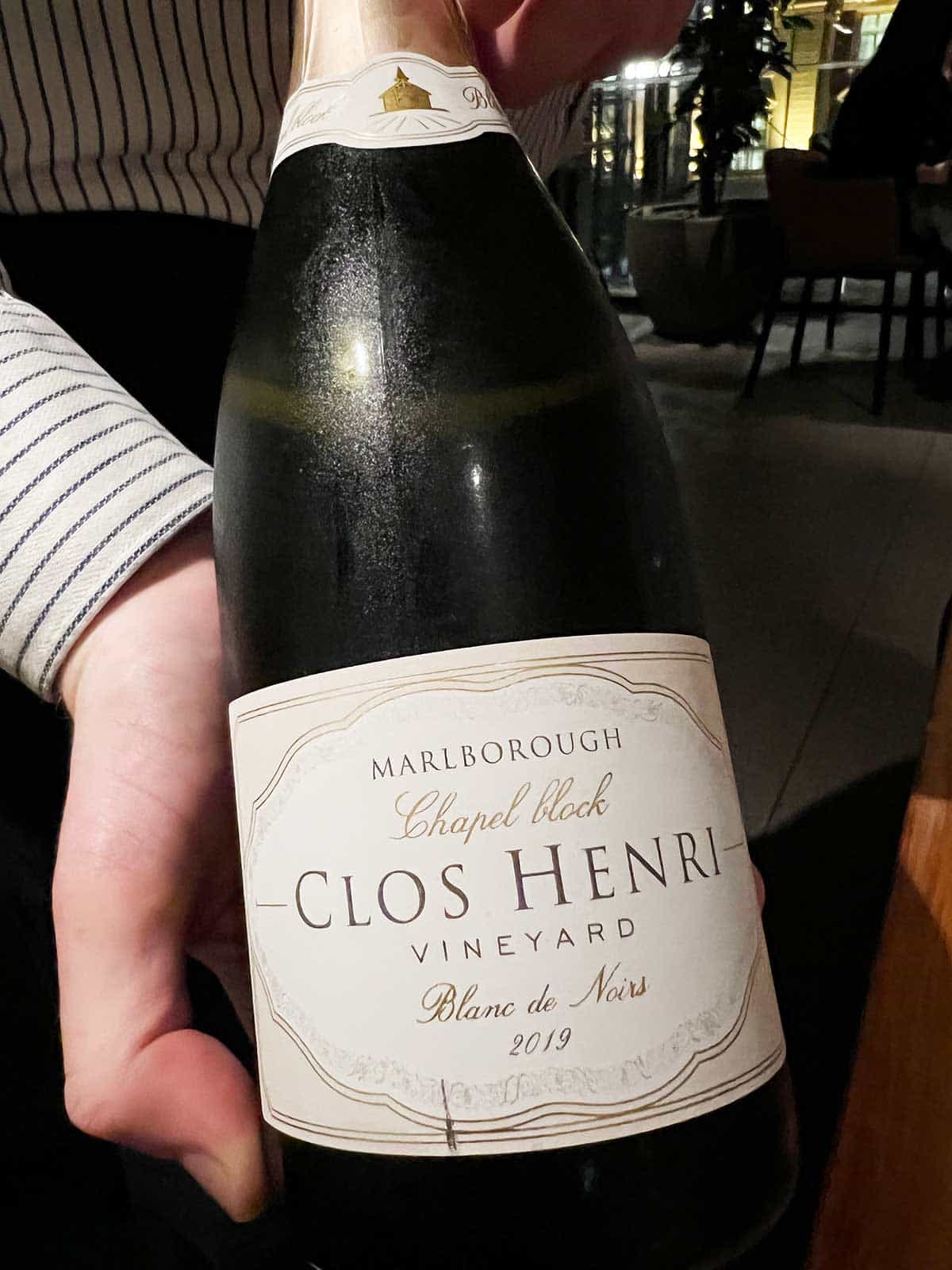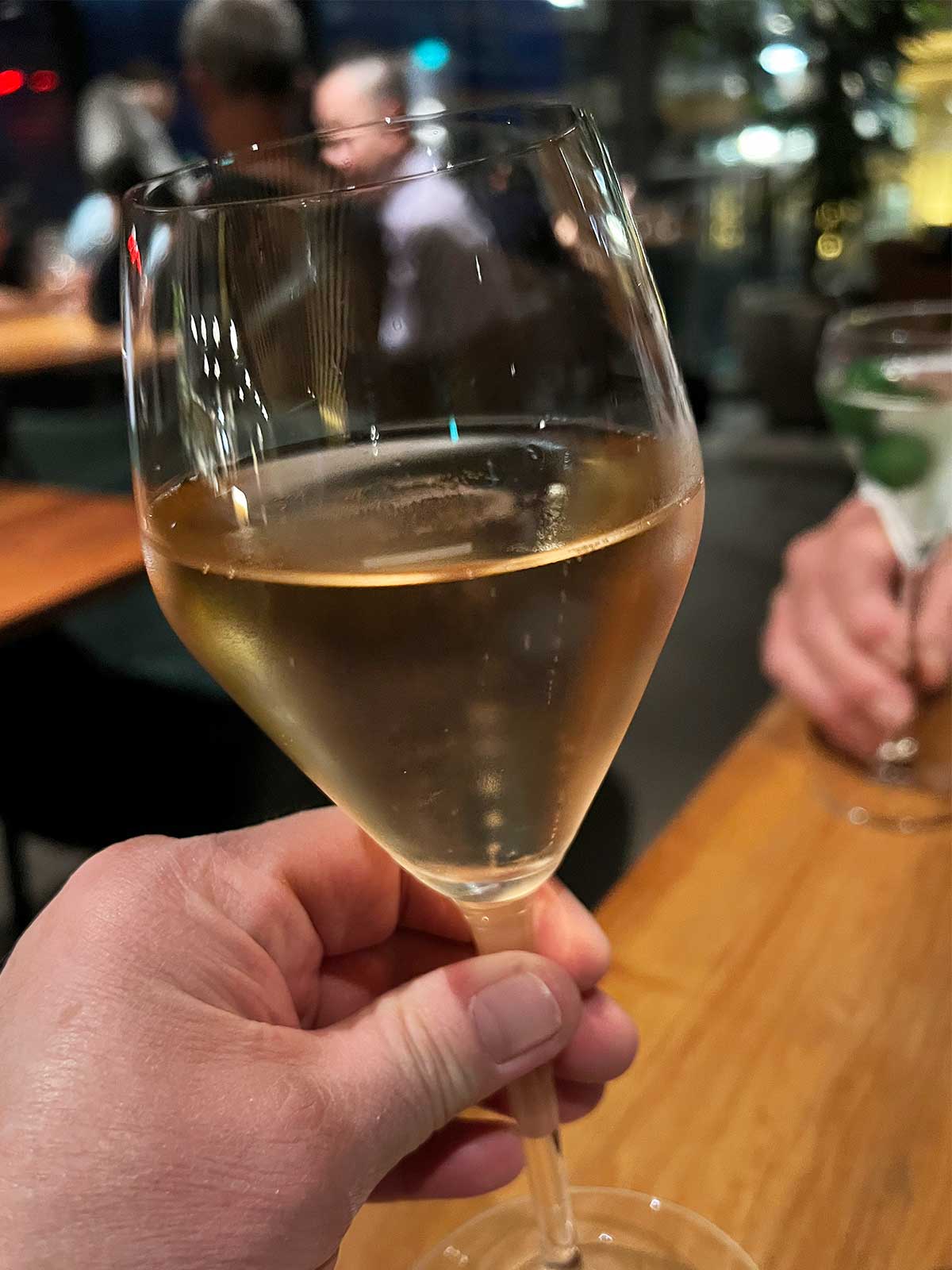 The wine match for snacks was the Clos Henri Chapel Block Vintage Blanc de Noirs (2019). This sparkling white was the perfect match for the oysters with its fine and consistent bubbles, delicate acidity, and crisp finish.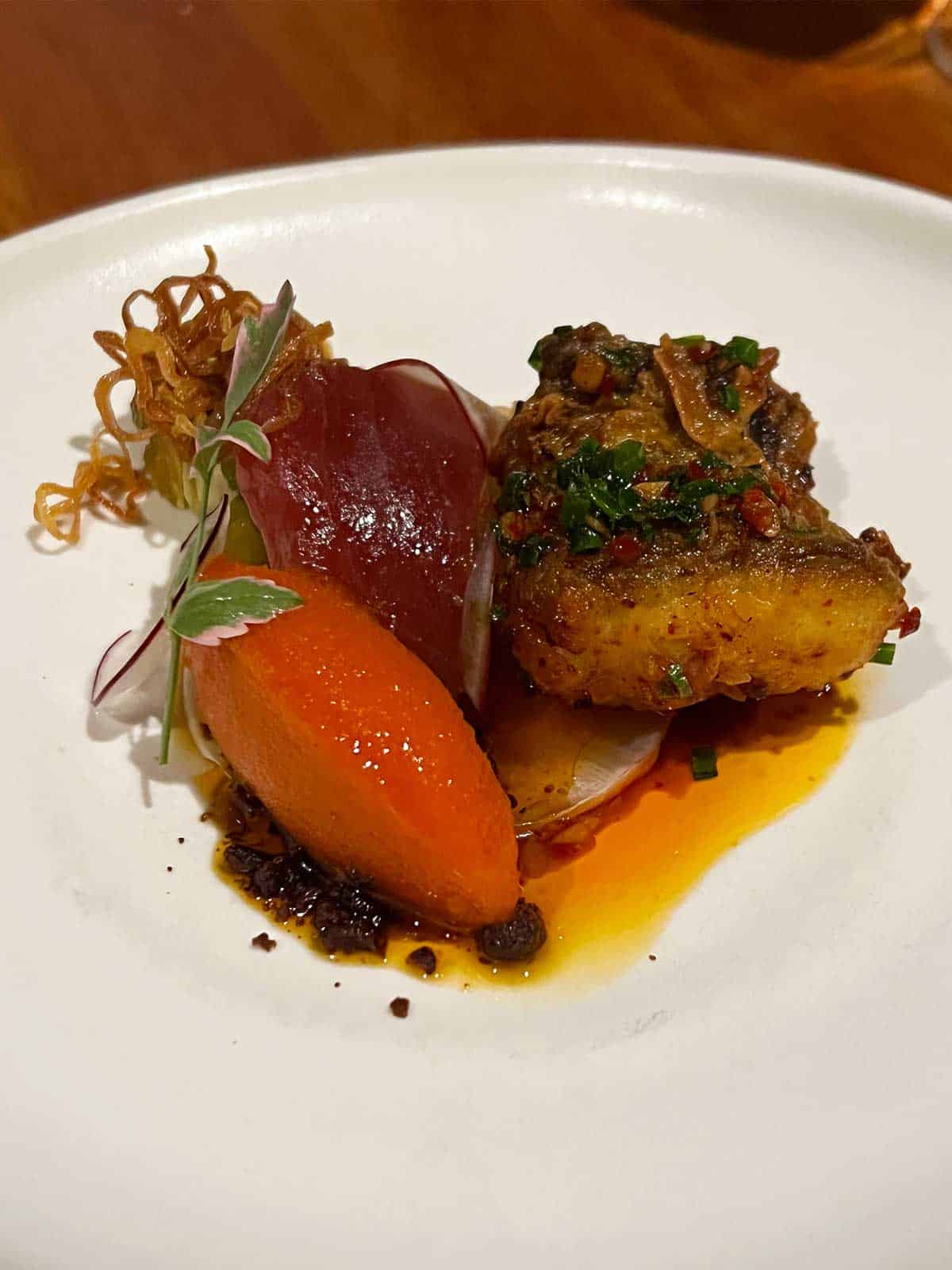 Our first course is Tuna + Tuna, with ingredients from Waikato and the West Coast. It is funny to note that the Hawaiian word for tuna is also ahi.
The sashimi-style tuna is accompanied by crispy fried longfin eel, fermented capsicum, shiso, and breakfast radish. A sprinkling of freeze-dried black olive adds an extra flavour pop.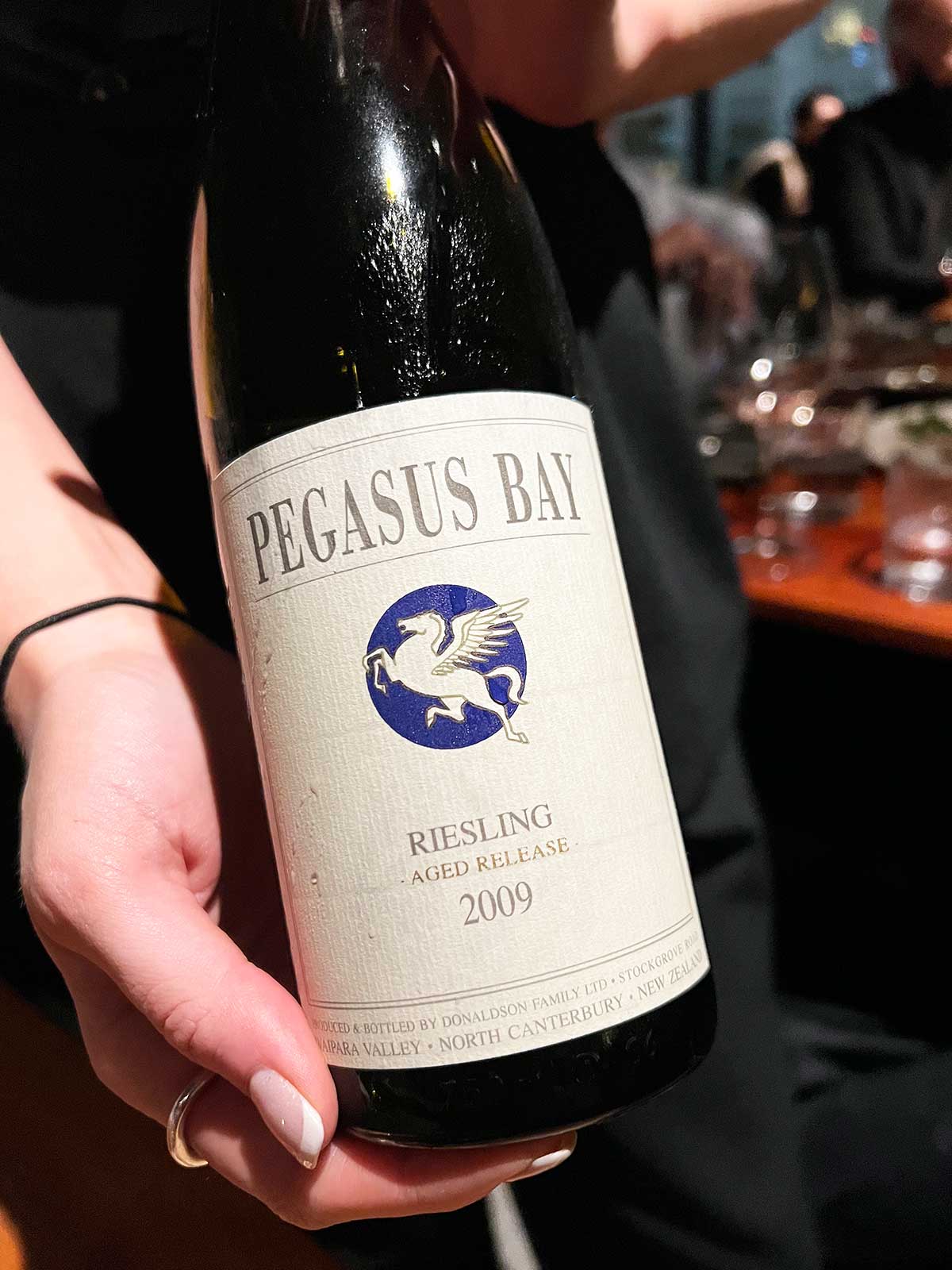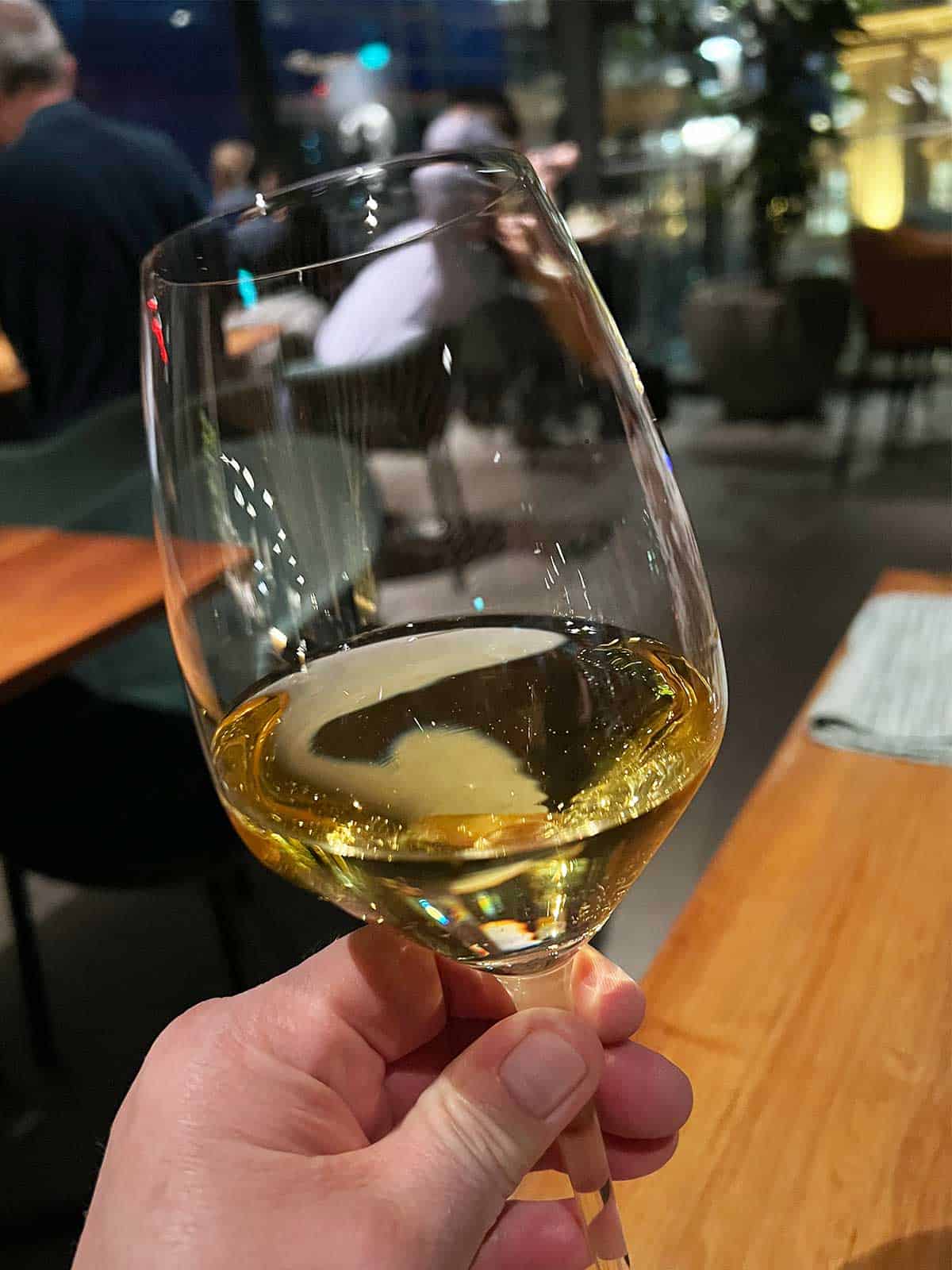 The wine match is Pegasus Bay Aged Release Riesling (2009). It is a big, lush, complex riesling with a gentle sweetness, medium acidity, and a rich, with a harmonious finish.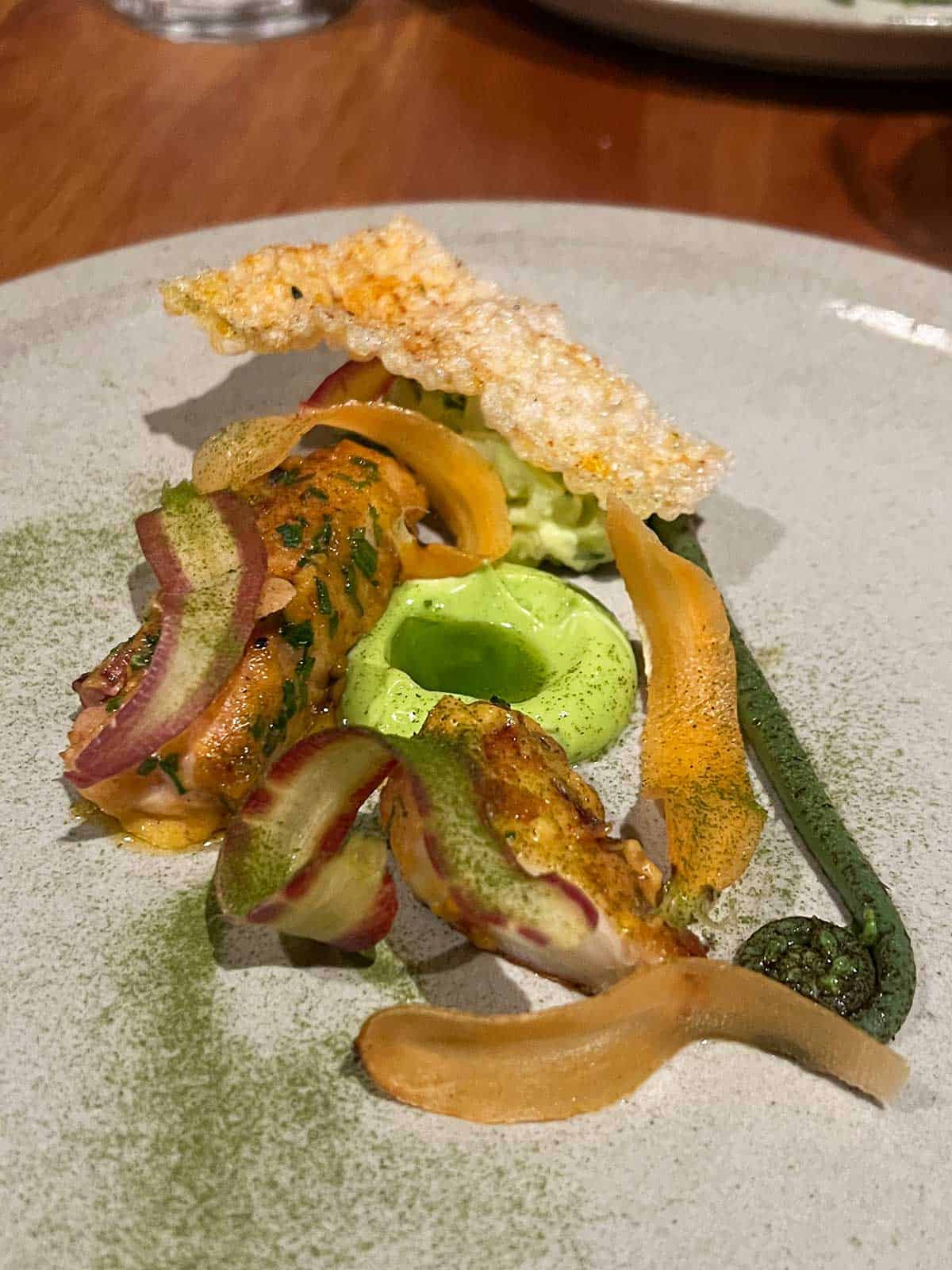 The second course is miso BBQ's octopus koru. The octopus is from the Bluff Coast and is served with pickled pikopiko, parsley mayonnaise, potato salad, baby carrots, and an octopus cracker.
The octopus is gorgeously tender, which I love with the textural contrast of shaved raw Dutch carrot and the crunchy cracker.
Koru is the te reo Maori word for coil based on the shape of an unfurling fern frond and refers to the pickled pikopiko, and probably the curling tip of an octopus tentacle.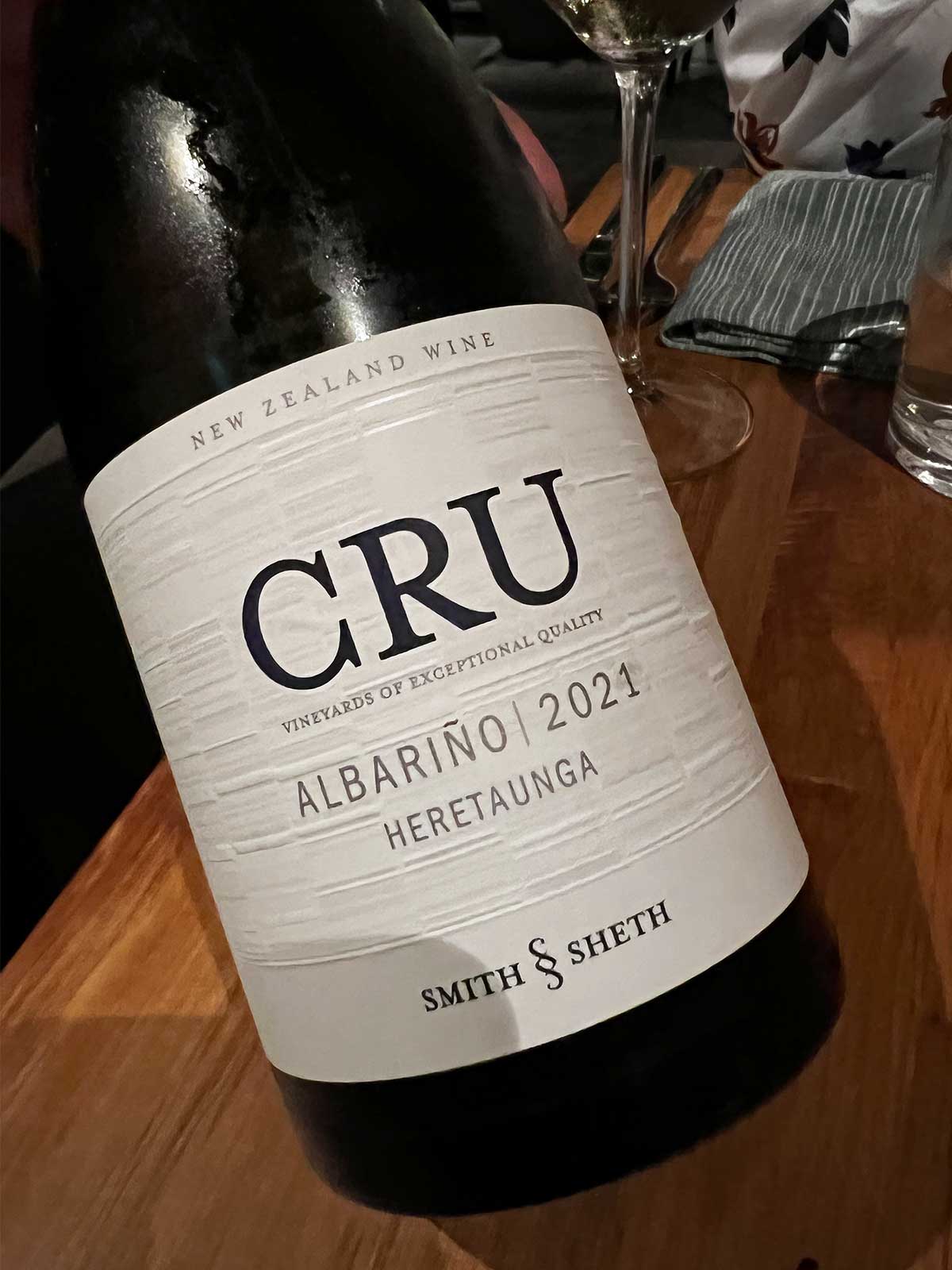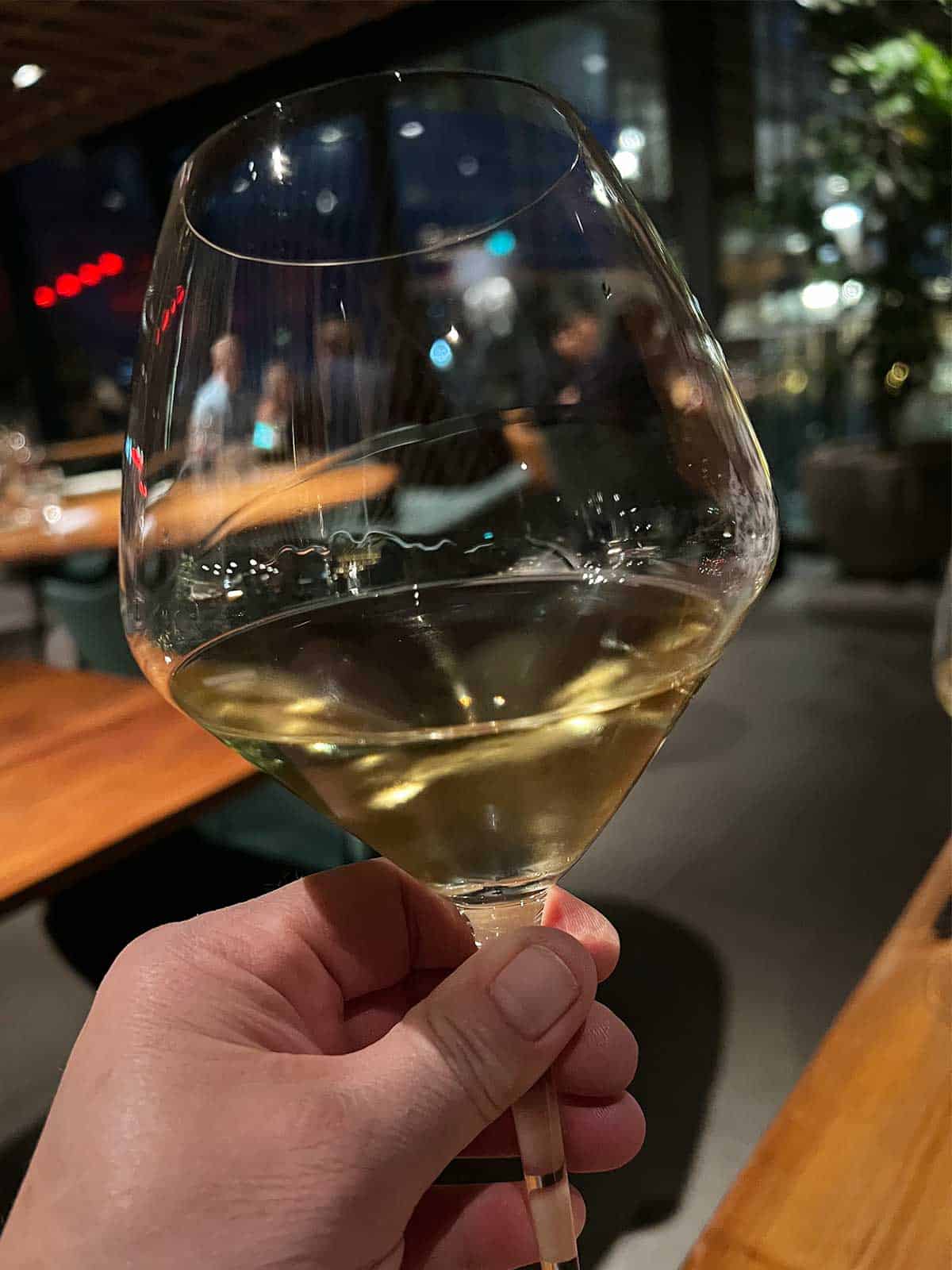 The wine match is Smith & Sheth Cru Albarino (2021). A pale straw-coloured wine that is rich and full-bodied with a crisp acidity giving great balance.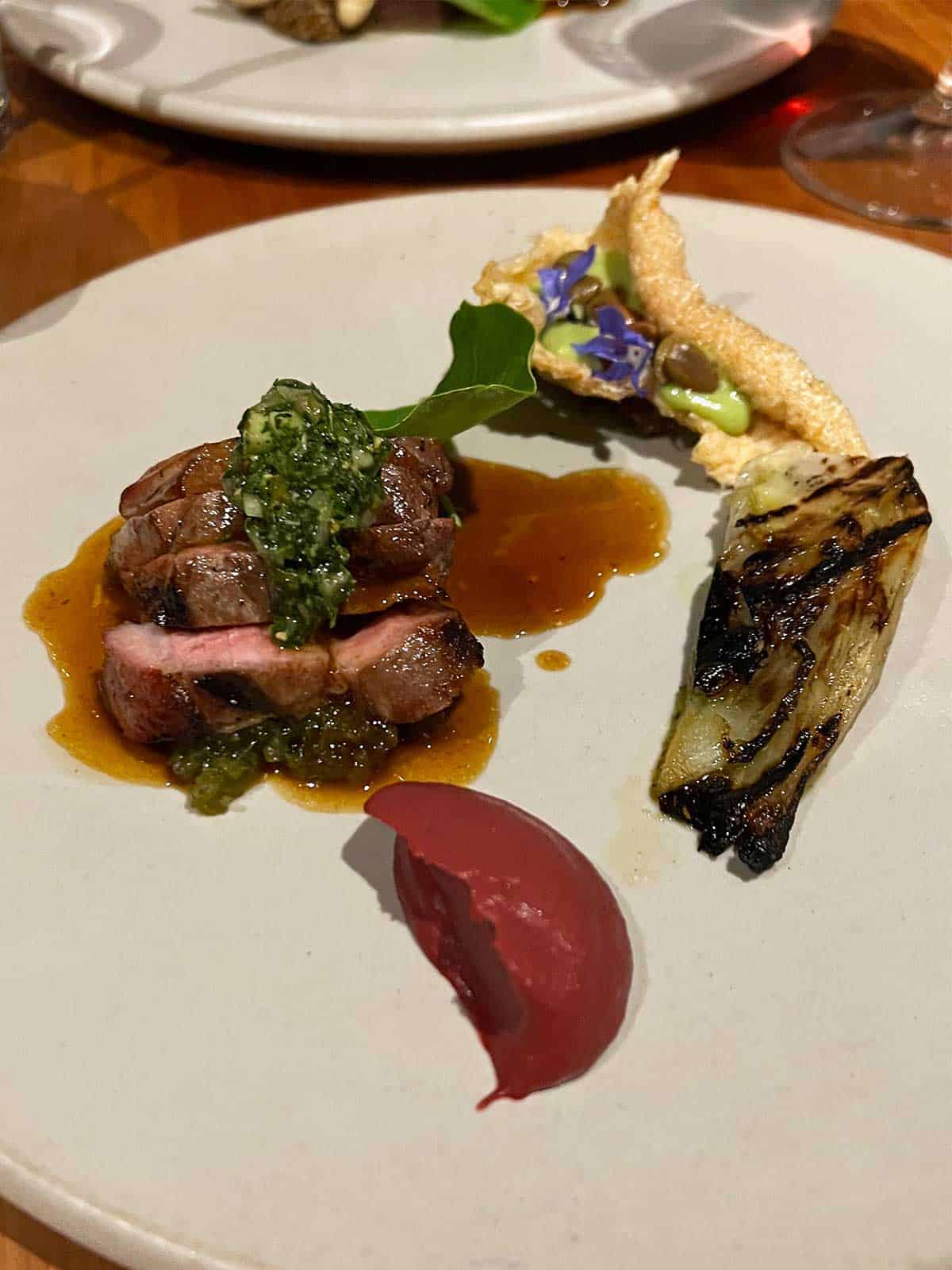 The third course, and our last savoury dish, is large white x Duroc pork which refers to the breed of pig from Otago. It is served with red cabbage, pumpkin seed mustard, fennel, and salsa verde.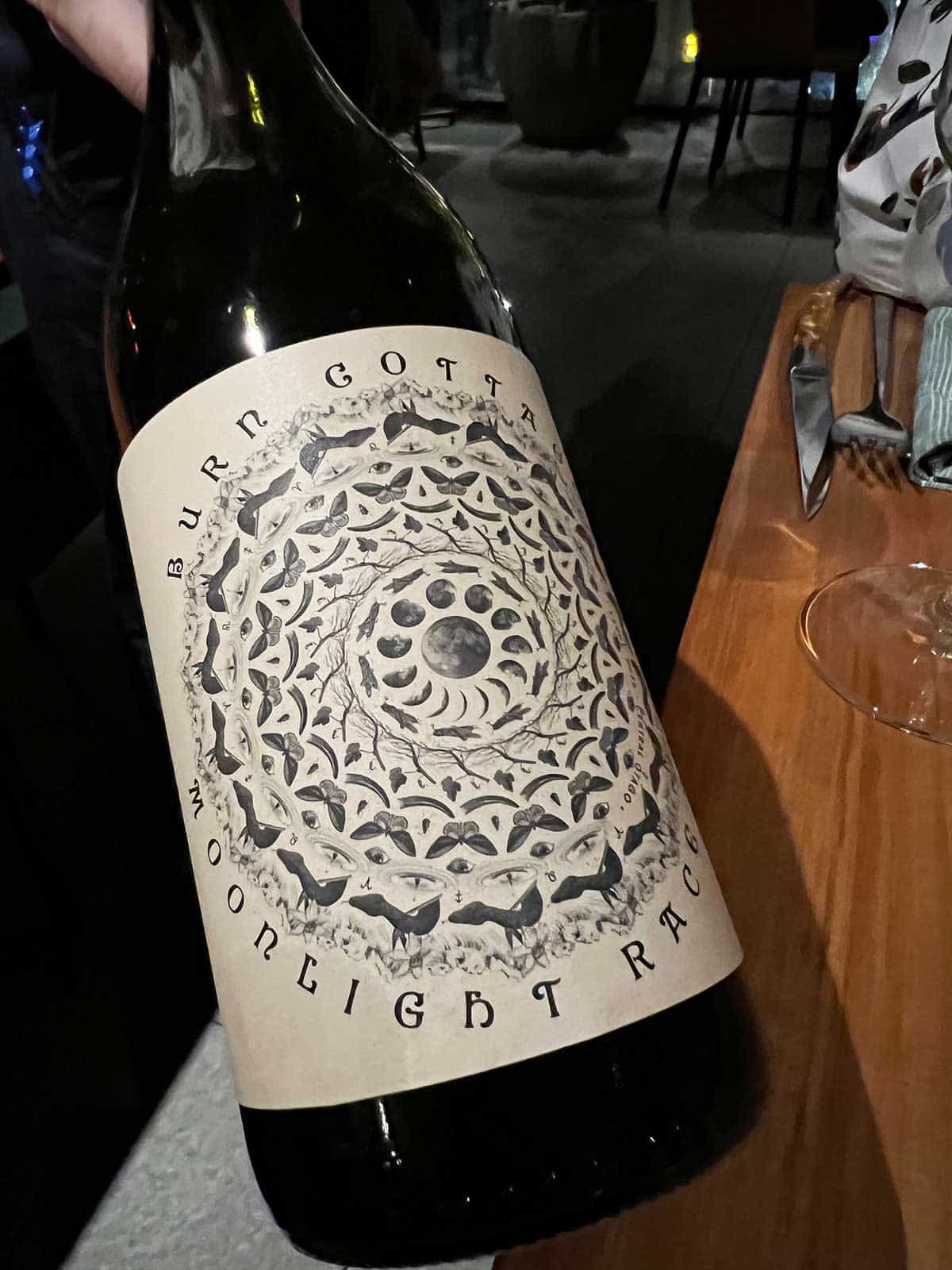 The wine match for the pork is Burn Cottage Moonlight Race Pinot Noir (2020). This elegant wine has a silky texture with fine persistent tannins extending the harmonious finish.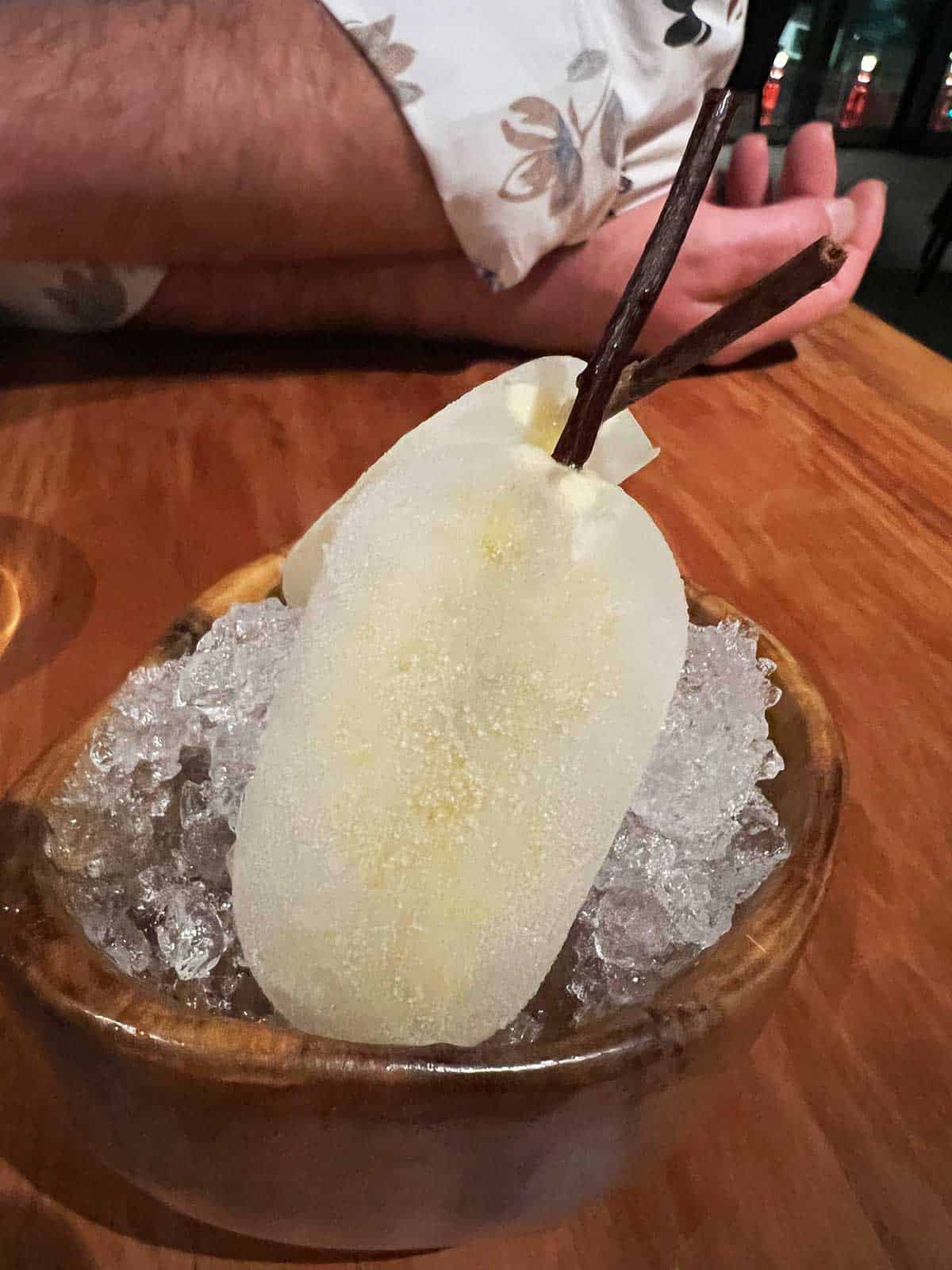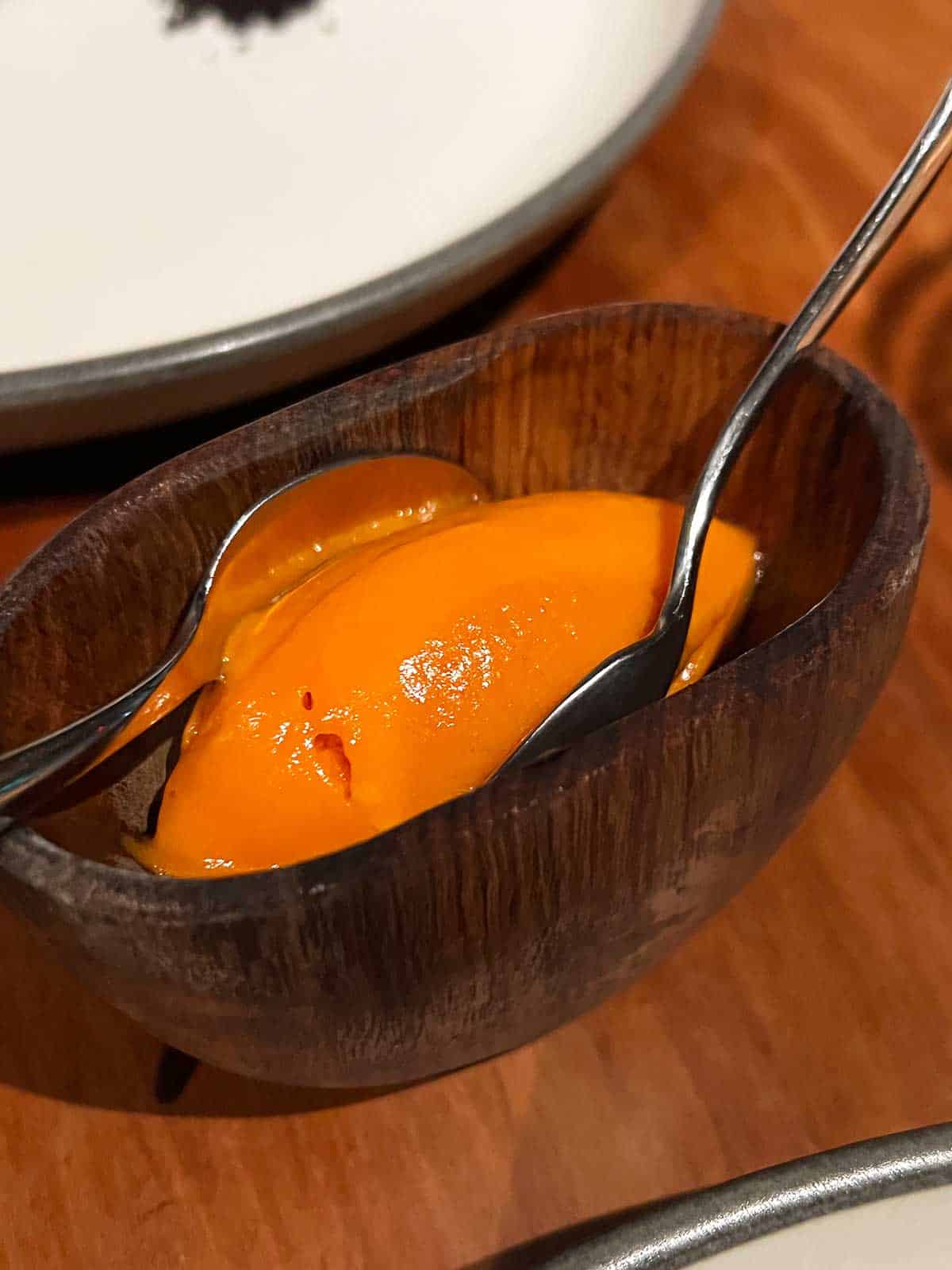 With the savoury courses finished a palate cleanser is served before the fourth and final dish. The limoncello ice blocks are tart and refreshing. Due to the "lemon" aspect, Mac is offered an alternative of carrot sorbet.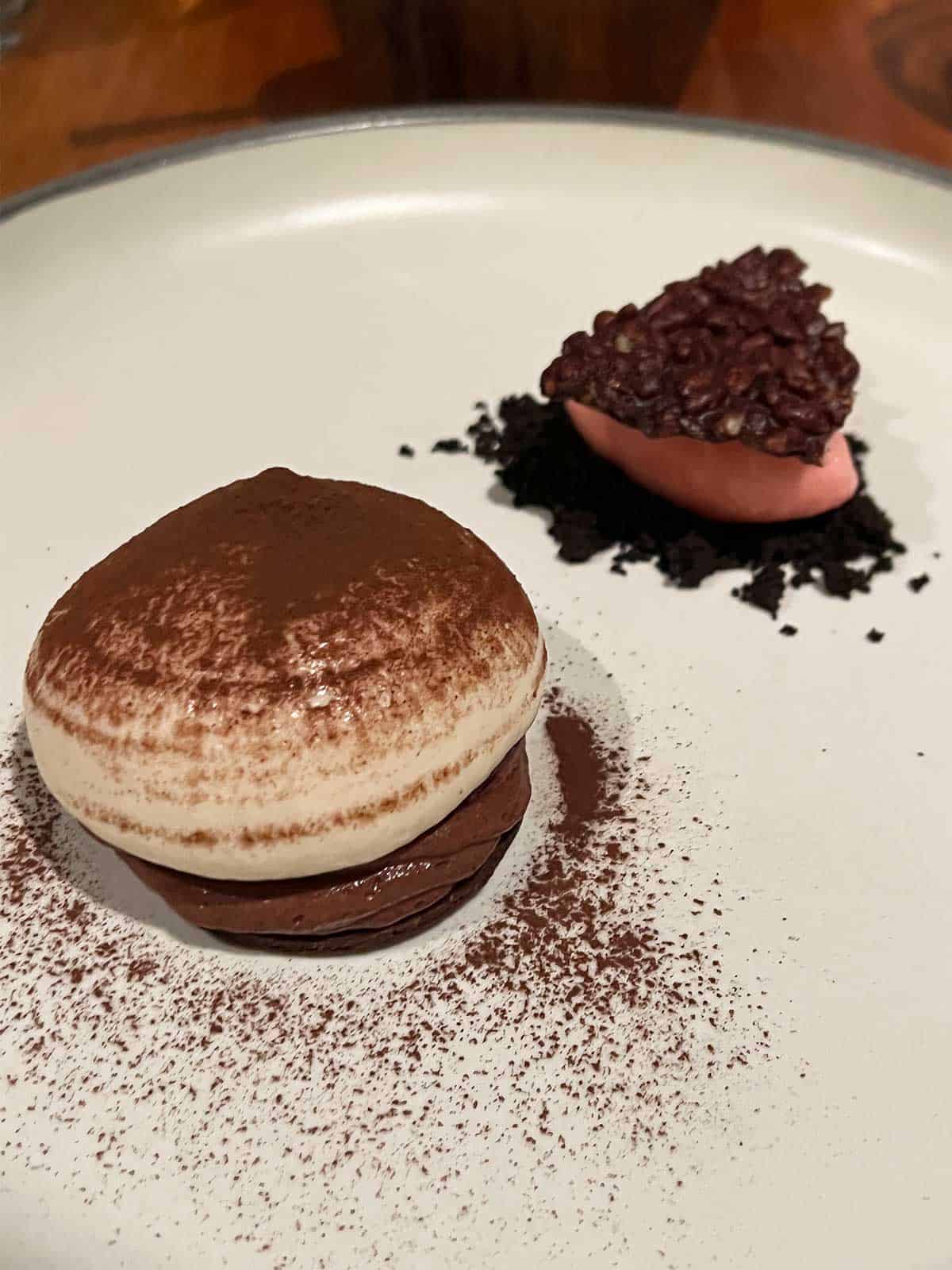 Dessert, and our final course, is naked mallowpuff. The elegant version of the loved Griffin's mallowpuff biscuit is a decadent chocolate ganache with a marshmallow top served with ruhbarb jam, sorbet, and coco pop miso.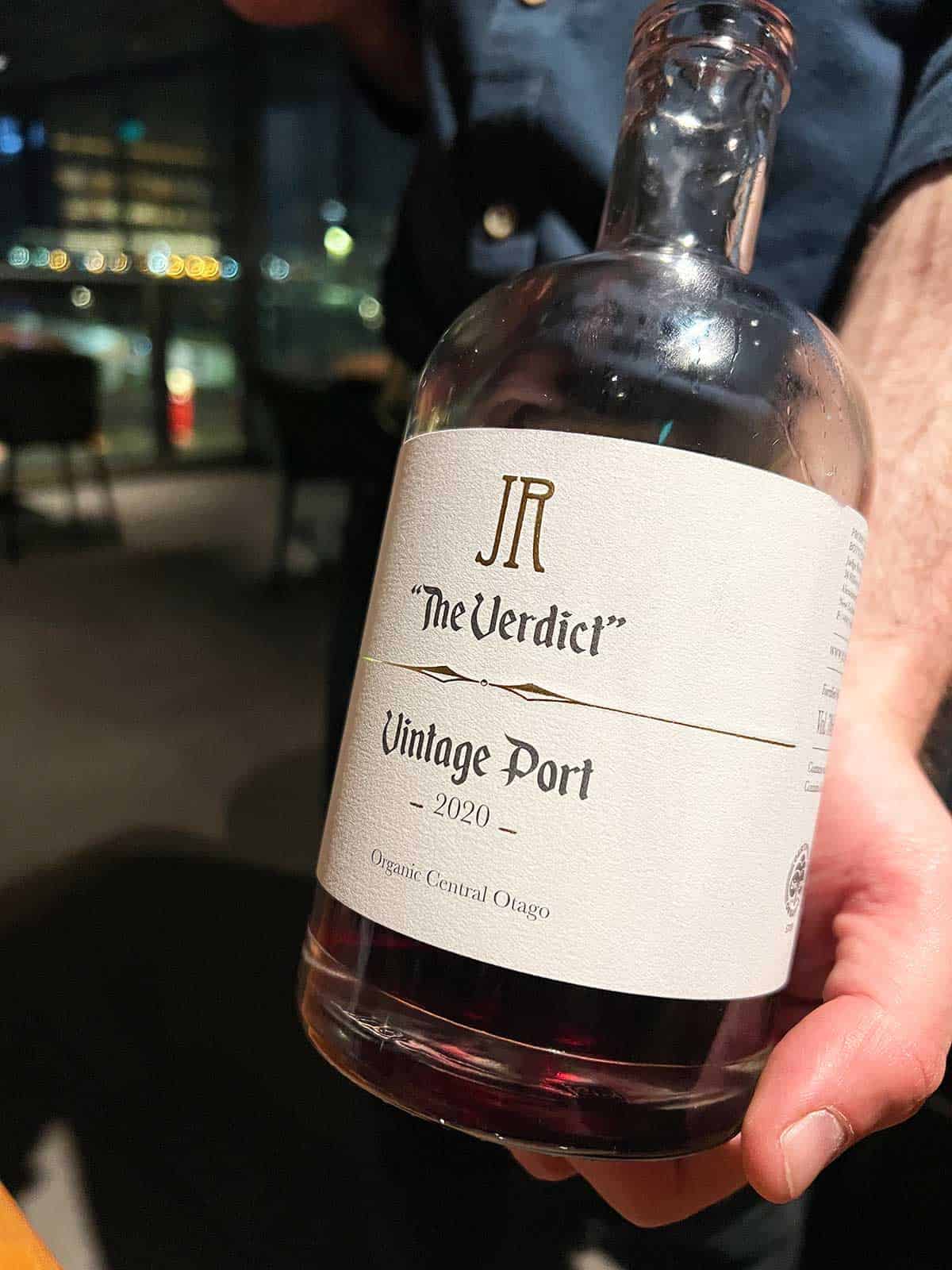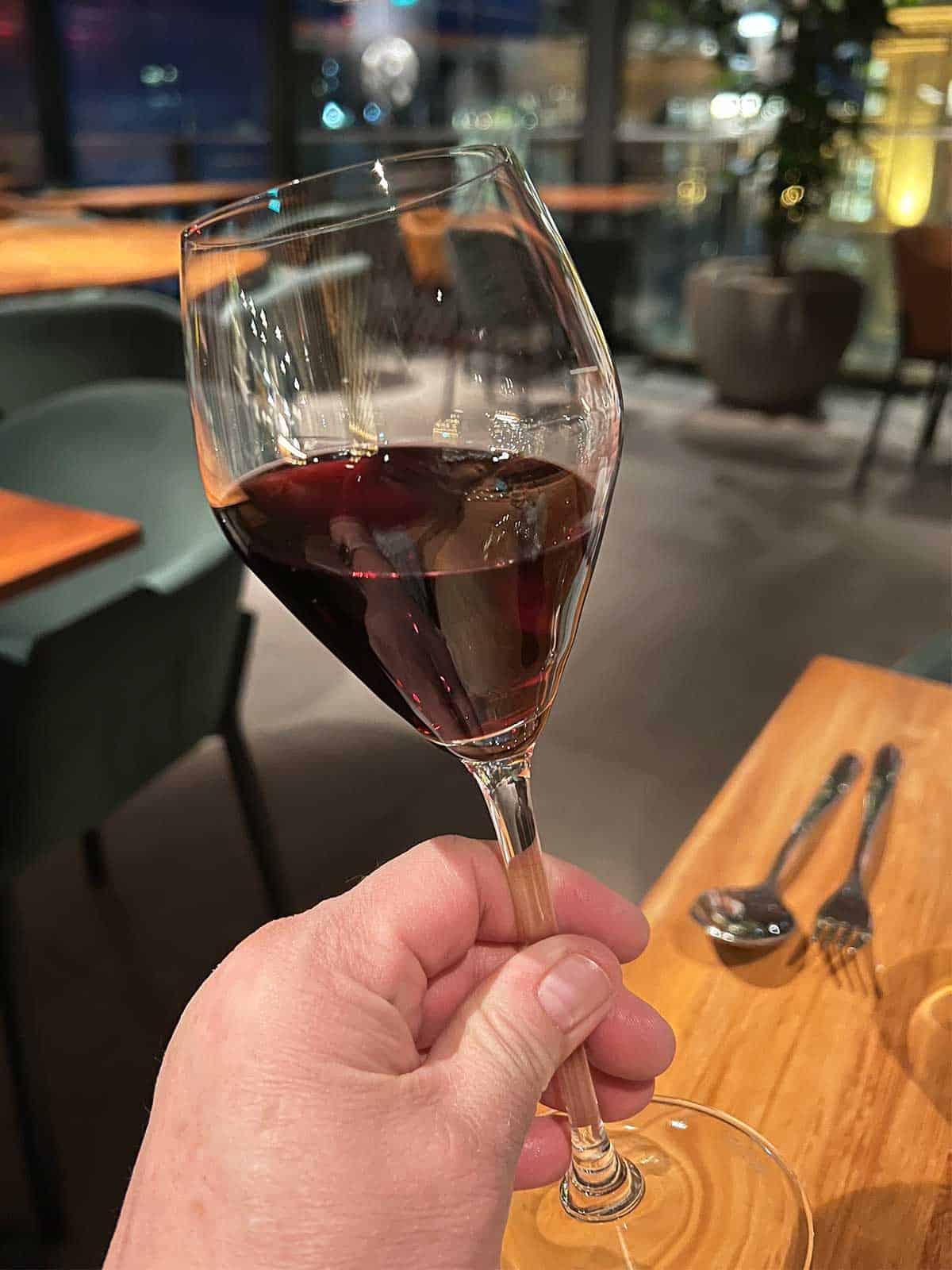 Judge Rock "The Verdict" Vintage Port (2020), the dessert match, is made from St Laurent, an ancient grape variety related to Pinot Noir. It is deeply aromatic, velvety, and rich on the palate.
Final Thoughts
We dined at Ahi on the final night of our Auckland visit. You could say we saved the best to last, though unintentionally. I was expecting the food to be great but didn't think it would be the highlight restaurant of the trip.
It isn't often with a degustation menu, or chef's pick, that all dishes served are stand outs. With Ahi's "trust us" menu, we enjoyed every dish. There wasn't anything served that wasn't noteworthy.
Ahi Auckland FAQ's
Cuisine
A love letter to everything Aotearoa, Kiwi cuisine done right.
Go-to Dish
Wallaby Tartare & Miso BBQ Octopus Koru
Great for
You don't need a reason to visit, just do it. Great for date night, or a larger gathering. I suggest leaving the kids at home and enjoying the experience.
Cost
Trust Us Menu NZ$165 pp + Wine Pairing NZ$115 pp
Snacks NZ$6-14, Starters NZ$33 each, Mains NZ$46 each, Dessert NZ$17-22
What are the Ahi opening hours?
Ahi restaurant in Auckland is open 7 days a week, 12pm - 9pm.
Contact Details for Ahi
Level 2, Commercial Bay, on the corner of Queen Street and Quay Street.
+64 225 244 255
www.ahirestaurant.co.nz