Have you ever been the sole passenger on a commercial flight? It happened to me last year in the US. But before I get to the actual flight, let me set the scene.
I had an early flight from Chicago's O'Hare international airport to a rural town in Iowa called Burlington. Not heard of Burlington? Don't worry, you're forgiven, it isn't a major US tourist destination.
At 5am, all bleary eyed I shuffle down to grab a cab out the front of my hotel, the Congress Plaza. To state that the weather was crap is an understatement. High winds, rain bucketing down, it's still dark and it's cold.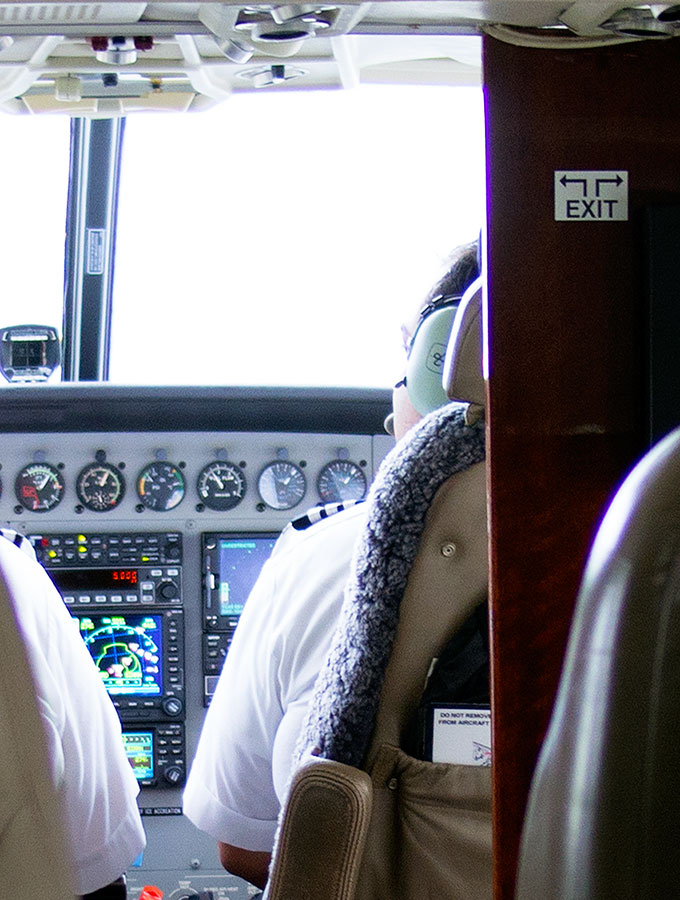 My flight leaves at 8am, but I'm giving myself plenty of time as the only flight I have ever missed in my life was in the US. Plus clearing security takes a lot longer than in Aus. I was flying Air Choice One (not to be mistaken with Air Force One) and had no status for priority check in. At non peak times it's just over a 30 minute drive to O'Hare, leaving at 5am I felt I had ample time.
How wrong was I! A major accident had turned the freeway into a parking lot. After being part of the stretching motor vehicle conga line for a good hour my young female cab driver decided to break ranks. She was determined to get me to the airport on time. It was now just after 6.30.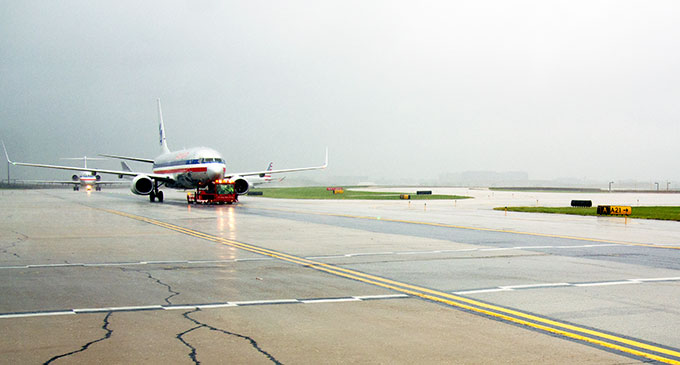 Off the freeway we went, pedal to the metal we navigated side streets and laneways. It was very much a stop and go operation as half of Chicago had the same idea. We were making up time, but I was still pretty sure I wasn't going to make the flight.
We reached O'Hare at 7.40. I had 20 minutes to get a boarding pass, clear security and get to the gate. I felt my chances at this stage of making the flight were zero.
I thrust cold hard cash with a decent tip at my driver, fled the cab into the terminal. Looked left, looked right. Had no idea where the hell I had to go and promptly pounced on a security guard.
With direction I galloped to the counter. Expecting a long line of people, I was surprised that there wasn't one. In fact there was no line at all. "Crap", surely I have missed check in and the flight.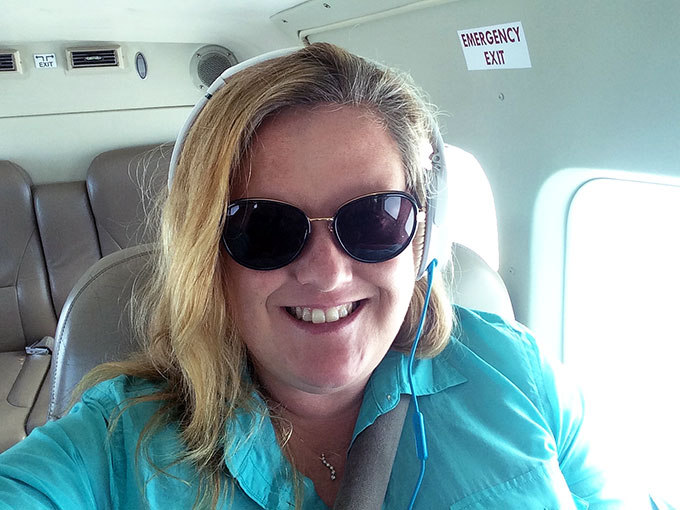 Approaching the counter I expected the worse. Instead I was greeted with a big smile and assurance. "No, you're fine, departure's delayed due to the weather. Looks like security isn't busy either, you have plenty of time. I'll see you at the gate for boarding."
You'll see me at the gate? Ah okay, sure see you there. With boarding pass in hand I joined what must be the shortest US security line in history. I was through in about five minutes.
Worried there was still the possibility of missing my flight, I headed straight to the gate. Gate 9B. I couldn't find it. There was a Gate 9 and a Gate 10 with air-bridges, but no Gate 9B.
I sat down wondering if I was in the right place and feeling very unsure about everything. Then I saw the smiling check in girl chatting to colleagues. I breathed a sigh of relief, at least I was in the right place.
It was now 9am and flights were being called and boarding around me, but still no boarding call for my flight. I was busting to go to the loo, but too scared to leave the gate in case they left without me, I approached smiling check in girl for an ETD. I think I even shared the fact I was busting to go to the loo. With the flight still delayed, there was time, and I was assured they wouldn't leave without me. Yeah, right I've heard that one before. Just happened to be at US airport too.
Went to the loo, grabbed a much needed water and something to eat (first thing to eat and drink that day), then headed back to the gate. Sat down and continued to wait.
Around ten smiling check in girl came over to me in a hi-viz vest. It was time to board. I apologised about my panic on being left behind. She smiled again and casually said "no need to worry, we wouldn't leave without you, you are our only passenger".
I stop with mouth on the floor. Only passenger? Is this going to be like an episode from the Twilight Zone? Or with the terrible weather am I going to have my own personal Buddy Holly experience? (his plane crashed due to bad weather in Iowa, you know, the place I am heading). Except I'm not famous, can't sing or play a musical instrument.
Gate 9B? It did exist, a stairwell that looked like an emergency exit. Down two flights of stairs and out into weather I really don't feel we should be flying in. It's 10.30am but the clouds are so grey it looks like night. The whipping wind has given the heavy rain a vertical fall.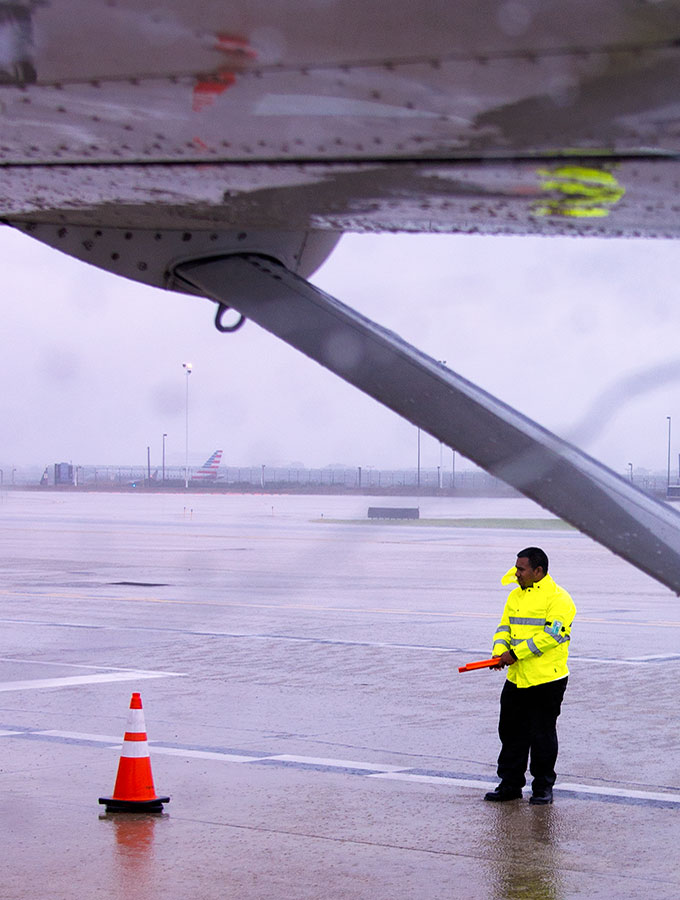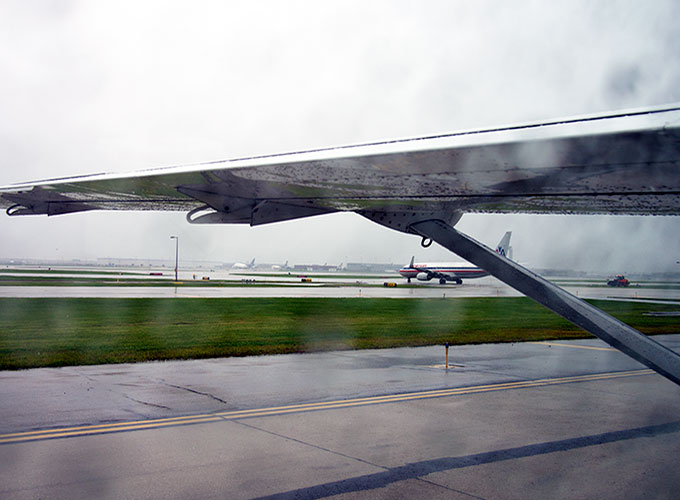 That's when we walk around the corner and I spot my plane, an eight seater Cessna Grand Caravan. Tiny plane, wicked weather, I am feeling more like Buddy Holly as my day progresses.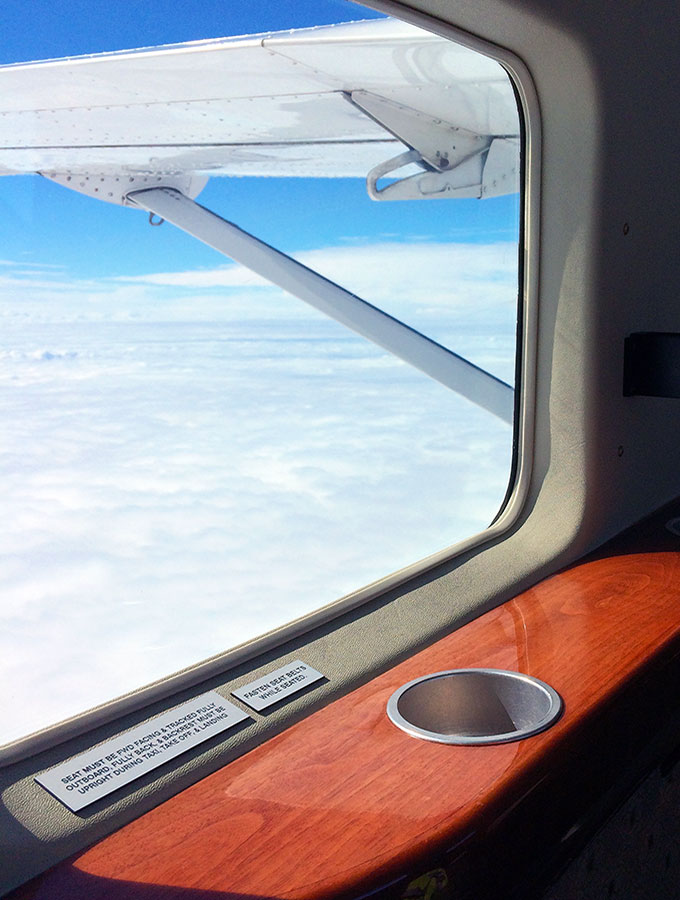 After a frolic in the rain to board the plane, I am looking like a drowned rat. The pilot and co-pilot welcome me and tell me to sit anywhere I wish. I choose the third row, which has ample amounts of legroom as the seats in the row in front actually face me. The seats are plush leather, wide and really comfortable. Think business class seating, just the seats, don't go getting carried away on me. I am feeling a little spoilt and still can't believe I am it, the only passenger.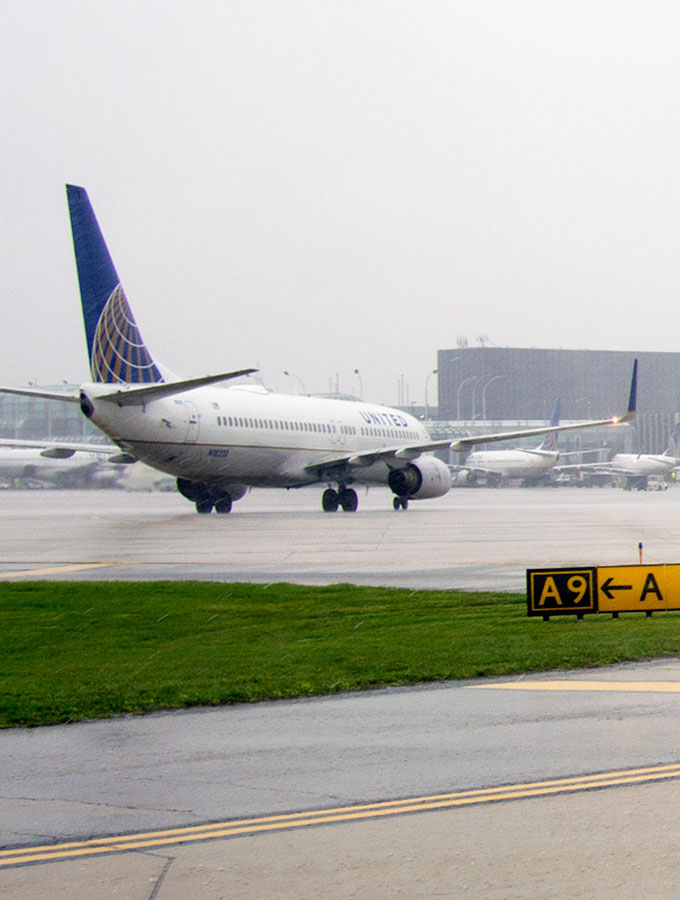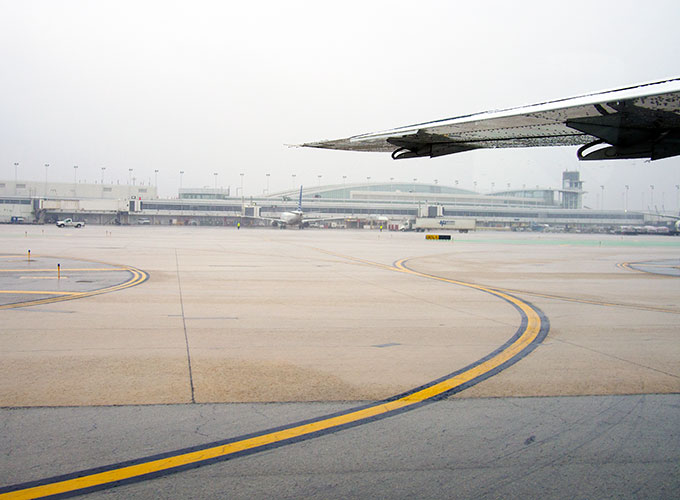 Now this is where the real novelty of my trip really begins. I mentioned earlier that this is an international airport. We are lined up for take off along with 747s and other larger planes. We were so tiny and quite insignificant, an ant amongst the elephants. There is nothing like lining up for taxi behind a plane that you could probably roll right under and out the other side of without their knowledge.
The Cessna has large wide windows, which means you really feel part of the environment around you. You see things you just don't witness from a jumbo.
With the weather still quite terrible we take off. You can feel the wind pushing the little plane around as we do. It's been a while since I have been in a little plane (my dad use to be a non commercial pilot, small doesn't phase me), but when we take off you realize size does matter.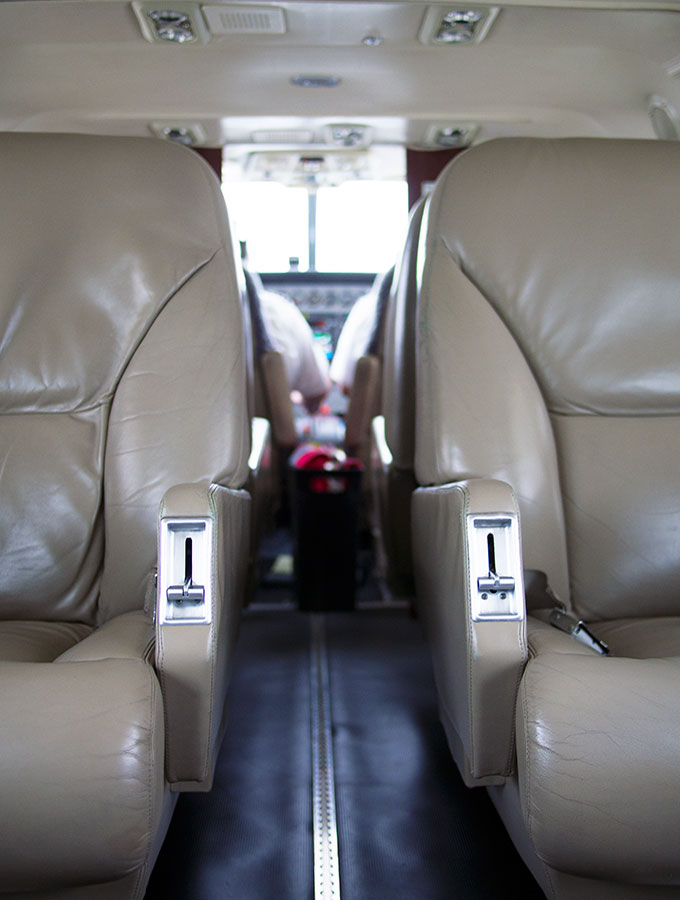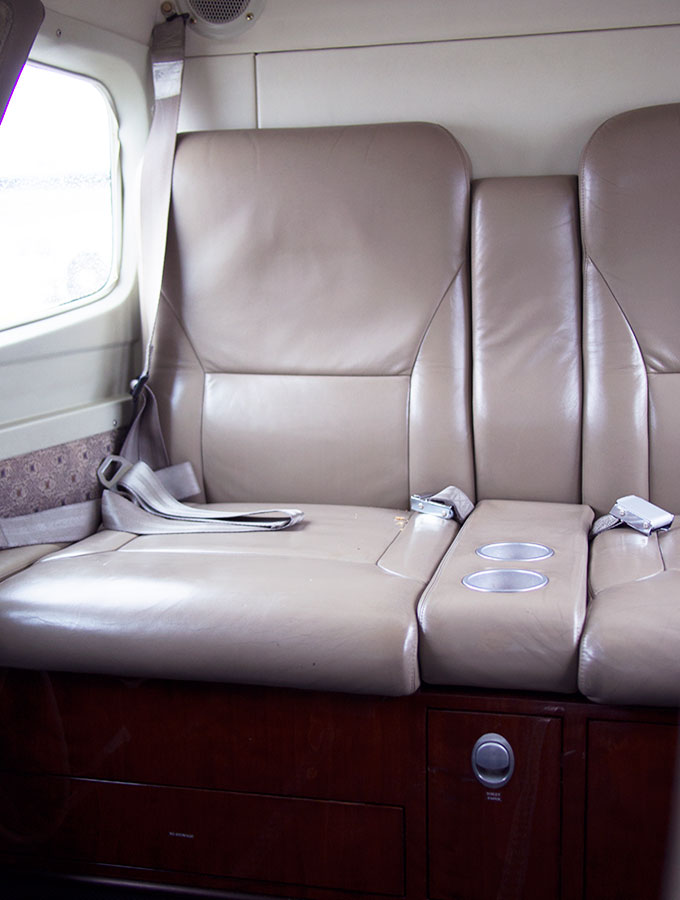 If I were in a 747, the weather would have been nothing, maybe a bump here or there. We were being tossed around like a green salad. Good thing I like flying. My mind drifts yet again to Buddy Holly.
We rise above the weather and are eventually greeted by calm, clouds and then sunshine. It hardly seems long at all (45 minutes) and we are landing in Burlington.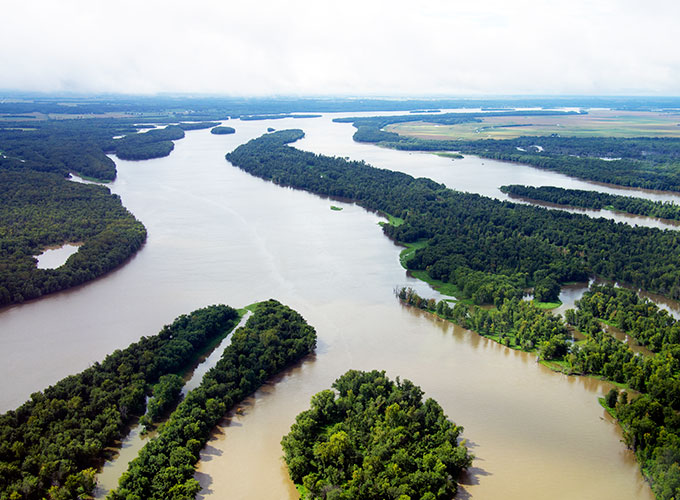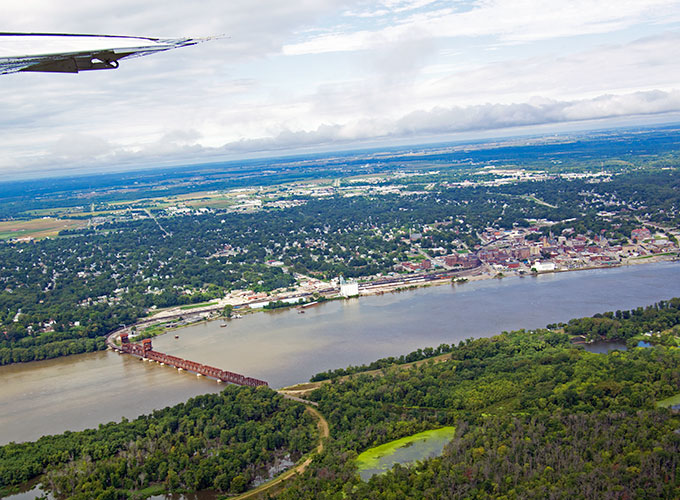 After visiting my customer, I return to the airport later that afternoon for my flight back to Chicago. Our delay in the morning has put the rest of Air Choice One's flight schedule out of whack. Plus there is another nasty storm heading our way.
This time I am not flying alone, the plane will actually be half full. There are four of us. Running a few hours late a different Cessna and pilots. This pilot is very keen to get us in the plane and off the ground pronto.
How do I know this? He told us so. "There's a big ass storm coming, if we don't leave now, we are all stuck here. I don't want to be stuck here, do you?" He was extremely hyped to leave. Quick marched onto the plane, with an episode of losing his cool with the lady in front of me. She was acting a little too much like one of Brown's cows for his liking, and he assertively told her so.
All safely on the plane, I am in the same seat as the morning. Unlike in the morning, there isn't a wall between the pilots and the rest of the cabin. We hear and see everything. I haven't seen a pilot go through a pre-flight checklist so quickly in my life. Once again I was having thoughts of Buddy Holly as I looked at the black clouds very quickly closing in on us.
Before I knew it we were airborne. Just beating the storm, but not completely as we were being tossed around once again. Brown's cow lady was squealing and screaming at every jolt, sideways zag or upward zig. The uni student (who makes this trip several times a month) and I just smiled and rolled our eyes at each other over the theatrics in the front row.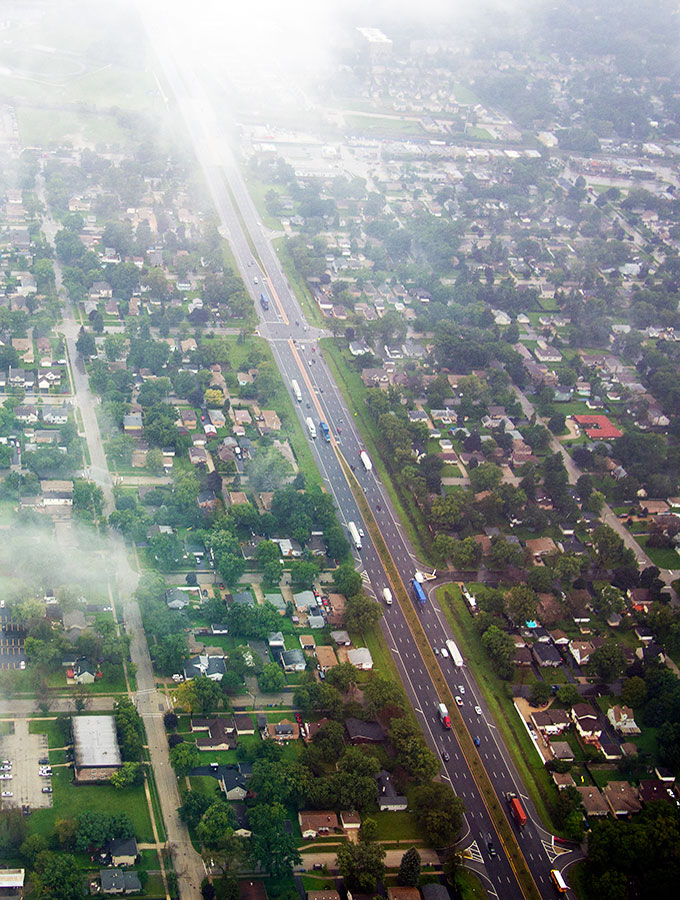 Safely landed in the miserable weather of Chicago, check in girl meets us at the plane as we disembark. Asks how my day was, general chitchat as we make our way back up the two flights of stairs to the terminal. Before I know it, I am standing in the cab rank at O'Hare. I can't help but smile to myself when I think about the day, did it really happen?
You may be wondering why my flight left at all with one passenger and not cancelled. You may wonder even more when I tell you my return trip plus car hire in Burlington cost just under US$200. I asked and the explanation was that Air Choice One is subsidized by the Government for flights performed, not passengers carried.
Air Choice (I keep wanting to type Force) One is a family run business which services a handful of small little towns in neighbouring states to Illinois. They offer an important service for those rural towns. It's a small airline, but the staff are truly lovely, and you definitely get personal attention.
When chatting to staff, it seems my solo flight was pretty uncommon, and normally flights are full. Even just four of us on the return flight was a little unusual.
Out of all my years of flying, this trip is one that I won't forget. An experience I will treasure forever.
What's your most memorable flying experience?
Sara xxx
Sara flew as a paying passenger of Air Choice One.
Don't miss one delicious recipe, restaurant review or travel adventure. Sign up to our weekly newsletter below to keep updated. There is also bonus content just for subscribers.