You can't go wrong with a decent pork belly recipe. But when it is my favourite twice cooked Asian pork belly recipe, you will be in pork belly heaven.
The recipe is based on one I discovered by Bill Granger a long time ago. His pork belly wasn't cooked twice and the inspiration for my orange caramel sauce was his recipe for caramel vinegar.
I have wanted to share this recipe with you for a while as it is one of my family's favourites, and has been for what seems eons.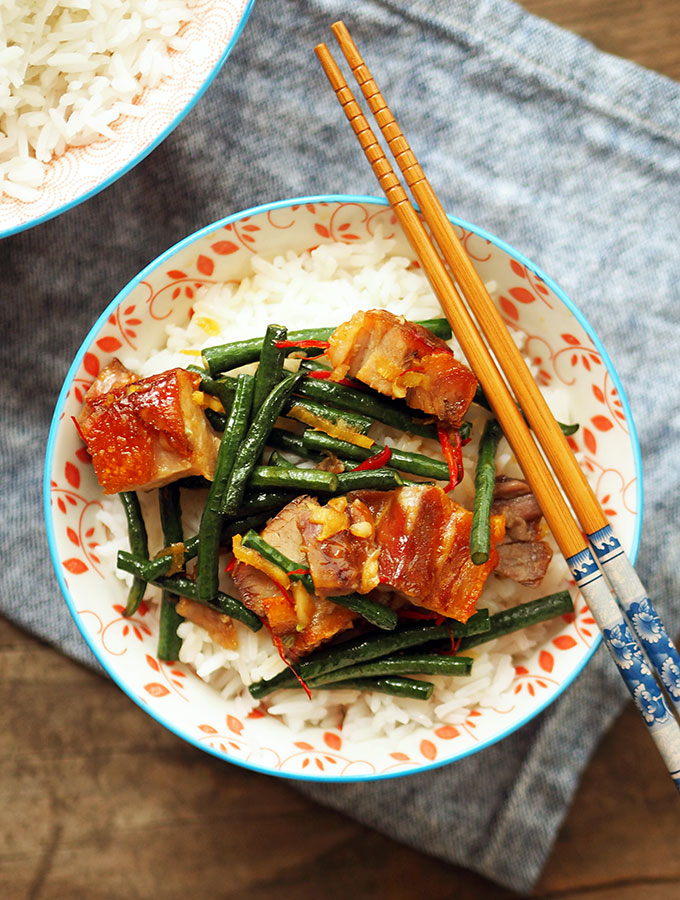 The caramel coats the crunchy pork belly during the second cooking. This results in a wonderful sticky, crunchy, sweet and savoury combination that you really can't help but gorging yourself on.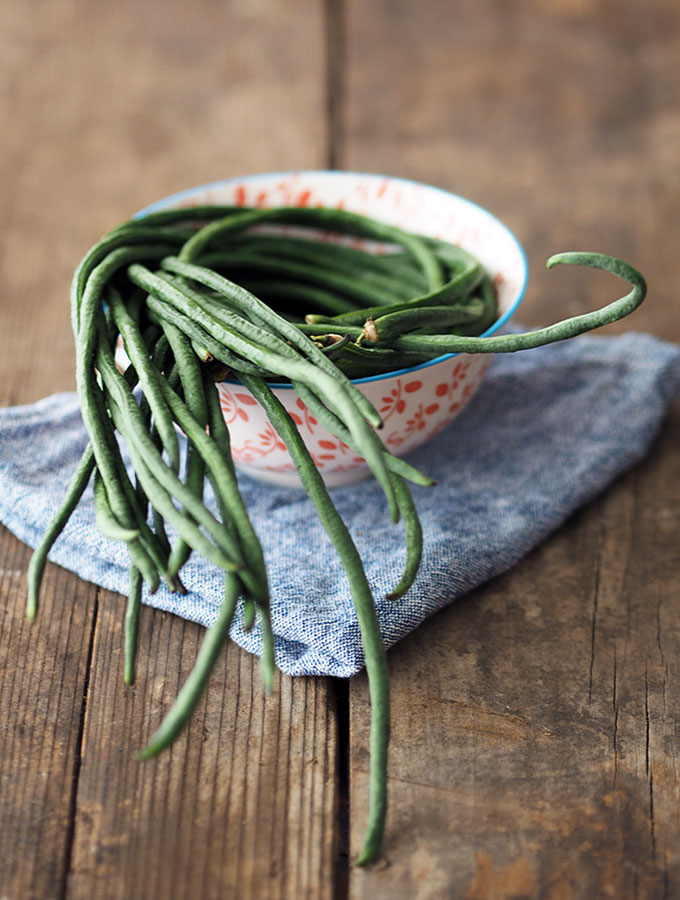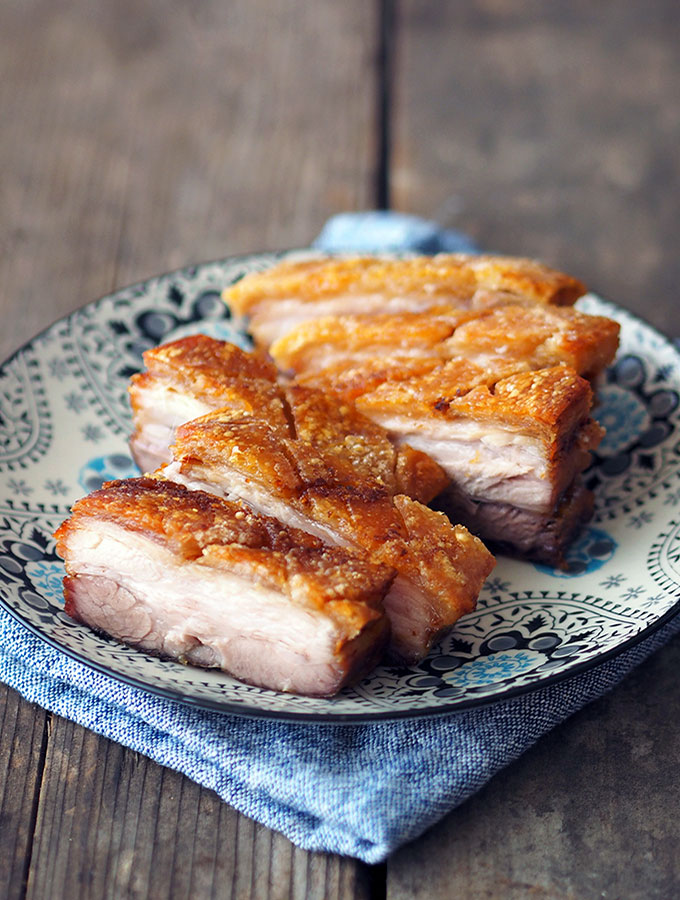 Over the years I have tried this recipe with different vegetables, but none work as well as the snake beans. In fact if I can't get my hands on snake beans I don't make this dish. I have tried common green beans when snake weren't available, but they just don't work. They don't hold their texture and crunch as well, and they also change the taste of the whole dish completely. This recipe is all about texture as well as taste.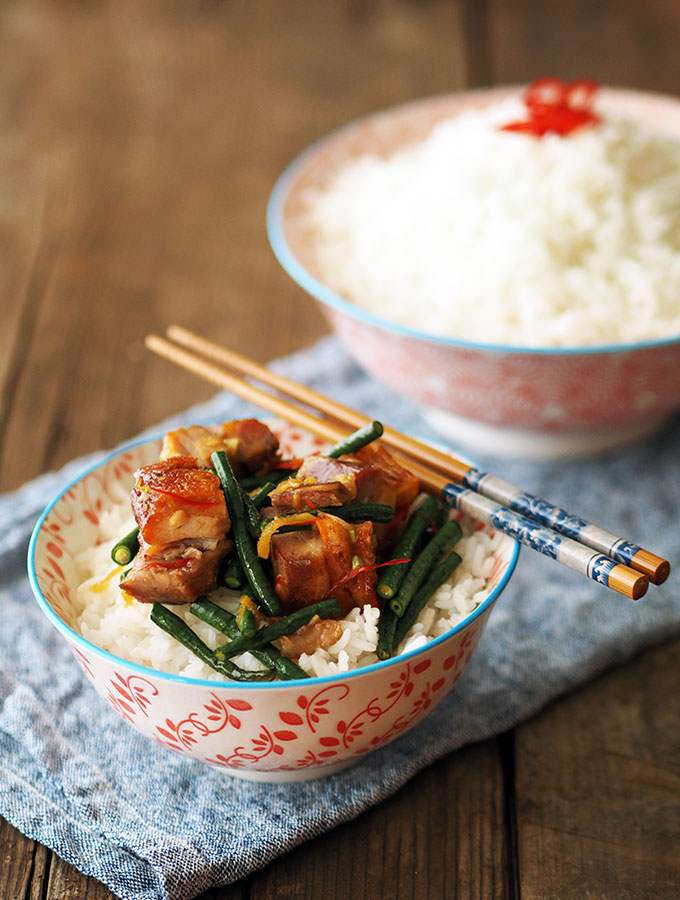 The beauty of this dish is that you can make the orange caramel sauce a day ahead as well as the pork belly. Which is perfect for entertaining mid week. All the time consuming work is done. You just have to make a basic stir fry when you are ready to feed your guests, and you end up with a restaurant quality result.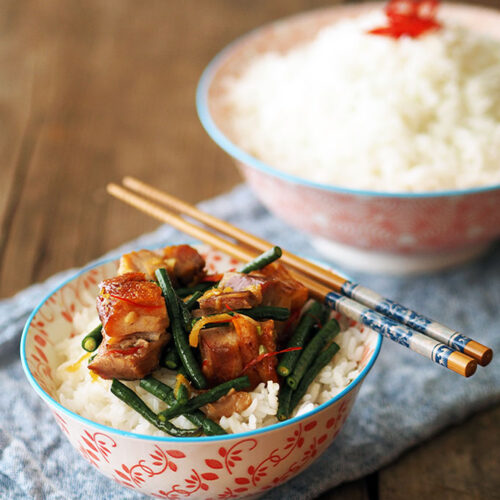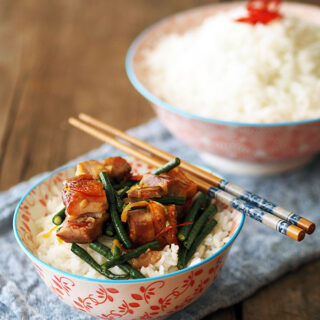 Twice cooke Asian Pork Belly with Snake Beans and Orange Caramel Sauce
Twice cooked pork belly means crunchy and tender pork belly. Snake beans add a great green crunch accompanied with luscious savoury orange caramel sauce. One of my favourite recipes.
Ingredients
1

kg

pork belly

bones removed skin scored

3

tablespoons

salt

Olive oil

salt extra & cracked pepper

2

tablespoon

vegetable oil

1

long red chili

finely chopped

3

cloves

garlic

finely chopped

10

grams

ginger

grated

1

bunch snake beans

cut into 5cm lengths
Orange Caramel Sauce
120

grams

brown sugar

80

ml

red wine vinegar

2

star anise

1

cinnamon stick

250

ml

chicken stock

1

orange

juice and peel
Instructions
Rub skin of pork belly salt and set aside for 30 minutes. Preheat oven to 220 deg C (430 deg F). Line a roasting pan, big enough for your piece of pork belly, with non stick baking paper.

After 30 minutes wipe salt from the pork belly with paper towel. Remove any excess moisture, ensuring the belly is as dry as possible.

Drizzle skin of pork belly with olive oil and massage in with fingers. Place pork in roasting pan skin side down. Drizzle some olive oil over the facing up meat side of the pork and season with salt and cracked pepper. Place in the oven and roast for 40 minutes.

After 30 minutes reduce the oven temperature to 160 deg C (320 deg F). Turn your pork over in the roasting pan so it is now skin side up. Roast for another 1 ½ hours. Then turn temperature up to 190 deg C (375 deg F) and continue to cook until your skin has become crisp crackling.

Remove pork from oven and set aside to cool. While pork is cooling make the orange caramel sauce.

Once cool place pork skin side down on a chopping board and cut pork into 4cm cubes. Set aside until required.

Place wok over medium heat and add vegetable oil. Heat and add chilli, garlic and ginger. Once fragrant add snake beans. Cook while stirring for a few minutes and then add pork belly. Stir and toss for another minute and add orange caramel sauce. Cook for a further few minutes stirring continuously until pork is well coated in the caramel sauce.

Serve immediately with steamed rice.
Orange caramel sauce
Place a medium size saucepan over a low heat, add brown sugar and vinegar, stir until sugar has dissolved. Then add the res of the ingredients and increase heat until a hard simmer.

Continue to cook for around 10 minutes until the liquid has reduced by around ⅔ to become a syrup. Remove peel, star anise and cinnamon from the syrup and discard. The syrup is now ready to use.

You can cook your pork belly and make your orange caramel syrup the day ahead for this recipe. Keep both covered in the fridge until needed.
Nutrition
Serving:
1
grams
Calories:
1524
kcal
Carbohydrates:
38
g
Protein:
25
g
Fat:
140
g
Saturated Fat:
54
g
Cholesterol:
181
mg
Sodium:
5413
mg
Fiber:
1
g
Sugar:
33
g
Did You Make This Recipe?
I do a happy dance when people share how they went. Tag me on Instagram or Twitter @bellyrumbles & #bellyrumbles
I have not had one single person eat my twice cooked Asian pork belly recipe and not fall in love with it. I hope you do too.
How do you like to eat your pork belly?
Sara xxx
Don't miss one delicious recipe, restaurant review or travel adventure. Sign up to our weekly newsletter below to keep updated. There is also bonus content just for subscribers.