Scones should be light as air, and these buttermilk chive scones fit that brief perfectly. This particular recipe isn't one of mine, but from Australian Chef George Calombaris.
George developed the recipe for Bulla Dairy Foods, which he has a close collaboration with. Did you know that Bulla is Australia's largest family owned dairy company? Six generations strong, Australian owned and made. You all know how I do star jumps and rustle my pom poms for Aussie produce and Aussie owned.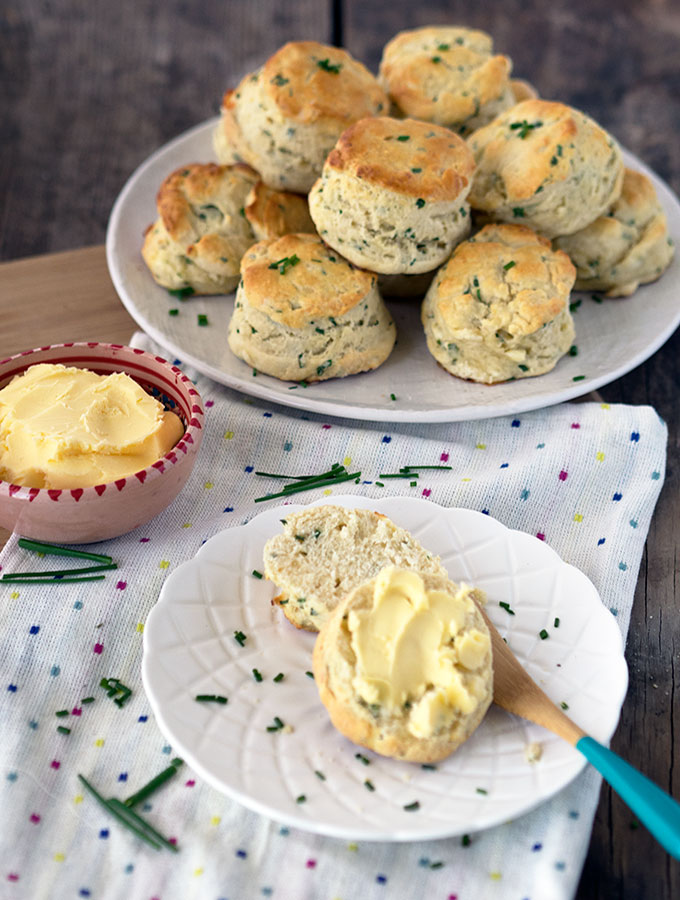 George uses Bulla professionally, as does Guillaume Brahimi and Kirsten Tibballs, two other of Australia's culinary stars. I recently experience first hand what these three can create using Bulla products at a leisurely media lunch. Actually there isn't such a thing as a leisurely media lunch. I always come away form them with half a voice from talking too much. I mean networking.
They served up some great dishes as you can see from below.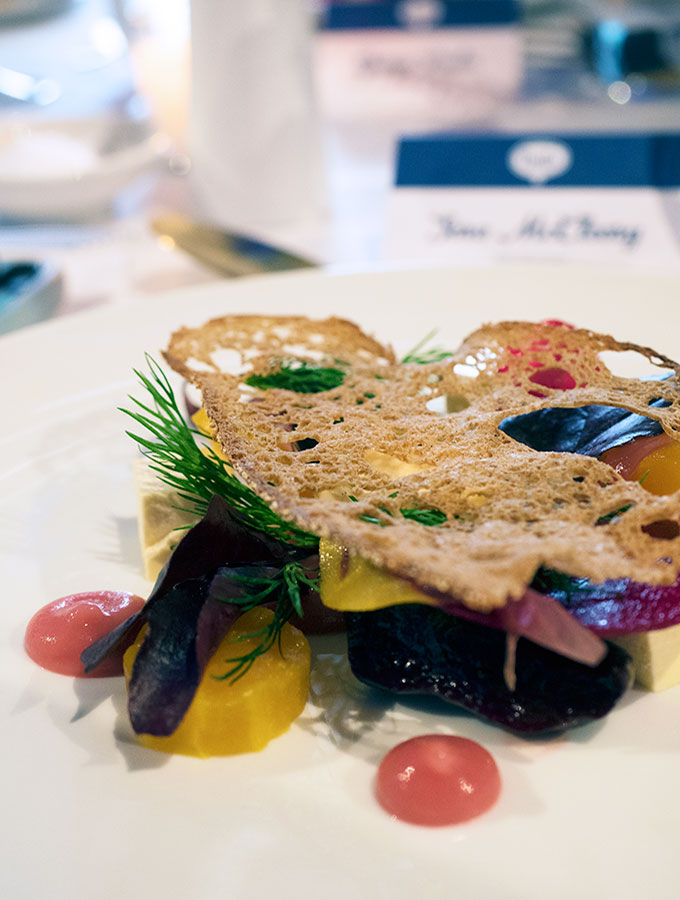 Entrée was by George, Variations of Beetroot, Crème Fraiche.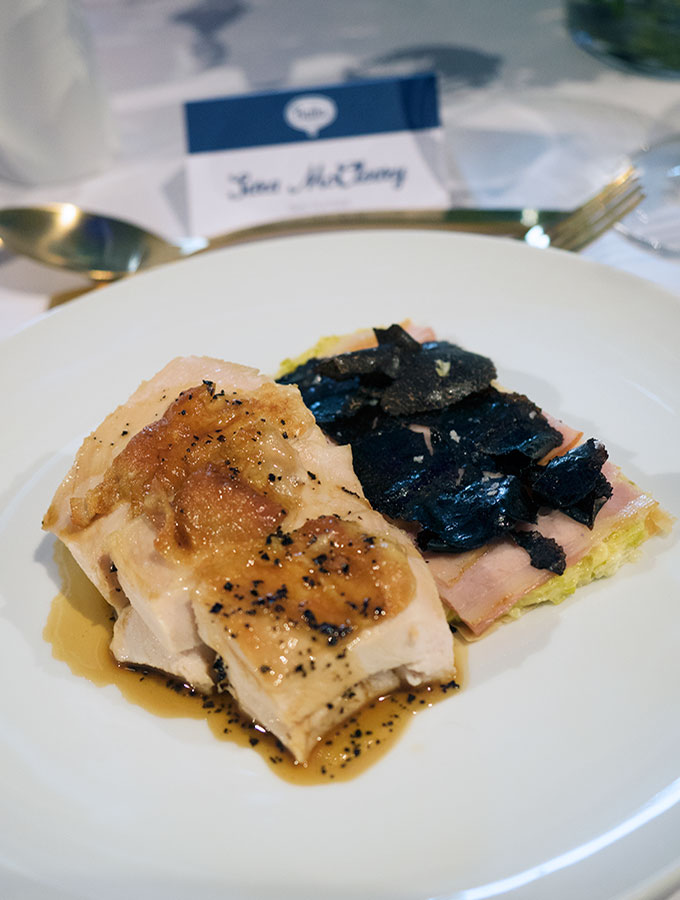 Guillaume was in charge of the main, Barossa valley Chicken on a bed of Confit Leek, Speck, Truffle and Cream.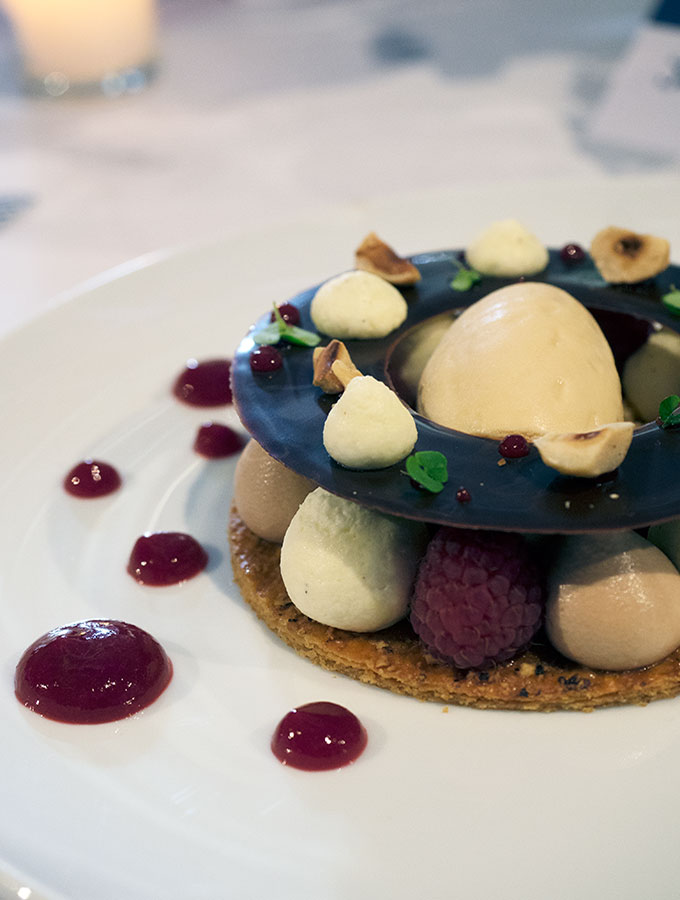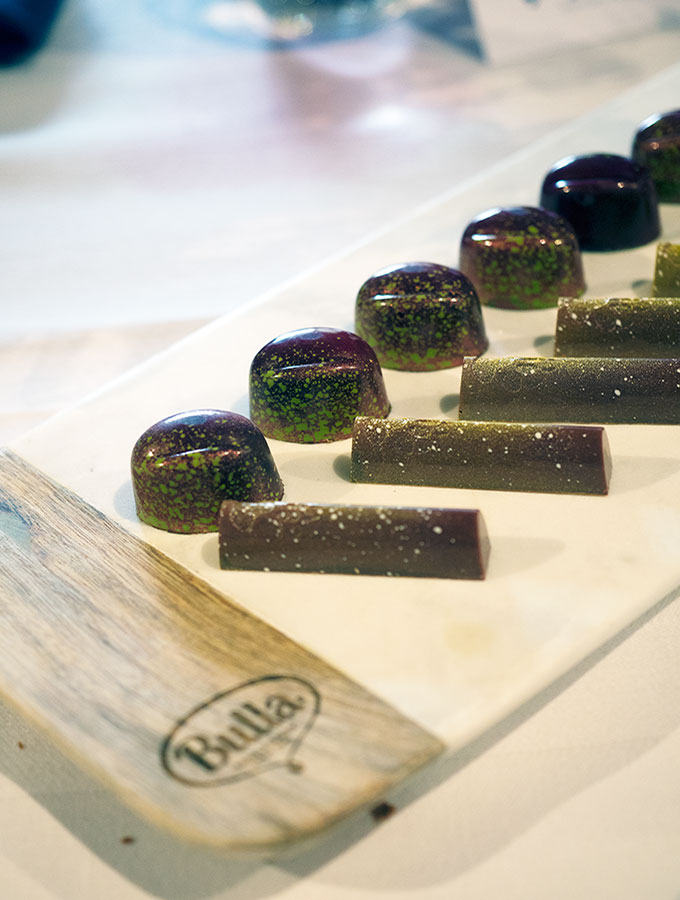 Dessert was a gorgeous creation by Kirsten, Chocolate, Raspberry and Cream Mille Feuille, served with a Caramel Ice Cream and Hazelnut Crunch. Kirsten also made some chocolates to finish off with.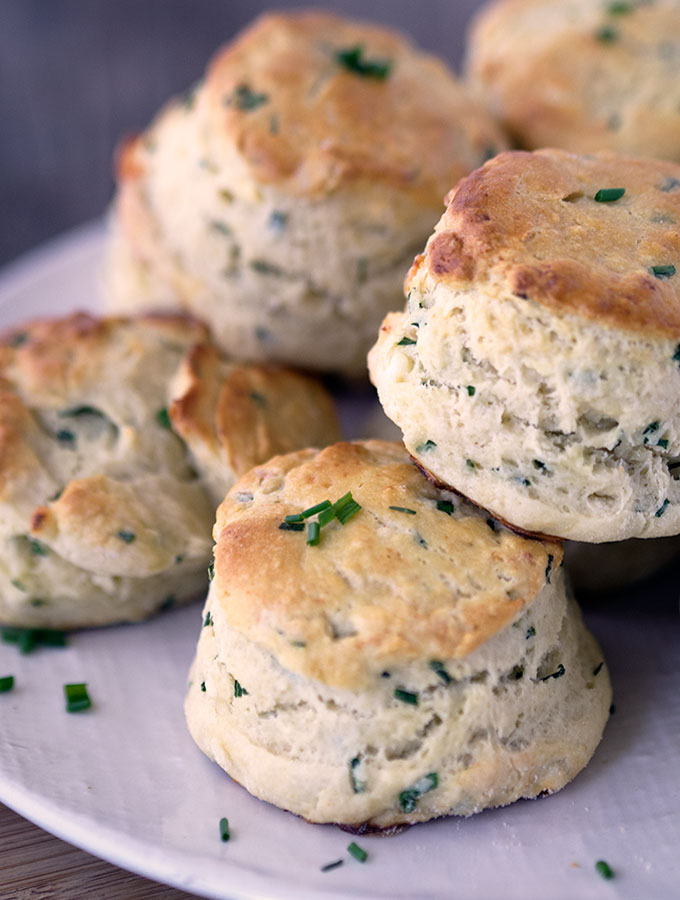 To make these buttermilk chive scones you will have to make your own butter from scratch. Definitely a great cooking project to do with the kids. Or even a fun one for yourself if you have never made butter at home.
Butter is incredibly easy to make at home, all you need is cream and a stand mixer. George's method is a lot easier than the way I was taught by Pierre Issa, the man behind another beautiful Australian dairy product, Pepe Sayer cultured butter. You won't have to wash the butter, instead you leave it overnight to strain in the fridge. Really is quite simple and not as hands on.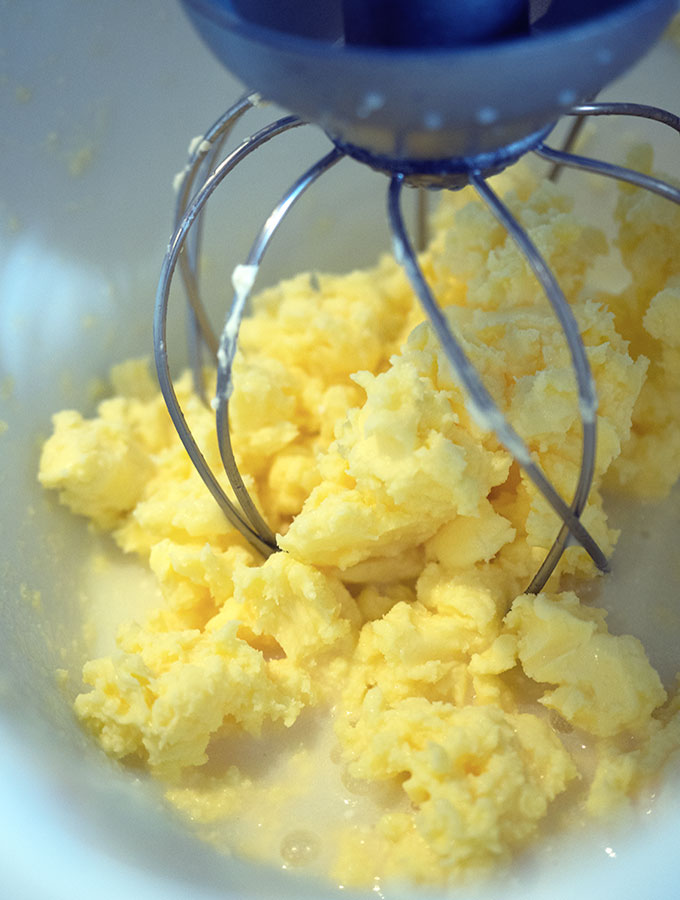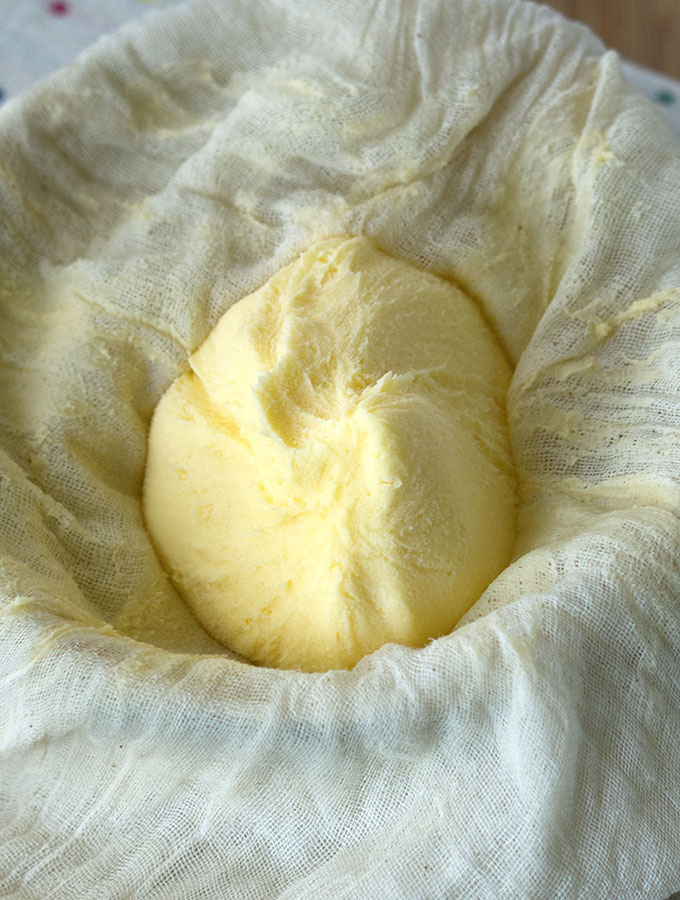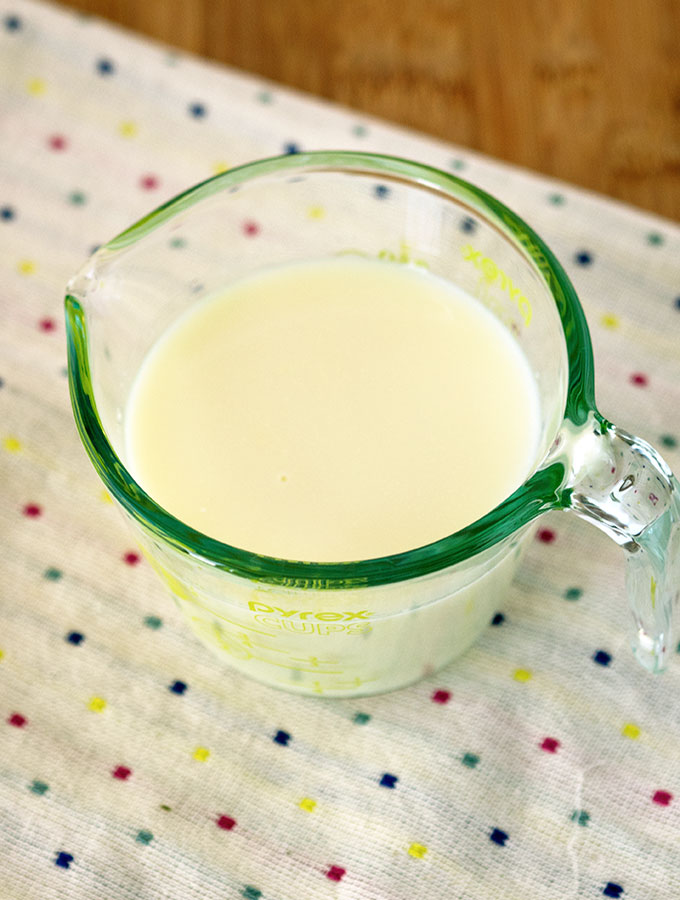 The buttermilk used in the buttermilk chive scones is by product of the butter making. You whip the cream basically until it splits, the solids become the butter and the liquid is buttermilk. Do have a sip of the buttermilk, it tastes nothing like what you purchase from the supermarket.
Of course your homemade butter wont go to waste either, just spread it liberally on your scones. If I may suggest, lather it on while they are still warm out of the oven.
It is important to note that you will need to start the butter making portion of this recipe a day ahead.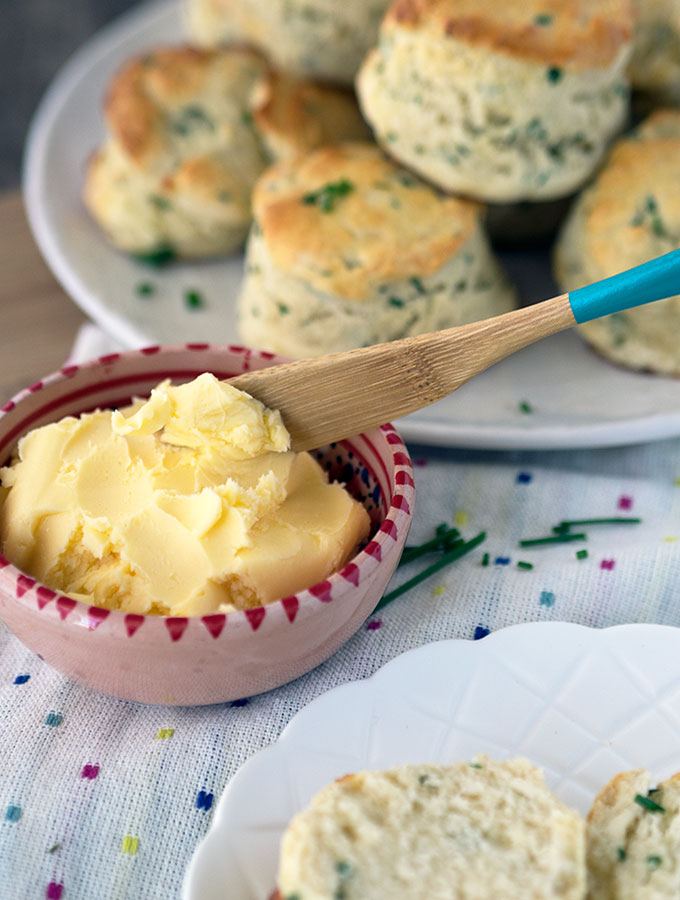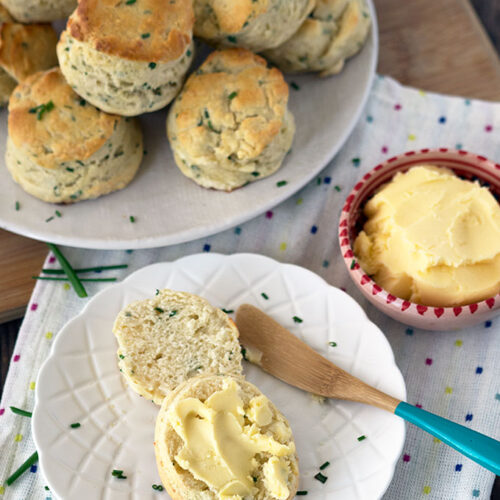 George Calombaris' recipe for buttermilk chive scones. They are as light as air and if you choose can make butter from scratch as well.
Ingredients
600

g

Bulla Whipping Cream

450

g

self raising flour

2

teaspoons

baking powder

100

g

butter

280

g

buttermilk

150

g

feta

½

bunch finely chopped chive

½

teaspoon

salt
Instructions
Begin by placing the Bulla Whipping Cream into a stand up mixer, and using the whisk attachment, whisk the cream until it has separated. Be sure to cover the top of the mixing bowl with cling film to avoid mess from the milk solids.

Once butter has formed, remove all ingredients from the bowl and strain well overnight to separate.

Preheat oven to 220°C (430°F).

To make the scones, use a food processor and blitz together the cold butter, flour and baking powder to a fine crumb.

Take a large mixing bowl and mix together the buttermilk left from the strained butter, feta, salt and chives.

Take a third bowl and add some of the buttermilk mix followed by some of the flour mix. Repeat this 3 more times until combined. Do not over mix or the scones will be chewy.

Sprinkle flour on the bench, then using floured fingers press the dough out to about 1.5 cm thick. Cut into rounds using a sharp 6 cm cutter. Place close together on a lined baking tray. Squash the bits that weren't cut into another 3cm high mound and cut again and repeat until all the dough is used.

Brush the top of each scone with buttermilk and bake for 13 minutes.

Serve warm with home made butter.
DID YOU MAKE THIS RECIPE?
I do a happy dance when people let me know, tag me on Insgragram @bellyrumbles #bellyrumbles
Yes any extra buttermilk chive scones will freeze. I ended up freezing a few which were leftover. All they needed was a quick warm up in the oven after defrosting, and they bounced back like the day they were baked. Not that you will have any leftover!
Sara xxx
Become a subscriber and don't miss a single delicious recipe, restaurant review or travel adventure.