I have briefly mentioned in my ramblings about Rabaul and Alotau that Papua New Guinea (PNG) isn't all about jungles and WWII. There is an amazing aquatic side to the country and the islands of PNG are a must to explore.
The country is a collection of small islands, plus the "main land", a large island shared with Indonesia. It is understandable that water is a major feature. Add to this that most of the islands of PNG aren't westernised or developed, they are still pretty much as they have been over the centuries. PNG is probably one of the last places on our planet where there are areas tourists don't tread. This also means pristine beaches and stunningly crystal clear waters.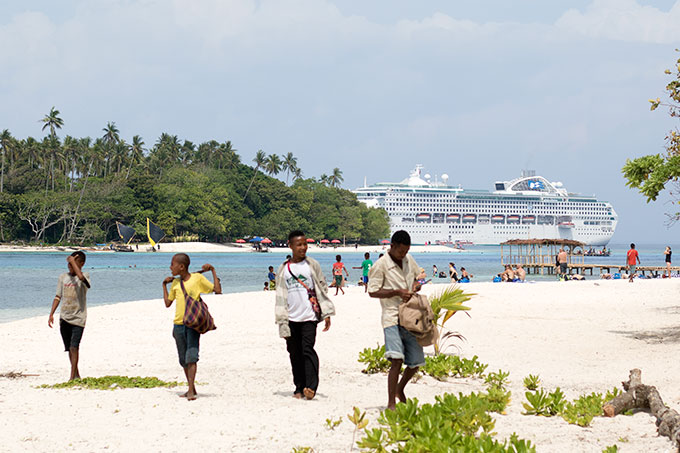 On our recent Sun Princess cruise we touched on the islands of PNG with a visit to Kitava, one of the Trobriand Islands. As well as Doini Island (also known as Blanchard Island), one of the Samarai Islands situated on the Southern side of the East Channel in Milne Bay Province.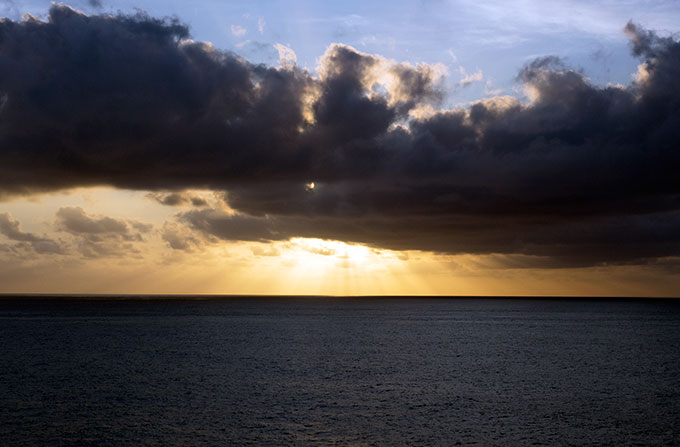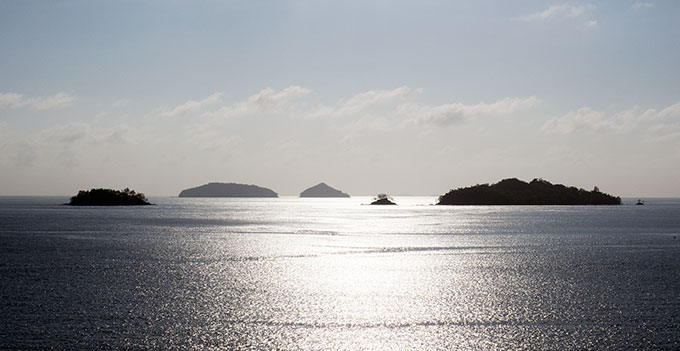 Important: If you are visiting the islands of PNG and want to snorkel, make sure you bring flippers, mask and snorkel from home, you can't rent them. If you have reef shoes pack them, but I wouldn't go out and buy them specially.
Islands of PNG ~ Kitava Island
Kitava Island is located in the Trobriand Group of islands in Milne Bay Province. Our first taste up close and personal of one of the islands of PNG and what they have to offer.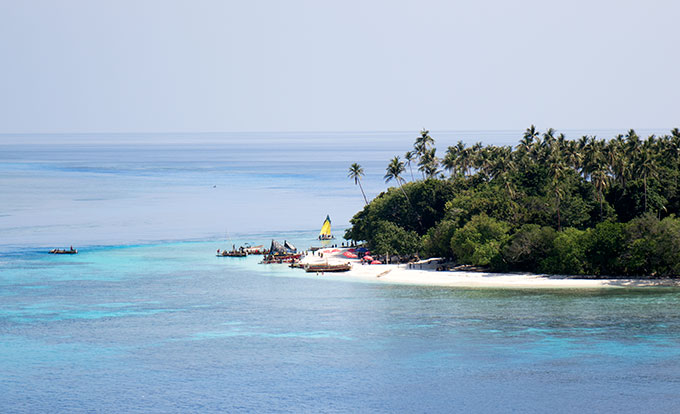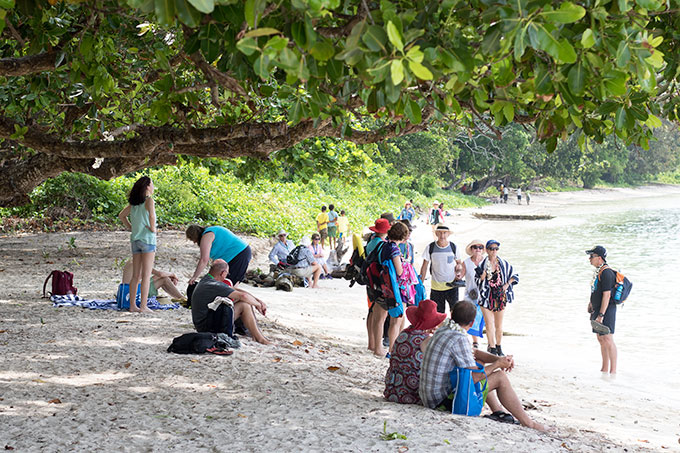 Life for the people of Kitava hasn't really changed that much over the decades. They live in traditional style huts and diet is local and sustainable. Most of the mod cons of western civilisation don't exist here, though there are a few exceptions.
Due to a traditional diet of local produce, the people of Kitava are amongst the healthiest humans on the planet. Their diet consists mainly of local yams, fruit, coconut and fish, and hardly any western food. They don't have the health problems we see in modern society. Acne, heart disease, obesity, diabetes, dementia or other diseases prevalent in western cultures are unknown.
So there's a little food for thought folks, get stuck into that coconut, sweet potatoes and fish!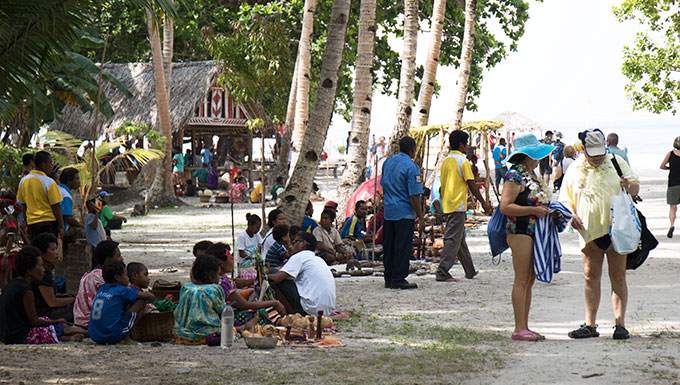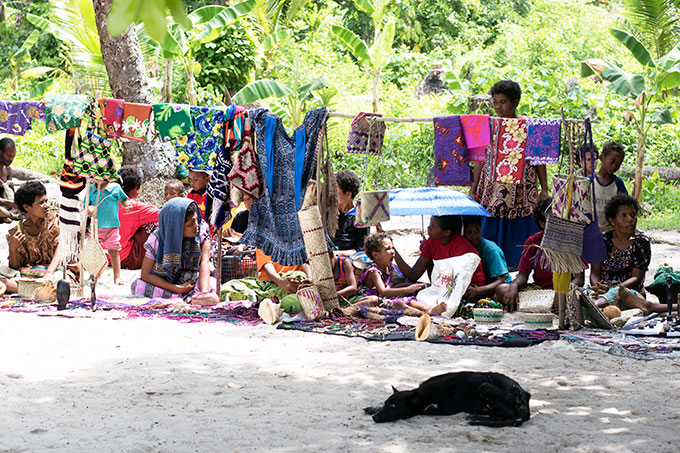 As we are visiting while on board the Sea Princess, to access Kitava we need to hop on a tender (smaller boat) from the ship. Once on Kitava it is like stepping back in time. Well, that is until you hear 70s music wafting down from the hillside, one of those exceptions mentioned earlier.
The first thing you notice when you arrive on Kitava is the blaringly white sandy beach. Make sure you take those sunglasses and hat! When you look past the beach and back to the tree line you will be greeted, by what I assume is the whole village, and neighbouring villages.
There are locals everywhere. The older men, women and children have set up a market stalls along the beach front in the shade of the trees. The market stretches nearly the entire length of the beach, or at least you have the illusion that it does.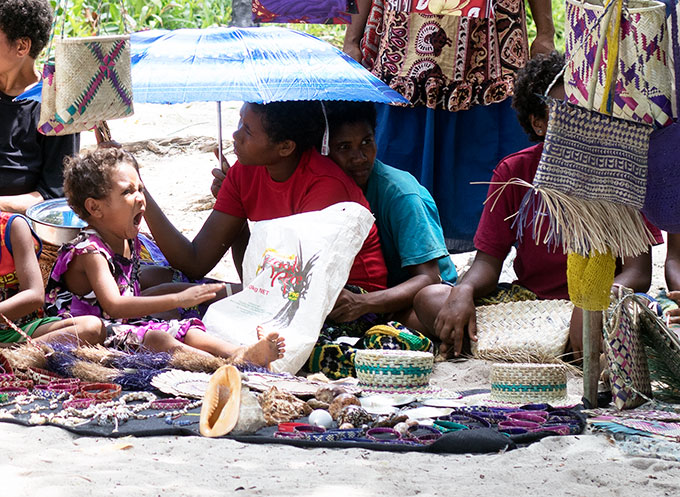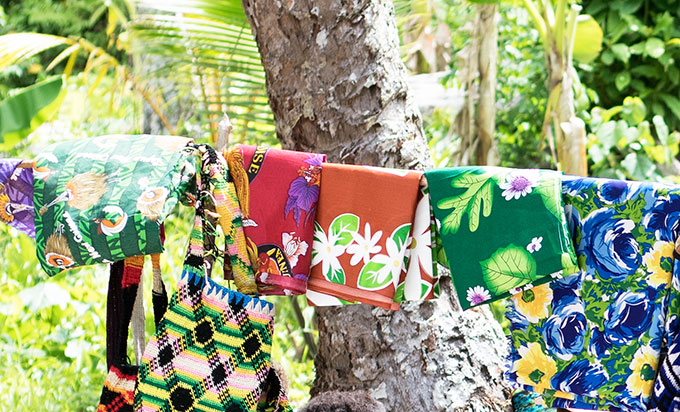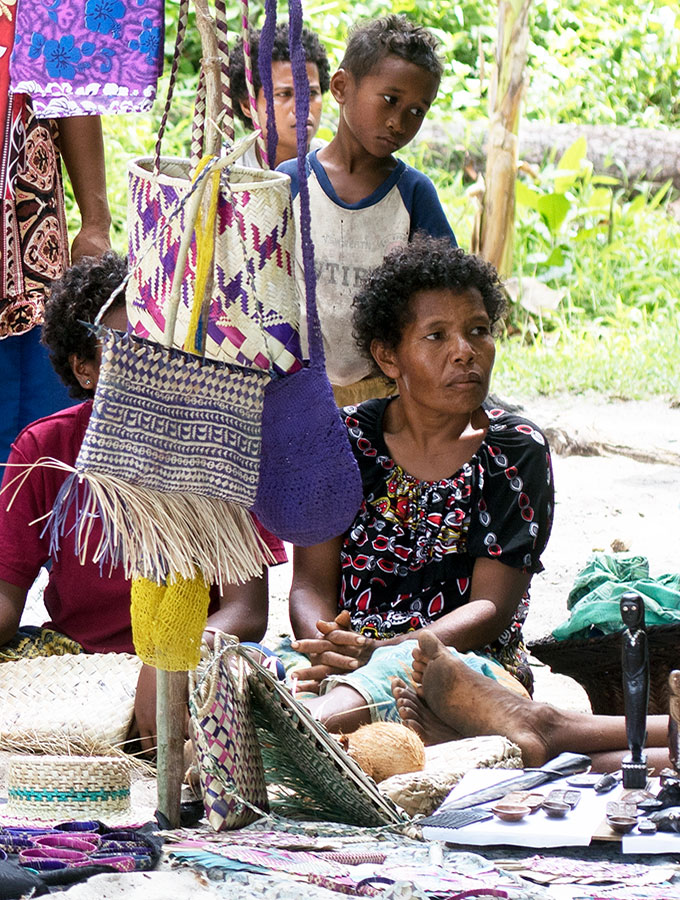 The stalls all tend to sell the same or similar items. Woodcarvings, jewellery, bags and sarongs. I will warn you, nothing is a bargain, it's all rather quite expensive. If you do buy something at least you know that the money is going directly back to the locals, and tourism is their biggest, if only, income.
You do need to be prepared that you will have your hand in your pocket for most things, so make sure you have cash on you. Obviously these guys don't take credit cards.
The little island off Kitava
The young men seem to fit into two camps. There are the ones that seem to just be hanging around and not do much except watch the circus of visitors from the ship. The others are in charge of local canoes and boats that take visitors over to the smaller uninhabited island off Kitava called Uratu.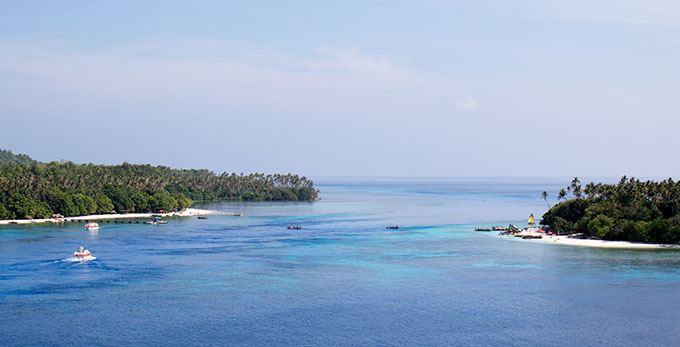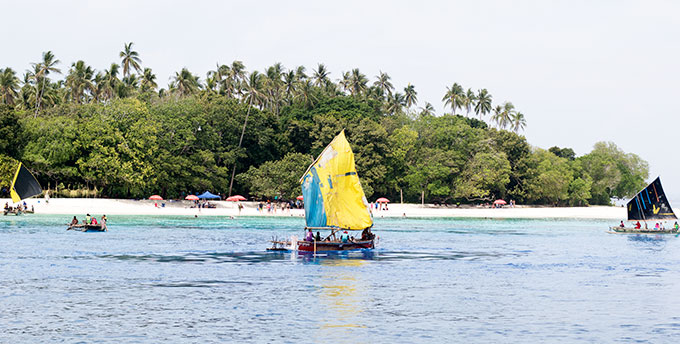 It's worth negotiating passage with one of the boats over to Uratu. They do look a little dubious with their plastic sails. I swear they are made from garbage bags. You may wonder if you will make it across, but the bright side is if you don't, you don't have far to swim. It will cost you between 5-10K (kina), but you will be greeted with stunning snorkelling areas, and it is less crowded for a more relaxed swim.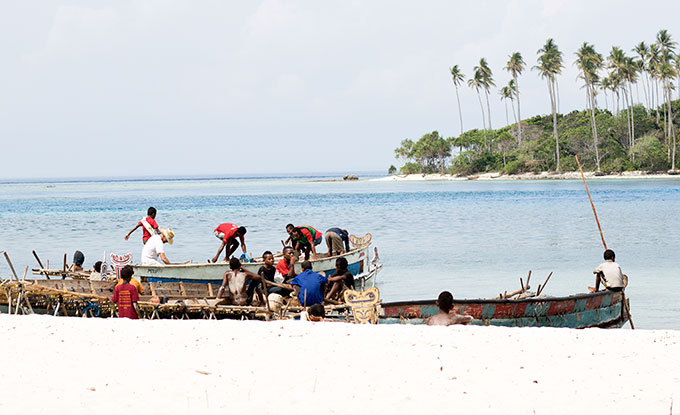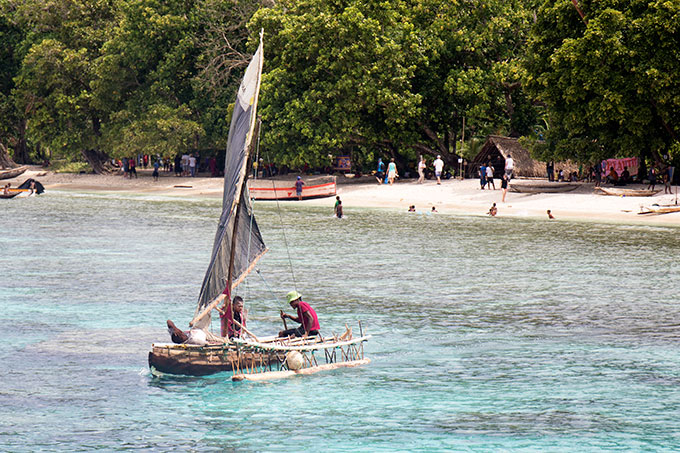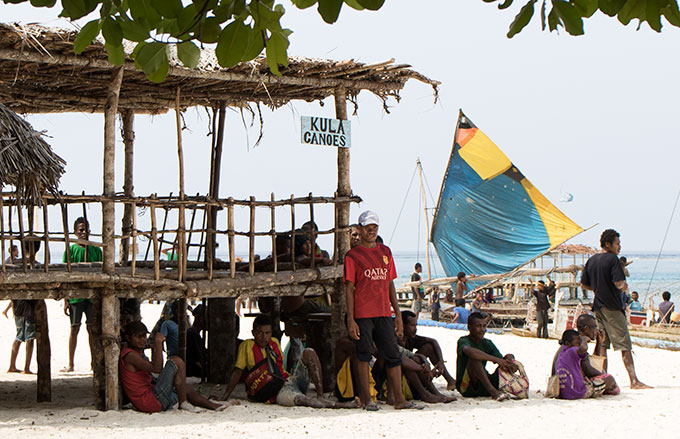 If the beach, a swim or snorkelling aren't your thing, then you can go for a walk around the island. There are skull caves to explore, the village and a look out.
Skull Caves on Kitava Island
There are a couple of skull caves on Kitava. These are actually more like skull ledges. One is located on the walk up to the village and look out. The other can be accessed from half way along the beach, and then a walk inland. They are well signed and of course will cost you to visit, 10K (kina). The caves aren't really caves, more like ledges with weathered skulls lined up. I did my research on the caves before we visited, and we decided not to fork out the 10k each for a look.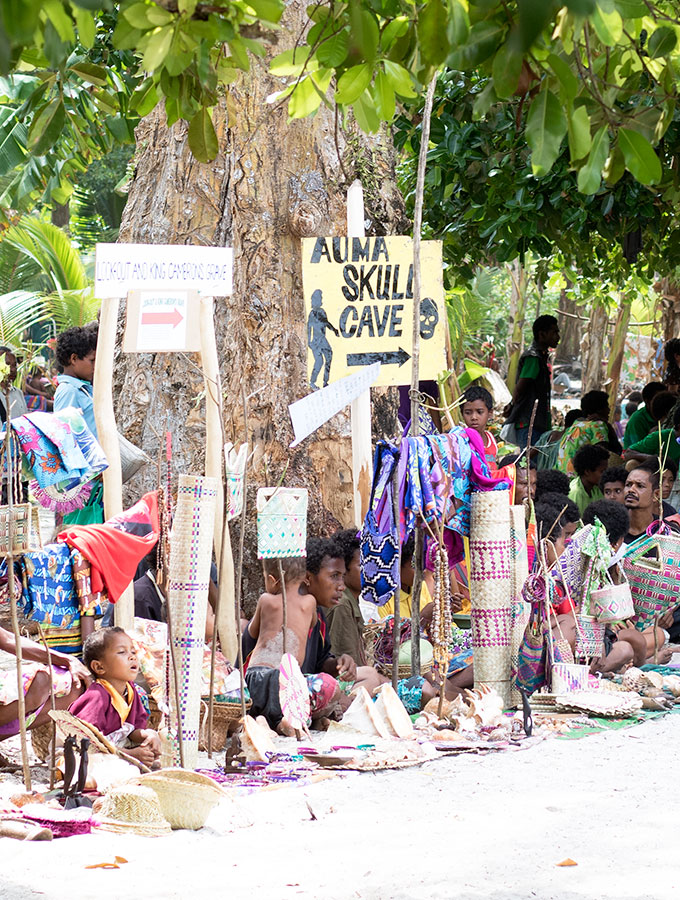 If you would like to know more about the skull caves around the islands of PNG, this is a great little post by Katie Arnoldi.
King Cameron's Grave & Look Out Kitava Island
Keep walking past the trail to the skull cave and follow the 70s disco music that calls you like a siren up the hill. Once on the top you will have reached the look out and King Cameron's Grave.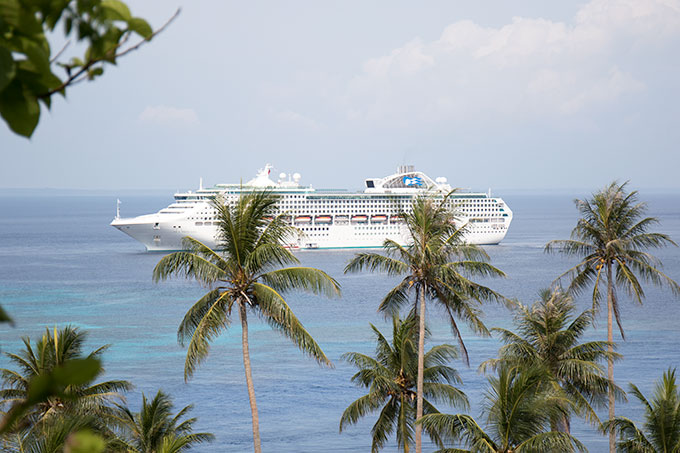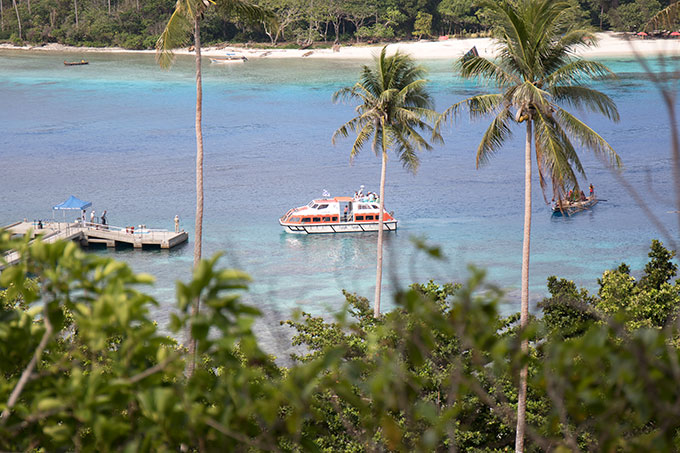 To gain entry you will need to part with 10K (seems to be the going rate for most things). The look out is rather limited as you end up perching on the jagged rocks to look through the trees. We did glimpse a lovely view of the Sun Princess as well as the tenders pulling up to the jetty. You could also see across to Uratu.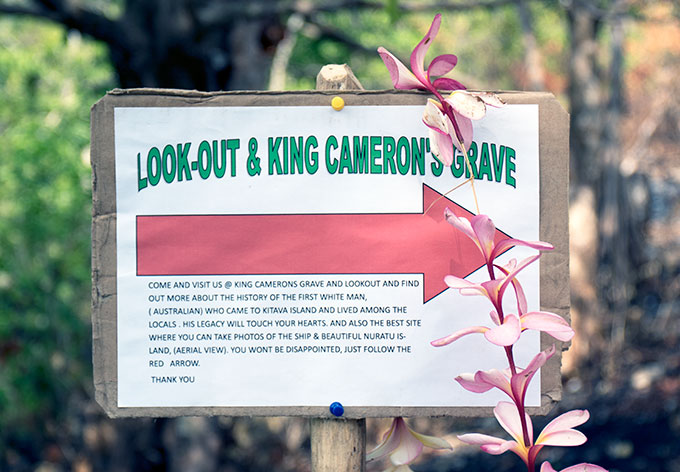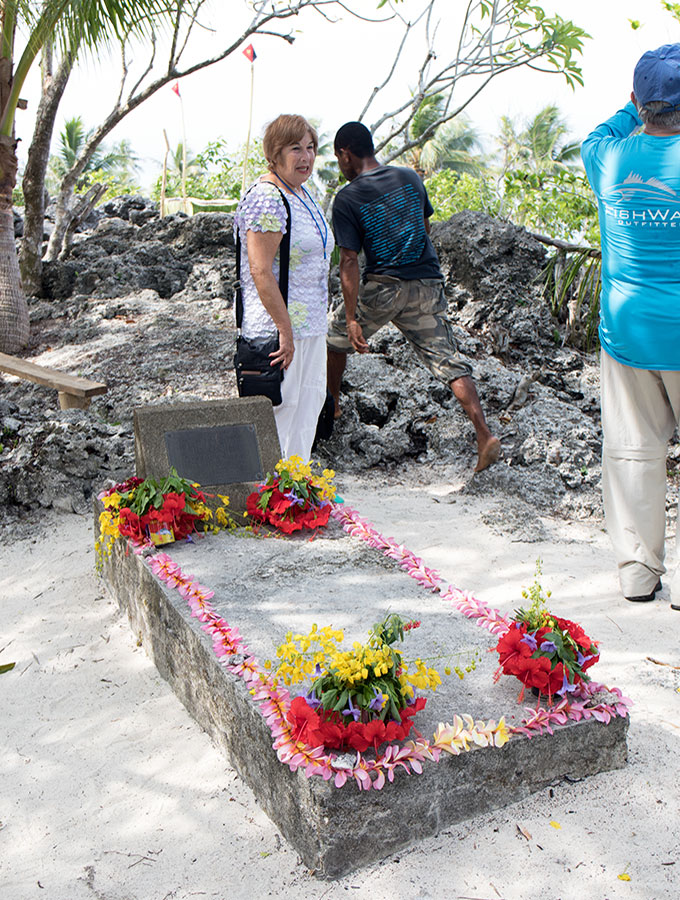 King Cameron's grave is just that, a concrete grave, which has been adorned with flowers. I am sure more in honour of the cruise ship folks than King Cameron.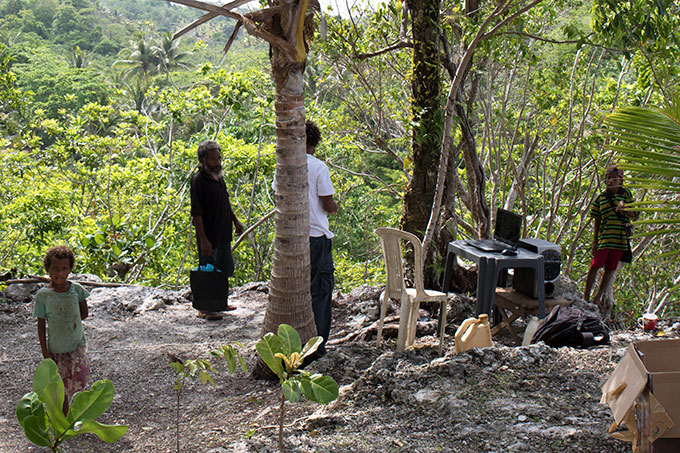 The guys that you pay for a look, are also the look out's DJs which have been playing the music to lure us in.
But who was King Cameron? Cyril Cameron was originally from Tasmania, and arrived in PNG in 1909 as a goldminer. A couple of years later he founded a coconut plantation on Kitava, which ended up being one of the most famous in the territory. He was the only white man to ever live on Kitava and of course there are stories surrounding that. Did he or didn't he have a harem of local women at his beck and call? Only the locals will be able to answer that question, though King Cameron denied the rumours until his death. What is known is he was admired and respected by the locals and he cared for them right back.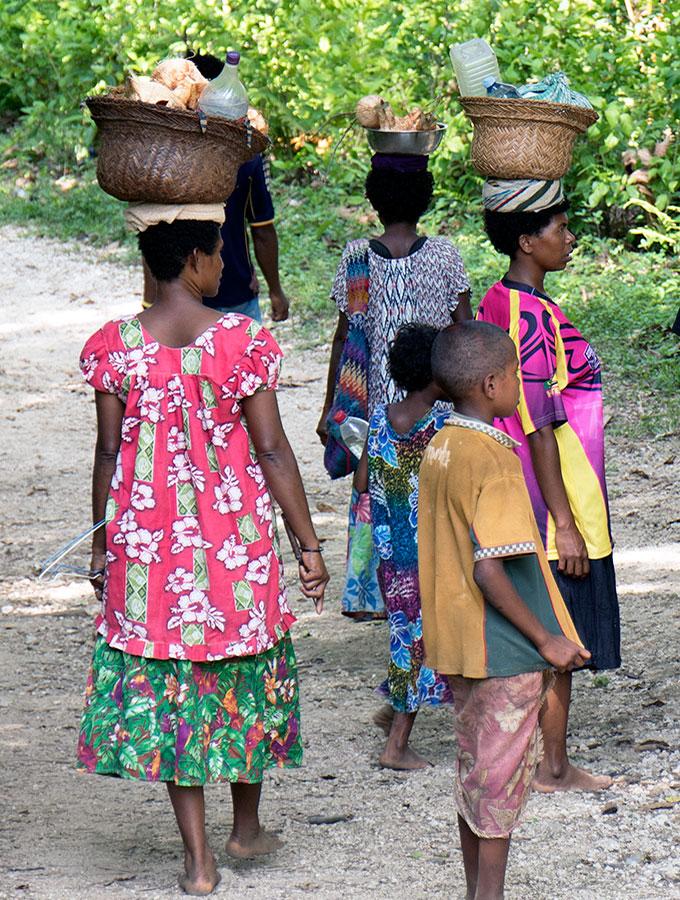 Islands of PNG ~ Doini Island
If you look at the map of PNG and follow the coast down from Port Moresby, Doini Island is not far off the coast. When on Doini Island it is hard to believe that you are only an hour 15 minute flight from Cairns. Of course we didn't fly, we leisurely cruised there in our sleep.
It's rather interesting when talking to people about their cruising experiences. My parents are massive cruisers, and as it happens, Princess is their cruise fleet of choice. They had actually taken a PNG cruise about six months prior Josh and I "setting sail". Most ports of call were the same, but instead of going to Kitava they went to Kirawana.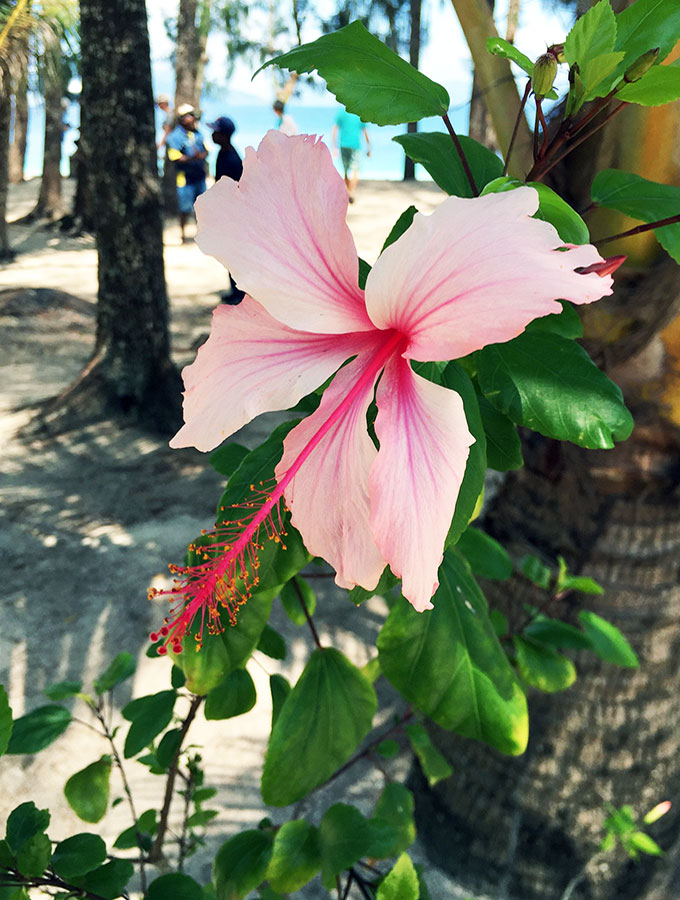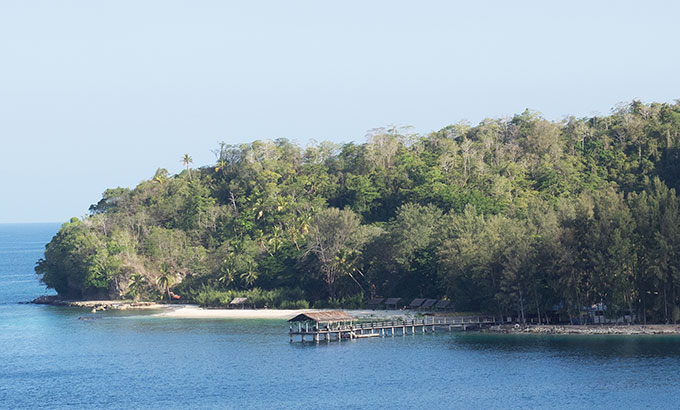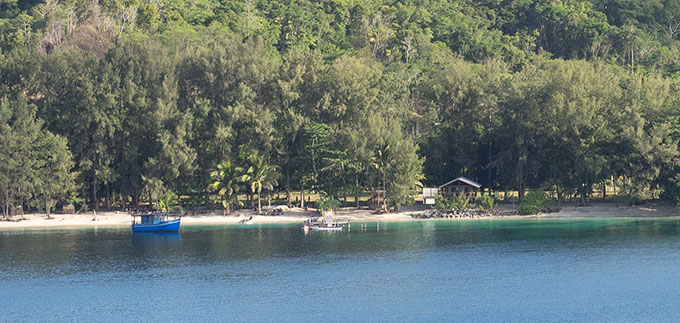 Discussing island preferences with Mum, she enjoyed Kirawana and wasn't that taken with Dioni. For Josh and I, it was the opposite, we enjoyed Dioni Island far more than Kitava. We agreed that all visits were great, but when having to choose a favourite we had very different experiences and resulting views, which I found quite interesting. But isn't that what travel is all about?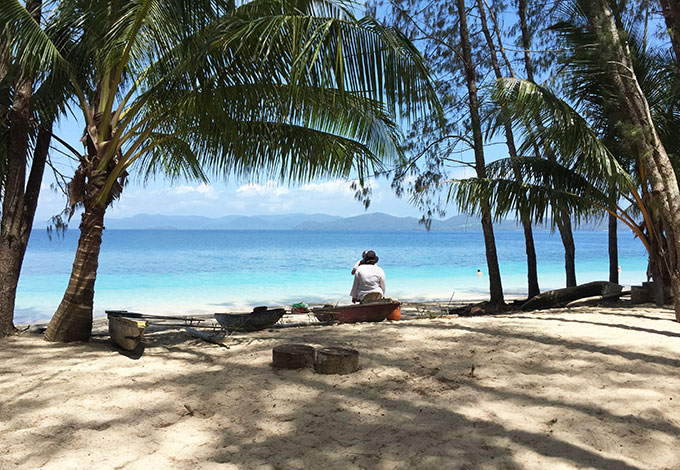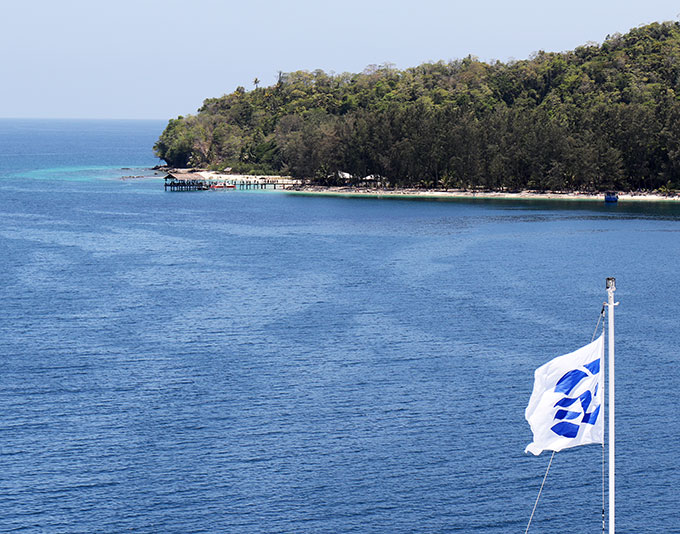 What I enjoyed about Dioni was that it was quieter and more tranquil. The beach was less like a circus and I felt comfortable to go for a swim. There wasn't the crowd lining the beach as in Kitava, which made me feel a little on show. Look if I was a size zero 25 year old, I am sure I would have not had a care in the world, but I'm not and am more conscious of my wobbly bits.
There were still markets to explore, but not as many stalls. These were located away from the beach.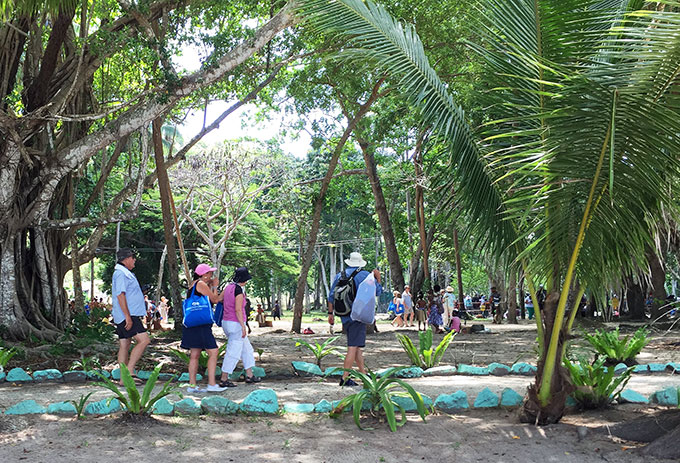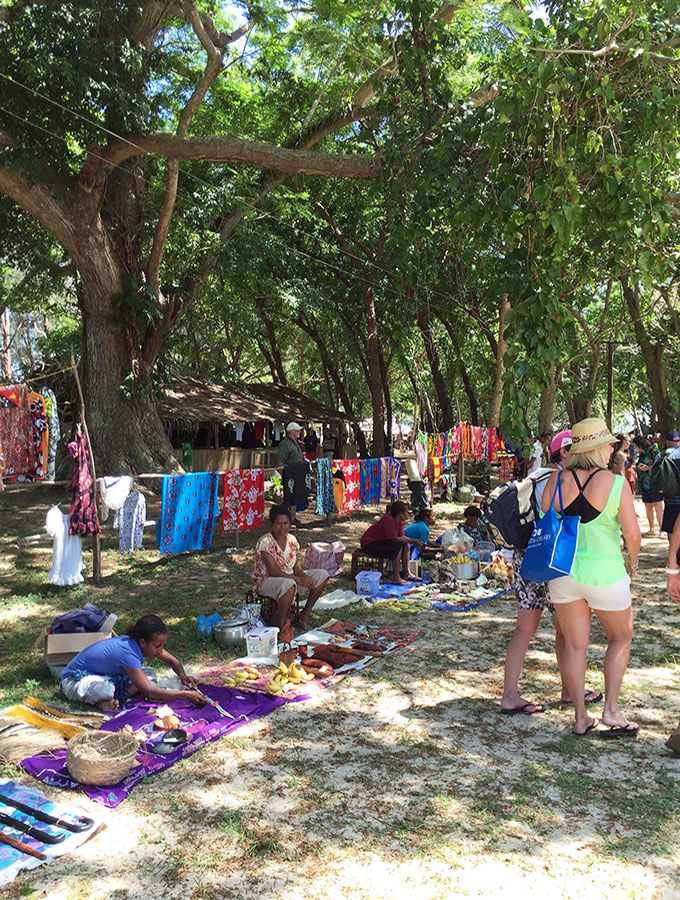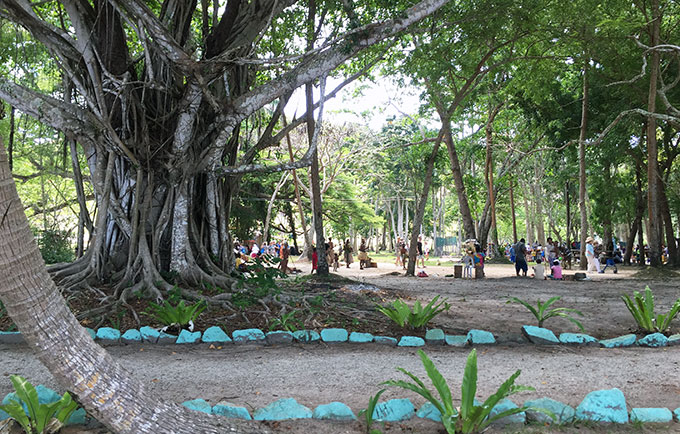 Doini Island is a private resort, it is called Doini Island Plantation Resort. Locals from the island and surrounding islands work there. When you jump off the tender you are greeted with a resort bar and music. Which is quite fun, but you can escape this if you wish, and head down the beach to lie in the sun or go for a snorkel or swim.
The resort offers quite a lot of activities besides swimming and snorkelling. There is fishing, tennis, skull caves, kayaking, bird and turtle watching and golf. The resort's website suggest you contact them if you are a cruise visitor to arrange any activities that you may wish to participate.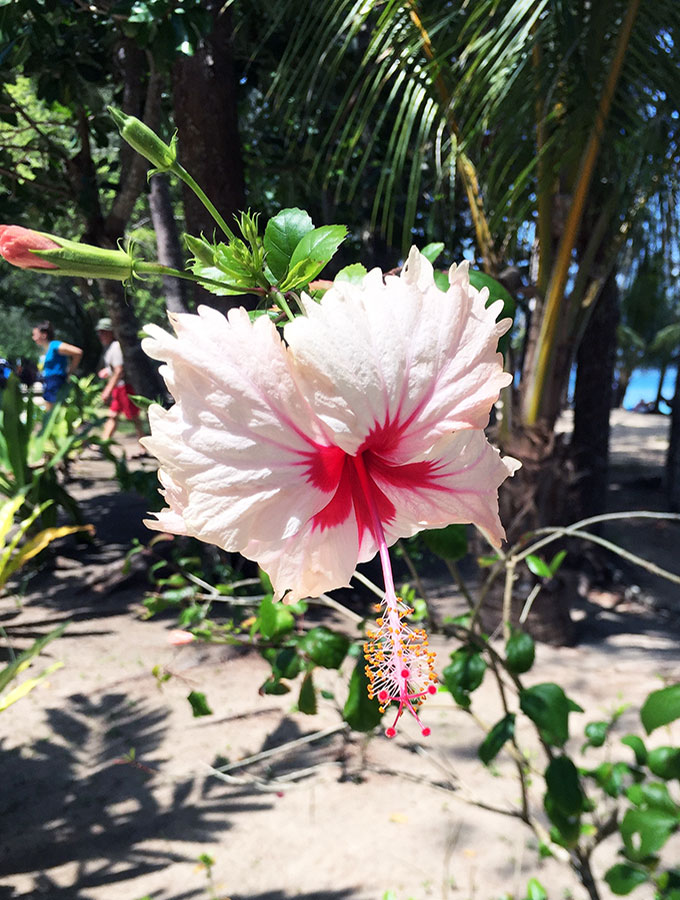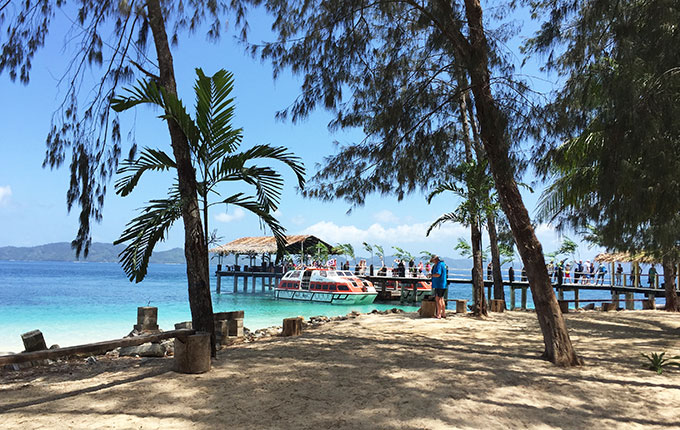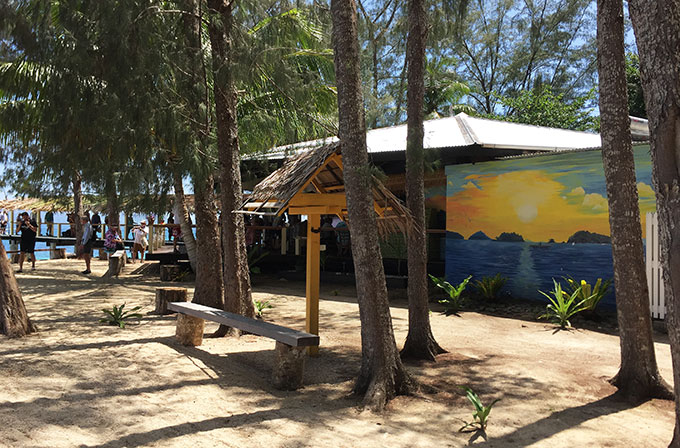 As it was our last port of call Josh and I were quite happy to take a relaxed approach to the island and just enjoy the crystal clear waters and local markets.
I did end up buying a few items from the markets. Basically satisfying my photography prop addiction. A couple of carved butter knives and forks, plus a larger more intricately carved skewer. I found some of the carved pieces on Doini quite different from Kitava and unique. My suggestion is, if you see something you like, no matter where you are, buy it.
Sara xxx
The above photos were taken during our 10 day cruise around Papua New Guinea. To read a day by day account of our experience, please click here. Want to know what we ate while cruising? You can find out here.
Belly Rumbles travelled as a guest of Princess Cruises.
Become a subscriber and don't miss a single delicious recipe, restaurant review or travel adventure.