Pineapple almond tart, doesn't that sound delicious with a touch of the tropics? Plus it 's relatively easy to make as well. It's just the weaving of the lattice top that takes patience and time. On the odd occasion you may want to throw the bloody pastry out the window in frustration. Oh, hang on, that's probably just me?
No seriously, the lattice work for this pineapple almond tart is a little on the time consuming side, more so if you aren't a lattice latticing pro. The final result, I think you will agree, is well worth the effort.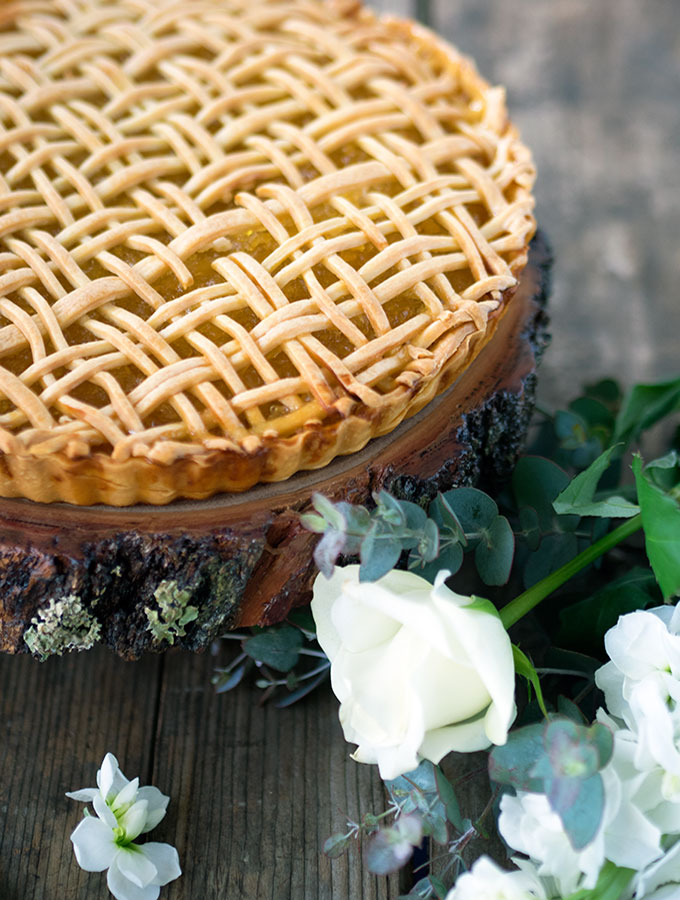 Of course I like to make things more difficult for myself than necessary. Instead of using skinny minny pastry strips like I did. They around 0.5cm wide (or slightly thinner for some), you could use strips around 1.5cm in width.
Not only did I use very thin strips, I decided to get all fancy pants and weave two by two for the design. As I weaved myself into a pastry lattice stupor I forgot what I was doing. This resulted in having to un-weave, and re-weave, and then weave some more.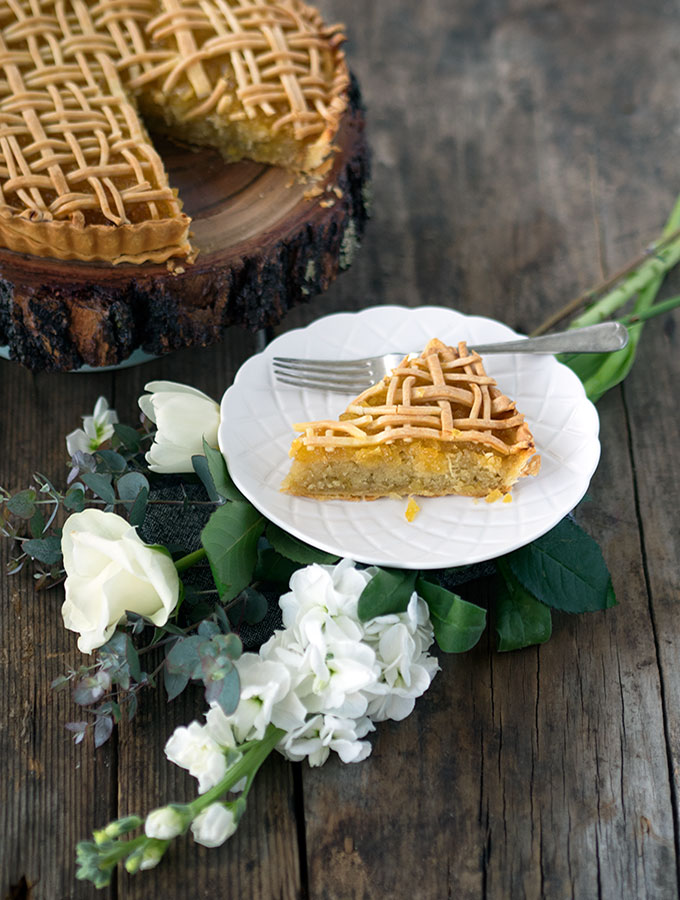 By using pastry strips 1.5cm in width you will still have an amazing looking pineapple almond tart. Taste wise it isn't going to make an iota of difference. After all, it's all just decoration.
I used store bought short crust pastry that comes in sheets. If you have the time to make your own pastry then I highly recommend it. It will make all the difference. I admit that I was upset with myself that I didn't. The store bought pastry I used wasn't the brand I normally do, and taste and texture wise I knew I could have achieved a better result. Therefore if using store bought pastry make sure it is the best that you can get your hands on.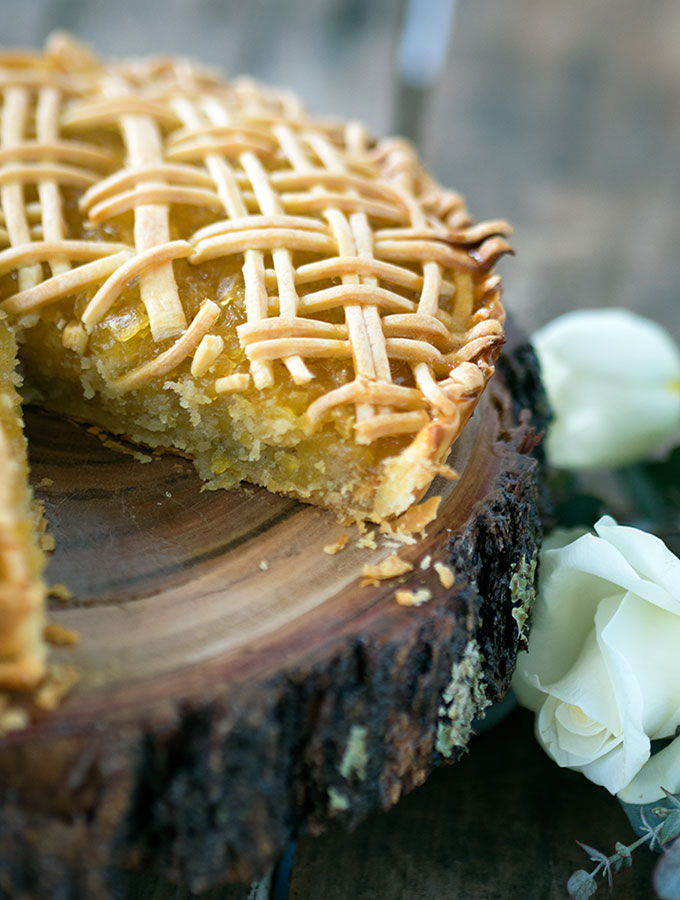 Homemade pineapple jam is what makes this pineapple almond tart special. I shared the recipe a little while back and you can find it here.
One of my favourite jams, it adds a lovely tropical touch to the tart. Of course if you don't have a jar of my fabulous pineapple jam on hand, then you could always substitute raspberry or another favourite flavour.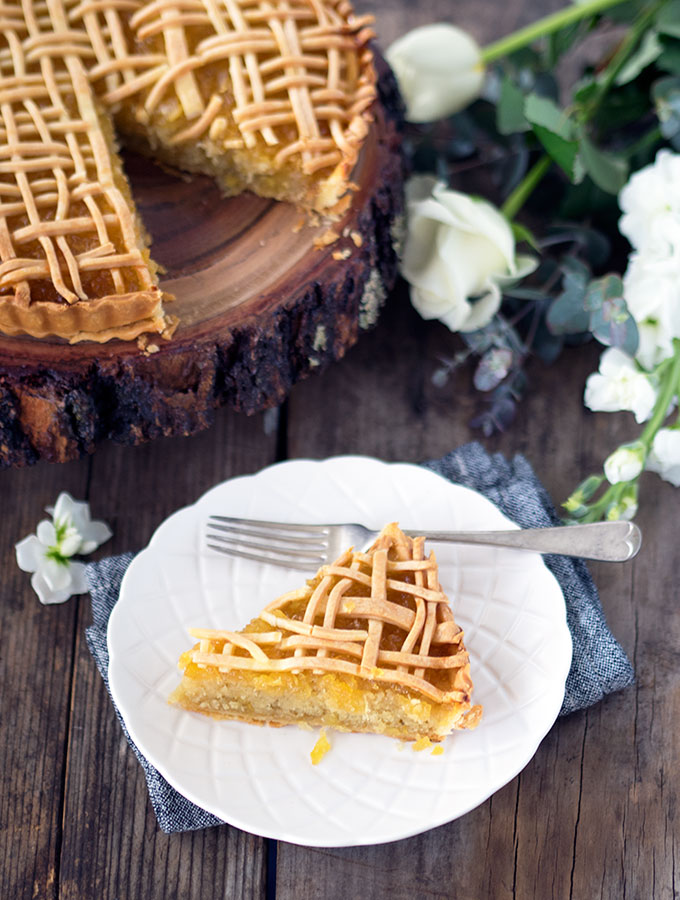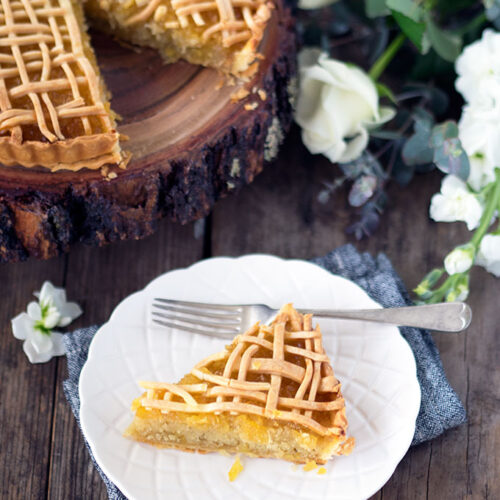 Total Time:
1
hour
25
minutes
Pineapple Almond Tart with pretty lattice top. The pineapple jam will whisk you away to the tropics, perfect for picnics, BBQ's or lazy Sunday lunch.
Ingredients
3

sheets sweet short crust pastry

-

or make your own

150

grams

unsalted butter

-

room temperature

115

grams

(½ cup) caster sugar

2

teaspoons

vanilla bean paste

1

tablespoon

cornflour

150

grams

(1 1/3 cups) almond meal

2

eggs

1 ½

cups

pineapple jam
Instructions
Preheat oven at 180°C (360°F).

Line the base of a 20cm round loose bottomed tart tin with a round of baking paper and spray the sides of the tin lightly with coconut oil or grease lightly with butter.

Using one sheet of pastry line the tart tin, trim any over hanging pieces, and place in the fridge.

Lay a piece of non stick baking paper on the kitchen counter to use as your surface to make the lattice for the top of the tart.

Using a sharp knife and ruler cut strips of pastry to make your lattice. It is really up to you what thickness you would like, in the picture the strips are 0.5cm and 1cm, I mixed it up and little. Interweave your pastry strips to create a lattice look, working from the middle out until you have a lattice top large enough to cover the top of your tart. Cover with a little plastic wrap to prevent it drying out and place in the fridge with your tart tin until needed.

Using either hand beaters or stand mixer, cream butter, sugar and vanilla until they are light and fluffy. Then add cornflour and half the almond meal. Continue to beat on a low speed until combined.

Add eggs one at a time, ensuring the first egg is mixed through well before adding the second.

Add the rest of the almond meal and beat until combined.

Remove tart tin from the fridge and fill with the almond mixture, spread evenly for a flat surface. Then spread the pineapple jam evenly over the top of the almond mixture.

Remove plastic wrap from pastry lattice top, and leaving it on the baking paper to assist you, place the pastry lattice on top of the tart (paper side up) and carefully remove the baking paper.

Trim any overhanging pastry for a neat finish.

Bake in the oven for 40 minutes or until golden and cooked through.

Once cooked take it out of the oven and leave to cool on a wire baking rack. Once cool remove carefully from tart tin.

Serve with cream if desired.
DID YOU MAKE THIS RECIPE?
I do a happy dance when people let me know, tag me on Insgragram @bellyrumbles #bellyrumbles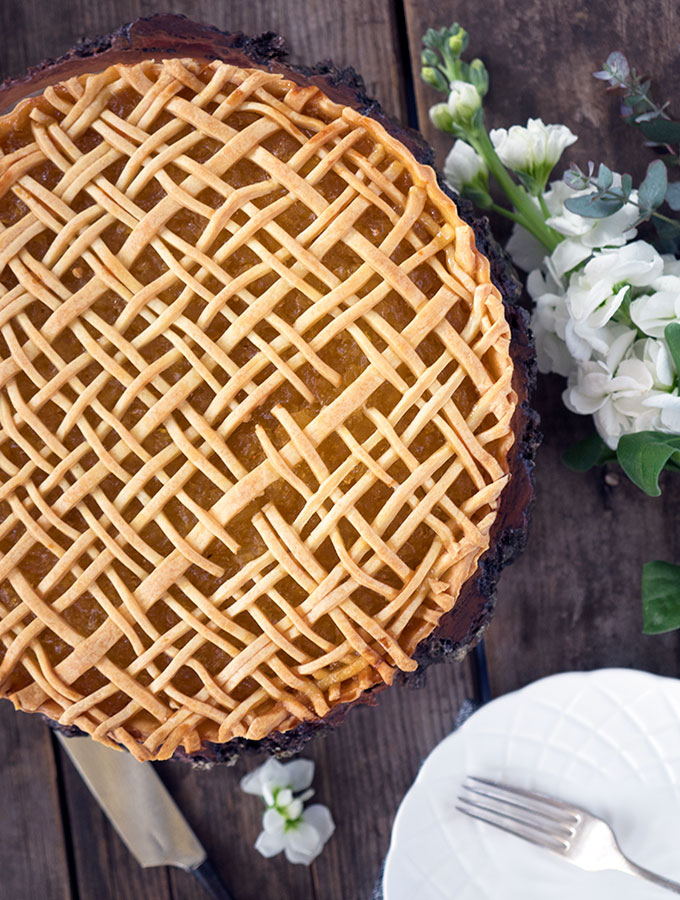 This pineapple almond tart would be perfect for a picnic or BBQ. Simply serve it with some freshly whipped cream. You could also give it a quick dusting of icing sugar to make it even more fancy pants.
Sara xxx
Become a subscriber and don't miss a single delicious recipe, restaurant review or travel adventure.