We subjected ourselves to multiple cookie deliveries to find out which are the best ones. Thick cookies, thin cookies, even teeny tiny little cookies. We ate our fair share, but who delivers the best cookies to your door?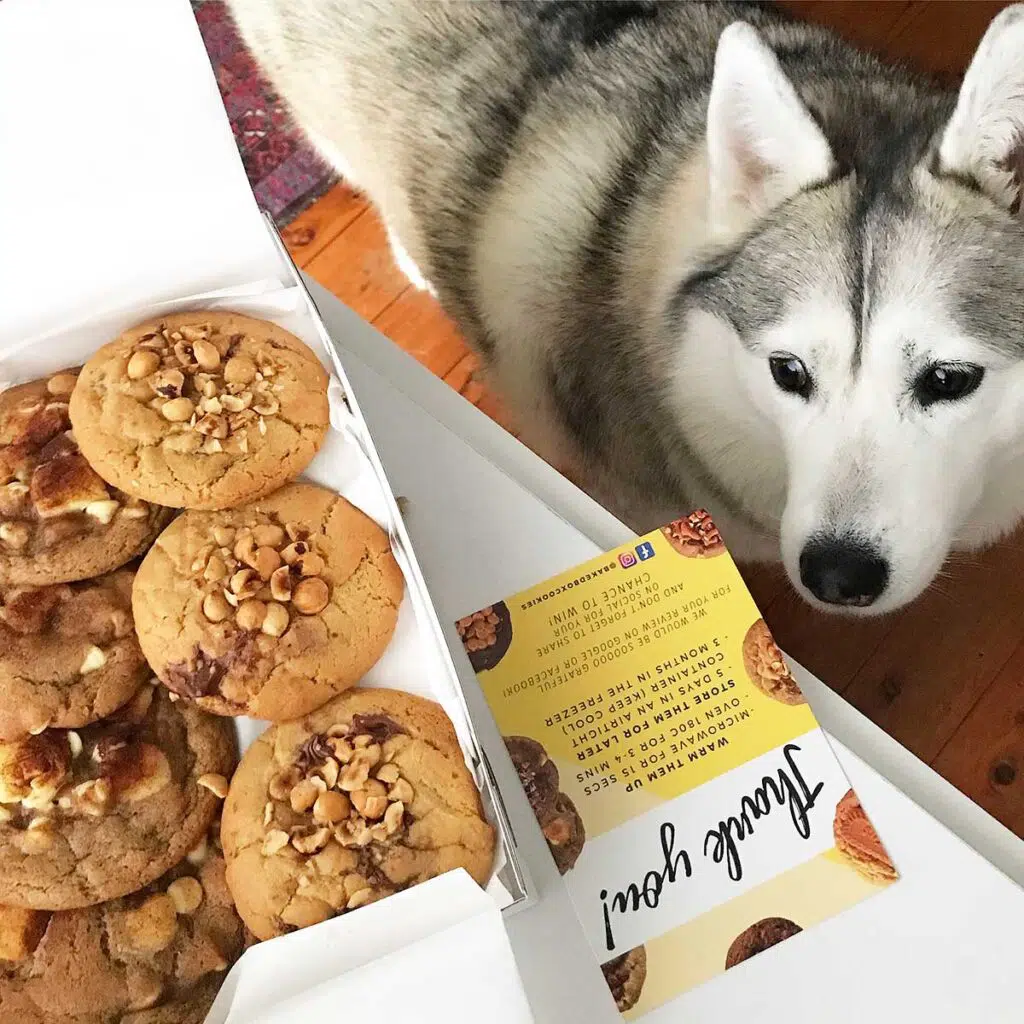 If you happen to follow me on Instagram you would have seen a period during Sydney lockdown where there seemed to be a cookie delivery every other day to my place. There was a good reason. We decided to try out some of Australia's top home delivered cookies.
Pandemic lockdowns make you do funny things. Paying to have cookies delivered for my own consumption isn't something I would do normally. I bake a mean cookie. I give you examples A, coconut biscuits, B, violet crumble cookies, and C, alfajores de maicena.
To add some joy to our groundhog days, cookie deliveries arrived from all parts of Sydney and even from Melbourne. But who was our favourite? Will it be a cookie delivery from Melbourne or Sydney that takes the shining cookie crown?
Life is getting back to a new normal, thank goodness. Is there still a need to have cookies home delivered? Personally, I think a box of cookies makes the perfect alternative to the delivery of flowers. Cookies are probably one of the sweetest gifts you could send somebody.
Sara xxx
What's in this post
How we decided what cookies to have delivered
There was one big deciding factor on what cookies I ordered to be delivered. They had to deliver to the Sutherland Shire in Sydney. Unless you live in The Shire you have no idea how many companies just don't deliver here.
Sydney lockdown made many companies expand their delivery circle in desperation for business. If there has been one positive to the pandemic, this has been it.
All of our cookie deliveries were from Sydney and Melbourne. As I am Sydney based the majority of the cookie deliveries were from Sydney.
Thicc Cookies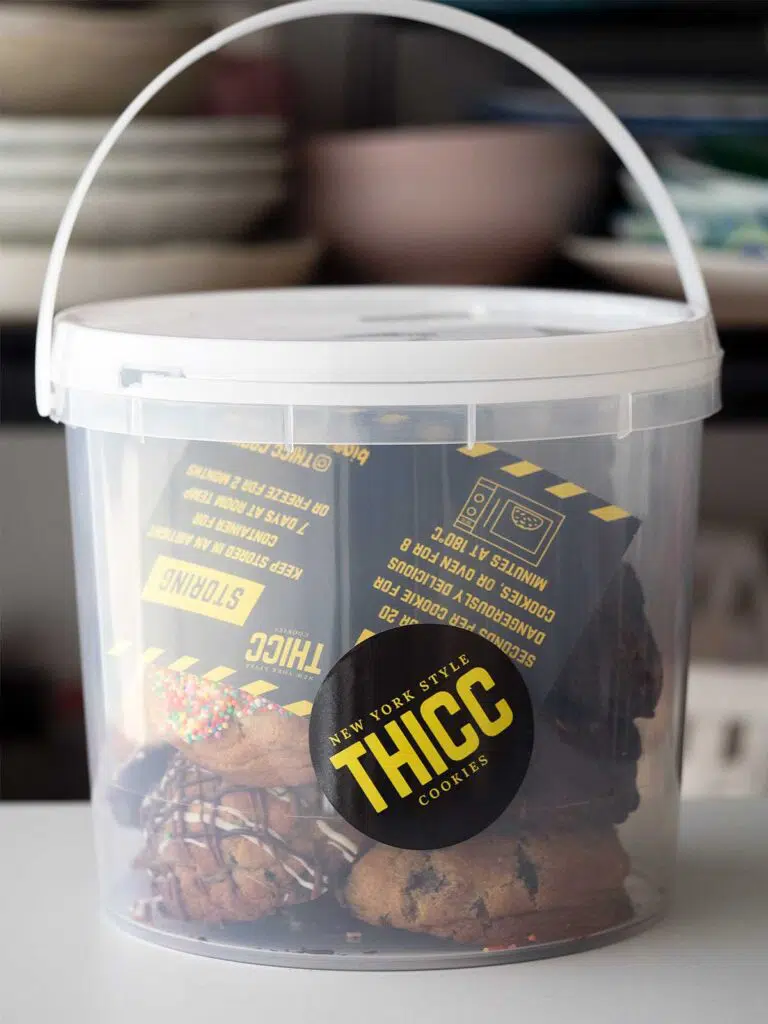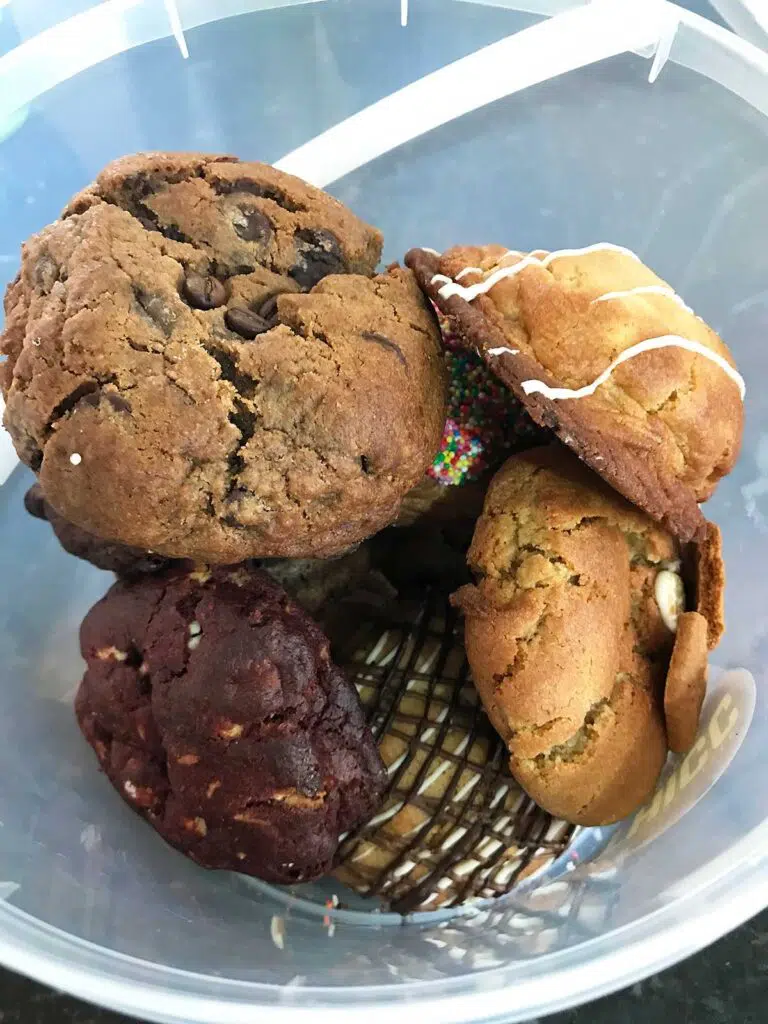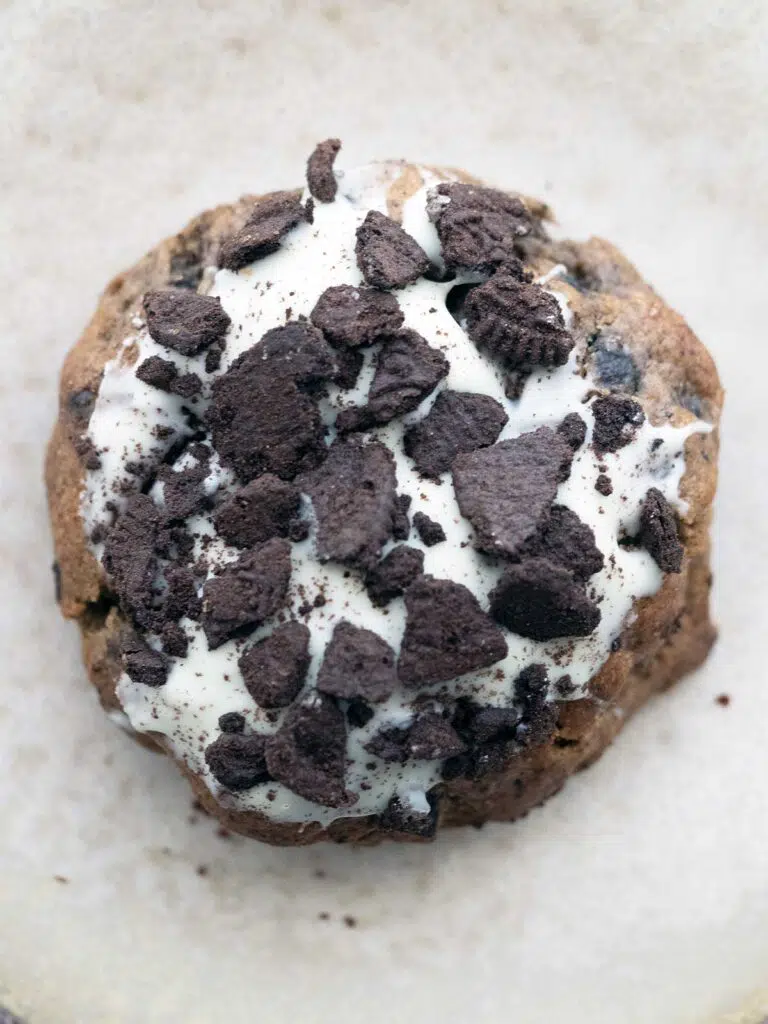 Thicc Cookies offer New York style mega thick cookies and their mission is to create Australia's Best Cookies. The cookies are big and thick, with soft doughy middles.
What we ordered: The Classic 10 Piece Box (Sydney Metro comes in a bucket)
Our Fave: Cookies'n'Cream
Cost: $60 + $12 delivery (deliveries over $100 are free)
Where they deliver: Sydney next day metro delivery + Australia wide.
Other Products: 1kg cookies, Bigg Brownies, and choc boxes.
Cookie Doughboy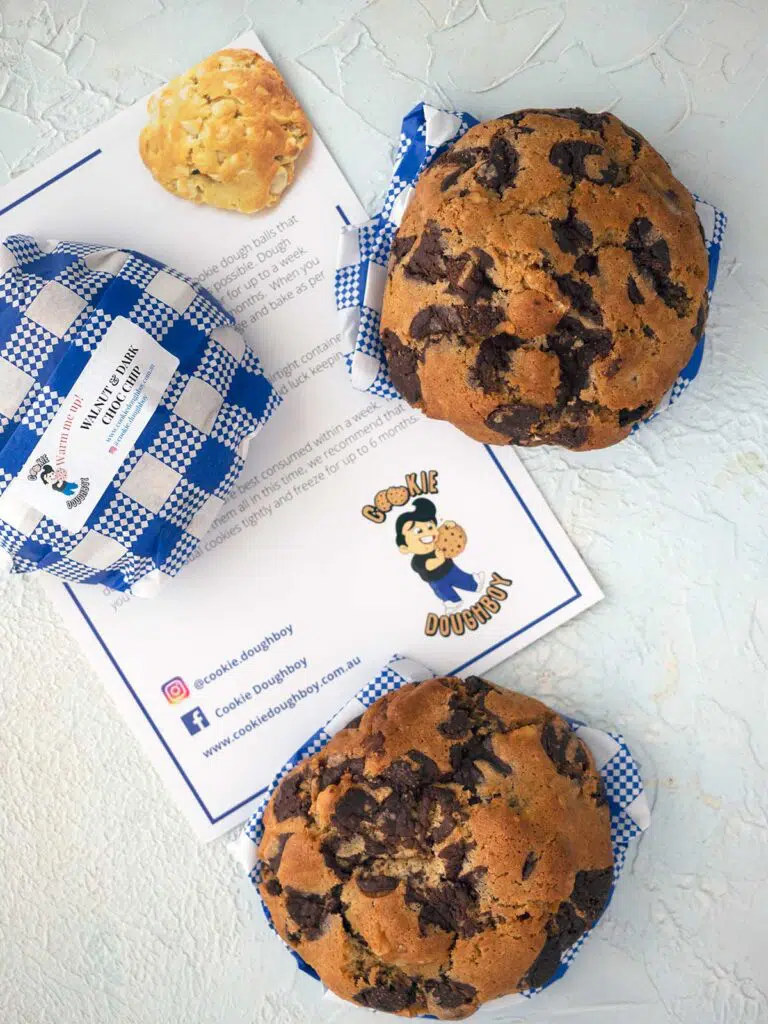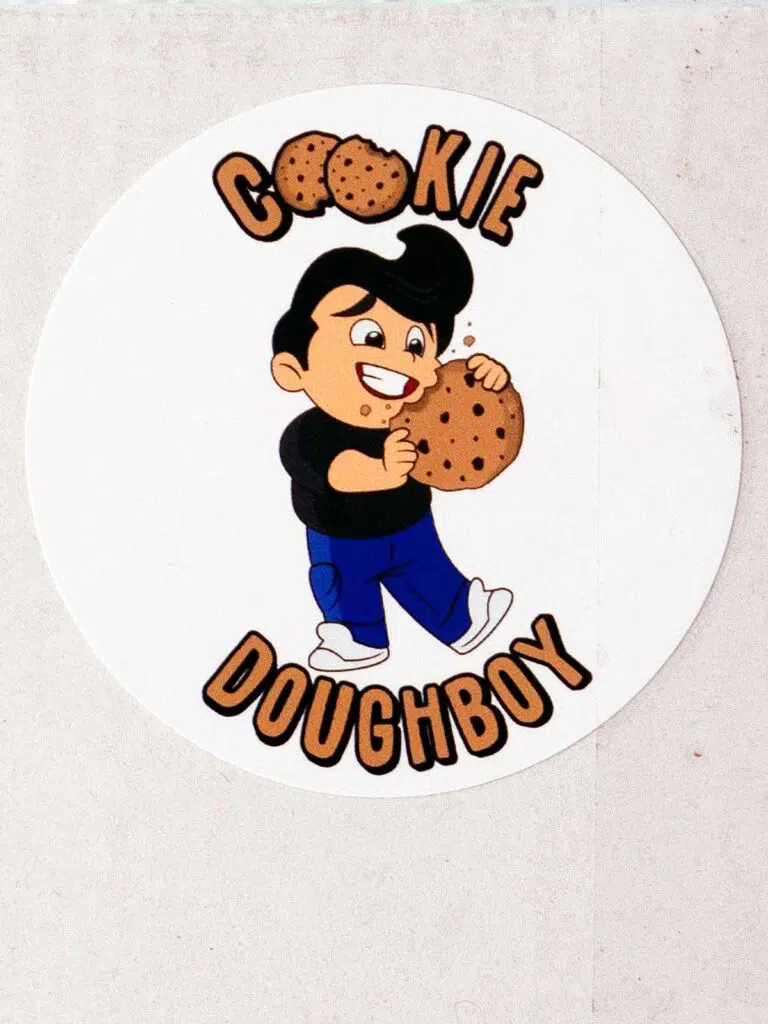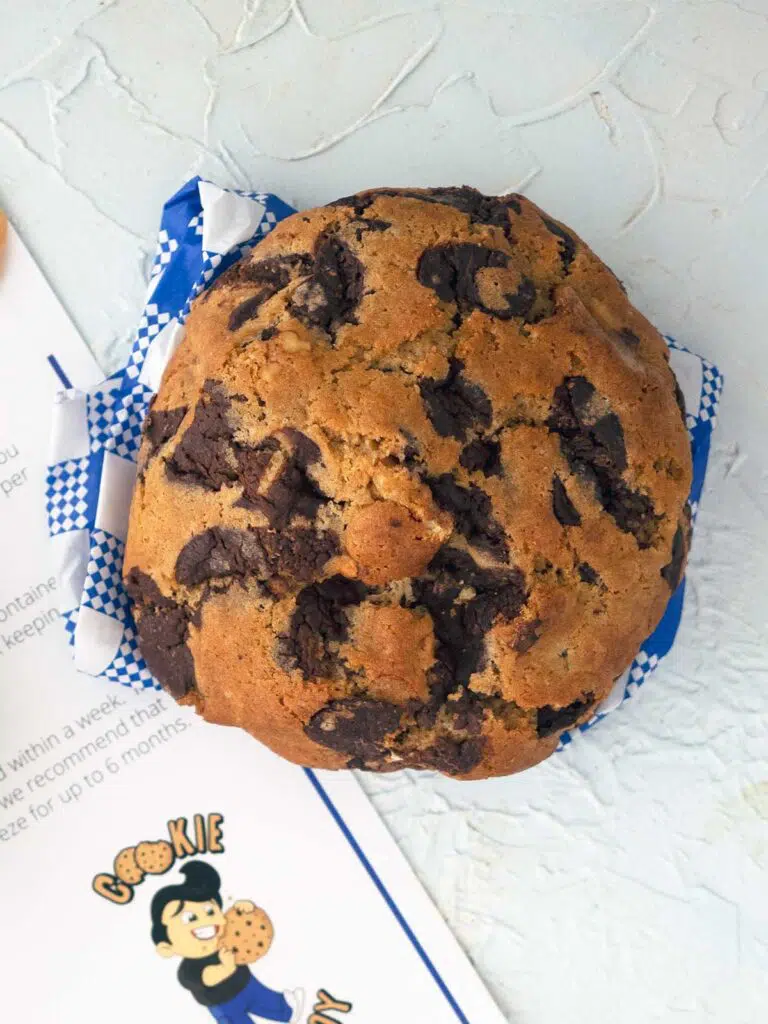 Cookie Doughboy is another New York style thick cookie offering. Individually wrapped and smell amazing when you open the box. The cookie has a lovely texture of crunchy outside and soft inside, a really well balanced cookie.
What we ordered: 4 x Walnut & Dark Choc Chip Baked + 4 Assorted
Our Fave: Walnut & Dark Choc Chip
Cost: $48 + free delivery (delivery $10 for orders under $48)
Where they deliver: Delivery Australia wide.
Other Products: Cookie dough balls (to bake at home), cookie cakes, and vegan cookies.
Special Mention: Amazing customer service. We had a delivery issue that was no fault of theirs, they nailed customer service and rectified the problem.
Sweet Splitz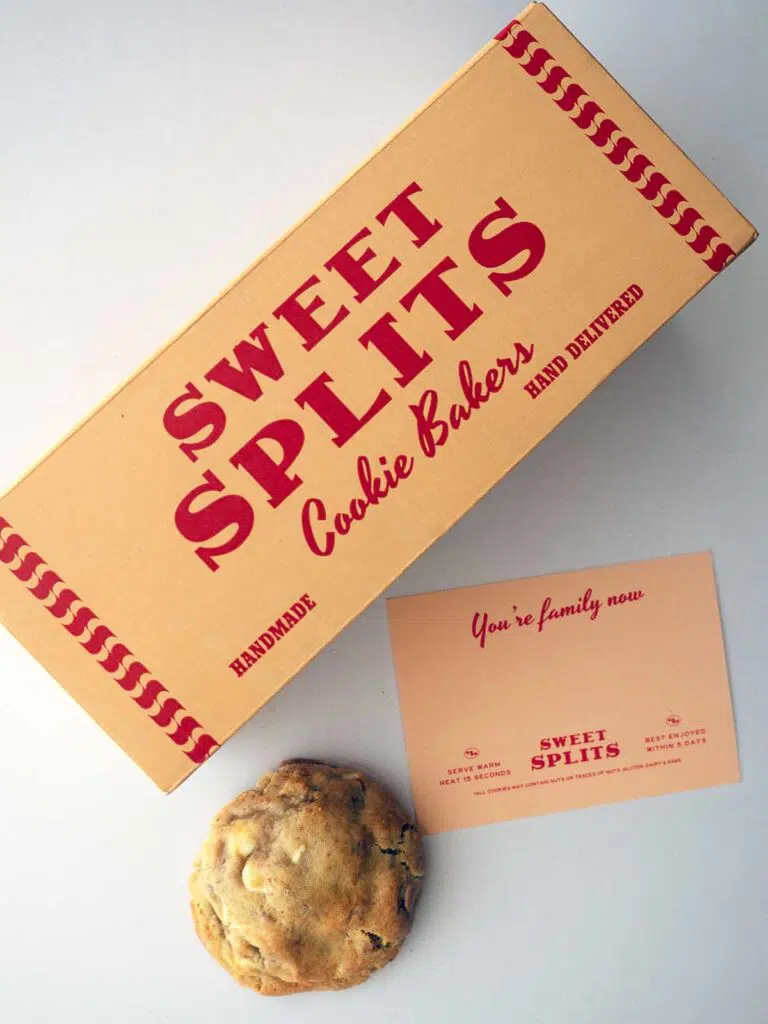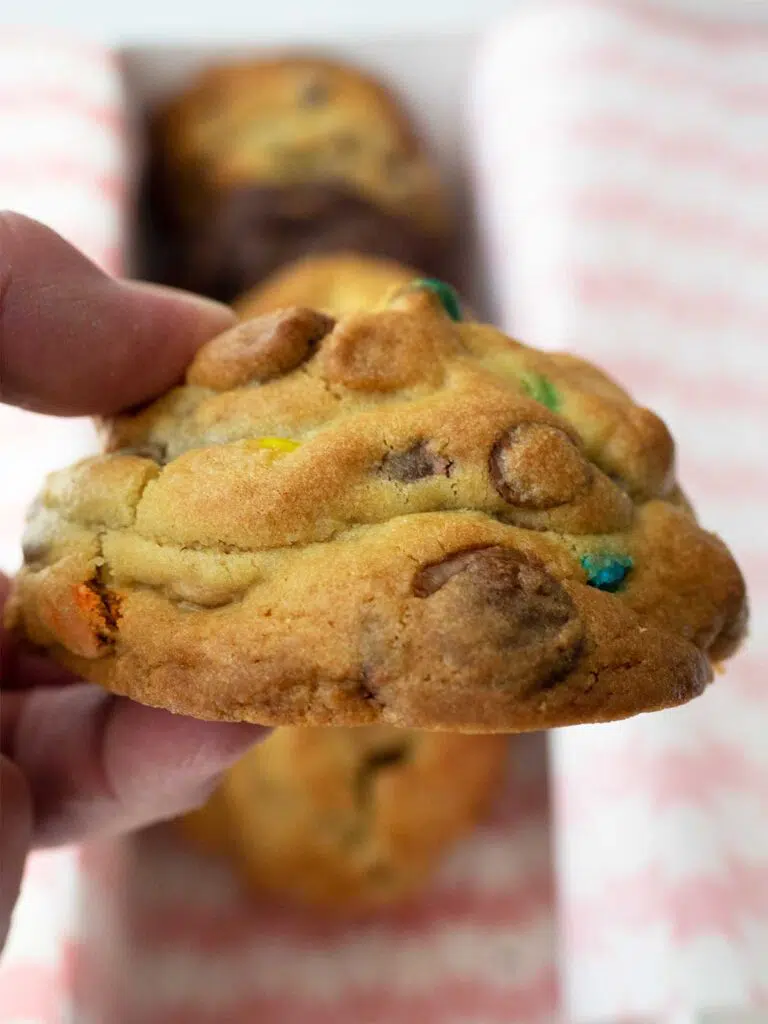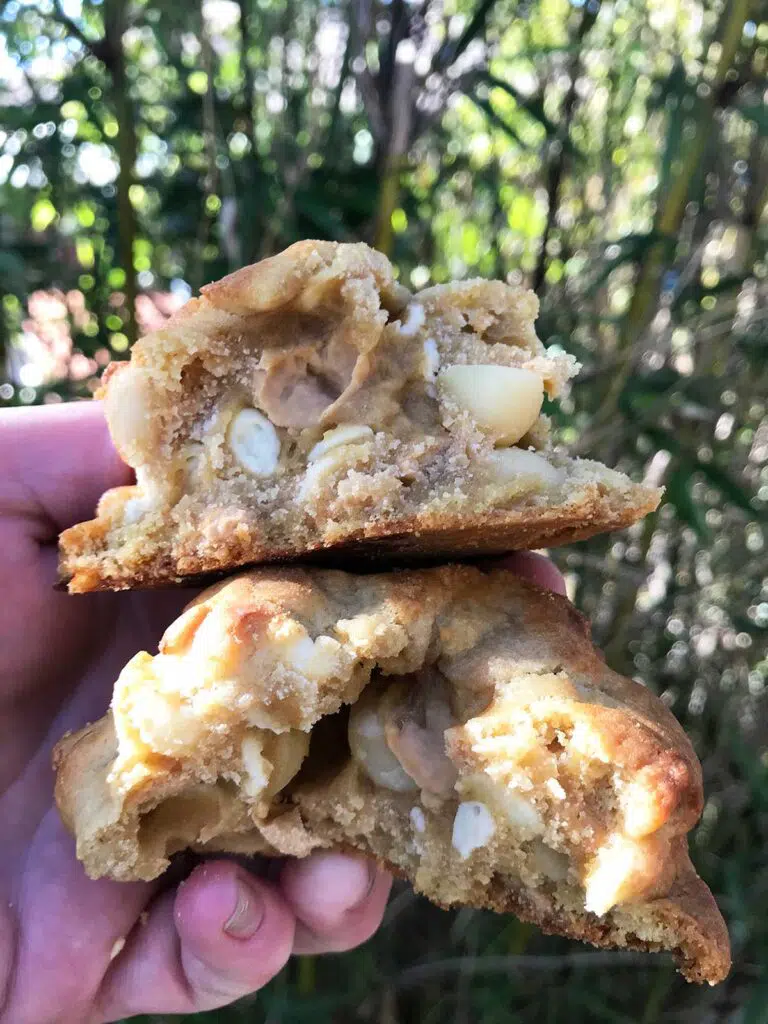 The amazing smell, when you open your retro-looking Sweet Splits box, will blow you away. The third in our New York style big and thick cookie offering. A chunky flavour packed cookie.
What we ordered: An assortment of 6 cookies (there is a 6 cookie minimum order)
Our Fave: M&M Peanut Butter Chip
Cost: $36 + $15 delivery (free delivery if you spend over $100)
Where they deliver: Most Sydney suburbs (no interstate deliveries)
Other Products: Cookie cake
Butterbing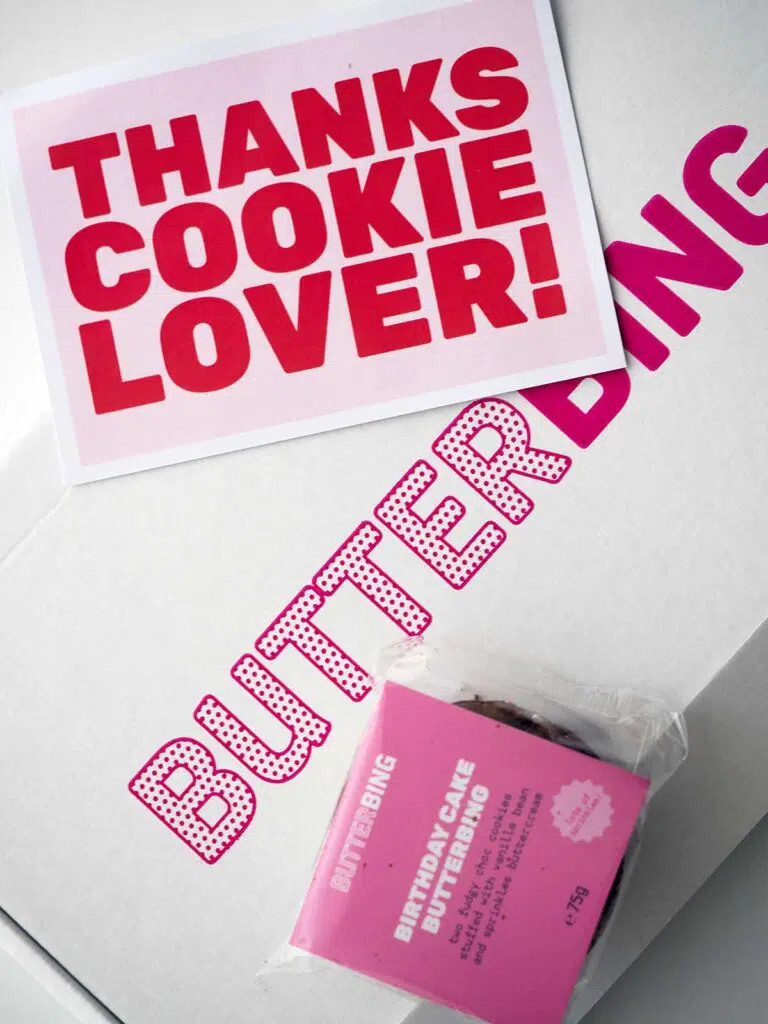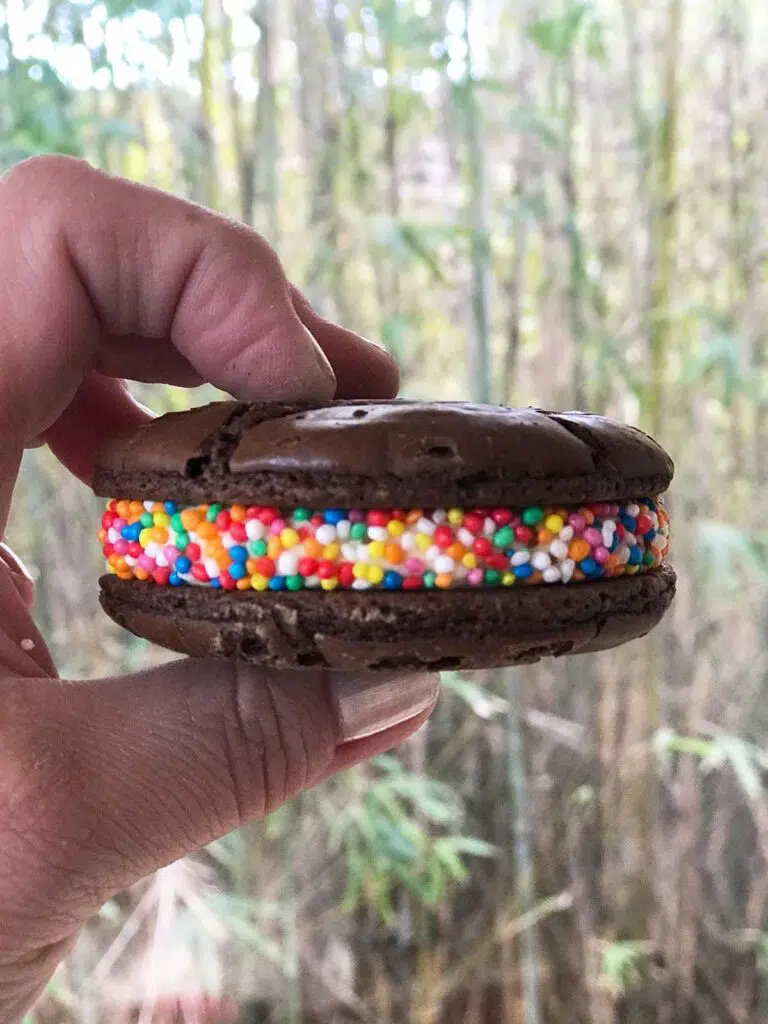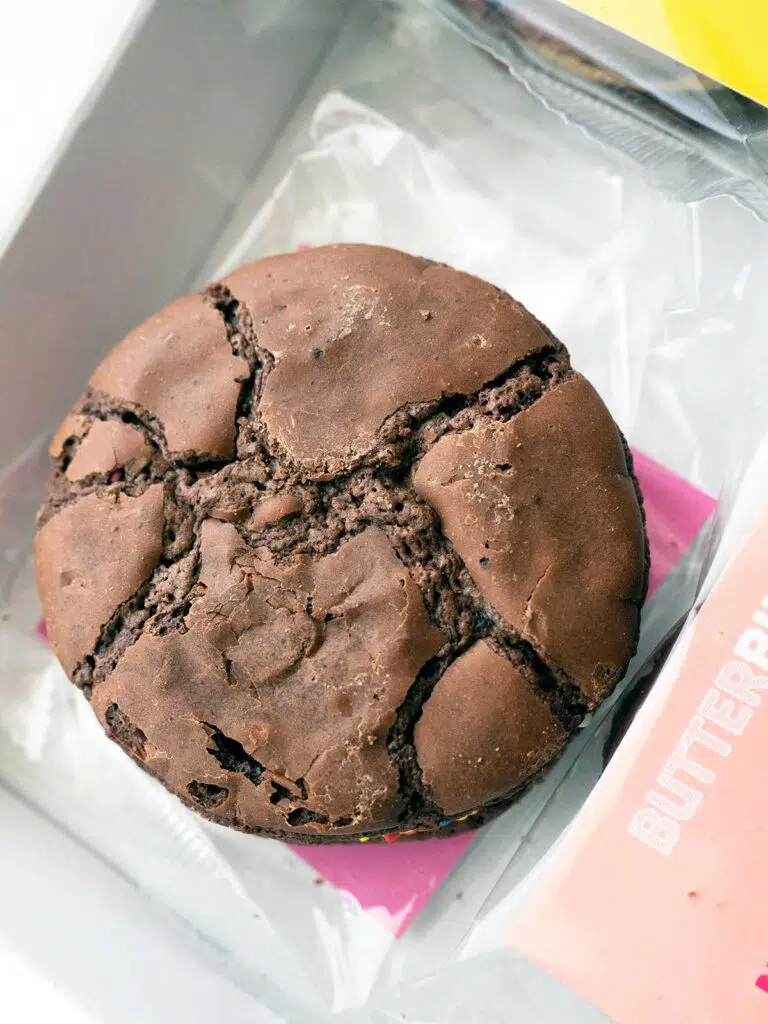 Butterbing offers cookie sandwiches, they call them stuffed cookies. Rich decadent chocolate brownie style cookies are sandwiched together with a creamy buttercream filling. The filling isn't overly sweet and the cookie has a touch of salt for perfect balance.
What we ordered: An assortment of 6 cookies
Our Fave: All of them! + Nutella Donut
Cost: $39 + free delivery (delivery $15 for orders under $39)
Where they deliver: At present Melbourne and Victoria only due to the current strain on Australia-wide delivery. We were lucky to get a delivery while they were still delivering outside of Victoria. They hope to recommence Australia-wide delivery ASAP.
Other Products: They do cookies only, and they do them damn well.
36 Hour Cookies by Mak Mak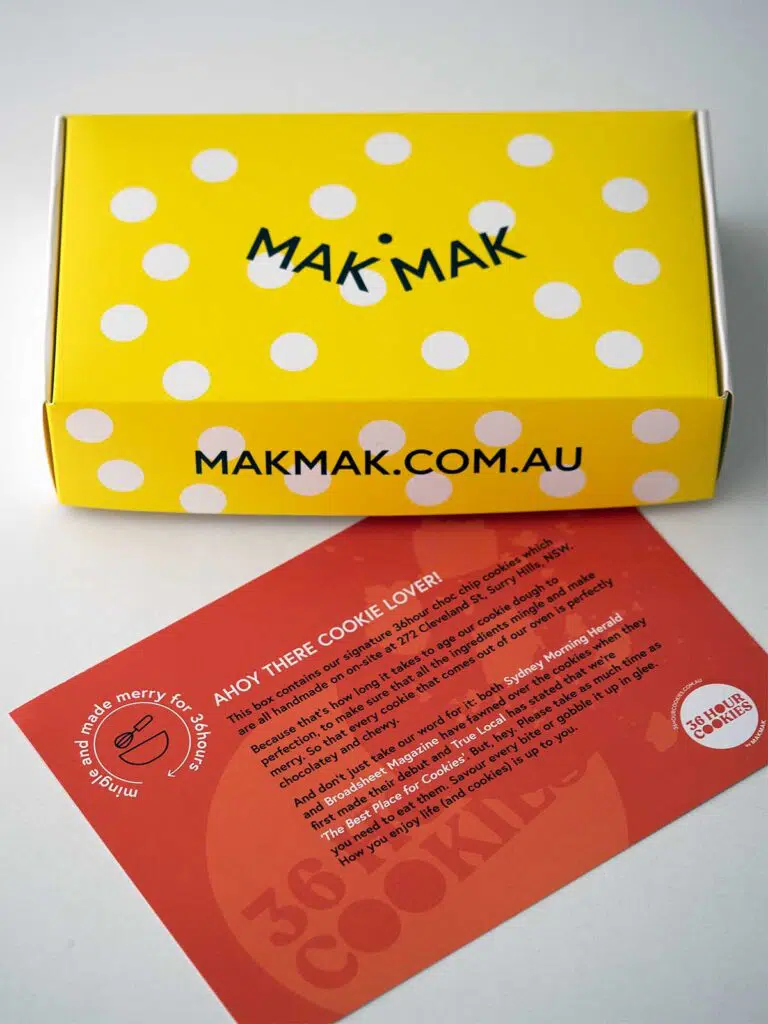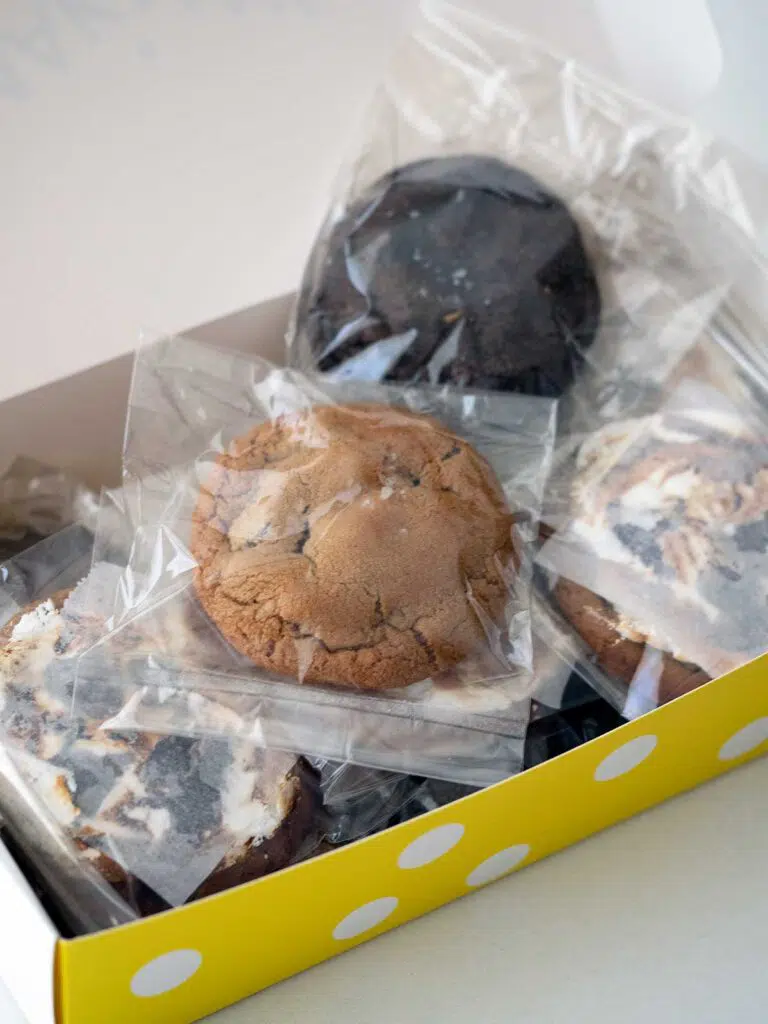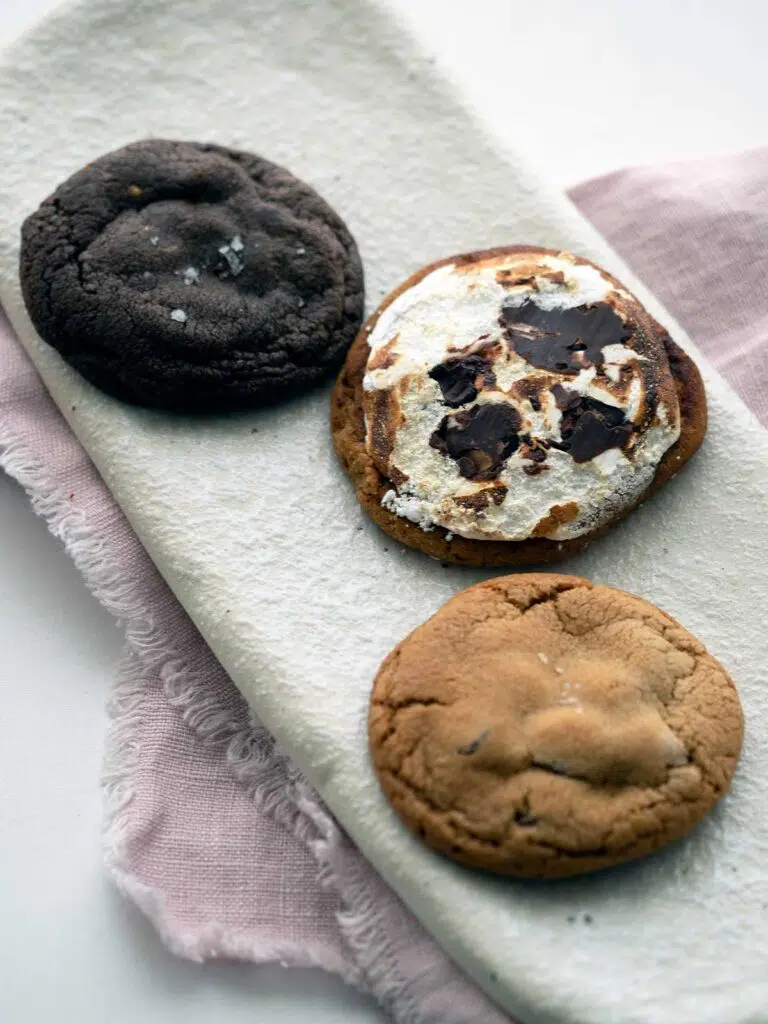 Mak Mak are known for their macarons, but they have also thrown their hat in the cookie ring with 36 Hour Cookies. The cookies are baked from a 36 hour aged cookie dough. They are a thin style cookie, but some even have a filling in them like the peanut butter brownie cookie.
What we ordered: Mixed Cookie Box with 12 cookies
Our Fave: S'Mores
Cost: $40 + free delivery on all orders Australia-wide
Where they deliver: Delivery Australia-wide
Other Products: Mini cookies
The Baked Box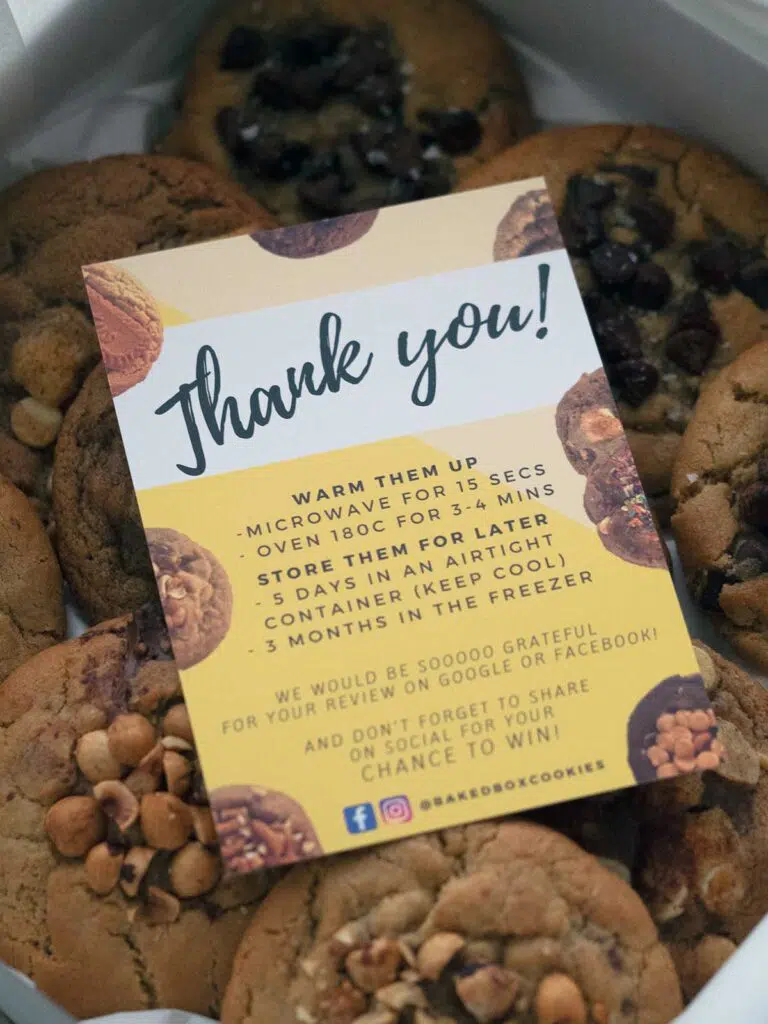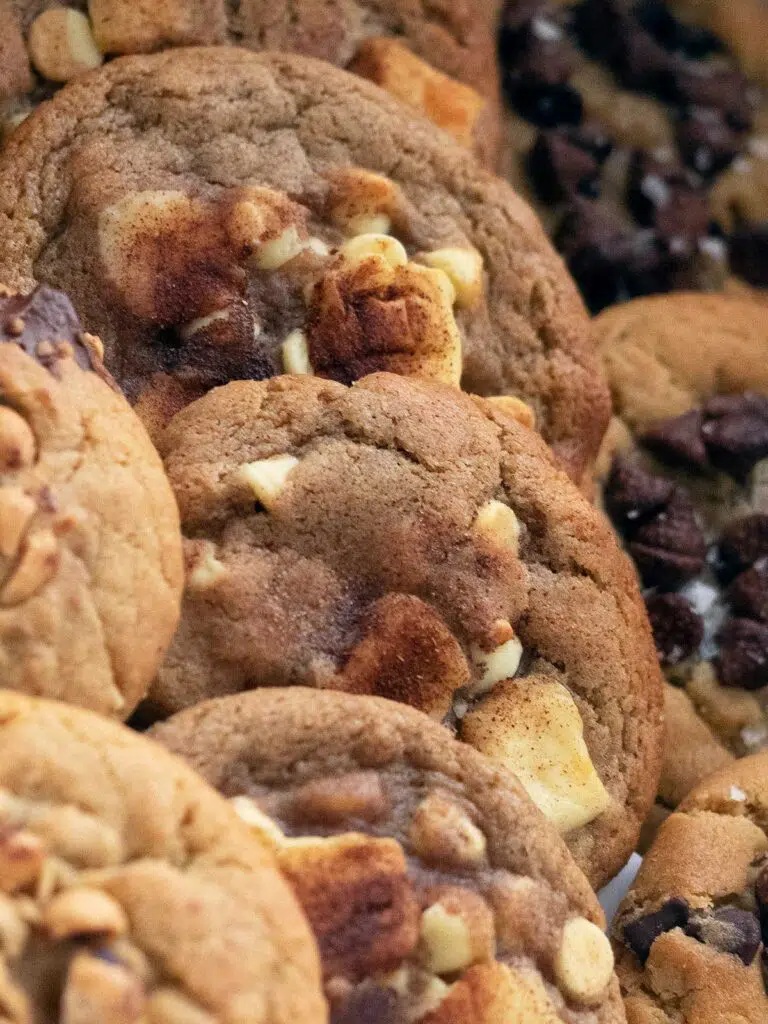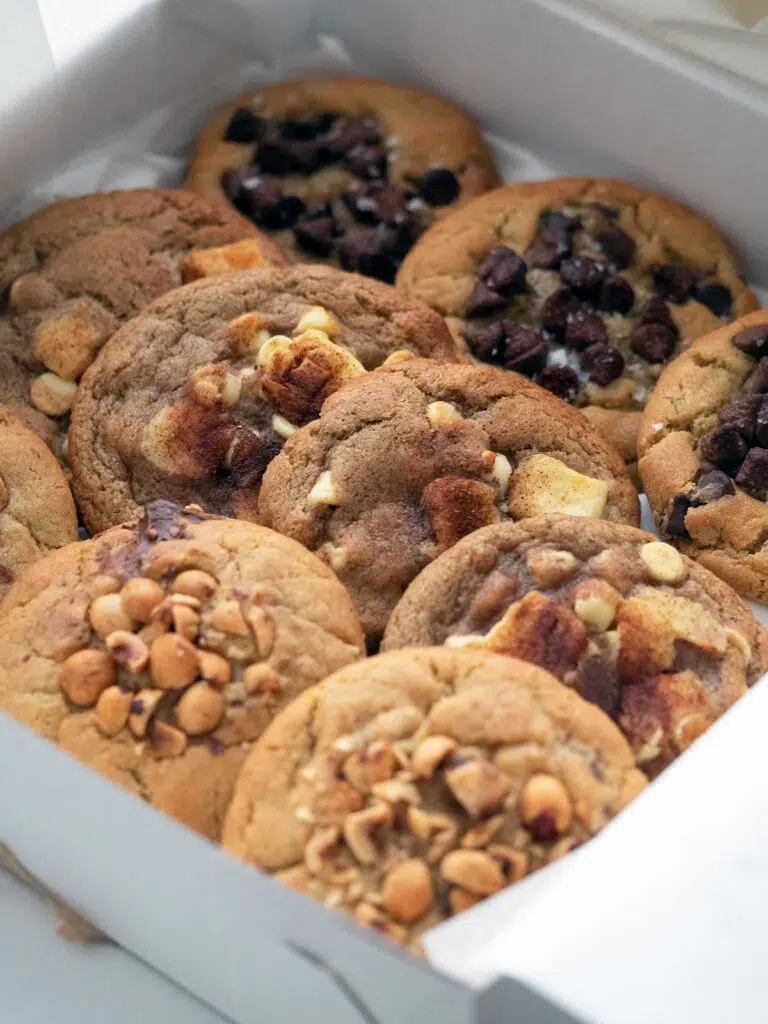 The Baked Box has grown from humble beginnings as a side hustle of two mums to a full blown cookie business. Their mission is simply to spread love through delicious cookies! And they do that well with their flavour-packed buttery cookie delights.
What we ordered: Box of 10 cookies of my choice (an extra I dream of Cinnabon was ordered for Harley).
Our Fave: I Dream of Cinnabon
Cost: $50 + $14.95 delivery
Where they deliver: Sydney only at present due to the current strain on Australia-wide delivery. They hope to recommence Australia-wide delivery ASAP.
Other Products: 1 Kilo Cookies, you can also add a bunch of flowers or champers to your order.
RT Cookies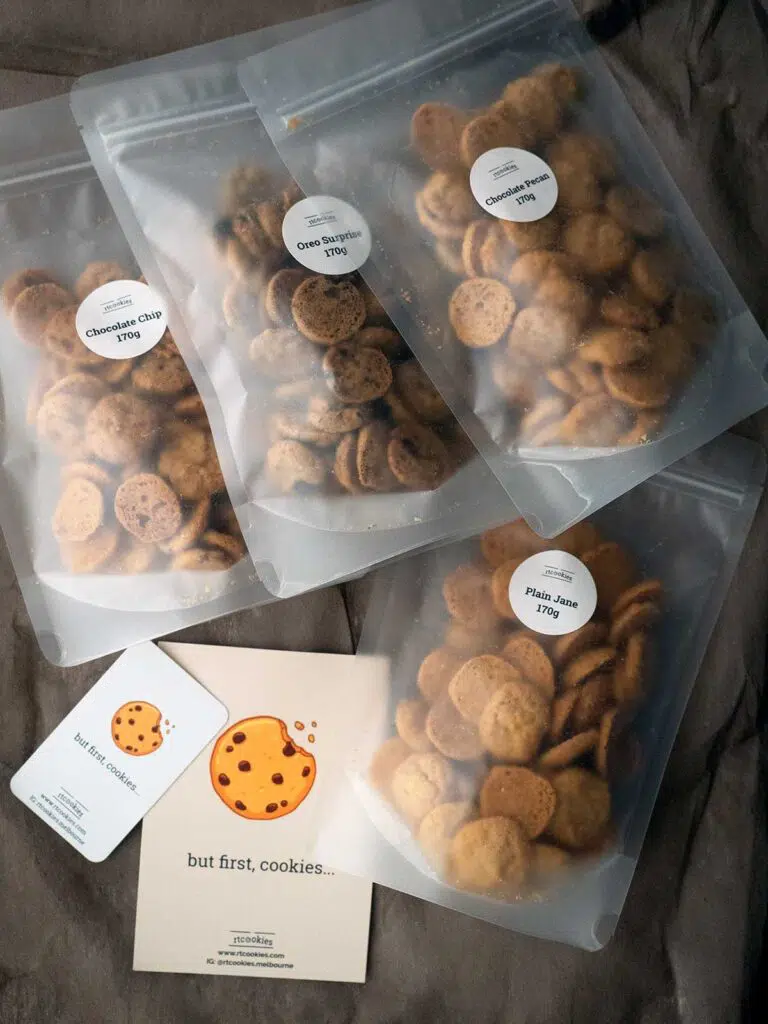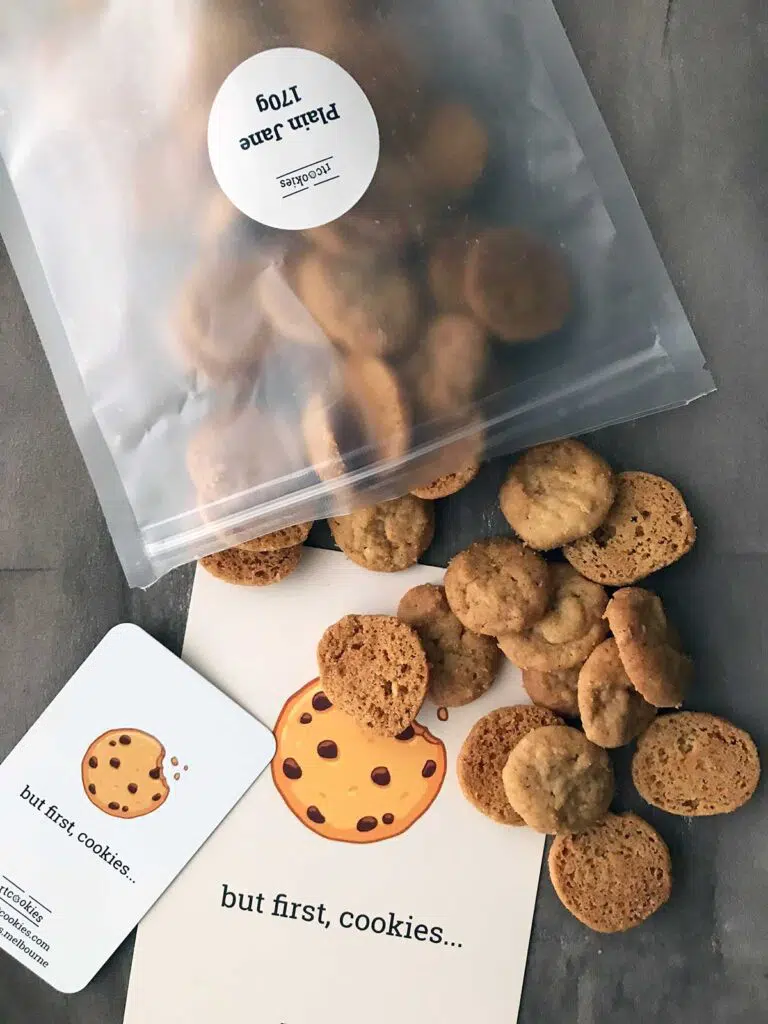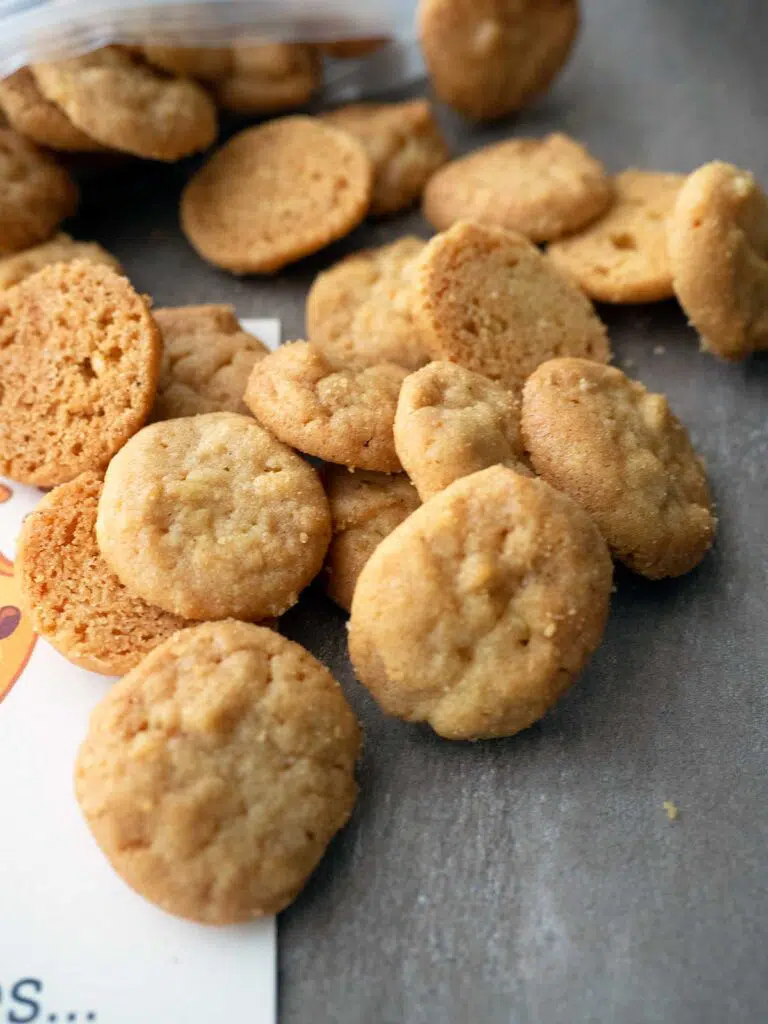 RT Cookies are all about bite-sized cookies with a slogan of "but first, cookies..." They believe the perfect cookie is crunchy, crumbly, buttery and the kind which you just can't stop eating. Their cookies are what they claim, and once you open a packet you won't be able to stop.
What we ordered: Lockdown Gift Pack
Our Fave: Plain Jane, there is nothing plain about this buttery beauty.
Cost: $49 + $5 delivery (shipping normally $13 to Sydney, was a special delivery offer)
Where they deliver: They offer Australia-wide delivery
Other Products: They only do bite-size cookies of various flavours, and they do them damn well.
Kuu Ru Cookie House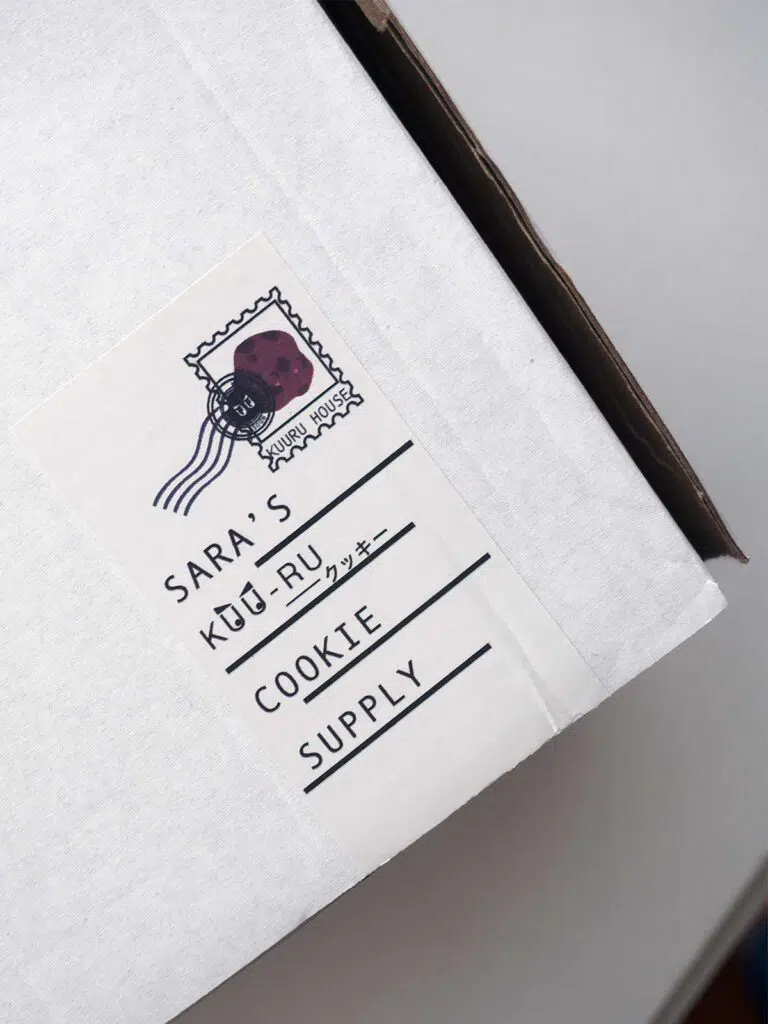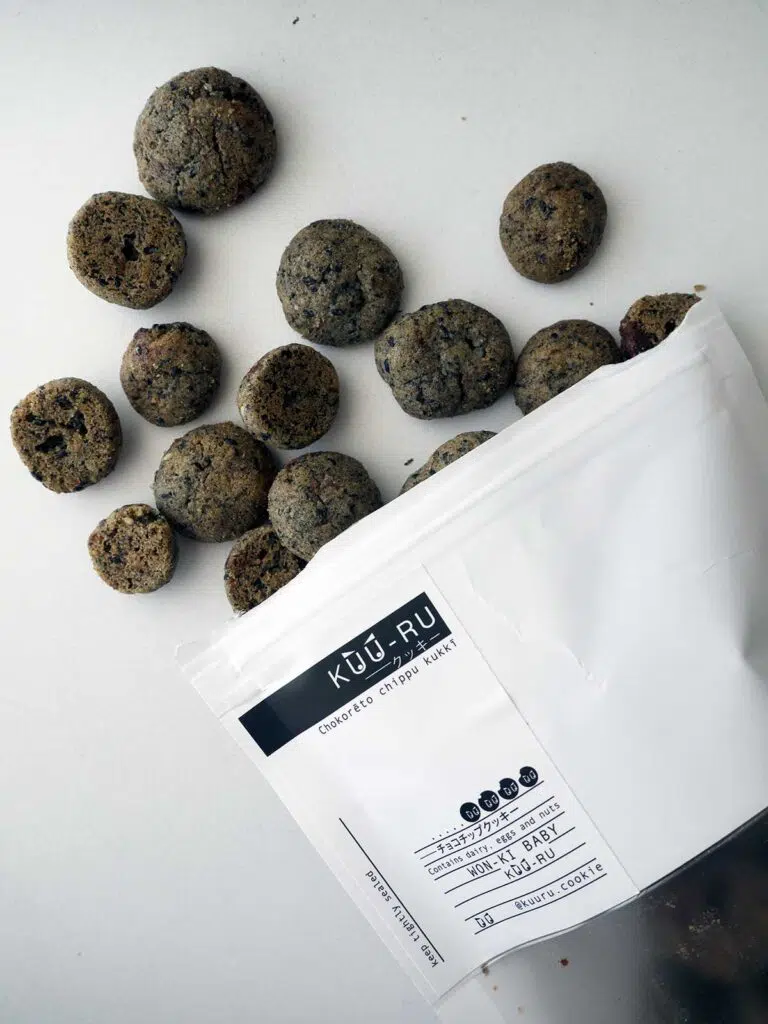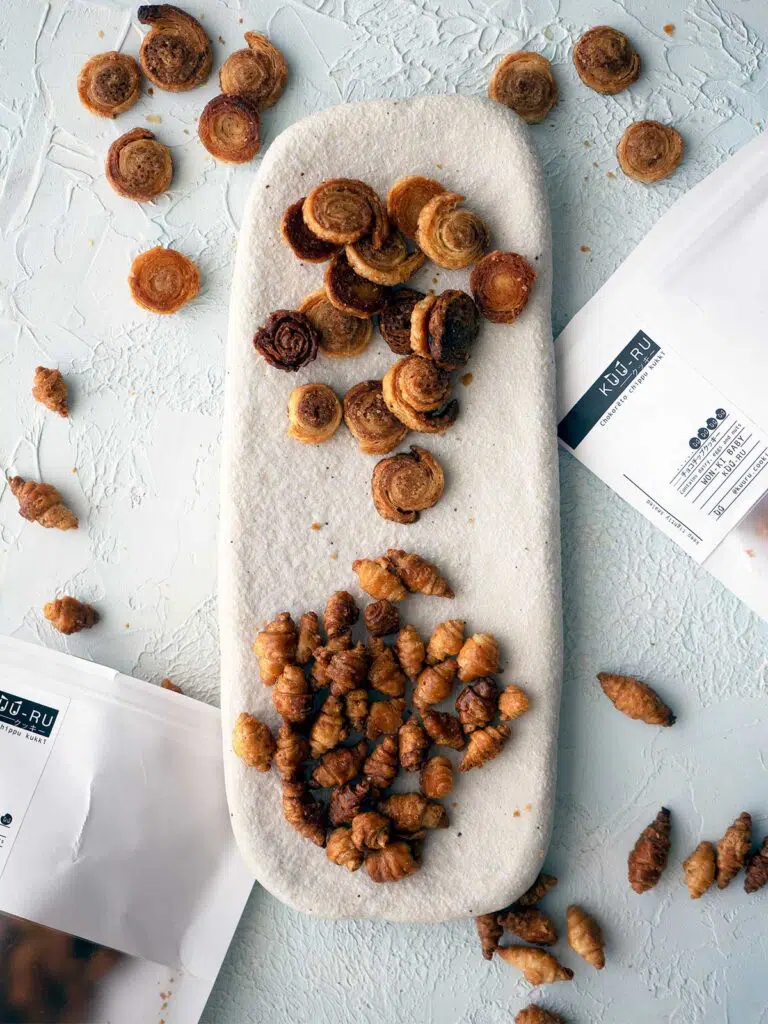 Kuuru Cookie House are the place for tiny teeny little cookies. The cookies are crunchy and buttery. They also offer cute novel cookies in the shape of mini croissants and cinnamon buns. We loved the individual targeted delivery box packaging, so cute.
What we ordered: Tiny cookies, tiny maple glazed croissant, tiny cinnamon swirls, and pineapple tarts.
Our Fave: Black Sesame Cookies
Cost: $90 + free delivery (spend $90 for free delivery NSW or $15 delivery fee)
Where they deliver: Delivery Australia-wide
Other Products: Matcha cookies and seasonal cookie hampers
Who was our favourite?
This was a hard call and I divided my findings into four categories, thick cookies, tiny cookies, general cookies, and stuffed cookies. It was impossible and unfair to judge them all as one due to how different the types of cookies were. But yes, I did have an overall favourite.
As with all things edible, what I like you may not, what you like I may not. Our tastebuds are as individual as all the cookies we taste-tested.
Best Thick Cookie
Cookie Doughboy. They were thick, but not too thick, and felt cooked through and not raw in the middle. Raw tasting middles can be a hazard of thick cookies, but not with Cookie Doughboy. They warmed up beautifully in the oven from both fresh and frozen.
Sweet Splits also won a place in our hearts for taste, texture, quick delivery, and awesome retro packaging. They would make an awesome gift too.
Best Tiny Cookie
RT Cookies. They are seriously good and seriously addictive. We found ourselves chain eating their cookies unable to move too far away from the cookie packet.
Kuuru Cookie House needs an honorable mention for their black sesame cookies, they were just as addictive.
Best Stuffed Cookie & Cookie Crown Winner!!
Butterbing. These cookies are damn tasty and my favourite. Butterbing creator, Simone Clark, has nailed what she originally called Brownie Kisses. I would walk to Melbourne for these, but luckily I don't have to as I can get my Butterbing fix from roughly 400 cafes around Australia.
Best General Cookie
The Baked Box. They fall under general as they are a normal size cookie that is easy to eat. Though there is nothing general about the cookies themselves. Super tasty, smell incredible, and we love the flavours on offer.