Comforting Gnocchi alla Sorrentina is a classic southern Italian dish. Pillowy soft potato gnocchi baked in a rich tomato sauce with fresh basil and cheese. A simple and delicious recipe using a handful of ingredients.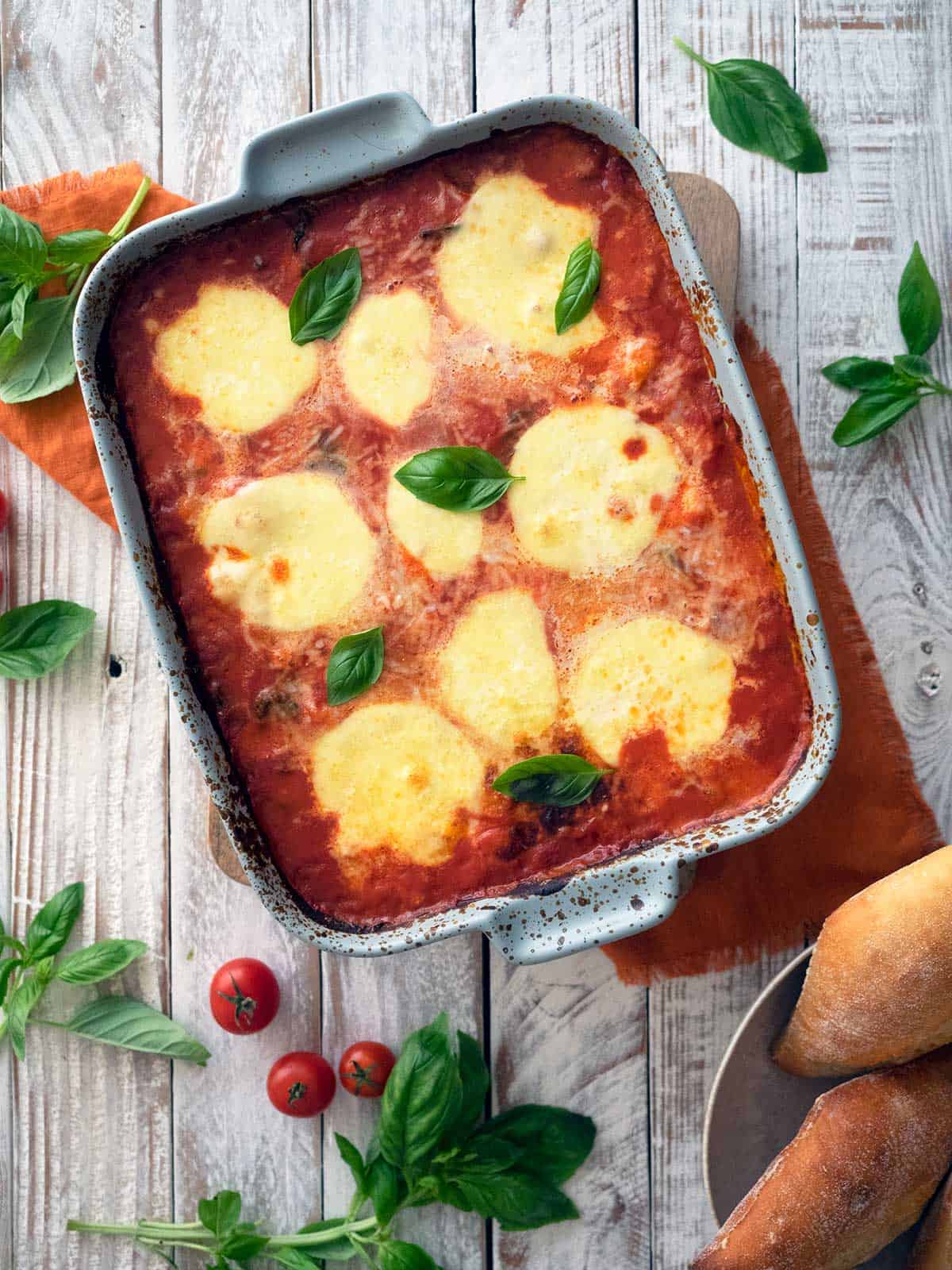 This is comfort food at its best. A big bowl of baked gnocchi smothered in rich tomato sauce served with a copious amount of cheese. Grab a crusty bread roll and you are set.
For simplicity, I use store bought gnocchi in this recipe. Of course it is better with homemade gnocchi, but sometimes you want quick tasty satisfaction. There is nothing wrong with that.
By using store bought gnocchi, and some basil from the garden, this recipe becomes an easy one to make from pantry staples.
Sara xxx
What's in this post
Gnocchi alla Sorrentina Ingredients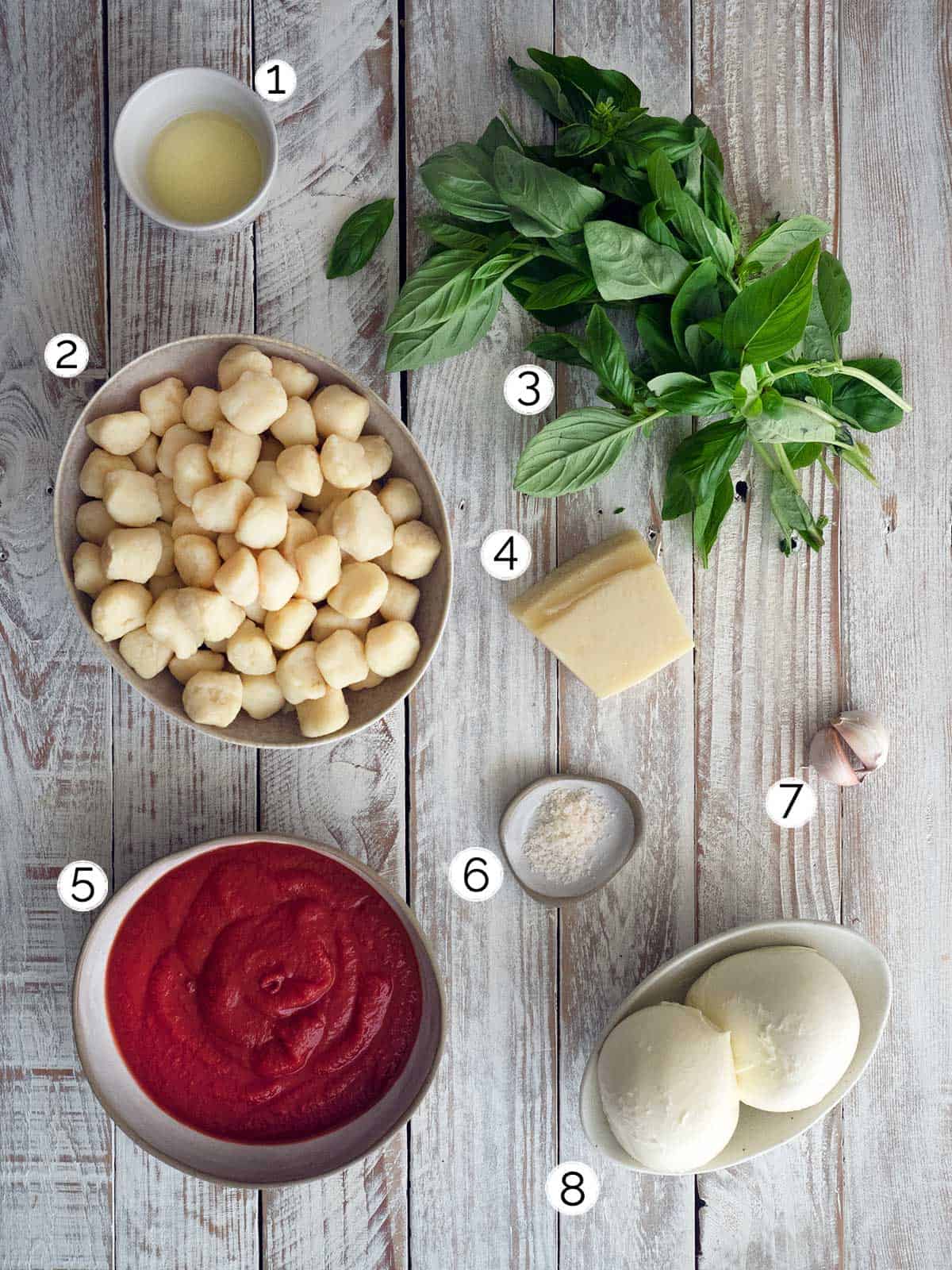 A full printable recipe card can be found at the end of this post with recipe ingredient measurements and the method.
Olive Oil: Mild tasting olive oil, or use your favourite vegetable oil.
Potato Gnocchi: You can use store bought or make your own gnocchi. By having shelf stable, store bought gnocchi in the pantry this is a quick and easy pantry dinner.
Basil: Traditionally fresh basil is used in this recipe, and it is what I recommend. You could substitute it with 1 teaspoon of dried or semi-dried added to the sauce.
Parmesan Cheese: Along with the mozzarella makes it that little extra cheesy.
Passata: Alternatively you could use two tins of crushed tomatoes.
Salt: Flavour enhancer, can be omitted for those on a low salt diet.
Garlic: Crushed garlic cloves. Alternatively, you can use crushed garlic from a jar, 1 teaspoon generally equals 1 garlic clove.
Mozzarella Cheese: Fresh buffalo mozzarella is recommended. If you don't have that on hand, grated mozzarella (or other melty cheese) works fine as well.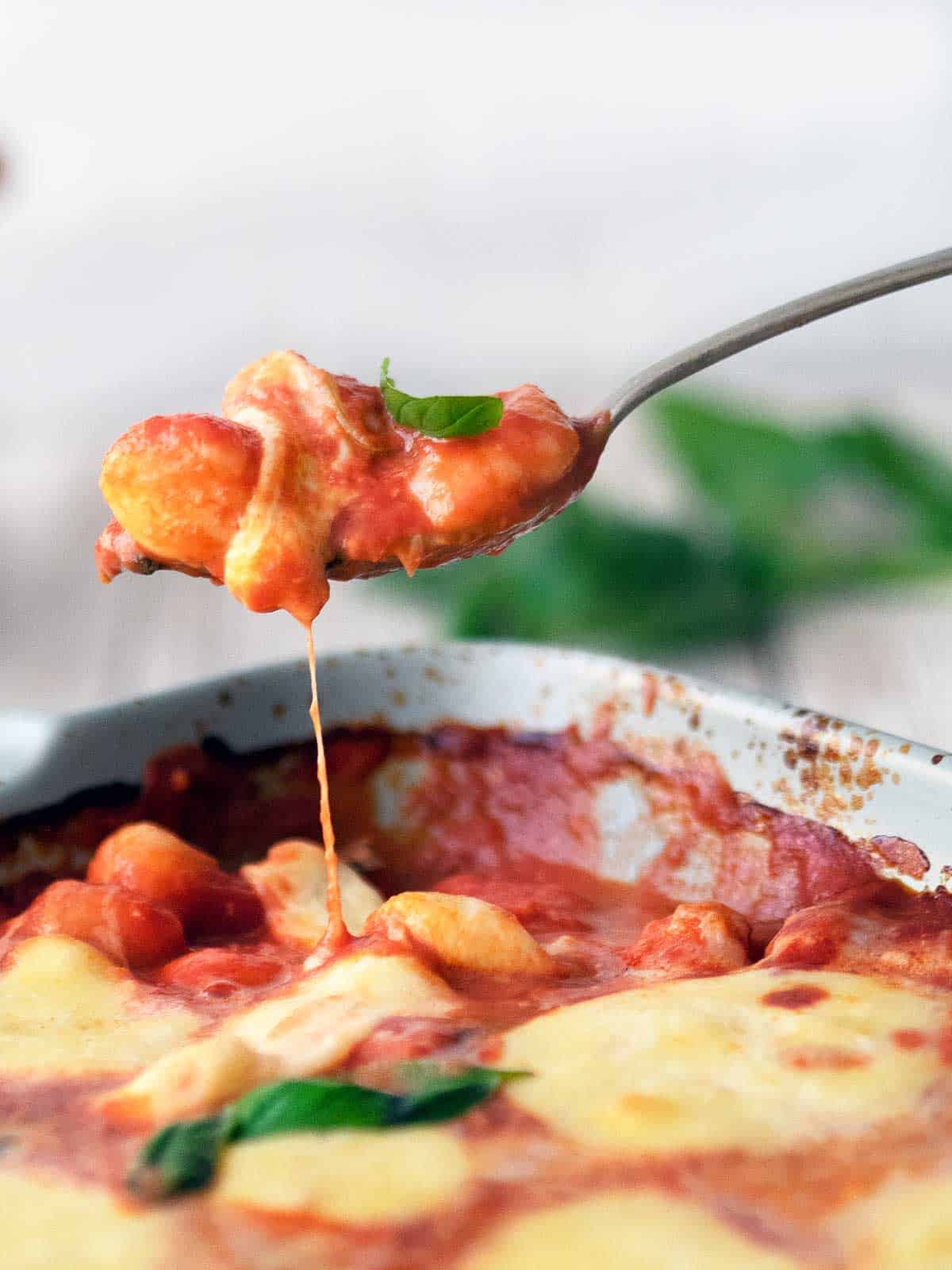 Recipe cost and time saving ideas
This recipe comes from Sorrento in the Campania Region of Italy. A low cost budget recipe to start with that makes use of the local and seasonal produce. It brings simple ingredients together in a comforting hearty dish.
If you are really on a tight budget make the gnocchi from scratch. Gnocchi is made from everyday ingredients, potato, salt, egg, and flour. The added bonus is that homemade gnocchi will always taste better than store bought.
On the other hand, to save time, use store bought gnocchi. Gnocchi can be found in shelf stable packets in the pasta section of the supermarket, or in the fridge area in the fresh pasta section.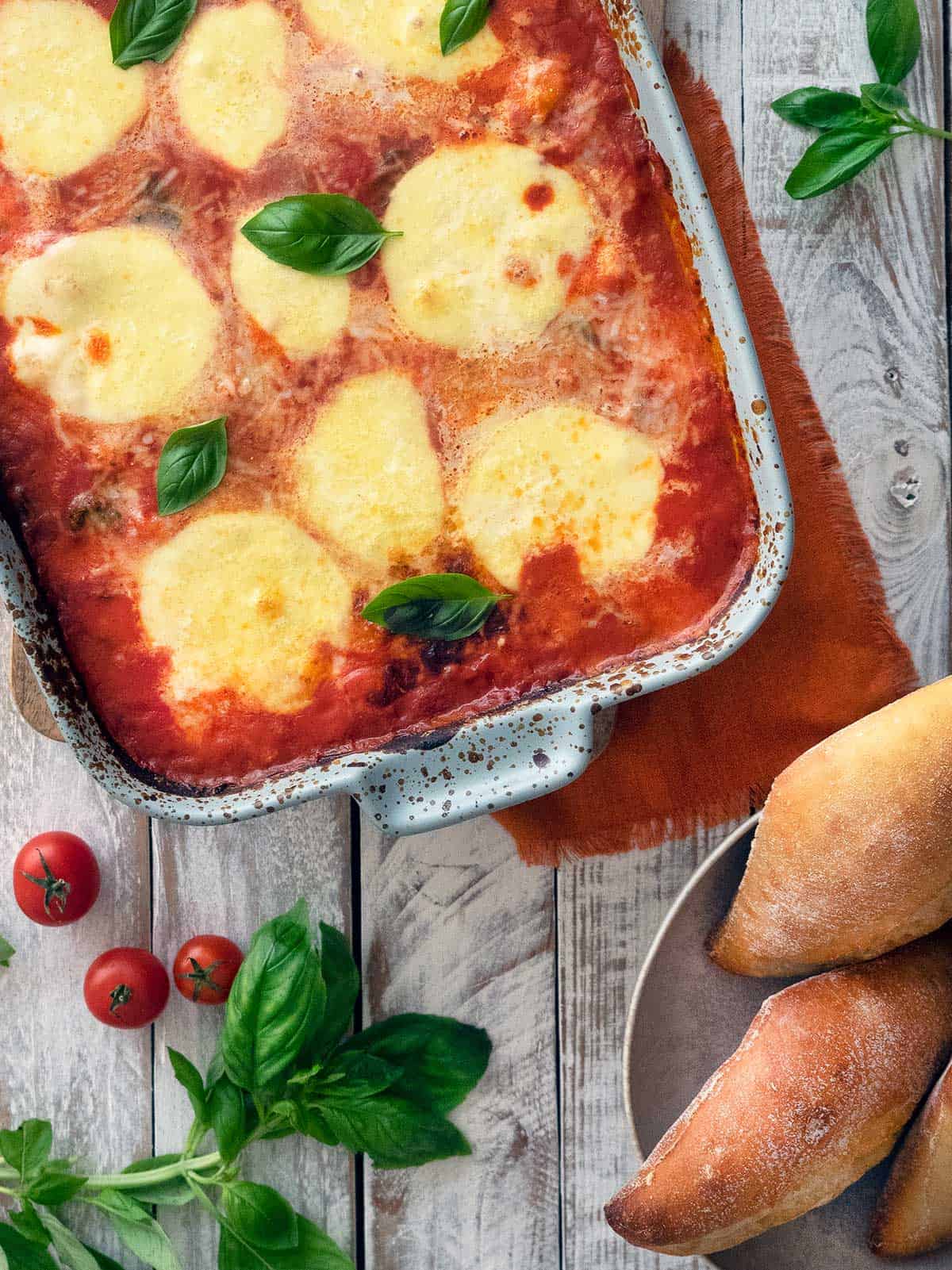 How to Make Gnocchi alla Sorrentina
Scroll to the bottom of the page for the full method and printable version of this recipe.
How long will this recipe take me to make?
30 minutes if using pre-made gnocchi and it will be on the table. Plus 20 minutes of that time is hands off baking time.
Important step 1
First step of making gnocchi alla sorrentina is the tomato sauce. This is very easy, you sauté the garlic in oil, and add the passata and basil. Then half of the parmesan and mozzarella. The sauce is done!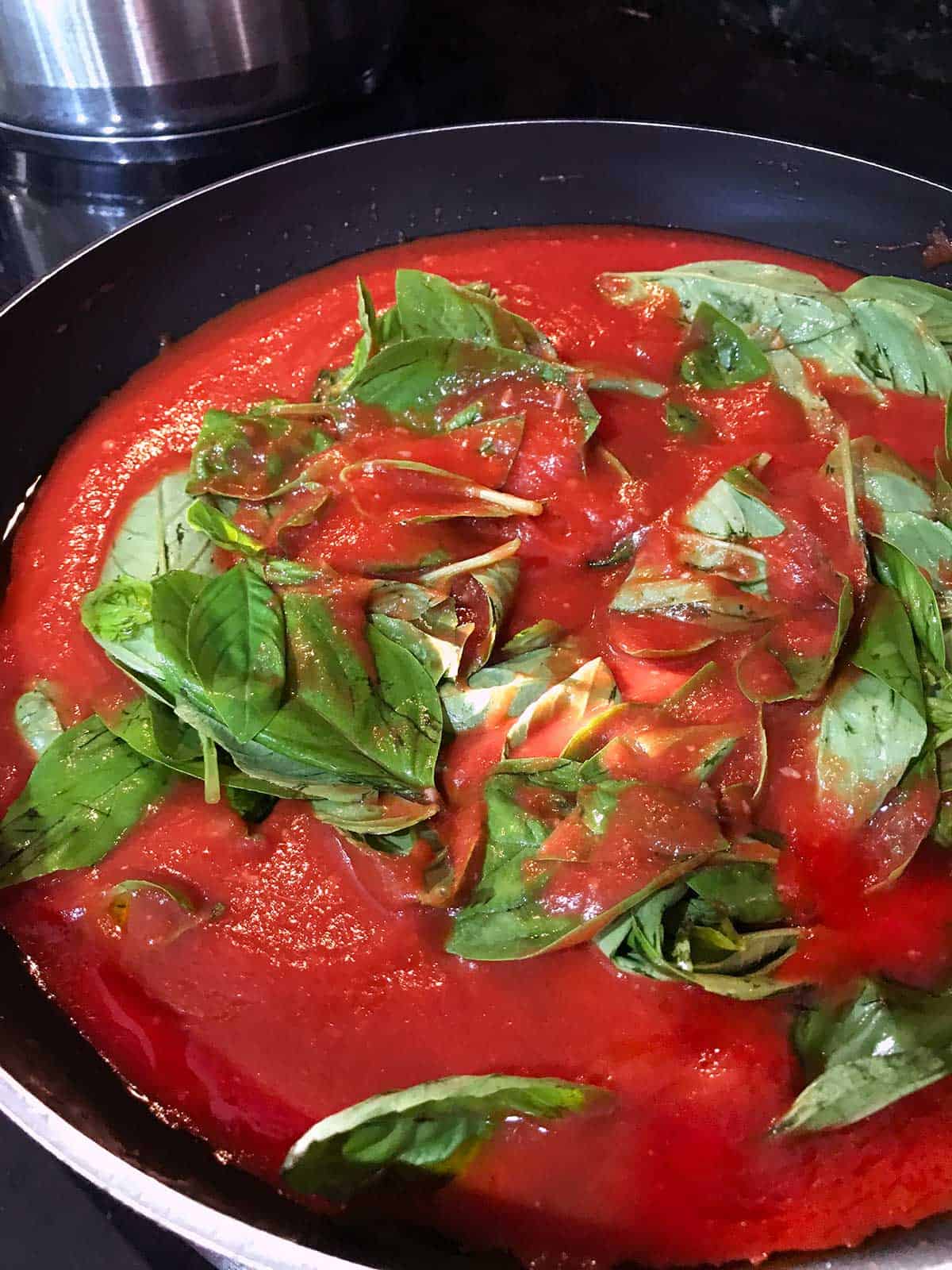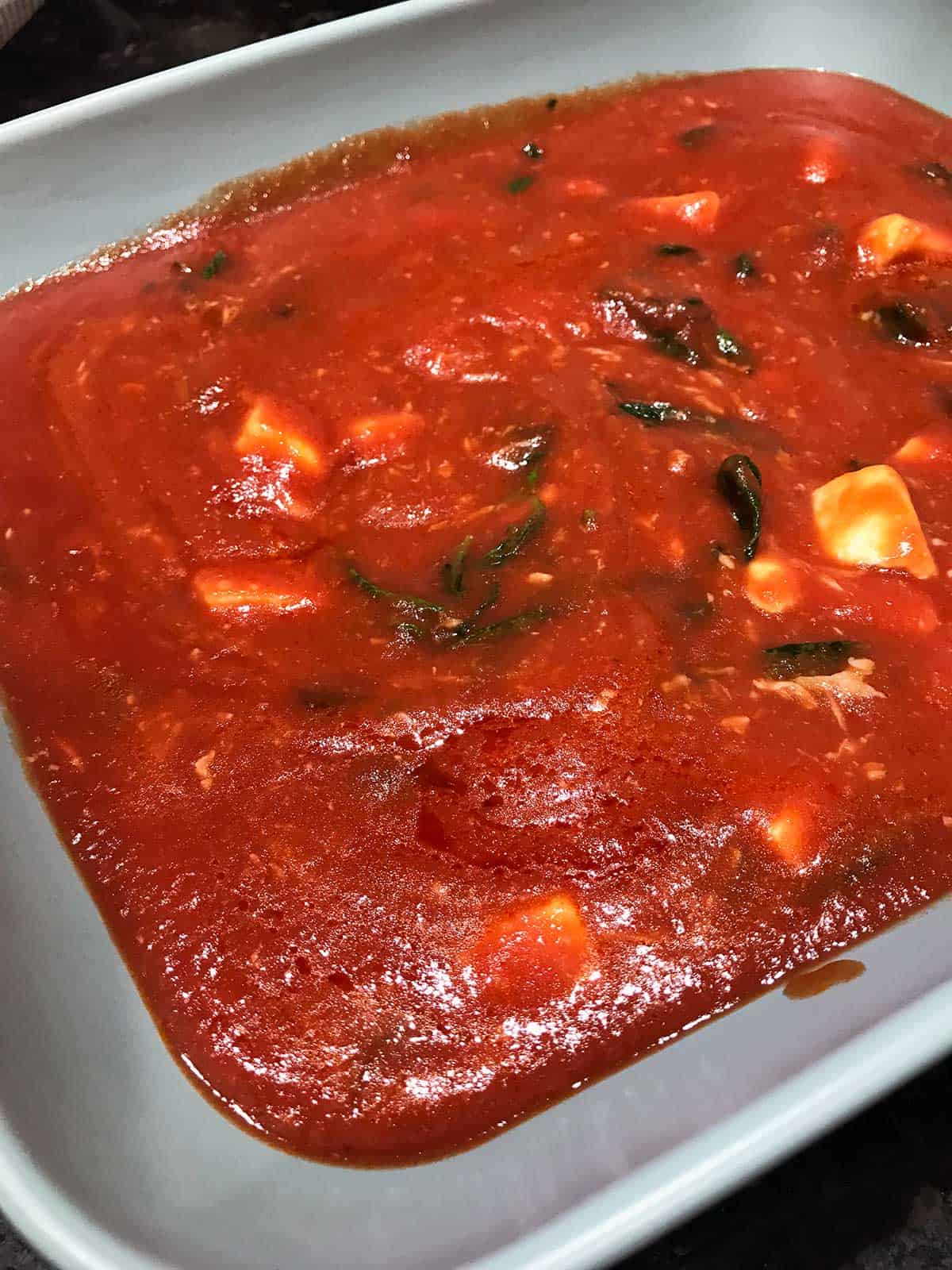 Once the sauce is ready place it in a baking dish and set it aside while you cook the gnocchi.
Important step 2
Depending on the size of your pot, you may want to cook the gnocchi in batches. Bring a large pot of salted water to a boil. Once the water is boiling drop the gnocchi in. Do not over crowd the pot.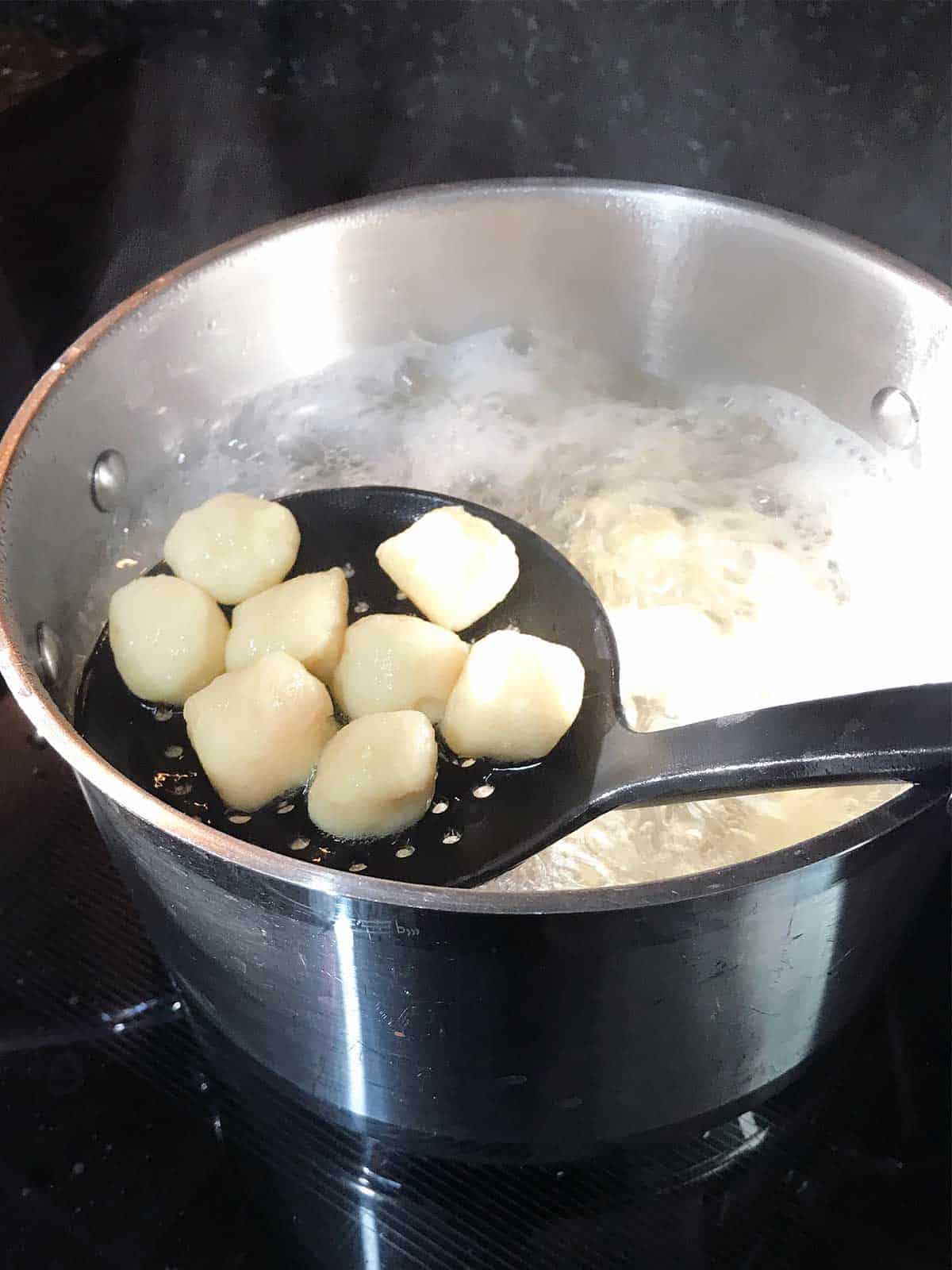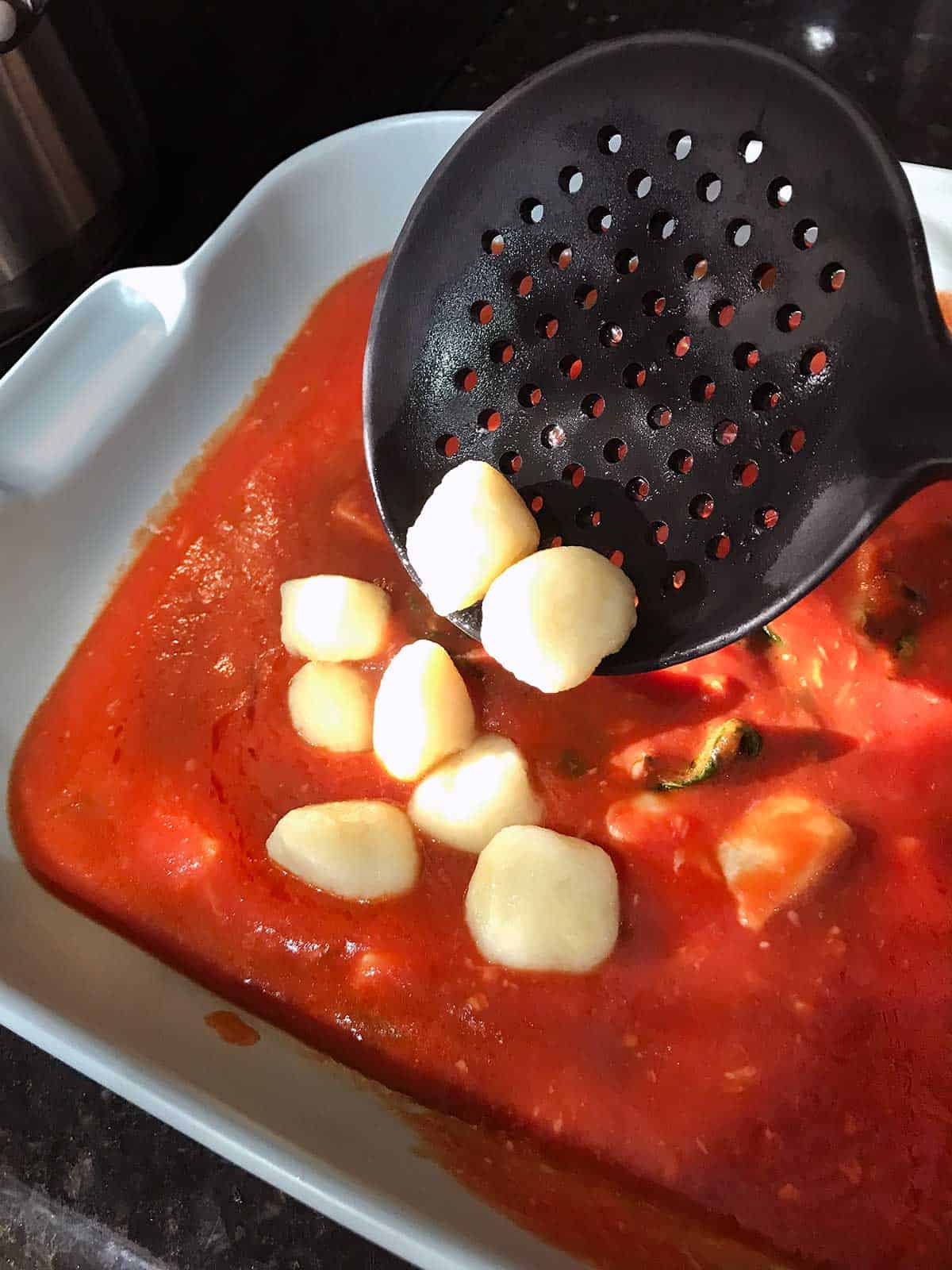 The gnocchi is ready when it floats to the top. Remove gnocchi, drain well and add to the sauce in the baking dish. Mix gnocchi gently into the sauce.
Important step 3
The last step is to cover the top of the gnocchi and sauce with the remaining mozzarella and grated parmesan. Then bake for 20 minutes until bubbling and golden.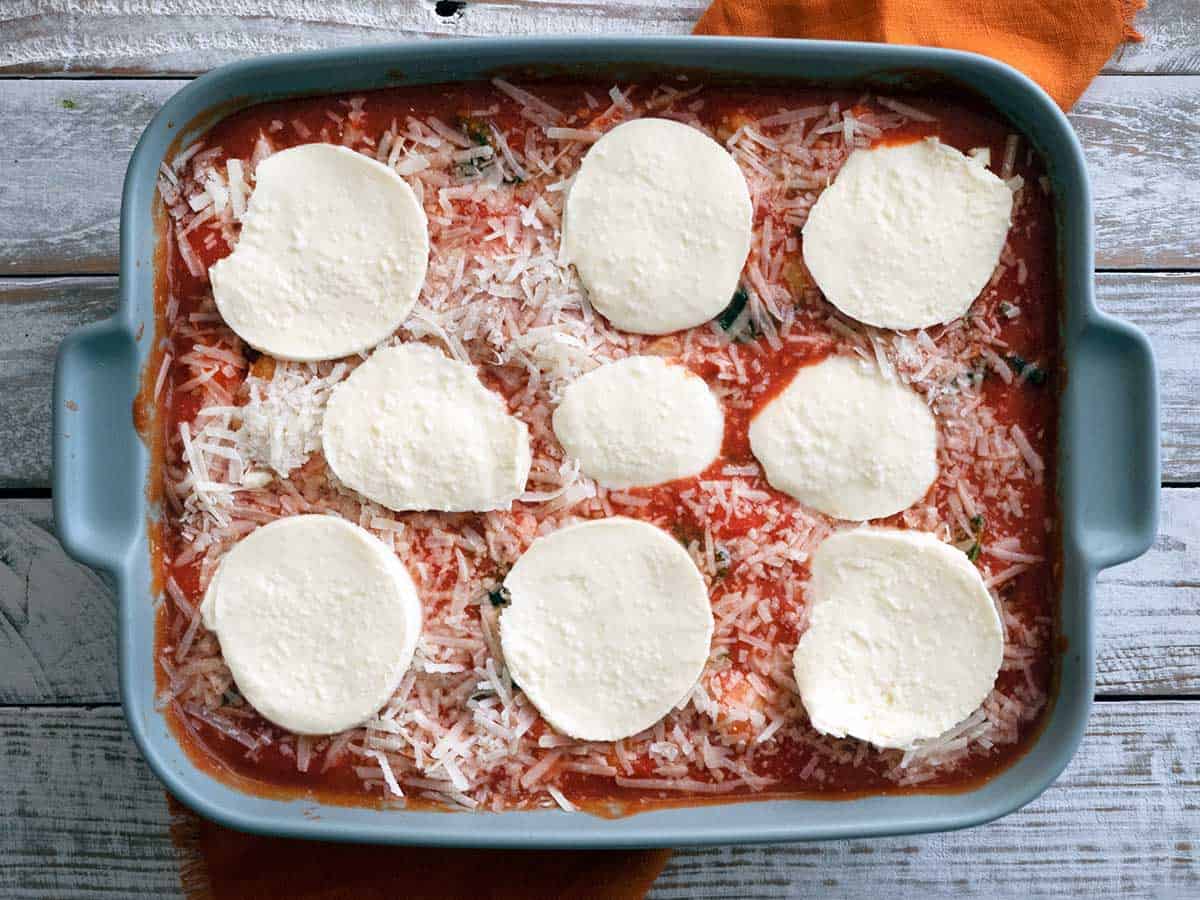 Sara's Top Recipe Tips
When tomatoes are in season try making this recipe with ripe fresh tomatoes. Dice the tomatoes finely and cook them for 5 minutes with a little olive oil in a frying pan. Then blitz with a stick blender or pass them through a food mill. Use your freshly made tomato sauce instead of passata.
Although I have given you the quick and easy version of gnocchi alla sorrentina, it will always be a better dish with homemade gnocchi. It elevates it into a truly different dish.
Therefore I highly recommend that you don't skimp on the humble ingredients used in this recipe. Buy the best store bought gnocchi you can get your hands on. Buy good quality fresh mozzarella, and use fresh basil.
Can I make gnocchi alla sorrentina in advance?
Yes you can. The sauce can be made the day before and kept in the fridge. Or you can make it up to the baking stage and then place it into the fridge until you are ready to bake and serve.
Can you freeze any leftovers?
Yes you can. Allow any frozen leftovers to defrost before re-heating in the oven or microwave.
Printable Recipe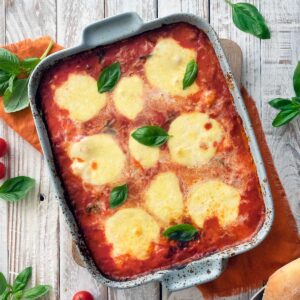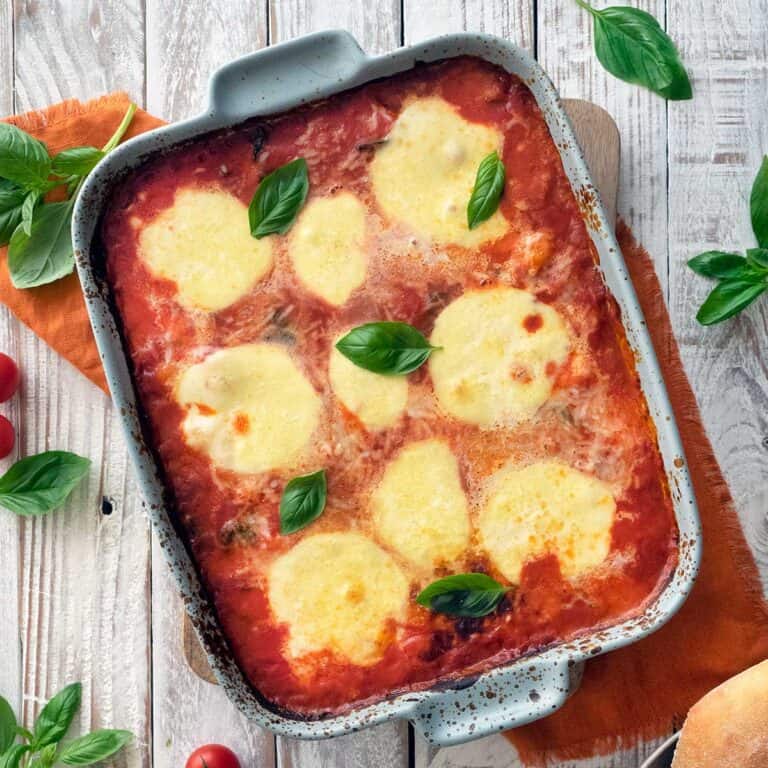 Gnocchi alla Sorrentina
Comforting Gnocchi alla Sorrentina is a classic southern Italian dish. Pillowy soft potato gnocchi baked in a rich tomato sauce with fresh basil and cheese. A simple and delicious recipe using a handful of ingredients.
Ingredients
1

tablespoon

olive oil

2

cloves

garlic

| minced

700

mls

passata

1

bunch

basil

80

grams

grated parmesan

400

grams

fresh mozzarella

| *see note 1

500

grams

gnocchi

| *see note 2
Instructions
Pre-heat oven 220°C/430°F

Heat oil in a frying pan and add garlic, saute for 1-2 minutes until fragrant.

*Do not brown the garlic.

Add passata to the frying pan and stir well.

*If the passata is thick add ¼ cup of water.

Add diced mozzarella and half of the grated parmesan and stir into the sauce.

Then add a large handful of bail leaves and stir. Pour sauce into a large baking dish and set aside while cooking the gnocchi.

Bring a large pot of salted water to a boil. Add gnocchi and cook until they float to the surface.

Remove gnocchi from the water with a slotted spoon. Shake off excess water and place the gnocchi in the baking dish with the tomato sauce.

*Depending on the size of your pot you may want to cook the gnocchi in batches. Do not over cook the gnocchi.

Mix gnocchi through the tomato sauce and top with the remaining grated parmesan and slices of mozzarella.

Bake in the oven for 20 minutes, or until bubbling and the cheese has melted.

Scatter some fresh basil leaves on top of the gnocchi alla sorrentina before serving. Serve with fresh crusty bread.
Notes
NOTE 1
Cut half of the mozzarella into 1.5cm/½ inch dices and slice the other half of the mozzarella into rounds/slices. The diced mozzarella will be added to the sauce, and the slices will be laid on top of the gnocchi and sauce for baking.
NOTE 2
This recipe is based on store bought gnocchi. You can also use homemade gnocchi.
GENERAL COOK'S NOTES
All oven temperatures are fan-forced, increase the temperature by 20°C (70°F) for convection ovens.
All measurements are Australian tablespoons and cups. All measures are level, and cups are lightly packed unless specified.
1 teaspoon equals 5ml
1 tablespoon equals 20 ml (Nth America, NZ & UK use 15ml tablespoons)
1 cup equals 250ml (Nth America use 237ml)
4 teaspoons equal 1 tablespoon
I use the below unless specified in my recipes.
Herbs are fresh | Vegetables are of a medium size | Eggs are roughly 60 grams in weight (large).
NUTRITIONAL INFORMATION BELOW IS A GUIDE ONLY
Nutrition
Calories:
702
kcal
Carbohydrates:
66
g
Protein:
36
g
Fat:
34
g
Saturated Fat:
17
g
Polyunsaturated Fat:
2
g
Monounsaturated Fat:
11
g
Cholesterol:
96
mg
Sodium:
1453
mg
Potassium:
937
mg
Fiber:
6
g
Sugar:
10
g
Vitamin A:
1898
IU
Vitamin C:
20
mg
Calcium:
746
mg
Iron:
8
mg
Did You Make This Recipe?
I do a happy dance when people share how they went. Tag me on Instagram or Twitter @bellyrumbles & #bellyrumbles