Teurgoule is a classic French rice pudding from the Normandy region. You will love this creamy cinnamon and vanilla flavoured baked dessert. During the slow and long baking, simple ingredients transform into a luscious caramelised rice pudding with a wickedly dark and delicious crust.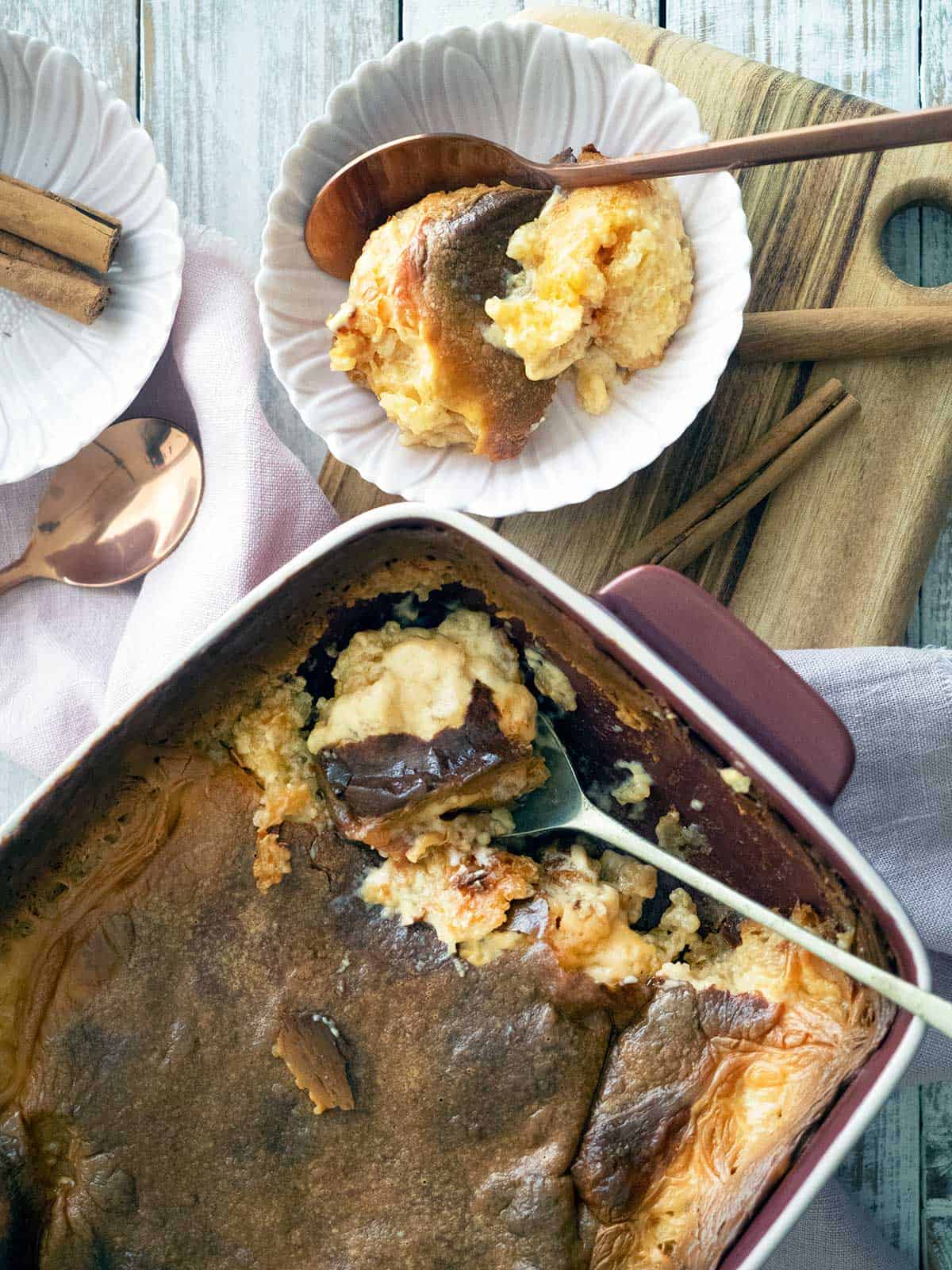 The aroma of teurgoule normande baking slowly in the oven is deliciously delightful. A rich creamy scent of cinnamon and vanilla. It makes the three and a half hour wait almost unbearable.
The end results are well worth it. An ugly duckling of a dessert with its deep dark caramelised crust. Very reminiscent of another burnt classic, Basque burnt cheesecake.
Under that dark top hides a creamy caramelised rice pudding. Traditionally served at room temperature, but I also love it warm with vanilla ice cream.
Sara xxx
What's in this post
Teurgoule Ingredients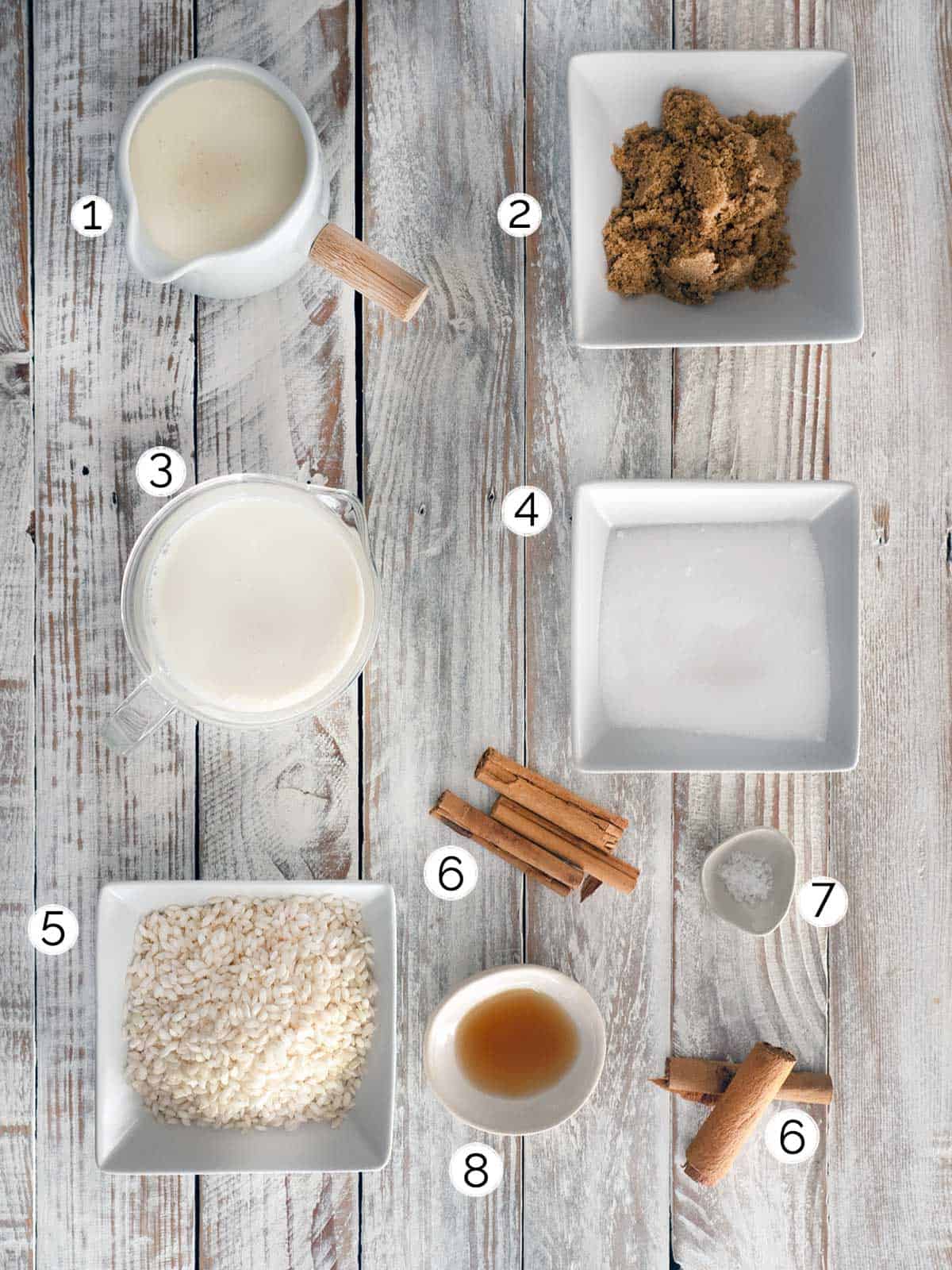 A full printable recipe card can be found at the end of this post with recipe ingredient measurements and the method.
Cream: Full fat pouring/single cream.
Brown Sugar: Using brown sugar along with normal sugar gives the rice pudding a more caramelised result.
Milk: Full fat cow's milk.
Caster Sugar: Also known as superfine sugar.
Rice: Use a round or short grained rice like arborio.
Cinnamon: I use quills, but read further down where I discuss using ground cinnamon.
Salt: Use table or sea salt, only a pinch for flavour.
Vanilla Extract: Vanilla essence can be used in its place.
Cinnamon Quills vs Ground Cinnamon
I've made Teurgoule numerous times. Originally I used ground cinnamon which is commonly found in most recipes floating around and I believe traditional. Over time as I experimented I discovered that cinnamon quills work better in this recipe.
Using cinnamon quills does add one more step to this recipe. Not that there are many steps. Most recipes simply dump all the ingredients in a baking dish and then into the oven.
When using cinnamon quills we need to take an extra step to infuse the milk with the cinnamon.
Ground Cinnamon: The ground cinnamon floats to the top of the dish and forms a layer. It doesn't infuse its flavour as well into the pudding as it sits on top. Also, it burns as the dark crust forms on top, giving a slightly more bitter taste in the end result.
Cinnamon Quills: The cinnamon flavour is infused into the milk and cream which then distributes the cinnamon throughout the entire dish. A dark crust still forms on the teurgoule, it still has a lovely bitter note, but not of burnt cinnamon.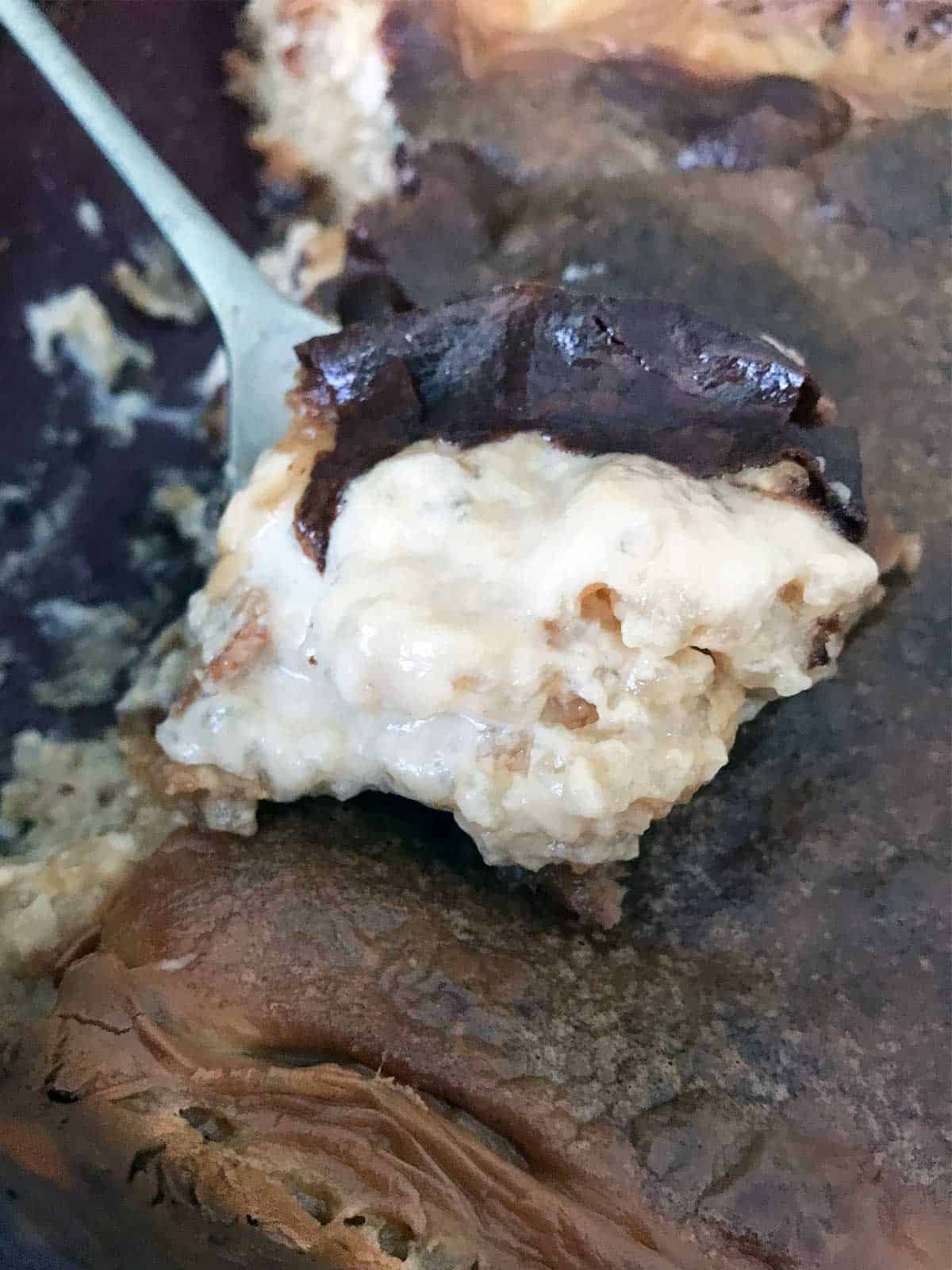 What to Serve with Teurgoule
Traditionally teurgoule is served at room temperature with fallue, a brioche from Normandy. It pairs nicely with stewed fruits such as apples, peaches, or berries.
I personally like it warm as it is creamier in texture. Serve with a scoop of vanilla ice cream or some homemade custard.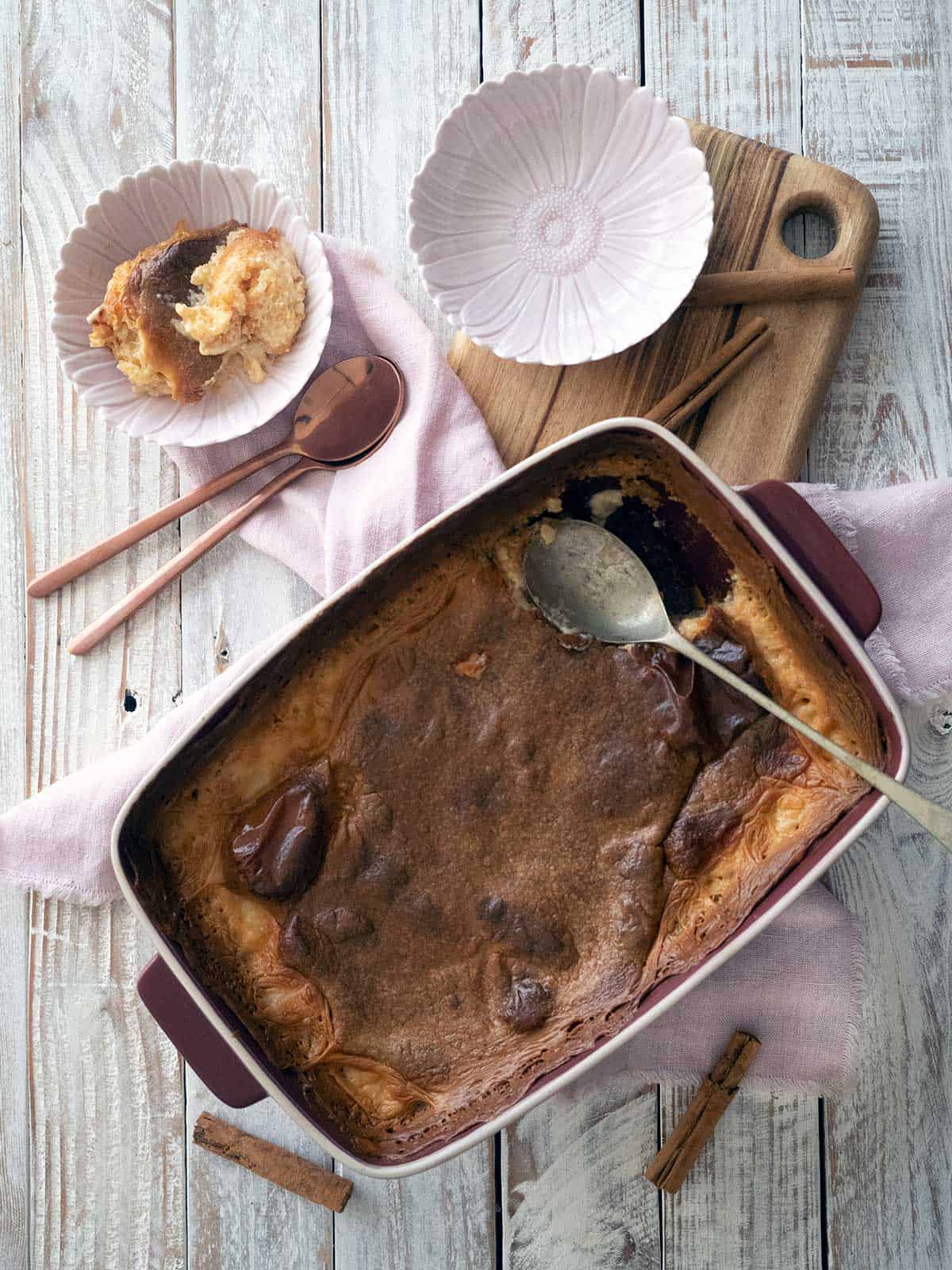 How to Make Teurgoule
Scroll to the bottom of the page for the full method and printable version of this recipe.
How long will this recipe take me to make?
Most of the time involved in this recipe is baking time. From start to finish this dish will take just over 4 hours. 15 minutes of that time is hands on.
Important step 1
Place all ingredients, except for the rice, in a large pot. Bring to a simmer, and then leave it to infuse for 30 minutes.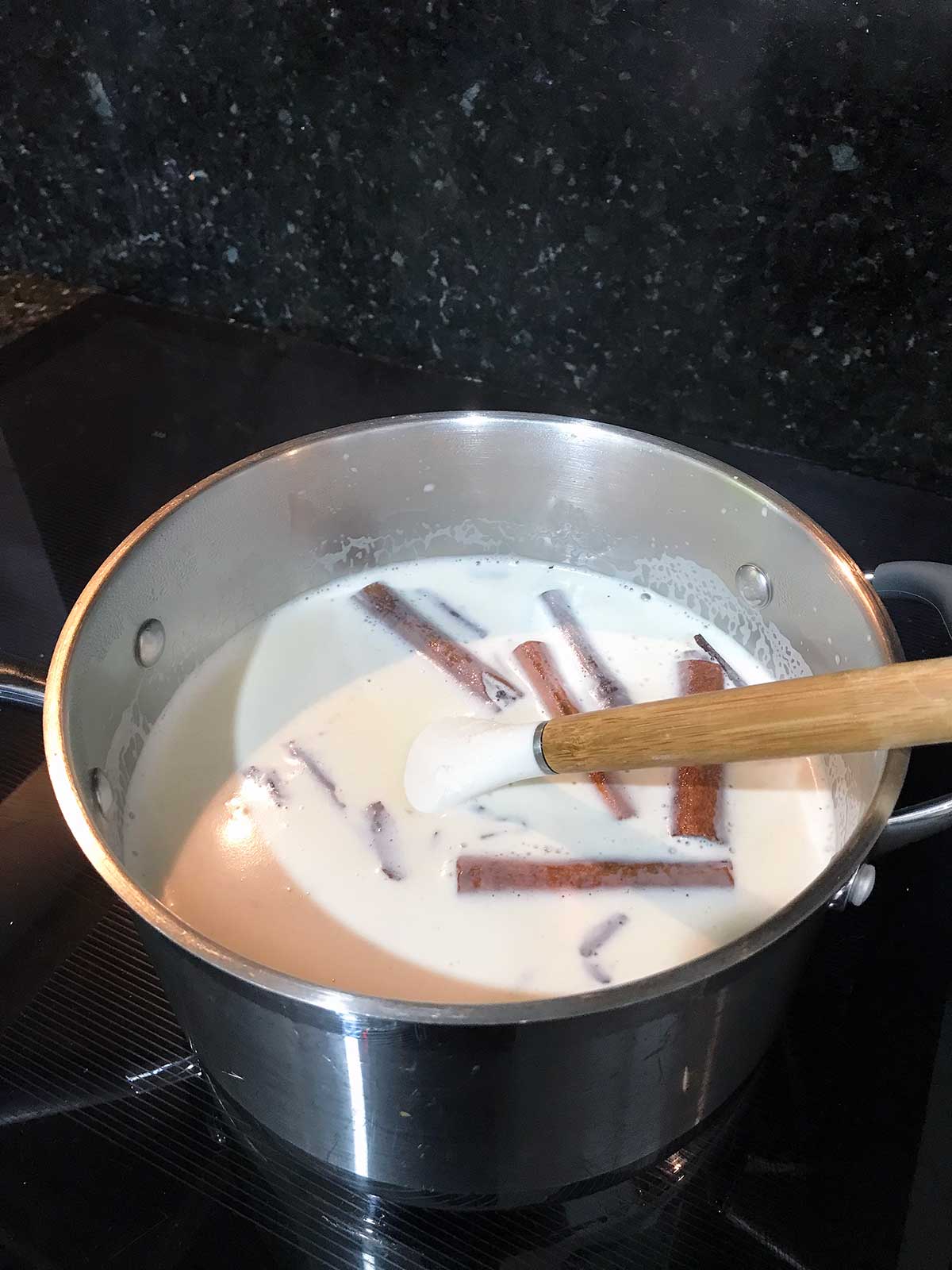 Important step 2
Place rice in an earthenware or other baking dish. Strain the milk mixture into the baking dish and then place it in the oven to bake. Such a simple dish to make!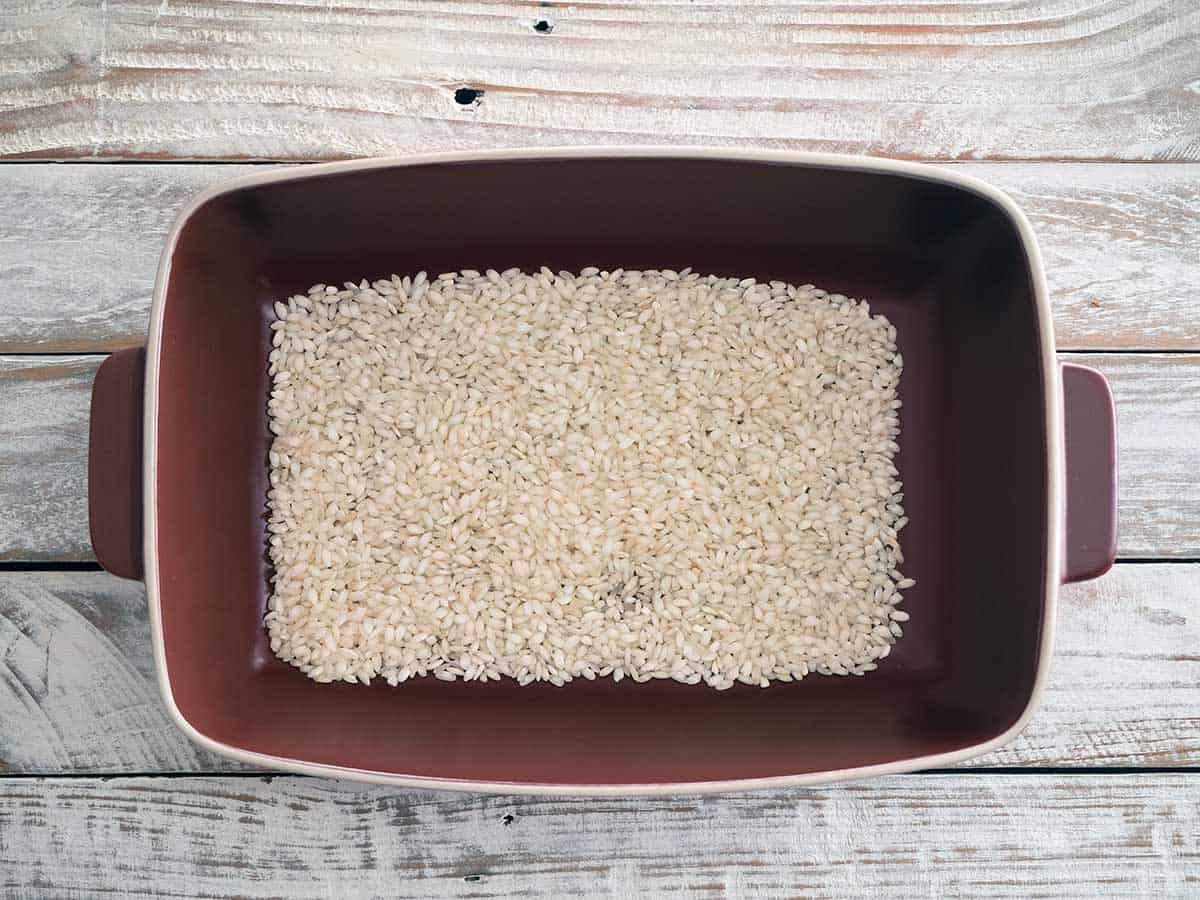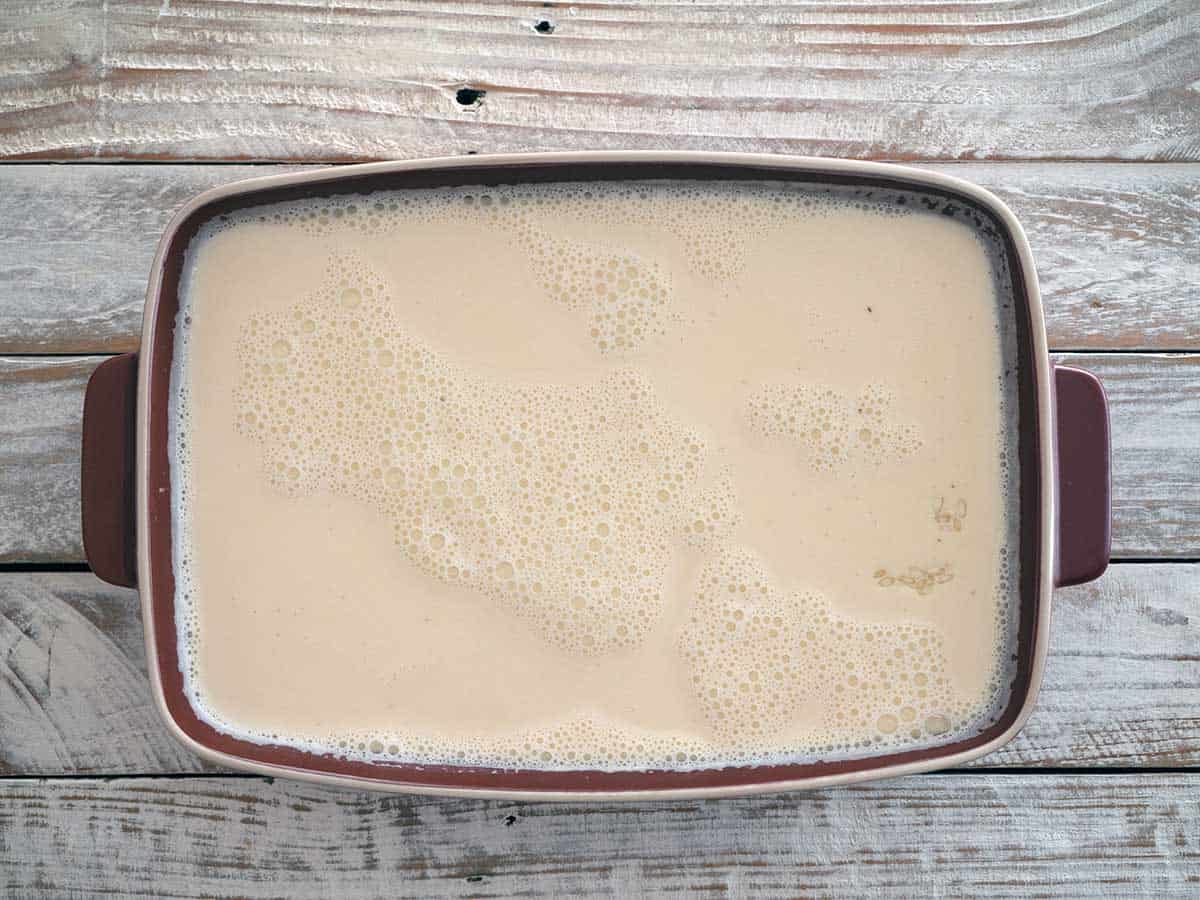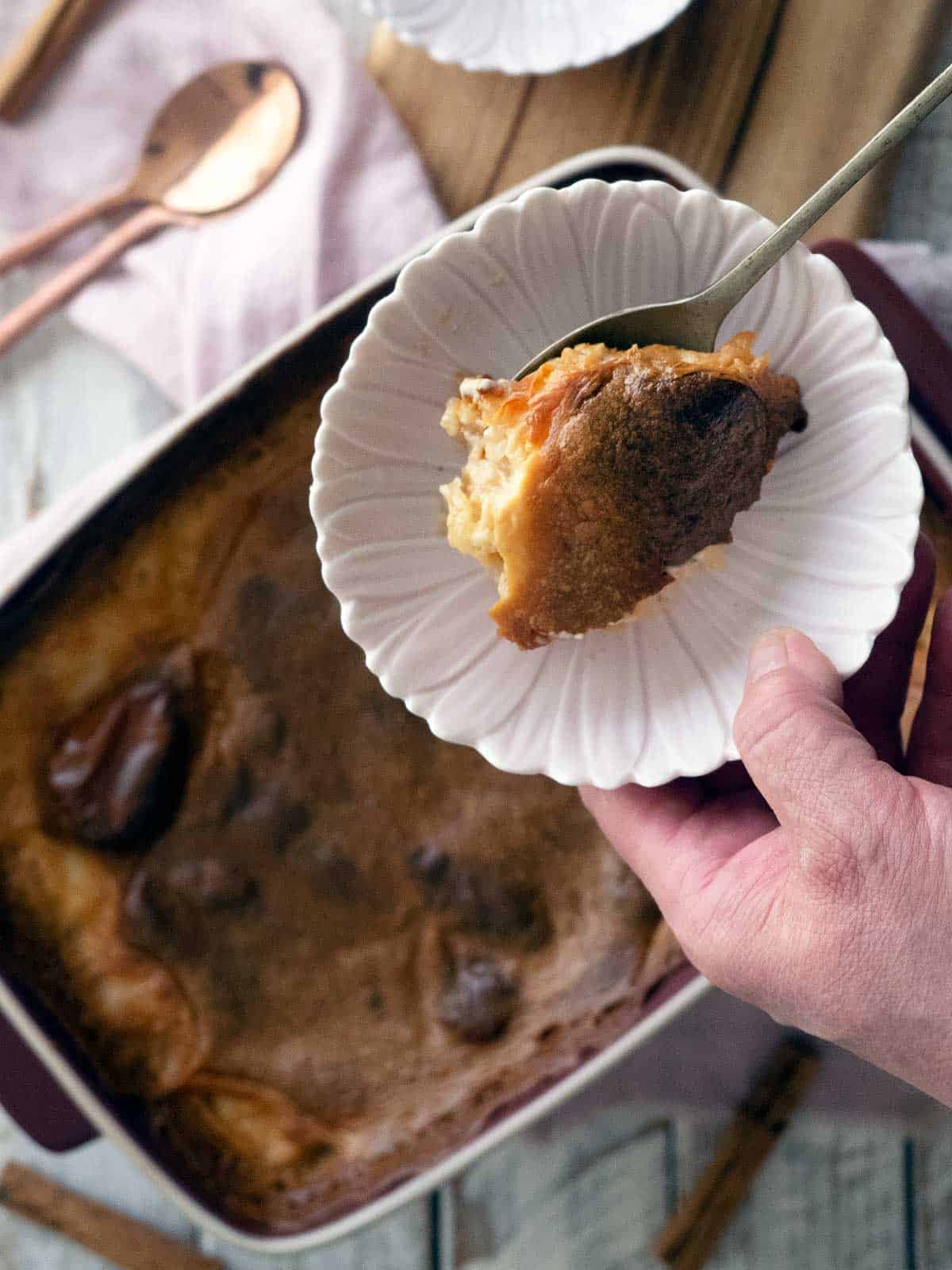 Sara's Top Recipe Tips
Teurgoule will keep in the fridge for up to one week, and it can be frozen. It is also pretty tasty cold straight from the fridge. Or re-heat a portion in the microwave and serve with ice cream.
Printable Recipe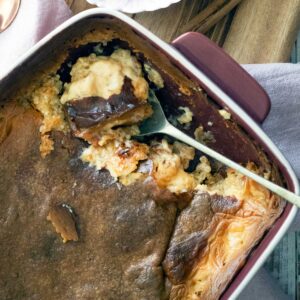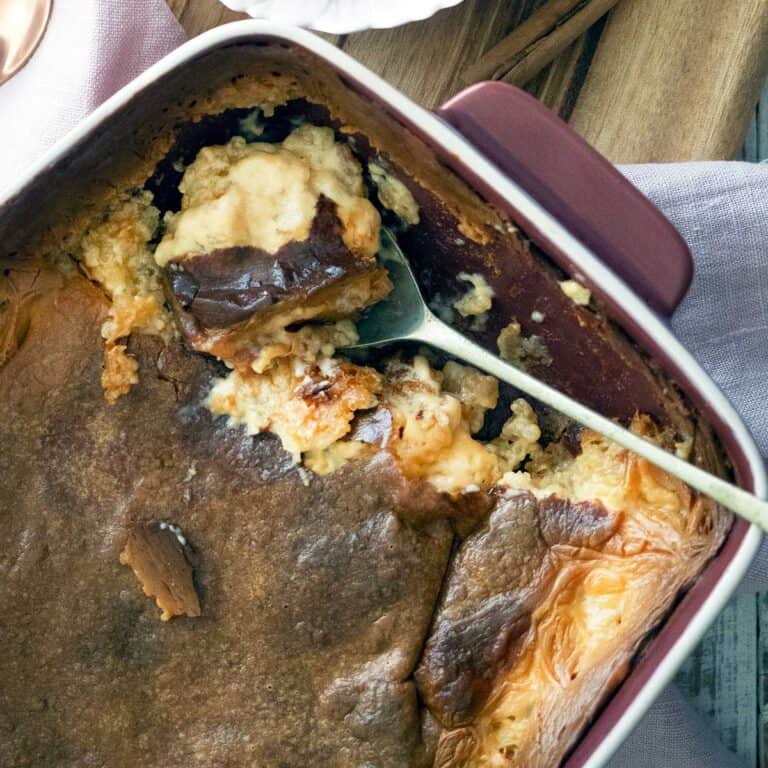 Teurgoule (Normandy Rice Pudding)
Teurgoule is a classic French rice pudding from the Normandy region. You will love this creamy cinnamon and vanilla flavoured baked dessert. During the slow and long baking, simple ingredients transform into a luscious caramelised rice pudding with a wickedly dark and delicious crust.
Ingredients
1

litre

(4 cups) full cream milk

600

mls

pouring cream

60

grams

(¼ cup) caster/superfine sugar

70

grams

(⅓ cup) brown sugar

1

teaspoon

vanilla extract

6

cinnamon quills

| *see note 1

pinch of salt

150

grams

(⅔ cup) short grain rice

| *see note 2
Instructions
In a large saucepan place milk, cream, sugars, vanilla, salt, and cinnamon.

Over a medium-low heat stir the mixture until the sugars have dissolved. Then bring the mixture to a simmer. Remove from the heat and allow the milk mixture to sit for 30 minutes.

*This allows the cinnamon flavour to infuse into the milk mixture. If using ground cinnamon you can skip letting the milk mixture stand for 30 minutes.

While the mix mixture is sitting aside pre-heat the oven to 150°C/300°F.

Place rice in a heavy earthenware (or other ceramic) baking dish. Spread the rice evenly over the bottom of the dish.

Strain the milk mixture into the baking dish to remove cinnamon quills.

*Do not strain the mixture if you are using ground cinnamon (see note 1).

Bake in the oven for 3 ½ hours.

Remove from the oven and allow to sit for 20 minutes before serving.

* Serve by itself, with fresh fruit, or with vanilla ice cream. Teurgoule is also delicous served cold.
Notes
NOTE 1
You can use ground cinnamon in place of cinnamon quills. Use 2 teaspoons of cinnamon in place of the quills.
The end result will be slightly different to using cinnamon quills. The crust of the baked teurgoule will be darker in appearance as the ground cinnamon will float to the top of the dish. The crust will also have a deeper and slightly bitter taste.
Using ground cinnamon will result in a teurgoule slightly different in taste than if you had used quills, but it will be just as delicious.
NOTE 2
Use a round or short grain rice such as arborio rice.
GENERAL COOK'S NOTES
All oven temperatures are fan-forced, increase the temperature by 20°C (70°F) for convection ovens.
All measurements are Australian tablespoons and cups. All measures are level, and cups are lightly packed unless specified.
1 teaspoon equals 5ml
1 tablespoon equals 20 ml (Nth America, NZ & UK use 15ml tablespoons)
1 cup equals 250ml (Nth America use 237ml)
4 teaspoons equal 1 tablespoon
I use the below unless specified in my recipes.
Herbs are fresh | Vegetables are of a medium size | Eggs are roughly 60 grams in weight (large).
NUTRITIONAL INFORMATION BELOW IS A GUIDE ONLY
NUTRITIONAL INFORMATION
The recipe's nutritional information is an approximation based on an online calculator. It is meant solely for reference purposes. If you're looking for precise details, be sure to double-check with your own research.
Calories:
326
kcal
Carbohydrates:
40
g
Protein:
6
g
Fat:
16
g
Saturated Fat:
10
g
Polyunsaturated Fat:
1
g
Monounsaturated Fat:
4
g
Cholesterol:
58
mg
Sodium:
65
mg
Potassium:
268
mg
Fiber:
2
g
Sugar:
22
g
Vitamin A:
602
IU
Vitamin C:
1
mg
Calcium:
219
mg
Iron:
1
mg
Did You Make This Recipe?
I do a happy dance when people share how they went. Tag me on Instagram or Twitter @bellyrumbles & #bellyrumbles