Delicious slow cooker chilli con carne is packed with beef, vegetables, beans and flavour. It may be a slow cooking recipe, but it is super quick to prepare. Plus extra servings freeze beautifully for another day.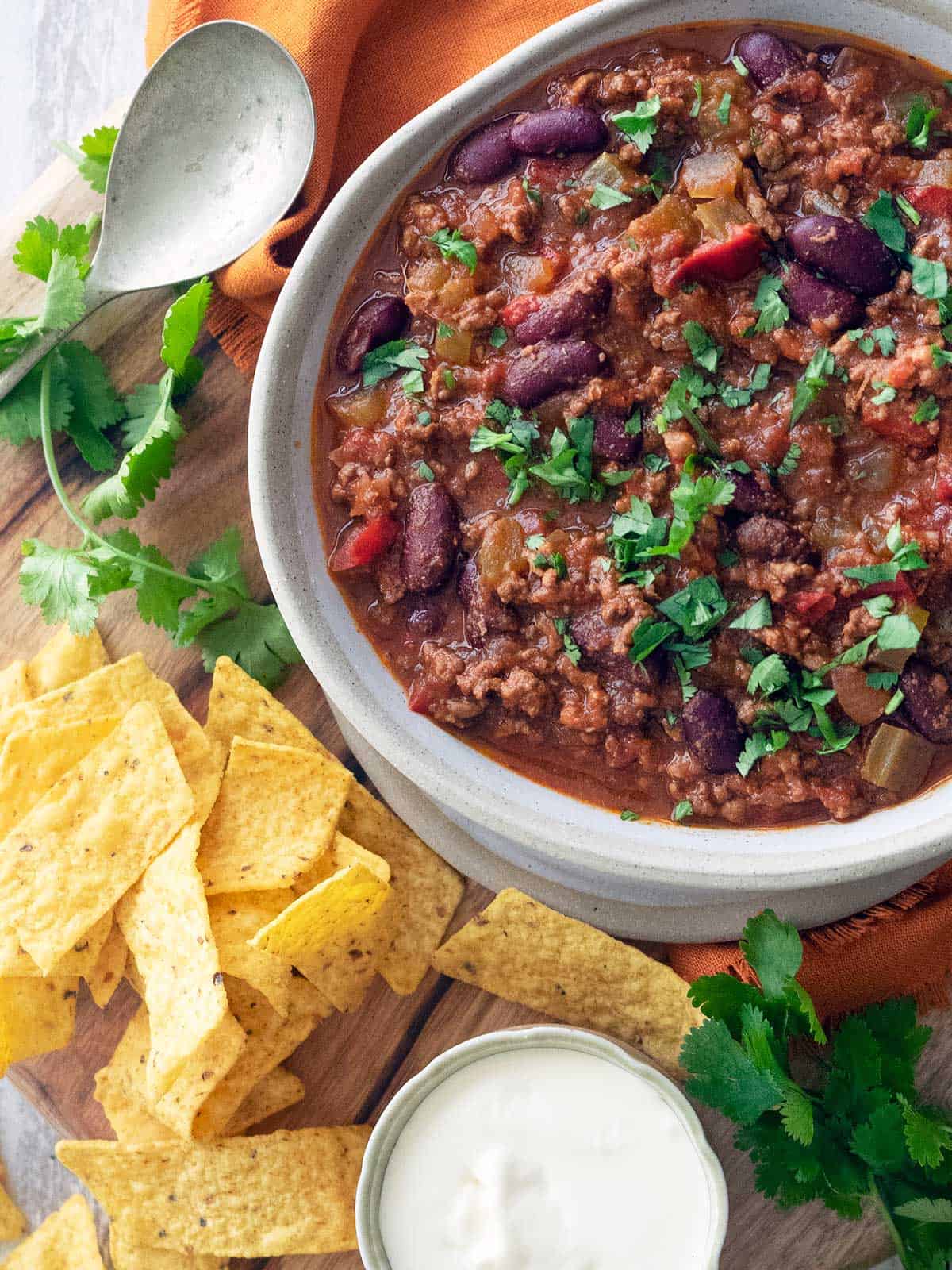 The hardest part of making this recipe is browning the beef. Which really isn't hard at all.
You simply dump all the ingredients into the slow cooker bowl. Give them a stir. Pop on the lid, set, and forget. Now, how easy is that? It is a perfect batch cooking recipe too.
I serve it in a bowl with a side of warmed corn chips, sour cream, grated cheese, salsa, chopped fresh coriander (cilantro), and some hot sauce. A simple meal and simply delicious.
Sara xxx
What's in this post
Chilli Con Carne Ingredients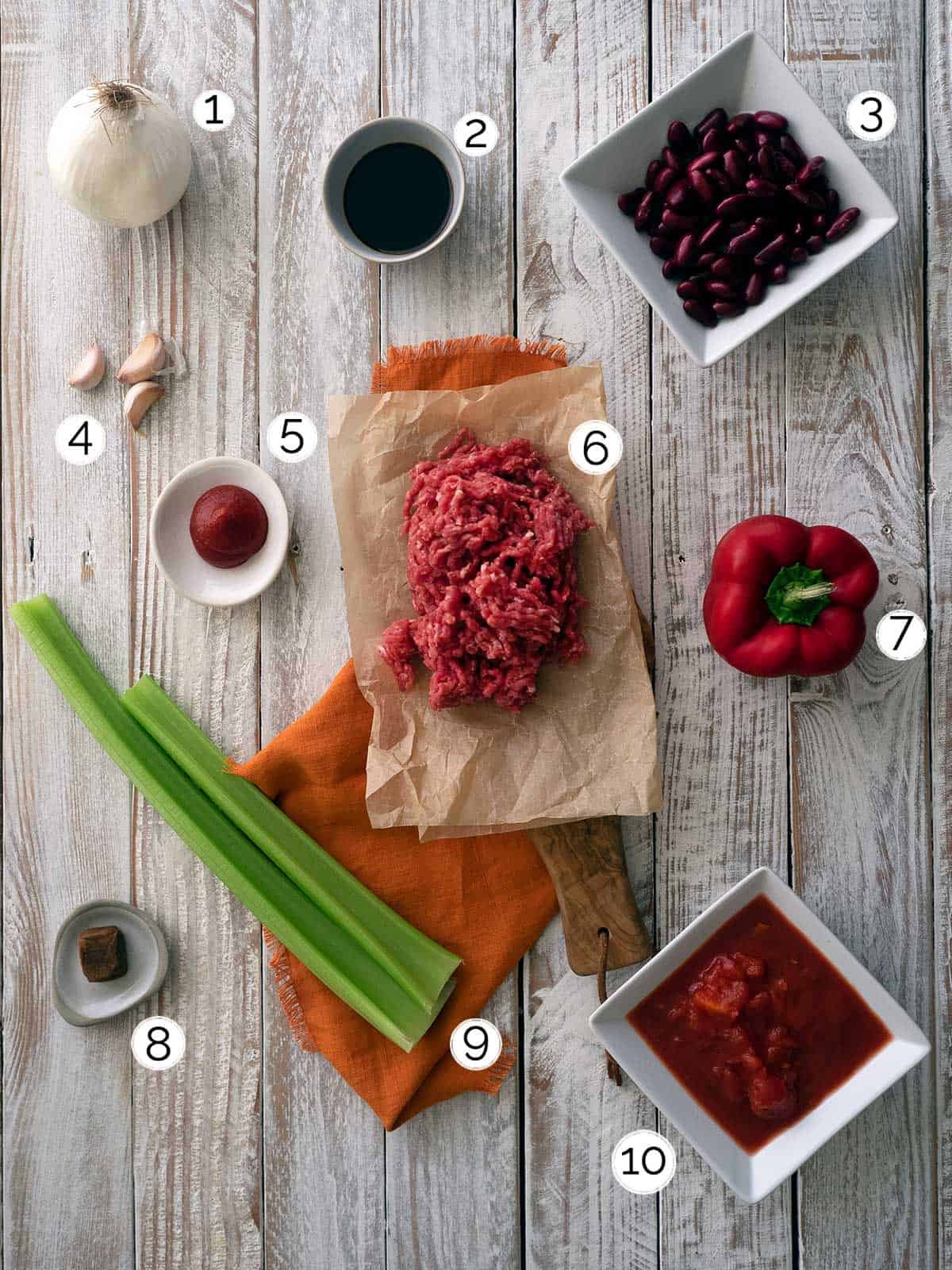 A full printable recipe card can be found at the end of this post with recipe ingredient measurements and the method.
Onion: I use white onion (salad onion) as it is slightly sweeter than other onions. Brown and yellow onions are perfectly fine as well.
Worcestershire Sauce: Used as a flavour enhancer, simply adds a little "something something" to the sauce.
Red Kidney Beans: You could also use red beans, pinto or black beans.
Garlic: If your garlic cloves are on the small side add an extra one. Alternatively use 3 teaspoons of prepared minced garlic from a tube or jar.
Tomato Paste: Adds an extra, more robust, tomato kick.
Beef Mince: Also known as ground beef.
Red Capsicum: Also known as red pepper. You could use yellow as well.
Beef Stock Cube/Bouillon Cube: Can be replaced with 1 cup of beef stock.
Celery: Adds an extra vegetable element to the chilli.
Tomatoes: Canned diced tomatoes, or crushed tomatoes. If tomatoes are in season feel free to use fresh ripe tomatoes finely diced.
The Spice Mix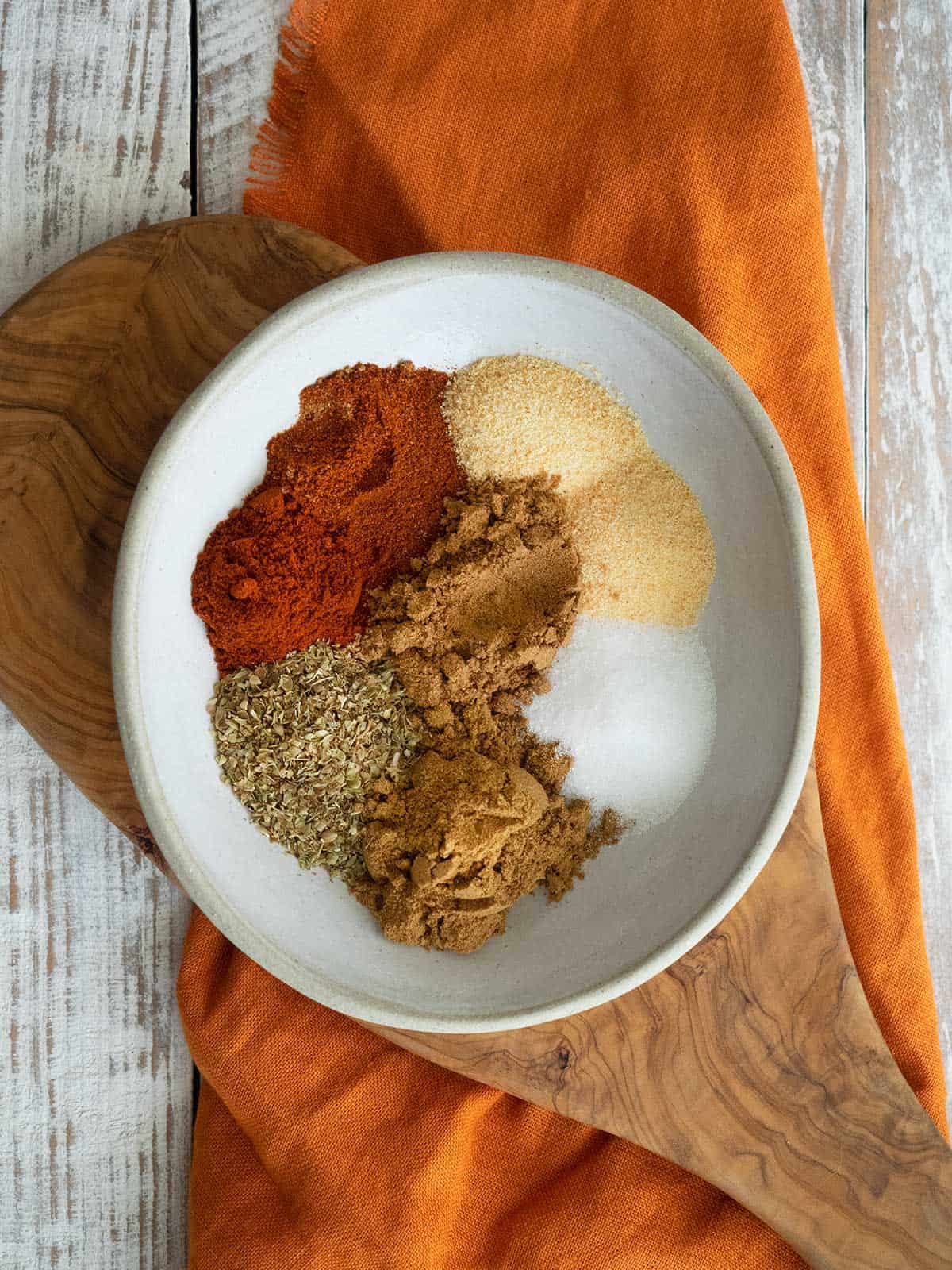 I use a variety of spices in my slow cooker chilli con carne. As always make sure your spices are fresh for maximum flavour. If they have been sitting, unused and open at the back of your cupboard for a while, it may be time to throw them out and buy new ones.
If you don't use a lot of spices generally in your cooking think about buying whole spices. Eg, whole cumin seeds and whole coriander seeds. You can then use them whole or grind them yourself when needed.
Below are the spices I use (quantities in the recipe card). When you have made this recipe once, feel free to play around with the quantities of spices used. You may want to add more or less chilli powder. Or use more or less of the paprikas, maybe you like it more on the smoky side? Have fun.
Ground Cumin
Dried Oregano
Ground Coriander
Dried Ground Chilli
Smoky Paprika
Sweet Paprika
Onion Powder
Garlic Powder
Caster Sugar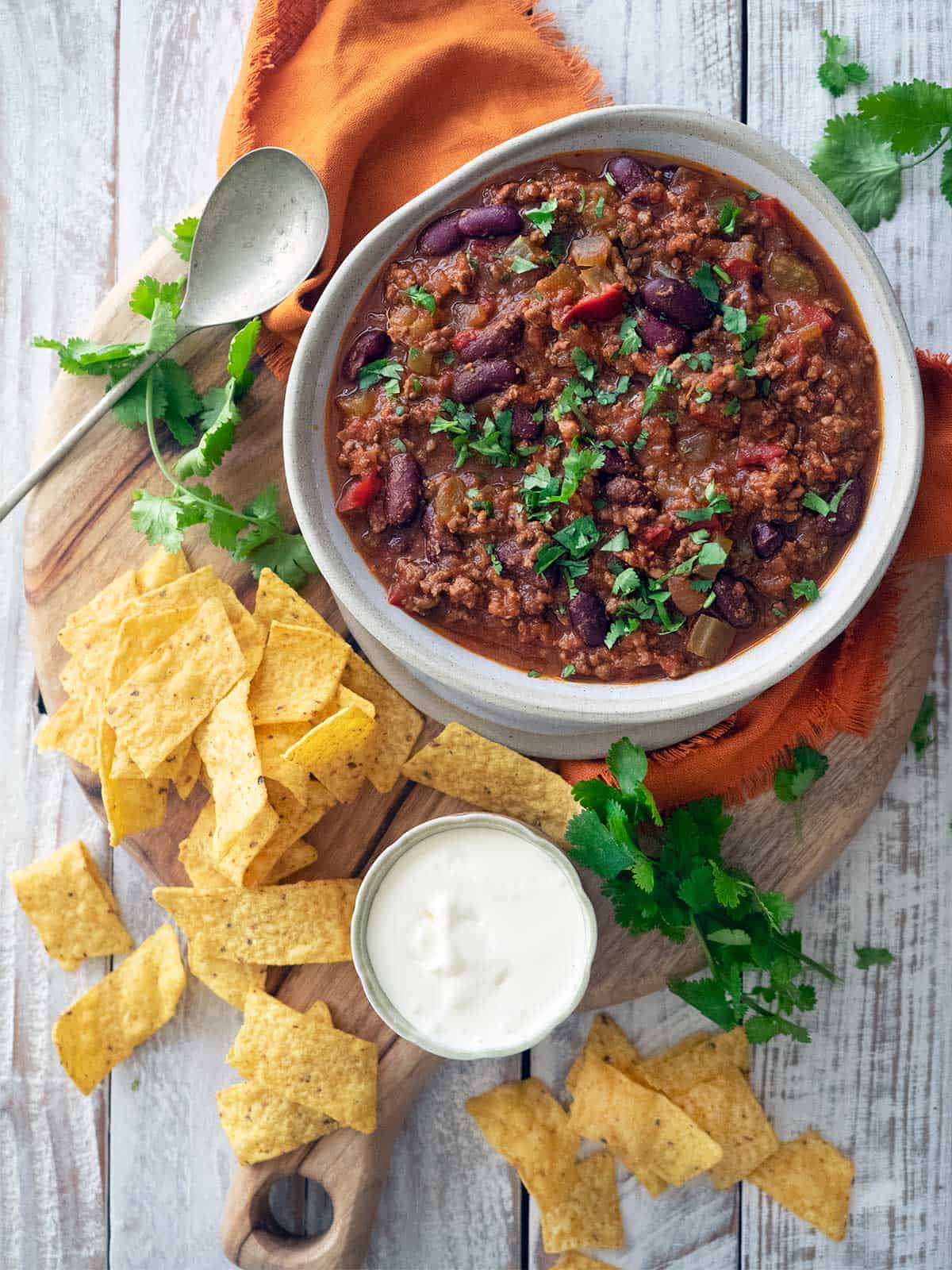 What to Serve with Chilli Con Carne
As mentioned above I simply like it in a bowl with sides. But it can be used in lots of ways. I tend to freeze portions to be used at a later date. The suggestions below will give you multiple dinner ideas.
As a filling for baked sweet potatoes.
Make tacos with soft homemade blue corn tortillas, or crispy store bought taco shells.
With white or brown rice.
As a topping for nachos.
With a side of warm cornbread.
Use it as a filling for lasagne to make a Tex-Mex version.
Burrito or quesadilla filling.
Make a chilli con carne version of my cheeseburger spring rolls.
Make some pizza dough and use it as the base sauce, or a filling for a calzone.
Recipe cost and time saving ideas
To make this recipe stretch a little further increase the vegetable content, and add an extra can of tomatoes.
Often butchers/supermarkets offer a discount when you buy beef mince/ground beef in larger quantities. You could make double the batch and freeze it in portions. Plus you can also freeze the extra beef to be used in a later recipe.
As this is a slow cooker recipe saving time isn't really on the cards. Do remember that the hands on time in this recipe is minimal. Plus if you are batch cooking this recipe to be frozen for later meals, that is definitely time saving.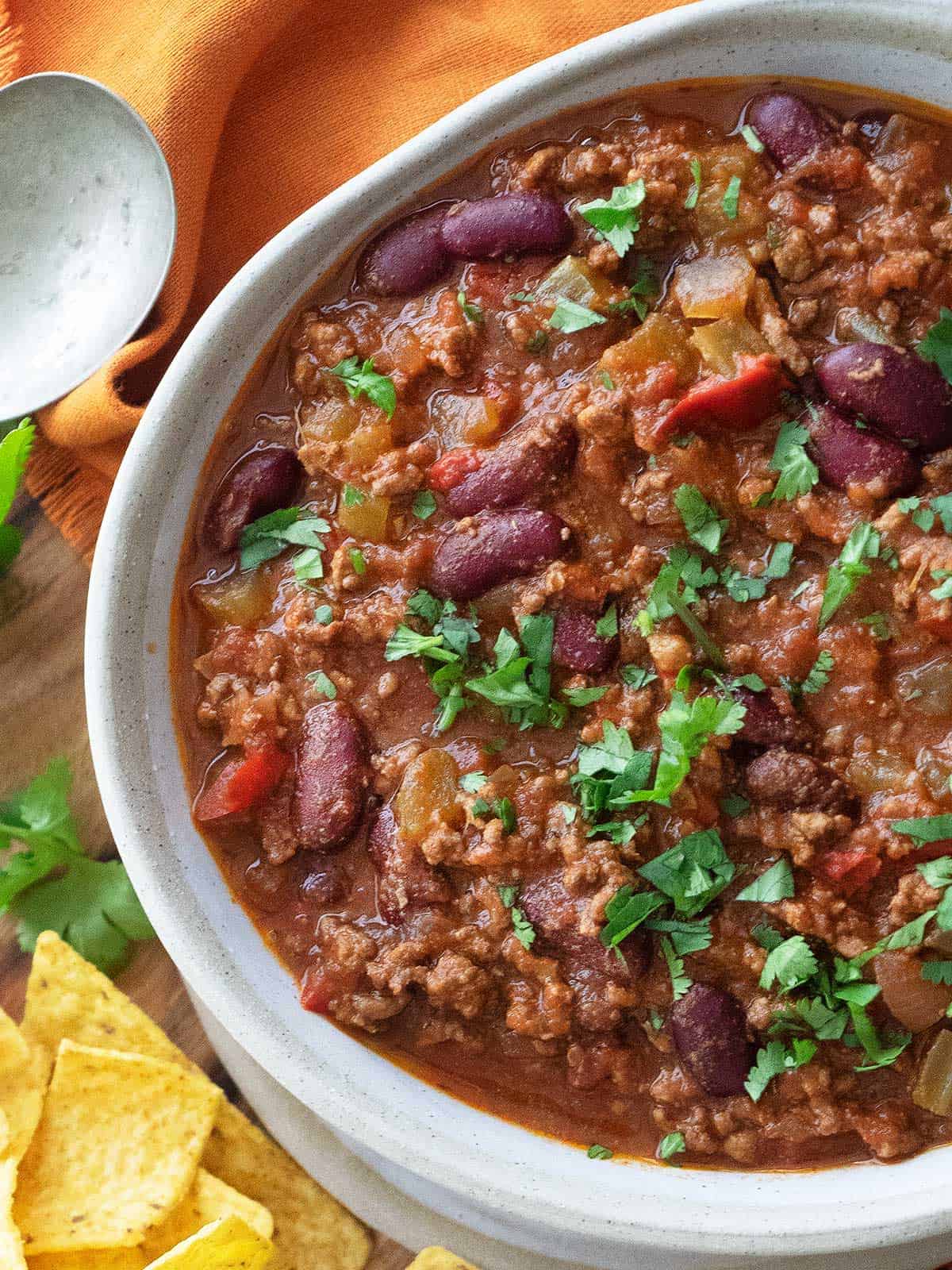 How to Make Chilli Con Carne in a Slow Cooker
Scroll to the bottom of the page for the full method and printable version of this recipe.
How long will this recipe take me to make?
The preparation time for this recipe is 10 minutes, and a few minutes to brown the beef mince. Then your slow cooker is doing all the work for you. It will take 4-5 hours on high heat and 6-7 hours cooking on a low heat.
Important step 1
Browning the mince (Maillard reaction) is the first step (after prep) of this recipe. It is also a step not to skip. By browning the mince you are caramelising it, adding extra flavour to the finished dish.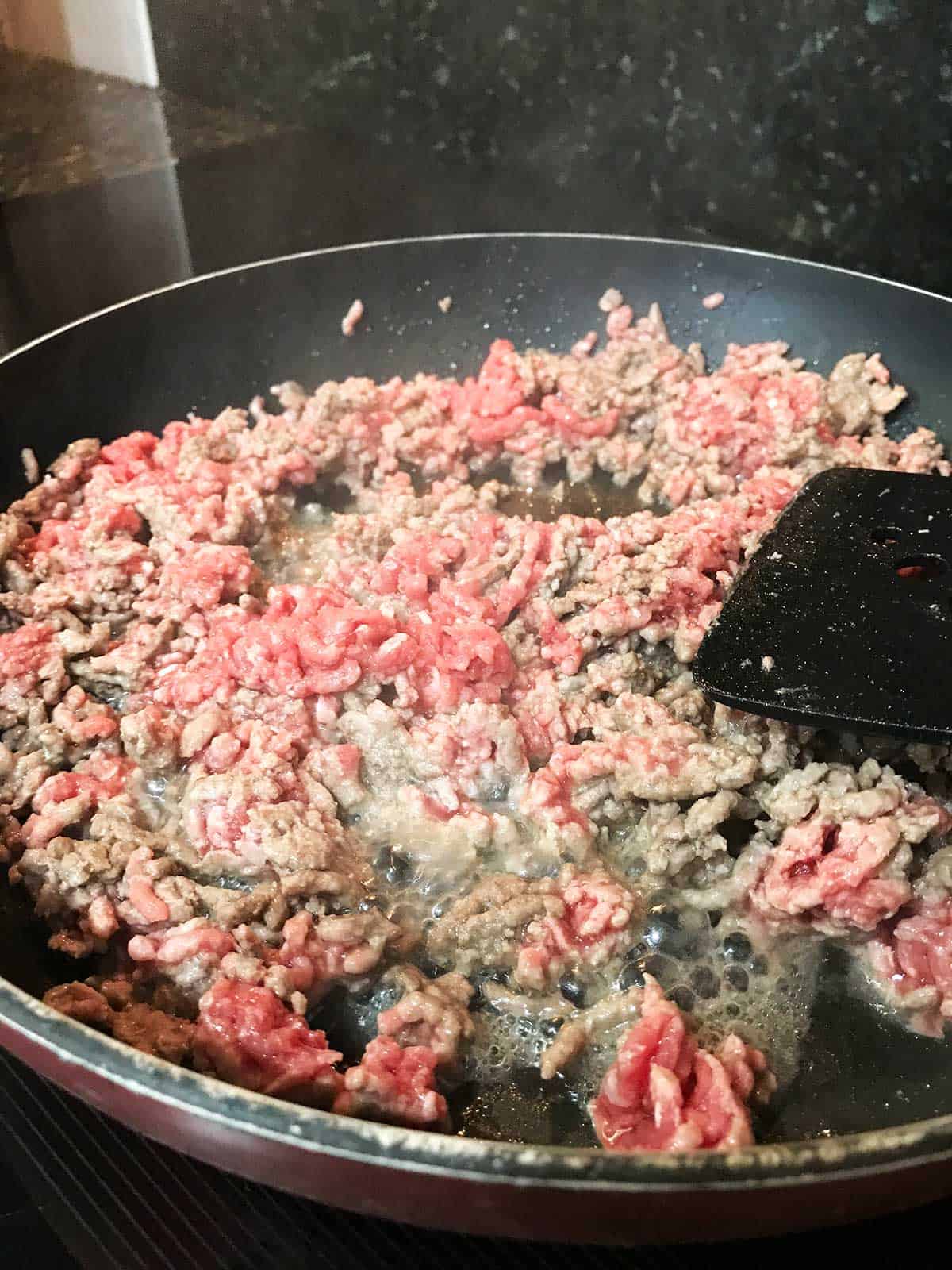 Important step 2
This slow cooker recipe really couldn't get any easier. You place all the ingredients in the slow cooker bowl. Then add the beef cube that has been whisked with water and the tomato paste.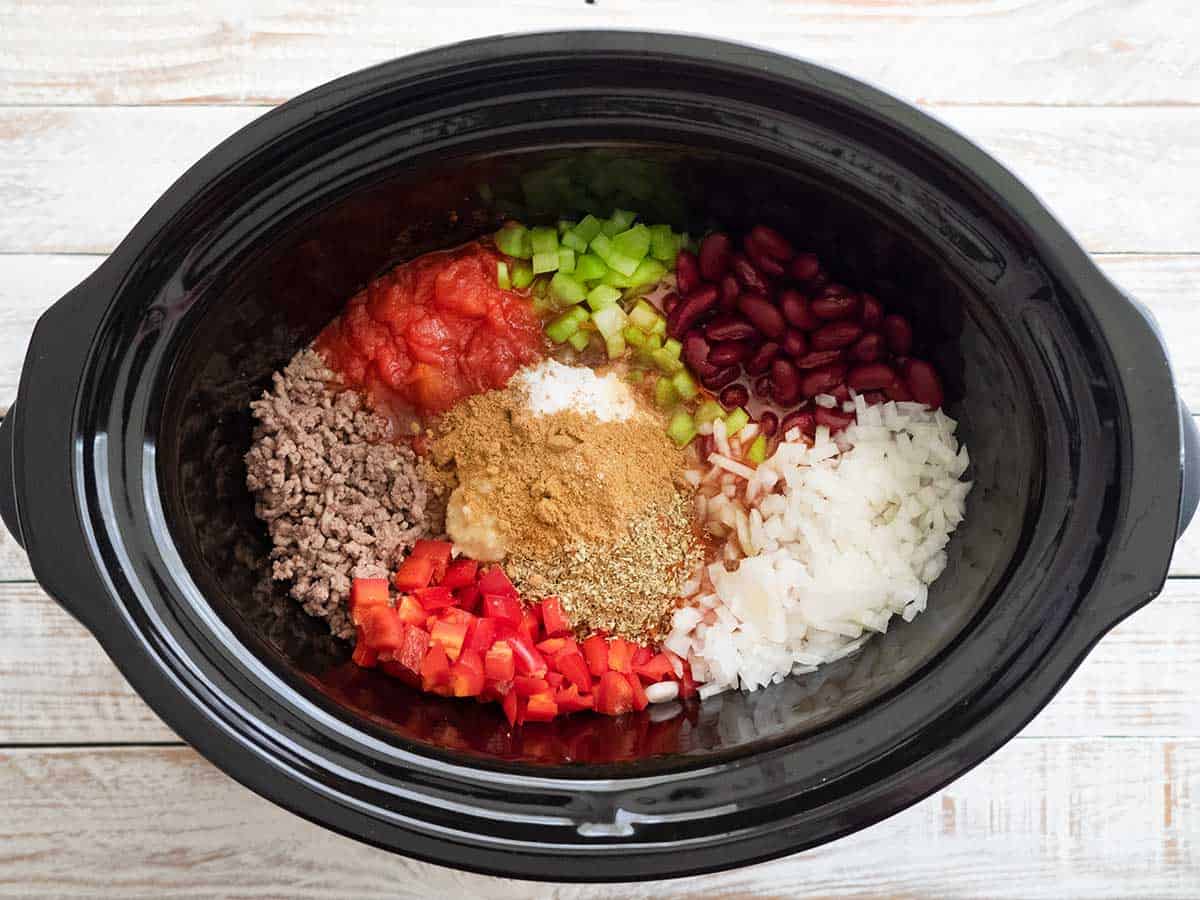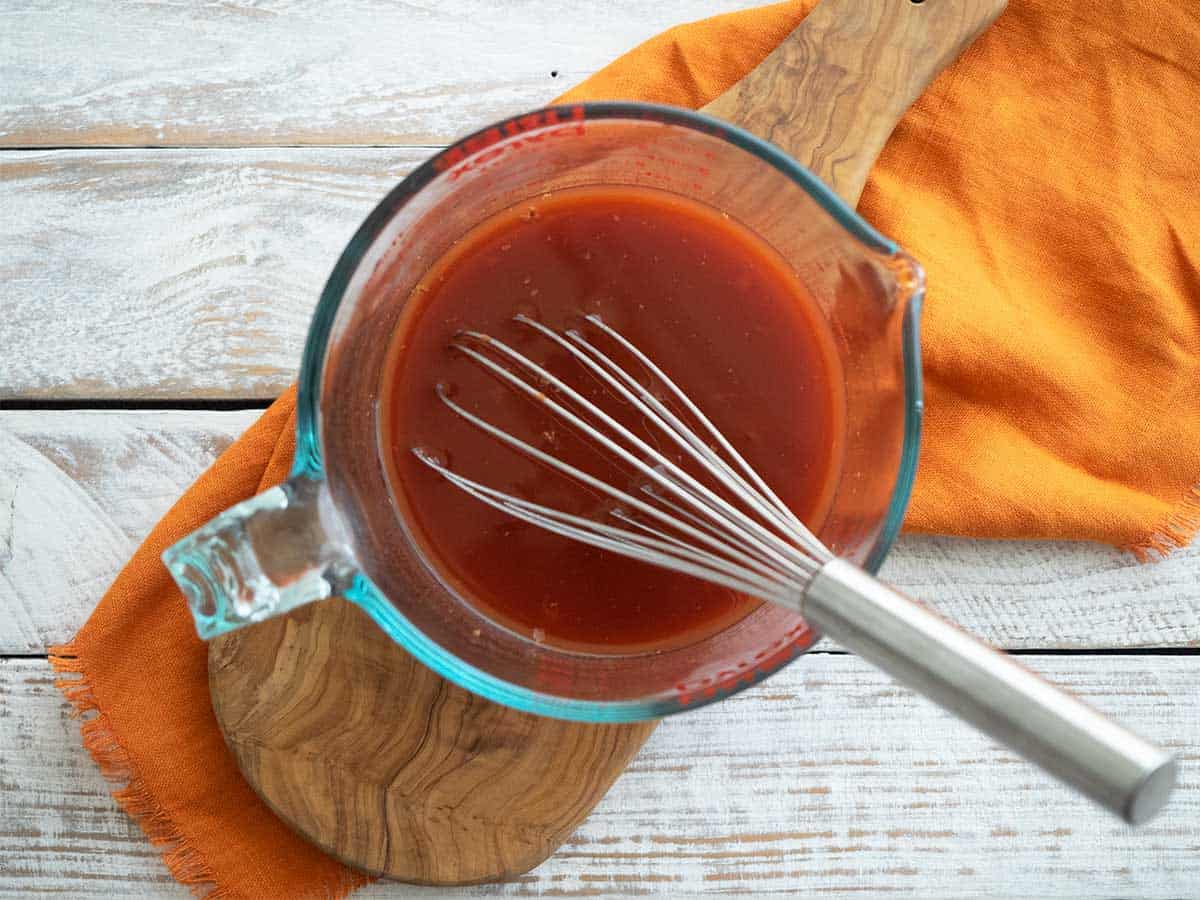 Mix all the ingredients together. Put the lid on the bowl and cook on your preferred setting of high or low.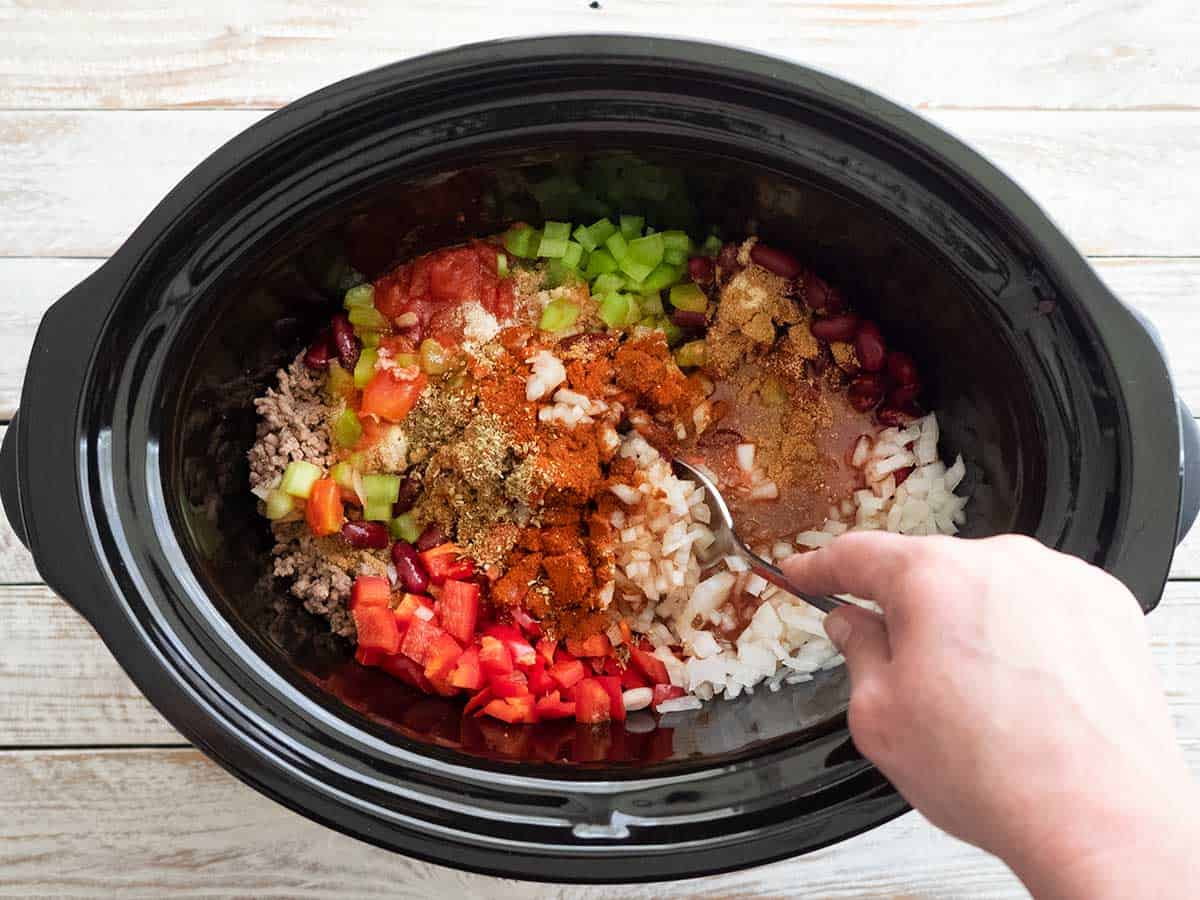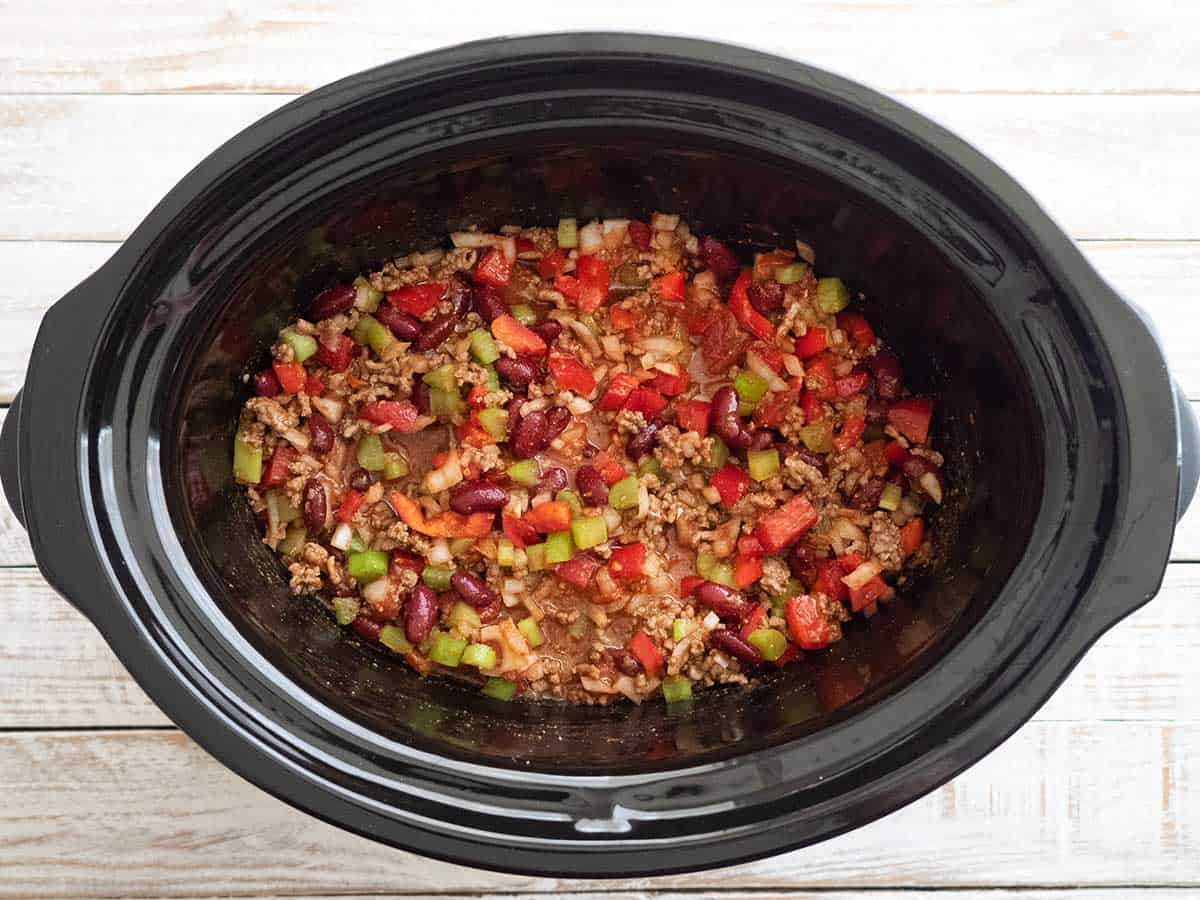 Important step 3
An hour before cooking is due to end, taste it! Do you want to add a little salt? Does it need a little more chilli heat? Make your seasoning adjustments now and allow it to continue cooking.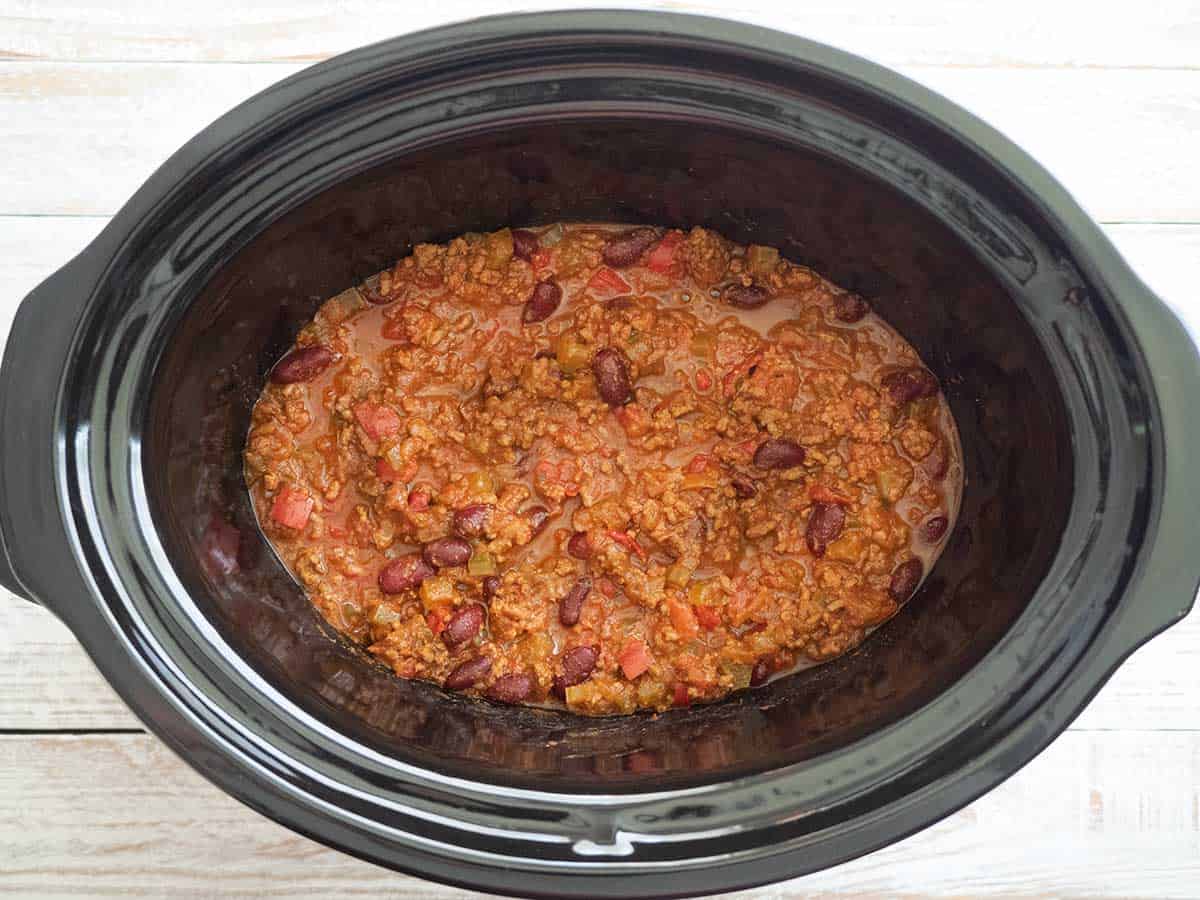 Sara's Top Recipe Tips
I have mentioned batch cooking a couple of times already, but this recipe is a saving grace in my household. By freezing it in individual portions I simply take what I need, for whom I need to feed, out of the freezer and defrost it for dinner.
How to freeze chilli con carne?
Place a single portion size in a resealable zip lock bag. Remove as much as as possible before sealing. Flatten the bag and place it in the freezer so it freezes flat.
To defrost place in the microwave and use the defrost setting, or defrost in the fridge overnight.
How do I reheat chilli con carne?
Place the chilli con carne in a pot and reheat slowly until it starts to bubble and is hot all the way through. Stir with a spoon as you reheat it.
How long will it store in the fridge?
You can store leftover slow cooker chilli con carne for up to 2 days in an air-tight container in the fridge. If you have vacuum sealing containers it will store in the fridge for up to a week.
Printable Recipe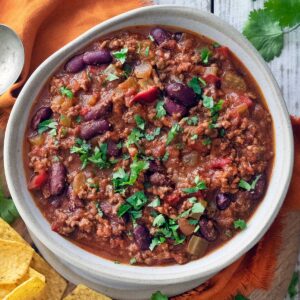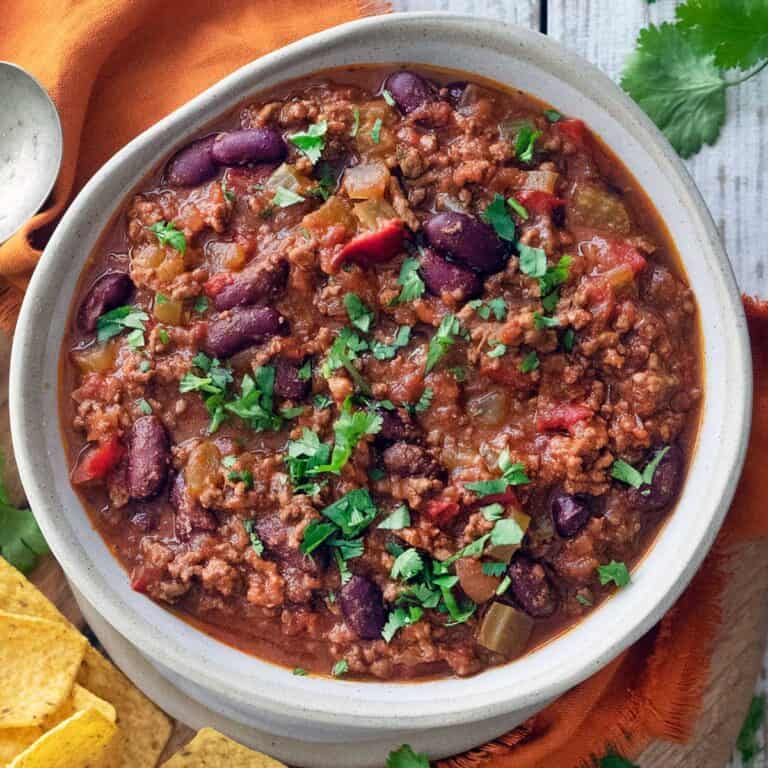 Slow Cooker Chilli Con Carne
Delicious slow cooker chilli con carne, or simply chilli, is packed with beef, vegetables, beans and flavour. It may be a slow cooking recipe, but it is super quick to prepare. Plus extra servings freeze beautifully for another day.
Ingredients
1

tablespoon

olive oil

500

grams

(1 lb) beef mince/ground beef

1

white onion

| diced

3

cloves

garlic

| minced

1

red capsicum/red pepper

| diced

2

sticks

celery

| diced

1

cans

(400g/14 oz) diced tomatoes

1

can

(400g/14 oz) kidney beans

| drained and rinsed

2

tablespoons

tomato paste

2

tablespoons

Worcestershire sauce

1

beef stock cube/bouillon cube

| *see note 1

1

cup

water
Chilli Spice Mix
3

teaspoons

ground cumin

2

teaspoons

oregano

1

teaspoon

ground coriander

1

tablespoon

dried ground chilli

| *see note 2

2

teaspoons

smoky paprika

1

teaspoon

sweet paprika

1

teaspoon

onion powder

1

teaspoon

garlic powder

1

teaspoon

caster sugar
Instructions
Heat olive oil in a large frying pan. Add beef mince/ground beef, break up and brown beef well.

*If your slow cooker has a searing function this can be done in your slow cooker.

Place beef into the slow cooker with all the other ingredients and mix ingredients until completely combined.

Place lid on top of the slow cooker and cook for 6-7 hours on low heat or 4-5 hours on high heat.

* I cook the chilli con carne for 5 hours on high heat.

With one hour left to go on the cooking time check the chilli con carne for seasoning and chilli heat. Now is the time to add some salt and a little more chilli if you would like it hotter.

Serve in a bowl with a side of corn chips, sour cream, and fresh coriander. Or alternatively, serve with rice or boiled potatoes.
Notes
NOTE 1
In place of the beef stock cube/bouillon cube and water, you can use 1 cup of beef stock.
NOTE 2
Adjust the amount of ground chilli powder to taste, 1 teaspoon for mild chilli heat, 1 tablespoon for a hot chilli. Or omit the chilli completely for no heat at all in the chilli con carne.
GENERAL COOK'S NOTES
All oven temperatures are fan-forced, increase the temperature by 20°C (70°F) for convection ovens.
All measurements are Australian tablespoons and cups. All measures are level, and cups are lightly packed unless specified.
1 teaspoon equals 5ml
1 tablespoon equals 20 ml (Nth America, NZ & UK use 15ml tablespoons)
1 cup equals 250ml (Nth America use 237ml)
4 teaspoons equal 1 tablespoon
I use the below unless specified in my recipes.
Herbs are fresh | Vegetables are of a medium size | Eggs are roughly 60 grams in weight (large).
NUTRITIONAL INFORMATION BELOW IS A GUIDE ONLY
Nutrition
Calories:
202
kcal
Carbohydrates:
13
g
Protein:
20
g
Fat:
8
g
Saturated Fat:
2
g
Polyunsaturated Fat:
1
g
Monounsaturated Fat:
4
g
Trans Fat:
1
g
Cholesterol:
52
mg
Sodium:
517
mg
Potassium:
759
mg
Fiber:
3
g
Sugar:
6
g
Vitamin A:
1937
IU
Vitamin C:
37
mg
Calcium:
85
mg
Iron:
5
mg
Did You Make This Recipe?
I do a happy dance when people share how they went. Tag me on Instagram or Twitter @bellyrumbles & #bellyrumbles