Chicken Chasseur, also known as Hunter's Chicken, is a classic French chicken recipe, poulet sauté chasseur. A simple and delicious one-pan dish made with chicken thigh, mushrooms, tomato paste, wine, and fresh herbs.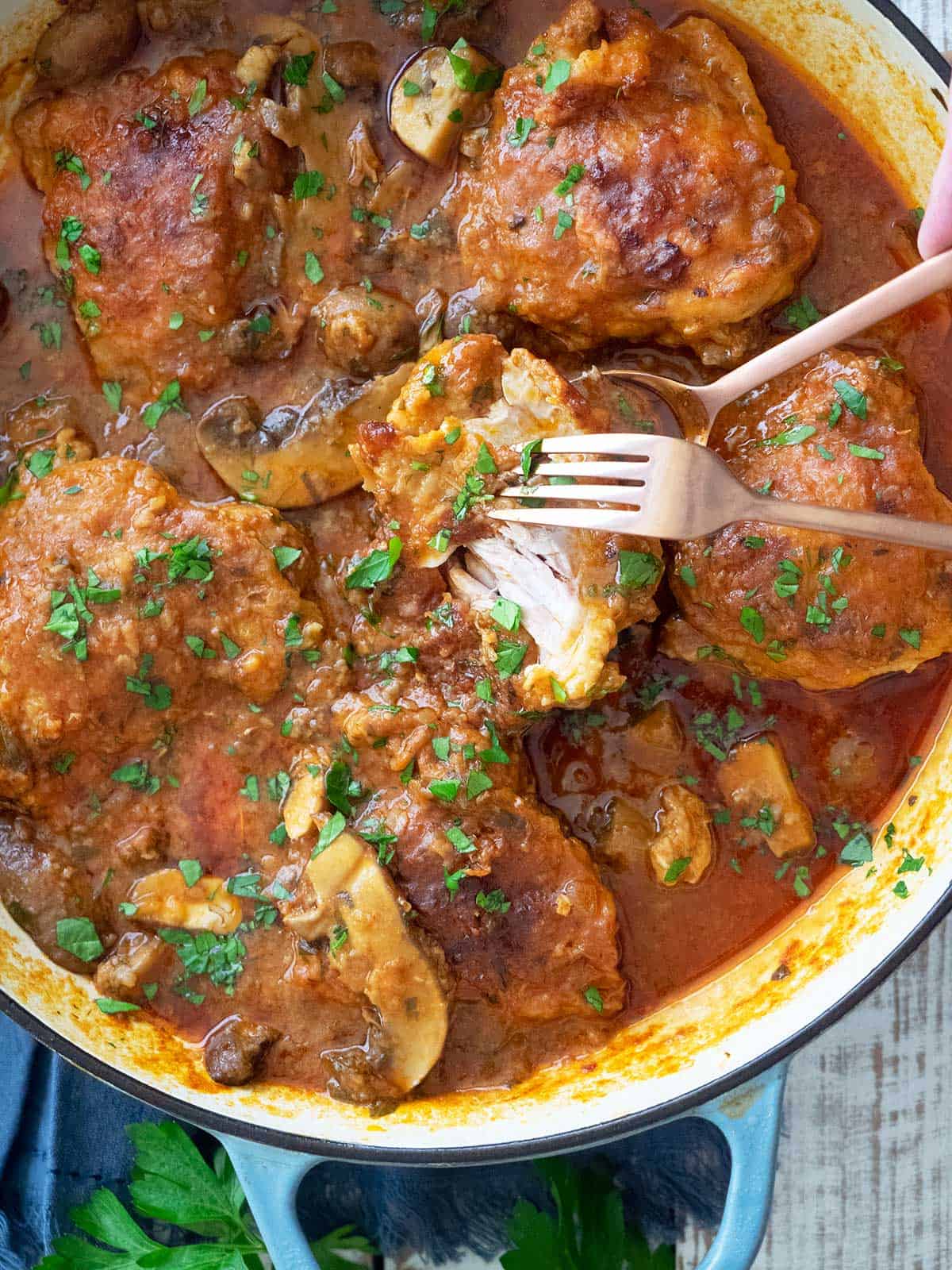 This is one of those recipes that is just as suitable for a family meal, or making an appearance at a dinner party. Classic French recipes tend to be able to pull that manoeuvre.
Call it Hunter's Chicken for the family, and the fancier Chicken Chasseur to impress the guests. By either name, it is the same dish, and incredibly plate licking delicious.
Besides tasting sensational, did I mention how easy it is to make? That ticks another box. As an extra bonus, you can also freeze any leftovers. Bon appétit.
Sara xxx
What's in this post
What is Chicken Chasseur?
As mentioned it is also called hunter's chicken, or poulet sauté chasseur in French. Chasseur is the French word for hunter, but it also refers to the sauce the chicken is cooked in.
According to Larousse Gastronomique "Chasseur denotes a method of preparation... characterized by a garnish of cultivated mushrooms, sliced, sautéed, flavoured with shallots and moistened with white wine."
This is where the word "hunter" comes into play. The mushrooms along with the fowl (or other game) would have been supplied by local hunters.
My recipe is close to the traditional chicken chasseur recipes found in my beloved copies of Larousse Gastronomique and The Escoffier. There are a couple of differences.
Both Escoffier and Larousse recipes use a combination of butter and oil to fry the chicken. Whereas I use oil only, and remove excess oil from the pan (they don't). Instead of veal gravy or "meat-glaze" chicken stock is used.
The herbs in my recipe are tarragon and parsley. One recipe adds chervil to the mix, while the other used only parsley.
Larousse makes the sauce while the chicken is still in the pan. The chicken then continues to cook with the sauce, as I have done. But, Escoffier plates the cooked chicken. Makes the sauce, and then pours it over the chicken to serve. Vive la différence!
Chicken Chasseur Ingredients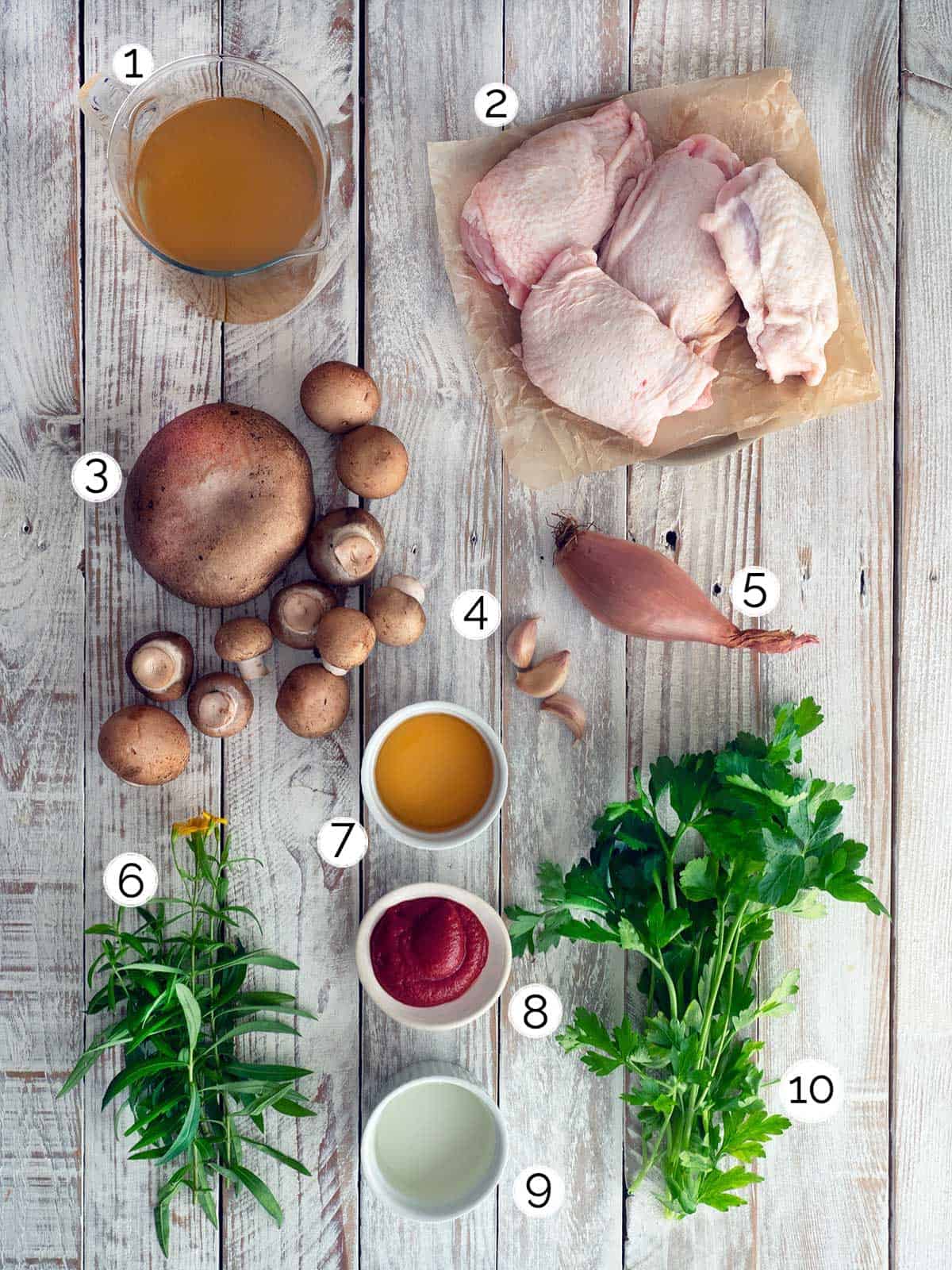 A full printable recipe card can be found at the end of this post with recipe ingredient measurements and the method.
Chicken Stock: Use a low salt chicken stock, taste, and season towards the end of cooking.
Chicken Thigh Fillet: The traditional recipes use jointed chicken, a chicken that has been broken down. Of course you can do the same, but I have used in-bone chicken thigh fillets. Meat always tastes better cooked on the bone, but boneless can be used, as well as skin free.
Mushrooms: A combination of large and small Swiss brown or portabello mushrooms add visual and textural interest. Use any mushrooms you like, if saffron milk caps are in season they would make a lovely addition to the mushroom mix.
Garlic: Use 2-3 cloves depending on their size.
Shallots: Also known as eschallots, they are small, brown, and look like brown onions.
Tarragon: Fresh tarragon is quite distinctive in smell and flavour. You could also use chervil.
Cognac: Brandy can be used as a substitute, or use wine only.
Tomato Paste: Adds a rich hint of tomato without taking over the whole dish.
White Wine: Use a dry white wine.
Parsley: Fresh parsley is used as a final garnish to add a pop of green herb freshness.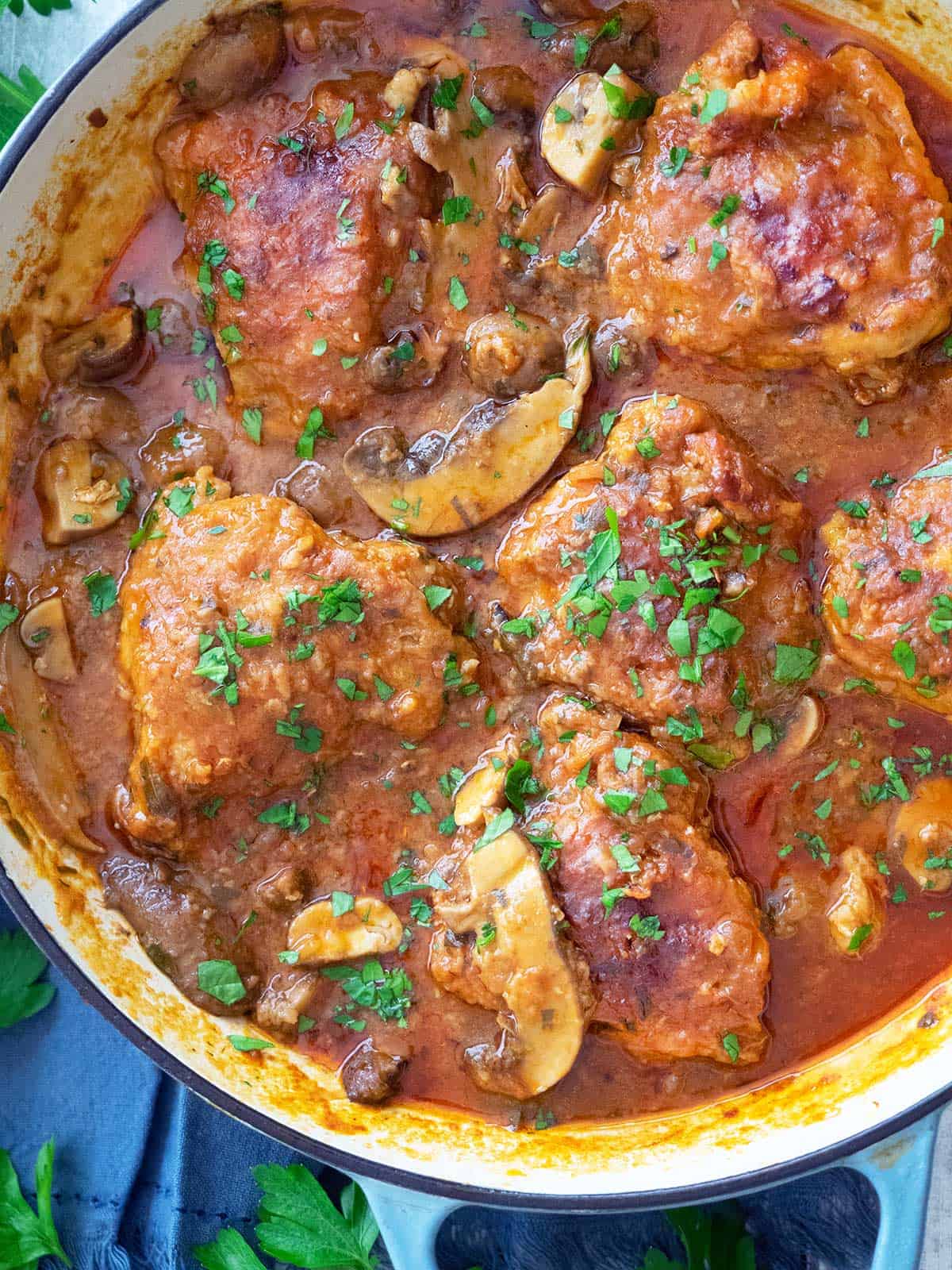 What to Serve with Hunter's Chicken?
Whatever you serve with this dish you will want something that will mop up the delicious sauce. Served simply with some crusty bread makes for a very satisfactory and comforting meal.
Recipe cost and time saving ideas
Chicken thigh fillets are already pretty economical. Sometimes you find whole chickens on sale very reasonably. You can use a whole chicken that you have broken down into pieces.
Field mushrooms/flat mushrooms and button mushrooms are often a couple of dollars less expensive than Swiss brown or portabello. They work perfectly fine as a replacement.
Chicken chasseur can be made a day ahead and warmed back up in the oven. Keep it covered as it is reheating to avoid the sauce drying up on you.
How to Make Chicken Chasseur / Hunter's Chicken
Scroll to the bottom of the page for the full method and printable version of this recipe.
How long will this recipe take me to make?
There are 40 minutes of hands on time for prepping, and cooking. Plus another 45 minutes of the chicken chasseur cooking with the lid on, on the stove top.
Important step 1
Browning the thigh fillets, getting them a lovely golden brown. This adds flavour to the dish. Remove them from the pan and place them on a plate once browned.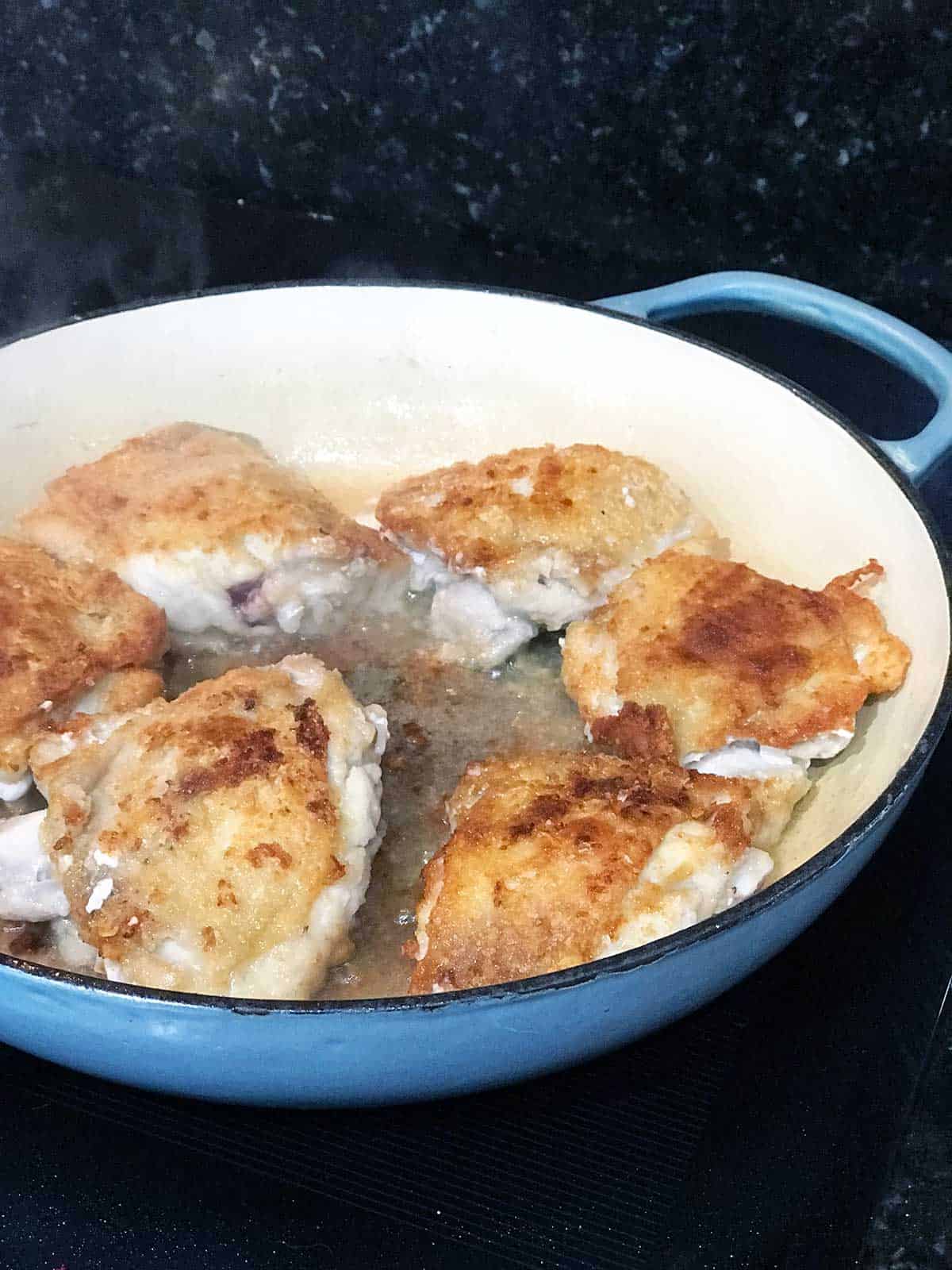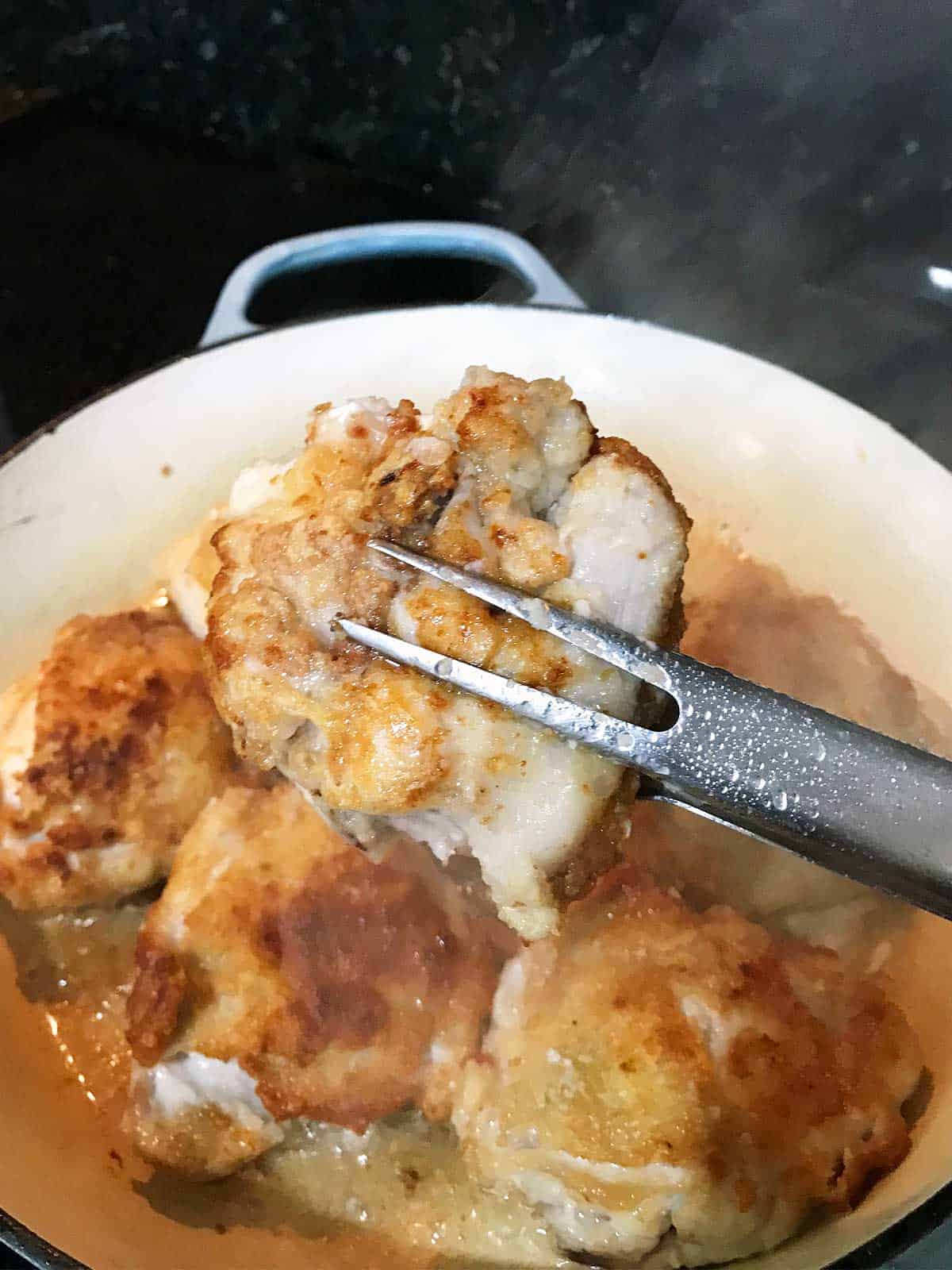 Important step 2
Make the chasseur sauce by sautéing the mushrooms, shallot, garlic, and tarragon. Add the cognac and other liquids.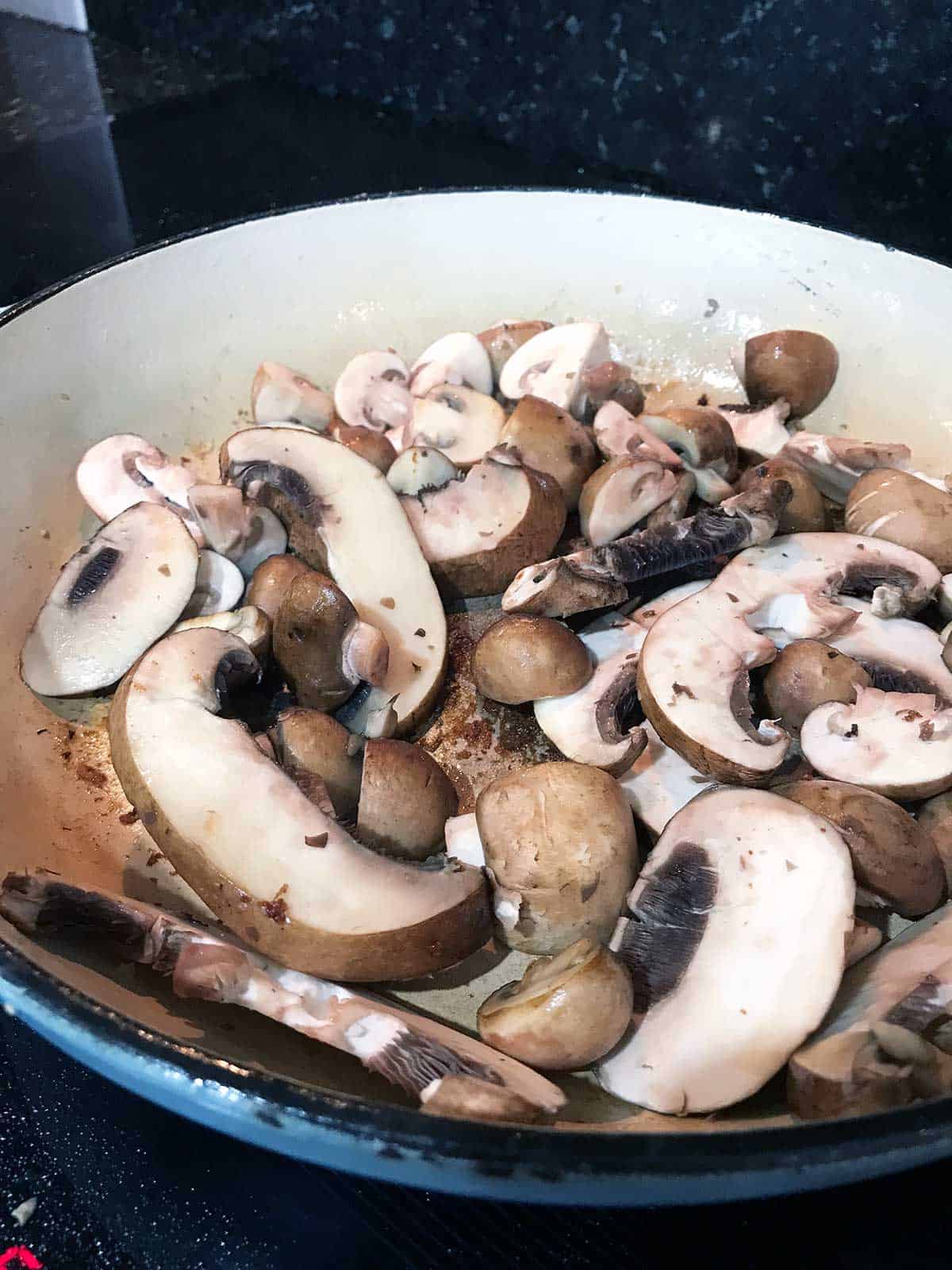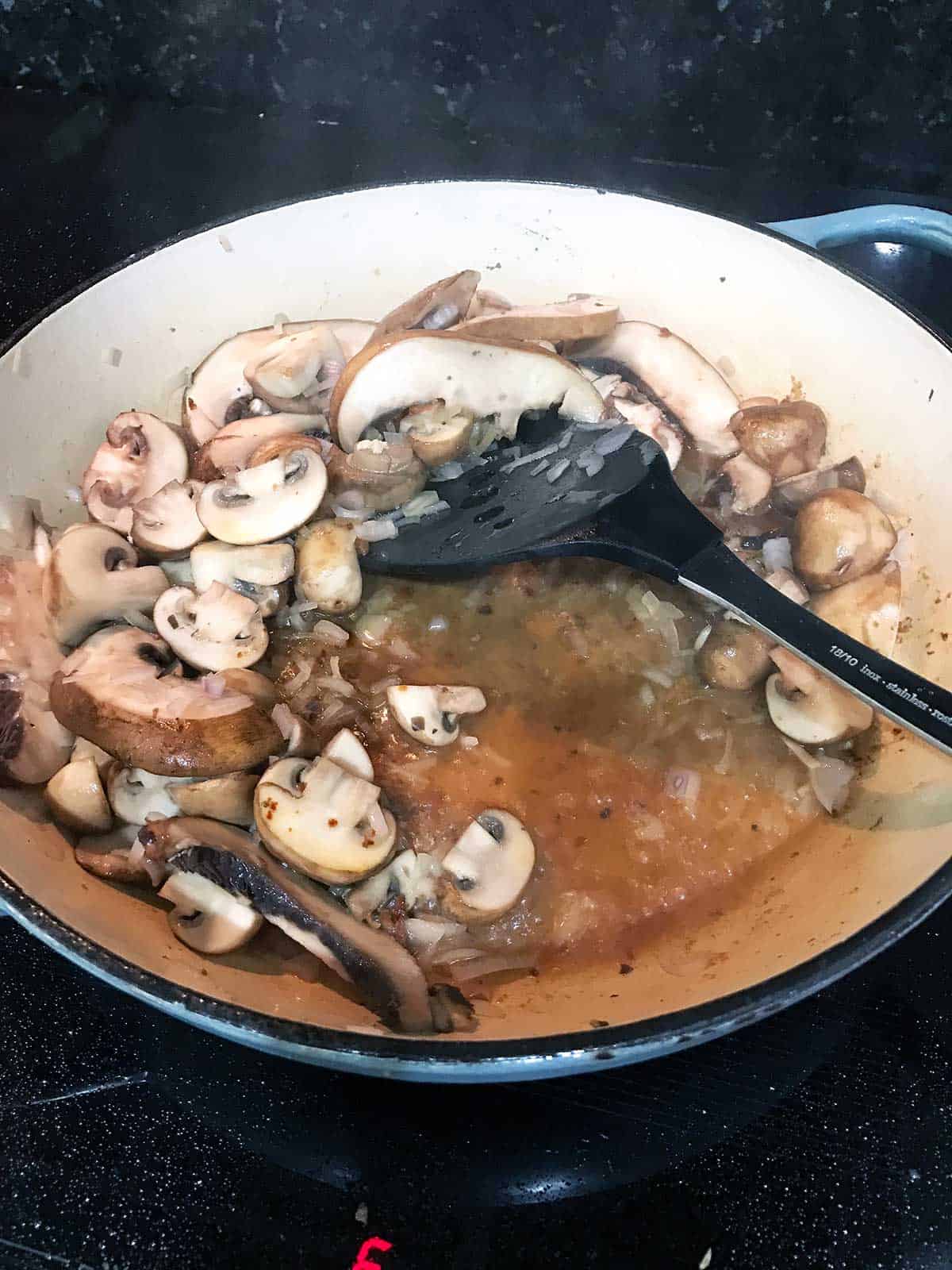 Important step 3
Place the chicken back into the pan, cover and cook for 45 minutes. If the sauce is still rather "soupy", cook for a further 5-10 minutes with the lid off to thicken.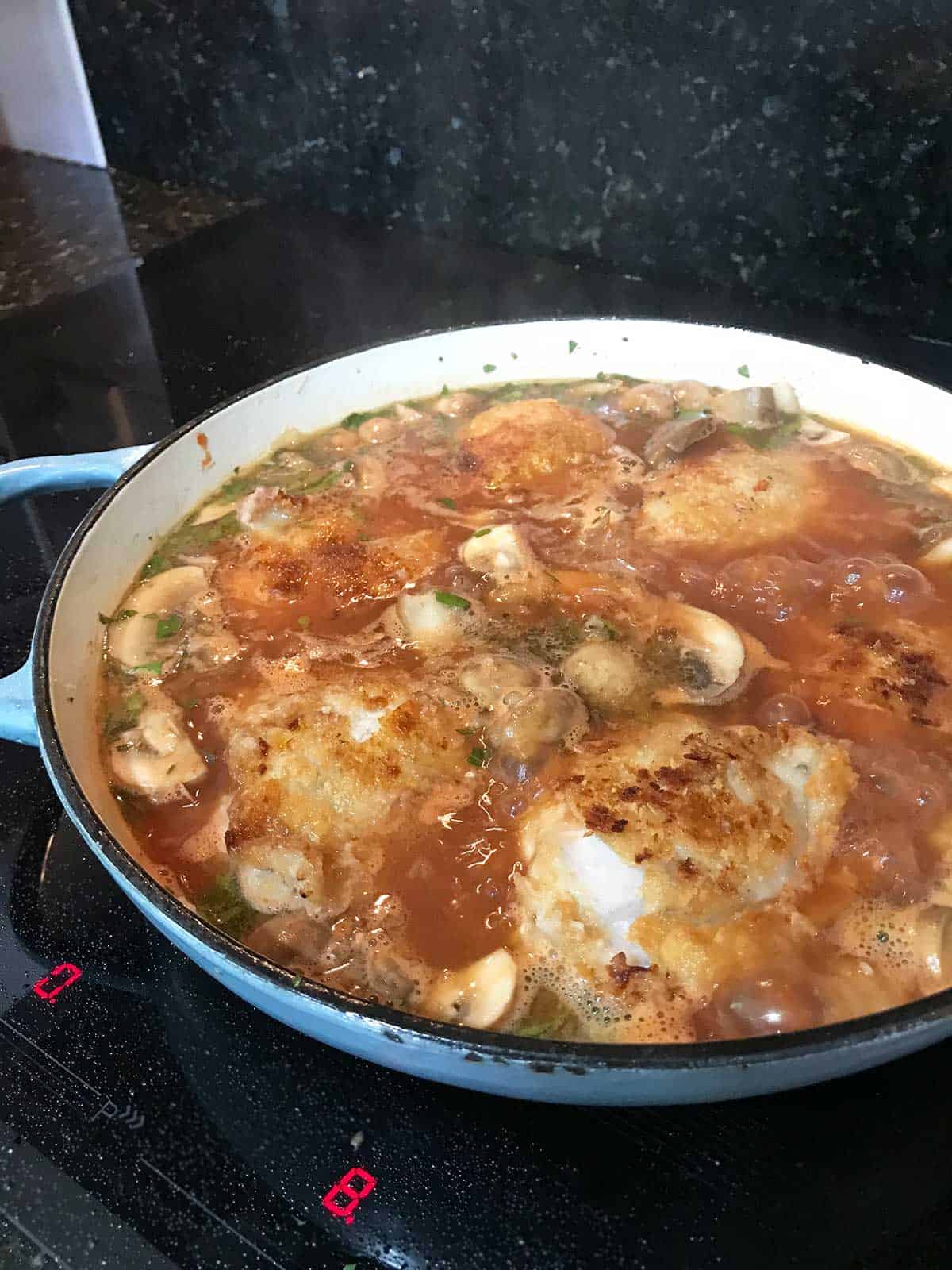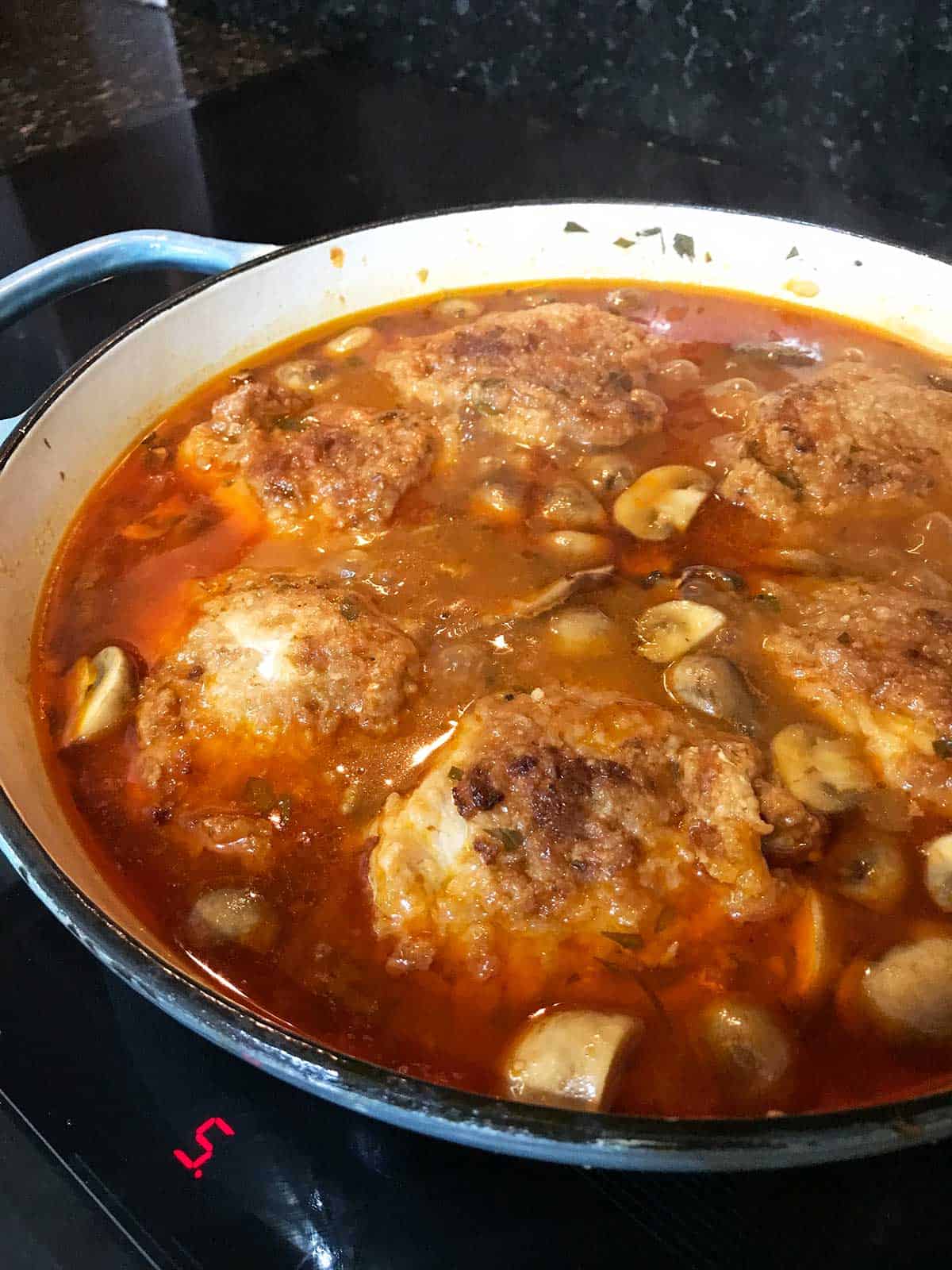 Sara's Top Recipe Tips
My quick version
I also make a quick version of this recipe using chicken breast fillets. I have included those instructions in the recipe card below as well. It is a great version to have up your sleeve for a quick and tasty mid-week meal.
Freeze leftovers in single portions
When I freeze any leftovers I freeze them in individual portions. Eg, one thigh fillet and some sauce per container/zip lock bag. That way I can use as many portions as needed for dinner, or somebody can use one portion for lunch etc.
How long will chicken chasseur keep in the fridge?
It will keep for up to 2 days in an air-tight container in the fridge. It will keep in a vacuum container for up to a week in the fridge.
Can I freeze hunter's chicken?
Yes this dish freezes very well. Either freeze in a freezer safe container or zip lock bag will all the air removed for up to 3 months.
Printable Recipe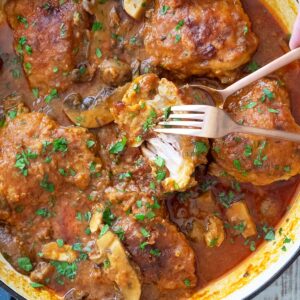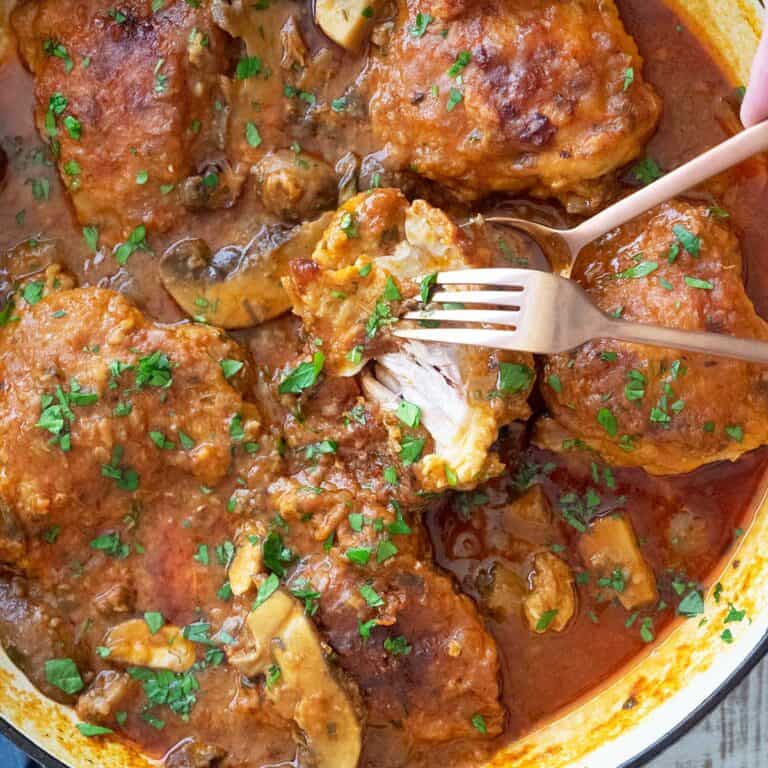 Chicken Chasseur
Chicken Chasseur, also known as Hunter's Chicken, is a classic French chicken recipe, poulet sauté chasseur. A simple and delicious one-pan dish made with chicken thigh, mushrooms, tomato paste, wine, and fresh herbs.
Ingredients
¼

cup

plain flour

6-8

chicken thighs

| bone in, skin on

2

tablespoons

olive oil

1

large

Swiss brown mushroom

| cut into large slices

200

grams

Swiss brown button mushrooms

| chopped in half or quarters, + *see note 1

2

shallots/French shallots (eschallots)

| finely chopped

2

cloves

garlic

| crushed

⅓

cup

Cognac

| or brandy

⅓

cup

white wine

2

tablespoons

tomato paste

2

cups

chicken stock

1

tablespoon

chopped fresh tarragon

1

tablespoon

chopped fresh parsley
Instructions
Place flour in a bowl and coat chicken thighs with flour.Chicken Chasseur, also known as Hunter's Chicken, is a classic French chicken recipe, poulet sauté chasseur. A simple and delicious one-pan dish made with chicken thigh, mushrooms, tomato paste, wine, and fresh herbs.

Over medium heat, heat olive oil in a frying pan (that has a lid) big enough to fit all the thigh fillets. Shake excess flour from thighs and place in the frying pan skin side down.

Once the chicken skin has turned dark golden turn the tighs over and brown the other sides. Then remove the thighs from the pan, place them on a plate, and set them aside.

*Note the chicken thighs do not need to be cooked completely at this stage, only browned.

Remove excess oil from the frying pan, leaving 2 tablespoons of oil.

Place mushrooms in the frying pan and saute for 5 minutes.

*Be careful not to burn the eschallots.

Add shallots and garlic, and saute for a further few minutes until the shallots have softened.

*Be careful not to burn the shallots.

Add cognac and deglaze the pan. Make sure you scrape up any brown bits (fond) on the bottom of the pan. Cook for a few minutes until cognac has reduced by half.

Add wine to the pan and cook for a further minute.

Add tomato paste, chicken stock, and tarragon. Mix well and bring to a boil. and cook for 1-2 minutes.

Reduce heat and bring sauce to a slow simmer. Add chicken thighs back to the pan, skin side up.

Cover with the frying pan with a lid and allow to cook for 45 minutes. Check on the chicken every 10 minutes or so, scraping any bits that stick to the bottom of the pan with a spatula.

After 45 minutes remove the lid of the frying pan. If the sauce isn't thick enough allow to cook for a further few minutes with the lid off to reduce the sauce.

Serve with roasted or mashed potatoes, rice, or pasta.
Measurement Notes
All measurements are Australian metric standard. All measures are level, and cups are lightly packed unless specified. 1 teaspoon = 5ml / 1 tablespoon = 20mls / 1 cup = 250ml /4 teaspoons = 1 tablespoon.
Recipe Notes
NOTE 1
You can use any small button mushrooms. Cut in half or quarters depending on the size. The idea is to have them quite chunky.
QUICK CHICKEN BREAST RECIPE VERSION
Replace the chicken thigh fillets with boneless, skinless breast fillets. Cut the breast fillets in half and pound them out with a meat mallet. Toss in flour, and shake off any excess before frying.
In a large nonstick pan brown the chicken fillets well in a combination of 1T olive oil and 1T butter.
Once browned and cooked through, remove the chicken from the pan and add mushrooms. Sauté for a few minutes until they start to soften and change colour.
Add shallot and garlic, and cook for 2 minutes (be careful not to burn the garlic).
Add ¼ cup of cognac. Allow the cognac to reduce by half.
Add 1 teaspoon of chicken stock, ¼ cup of white wine, ¼ water, and 1T of tomato paste to the pan. Mix until well combined.
Place chicken back in the pan, and continue to cook until the liquid has reduced to a sauce consistency.
Serve with desired vegetables.
GENERAL COOK'S NOTES
All oven temperatures are fan-forced, increase the temperature by 20°C (70°F) for convection ovens.
All measurements are Australian tablespoons and cups. All measures are level, and cups are lightly packed unless specified.
1 teaspoon equals 5ml
1 tablespoon equals 20 ml (Nth America, NZ & UK use 15ml tablespoons)
1 cup equals 250ml (Nth America use 237ml)
4 teaspoons equal 1 tablespoon
I use the below unless specified in my recipes.
Herbs are fresh | Vegetables are of a medium size | Eggs are roughly 60 grams in weight (large).
NUTRITIONAL INFORMATION BELOW IS A GUIDE ONLY
NUTRITIONAL INFORMATION
The recipe's nutritional information is an approximation based on an online calculator. It is meant solely for reference purposes. If you're looking for precise details, be sure to double-check with your own research.
Calories:
637
kcal
Carbohydrates:
19
g
Protein:
35
g
Fat:
40
g
Saturated Fat:
9
g
Polyunsaturated Fat:
7
g
Monounsaturated Fat:
19
g
Trans Fat:
1
g
Cholesterol:
170
mg
Sodium:
406
mg
Potassium:
919
mg
Fiber:
2
g
Sugar:
6
g
Vitamin A:
515
IU
Vitamin C:
8
mg
Calcium:
62
mg
Iron:
4
mg
Did You Make This Recipe?
I do a happy dance when people share how they went. Tag me on Instagram or Twitter @bellyrumbles & #bellyrumbles