Want to make your own Heston Blumenthal hidden orange pudding?  If you do, there is one thing you will need to make first, and that's the orange you hide inside.  It may be a little time consuming, but it is really easy to do.  You can find the pudding recipe here.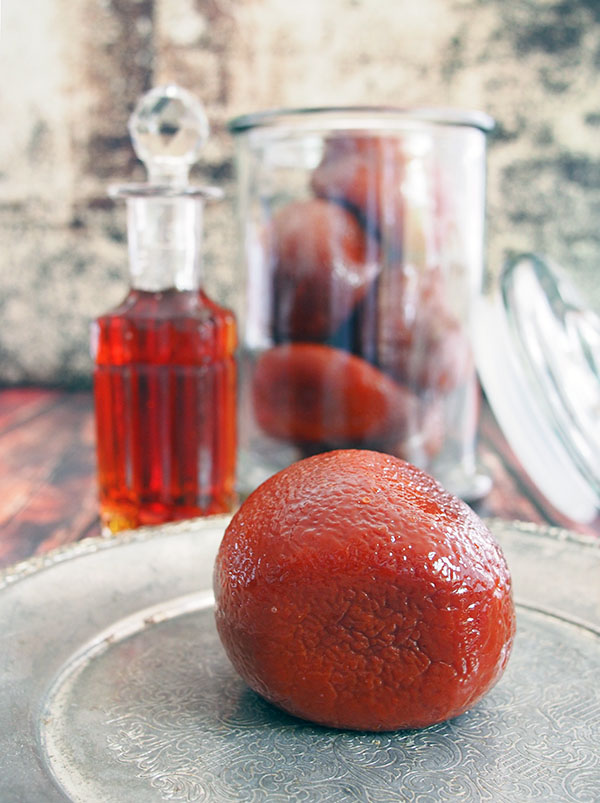 It's not that hard, if you can simmer water, you can candy an orange.  Belly Rumble's HQ has been busy testing the waters to create the perfect candied orange for your pudding.  It's easy, but as I just said you will need some time up your sleeve.  It will take you eight days to candy an orange using my method.
Please don't completely freak out about the length of time, as your hands on portion to the process only takes up a few minutes each day.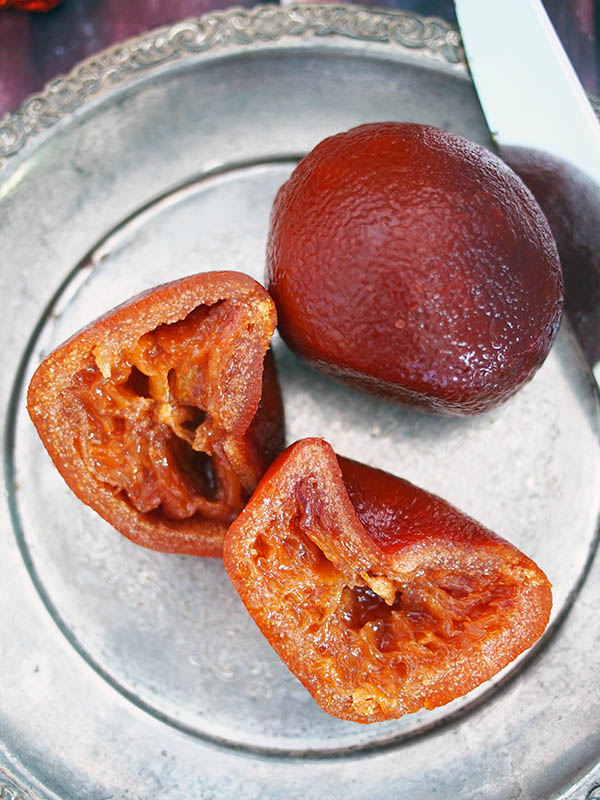 I wanted to create a candied orange that wasn't crystalised.  By crystalised I mean an orange that you can visibly see sugar crystals on the outside of your orange.  I wanted a smooth candied finish.   Thanks to David Lebovitz, I discovered the secret is to use corn syrup in your syrup mix.  It was his recipe for candied citrone that I tweaked to come up with the method for candying a whole orange.
I candied blood oranges, but of course you can use normal oranges as well.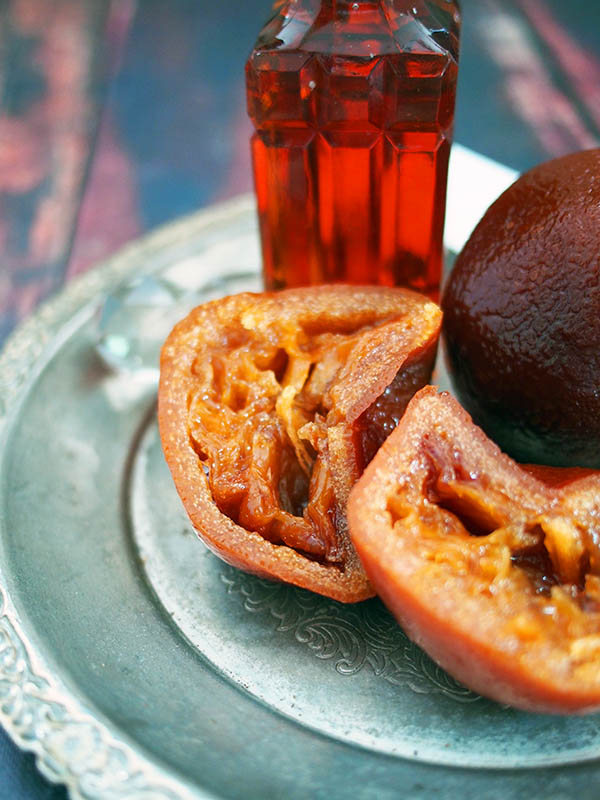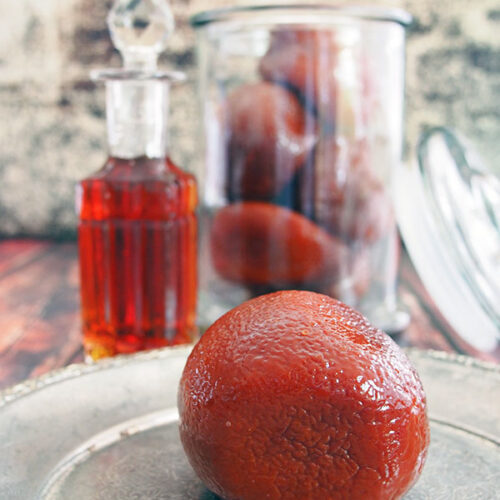 How to Candy a Whole Orange
Easy method for candied whole oranges. Perfect to create your own Heston Blumenthal hidden orange pudding for Christmas.
Print
Pin
Rate
Ingredients
6 – 8

blood oranges

or substitute regular oranges

7

cups

sugar

12

cups

water

6

Tbs

light corn syrup
Instructions
With a fine needle pierce around your oranges several times. Making sure to insert the need right through the skin or the oranges. This allows the candying syrup to penetrate the oranges. Do not use a skewer!

Place oranges in a large pot (which has a lid) and cover with water. Bring water to a simmer and cook for an hour. This will remove some of the bitterness from the pith of the oranges.

Drain oranges in a colander and set aside.

In the same pot add your sugar, water and corn syrup. Heat until sugar has dissolved and then increase heat until the syrup boils. Reduce heat and place your oranges back in the pot. Place lid on your pot, but do not fit it tightly, leave it slightly off centre, as you want some of the steam to escape. Gently simmer for an hour, make sure it is a very gentle simmer.

Remove pot from the heat and place lid firmly on top of your pot.

The same time next day, place pot back on stove. Place lid slightly off centre again and bring oranges and syrup to a gentle simmer again. This time simmer for 30 minutes.

Once you have done this, remove pot from the heat again, replace lid and leave until the same time the next day.

You repeat this process for eight (8) days. You may need to add a little water if your syrup is reducing too much.

Once you have simmered for your final day. Cool oranges completely and store in a container in your fridge. They will keep for up to six (6) months.

Don't discard the syrup either as this takes on a deep orange flavour. This then can be used for cordial or many other purposes.
Nutrition
Calories:
730
kcal
|
Carbohydrates:
189
g
|
Sodium:
30
mg
|
Potassium:
23
mg
|
Sugar:
188
g
|
Vitamin A:
0.6
%
|
Vitamin C:
8.4
%
|
Calcium:
2
%
|
Iron:
0.5
%
I will be placing a recipe and instructions on how to create your own hidden pudding using your candied whole oranges shortly.
I hope you do take on the challenge.  As you can see it is really easy, just takes a bit of time.  Good luck and if you have any questions about the above please don't hesitate to ask below or send me an email.  I really look forward to hearing from you if you do attempt the above.  Let me know how you go!
Do tell dear Belly Rumbles' reader, what would be your ultimate Christmas pudding?
Sara xxx