These were whipped up as part of Josh's dessert offerings for his 21st a few months ago. They turned out to be amazing cookies, but they just didn't turn out the way that I wanted. Originally they were to be perfect round discs stamped with the words 'bite me'.
Bite me, these babies did! The dough turned out quite soft and sticky. Even after being placed in the fridge to harden slightly. Fighting me, no matter what I did, by sticking to my cookie 'bite me' stamp. I am sure if I wasn't trying to cook 10 recipes at once. If I had the time to take two steps back, take a deep breath and re-assess my sticky bite me dough situation, that I would have ended up with the product I had originally envisaged.
Instead, I got a case of 'stressy cranky pants' syndrome. Told the dough it could bite me. Tried to teach the misbehaving dough a lesson by angrily rolling it up into balls. Tossing said balls on baking on trays, then shoving my big fat thumb on top of each to squish them down. Yes dough, there you go, bite me!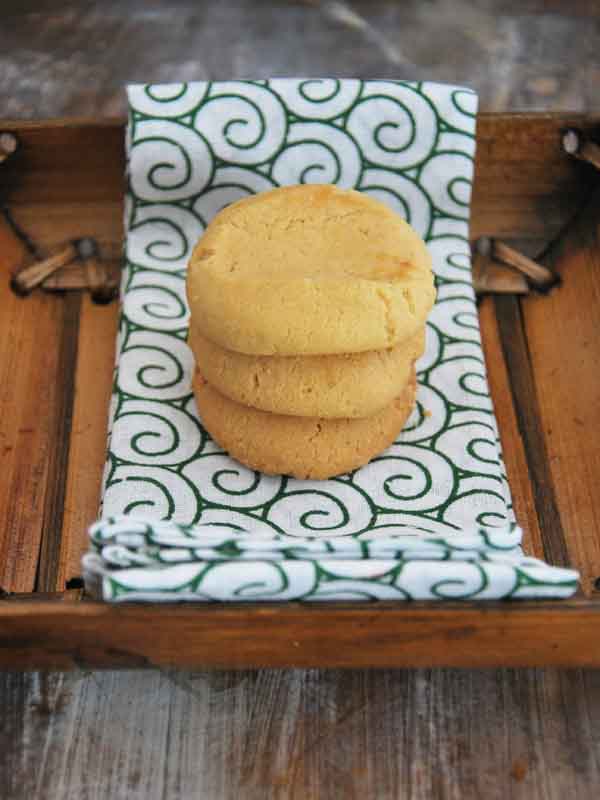 As it turned out, they ended up looking not too shabby. They tasted pretty amazing. Turning out to be one of the best shortbreads I have baked. A very 'short' shortbread with a delicate peanut butter flavour. Delicate, melt in your mouth shortbread.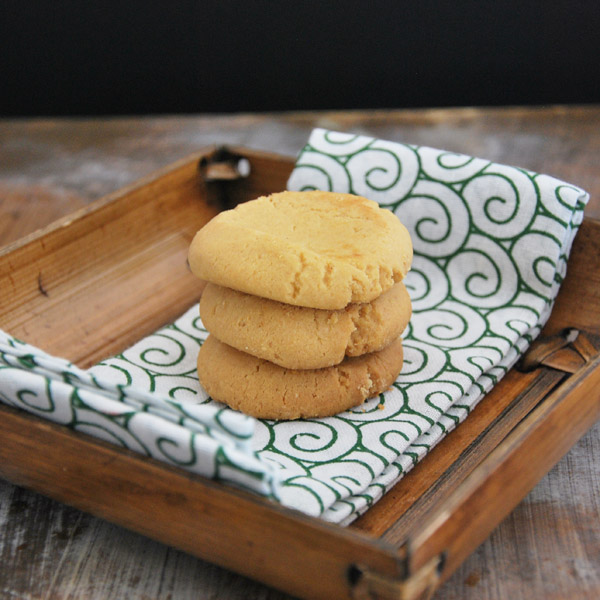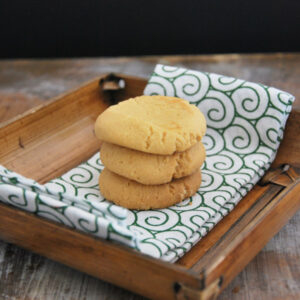 Peanut Butter Shortbread Cookies
Very easy and tasty peanut butter shortbread recipe. Perfect large batch recipe for school fetes and bake sales.
Ingredients
340

grams

unsalted butter

softened

360

grams

smooth peanut butter

200

grams

raw or golden caster sugar

2

large eggs

560

grams

self-raising flour
Instructions
Preheat oven to 180 degC/350 degF/Gas 4. Line baking trays with baking paper or baking sheets.

Using an electric mixer beat butter until creamy and pale. Then add peanut butter and keep beating until combined.

Add sugar and continue to beat until combined and smooth.

Then add one egg, continue beating until incorporated, add the second egg and incorporate.

Slowly add flour and keep beating until all added and a soft dough has formed.

Roll dough into walnut size balls. Place on baking trays 2cm apart. Press down in the centre of each dough ball with your thumb.

Place trays in the oven and bake 10-12 minutes until cooked and a pale golden colour.

Once cooked, remove from oven and rest on trays for a couple of minutes before moving them to cooling racks.

Once cooled store in an air-tight container. They will keep for a week, if not eaten beforehand.
Nutrition
Calories:
144
kcal
Carbohydrates:
14
g
Protein:
3
g
Fat:
8
g
Saturated Fat:
3
g
Cholesterol:
21
mg
Sodium:
42
mg
Potassium:
63
mg
Sugar:
4
g
Vitamin A:
180
IU
Calcium:
7
mg
Iron:
0.3
mg
Did You Make This Recipe?
I do a happy dance when people share how they went. Tag me on Instagram or Twitter @bellyrumbles & #bellyrumbles
When making this recipe in future (and I will be), the addition of a dollop of strawberry jam in my fat thumbprint before baking would work wonders. They would become PB&J cookies. Alternatively a drizzle of dark chocolate over the cooled cookies would work just as well. Or even do both? Oh yes, I am doing both, peanut butter, strawberry jam and chocolate!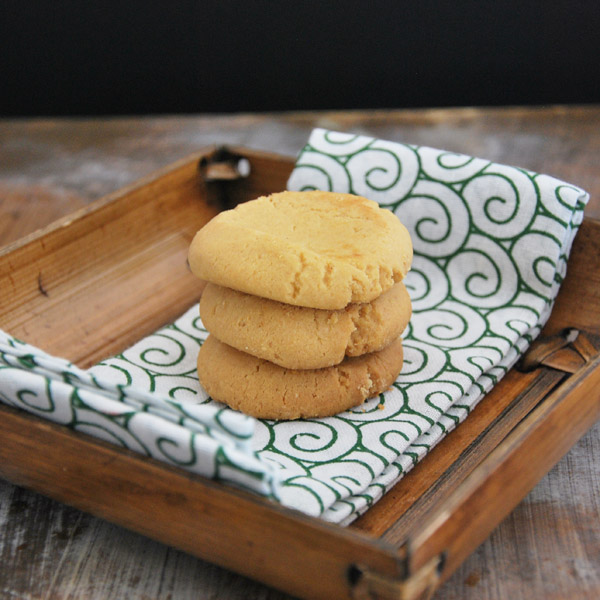 This recipe makes quite a few cookies, over 50. It's the perfect mass production cookie recipe, great for parties, school fetes or cake stalls. Not feeding the masses? You could freeze some of the dough for future use or halve the recipe if you wish.
Do tell dear Belly Rumbles' reader. Are you like me and chuck a stress fit when under pressure and things aren't going to plan? Or are you cool as a cucumber?
Sara xxx