Pumpkin pie spice is an easy DIY staple for your pantry. It adds an easy taste bomb to many dishes and drinks. No pumpkins were harmed in the making of this recipe.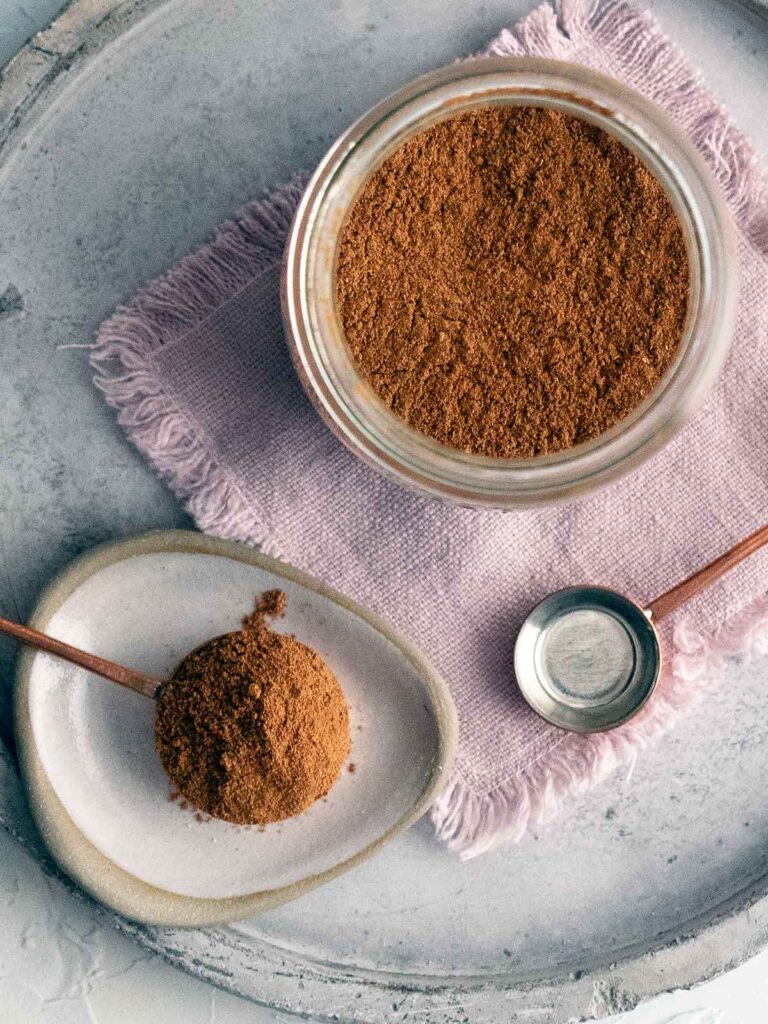 Thanks to a lovely reader, Dana, for her suggestion of sharing this recipe on Belly Rumbles. Pumpkin pie spice is something I've made for a while, but not shared with you guys before.
Firstly it is so easy to make. Secondly, I wasn't sure how it would be received by my Aussie readers as it is more popular in the USA than in Aus.
If you do make this recipe you have to make a batch of pumpkin spice creamer!
Sara xxx
The Spices
Cinnamon: Ground Cinnamon is made from the inner bark of many tree species in the Cinnamomum family.
Ginger: Ground ginger is ground ginger root (Zingiber officinale), it is spicy and sweet in flavour.
Nutmeg: Common ground nutmeg is made by grinding the seed of the fragrant nutmeg (Myristica fragrans) tree into powder.
Allspice: Allspice is a spice made from ground dried berries of the Pimenta dioica plant, which is a member of the myrtle family. It isn't a mix of spices as the name suggests and shouldn't be confused with mixed spice.
Cloves: Ground cloves are the ground dried flower buds of the clove tree. Adds a great spice to pumpkin pie spice and baking in general.
Whole Nutmeg: Instead of buying pre-ground nutmeg, you can purchase it whole and grate it using a microplane or spice grater. The fragrance and taste is amazing and so different from the packaged ground alternative.
When making any kind of homemade spice mix it is important that you use fresh spices. There is no point in going to the trouble of making your own mix with spices that have lost their flavour and smell.
Storing Spices
Spices start to deteriorate as soon as they are open. Especially if they aren't stored correctly. Avoid using spices that have been sitting in your pantry for over 12 months, or if you have forgotten when you purchased them.
Always store your spices and spice mixes in a dark cool place out of direct sunlight. Do not keep your spices above or next to your stove, nor on your kitchen counter. Max sure jars are closed properly in between uses. Spice packets should be kept in airtight containers once opened.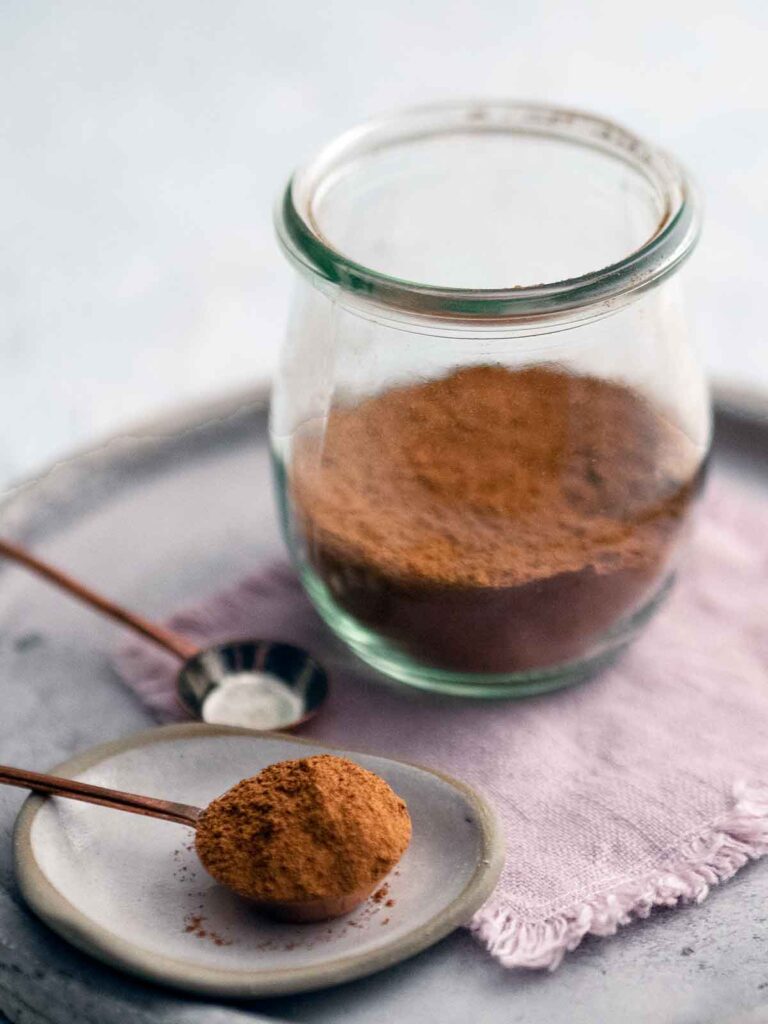 Suggestions for use
Generally we associate pumpkin spice mix with lattes. Well I know I do, I have a fascination with this American phenomenon. I can confirm it goes rather well in a coffee (no judgment please), but it also has many other wonderful uses.
What to make with Pumpkin Pie Spice
Pumpkin Spice Frappuccino
Pumpkin Spice Creamer
Iced Latte
Cakes, Blondies, and Muffins
Pumpkin Cheesecake
Cookies
Pumpkin Bread
Apple Pies and Apple Crumble
Pancakes
Granola or Oatmeal
Pumpkin Spice Creamer for coffee
Sugared nuts
Flavourful Sugar Syrup for Cocktails
And the obvious one, Pumpkin Pie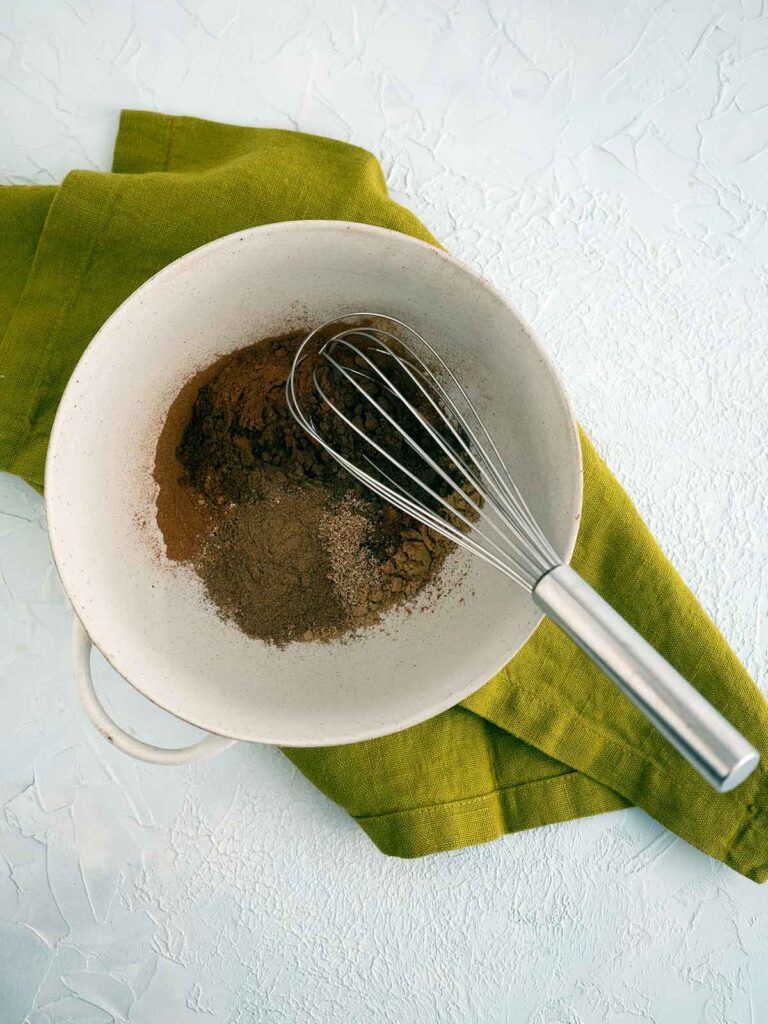 Recipe Walk Through
Pumpkin pie spice is so easy to make that I feel this usual section is irrelevant. It is so simple to make you will wonder why you don't already have a jar in your cupboard.
Grab a mixing bowl and place all the ingredients in it.
Whisk with a whisk.
Store in an airtight container until required.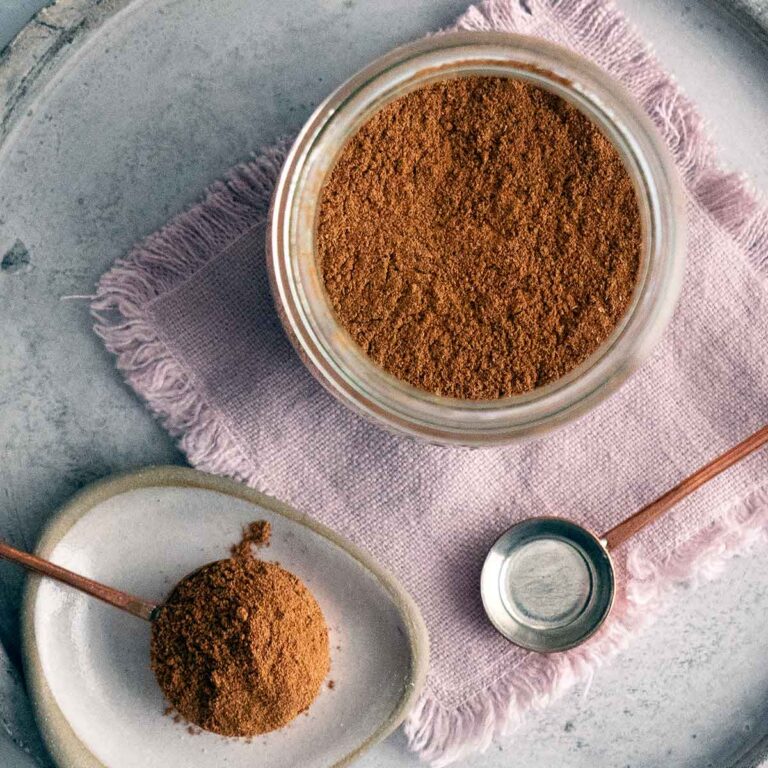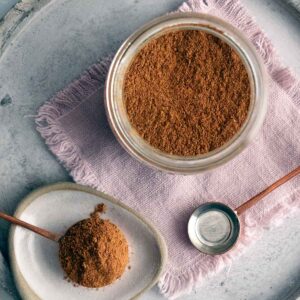 Homemade Pumpkin Pie Spice Mix
Pumpkin pie spice is an easy DIY staple for your pantry. It adds an easy taste bomb to many dishes and drinks. No pumpkins were harmed in the making of this recipe.
Ingredients
3

tablespoons

cinnamon

| ground

3

teaspoons

ginger

| ground

3

teaspoons

nutmeg

| ground

1 ½

teaspoons

allspice

| ground

½

teaspoon

cloves

| ground
Instructions
Place all the spices into a mixing bowl.

Whisk until well combined.

Store in an airtight container where you keep your other spices.
Notes
IMPORTANT NOTE!!
Measurements are Australian: 4 teaspoons equals 1 tablespoon
GENERAL COOK'S NOTES
All oven temperatures are for a conventional oven, if using fan forced lower the temperature by 20 Deg C (70 Deg F).
All measurements are Australian tablespoons and cups. All measures are level, and cups are lightly packed unless specified;
1 teaspoon equals 5ml
1 tablespoon equals 20 ml (Nth America, NZ & UK use 15ml tablespoons)
1 cup equals 250ml (Nth America use 237ml)
4 teaspoons equals 1 tablespoon
I use the below unless specified in my recipes;
Herbs are fresh | Vegetables are of a medium size | Eggs are roughly 60 grams in weight (large)
Nutrition
Calories:
4
kcal
Carbohydrates:
1
g
Protein:
1
g
Fat:
1
g
Saturated Fat:
1
g
Sodium:
1
mg
Potassium:
4
mg
Fiber:
1
g
Sugar:
1
g
Vitamin A:
3
IU
Vitamin C:
1
mg
Calcium:
11
mg
Iron:
1
mg
Did You Make This Recipe?
I do a happy dance when people share how they went. Tag me on Instagram or Twitter @bellyrumbles & #bellyrumbles
More Pantry Staple Recipes