Kathlyn of Bake Like a Ninja was our Daring Cooks' March 2011 hostess. Kathlyn challenges us to make two classic Peruvian dishes: Ceviche de Pescado from "Peruvian Cooking – Basic Recipes" by Annik Franco Barreau. And Papas Rellenas adapted from a home recipe by Kathlyn's Spanish teacher, Mayra.
Wow I am a lazy girl and took the easy but also low fat free road on this challenge. Trying to be really good about what goes in my mouth at the moment and as delicious as the papas rellenas looked in all their deep fried goodness I went for the fresh and healthy ceviche.
Ceviche is believed to have originated in Peru nearly 500 years ago. It is believed that the original dish used the fermented juice of the banana passionfruit and then during the Inca period they started using chicha. It was with the arrival of the Spanish that the locals switched to using citrus juice.
In the past I have only ever identified and eaten this style of dish with various Islands in the Pacific. In Hawaii it is called poke and in Fiji it is called kokoda, but there are so many versions around the region.
Normally it is made using a white fleshed fish, but I decided to try it out with salmon. I chose a sashimi grade for the challenge. This to be honest isn't necessary, but it is important to buy the freshest fish you possibly can.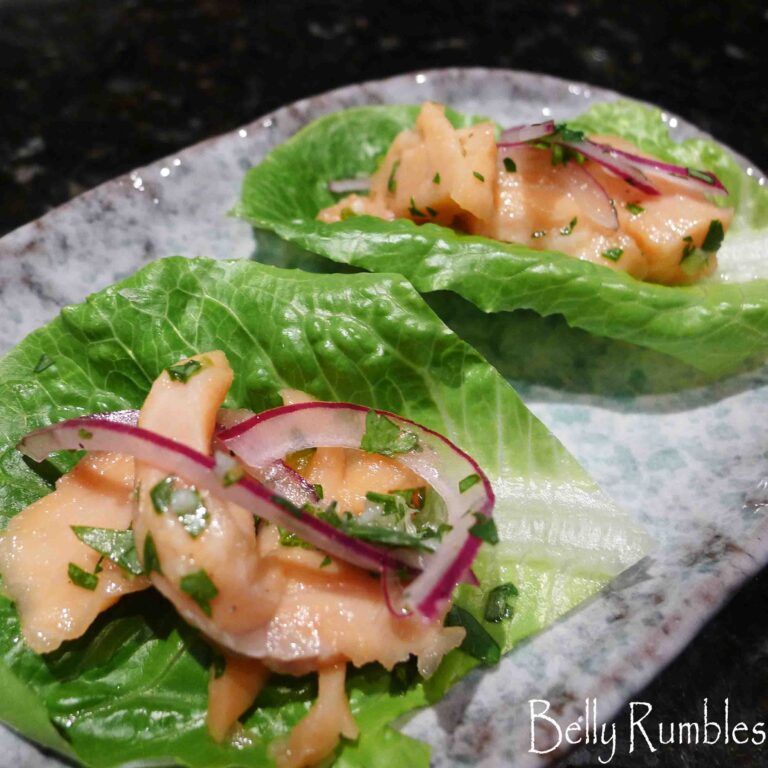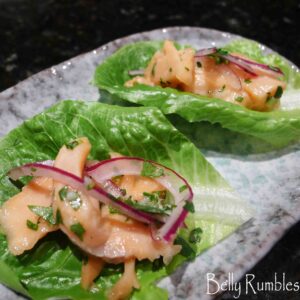 The freshness of your fish is of key importance for making ceviche. If you are not familiar with ceviche you actually "cook" your dish using the citrus juice, either lemon or lime. The acid from the citrus juice causes the breakdown of the proteins in the fish and "cooks" it.
Having eaten ceviche before I knew that for me a little goes a long way. I enjoy it, but could never sit down to a big plate. I decided to only prepare half the amount of fish in Kathlyn's recipe and served it on baby cos lettuce leaves as an appetiser.
Such an easy dish to prepare and very healthy.
Sara xxx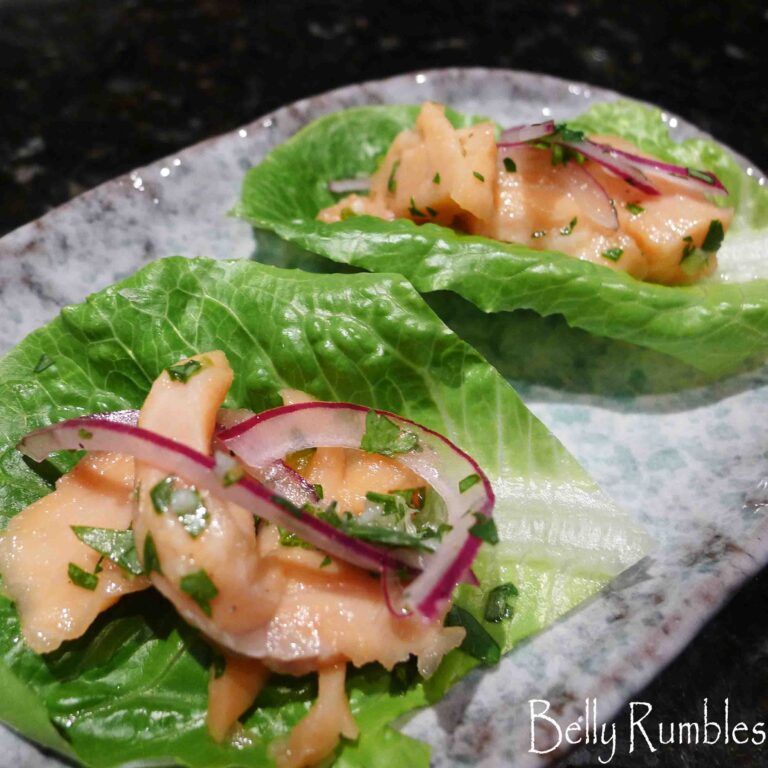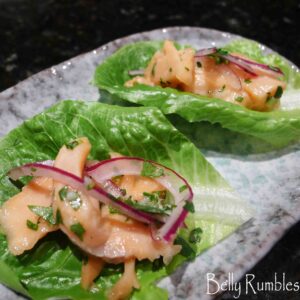 Sexy Salmon Ceviche
A twist on a Peruvian classic by using salmon instead of white fish.
Ingredients
500

grams

salmon

1

garlic clove - crushed

1

red chili - finely chopped

125

ml

(½ cup) lime juice - freshly squeezed

4

teaspoons

(1 tablespoon) corriander - finely chopped

½

red onion - finely sliced

salt & pepper - to taste

baby cos lettuce leaves
Instructions
Wash and slice your salmon. Place in a shallow ceramic or glass dish. Season with salt and pepper.

Combine juice, chili, garlic and corriander and pour over your salmon. Stir the fish to ensure it is completely coated with the juice mixture.

Place the sliced red onion on top of your fish while it "cooks".

Let your fish "cook" for an hour. You can leave it for as little as 10 minutes if you are in a hurry.

Wash and trim your baby cos lettuce leaves and place on a platter. Drain the salmon mixture and place on top of your leaves.

Serve immediately.
Nutrition
Calories:
196
kcal
Carbohydrates:
5
g
Protein:
25
g
Fat:
8
g
Saturated Fat:
1
g
Cholesterol:
68
mg
Sodium:
57
mg
Potassium:
704
mg
Sugar:
1
g
Vitamin A:
170
IU
Vitamin C:
26.5
mg
Calcium:
22
mg
Iron:
1.1
mg
Did You Make This Recipe?
I do a happy dance when people share how they went. Tag me on Instagram or Twitter @bellyrumbles & #bellyrumbles