Torta Pasqualina is a traditional Italian Easter food. A pie filled with ricotta, silverbeet and other tasty Italian staples.
Squeezing in one more pre Easter recipe post before I head up to Coolangatta on Thursday morning. Business meeting and visiting with my Mum & Dad who moved up there last February. Is only a short trip and will be back in time for Easter Sunday with Mac's family.
I love how different countries have their traditional Easter recipes. Being of Latvian heritage Pashka is made every Easter in my household. Of course I also make a batch of the much loved Piragi.
I was flicking through the April edition of MasterChef Magazine and came across a recipe for torta pasqualina. I have heard of this Italian Easter pie before, but have never attempted to make it. The recipe in MasterChef caught my attention as it uses a sweet Italian shortcrust pastry with lemon zest.
With a search on the internet I soon discovered that the recipe was far from traditional. The original recipe calls for 33 layers of pastry for the pie. The significance being that this represents Jesus' age of 33 when he was crucified. Most modern day recipes call for 4-5 sheets of pastry. I even discovered one that uses 12 sheets of pastry to represent Jesus' disciples.
Some recipes had whole eggs cracked in to the filling so when cut you could clearly see the eggs. Some used puff pastry and others filo. The fillings did vary a bit, the mainstay being greens such as spinach, cavolo nero, silverbeet or chard as well as a variety of cheeses.
Artichoke appeared in quite a few recipes too. Some had meats added to the filling such as salami, Italian sausage and prosciutto. There were so many different versions. I can only assume that most Italians learn this recipe from their mother, passed down through the family, and I am sure each one had their own twist or special ingredient that made her torta pasqualina the best.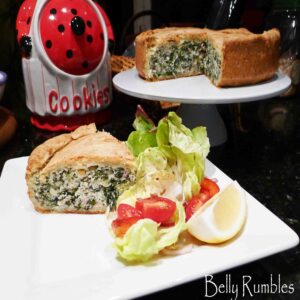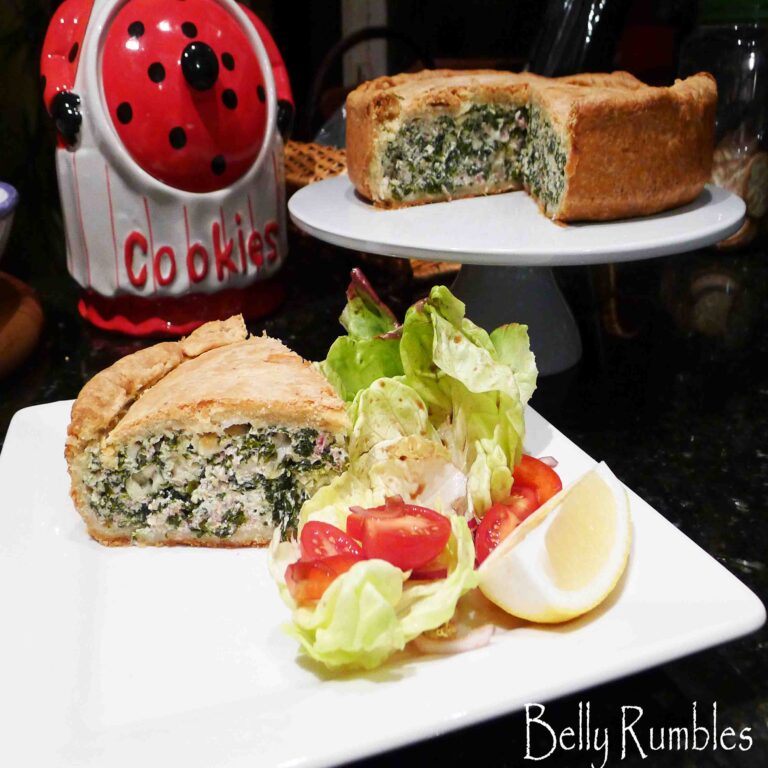 I did make a couple of ingredient changes to the MasterChef one. I didn't want over powering salami in mine (not that I am not a fan of salami) instead I preferred the subtle saltiness of prosciutto. I also wanted to use silverbeet instead of spinach as I prefer the stronger taste. There was also the extra added sprinkle of nutmeg.
Even though I made my own pastry the recipe really was extremely easy to make. The lemon zest in the pie pastry made the house smell amazing while the pie was cooking. If you are not keen on making your own pastry, give it a go at least once. With the use of a food processor it is extremely easy and quick. Even if you are like me and don't own a food processor (yes shock) the old fashioned rub method may take longer but the results are just the same.
Sara xxx
Printable Recipe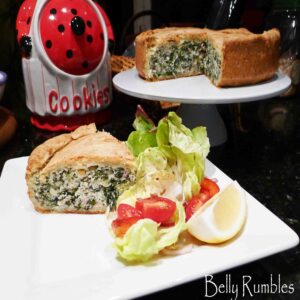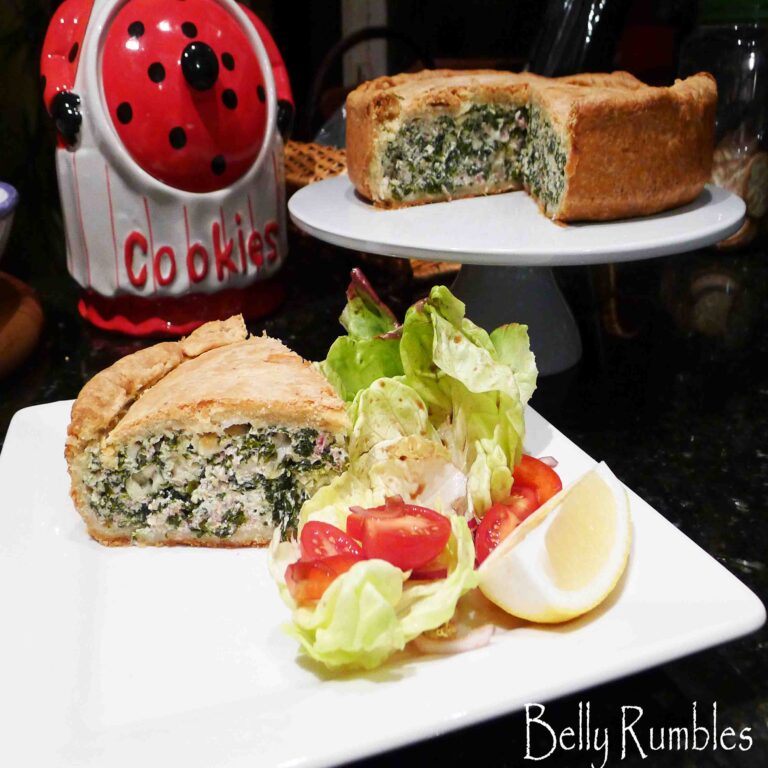 Torta Pasqualina
Traditional Italian Easter Pie filled with spinach and ricotta, with a lemon scented pastry crust.
Ingredients
1

large bunch of silverbeet

600

grams

firm ricotta

go to the deli

3

eggs

1

teaspoon

ground nutmeg

190

grams

prosciutto

sliced finely

160

grams

provolone

cut into 5mm pieces

150

grams

parmesan

grated

1

bunch flat leaf parsley

leaves only, chopped

1

egg yolk

Italian Shortcrust pastry

450

grams

plain flour

200

grams

cold unsalted butter

chopped into small cubes

40

ml

(2 Tablspoons) caster sugar

Zest of 1 lemon

2

eggs

lightly beaten

30

ml

(1 ½ Tablspoons) iced water
Instructions
Make pastry by processing flour and butter until the mixture resembles coarse crumbs. Add the sugar, zest, eggs and the water. Mix until combined and turn out on to a lightly floured surface. Knead until pastry is smooth and then wrap in plastic. Place in fridge while you prepare the rest of the pie.

Prepare silverbeet by removing the white steams, you only want the green leaves, wash and drain the leaves. Fill a large pot with water and bring to the boil. Place silverbeet in the pot and simmer until the leaves have wilted (about 5 minutes). Drain in a colander and leave to cool.

While the silverbeet is cooling combine ricotta, eggs and nutmeg in a large bowl.

Once the silverbeet has cooled enough to handle, squeeze all the moisture out with your hands. Finely chop and add to the ricotta mixture along with the prosciutto, cheeses and parsley.

Make up the egg wash by beating the egg yolk with 2t of water, set aside.

Preheat oven to 200C. Remove pastry from the fridge and remove ? and set aside. Roll out the larger piece of pastry dough to approximately 35cm round or big enough to cover the base and sides of your springform pan. Ease the pastry in without stretching it, pressing it into the bottom and sides. Fill with the ricotta mixture making sure to smooth it down evenly. Brush the the rim of the pastry with some of the egg wash.

Roll out the remaining pastry large enough to cover the top of your pie. Place over the filling, trim edges and then crimp the edges together to seal. Brush pastry with remaining egg wash. Make a few slits in the top of the pie to release steam when cooking.

Place pie in the oven to bake in the for 15 minutes. Reduce the oven heat to 180C and bake fora further 35 minutes or until brown. Cool for at least 15 minutes before slicing.

Serve pie warm or at room temperature with a green salad and lemon wedges.
Measurement Notes
All measurements are Australian metric standard. All measures are level, and cups are lightly packed unless specified. 1 teaspoon = 5ml / 1 tablespoon = 20mls / 1 cup = 250ml /4 teaspoons = 1 tablespoon.
Recipe Notes
You will need a 24cm springform pan for this recipe.
NUTRITIONAL INFORMATION
The recipe's nutritional information is an approximation based on an online calculator. It is meant solely for reference purposes. If you're looking for precise details, be sure to double-check with your own research.
Calories:
903
kcal
Carbohydrates:
57
g
Protein:
34
g
Fat:
59
g
Saturated Fat:
31
g
Cholesterol:
260
mg
Sodium:
1002
mg
Potassium:
295
mg
Fiber:
2
g
Sugar:
1
g
Vitamin A:
1470
IU
Calcium:
565
mg
Iron:
4.3
mg
Did You Make This Recipe?
I do a happy dance when people share how they went. Tag me on Instagram or Twitter @bellyrumbles & #bellyrumbles