The Tipsy Bull is one of many dog friendly restaurants in Canberra. The bonus is, it is a bar too. Grab a seat in the leafy courtyard Gin Garden and enjoy dinner and drinks with your fur baby.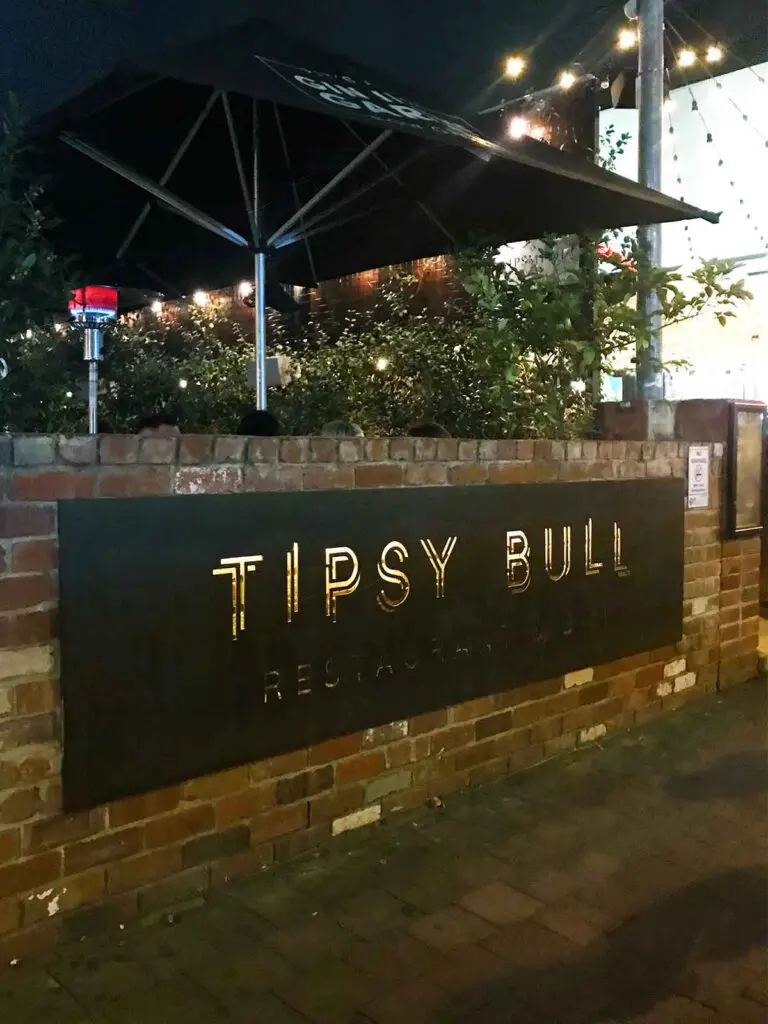 Booking
You can book easily via the Tipsy Bull website. As we were taking Harley I rang the restaurant to ensure that they did allow dogs. Also to secure a table keeping us as out of the way as possible.
The conversation when booking was hilarious and welcoming.

"What size is you dog?"
"She's medium size, a husky"
"I've never met a medium husky, they are huge!"
"Well, she's not a great dane!"

Which resulted in lots of laughter from both sides and a booking made. From the initial phone call I was rather excited about dining at Tipsy Bull.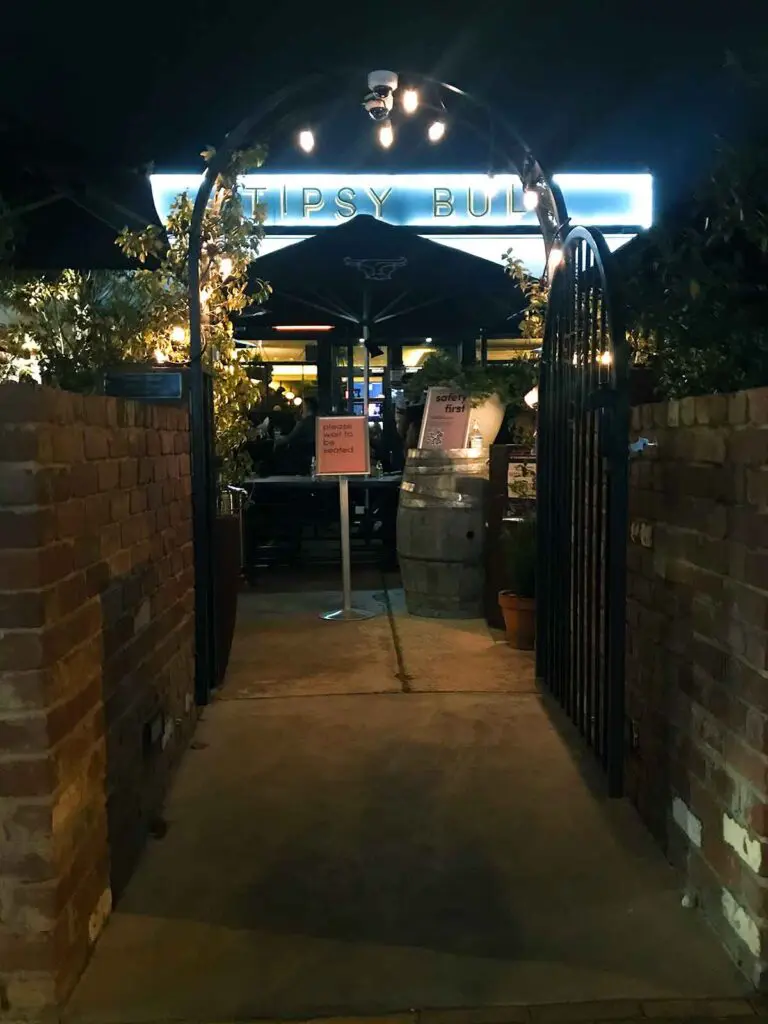 Arrival
We walked from our hotel which was about 25 minutes away. Lots of new sights and sounds for Harley. She was loving he trip to Canberra.
On arrival you are greeted near the front entrance. I advised the smiling staff member that we had a booking, with doggo in tow.
After finding our booking, she looked at Harley. She is nowhere as big as "X" said she was. More laughter and we are shown to our table.
The humans and the doggo were all offered water when we were seated. Plus menus were handed over to peruse.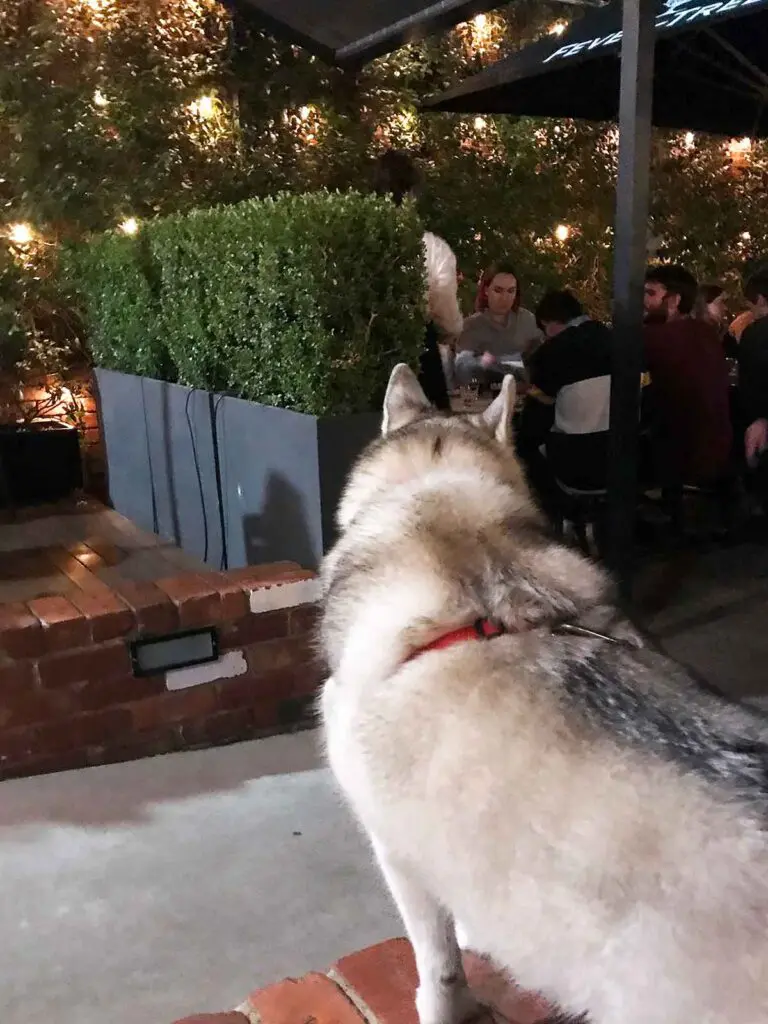 Layout & Ambiance
There is both outdoor and indoor seating. We were seated near the back of the Gin Garden (outside courtyard) towards the entrance to the indoor area.
It was the perfect spot. Lots of room for Harley. There was a hedge that separated us from the lower part of the courtyard. We were up a little higher next to the ramp leading to the main restarant.
This meant Harley could procure all the husky loving she wanted as people walked back and and forth. She was in her doggo element.
The Gin Garden is green and leafy, with fairy lights. It is a very pleasant place to have a few drinks, or dinner as we did.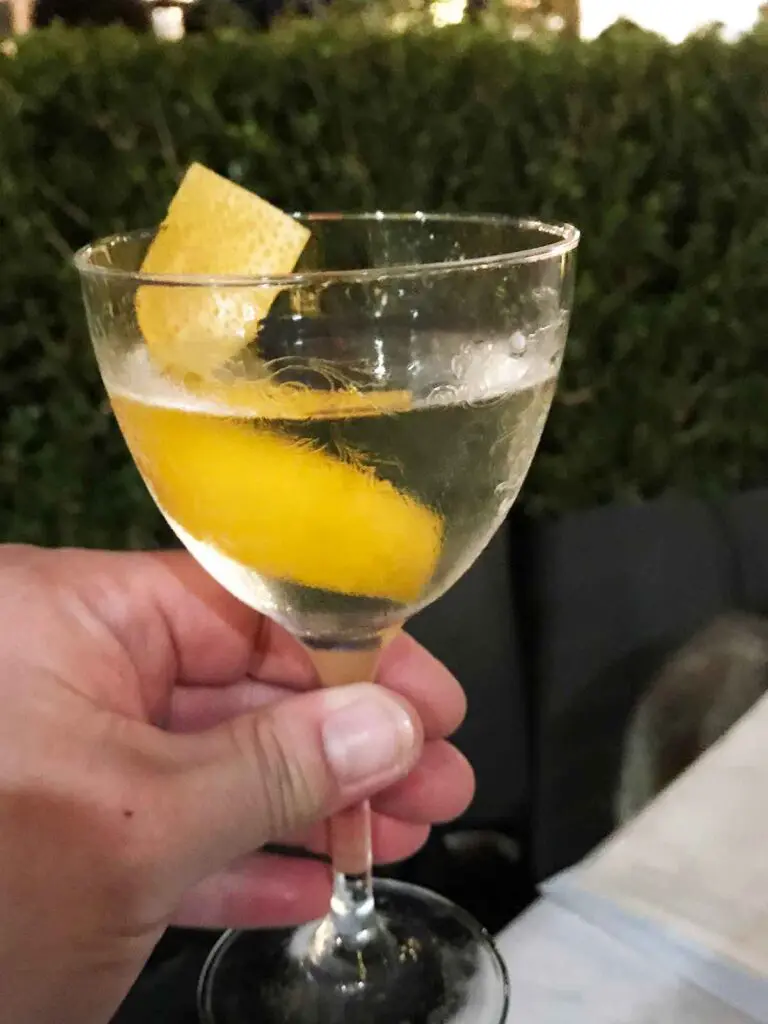 Drinks
Gin is their thing! Gin is my thing too. They were ticking all the boxes, dog friendly, nice ambiance and gin.
Tipsy Bull have over 230 varieties of gin on offer to sample. I am a big fan of a martini with a twist, which is scant on the vermouth. I left the gin choice up to our host, and was awarded with a wonderful martini that hit the spot after a drive up from Sydney.
The martinis were a great start to our visit. We then moved on to wine with the meal. With some assistance, we chose Koehler-Ruprecht Riesling from the Pfalz region in Germany. Like my martinis, I like my wines dry. This German riesling did not disappoint.
Food
We ordered a few of the smaller dishes to have more variety. You have the choice of choosing from small plates, from the garden, and large plates on the menu.
Alternatively, put yourself in Chef's hands with a 7 dish tasting menu ($80/person minimum 2 people).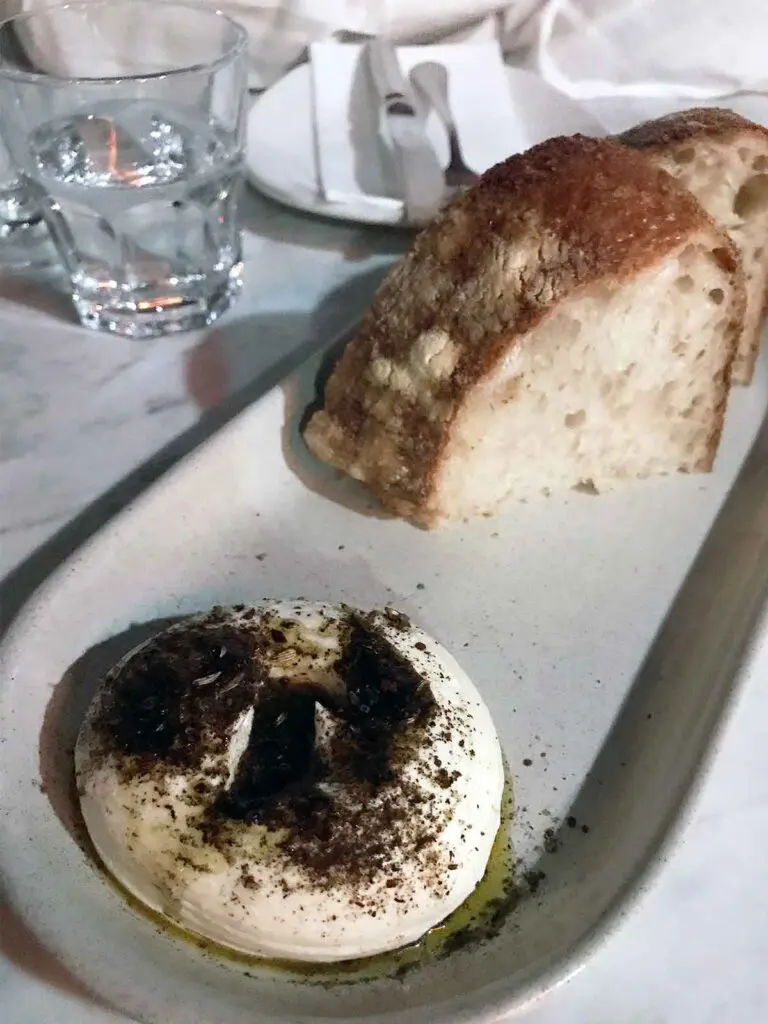 Sourdough + Whipped Ricotta + Salted Herb Ash + EVO $4 each
The sourdough was warm and delicious and the whipped ricotta rather addictive. There is a minimum order of 2 servings.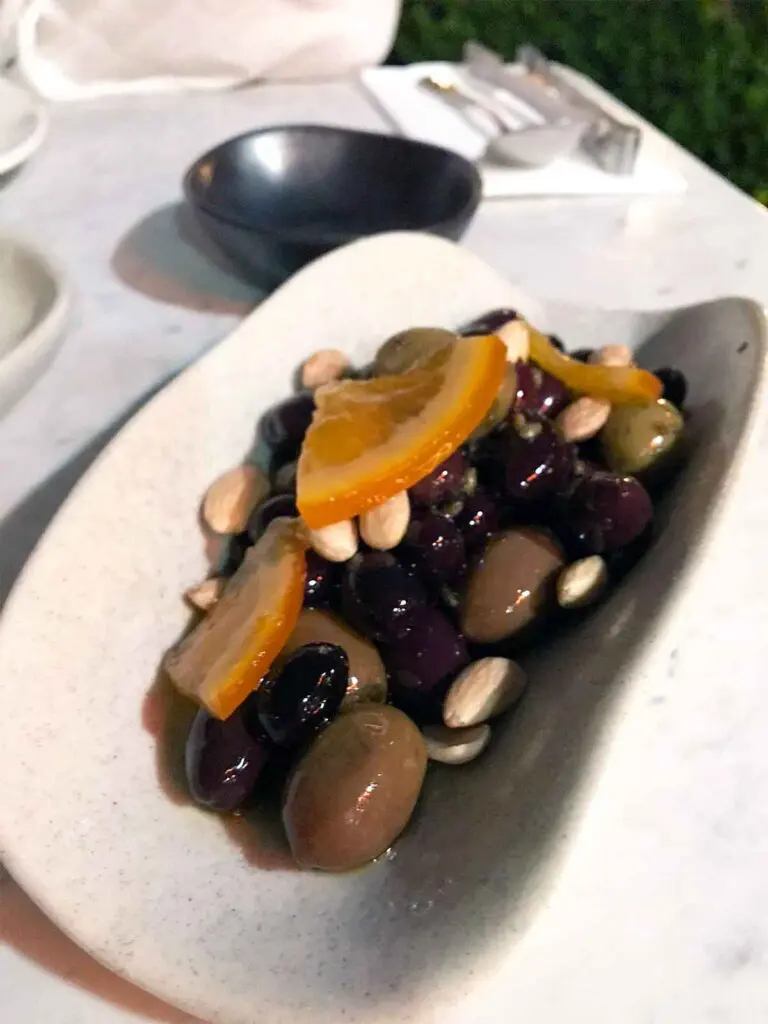 Warm Olives + Candied Orange + Almonds $10
The addition of candied orange to the olive and almond mix is one I have stored in my brain to recreate at home.
The mix of salty olives and sweet candied orange is a win.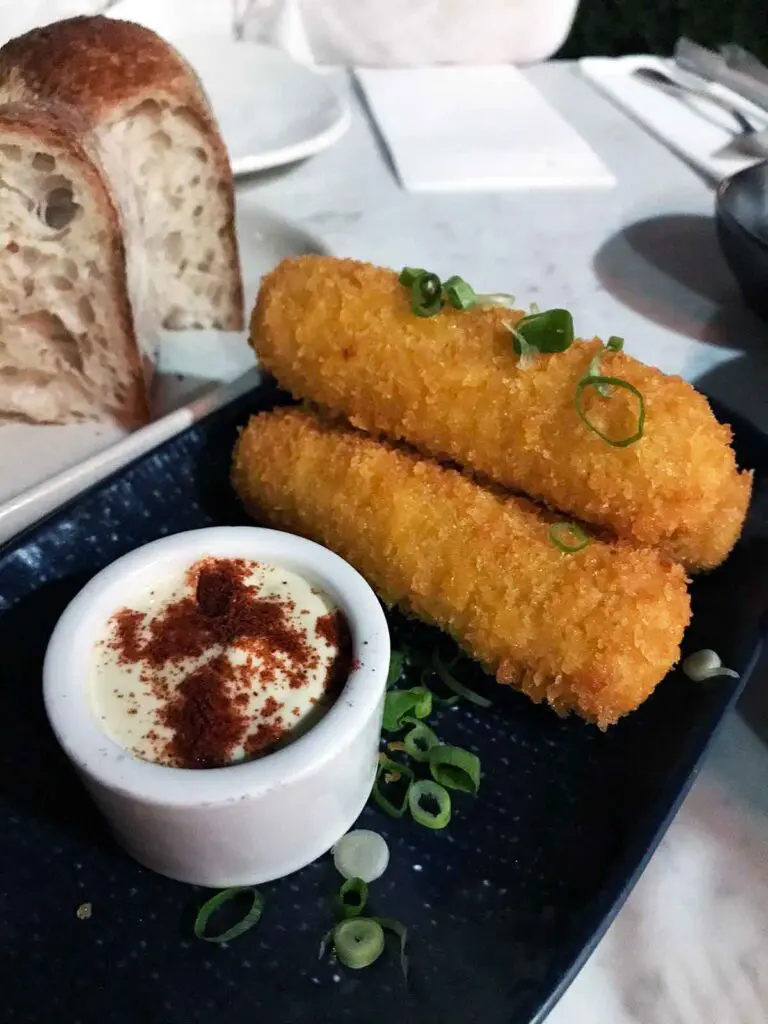 Sweet Corn + Gruyer Croquettes + Jalapeno Mayo $3 each
I'm not a massive croquette fan, but these guys were gorgeously crunchy on the outside, creamy on the inside as to be expected.
There is a minimum order of 3 croquettes, which was a bummer when there is only 2 of you. Harley happily helped out.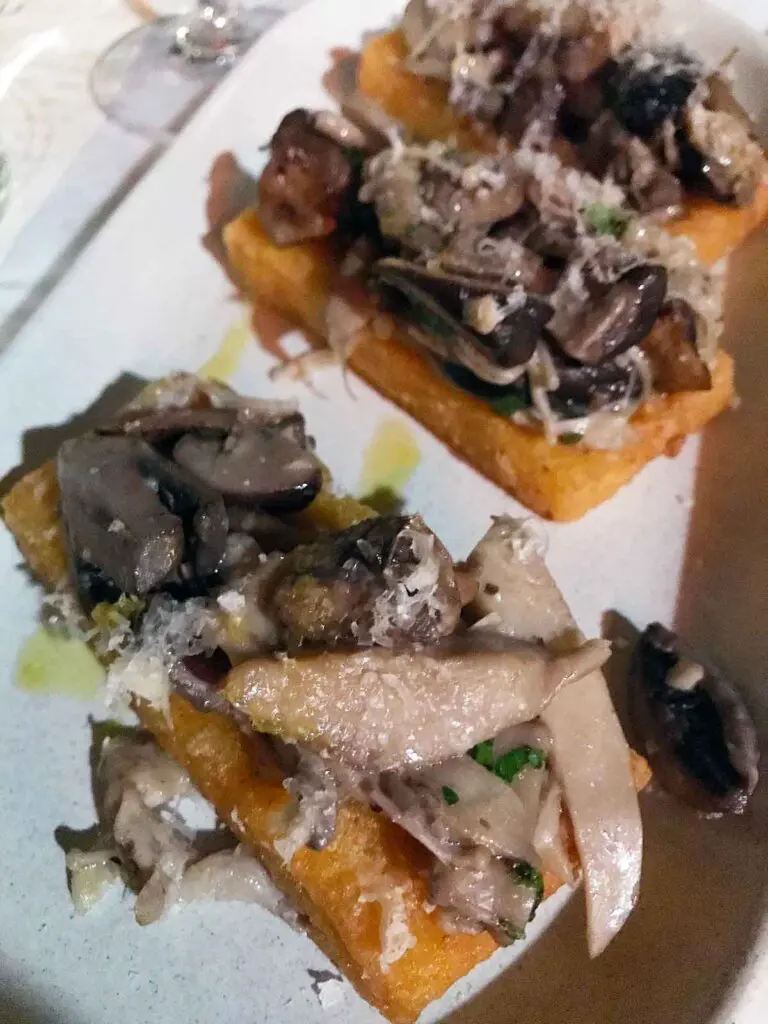 Polenta + Mushrooms + Manchego Cheese $8 each
Another item where there is a minimum 3 piece order.
They weren't exactly how I envisaged when looking at the menu. A lot larger. Pleasant enough, but not a dish I would order again.
Interestingly the dish is no longer on the menu, no need to worry about it.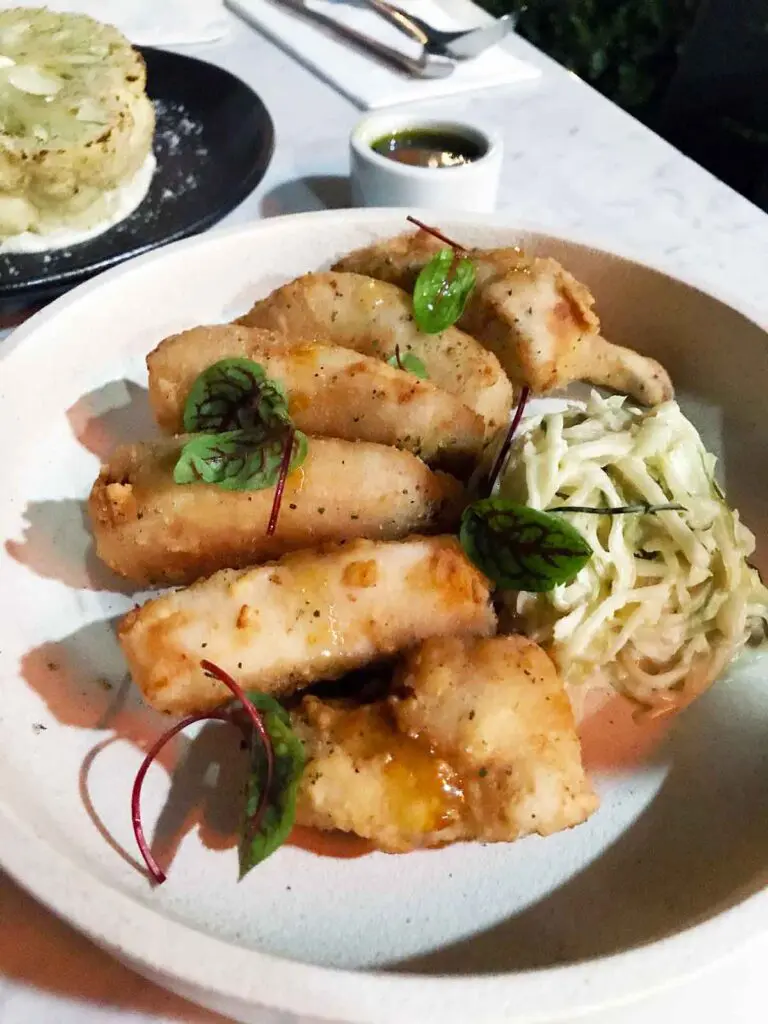 Crispy Chicken + Apple Slaw + Kaffir Lime $36
Again the dish did not match the image I had conjured up in my brain. I was expecting it to be more coated.
Saying that, it was super delicious and our dish of the day. Chicken was juicy under the crispy fried coating.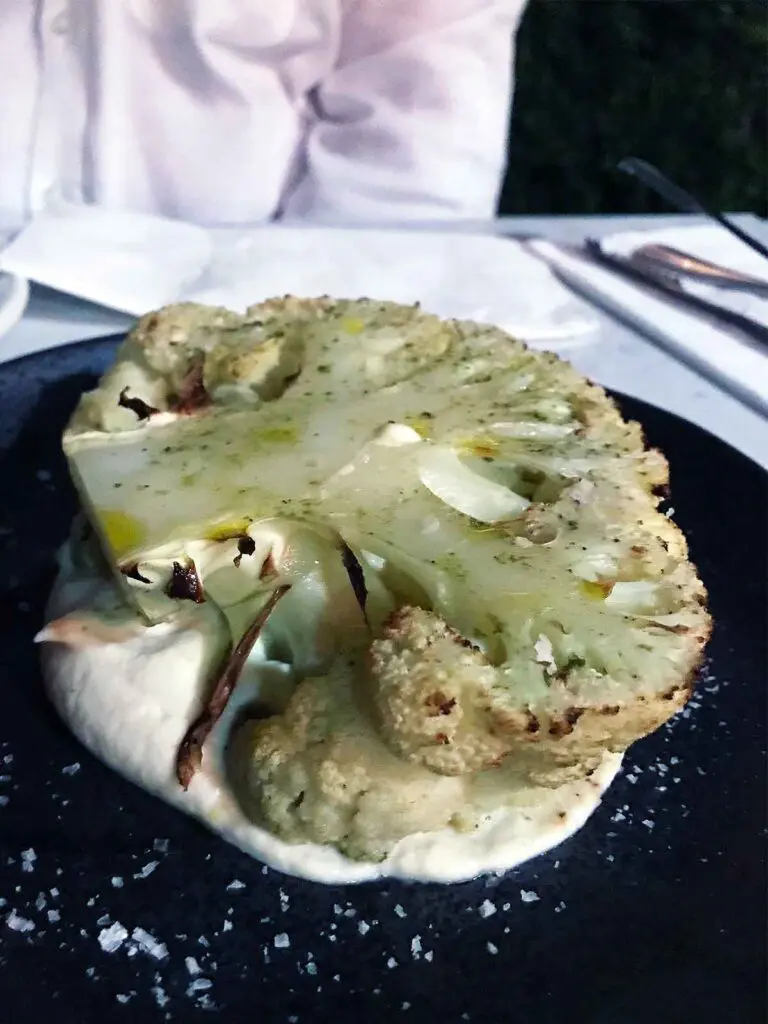 Cauliflower Steak + AJO Blanco + Chimichuri + Almonds $15
We had the chimichuri on the side due to a dietary need of Mac's.
AJO blanco is a sauce made with bread, almonds, garlic, olive oil, and a splash of vinegar. Super creamy and delicious and went well with the cauliflower.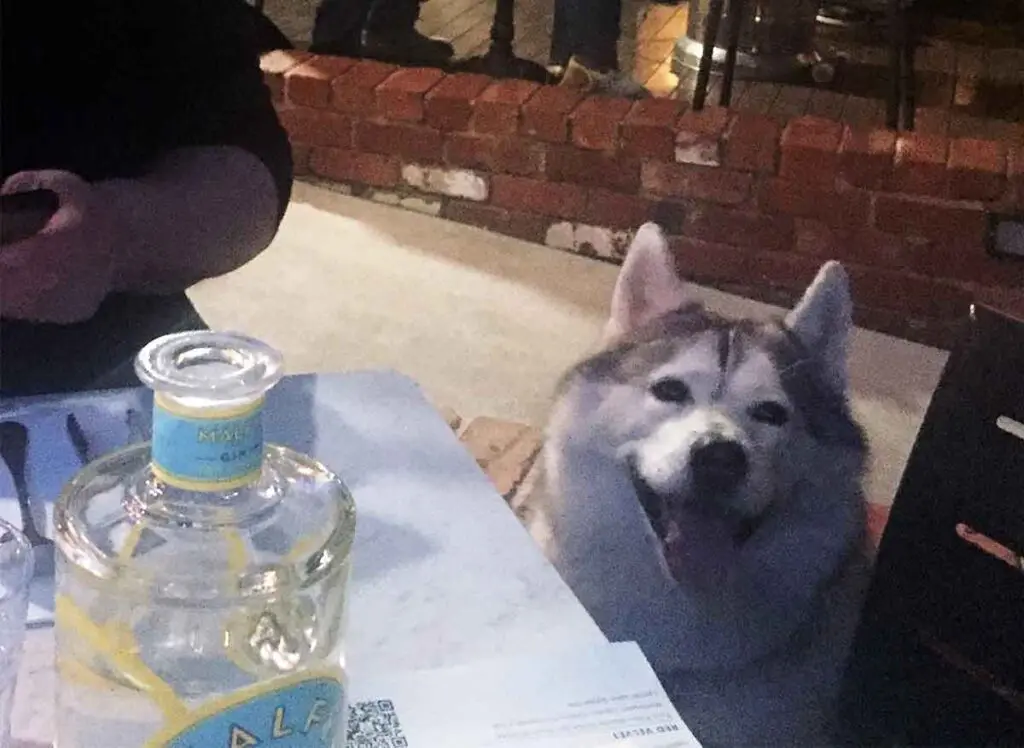 Final Thoughts
The staff are wonderful, it is a super friendly atmosphere. All three of us were made to feel very welcome. From the initial phone call to the final goodbye as we were leaving.
We ordered way too much food. Could have easily not ordered the polenta dish. Next time we are in Canberra we will be booking to eat at Tipsy Bull again. All three of us thoroughly enjoyed our meal and drinks.
Sara xxx
Important Note

We dined here on the "own dime/own time" principal. They did not know I write about dining experiences or run a food/travel website. My email address used for restaurant bookings has no relation to Belly Rumbles to keep my visit as incognito as possible.

Yes, on the odd occasion I am recognized, but I do all that I can to slip under the restaurant's radar.

We always disclose if invited to a restaurant to dine.
Contact Details
Tipsy Bull
⅖ Lonsdale Street
Braddon ACT 2612
Tel + 61 (0)2 6248 7999
* Bookings are highly recommended