Yuzu has become increasingly popular over the past few years. With all the top chefs around town using it as a key ingredient in restaurant menus. Is Japanese yuzu the most recent culinary fad? Or should you get to know it better?
Let's take a deep dive into this increasingly popular citrus and discover why it's so hot right now, and why it's going to stay that way.
Sara xxx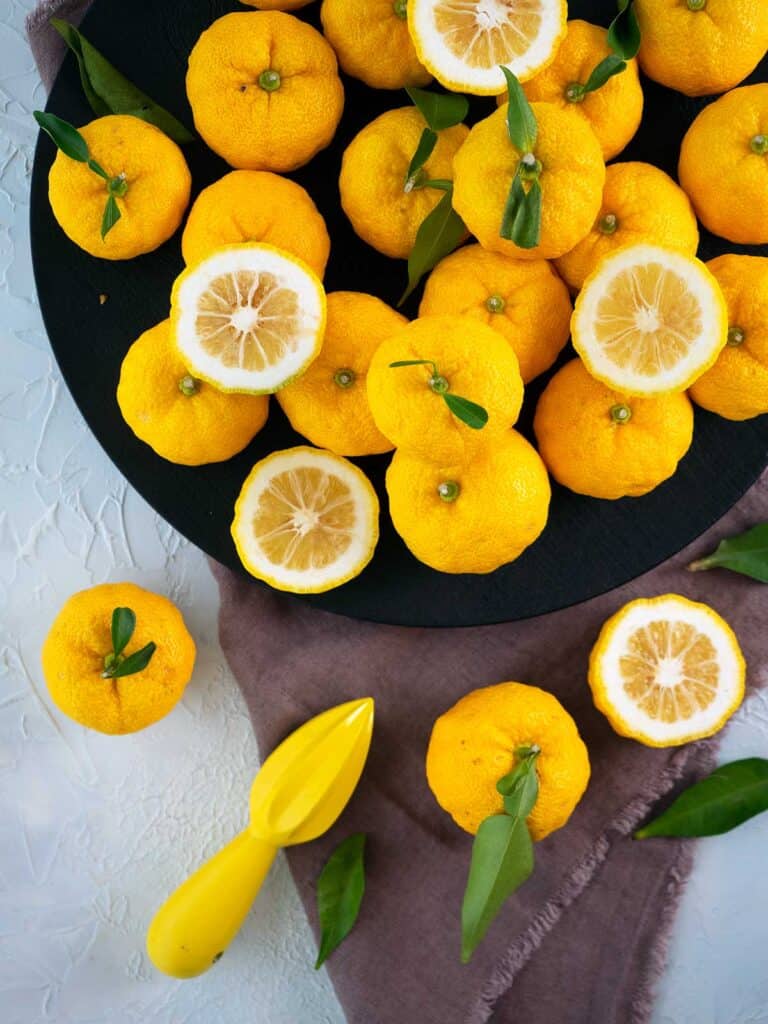 What's in this post
What is Yuzu?
Yuzu is a knobbly skinned orangy yellow citrus fruit. Under its thick pock marked rind you will find a thick layer of pith with enormous seeds.
The small and squat 2-3 inches / 5.5-7.5 cm diameter fruit yields very little juice (1-2 teaspoons). Its saving grace, and number one attraction, is the aroma.
The fruit (Citrus junos) was thought to have originated in China on the banks of the Yangtze River. It was later introduced via Korea (where it is known as yuja) to Japan.
Modern day citrus we are familiar with such as lemons, limes, and oranges all descended from three wild ancestors, wild mandarin, pomelo, and citron.
Descended from the wild mandarin and Ichang papeda, another kind of wild citrus fruit. It is considered a citron as it is able to maintain its tart sourness at high cooking temperatures.
It is a staple in Japanese cooking. You will find it in savoury and sweet dishes, as well as drinks. Including a chili citrus condiment called yuzu kosho.
If you are lacking in vitamin C you will be happy to know that it contains three times as much as a lemon.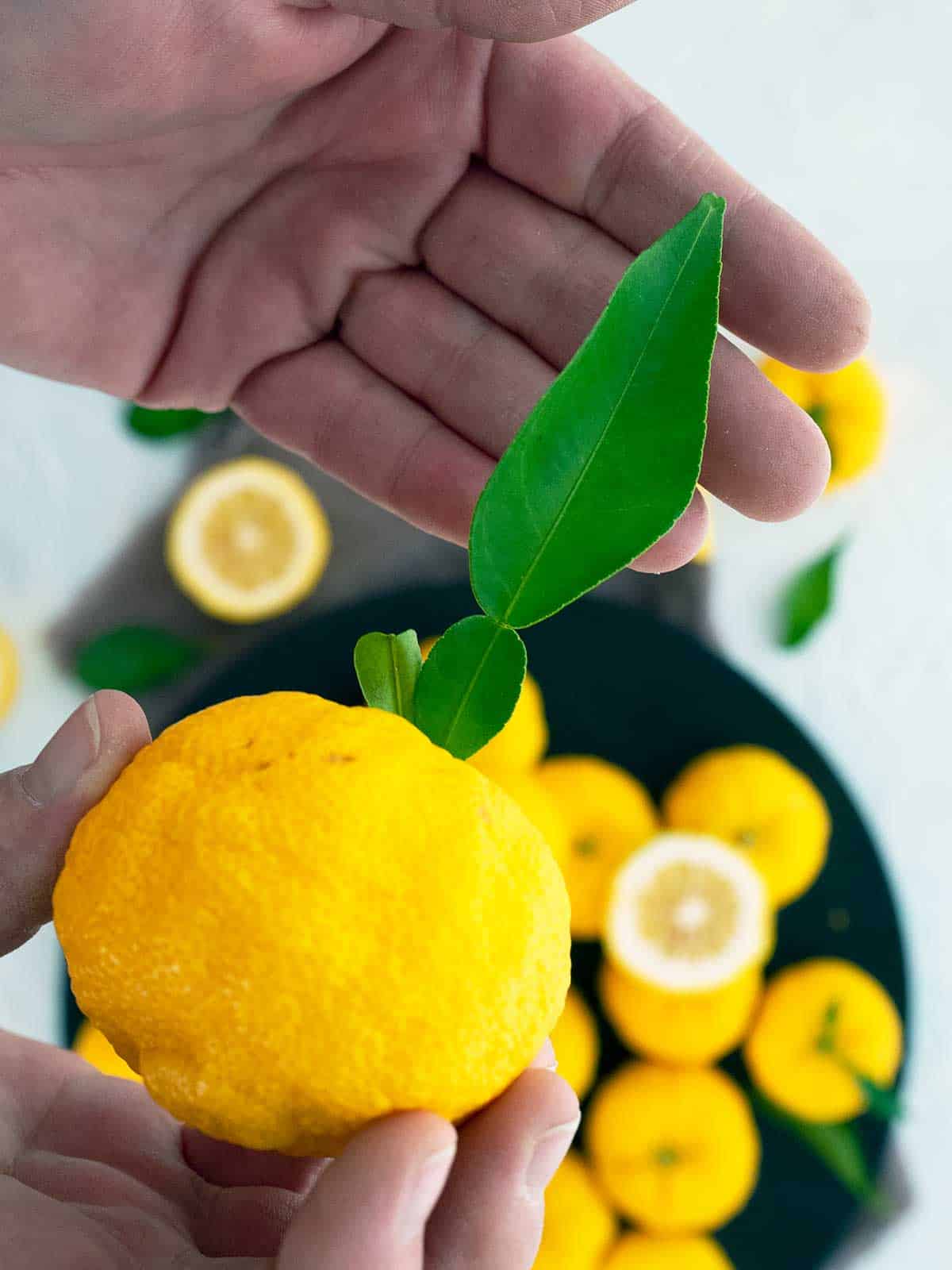 Aroma of the Gods
I did mention the attraction to yuzu is the aroma. When the fruit gods came around to this ugly duckling they got it right.
The aroma is a blend of mandarin, grapefruit, Meyer lemon, and lime. All held together with a faint earthy note. The armoa is strong, dense, and delightful. Far more intense than an orange or lemon.
"The yuzu fragrance is entirely its own," Shizuo Tsuji, a titan of Japanese gastronomy, wrote. It "resembles no citrus familiar to the West."
It smells so attractive and enticing that the Japanese will use yuzu for perfumes. During Toji (winter solstice) people will ritualistically bathe with it (yuzu-yu).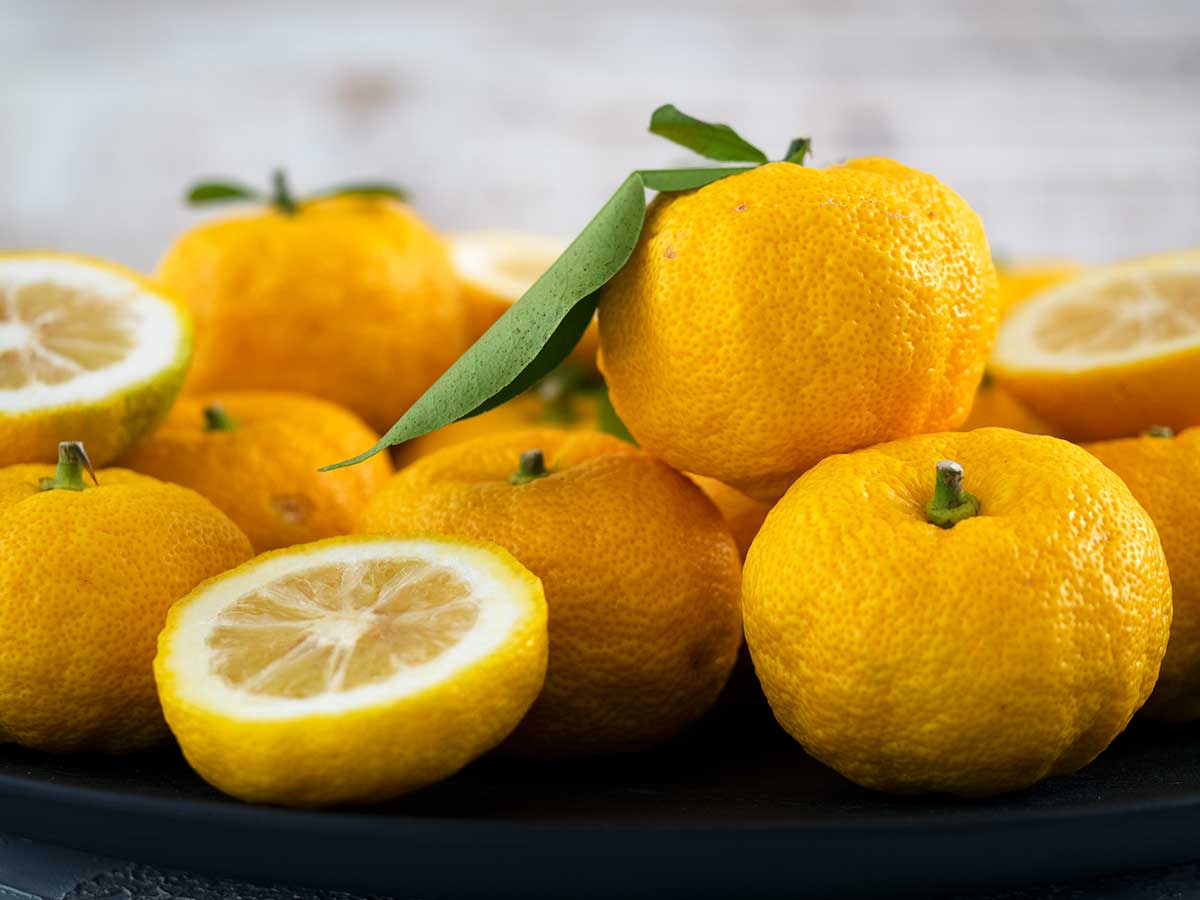 What does Yuzu taste like
Yuzu may look a little like a lemon but it tastes nothing like one. It has a very unique and distinct taste and smell.
You could play the citrus blending game to try and come up with a similar taste. If I did I would say it is a blend of mandarin, grapefruit, and pomelo.
The taste is tangy and tart, with a subtle sweetness. More restrained than a lemon, and far more flora thanks to the aroma.
I don't try and substitute yuzu in dishes. Instead, I go for an alternative, and surprisingly that is usually mandarin.
Have you ever tried Japanese ponzu sauce? Yuzu is a key ingredient and is what gives it its citrus notes.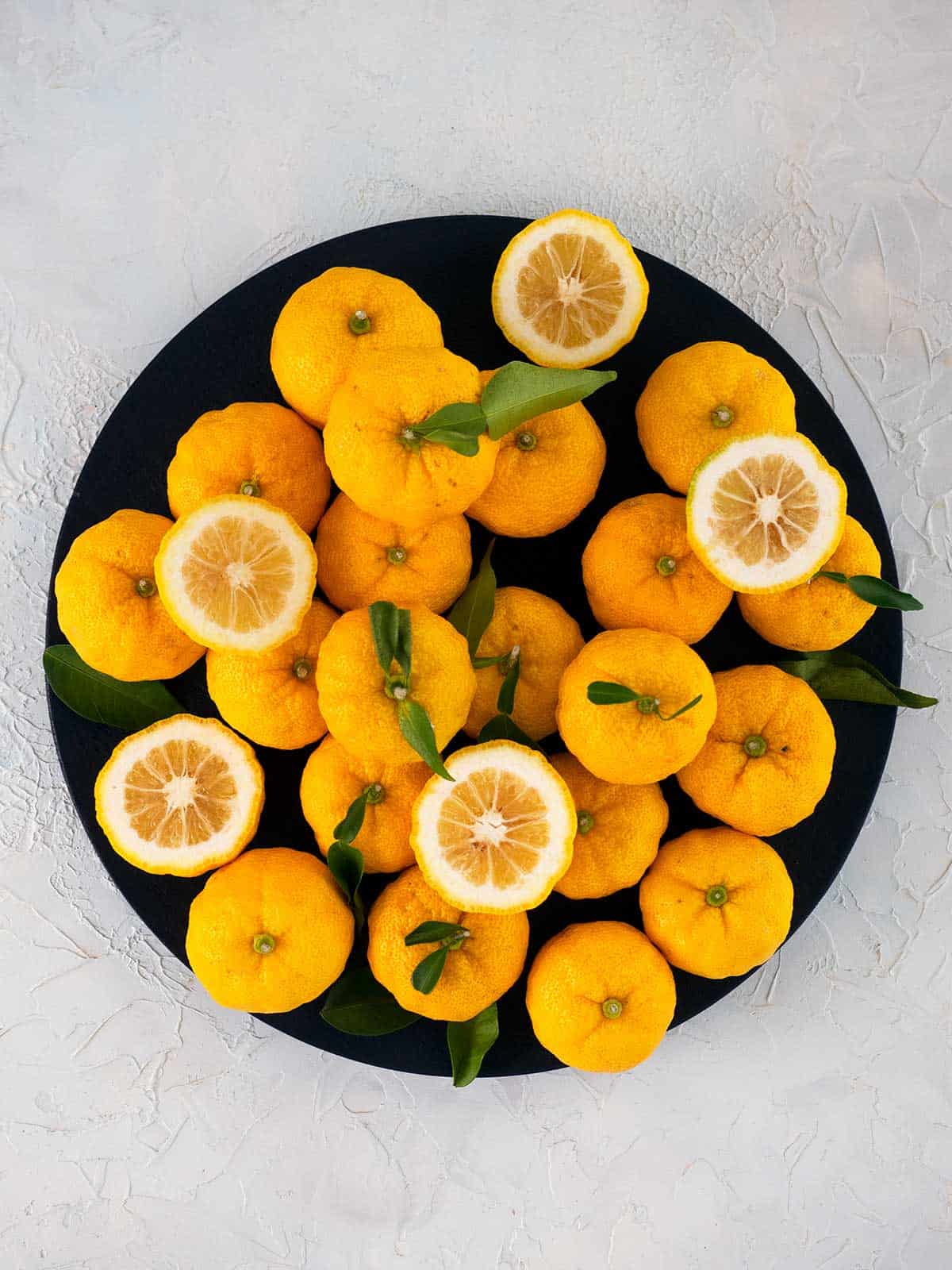 How to use Yuzu
There are countless ways that you can use yuzu. The citrus can be used when it is still green or when it ripens and becomes yellow. If you are lucky enough to find it fresh generally it will be yellow and fully ripened.
The skin can be finely grated over sashimi, or added to any recipe that uses citrus zest.
Whole fruit muddled or sliced into alcoholic (yuzu chuhai or sour) or non alcoholic drinks. Juice only can also be used.
Yuja tea / Yuja cheong (Korean citrus tea)
Anywhere you use other types of citrus, savoury and/or sweet recipes.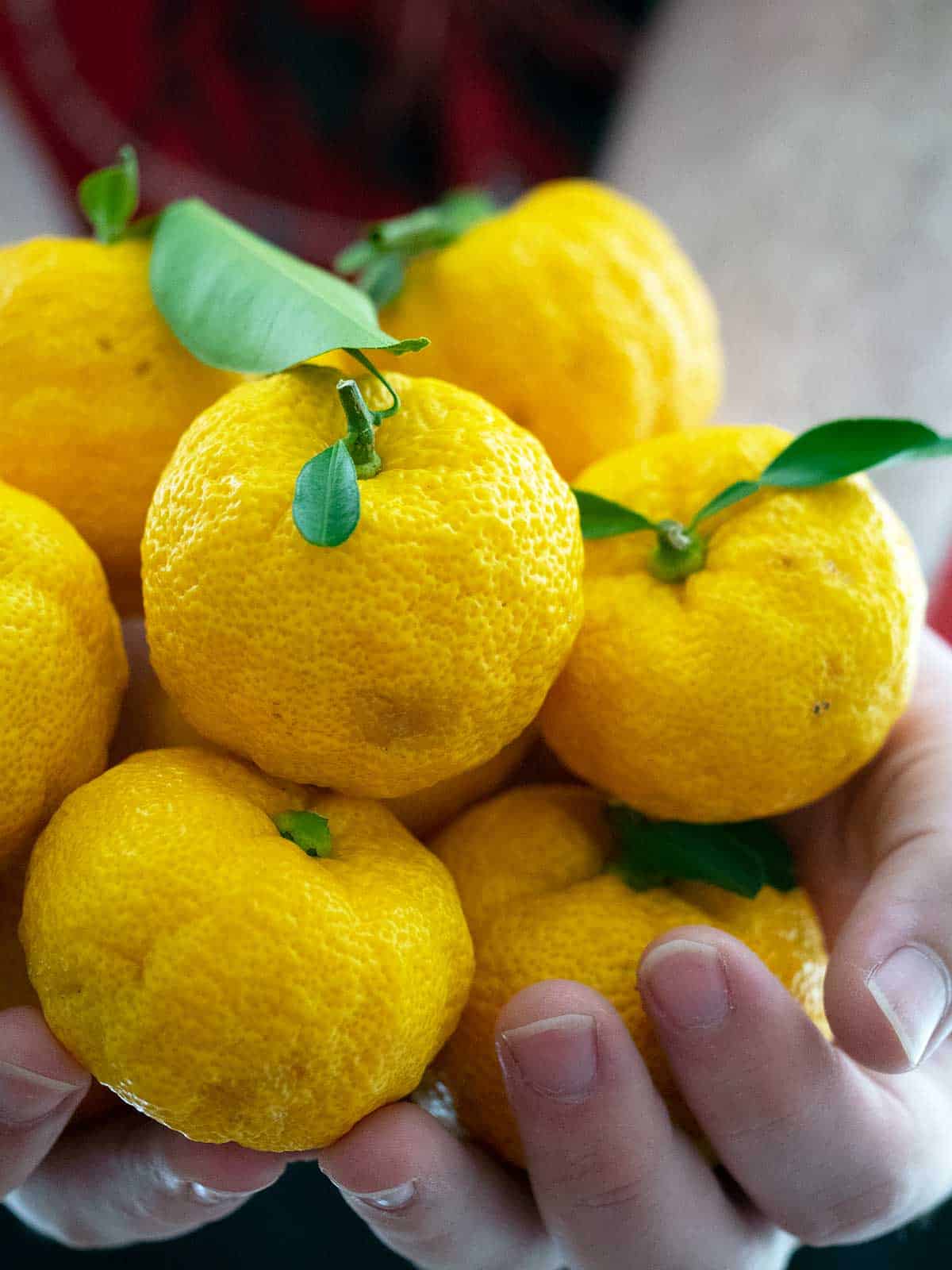 Caring for this precious citrus
Store fresh yuzu whole in the fridge for a couple of weeks. They are best used as soon as possible as they will lose their fragrance over time.
It can be stored in the freezer whole. Or freeze in segments. I also store the peel in the freezer for cocktails and drinks for up to 12 months.
Alternatively dehydrate it in a dehydrator or very low oven. Thinly slice the fruit into rounds, remove the seeds, and dehydrate. Then store in an airtight glass jar.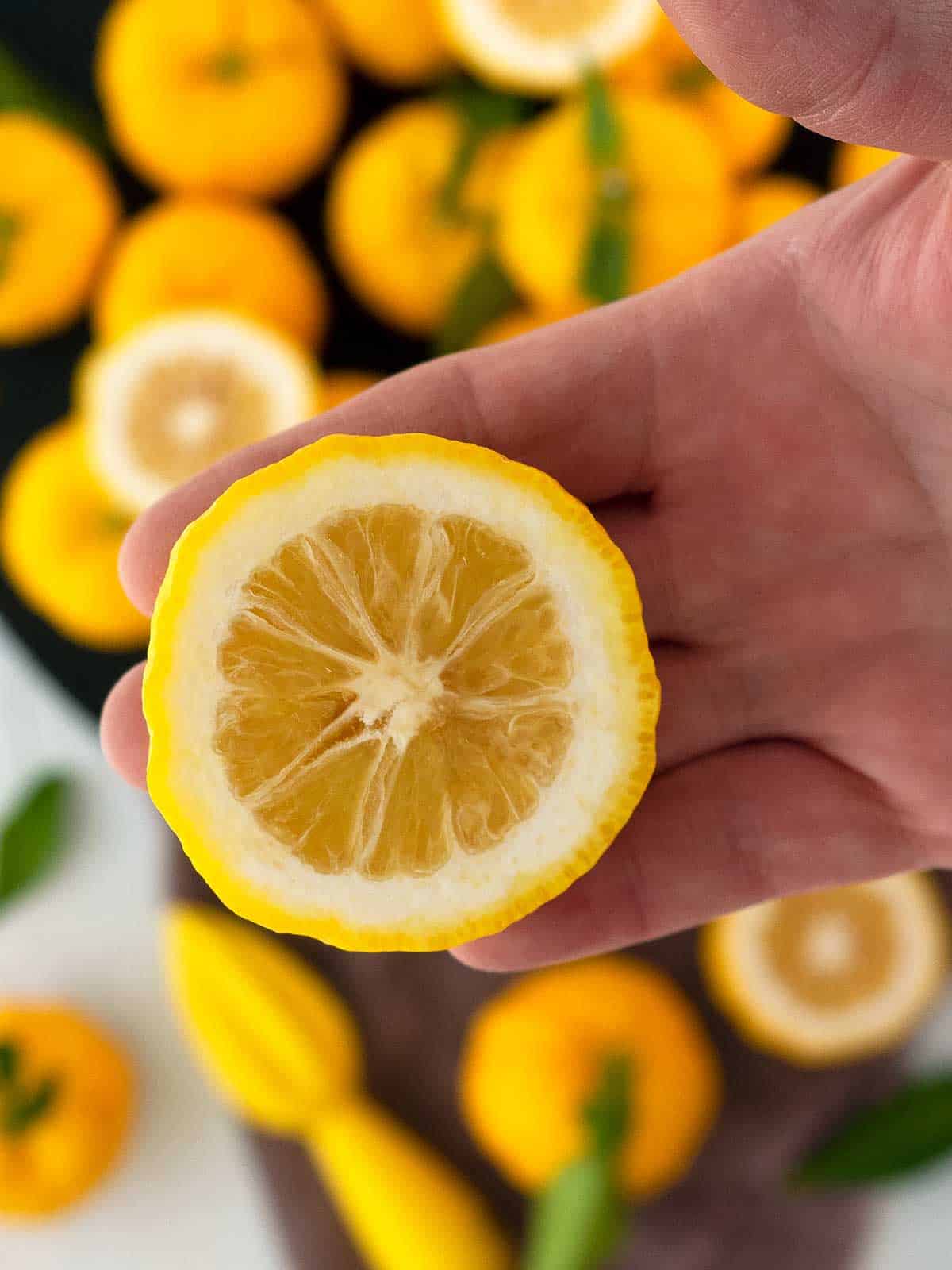 Where to buy fresh Yuzu
It is a truly seasonal fruit with a short window of supply during late autumn and early winter. What month/s of the year will depend on where you live, in Australia fresh yuzu is available around late April/May.
Below are some places that I know of that sell fresh yuzu when it is in season.
Australia & New Zealand
Yuzu is being grown in Australia, but, as yet, not in the quantities where you will find them at the greengrocer or supermarket. I haven't seen them at the farmer's markets either, but you may if there is a small local grower.
When in season you can buy online from Mountain Yuzu.
Buck's Farm in the Tweed Valley sells them from their Banana Cabana plus has an online store.
In New Zealand it can be purchased from NZ Yuzu.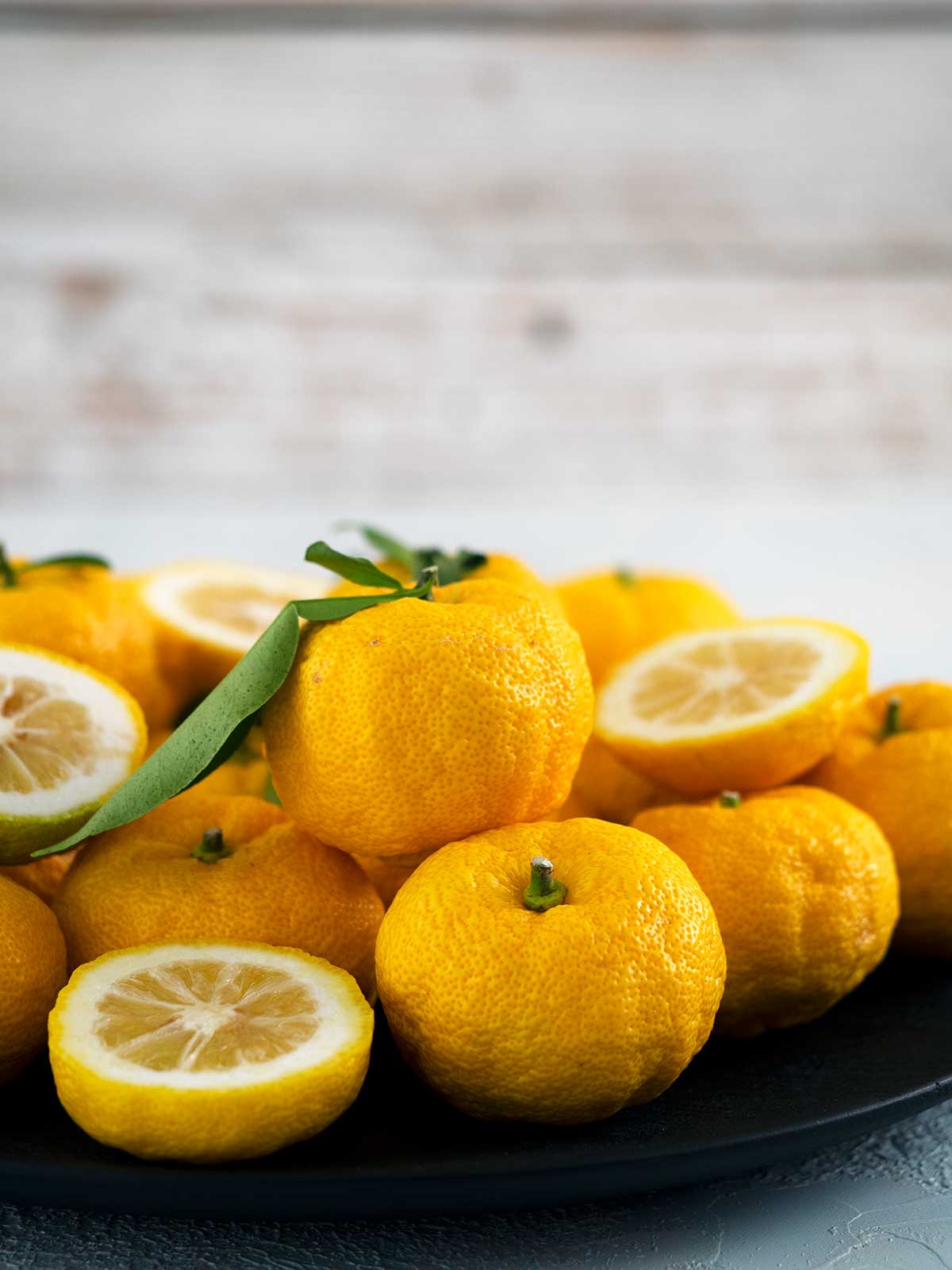 United Kingdom
UK readers seem to be in luck with a mix of locally grown yuzu and imported produce.
Nama Yasai, The Wasabi Company, and My Exotic Fruit are all growing the fruit locally. Fine Food Specialist and Edélices seem to be importing it from Japan.
United States
Yuzu is grown in California and when in season (usually September/October) can be found in some local farmers' markets. It can also be purchased online from Frog Hollow Farm, Melissa's, and Marx Foods.
Elsewhere
Singapore: Tokyo Fresh Direct delivers yuzu from Kochi in Japan. Zairyo also has it freshly flown in.
Spain: Purchase directly from the grower, Citrus & Life.