Tiramisu is a popular Italian dessert traditionally made with raw eggs. Not a fan of raw eggs in desserts? Then you will love my easy eggless recipe.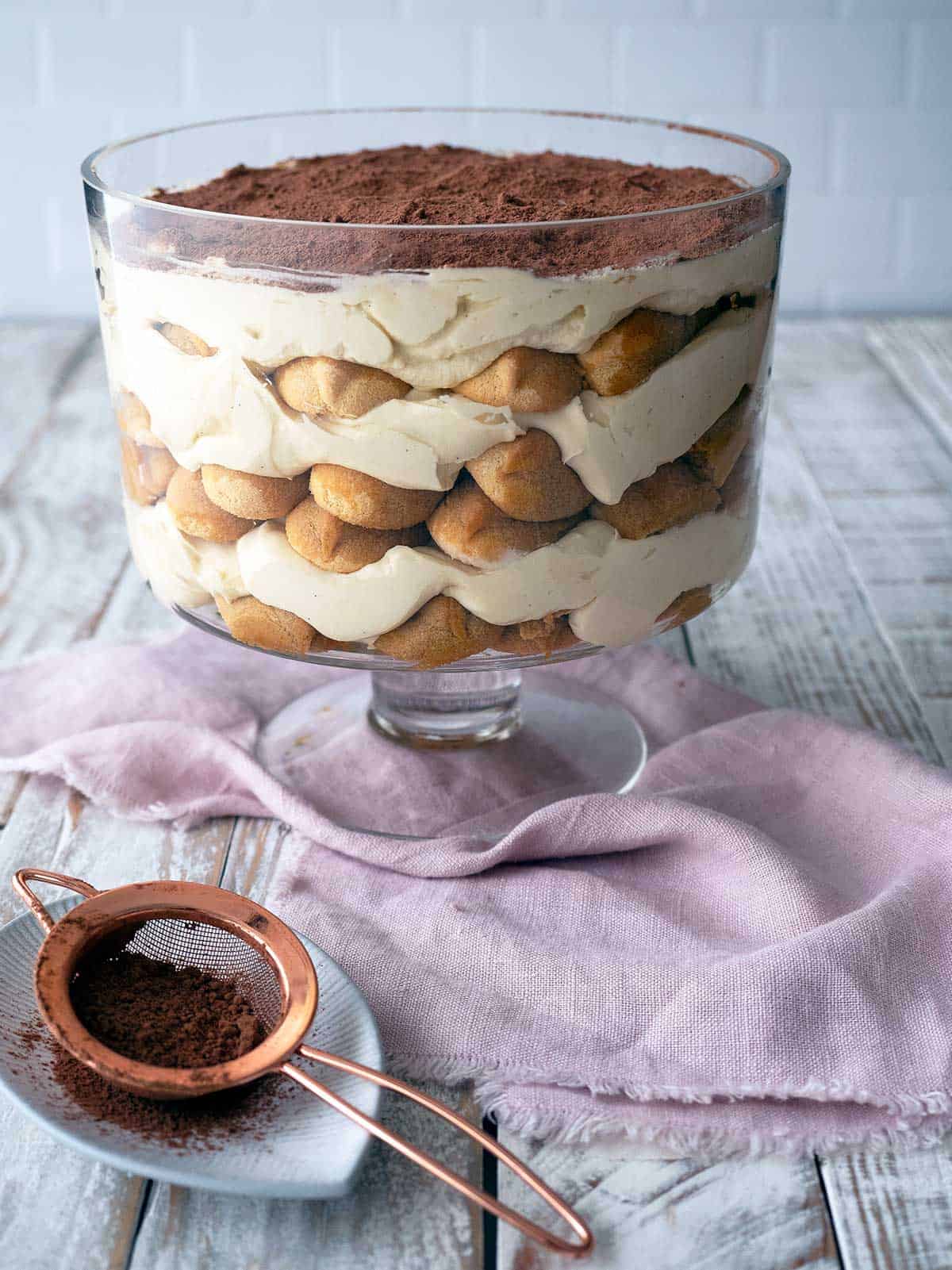 Eggless tiramisu can be just as delicious as the traditional Italian version, with a creamy rich espresso and liquor flavour. You may even find that you prefer the flavor of the no egg version, as it allows the other flavours to shine through.
As you can see I serve my tiramisu in a glass trifle dish. It really does add a bit of flair if you are entertaining.
Sara xxx
Like no-bake desserts? Then take a look at my serradura and biscotten torte recipes.
What's in this post
Ingredients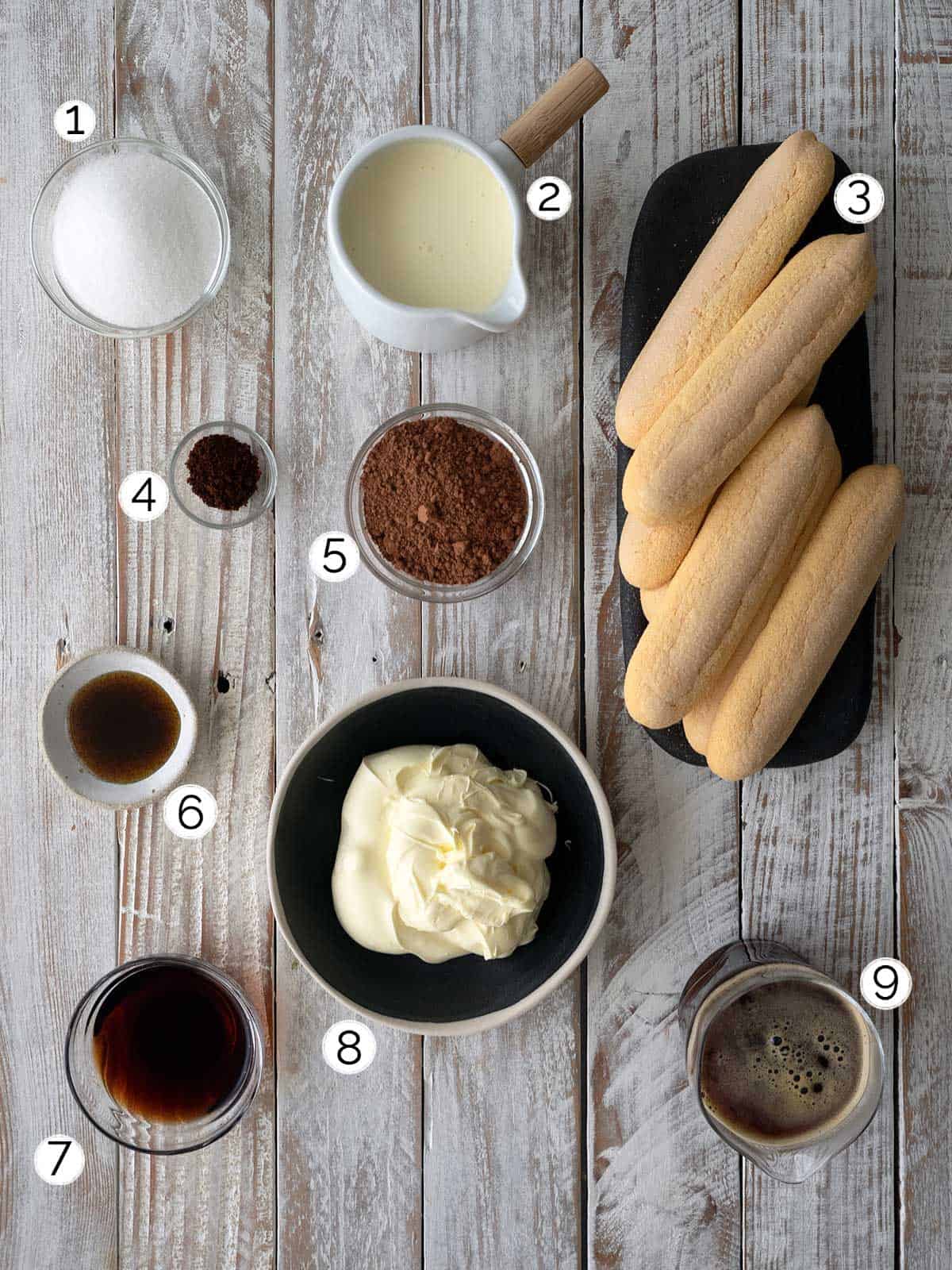 A full printable recipe card can be found at the end of this post with recipe ingredient measurements and the method.
The ingredients for tiramisu without eggs are very similar to the authentic Italian dessert. The obvious difference is there are no raw eggs in this recipe.
Caster Sugar (superfine sugar)
Cream
Italian savoiardi biscuits / ladyfingers
Instant coffee powder
Cocoa powder
Vanilla
Marsala
Marscapone
Strong black coffee / espresso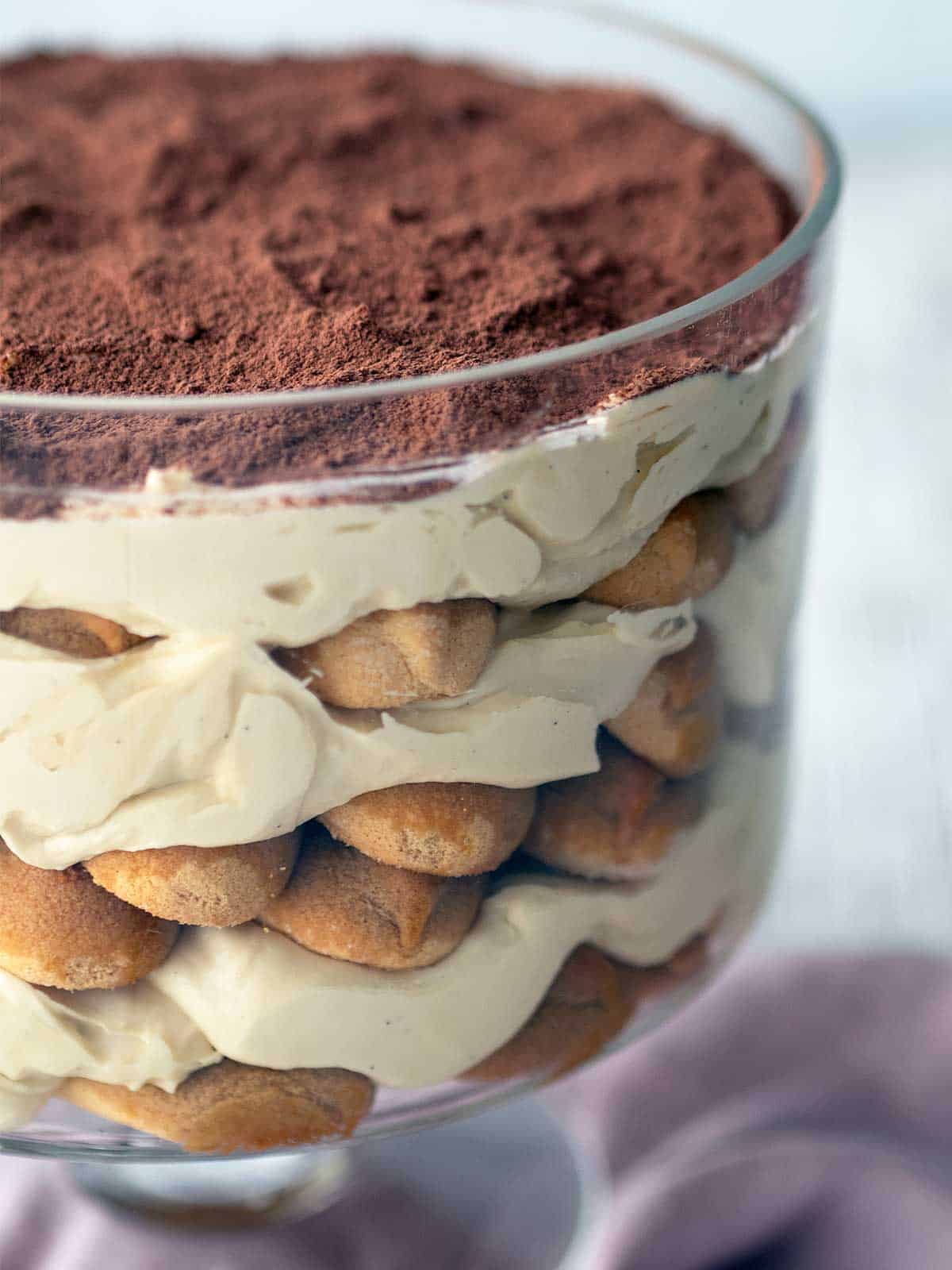 What to Serve with Tiramisu
Classically this dessert is served simply as is, scooped into a bowl. Tiramisu is such a unique and traditional flavour that you don't want to mess around with it too much. Of course, if you want to jazz it up a little, or add some texture, I do have a few suggestions for you.
Fresh Berries: Tiramisu pairs well with fresh berries like strawberries, raspberries, blueberries, or blackberries. They add a fresh and fruity contrast to the rich and creamy dessert.
Whipped Cream: A dollop of freshly whipped cream (not sweetened) on top of tiramisu adds a light and airy texture to the dessert. It also complements the sweetness of the mascarpone cheese.
Chocolate Sauce: Drizzling a warm chocolate sauce over tiramisu adds a decadent and indulgent touch. It pairs well with the coffee and cocoa flavors of the dessert.
Espresso: As this eggless tiramisu is made with espresso serving a small shot of espresso alongside the dessert will enhance its coffee flavor.
Amaretto: Amaretto is an almond-flavored liqueur that pairs well with the rich and creamy flavors of this Italain dessert. Alternatively, serve with some Marsala which is also one of the key ingredients.
Biscotti: Biscotti are Italian cookies that can be served alongside tiramisu. They are crunchy and add a little texture.
Savoiardi/Ladyfingers: Serving a few extra alongside the dessert can be a nice touch. They can be used to scoop up the creamy mascarpone filling.
Grated Chocolate: Instead of dusting the top with cocoa powder try grating some dark chocolate over the top of the tiramisu instead. It will add a nice texture.
Nuts: Chopped nuts like toasted almonds, hazelnuts, or pistachios can be sprinkled over the top of tiramisu to add a crunchy texture and nutty flavor.
How to Make Eggless Tiramisu
Scroll to the bottom of the page for the full method and printable version of this recipe.
How long will this recipe take me to make?
Not only is this eggless tiramisu easy to make it is relatively quick. It will take you around 20 minutes to make. Then it will need to go into the fridge for 4-5 hours to chill.
It may take you a little longer to make if you decide to layer it into a glass trifle dish as I have. You will need to be careful and take your time layering as the layers are on display.
Important step 1
There really isn't much to this recipe. My number one suggestion is to take it easy when folding your whipped cream into the mascarpone mixture. Gently fold in one third of the cream, and then fold in the rest.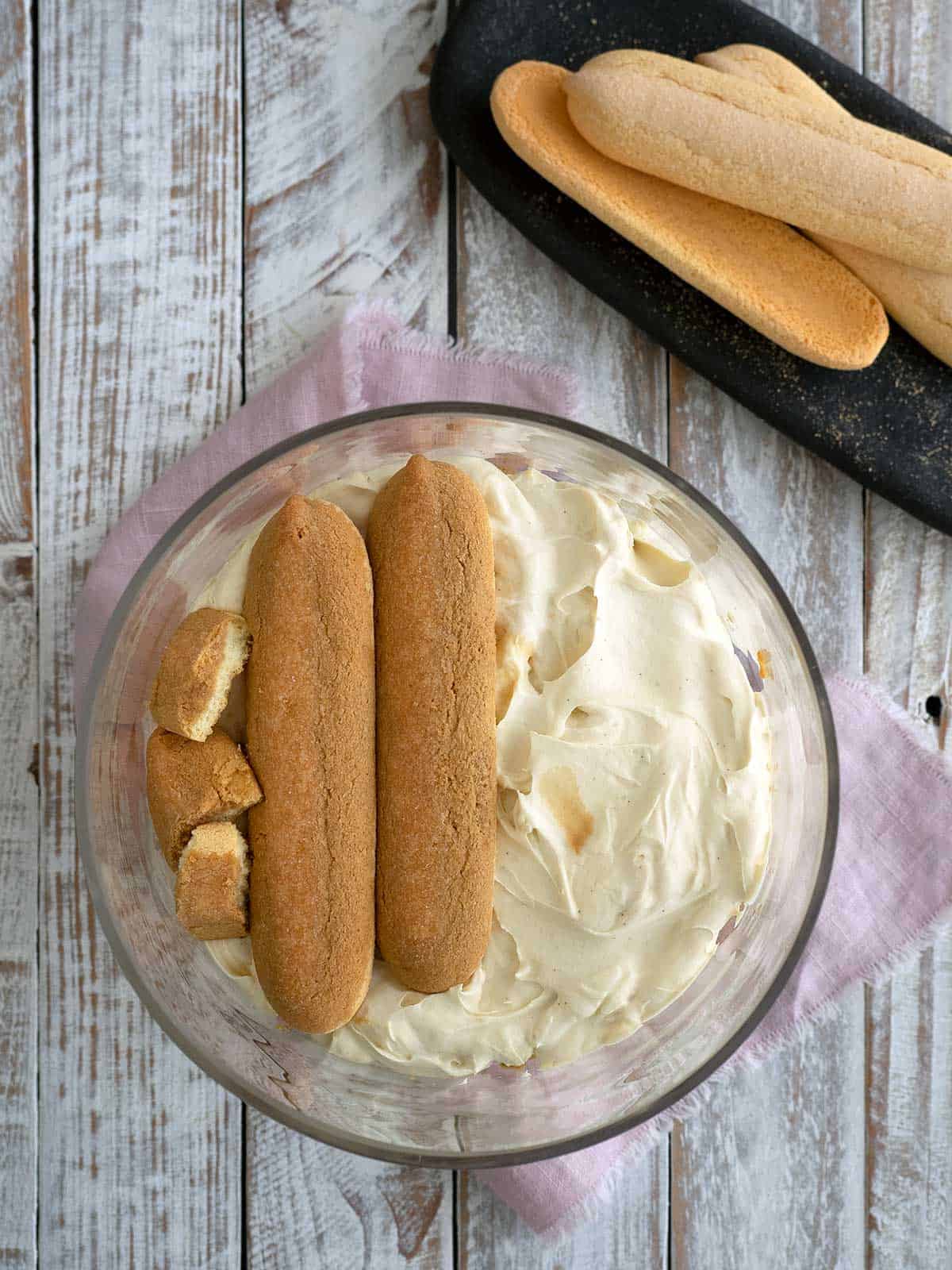 Important step 2
If you are using a round dish when layering your Savoiardi / Ladyfinger biscuits don't be scared to break them to make them fit into the curves of the dish. You won't be able to tell when it is being served.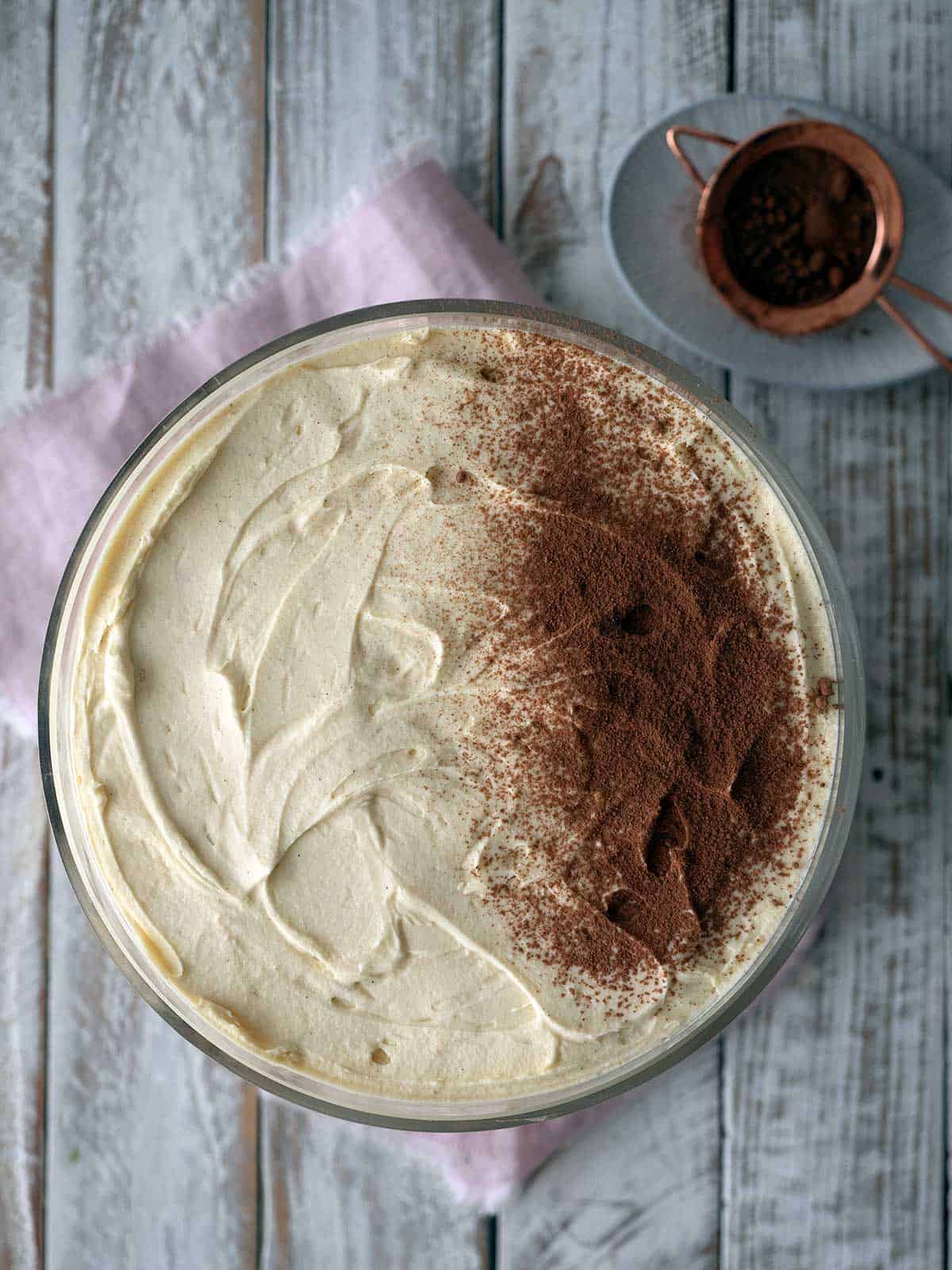 Sara's Top Recipe Tips
My number one tip is when you are soaking the savoiardi / ladyfinger biscuits in the coffee mixture. Be careful to not over soak the biscuits or they will end up a soppy mess that fall apart and you can't layer.
How far in advance can you make tiramisu?
You can make tiramisu 1-2 days in advance, remember that it does need 4-5 hours fridge time before serving. Making it a day ahead is ideal.
Can I make this recipe without alcohol?
Yes you can, simply leave the marsala out and use espresso for dipping the savoiardi / ladyfinger biscuits.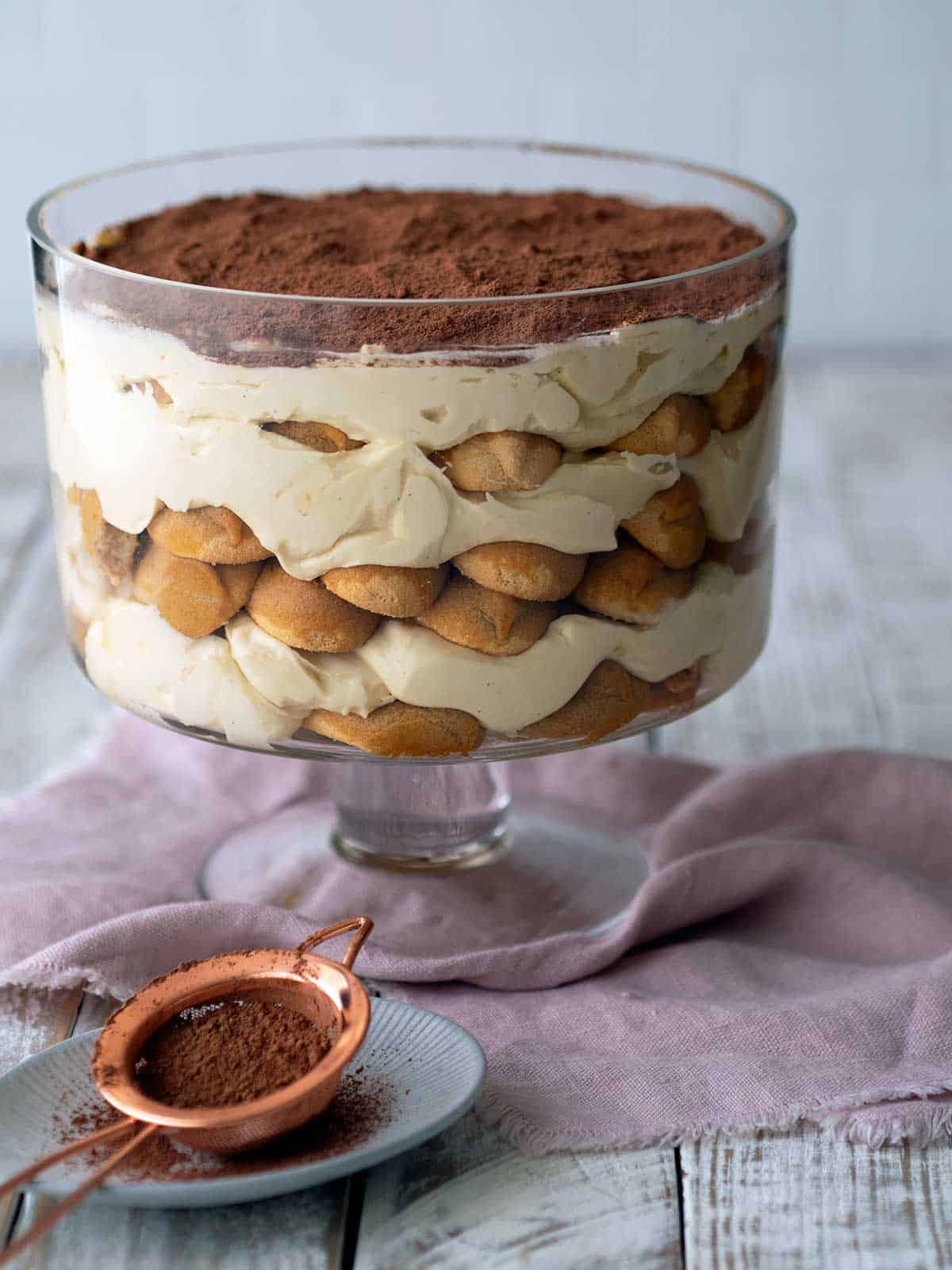 Printable Recipe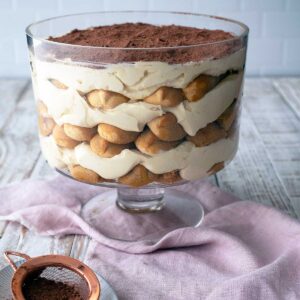 Easy Eggless Tiramisu
Tiramisu is a popular Italian dessert with a creamy rich espresso and liquor flavour that is traditionally made with raw eggs. Not a fan of raw eggs in desserts? Then you will love my easy eggless recipe.
Ingredients
375

ml

(1½ cups) thick whipping cream

500

grams

(1.1 lbs) mascarpone

55

grams

(½ cup) caster sugar

| superfine sugar

1

teaspoon

instant coffee

1

teaspoon

vanilla extract

| or vanilla bean paste

400

grams

Italian savoiardi biscuits / ladyfingers

| approximately 20-24 biscuits

250

ml

(1 cup) strong black coffee

| espresso

125

ml

(½ cup) marsala

| Italian liqueur

cocoa powder to dust
Instructions
Whip cream until thick peaks form, set aside.

In a separate bowl whip mascarpone, sugar, instant coffee disolved in 1 teaspoon water, and vanilla until well combined. Do not over beat the mixture.

Fold whipped cream into the mascarpone mixture.

Place coffee and marsala into a shallow bowl and mix.

Dip savoiardi /ladyfinger biscuits into the coffee mixture and line the bottom of a 20cm x 12cm high trifle dish with a double layer of biscuits.

Top with ? of the mascarpone mixture.

Repeat for two more layers, finishing with a top layer of mascarpone cream.

Dust the top with cocoa powder and place in the fridge for 4-5 hours before serving.
Measurement Notes
All measurements are Australian metric standard. All measures are level, and cups are lightly packed unless specified. 1 teaspoon = 5ml / 1 tablespoon = 20mls / 1 cup = 250ml /4 teaspoons = 1 tablespoon.
Recipe Notes
This recipe can be made the day ahead.
Leftovers can be kept in the fridge for up to 4 days.
GENERAL COOK'S NOTES
All oven temperatures are fan-forced, increase the temperature by 20°C (70°F) for convection ovens.
All measurements are Australian tablespoons and cups. All measures are level, and cups are lightly packed unless specified.
1 teaspoon equals 5ml
1 tablespoon equals 20 ml (Nth America, NZ & UK use 15ml tablespoons)
1 cup equals 250ml (Nth America use 237ml)
4 teaspoons equal 1 tablespoon
I use the below unless specified in my recipes.
Herbs are fresh | Vegetables are of a medium size | Eggs are roughly 60 grams in weight (large).
NUTRITIONAL INFORMATION BELOW IS A GUIDE ONLY
NUTRITIONAL INFORMATION
The recipe's nutritional information is an approximation based on an online calculator. It is meant solely for reference purposes. If you're looking for precise details, be sure to double-check with your own research.
Calories:
678
kcal
Carbohydrates:
42
g
Protein:
11
g
Fat:
50
g
Saturated Fat:
30
g
Polyunsaturated Fat:
2
g
Monounsaturated Fat:
6
g
Cholesterol:
226
mg
Sodium:
123
mg
Potassium:
137
mg
Fiber:
1
g
Sugar:
10
g
Vitamin A:
1846
IU
Vitamin C:
0.3
mg
Calcium:
144
mg
Iron:
2
mg
Did You Make This Recipe?
I do a happy dance when people share how they went. Tag me on Instagram or Twitter @bellyrumbles & #bellyrumbles